Spring cleaning ! Hour change. Sun's back. Temperatures are up. Flowers are out. Mention gets an interface refresh. In one word, it's spring! Makes sense, right? Totally.
(obviously, scrap all that if you're not in the northern hemisphere. Celebrate cooler temperatures for us then!)
TL;DR : There's a new Mention interface, which leads follows the flat design trend, makes it easier to navigate, read act and collaborate on your mentions.
So let's get to it!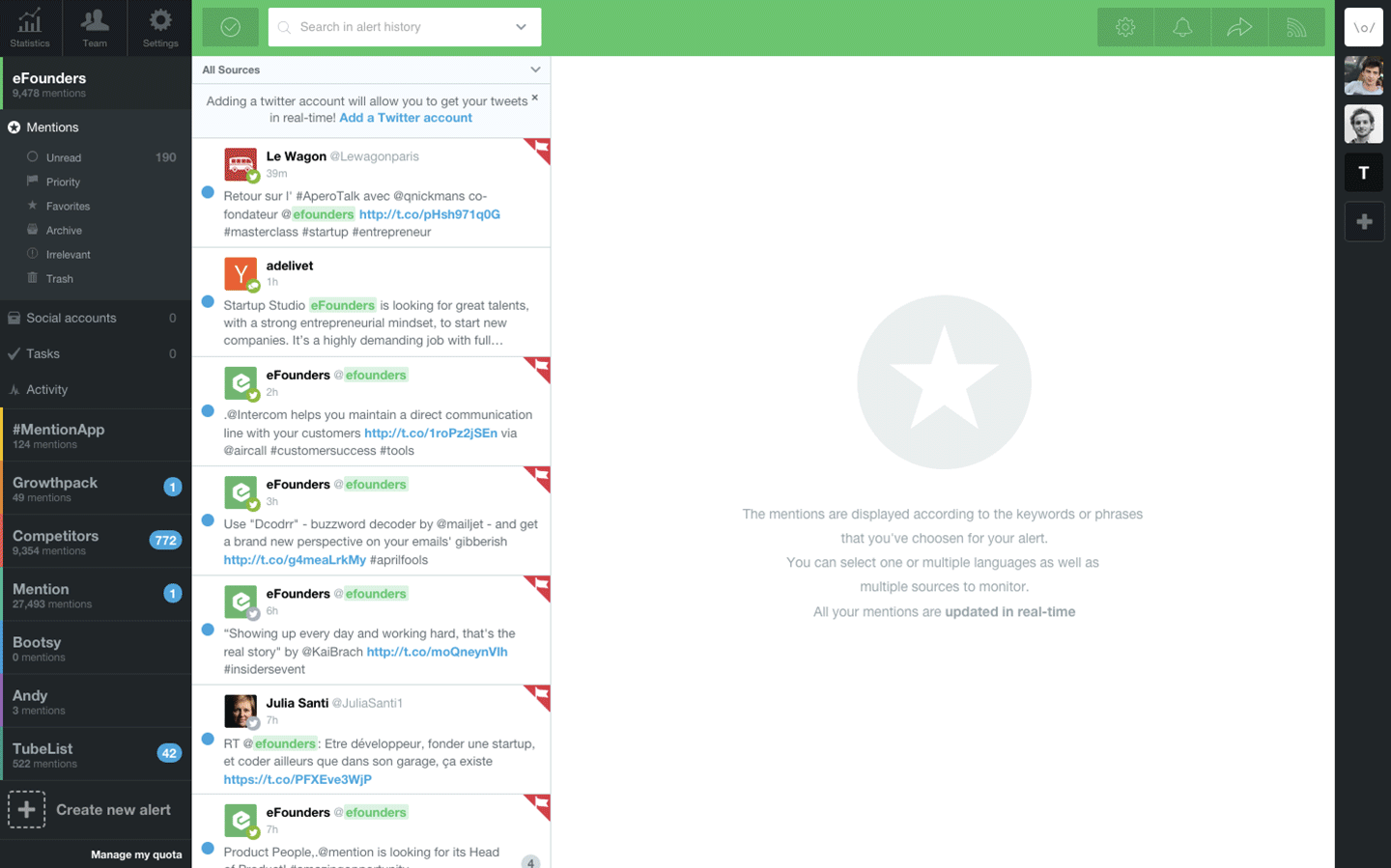 We refreshed the Mention interface
Unified icons & Roboto font everywhere. (Spot an old font in the app? Tell us and we'll throw a glass of water to our front-end developer, live with Periscope!)
For the new Mention interface, we wanted to make it more "flat", to give it a cleaner look. The old design was beginning to feel a bit messy and "crowded", it was time to make it more "straight to the point", bring back the essential.
Fast actions, fast results
You wanted to have a faster access to actions without having to load the content of the mention? We heard you! It's now possible to block a source directly from the panel 2 (in addition to Favorite, Archive, Delete and Spam).
Did you notice? There's now a universal topbar, with direct access to support. Because we like receiving your feedback! You can also access directly your team, statistics, settings and logout.
Collaborate more, better
Who needs to see his team bar all the time? Now, with this redesign, your team panel is there only when you need it.
Action bar! Now you can easily assign Mention to your team members, because you're the boss.
OK, so that's it! What's next? A new alert creation process is coming soon.
Cleaner blog for a better reading experience
Oh, and by the way, did you notice? This blog got a full facelift! The blog was also beginning to feel a bit old and slow. We wanted to focus on what really matters in the end: legibility. To do so, we centered the content in a 700px block, removed the disturbances on the side, and put a more effort into typographic rules and vertical rhythm.
Did you like it? Tell us in the comments!
Be in the know 📥
Sign up for The Mention Memo
Get the latest and greatest digital marketing
+ social media tips every week!