It's only reasonable for B2B businesses to prioritize their customers. More valuable customers are definitely considered top priority and hence receive top resources and talents. Less valuable customers are still precious but are naturally considered lower priority.
Now when it comes to mega-customers like corporations or big companies with huge budgets, some businesses typically assign dedicated account managers to these customers accompanied by their dedicated team of salespeople, marketing analysts, and customer success representatives. Everybody in this team would then have one and only goal: to keep the mega-customer satisfied on different levels.
This was a rather crude explanation of how account-based selling works. Let's dive into the nitty-gritty details.
Table of Contents:
What is account-based selling and what makes it different
Account-based selling is a strategy that involves cross-departmental coordination, where every account is treated as a market of its own. In simpler terms, it's a multi-phase approach where:
First, marketing and sales identify target accounts and close the deals
Second, customer success offers a customized onboarding experience
Moving forward, account managers, marketers, and product developers coordinate to upsell and cross-sell to those accounts
Account-based selling has two main premises.
The first is that there are usually multiple stakeholders in a buying committee of a valuable prospect. And a multi-touch, multi-channel strategy is the most effective when you want to appeal to all key stakeholders.
In line with this, the findings of ITSMA study reveal that 85% of marketers see higher ROI with account-based marketing (ABM) than any other B2B marketing strategy. But why is this the case?
A Gartner survey of 750 B2B stakeholders involved in solutions purchase in an organization reported that they only spend 17% of their time meeting with potential suppliers when considering a purchase.
Rather, their buying process is largely occupied by researching independently online (27%) and offline (18%), and meeting with the buying group (22%). This means that B2B sellers have to rethink the traditional 'B2B buyers are rational' approach, and use a variety of digital sales and marketing channels to build engagement with their customers' decision makers.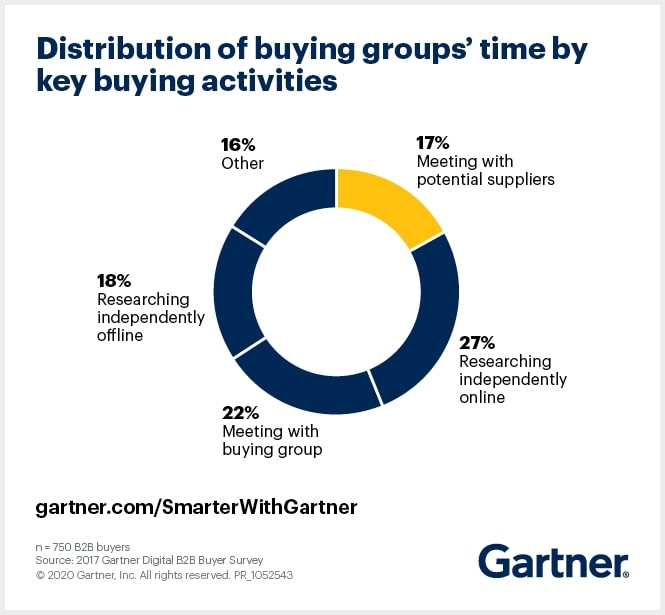 The second premise is diverting the majority of marketing and sales efforts from prospects to existing customers is more profitable in the long run. And according to ABM: State of the Market Report commissioned by the ABM Leadership Alliance, companies that implemented account-based marketing and sales have seen an increase of 171% in their average contract value.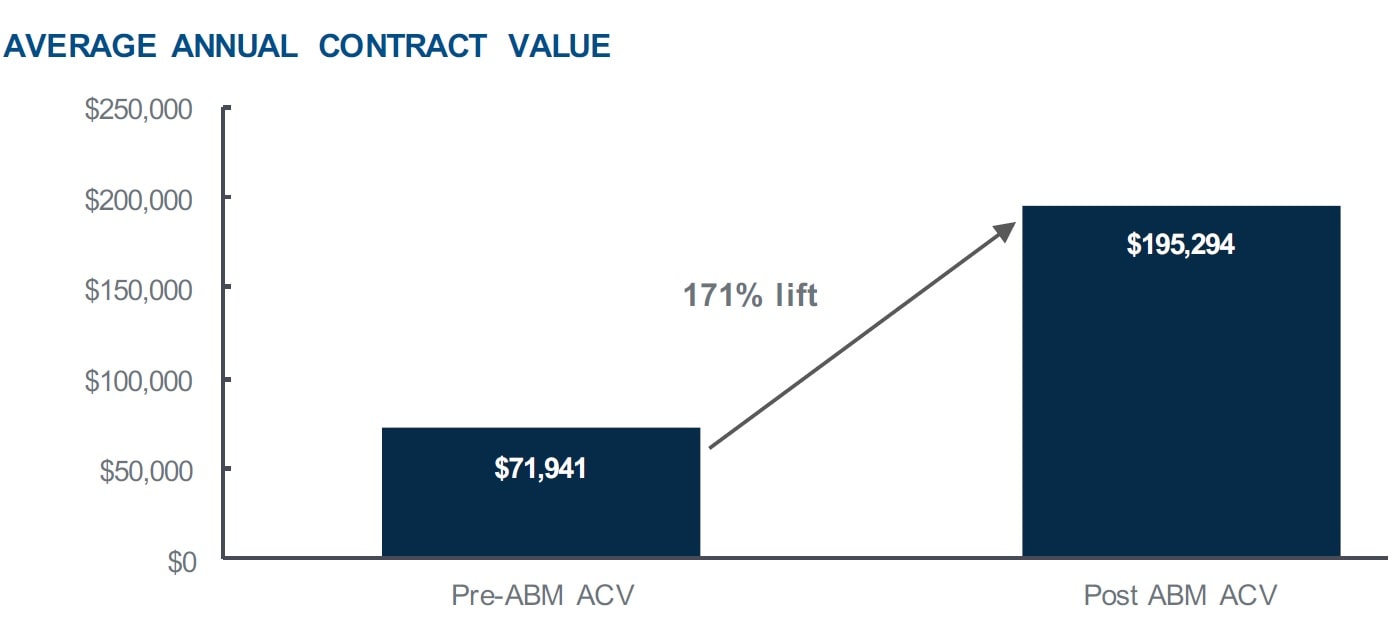 With all these in mind, we can't say that account-based sales is for every business. Like all marketing and sales strategies, this one can only nourish growth under certain circumstances. Let's figure out if you have them.
Should you use account-based selling?
Ask yourself the following questions to see if account-based selling is for you.
1- What do you sell?
When we turn back to the second premise of account-based sales, we see that account-based selling prioritizes and contributes to Customer Lifetime Value (LTV). So companies that pursue ABS devote significant resources to acquiring and keeping high-value strategic accounts, expecting a meaningfully higher return than what they've spent.
And what increases those accounts' lifetime value is that the product or service is upgradable. So if upsell and cross-sell is against the nature of your product or service, ABS is not for you.
Yet if you offer subscription-based products or services that come with a pack of tiers, add-ons, complementary services or packages, ABS might be a great fit for you.
2- Average deal size
The seasoned sales development and inside sales expert Trish Bertuzzi suggests in her book, The Sales Development Playbook, account-based selling is highly suitable for businesses that have an average deals size of over $50,000.
So she suggests if you're selling to SMBs, this strategy is not exactly profitable for you. And why is that the case? ABS calls for extensive resources dedicated to forming a multi-channel and multi-touch strategy, such as a sales development army who should constantly be in touch with multiple customer stakeholders. Or a big team of customer success representatives who should tailor the customer onboarding process to customers' needs and interests.
Say you're serving SMBs and you still want to give it a shot. Here's what you can do. First, calculate approximately what you would need to build an ABS strategy from scratch. Discover which resources are typically necessary for a successful ABS strategy, with the help of resources such as this one that you're reading.
Look for guidance from ABS experts and consult with businesses that have tried ABS and thrived and who typically sell to SMBs too. Then consider the size of your target high-value customer market and the success rate of your sales development efforts to estimate how many deals you'll likely to close.
Lastly, calculate the estimated ROI of your account-based sales using the average deal size and the given customer acquisition rates. If you're not bleeding money, you can perhaps benefit from ABS after all. But don't forget, you may not be using your resources efficiently for a while since gaining know-how and precision has its own costs.
3- Who do you sell to?
The number of decision makers involved in a buying process is another consideration before adopting ABS. If you're selling to SMBs, for example, it's likely that you only have a small number of contacts that you're in communication with during sales development.
You don't need a multi-touch strategy when it comes to managing contacts. In fact, gaining the trust of a single contact is a safer way to go especially if they're the leading decision makers in the organization. Not only is it more practical to direct your efforts to building a relationship with the chief decision maker, but it's also more cost-efficient.
Another way you can use ABS is using it as a part of your inbound marketing efforts. It goes without saying that customer testimonials, reviews and success stories are effective tools for customer acquisition. Instead of adopting ABS as your primary strategy, you can use it to target customers that can help you get the word out for your brand. If you have high-value brand name prospects, like Tesla or Concentrix for instance, you can go the extra mile and ask for testimonials or case studies to build hype around your brand and establish trust.
4- Length of sales cycle
Implementing an effective account-based selling strategy takes time and resources. It's likely that you won't see a desirable return for the first couple of months. So an open-ended life cycle of your customers will provide your marketers and sellers a room of opportunities to upsell and cross-sell.
Defining your target accounts is only the first step. You'll have to do extensive research to find the account's challenges, tailor your value offer around those issues, and search for similar use cases. And of course, there's the part that you identify decision makers and outreach. Doing all of these will take a considerable amount of time. Your products' sales cycle should at least be around half a year, if not open-ended.
How to define your ideal customer profile (ICP) and buyer personas
So far, you looked for clues that signal ABS is the right strategy for your business.
Say you've decided to move on with it. Now, the very first step of organizing account-based sales in your organization is identifying your ideal customer profile (ICP). Assuming you've been in business for a while, you already have an idea of who your ideal prospects are. That is what industries, company headcount, and titles you need to target.
But relying on your understanding of past experiences won't be enough to build such a highly targeted strategy. Feed and challenge your assumptions with data to achieve greater accuracy in your profiling. Using a customer database tool can make the process very easy.
So which data points do you need to take a look at? Some examples are the company's revenue, employees, product kind and specifics, industry segments, location, growth rate, etc.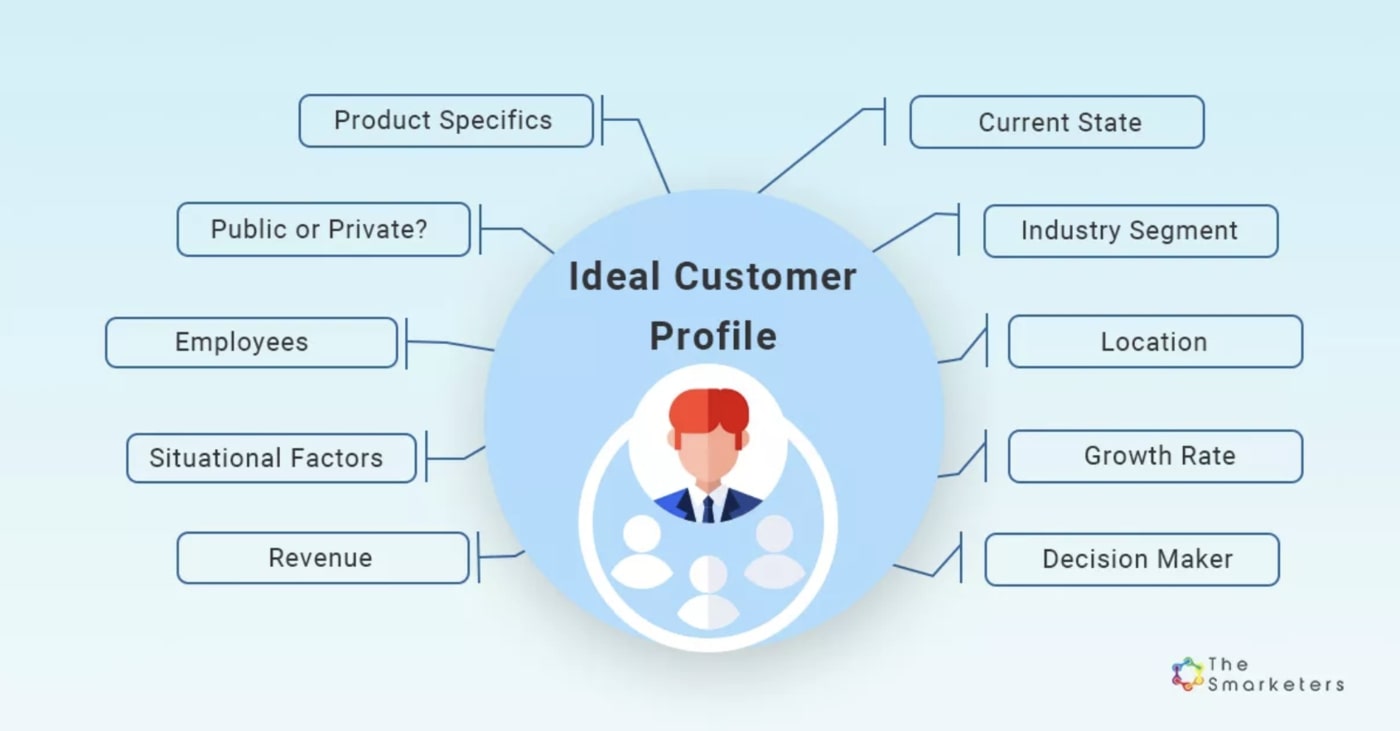 1- Look at account data
Analyzing your existing customers' data will reveal similarities between your highest-value accounts. Download the list of your existing customers from your customer database tool and pick the largest deals, greatest ROIs, most active users, and ones that you upsold to. Those are signs that your product or service is actually beneficial to those customers, and they're more likely to remain loyal customers, and less likely to switch to another business.
Now that you've listed them, it's time to spot the similarities in-between. Try answering the questions below by looking at customer data:
Industry: Do your highest-value accounts share a common industry?
Employee Size: What's the average employee size of the strategic accounts?
HQ Location: Where are your customers located?
Valuation: Do your customers share a common valuation?
Investors: Do your customers share common investors?
Acquisition Channel: Do the highest-value accounts share a common acquisition channel?
Number of Touch Points During Consideration Phase: How many touch points do your customers have had with you before the deal is closed?
Put down the similarities you've found in a document to create your ideal customer profile.
2- Look at website traffic
Say you're a US-based SaaS provider, and the local prospects have been pouring in since the day you started operating. Naturally, you think US-based prospects make up the majority of your target market and deserve the most attention from your sales development representatives. Unfortunately, holding on to that assumption is not always prudent.
Market conditions change every day, as well as your brand awareness and reputation. Website traffic data could be a great source of information about your ideal customers. Who visits your website more frequently? Where are your frequent visitors based? What information can you get about their companies?
Look at your traffic data through Google Analytics or Search Console to observe changes in visitor behavior and find out how they go about searching for the products they need. Integrate them with premium SEO audit tools to take advantage of this data and optimize your website to attract more traffic.
Create a list of accounts to target
Once you define what your ideal customer profile looks like, it's time to find these customers. This can consume a lot of time and resources. Use tools like ZoomInfo, InsideView, LinkedIn Sales Navigator and likes to find the right leads.
Collect lead information from the webinars you've hosted, e-book download forms, and the rest of your inbound lead nurturing efforts. There are account-based identification tools that show you the companies that have shown interest in your products or service by looking for some signs.
Tools like iDatalabs or HG Data can give you information about your competitors' customers that can be high-value prospects. Also, you can look at your own customers' competitors' that might also fit your ICP, with the help of BI platforms Owler.
Once you identify high-value prospects, use solutions like Clearbit, Hunter, Lusha and etc. to find contact information of your leads. An honorable mention here could be Cience's data list feature that makes the whole process easy by enabling you to find your ICP and even ideal contacts there according to your needs.
Create hyper-personalized campaigns
Communicate with your existing customers
You've narrowed down customer profiles to those who best benefit from your products and services. The next step is asking them about their experience with your business, and collect customer feedback from product survey questions:
What kind of problems did they have that led them to look for a solution/product like yours?
What methods/tools/solutions were they using to deal with those problems?
Why did those methods not suffice to solve those problems, which led them to look for another solution?
What has changed/improved after they started using your products?
Asking these questions will be incredibly helpful when you outreach prospects that carry similar characteristics: industry, employee size, acquisition channel, etc. You'll be able to understand target accounts' common pain points, interests, and needs thoroughly and offer relevant content based on your findings. So this will provide you a ground on which you can further customize your campaigns to different stakeholders.
Run a voice of customer (VoC) program on your customers to elicit and understand your target accounts' common pain points, interests, and needs.
Personalize your interactions and marketing content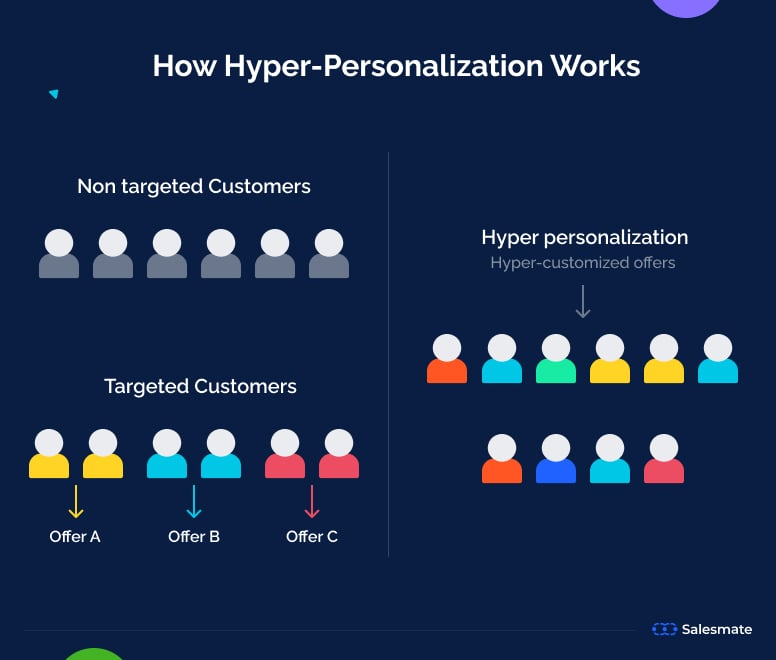 Communication platforms and CRM tools can help you a great deal when offering a multi-touch and multi-channel experience to appeal to all key stakeholders in a buying committee. You need to deliver content that is tailored to a stakeholder's demographics, professional experience, career goals, personal goals, and more ground points that come out of your research.
Use social listening tools like Mention will monitor important conversations involving a specific contact, and help you further customize your content. These tools also monitor vast online sources to uncover audience insights – what's said about your competition and how your brand is perceived by your audience.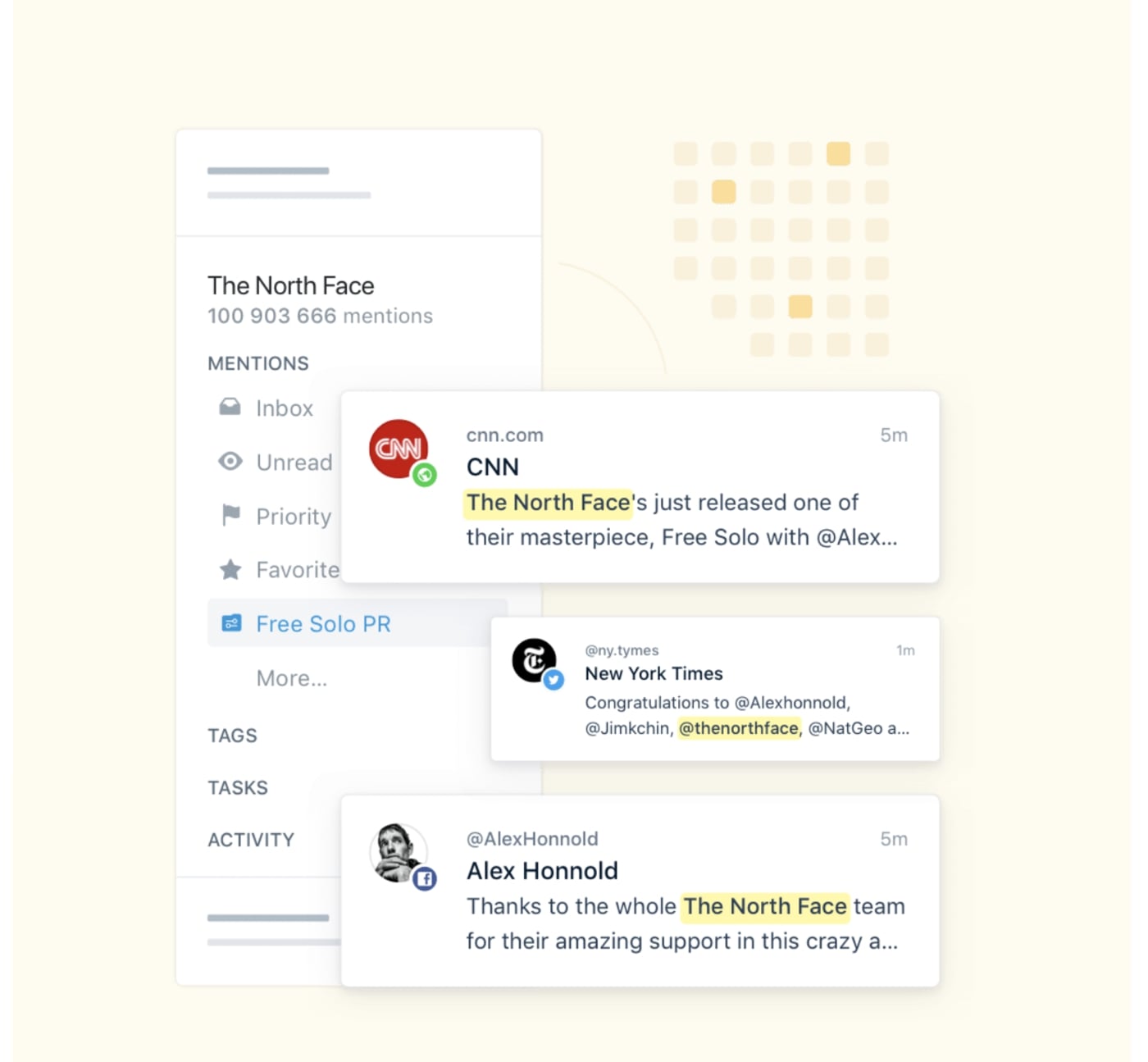 Gather your findings of each ICP and individual contact and create hyper-personalized outreach campaigns using a variety of channels. Tailor every message you share via email, LinkedIn, and any other platform those contacts engage with you. LinkedIn allows you to launch highly-targeted ads, where you can choose specific companies across industries and even job titles.
Use targeted ads to capture the attention of your audience and later direct them to specific pages on your website. On that particular page, you can explain to the visitor how using that product can be a game-changer, based on your research about those accounts. You can also use custom Facebook audiences for a similar result.
This would be a multi-channel, cross-departmental effort on the side of your team, starting with a hyper-personalized outreaching, and continuing through dedicated customer support. To make this cross-departmental collaboration possible, you can take advantage of an online resource management tool that's easy to use from anywhere.
Customer focus at its best:
By now you should know that account-based selling is practically a customer-focused approach to sales. Once you decide on your priority accounts (which could be a time-consuming process depending on your business type), you do your best to provide the best solutions for them.
The key here is to find as much insight as you can about these accounts and provide a hyper-personalized customer journey for them. In some cases, you might even offer a customized version of your product or a customized pricing plan to keep them satisfied. The ultimate goal is to keep the customer account you're working on at the center of your marketing and sales activities and keep them happy through multiple channels.