Although many businesses utilize different approaches to conversion optimization, the impact of COVID-19 has compounded the struggle of marketers as they attempt to cater to consumers on a psychological level in order to facilitate sales.
Though categorizing consumers on a broad level can be a time and money-saving tool for a larger scale of conversions, the approach could leave some businesses exposed following the significant impact that the pandemic has had on consumer mindsets.
Marketing today is focused on building trust between companies and their consumers, but this part of the industry could become strained following the pandemic. This means that it could be a vital time for marketers to adapt their funnels to reconsider who their target audience really is.
Marketing analytics has developed into a money-spinning tool for businesses to better analyze consumer behavior, but in the wake of a transformative pandemic, it's worth taking a deeper look into how the art of winning conversions may have fundamentally changed within respective industries.
The Importance of Knowing Your Consumers
Knowing your consumer is vital to any business. Successful marketers know what their customers want and the most effective way of making their product or service available. The wealth of knowledge is also key and requires knowing much more than their basic demographics and income levels. As a business owner, understanding their hobbies, interests, and tastes can be highly advantageous.
Understanding the buying behavior of your consumers can also be vital. It's important to understand what type of person is most likely to need or want a product or service that your business offers.
To better understand the buying behavior of your consumers, it's important to look into the type of person who's most likely to need or want your product or service. Consider their reasons for buying your product or service, how often they'll need to make a purchase, who they are buying for, and where they'll make the purchase.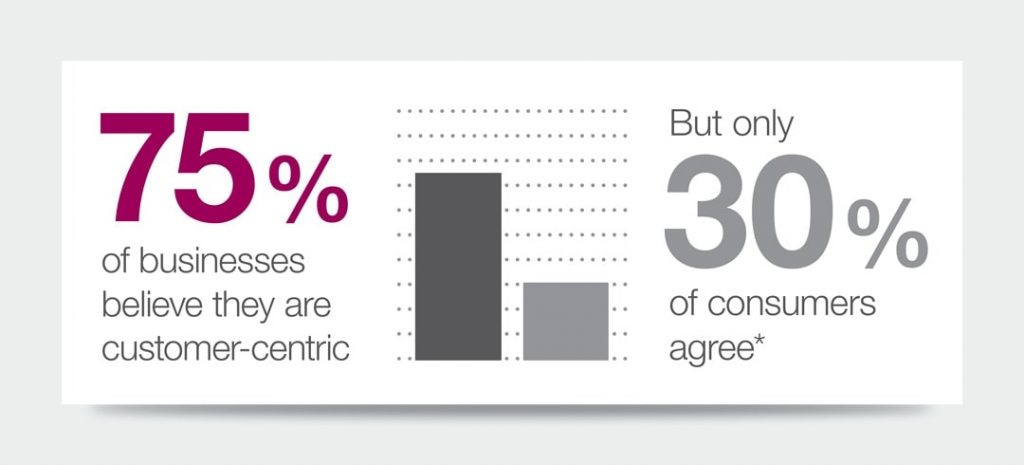 While many businesses believe that they are customer-centric, few consumers agree with this self-assessment. Bridging this gap in understanding between businesses and their consumers is likely to be harder in 2021 following the global COVID-19 crisis.
How Mindsets are Changing
Although many nations are still consumed by the disruption caused by the COVID-19 pandemic, we're beginning to see some key trends emerging regarding the behavior of citizens around the world.
Greater Digital Adoption: Significantly, people are shifting to digital platforms to cater to their daily needs. Hence, marketers need to adapt accordingly and ensure better user experience.
Shifts in Mobility: Public transport usage has experienced a heavy drop as more employees are working from home.
Value-Based Online Shopping: Consumers are investing more time in making purchases from companies that share the same values as them.
Heightened Awareness of Health: The wearing of masks has come with increased awareness of hygiene, healthy eating, and a greater emphasis on fitness.
Shifts in Interpersonal Behavior: Increased levels of pet adoption has been offset by more divorce filings.
These five trends are interconnected on multiple levels. For instance, the pandemic has increased people's usage of digital tools in life and at work in order to stay connected in a world that's physically disconnected. This use of digital tools is blurring the lines between work, play, social interaction, and between domains like mobility, health, and finance.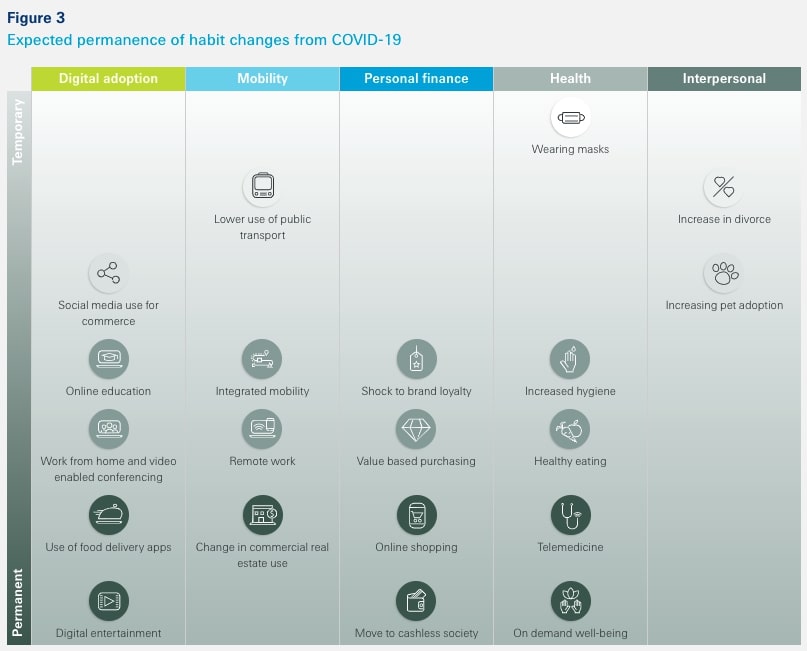 Although some of these trends appear to be temporary, like our reliance on masks and shifts in interpersonal skills, others may be much more permanent – such as the rise of online shopping, higher demand for wellness, and digital consumerism.
History offers some indicators as to how life may look like following the pandemic. For instance, the spread of SARS at the beginning of the century had a significant impact on the lives of some regions hardest hit. Swissre reports on anecdotal evidence of people washing hands, using toothpicks to call an elevator, and using tissue paper to open doors of public washrooms among the habits picked up that are still in practice today for many.
However, some significant events can carry only short term impacts for affected industries. While air travel suffered a significant decline immediately following the events of the 9/11 terrorist attack in 2001, airport usage recovered quickly due to the implementation of tighter security measures. This shows that industries can effectively adapt to the shifting mindsets of consumers to offer comfort and security.
Disregarding Loyalty
One of the most significant shifts in consumer behavior revolves around the notion of loyalty. Consumers around the world responded to the disruptive power of the pandemic by trying new shopping behaviors while expressing a high intent of 65% or more to continue these behaviors once the pandemic is over.
While this change is widespread, it's been less pronounced in countries that have experienced a moderate degree of economic shock, like in Germany and Japan.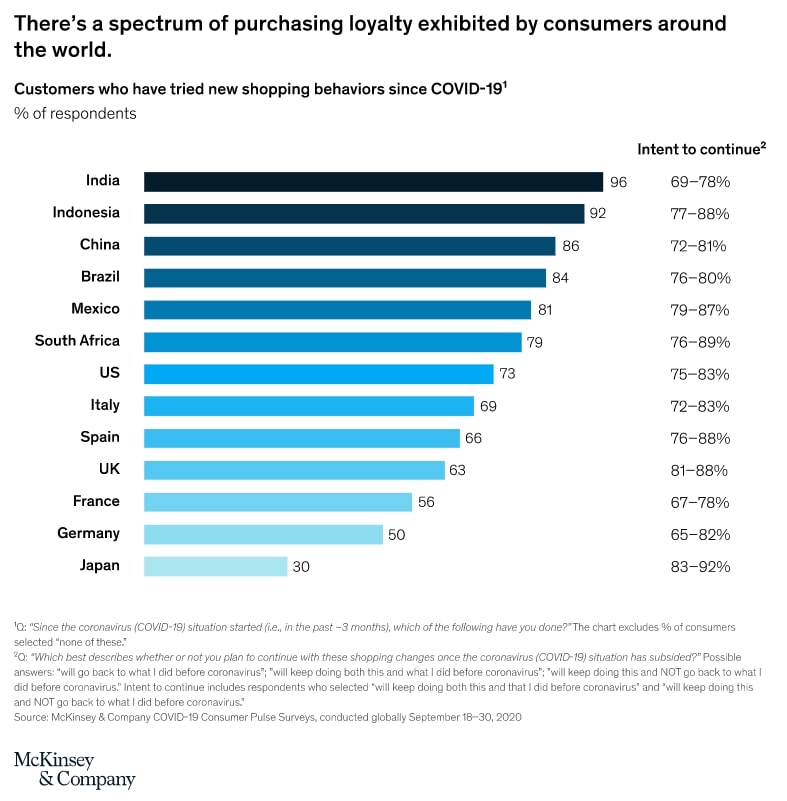 The chart above indicates that businesses may have trouble in implementing their customer retention funnels in the wake of the pandemic, however, it also shows that winning new customers may be a more straightforward process compared to before.
Re-Evaluate Your Existing Content
The world of eCommerce is changing, and there are new customers looking for businesses that share their values to be won. Marketplaces are moving online at a faster pace and the rise of working from home may offer more opportunities for consumers to digest more content from businesses.
This means that it's worth revising your presence online to accommodate this new consumer mindset in your industry. As we've already touched on, value-adding content like how-to videos and in-depth comparison charts can help to encourage consumers to build bonds with products, services, and businesses, but it now's an ideal time to alter your layouts and landing pages to better suit your new consumers.
To do this, an effective trial-and-error technique is to implement multivariate testing across your landing pages. While A/B testing presents visitors with a black-and-white yes-or-no choice regarding favourability, multivariate testing has the ability to pick and choose various different aspects, widgets, and functions from pages and showcase them in a different way for different visitors – providing a more comprehensive result for marketers.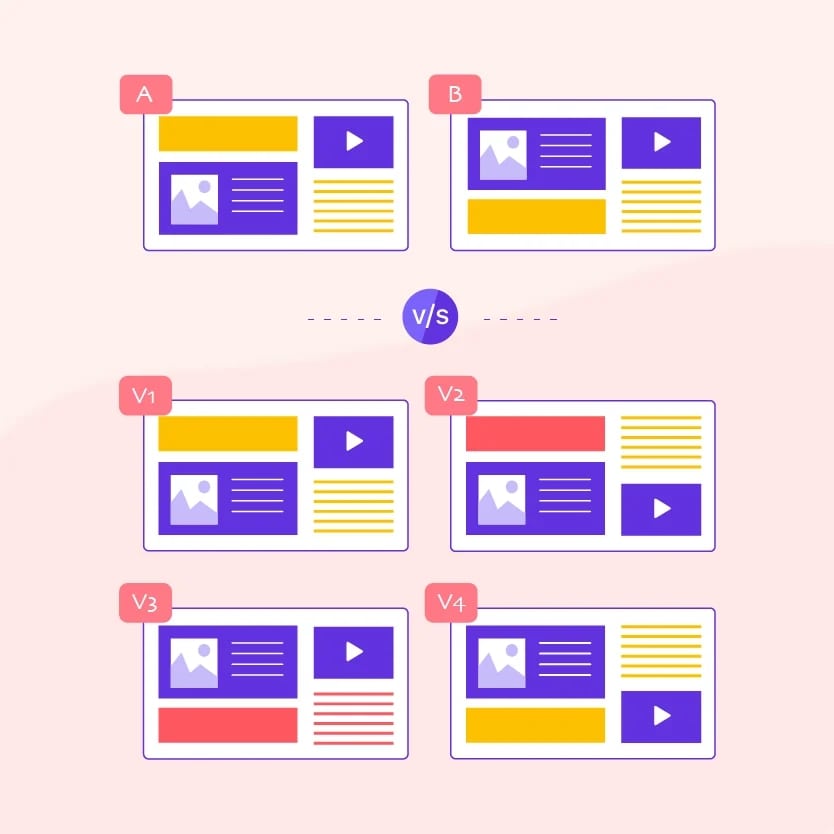 There are plenty of tools available to conduct multivariate testing, and platforms like Optimizely, Unbounce, and VWO are among the market leaders. These tools can automatically generate various different types of pages and present you with insightful results based on the level of interactions each page received in contrast to the bounce backs that they accumulated.
Work to Embrace Your Online Community
Working from home has meant that consumers are now more digitally connected than ever before. Usage of Instagram Live effortlessly doubled during the peak of the COVID-19 pandemic and as a result, there are plenty of fresh opportunities for marketers to engage with their audience via the use of hashtags or starting conversations within online communities.
Many companies are already finding ways to get creative with their online marketing strategy and connecting more meaningfully with their base. For instance, businesses like MUD/WTR have connected digitally with their consumer base by hosting regular live meditation sessions for customers – an outside-of-the-box approach to inspire an audience that's developed a greater emphasis on wellness since the beginning of the pandemic.
Fitness chain, Orange Theory, has also taken to creating online home workout sessions for members, utilizing household items as weights while the company's studios are closed.
Engaging with consumers and your target audience on social media can also have a more profound impact due to how much more time consumers are spending connected online. Look at starting discussions with hashtags and engaging with users across social media platforms. It's also worth looking at how you can open up discussions to wider audiences as a means of encouraging more interaction.
Finally, it's also worth installing a live chat feature on your website if you haven't already. In a more interconnected marketplace, responsiveness counts for a lot. Other approaches to responsiveness can involve setting up a texting platform or creating live streams on social media platforms in which you can talk directly to consumers and answer their questions.
Trial and Error Through Analytics
Shifting consumer behavior means that the marketing landscape may have changed significantly for your business compared to early 2020. This means that it's vital for businesses to analyze their funnels in more depth.
The changing mindset of consumers following the pandemic will alter the performance of your existing conversion funnels, so it's key that you revise your efforts for a post-pandemic society.
Analytics platforms like Google Analytics and Finteza offer strong insights into each stage of a website's conversion funnel and are capable of analyzing which pages are leading the way on cart abandonment.
For you to properly analyze your funnel, it has to be visualized.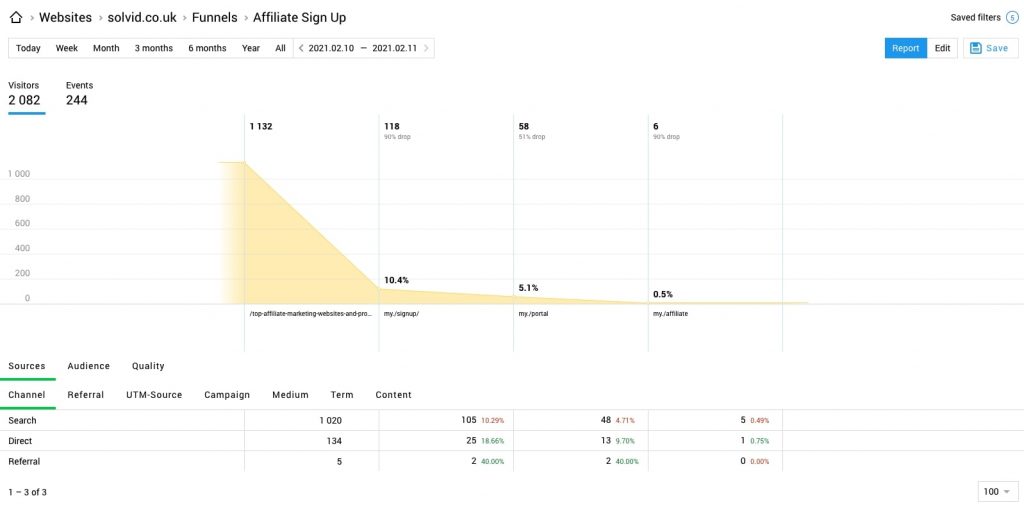 Above is an example of the conversion funnel we use to track how many people register for our affiliate marketing program. We built our funnel using Finteza, and it has the following structure:
Best affiliate marketing programs blog post > Affiliate registration page > Portal (once registered) > Page that has unique affiliate links
As you can see above, in two days, our post generated 1,132 unique visitors, 118 of which went ahead to the registration page, 56 of whom successfully registered as our affiliates. Only 6 have visited the page that contains unique affiliate links.
With a simple calculation, we can determine that our conversion rate is ~5% for this blog post.
Ramp Up Your Remarketing
Statistically speaking, as much as 75% of online shoppers will abandon your website without making a purchase. With the pandemic generating an increased volume of browsing, now is an ideal time to remarket to your cart abandoners alongside previous page visitors to get them back to your site and carrying out a purchase through the lure of offers like 'free shipping' or limited-time discounts.
This approach could be particularly beneficial for businesses experiencing sustained levels of traffic.
Alongside website visitors, it's also possible to generate new leads and sales by testing your levels of engagement with custom audiences, allowing you to target users who have engaged with your content.
This can include marketing to users who are already familiar with your brand but have not yet made the conversion.
Here, it's important to remember that the more relevant you can get, the better the levels of engagement you will see in return. With this in mind, it's worth segmenting your audience as much as you can to ensure the best results.
The Coronavirus pandemic may be a disruptive event that caused chaos for a wide range of industries around the world, but with shifting consumer mindsets comes a fresh opportunity for marketers to generate new conversions and revise their approach to retention.
While some of the changes we're seeing in customer behavior are more long-term than others, businesses can act fast in adapting their presence online to cater to more digital shoppers and work towards creating more value-added content to satisfy consumers with an increasing level of consciousness.
This brave new market will present more businesses with the chance to win more consumers than before, so there will be plenty of opportunities to outpace competitors and win over audiences that were previously inaccessible.