The affiliate marketing spend in the US was up to $8.2 billion in 2022, a significant rise from $5.4 billion in 2017.
With this trend in mind, it's safe to say that affiliate marketing isn't going anywhere.
But becoming an affiliate marketer takes more than merely knowing what the term means. For one, you must choose the right platform for affiliate marketing.
Affiliate marketing can generate between 5% to 25% of online sales for big brands. Due to the popularity of affiliate marketing, there are now plenty of platforms to choose from.
While some have a better payment schedule or payment rate, others offer better tools and reporting.
Below, we do a roundup of the best affiliate marketing platforms in 2023. The list should help you find the right platform to kick start your affiliate journey.
Best Affiliate Marketing Platforms for Beginners
An affiliate marketing platform is a website where merchants can post their offers. Affiliates join these platforms to promote those offers and earn commissions in return.
Here are some of the best platforms for beginners to try out in 2023.
Amazon Associates

Amazon Associates is among the largest affiliate marketing programs worldwide. It allows publishers and bloggers to monetize their social media or blog content.
With a strong brand identity and millions of Amazon products to cash on, the Amazon Associates program caters to content creators from every niche and category.
The best part about Amazon Associates is its heightened potential for a commission. When a potential buyer follows an affiliate's link, the affiliate gets a commission for every purchase the customer makes during the session, even if it's not the product the affiliate linked to.
Amazon Associates has a fixed commission income rate. It means you'll get a fixed percentage as a commission per sale. For example, the commission rate for physical books and kitchen products is 4.50%. If someone buys a kitchen tool worth $100, you'll get a commission of $4.50.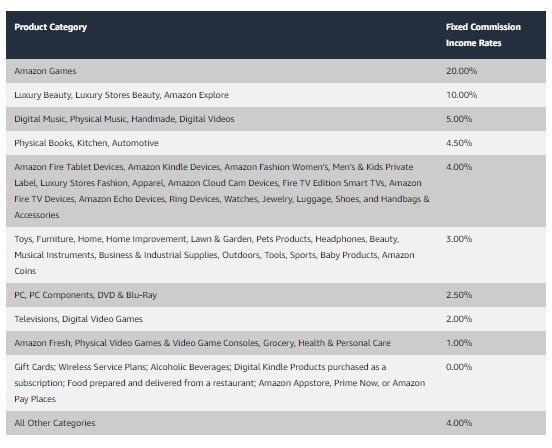 Pros:
Vast product selection
Low payout threshold of $10
Universal cookie
Large customer base
Cons:
Low commissions for certain categories
Registration required for every country individually
ShareASale
ShareASale is a popular affiliate marketing platform that competes with Amazon Associates by offering affiliate programs from more than 25,000 merchants.
The platform has a unified dashboard where affiliates can see their statistics and generate links for individual products. This is important if you are using paid advertising to drive clicks, as ad costs can significantly trim commission margins.
Besides physical products, such as apparel and home appliances, ShareASale also houses affiliate programs for digital objects. For example, you can find programs for software, music, video games, and WordPress themes.
The commission rates depend on the merchant you choose, and the same applies to cookie duration too. Meanwhile, the minimum cashout threshold is $50, much higher than Amazon Associates. ShareASale charges a 20% transaction fee for every payout.
Pros:
Thousands of merchandise to partner with
Exclusive physical and digital product merchants
Dashboard for analytics and reporting
Cons:
Awin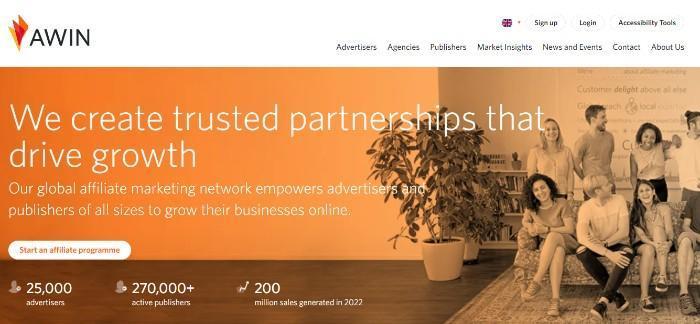 Previously known as Affiliate Window, Awin gives you access to 25,000 merchants. ShareASale acquired Awin in 2017, but the platform runs independently with different merchants.
Awin gives you access to many world-renowned merchants, including AliExpress, UnderArmour, Hyatt, and StubHub. You'll have to pay a $5 fee to create an account on the platform, which acts as a deposit and is added to your account once you get approved.
After approval, you can apply for different merchants' programs individually. The commission rate will vary from merchant to merchant. Some common categories on the platform include e-commerce, insurance, travel, finance, technology, fashion, and travel.
Pros:
Multiple merchants options in every category
Low minimum payout of $20
WordPress plugins for boosting performance
Cons:
Setup fee of $5
Outdated tracking system
CJ Affiliate

As one of the oldest and largest affiliate marketing platforms, CJ Affiliate has a reputation that's hard to match. The platform reaches more than a billion global customers every month and allows affiliate marketers to earn over $16 billion annually.
CF Affiliate lists thousands of popular brands, including Overstock, Priceline, Barnes and Noble, Grammarly, and Lowe's. There's no application fee, so you get started with $0.
Every product has earnings per click (EPC) ranking that shows you the commissions you can get on its sale. A slight downside is that you need the approval to sell products from each merchant individually.
If you fail to sell something in six months, the platform may deactivate your account. Popular product categories on the platform include finance, travel, software, and retail.
Pros:
Wide range of categories and merchants
Link generator bookmarklet for easy link generation
Backend dashboard to track marketing efforts
Cons:
Deactivation likely due to lack of sales
Rakuten Advertising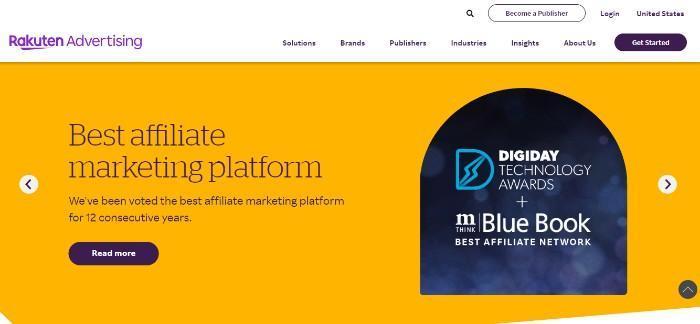 Rakuten Advertising has emerged as a reputable affiliate marketing platform with access to many top brands, such as Lilly Pulitzer, Best Buy, Papa Johns, Walmart, Ecco, Wells Fargo, and Virgin Holidays. The platform has been in the industry for 25 years, reaching more than 1.2 billion customers and generating over 200 million orders.
Rakuten Advertising uses consumer data and industry-leading intelligence to help marketers make informed decisions. Marketers can use the platform's tried-and-tested strategies to leverage emerging media trends for higher profits.
The most popular product categories on Rakuten Advertising are D2C, finance, retail, and travel. After signing up, you have to wait for approval. You also need to get approved by every merchant individually to sell their products.
Pros:
Access to popular merchants
Reputability due to Rakuten's trusted name
Marketing strategies and tools
Cons:
Not as many products as other networks
ClickBank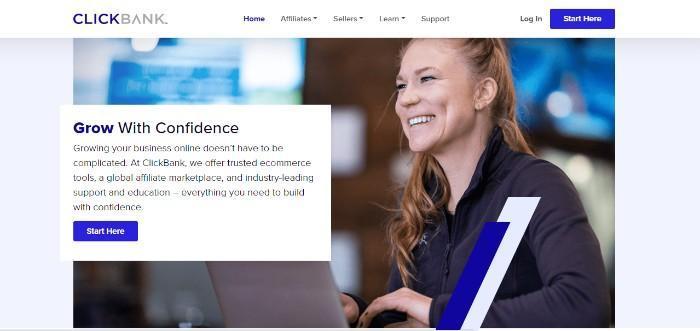 ClickBank is a suitable affiliate marketing platform for people who want to sell digital products, such as eBooks, software, and other downloadable items. It is also a great way to get started with affiliate marketing, as it requires low start-up costs.
Unlike ShareASale or Rakuten, ClickBank has smaller merchants rather than globally known brands. While these merchants don't have international recognition, they're great for niche-based marketing.
Signing up for the platform is easy and requires no fee. But you should check out the products before promoting them, since not all are high-quality items.
ClickBank University is the platform's paid resource bank for learning marketing tips and affiliate training.
The commission rates for products can be as high as 90%, although most merchants pay much lower. Some common product categories include fitness, health, investing, languages, self-help, games, marketing, arts, and entertainment.
Pros:
Small niche offers
Minimum payout of $10
Weekly payments
Cons:
Many low-quality products
Avantage Affiliate Network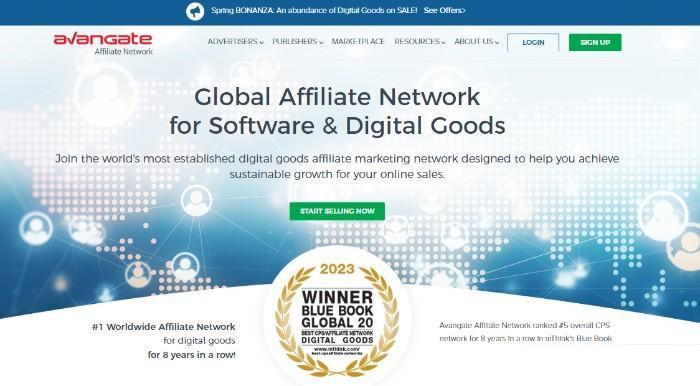 Like ClickBank, Avantage Affiliate Network also focuses more on digital products than physical items. You can sell products from popular merchants like Awario, Bitdefender, and Kaspersky.
A notable feature of this platform is that it lets you browse merchants without signing up. The commission rates can be 25% to 85%, depending on the merchant. Common product categories include SaaS and security products.
Like Amazon Associates, merchants on Avantage Affiliate Network also give you a cookie. The cookie duration can be anywhere from 30 to 180 days, but a month is guaranteed.
But you'll have to sell a few products before getting a cash out because the minimum threshold is $100.
Pros:
Payments available through PayPal
Many unique software products
High commissions
Cons:
PartnerStack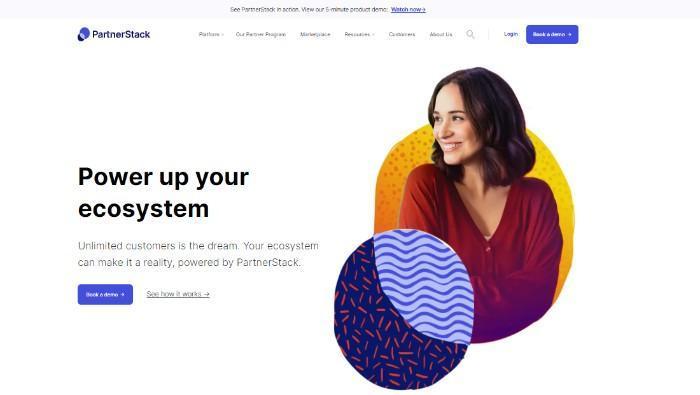 If B2B marketing is more up your alley than B2C, PartnerStack is the perfect solution. The platform gives you access to reputable B2B affiliate marketing programs from companies like WebFlow, Monday.com, and Notion.
As long as you're familiar with B2B marketing trends, you can expect to earn a lot from this platform since the commissions are much higher than B2B platforms. You can earn anywhere from 20% to 50% in commissions per sale.
The in-app dashboard allows you to monitor all your campaigns in one place. You can also use features like in-app messages and partner management to keep everything on track. The platform also has learning materials for new affiliate marketers.
Like many other platforms, you'll have to apply for every merchant individually. But you get paid for all of them together. The minimum cashout is just $5. Many merchants also offer cookies for up to 90 days.
Pros:
Hundreds of top-notch B2B companies
Long cookie duration
Low payout threshold
Cons:
Partner reporting needs improvement
FlexOffers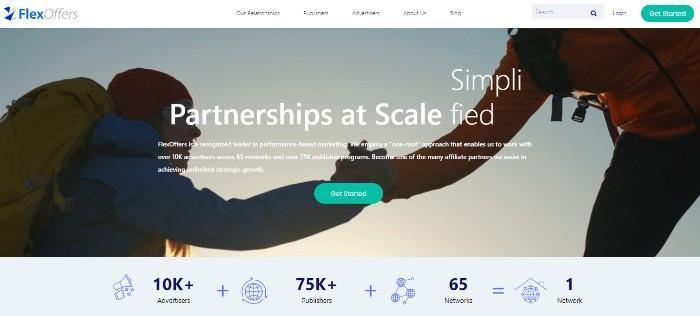 FlexOffers gives you access to more than 75,000 programs across 65 networks. You can earn exclusive commissions by promoting the merchants' products and services in categories including apparel, electronics, automotive, home, garden, and travel.
Some popular brands on FlexOffers include Macy's, Lenovo, and Sketchers. The platform lets you browse through the merchant selection before signing up.
Since you have access to APIs, you can enjoy real-time reporting, product feeds, and more. The platform also has many content monetization solutions for bloggers and website owners.
Depending on your business model, FlexOffers also provides custom solutions. For example, you can enter custom partnership agreements or get personalized agency solutions for your needs.
Every publisher on the platform gets a dedicated account manager. You can also use the platform's features to manage your campaigns and track your performance with detailed analytics.
Pros
Over 12,000 merchants
Intuitive backend dashboard
Dedicated account manager
Cons
Limited payment options for non-US affiliates
Sovrn//Commerce (VigLink)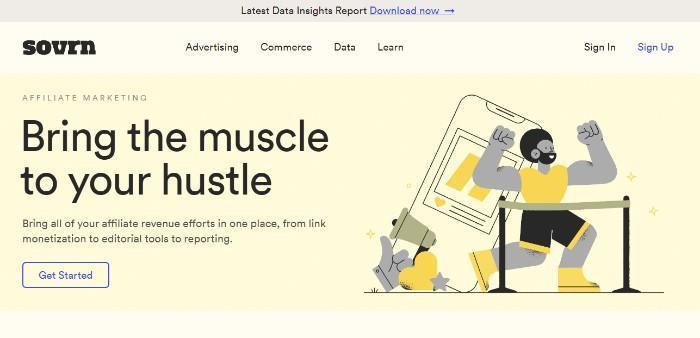 With access to 50,000 top merchants like Macy's, Walmart, Wayfair, and Marriott, Sovrn is a one-stop for affiliate marketers. You can find everything from payment methods and commission rates to approved countries in one place.
Sovrn scans your website and turns all your current product links into affiliate links, saving you time and hassle. After that, you can optimize your earnings by keeping an eye on your analytics.
If you download the Sovrn Chrome extension, you can generate affiliate links by navigating to a product page. Then, you can share these links through social media, websites, or email marketing.
Since the platform uses natural language processing, it can connect you to the highest-paying merchant for maximum commissions. You can also find sponsored content opportunities to increase your earnings.
The most common product types on the platform are physical, such as skin care, sports equipment, accessories, and home goods. Digital products are limited but provide good commission rates.
Pros:
Access to top global merchants
Chrome extension for quick link generation
Automated link generation
Cons:
Doesn't work well with smaller websites
JVZoo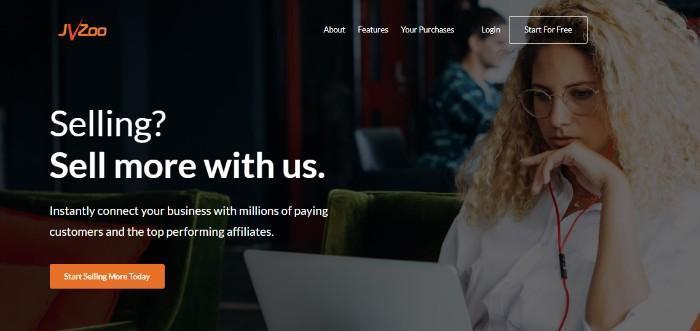 Tech and artificial intelligence are the future. So, it makes sense to find merchants from a platform like JVZoo, which focuses on these categories.
JVZoo makes affiliate payments easy by taking the vendors out of the equation. When the affiliate makes a sale, the commission instantly goes into their JVZoo Pay account. The affiliate can then withdraw the amount into their Payoneer or bank account easily.
JVZoo is also compliant with SCA (Strong Customer Authentication) and PCI (Payment Card Industry) regulations, so merchants can feel secure setting up their accounts. The platform also integrates with payment gateways like Paypal and Stripe, making it easy to accept payments from customers.
Pros:
Multiple payment gateways
PCI compliance
GDPR and FTC regulations-compliant
Cons:
Limited merchant selection
How Much Can You Earn Using These Affiliate Marketing Platforms?
A Statista survey found that 57.55% of affiliate marketers earned under $10,000 from affiliate marketing. Meanwhile, one out of six marketers earns $50,000, while 4% reach over $150,000 in revenue.
There are many dos and don'ts of affiliate marketing, and having a thoughtful strategy in place is important if you want to make serious money.
The key to making the most out of these affiliate marketing platforms is to pick the right product and market it to the right audience. You can also opt for products with higher commissions to increase sales.
Digital products typically pay a higher percentage in commissions than their physical counterparts. If possible, promote digital products on your blog or website to increase your chances of earning more money.
Plus, you can use different promotion strategies, such as email marketing, content marketing, and influencer marketing. These will help increase your reach and allow targeted marketing.
Final Words
Choosing the right affiliate marketing platform for beginners is imperative to your success as an affiliate marketer. Choose a platform that provides access to merchants and products your target audience is most interested in.
Also, ensure the platform has useful features, such as analytics, tracking, and reporting, to help you measure your success.