Driving visitors to your site and urging them to take the desired action can be a pretty daunting task.
There are times where you put in effort to create great marketing campaigns that don't drive visitors. Or even if they do, they don't convert. This is the reason why most of the marketers today have started following conversion rate optimization, so that they can convert more website visitors into buyers. It keeps you ahead of your competitors in the market.
Despite knowing and understanding the importance of CRO, the majority of marketers fail to explore these strategies to their advantage. According to Unbounce, less than one fourth of worldwide businesses are actually satisfied with their conversion rates.
On the other hand, today, the businesses that have adopted the right CRO practices, their results are amazing!
According to a survey conducted by Venture Beat, of the 2,938 marketers surveyed, 95% reported that they were able to achieve desired conversion rate optimization goals and around 173 businesses had ROI of above 1000%, which is a staggering success.
Such findings and results have ultimately compelled businesses to allocate more resources to this marketing technique. According to a MarketingCharts report, an overwhelming number of marketers are now planning attention to conversion rate optimization.
However, implementing the CRO strategies is also not an easy task. It's where many marketers fail.
To help you avoid their mistakes, here are five actionable CRO tips that will surely help you boost your site conversions and turn your site visitors into loyal customers.
Optimize your website for mobile
Yes, it still needs to be said. No, it's not a given yet.
With over 90% buyers using smartphones to shop, presence and visibility of your business on mobile phones is what you must ensure first. Optimization of your website for mobile and tablet browsing has become vital for surviving the competition. If someone is interested in your offer but the page loads funny, they'll still bounce for a better optimized one.
For a higher conversion rate, the first and foremost step is to improve your mobile website's page loading time. This will speed up the process of customers having a good user experience. According to Kissmetrics, 40% of people abandon a website that takes more than 3 seconds to load. Therefore, checking loading time is something that should be dealt with priority.
Also, make sure that your CTAs are clear and the customers are smoothly directed to the pages where you want them to go, and those load quickly as well.
Use A/B testing to verify your best guess
A/B testing is now widely accepted amongst marketers as an effective method to drive higher conversion through experimentation. In fact, close to half of modern businesses use A/B testing resources to optimize conversion rate.
While A/B testing your marketing pages, choose a testing tool that specifically measures what you'd like to experiment with. Test only the web pages that you think are crucial for boosting your conversion rates. By changing different elements for different users, you can figure out the best design, copy, and CTAs for your offer.
For instance, Nature Air, the Costa Rican airline, boosted its conversion rate 591% by changing the placement of their CTA button. With the help of A/B testing, they found out that their CTA performed better closer to the page content than in the sidebar.  Have a look at their before and after pages above, which helped them improve their conversion rates significantly.
Before: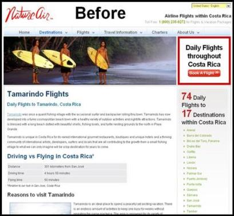 After: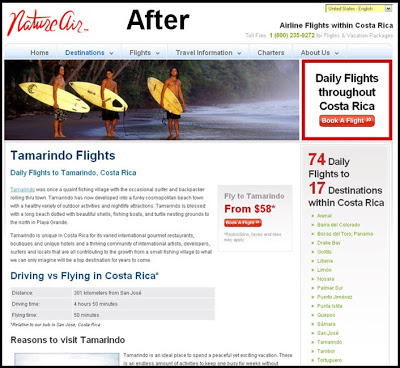 Give users personalized experiences
There should be something in your content that users can relate with personally and emotionally. When they find a message that speaks directly to them, they're more likely to react and do what you want them to, such as buy or click on a call-to-action button.
According to Crazy Egg, 52% marketers say content personalization is very much a part of their marketing strategies.
Though you should personalize all types of content, pay a little more attention to email personalization as it can help boost your conversion rates dramatically – inboxes are more personal than public websites, after all.
Even one line of a personalized message at the end of your landing page can do wonders for conversion rate optimization. For example, check out this Evergage page to see how a personalized message brings amazing conversion results. The company was able to improve their conversion rate by 11% after adding a personalized message at the bottom of the page.
How do you personalize your copy? Well, the first thing to do is make sure your web pages are not overloaded with unnecessary details. Instead, go for buyer-specific content only. When writing web content, keep your buyers' profile, persona, tastes, and preferences in mind rather than adopting one-size-fits-all approach.
Unpersonalized: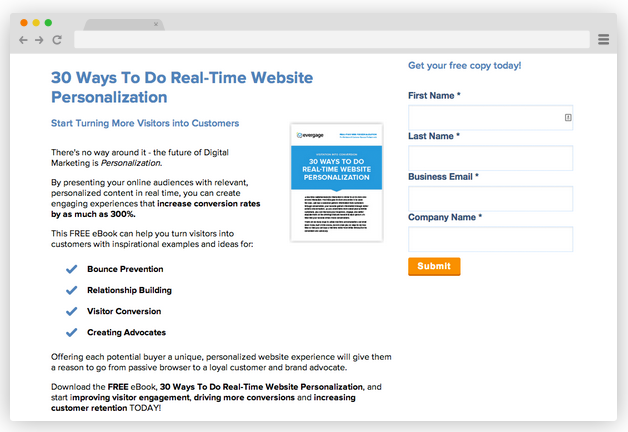 Personalized: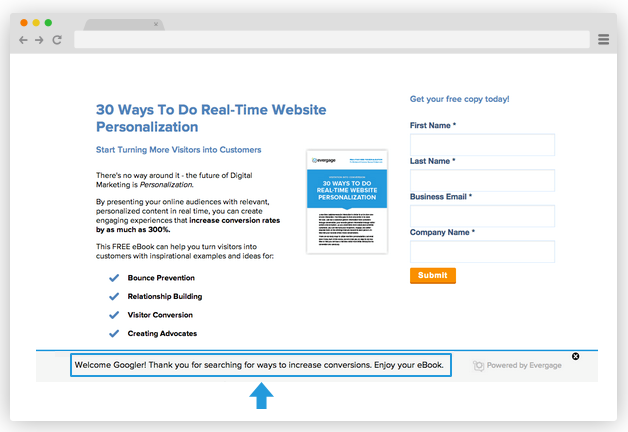 Secondly, post content that specifically addresses the locations of people that you want to target. Such geotargeting helps a lot if you are providing local deals.
Thirdly, and most importantly, incorporate dynamic images with details that viewers and buyers want to learn about. Buyers are more interested in real-time images of products that they can virtually examine from all angles.
What should you be doing about email personalization?
Avoid posting larger blocks of content. Congested block of content puts strain on users' eyes and reduces their reading experience. Instead, opt for writing content in small paragraphs of few lines so that readers can easily scan content.
Optimize emails for smartphones. Since increasing number of potential customers use smartphones, they will be using the devices to read your emails. So, your email design should be such that it is easily accessible and readable on all types of modern smartphones.
Explore video's potential
The importance of video marketing for conversion rate optimization can be gauged from the fact that users spend an astounding 88% more time on websites with videos.
Also, the chances of customers buying a product increase by 64% when they see product videos, according to infographics published by MultiVisionDigital.
If you haven't, it's high time you create specific videos that address and target your customers. With analyzing technologies available easily, you can easily create targeted videos so that you can achieve maximum amount of conversions.
For example, now-infamous Dollar Shave Club was able to add 12,000 subscribers to its customer list in just 48 hours with the launch of its video "Our Blades Are F**king Great," on YouTube. Check out the amazing video below:
Optimize your call-to-action buttons
The importance of strong CTAs for increasing conversion rate has, unfortunately, not yet dawned on a vast majority of businesses. To get ahead of your misinformed competition, incorporate appropriately-designed CTAs on your website pages.
You can optimize your buttons by:
Choosing the right colors: Many website owners make this glaring mistake of picking any color for CTA buttons. In choosing colors, make sure that they present a contrast to colors used for rest of the page so that it can catch users' attention instantly.
Ensure perfect positioning: Your CTA buttons should never be buried at the bottom of your web page, as users generally don't scroll down all the way. It's smarter to place CTAs around middle of the page, where eyes of visitors fall quickly.
Design bigger CTA buttons: Reports suggest that bigger CTA buttons are likely to be clicked more than smaller ones and can help in increasing conversion rates by 10% to 25%. This is because bigger buttons are quickly visible and tempting to click on.
Show creativity: Simple and routine CTA buttons are unattractive. Use your creative juices to design them to provide some excitement for visitors and users. The button design should entice users to click.
Before: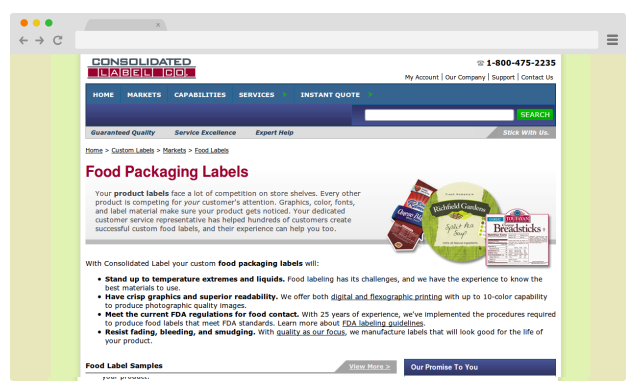 After: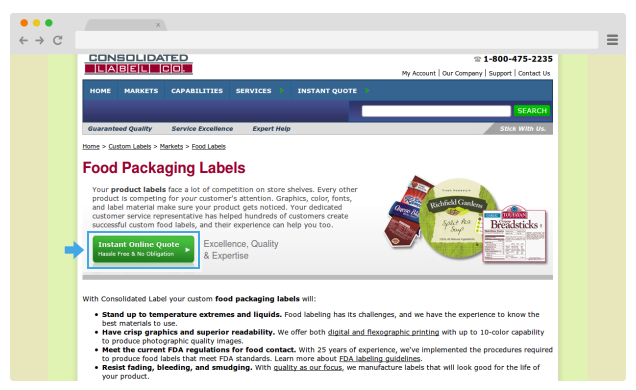 Still don't think they make a difference? Consolidated Label was able to increase its conversions by 62% by simply tweaking their call-to-action button and making it contextual.
Over to you
I hope that that these CRO tips help you turn more visitors into buyers and fall in love with conversion rate optimization. Mastering these five elements is a great place to start increasing leads, sales, and business.