In the digital age, no well-rounded marketing plan is complete without a solid social media strategy.
This isn't a single plan of attack, either. It involves multiple steps to determine the best course of action to solve your biggest challenges and achieve your marketing goals.
To do this you'll need to research your core social media audience, create compelling content, decide on the most crucial metrics, and eventually turn all that raw data into insight in the form of KPIs.
There's also the question of which platforms to focus on – you don't need to be on every single one. Facebook, Instagram, Snapchat, Twitter, LinkedIn— each has its positives and negatives depending on the demographics of its core user base.
So with all these factors to take into consideration, a proper organization will be key to your strategy.
And with so many balls in the air, you'll only benefit by enlisting the help of tools that can help you create, publish, and manage social media content.
Not only will these tools allow you save time and money, they can also help you enormously in the following efforts:
stay on top of your social engagement
manage multiple social media pages at once
streamline team collaboration, enhance customer relationships
monitor relevant keywords, analyze social-media performance
deliver the hard data that you can then present to shareholders
There's no need to spend a lot of money on a different social media tools, as there are tons of reasonably-priced options that are available.
To that end, here are nine of the best tools that are either totally free or offer free trials.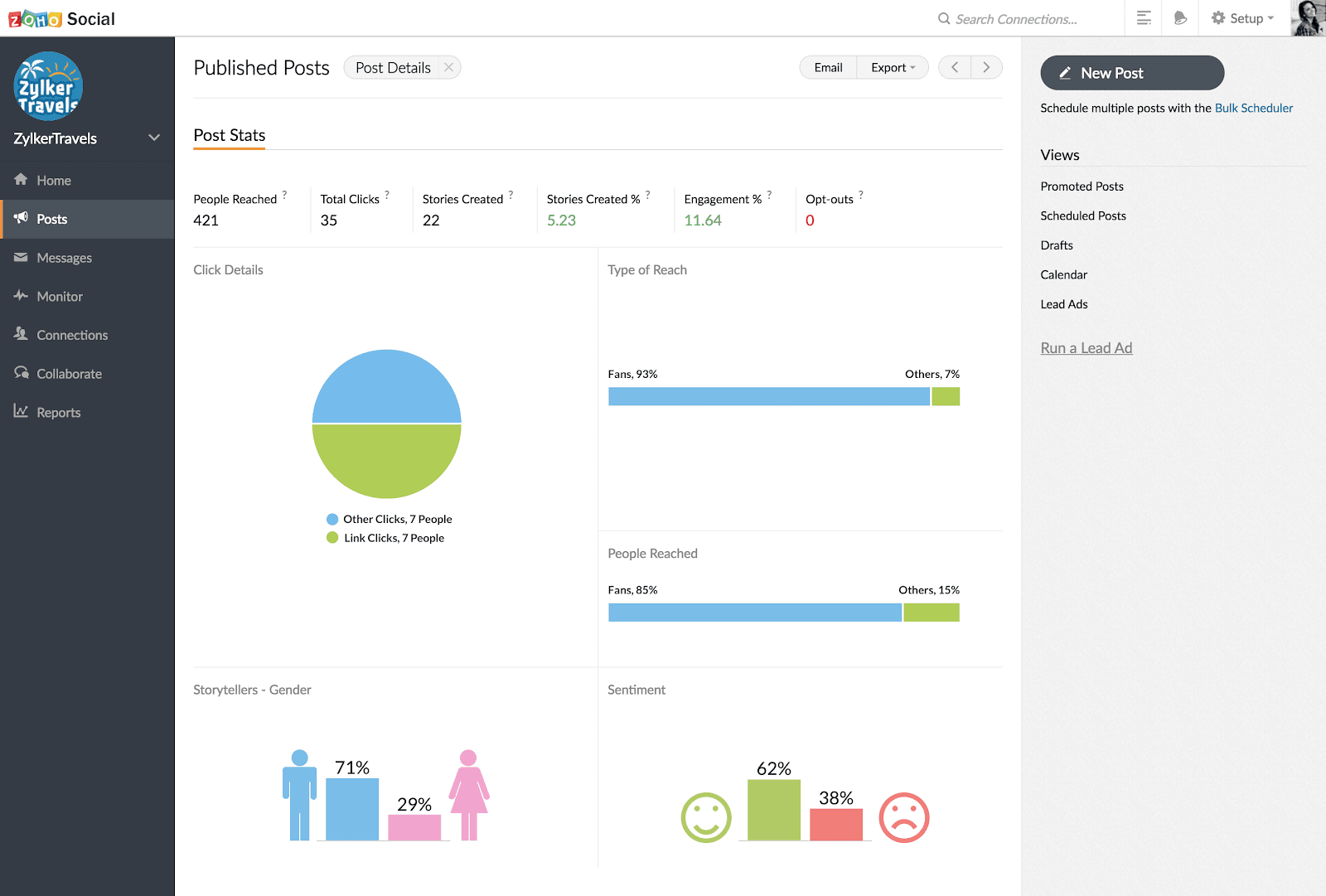 This is a solid option that mixes social media management with some nice workflow efficiency.
Zoho allows you to manage multiple social profiles from a single dashboard, which also allows you to communicate easily with team members and schedule upcoming posts.
Other features include Facebook lead ads integration, advanced reporting, and the app also integrates with different CRM programs. The free option covers the basics, but even if you want to spring for more features with the paid plan, it's only $8.33 per month (perfect for those fledgling agencies).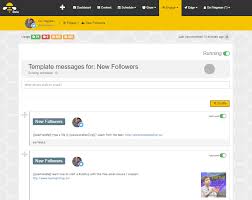 SocialBee is earning a tidy reputation for itself as the cool new kid on the block. In fact, there are marketers fleeing competing platforms due to its ease of use, scheduling features, and content-curation engine. It allows you to categorize all content, which integrates well with your social media calendar. This is invaluable for those B2B marketers who have lots of different promotions on social media channels like industry events, contests, blog posts, and more.
Sadly, SocialBee only offers a free trial version before you have to pony up the cash for a premium account. That said, their sales team will schedule a consultation with you to determine the best plan for your operation.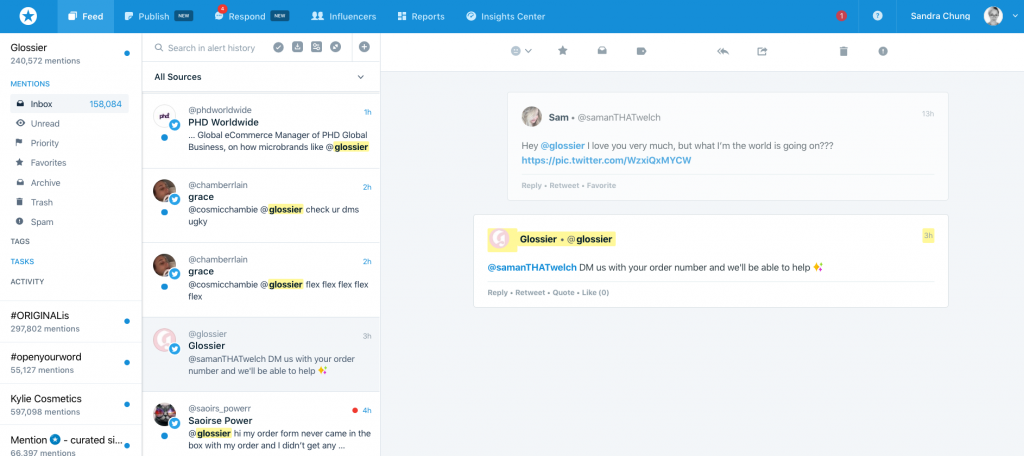 Mention is one of the most versatile SM monitoring tools out there. This is because they offer not only social listening but monitoring across the web, blog, forums, and more.
What's more, it offers competitive analysis so you can accurately measure your social media game compared to that of your competitors.
It's also a good option for companies that want to invest in an influencer marketing strategy, as it will help you find influencers and monitor the campaign's reach.
Rumour also has it, that they will be soon offering social media publishing and management features – making them a really powerful social media tool.
It has a version for both enterprises and agencies. But they also offer a 2-week free trial which will allow you to test drive Mention's features and make an informed decision as to whether to purchase a plan.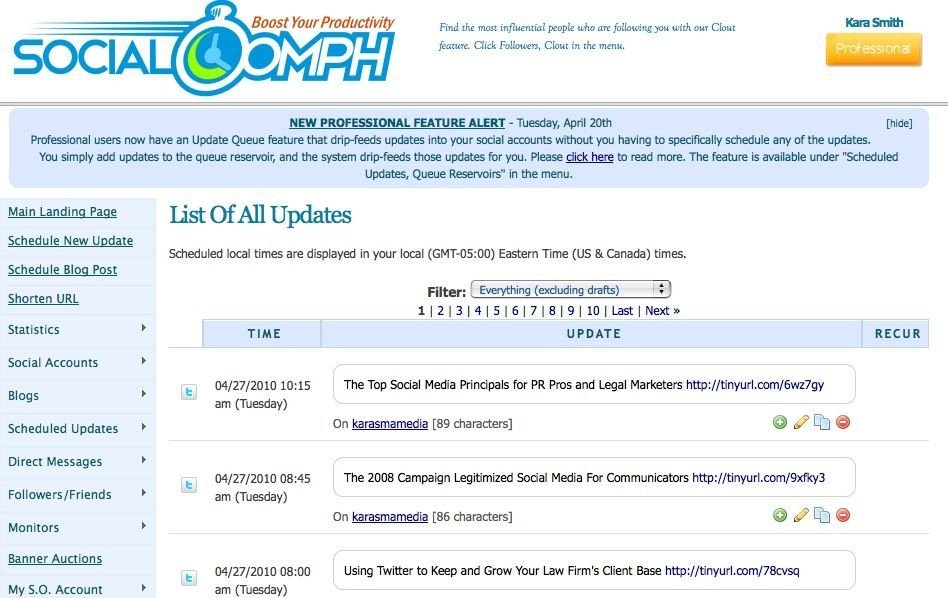 Every marketing strategy is different, but there are brands out there who downright adore Twitter and go all-in on the platform.
It's not hard to see why: it's frighteningly easy to use and it has a global reach (perfect for those brands who like to think big). For Tweet-centric marketers, this free tool is useful, especially if all you're looking to do is easily supercharge your Twitter game.
Social Oomph's free version allows you to track keywords, refine URLs, and automatically schedule tweets. It will also let you manage up to five accounts at once free of charge. It offers more advanced features across a number of other social platforms, like Facebook, LinkedIn, and Pinterest, but these are only accessible with a paid plan.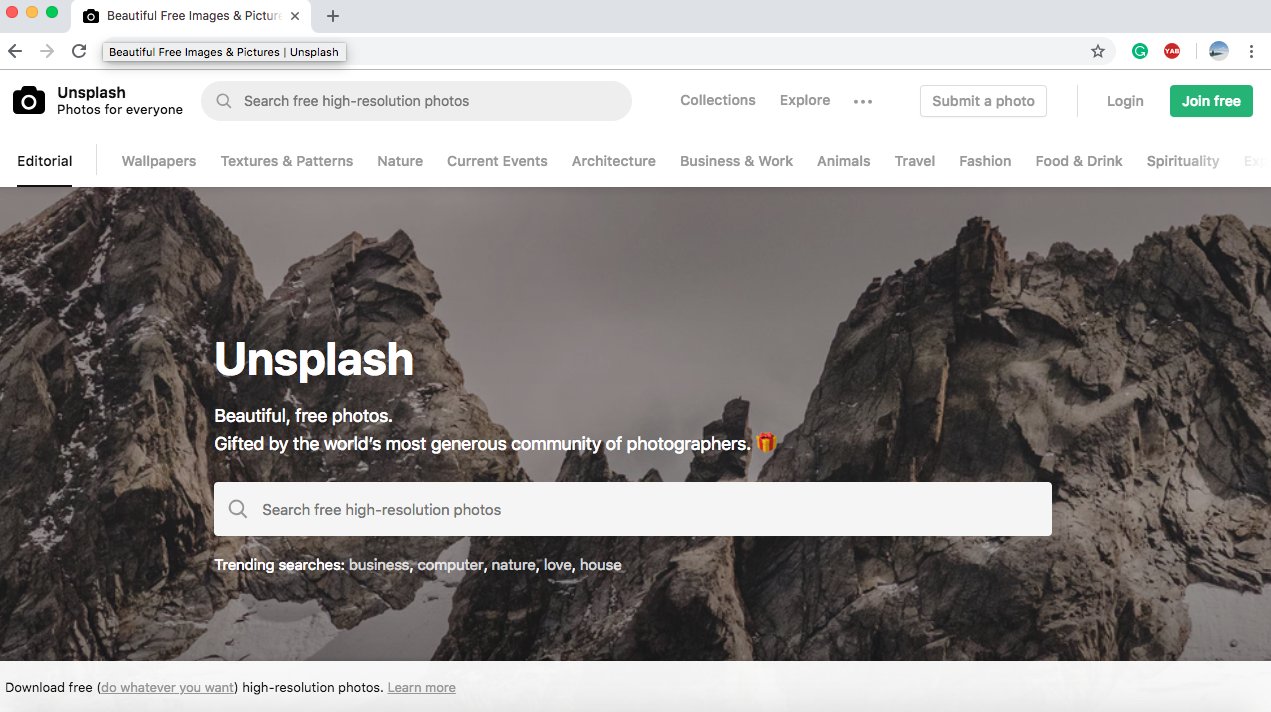 The importance of visual marketing is clear.
As humans, we process most of our information visually. Marketers have known this right from the get-go.
Now, does that mean you have to go out and pay stock-photo companies tons of cash for a slick image for your FB or Instagram post? Not if you're using Unsplash.
We tried it out using some basic search terms. And while not every picture was top shelf, each query returned at least a few professional-quality, high-resolution photos. Best of all you can download them for free instantly.

Building off that last point, Instagram is a great platform for reaching people visually.
And brands are taking advantage of its Instagram Stories feature to supercharge their content by creating video clips and photo narratives. The problem is that it can be time-consuming to create one.
Fastory eliminates this burden with their easy-to-use graphics editor. Users can create compelling animations and videos and upload them to Instagram in a fraction of the time it would normally take to navigate IG Stories.

This free tool allows you to make professional quality videos that you can upload right to your website.
Anyone familiar with the Wix website editor will likely recognize this drag-and-drop-style interface.
It also features a simple little video editor that allows you to cut your clips until you have a finished product ready for upload. It may take a little time for newbies to get the hang of it, but Typito also comes with some helpful tutorials.
This is another app that only offers a free trial version (in this case, 14 days). Still, it's long enough for you to discover a number of useful and diverse features.
With SocialPilot you can enhance your content curation and discovery, automate RSS feeds, draft and manage posts, organize team members, and manage clients all from a single interface.
You can even create mobile websites and landing pages with this app. The basic paid plan costs $10 and includes 10 social media accounts and 50 total posts per day. Pretty good deal if you ask us.

And we end the list with that old marketing warhorse, Google Analytics.
You can have the most comprehensive and wide-reaching social media strategy around, but it's all for nothing if you can't measure ROI based on your initiatives.
Like it always has done and will continue to do, GA monitors and analyzes your traffic online, logs conversions and referrals, customizes data reports, and more.
All in all, it's a powerful and valuable tool because to tell you what is and isn't working on your website.
Over to you
Ultimately, if this is your first experience with managing social media, it only makes sense that you start with a free option as a tool.
Freemium versions are useful in that you can try many different models to see which one is the best fit for you and your organization. And the tools we've listed above will not only serve that purpose in the short term, but they're good options to consider for long-term use as well.
So why not give them a try? And let us know how your experience went by sharing with us in the comments!