Modern businesses owe a lot to the tools they use, from simple Excel spreadsheets all the way to bespoke-developed solutions to automate tasks specific to their niche.
Though project and time management software has been around forever, there's been an explosion of these kinds of tools since the start of the pandemic, as businesses have scrambled to ensure healthy levels of efficiency in a remote-first working environment.
If you're looking to bring new productivity tools on board at your organization, but you're feeling a little overwhelmed by the sheer amount of choice on the market, then you're certainly not alone.
In this guide, we'll walk you through the benefits and purpose that a good to-do list app can have in your business, and 5 of our favorite to-do list apps to boost your team's productivity.
Table of Contents:
What a To-Do List App Can Do for You
In a world full of AI-powered project management tools and new productivity techniques, a humble to-do list can often be overlooked by business leaders.
Though this kind of "back to basics" tool may not be especially useful for managers in the upper echelons of a company, they can still be tremendously useful for the workers with more specialized roles, who need a little help organizing the various tasks their day is made up of.
Before we look into choosing a to-do list app that's the right fit for your business, here are some of the key benefits that leveraging to-do lists can offer…
They Put Control Back in the Hands of Employees
It's obvious at a glance that making a to-do list part of your professional toolkit will help you gain more control over your workload, allowing you to organize and prioritize a set of tasks, and break complex responsibilities into more manageable, bite-sized chunks.
However, using to-do lists isn't just about making sure the working day is structured in a logical way. It can also help workers to organize their thoughts when their responsibilities are piling up and the sheer volume of work is feeling stressful and overwhelming.
By getting the mesh of tasks competing for their attention out of their head and onto a screen, workers will find it easier to concentrate on one pressing issue at a time, removing distractions and regaining control over their time spent at work.
They Encourage More Accountability
In environments where experienced colleagues are in constant contact with each other, managing personal responsibilities often won't extend much further than taking simple notes and setting a couple of alarms.
When employees who are comfortable in routine processes take the extra step to formalize their tasks in a to-do list, it will help to create a new level of self-accountability, giving the person a more constant and immediately-available plan of action to hold themselves to.
Furthermore, the routine act of noting down and prioritizing to-do list items can help the working day ahead stick in a worker's mind, and reduce the need to revisit plans of action or clarify details with their managers or peers.
It Helps People Develop as Professionals
The way individuals approach their to-do lists isn't going to be perfect straight away. However, adopting them in the first place can be a great first step towards some valuable personal reflection.
By formalizing their work in to-do lists, professionals can learn more about the unique way they tackle work, where they're most efficient, and where they could take steps to improve. With every new kind of task that's added to a to-do list, people will find new opportunities to learn and develop as individuals, finding new solutions to old problems and addressing the broader challenges that could be preventing them from fulfilling their potential.
Furthermore, when employees tackle the tough task consciously working at self-development, having the framework of a to-do list in place will make it easier to break longer term goals into smaller, specific milestones and work towards them in a more logical way.
How to Find your Ideal To-Do List App
Seeing as you've made it to this guide, you probably know just how dime-a-dozen to-do list apps are, and how incessant each tool's marketing can be when insisting they're the best!
Though the unique needs at your business may generate specific criteria that will limit your selection somewhat, there are still certain boxes that any good to-do list should tick:
The ability to add and organize tasks quickly: To-do lists' primary function is to increase productivity, so it makes sense that they should be efficient themselves! Your to-do list app should allow workers to set and categorize their tasks with just a few taps of the screen, and should be easy to start using with little or no training.
Several Ways to Organize Tasks: Being able to add categories, tags, and sub-folders to any new task will help the to-do list work for its users, and having several options in this area will help workers mold the app's layout to their individual ways of working.
Effective Notifications on Deadlines: Push notifications, text messages, emails, and other ways to help keep users on-track to hit their deadlines, are an essential part of any effective to-do list app. When you're assessing the capabilities of various apps, be sure to spend awhile thinking about how they'll help users see what needs to be done and when.
Clean and Intuitive User Interfaces: Possibly the worst thing a manager can do for their team is to force them into using a tool that overcomplicates relatively simple tasks. It's important to make sure the to-do list you choose in the end has a logical and user-friendly layout that makes it easy to navigate.
Support for Multiple Platforms: Everyone at your business is going to approach their work in a slightly different way, which means your to-do list must be supported for use through desktops, phones, and tablets, as well as all the major web browsers for access wherever possible.
Our Top 5 To-Do List Apps
Now that you have a better idea of how your to-do list app will fit into your organization and the traits that you should be looking for, here's 5 of the best apps on the market to help boost your team's productivity…
Todoist
With a beautiful and easy-to-understand interface, and a number of highly accessible functions, Todoist is a great tool for a wide variety of business leaders and mid-level managers who want to see higher levels of productivity in their teams.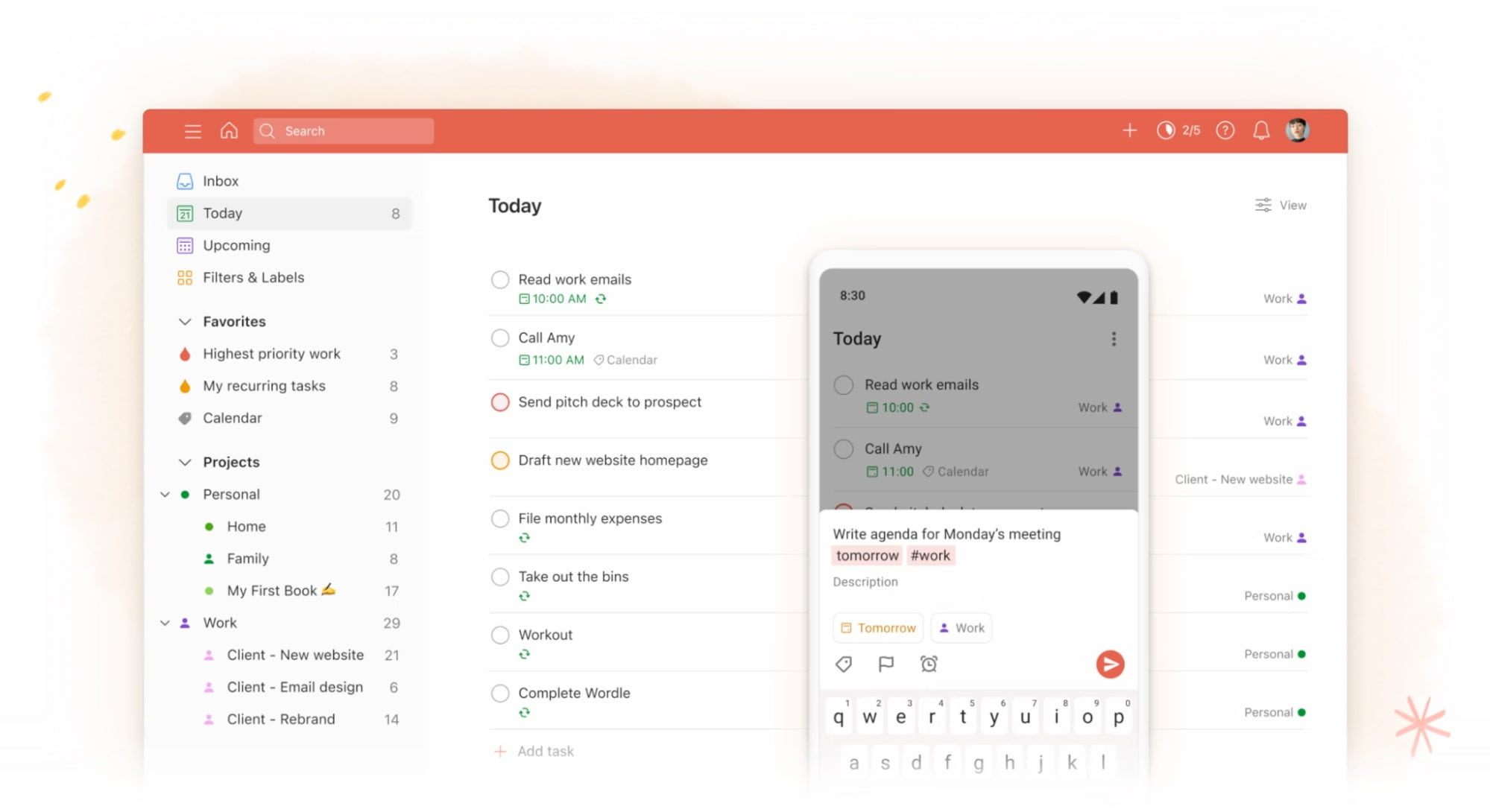 One of the best features of this app is its quick and simple Google Calendar integration, which makes it easy for managers to get a quick snapshot of what their teams' weeks and months ahead are looking like, or for workers to get a quick idea of their colleagues' availability.
Though they may not be especially advanced, Todoist has many great features, which are sure to make work easier for anyone who struggles with organization. Recurring subtasks, priority settings, and comment sections for individual tasks are all available on Todoist, with many more features to explore as you get to know the app.
💰Pricing starts with a basic free plan, going up to $6 per user per month for the Business plan.
Lumiform
If your business depends heavily on logistics or other hands-on work, then Lumiform may be the perfect to-do list app for you.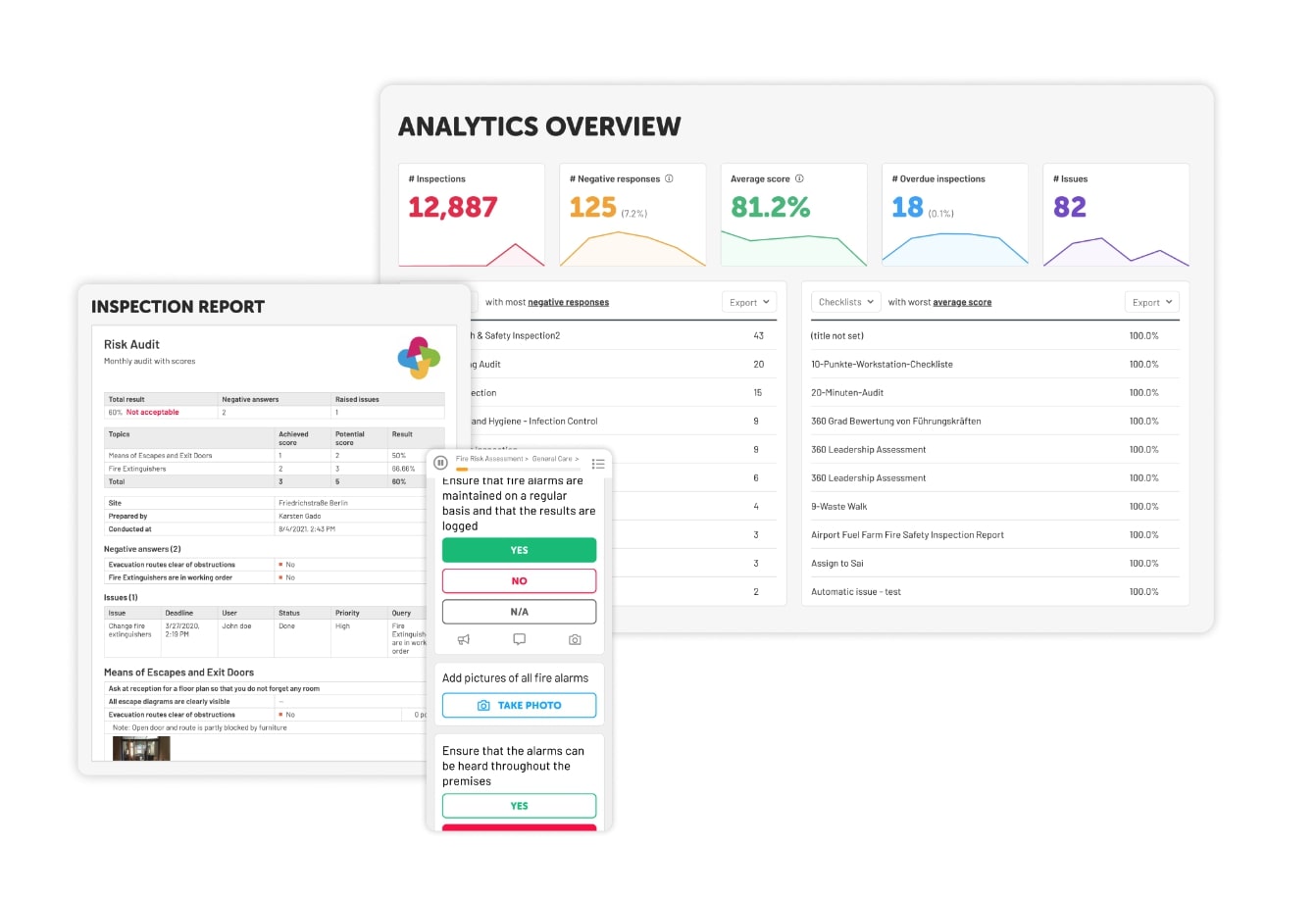 Lumiform offers all the basic features of typical to-do list apps, with added functionalities specifically developed to make physical asset inspection more efficient and fluid. The app allows you to create checklists with a high degree of customization to suit them to specific roles, with scheduling and "if-then" logic that will change lists dynamically, and ensure consistency of work between different employees.
What's more, Lumiform is set up for both manual and automatic issue reporting, allowing users to either flag problems with facilities as they come across them, or for managers to create alerts if certain answers are received through inspection questionnaires.
Though some of Lumiform's more advanced features may feel a little complex and daunting, the great range of functionality makes the learning curve well worth it, especially in businesses where facility inspection is a routine part of daily operations.
💰Lumiform has a free basic plan, and professional plans between €16.00 and €9.60 per user per month, with the subscription becoming cheaper the more user accounts you add.
TickTick
TickTick is a to-do app that aims to bring the more advanced applications of task management software into a more simple, app-oriented interface. This makes it a great choice for remote-first teams in tech startups and similar ventures.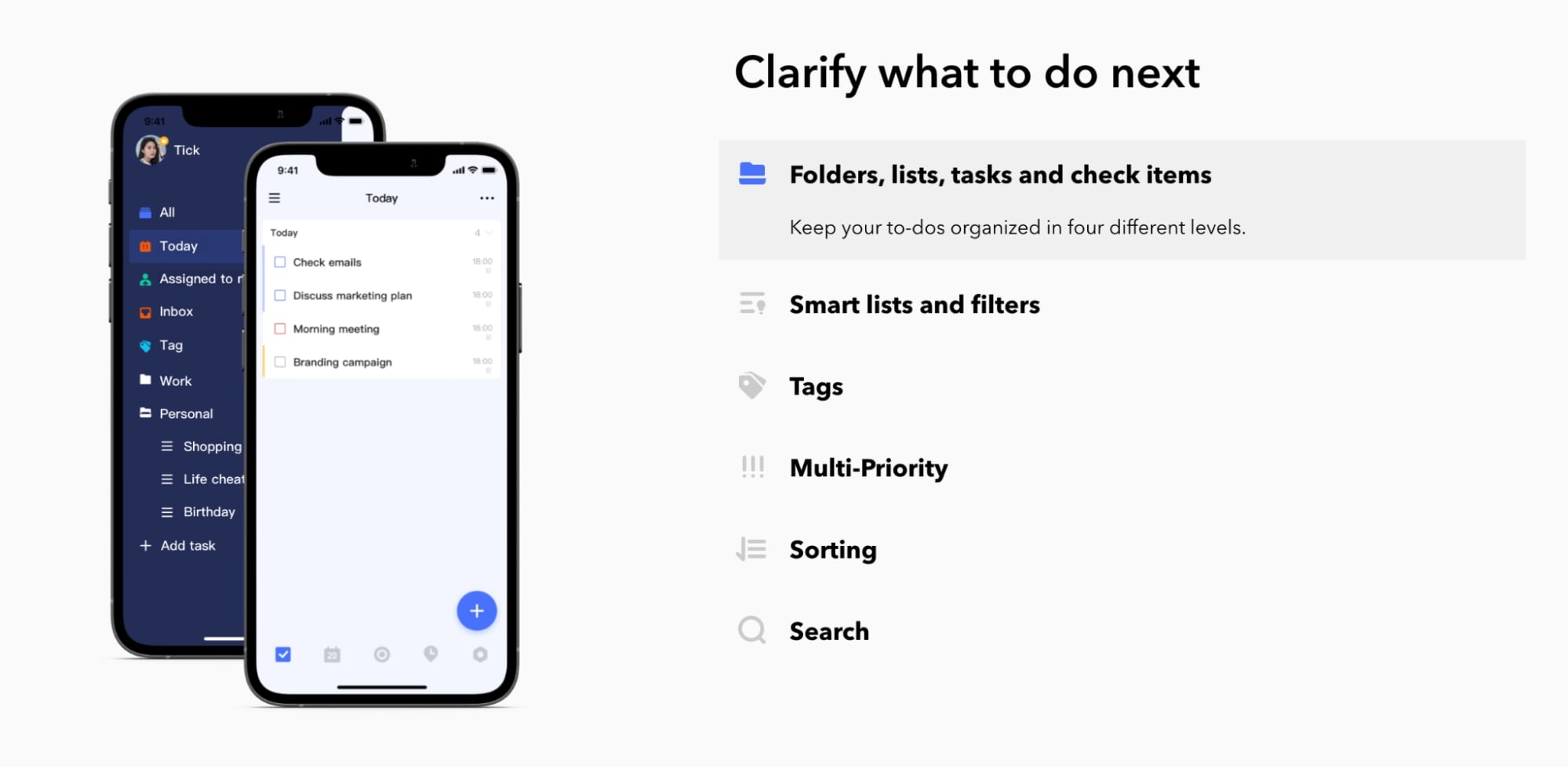 Though the complexity of TickTick's interface is largely down to the user, it has a broad range of features that can be learned and experimented with to create a highly customized experience.
Some of these features include location-based reminders, seamless voice input, and data synching across platforms that will help keep remote or mobile workers on-track for success. It also comes with an intuitive integrated calendar, which you can use to set tasks with just a few taps, and get a quick view of other users' availability for the month ahead.
Though it's rich in features, the one drawback of TickTick is its UI, which isn't nearly as intuitive or easy to navigate as many competitor products. Still, if you're able to get to grips with it, the handy features and potential for customization can be a huge reward.
💰TickTick offers a free trial with the TickTick Premium Annual Plan starting at $27.99 which allows users to access multiple calendar views with the ability to subscribe to third-party calendars and historical statistics for tracking progress.
Remember the Milk
Started some years ago as a simple day-to-day reminders' app, Remember the Milk has been expanding its capabilities gradually and is now a hugely popular to-do list app for private users and professionals alike.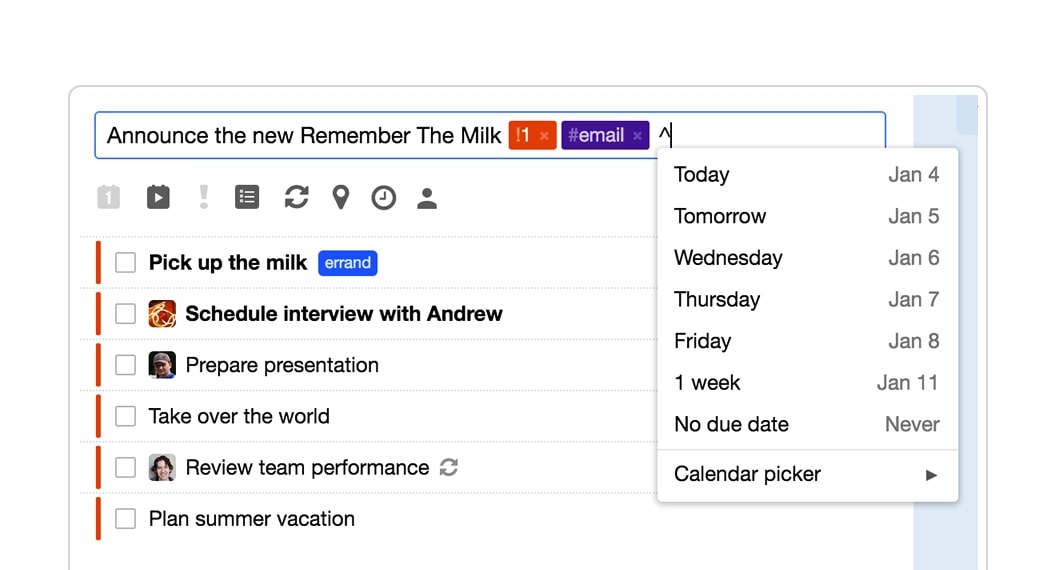 From making quick internal calls, to gathering the data for a complex sales deck, Remember the Milk's intuitive navigation and fun, unique design makes organizing your responsibilities a breeze.
One of its best features is its smart lists, which allow users to collate a task's title, a summary of its relevant details, and any quotas or due dates on a single line. It also has easy integrations which allow you to schedule texts and emails to team members, so that everyone's in the loop regarding the projects they're a part of, and the timeframes they have to hit specific milestones.
Though the app is lacking certain features you may want your teams to have access to, such as setting location-based tasks and planning out more complex collaborations, it can still be a great tool for the more repetitive and straightforward tasks that make up your team's working hours.
💰Remember the Milk has a free plan that includes all its basic features, and a Pro plan for $39.99 per year, which allows for subtasks, color-coded tags, advanced filters and sorting, and push notifications.
ClickUp
Though it's marketed more as a full project management and productivity platform, ClickUp functions perfectly well as a simpler to-do list app for individual users too.
At its most basic level, ClickUp is great for creating simple checklists with titles, descriptions, and due dates, with dropdown menus that allow users to categorize their to-do items under different projects and departmental distinctions.
For more advanced applications, users can also assign priorities to tasks, making them more or less urgent than the other tasks on a list, and automated scheduling features that draw on a few key details to set due dates that work within established processes. ClickUp also offers a fantastic calendar sync functionality, so that users can drop tasks or reminders into their ClickUp list, and have them appear instantly in their Outlook or Google calendars, so they never miss a beat.
With its rich array of features and user-friendly UI, ClickUp is a great option for businesses that need both simple and complex to-do capability, though it's important to note that the platform can be notoriously buggy, especially around periods when new features are rolling out.
💰ClickUp's pricing ranges from free up to $19 per user per month, before getting into custom-quoted enterprise plans.
Finding Your To-Do
Though they may be a pretty rudimentary class of tools, modern to-do list apps offer a lot of variance in features and capabilities that can make a huge difference to the productivity your team gets out of their working week.
As you work to optimize your resources and get your people more streamlined, we hope this guide has made it easier to narrow your search and find a to-do list app that's right for you.