All SEO strategies that were ever created served one purpose. They were developed to get the website rank higher. Content consolidation is not an exception – it is aimed at increasing the value of your content for a user, as well as for search engines. But do you really need this? How to consolidate your content right? Find all the answers below.
Table of Contents:
Why content consolidation is important for your SEO?
We understand that saying that "consolidation is useful" is not enough to understand what this process can give you, so let's be more precise. Content consolidation is getting rid of irrelevant, outdated, thin content and grouping pages, articles, blogs, i.e., pieces of content into the in-depth, most relevant, and ultimately useful resource on a specific subject.
And here are the reasons why consolidation is good for SEO:
It allows meeting the quality and relevance standards of Google and other search engines.
You can turn your similar competing pages that are ruining each other's potential into a genuinely useful piece of content that would compete successfully with other sites, not with your own pages.
Regular checks, updates, consolidations allow providing your site visitors with the best version of the article, blog, etc.
You get fewer pages with much better content, and that is good from the perspective of SEO and is treated as the right policy by search engines.
It is a good way to make old pages rank again just by updating them.
Reasons to consolidate your content
How do I know if my content needs to be consolidated? Generally speaking, there are a few reasons to start working on removing/refreshing/updating/editing the existing content, which are thin content, duplicate pages, outdated posts, and content that brings no traffic. Let's take a look at each of them in more detail.
1. Thin content
What is thin content? The best synonym for it is "useless" content or invaluable content. So, you need to find all articles that have no value to your website visitors and are considered as poor-quality content by Google and other search engines.
There is another aspect that allows identifying thin content – these are the pieces that were created absolutely effortlessly. For example, someone could just steal a text or automatically generate it and post it on the site. Google will see this content as a thin one, too.
There are a few most common signs of thin content:
It's copied from other sites
It's a mass-produced and mass-bought content
Using black-hat SEO tactics
Bad grammar, difficult-to-read text, numerous typos
It is very little (a page that answers the only question, a single definition, etc.)
Of course, such content doesn't improve your Google rankings. That's why it should be edited, refreshed, or deleted depending on the situation. For example, if you have a little content for a user, you can add some more useful details, and if the content is automatically generated, the best decision is to remove it.
2. Duplicate content
According to Matt Cutts, the ex-Google, 25%-30% of content that was ever published on the web is duplicated content. It is not an absolute evil. It is considered that duplicate content is the content that can be found on 2 or more places, i.e at 2 and more web addresses. It is not a disaster, especially if it is the Terms and Conditions section or some other piece of information that doesn't differ much on the web, however, if there is too much-duplicated content, it can be treated as spam.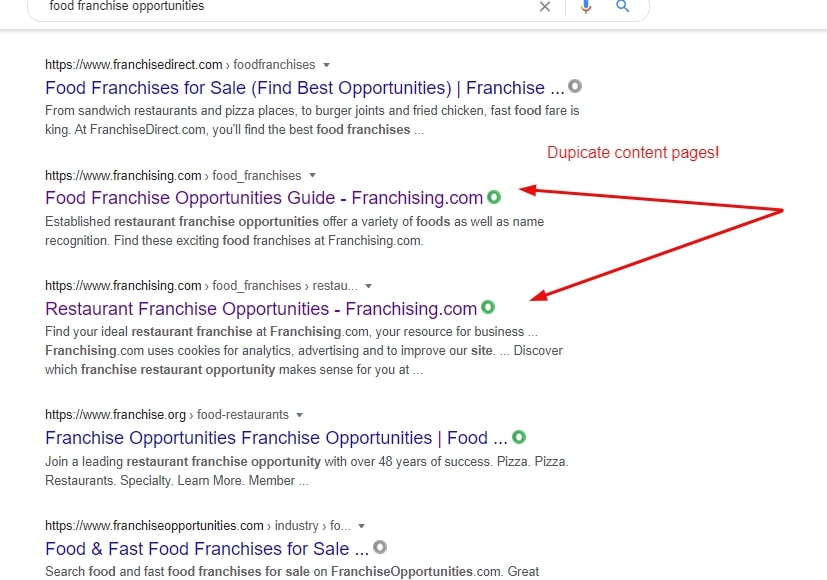 3. Outdated content
Another reason to start consolidating content is a large number of outdated articles, blogs, etc. And again, search engines, in particular, Google, have the same priority – to provide a user with the most useful content. Outdated content – the content is no longer relevant – shows no difference in time, mentions outdated trends, relies on outdated research, and cannot be considered as relevant. That is why the website owner needs to make an important decision: remove it or improve it by adding more relevant, up-to-date information.
4. Content that doesn't bring any traffic
According to the Condoly study, over 90% of all their pages get no traffic from good old Google, and over 5% get 10 visits/month or even less. You are likely to have such pages too, and again, you need to make a choice: refresh, update them, or just delete them.
How to consolidate your content?
You need to delete some of your articles or posts, update some of them, and consolidate the rest into something much more useful for a visitor and much better from the perspective of SEO. How exactly can one do it? Let us see.
1. Delete content that doesn't provide any value and pay attention to keywords
First of all, you need to find the pages that have no value for you, your website visitors, and search engines respectively. You can use Google Analytics to find all the pages with the lowest number of views – these are the articles/posts that should be audited carefully and deleted, if necessary.
You can also use Google Search Console to find out what is the situation with impressions. Pages with many impressions have potential, so don't delete them immediately. After you find all pages that don't have any or much value, you should decide what you will do with them.
The lowest quality, copied and pasted pages, as well as automatically generated pages, should be deleted.
But what should you do next? We recommend evaluating your SEO basics and focusing on the keywords you target. Take the following steps:
Figure out whether your content pages are optimized with your target keywords and these keywords have good search potential. To do that, you can use SE Ranking to find the most profitable keywords on your topic and check the level of competition in SERPs.
Make sure the URL is structured in an SEO-friendly way and your title is optimized with your main keyword.
Check out the publication date of your posts and ensure that all information includes the latest best practices.
See the number of reads, shares. The more people read your posts, the better.
Check your word count. Blog posts with low word counts can be considered as thin and poor content.
Replace low-quality keywords with the best ranking low competition keywords when refreshing the pages.
Please note that there is a reason why we mention the level of competition all the time. SERP analysis is incredibly important – the results may help you get that organic traffic.
2. Group similar content pages that have a similar topic
This is another important stage of content consolidation. The thing is when a user looks for specific information, they have more than just one question – they are usually interested in the related info. That's why it is important to group similar pages and create a topic, as well as relevant subtopics.
A good example of a successful application would be one of our legal clients, Rosenbaum & Rosenbaum, P.C. For example, in this post, if "car accidents" in NYC are our pillar topic, then our subtopics will be:
Car accident statistics in NYC
The most dangerous roads in NYC
Who is responsible for my car accident and injuries?
How much is my car accident worth?
Why do I need to hire a car accident attorney in NYC?
When grouping your content, figure out which posts rank for which search terms and those pages which rank for the same keywords. The best way to segment your keywords and plan the SEO architecture of your page is to take advantage of SE Ranking Keyword Grouper that can fulfill all the tasks mentioned above and even more.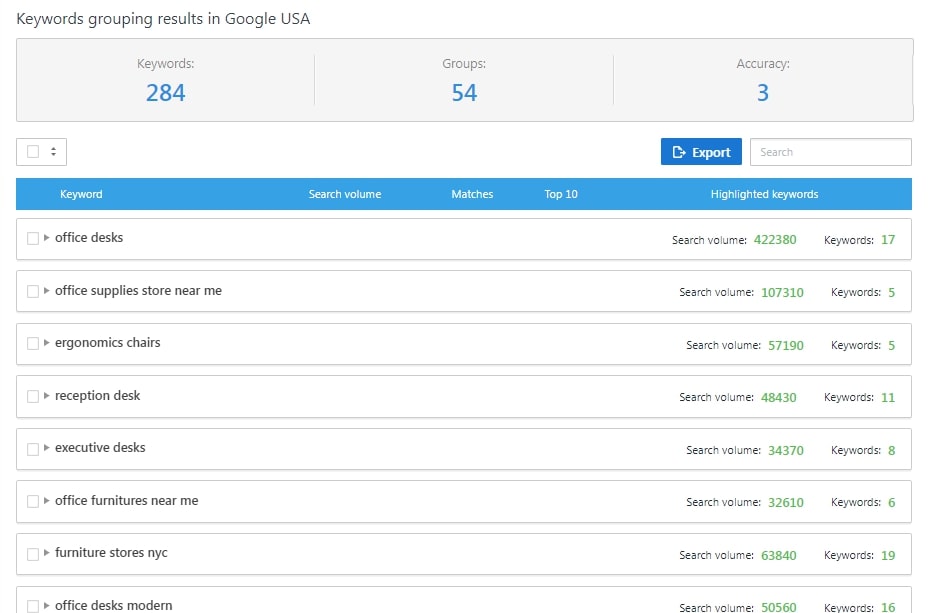 After grouping content, you will offer the highest-quality topic instead of tons of similar lower-quality articles with similar keyword sets.
3. Refresh your content pages
It is all about the quality of your content. If you already get some traffic and want more, you need to think about all the most important aspects and improve your posts according to the analysis results. As stated by George Rysak, a Seo Specialist at Develux ,that the number of words doesn't play a special role in ranking, and doesn't affect the place in search results, while the quality of content – if you have written an expert article – depends on the length of visits and time that your visitors will spend on this page, which is a good sign for google.Here are the main points to consider:
Is your content up-to-date? We have already noted that outdated content should be deleted or edited according to the newest trends. The relevance is the most important criterion to consider.
Add great visuals. Infographics, charts, tables, videos, engaging pictures are what you need to improve the visitor's overall experience and engagement.
Use expert quotes. Adding such quotes is a perfect solution to add more credibility. On the one hand, there is a chance that an expert will link to your website, too. On the other hand, even if you don't get the link, you will still have an expert opinion that will show visitors that they can trust your website. For example, we, at SE Ranking, like running this kind of expert-featuring posts. In this latest post, we've got an expert guide from Jason Barnard.
Create internal links. Backlinks are important, but you should not forget about internal links. The subtopics and main topics should link to each other, just not add too many links – they should be relevant, too.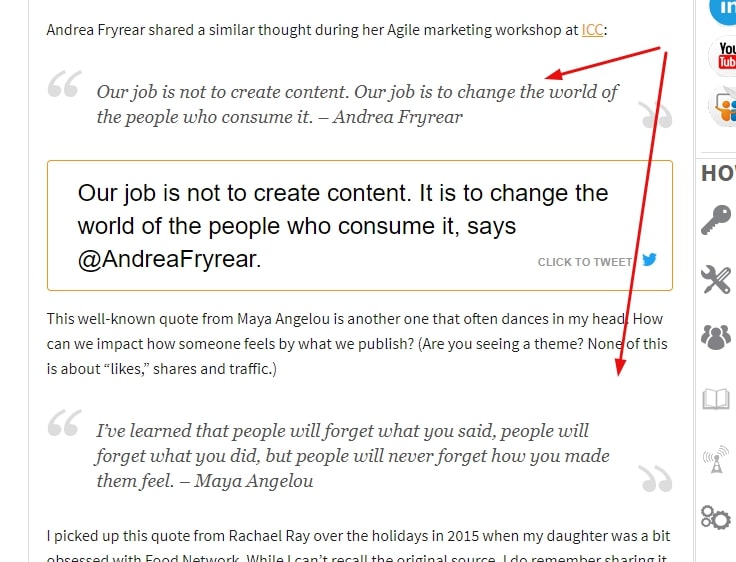 4. Measure your results
You will never know how effective consolidation is without measuring your results after you refresh or delete pieces of content. Moreover, you can not only analyze the latest changes you made the last time but also see what changes you should make in the nearest future.
Content consolidation takes a lot of time and effort, but once you have a system in place, you will be on top of your pages. Regular checking of your rankings and refreshing outdated content increases the effectiveness of consolidation and shows your content performance.
Here is a great tip from Brian White: Try to plan your content updates and add them to your editorial calendar. I like refreshing my posts every six months to keep them enough "fresh" and follow the latest trends in my niche.
Conclusion
Earlier, it was effective to create a lot of content and rank higher in SERPs. Right now it doesn't apply to online businesses. What you should do is to conduct a proper content audit, find all your best performing and "weak" pages, refresh the better, and remove the former. I can tell you that you will get a significant boost in organic traffic.