When we first started iDoneThis, we knew nothing about growing our subscriber base. We had no money, either. We decided just to write a few blog posts here and there to explain to people what we were trying to do.
That was the spark. Now, we have a million dollar business and a strong email list. And we did it all with content.
Our method was dead simple and you can replicate it. You just have to remember that email addresses are valuable commodities: people are generally reluctant to give theirs up unless they're going to get something great in return.
So make content with value. Make things that will drive traffic, then use funnels to turn that traffic into conversions.
Make content with conversion value, and you'll have your own awesome mailing list in no time.
But what exactly should you do? We can't tell you that, but we can share what worked for us.
For more help, download our free ebook on effective email marketing!
1. Tell your own story
Before we had success writing our own content, we did what everyone else did when they had something to announce: we went to the press. Yes, we reached up to those golden gates, knocked politely, and passed along little nuggets of exclusive news.
It makes sense: blogs and websites that cover technology news are the ones who (1) have a distribution network and (2) are good at crafting narrative, since (3) that's all that they do.
It was only when we hit 500,000 daily dones that we decided to do something a little different. We wrote a behind-the-scenes feature on the history of iDoneThis, and to our surprise it performed really well — even though we'd posted it on our blog.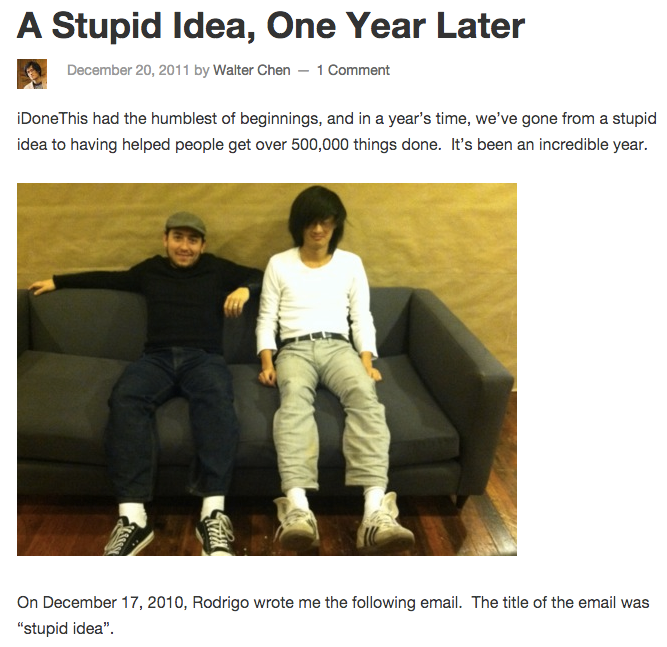 In fact, that marked our all-time one-day high for traffic, and brought with it over 1,000 signups — more than double what we got from press coverage. Experimenting with telling our own story showed us that we could use transparency and narrative as a competitive advantage.
When you write your own story and market your own content rather than using the press or a PR firm, you control your relationship with your readers. They follow you on Twitter and "like" you on Facebook – connections that you can turn into more users and subscribers.
Of course, this isn't an easy task. You'll write articles that no one will read — lots of them, actually. Then one will blow up and you'll feel great. And then you'll write more that no one will read. This can wear you down in a hurry, and it wore us down until we discovered what it means to produce content with value.
2. Remix validated content
Now, content with value is different from "good" or "unique" content in that it's been validated. Sometimes, when content marketers don't get traction with their writing, they say, "At least it's original content!" or "At least it's unique!"
But instead of reinventing the wheel, use what others have already had success with. It took me less than an hour to write a post that over 30,000 people read by using a remixing technique. And no, it didn't involve plagiarism.
iDoneThis helps people and teams be more productive, so I searched Hacker News for the word "productivity."



I found two links that got a lot of attention. Reading the Andreessen article, I realized that one of the tips could potentially be expanded into its own post with just a tiny bit of additional research. Then I played on the title of the Seinfeld post and called my post "Marc Andreessen's Productivity Trick to Feeling Marvelously Efficient."
So a majority of what I was putting out into the world had been previously validated in these two high-performing Hacker News posts. For this reason, I had a good feeling it would succeed — and it did.
3. Convert your blog traffic
Add a (subtle) pop-up
We had a lot of traffic coming in at this point, and we knew we had to capitalize on it. So we made a light box using SumoMe's Scroll Box that would prompt readers for their emails when they reached the bottom of our site.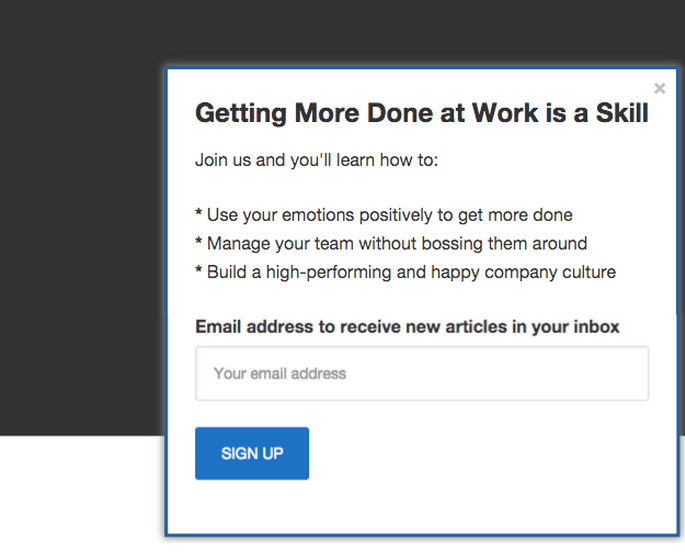 Scroll Box was perfect for us because we wanted to be a little polite and a little subtle about asking for our visitors' emails. Those pop-ups that come as soon as you hit a website can be terribly annoying, and we wanted to make sure that our visitors understood the value that we could offer them before we asked them for their emails.
But we weren't satisfied with the rate at which our subscriber base was growing just yet, so we decided to up the ante a bit.
Create content upgrades
In exchange for your email, I could promise you three or four interesting blog posts a week in the future. A good amount of people would take me up on that.
Or, I could offer you one highly-polished, professional-looking PDF full of content tailored to a specific theme. And you would get it now. Which are you more likely to sign up for?
eBooks are an amazing way to package content. They look great and convey seriousness and real learning. And the kicker? Making that polished PDF is actually less work than producing several blog posts.
It's all about choosing high-performing posts from your archives, editing them together into a cohesive structure, and then delivering the finished product to your users via email.
For our first eBook, The Busy Person's Guide to the Done List, we used Google Analytics to figure out which of our posts had been most effective. This gave us key information including the number of page views, unique page views, the average time spent on a page, entrances, and more.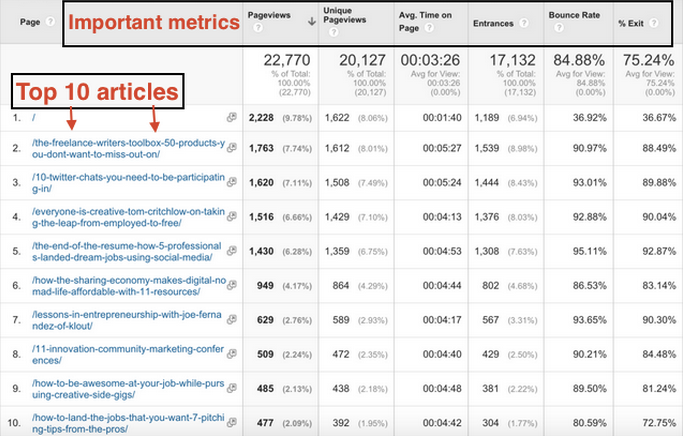 Then, we took our highest performing posts on productivity and wrote one long blog post where we essentially copied and pasted each into its own section and added transitions so it would flow smoothly.
We used a Chrome bookmarklet, Print Friendly & PDF, that allowed us to turn that HTML into nice-looking PDFs. But if you don't have time for this, a service like SketchDeck can help.
Once we had the book ready, we made a sweet page for it.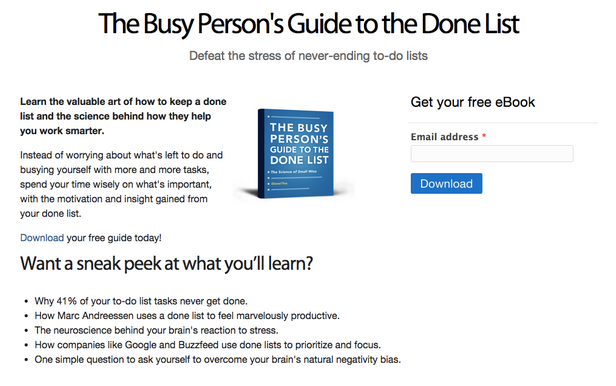 We promoted it in a bunch of different ways: we sent it to our friends and users and asked them to share it. We made pop-ups using SumoMe's List Builder and used them to push it.
Use Twitter lead gen cards
We made Twitter lead generation cards, too. They allow users on Twitter to subscribe to your list with just one click, using the email connected to their account.
Here's how to make some for your email list:
Go to Twitter Ads
Navigate to the Creatives tab, and choose Cards.
Customize the information for your card.
Connect your Twitter card to your mailing list.
This is what a finished example looks like: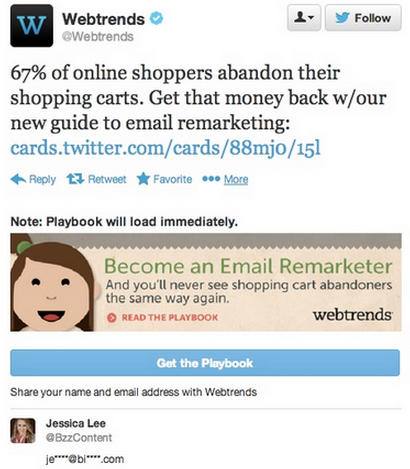 Basically, if you let someone sign up just one click, they're a lot more likely to do so. Compare that to clicking through to your opt-in form, clicking into the email box, typing it in, and clicking the subscribe button.
4. Go viral with giveaways
Using your own content to drive conversions is great, but there's no rule that says you can't occasionally use things other people have made.
At iDoneThis, we ran a very successful drive to increase our email subscriber base by allying with some non-traditional partners: a fiction writer and a charcuterie company.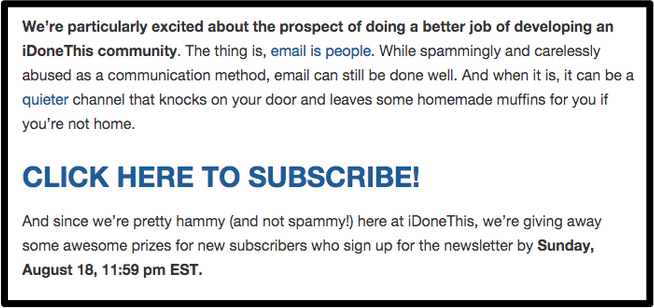 Then came the bait.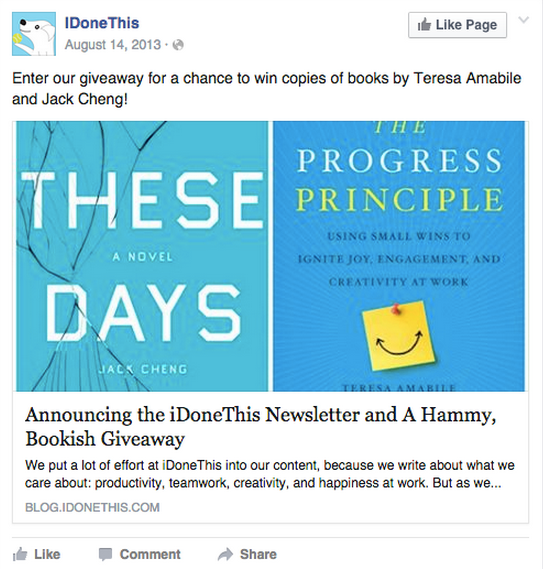 One subscriber would win a set of 10 cured meats from a slow food charcuterie company based in the U.S. Then there were the books. Three subscribers would win these:
You walk a fine line when choosing giveaway prizes. On the one hand, you want prizes that are good enough that people will actually click through. On the other, you want things that are particular enough to your demographic that at the end of it, you get actual active subscribers rather than people who will just cancel as soon as they realize they didn't win.
In our case, we chose one set of cured meats because well, who doesn't love cured meat? And because their slow food values aligned with our slow web values.
The books we chose because they were slightly more in line with our actual demographic: people who wanted to get things done, who might also be interested in a more creative take on the world we live in.
Thinking long-term
There are lots of ways to get more people to sign up for your email list. But we did it with content, and I think that has impacted how good our retention has been.

There are plenty of tricks and quick "hacks" out there, but if you can create conversions off the strength of your work, you'll be building up a base of receptive and dedicated subscribers that will be with you for some time.
Have you had success with this or other methods of gaining email subscribers? Have questions? Let us know in the comments!
Download our free ebook: