There are dozens of content marketing tools to choose from. Here are sixteen tools that will help you get the job done.
But remember, there is no content marketing tool that can take the place of a good content marketing strategy and all the work that goes into it.
Any content marketing strategy aims to attract new and retain existing customers by continually developing and curating relevant and quality content. The intent behind content marketing activities is to influence consumer behavior and guide their purchasing decisions. It is a continuous process best incorporated as a part of your overall marketing plan.
If you're generating traffic, leads, and sales that leverage content, you must also be aware of the challenges involved. While you may adopt a content pillar strategy to make a hero content rank better, the high level of competition means you need to market it continuously. Now, marketing your content on different platforms requires you to first devise a strategy, create brand style guidelines, do audience and competitor research, etc.
Speaking of which, without further ado, here are nine content marketing tools you need to succeed with your content efforts in 2022.
1. Mention
Mention is a media monitoring and social listening platform that provides content managers with the right data. This includes getting the relevant information about what is being said regarding your brand, product, industry and rivals, and key opinion leaders. Content managers who have access to this data can see which competitors' content pieces are doing better than others regarding trending topics and relevancy.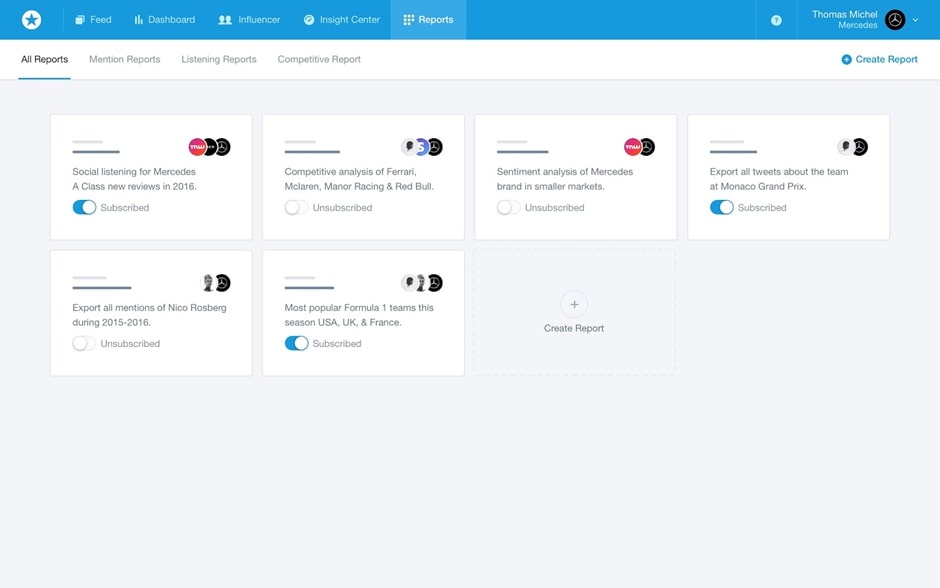 Mention will scan a billion web pages to uncover conversations and references, be it in the form of a blog, news or review site, social media platform, or forum publication. You will have all the necessary content information, knowing what is being said about your brand out there on the Internet.
It also offers collaborative features that help move your content requirements quickly. Also, you get filters that help find particular references and spike alerts to keep you on top of emergencies, all in one place. You have the option to use sentiment analysis and auto-tagging to get a sense of how people feel about your brand and product.
Pricing: There is a free plan with limited features to track up to 1000 mentions and one alert. And then, you have the Solo project for $29, the Pro plan for $99, and the ProPlus plan for $199 with more mentions and alerts.
2. SEMrush
Your content marketers can use the SEMrush Content Marketing Platform, which helps manage the whole content development and distribution process. It helps your content marketing team develop and implement a data-driven content strategy tailored to your target audience's preferences.
Also, your Search engine optimization (SEO) experts can use the SEMrush CMP to uncover trending themes, headlines, and queries for the content. It helps drive collaboration within the marketing teams and monitor progress in a centralized location.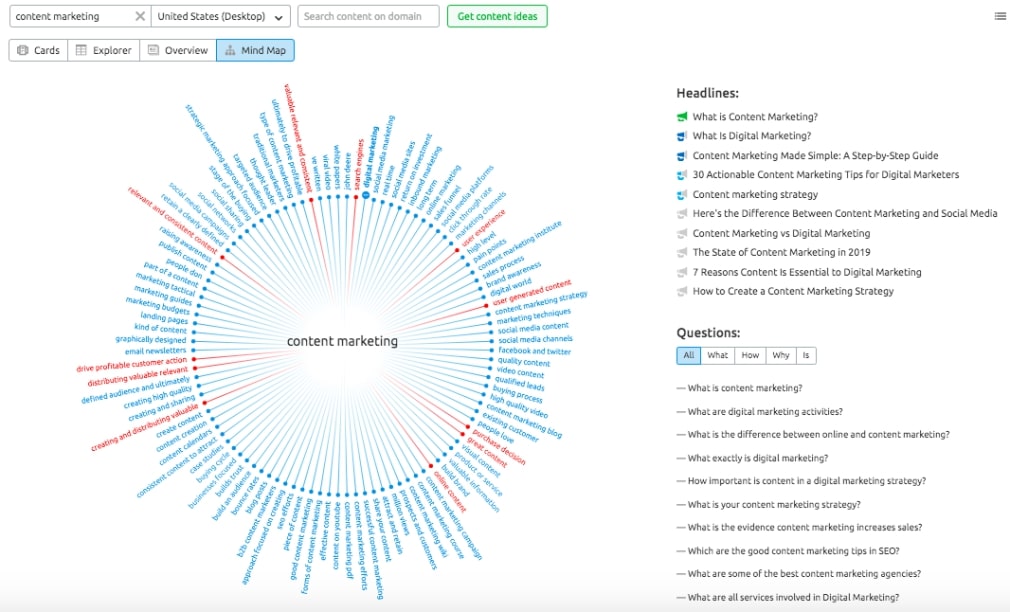 CMP has a unique feature that provides short reports with actionable optimization advice based on your competition's search result positions. This Google docs add-on makes it easy for you to keep up with SEO best practices while meeting your audience's expectations.
Each plan offers a 7-day trial that helps you test all the features offered by this platform. Additionally, SEMrush offers SEO, competitive research, PPC, and social media monitoring tools in addition to the CMP service.
Pricing: Pro plan starts at $199.95/month. Then, you have a Guru plan for $229.95/month and a business plan for $449.95/month.
3. Hiver
Often, the larger part of content marketing depends on the effective collaboration between multiple teams in your organization. Bring Hiver — a customer service software into the mix, and you will experience how it helps run your business' sales and customer service departments right from your Gmail inbox.
Teams need not log out of their Gmail accounts to work on shared email addresses like sales@ and support@.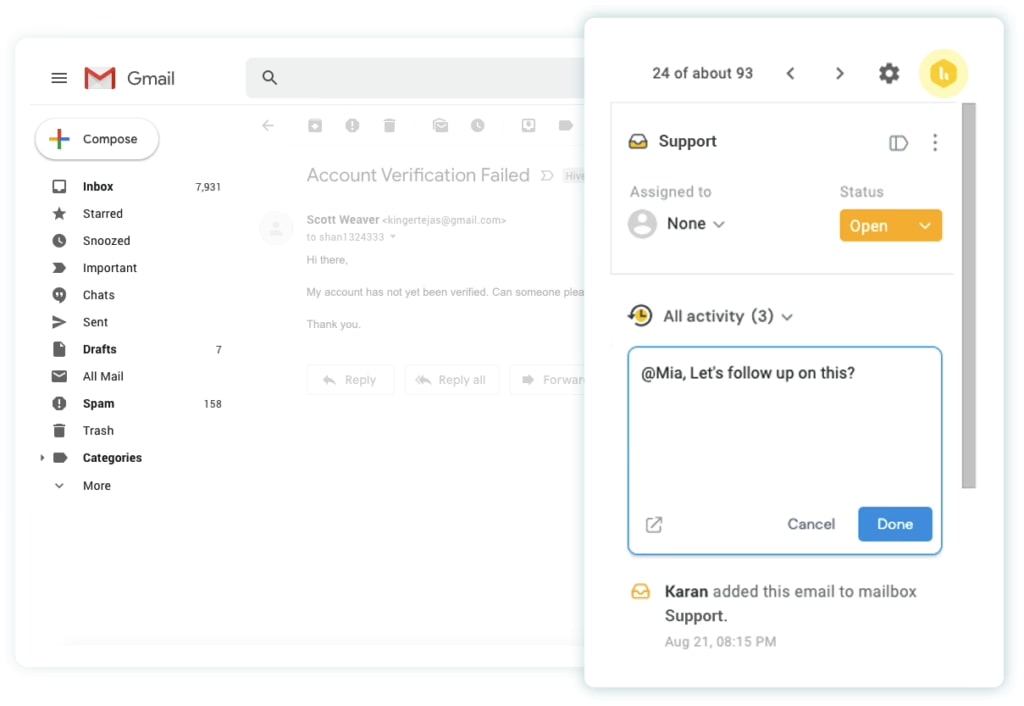 This one can change the entire email game for content marketers, especially when it lets you do away with writing the same emails repeatedly. Use Hiver to create email templates for frequently used emails using Google Suite. You can also use Hiver's email template to be saved and added to folders using the WYSIWYG editor.
Gmail's "Compose" box includes a shortcut to your library of stored templates to quickly access the same and send out template-based email content to the intended audience without much effort.
Hiver also enables your team to work together on an email without sending unintended remarks to the recipient. There will be no more sifting through emails to find notes that have been sent.
Pricing: You have three options in Hiver; Lite, Pro, and Elit. Subscription to Lite costs $15/user/month, Pro costs $39/user/month, and Elite costs $59/user/month.
4. Wistia – Video Marketing
Most content marketers vouch for YouTube when it comes to video marketing. They see it as a highly successful way to reach your target audience. But, there are times when this isn't the case.
Use Wistia to manage and update existing videos as you can promote the videos without changing URLs or losing historical engagement data that hosts invaluable customer insights. Since you host a video on your website, all the traffic and engagement reaches your domain instead of YouTube.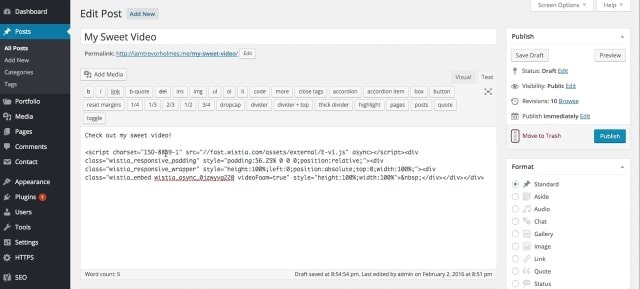 Wistia goes a step further in helping you adopt a video-first marketing approach aimed at boosting website traffic, enhancing engagement, and improving your website's conversion rate.
The platform offers configurable galleries, lead-generating tools, and industry-leading analytics that can be used to enjoy greater control over brand experiences that justifies ROI with more accurate data. Wistia provides free instructional tools and world-class customer assistance to ensure your success even before you hit play.
Pricing: You can try Wistia for free, which offers limited features. Alternatively, you get the Pro plan that costs $99/month lets you add your branding to the video player.
5. Keyword Everywhere Extension
You don't stand a chance to rank higher in search results if you have not optimized your content around specific keywords.
Researching keywords in a particular niche that have high search volume as well as low competition is one of the toughest parts of a content manager's job.
Google Adwords is the most popular tool for conducting keyword research, and chances are that you might already be using it.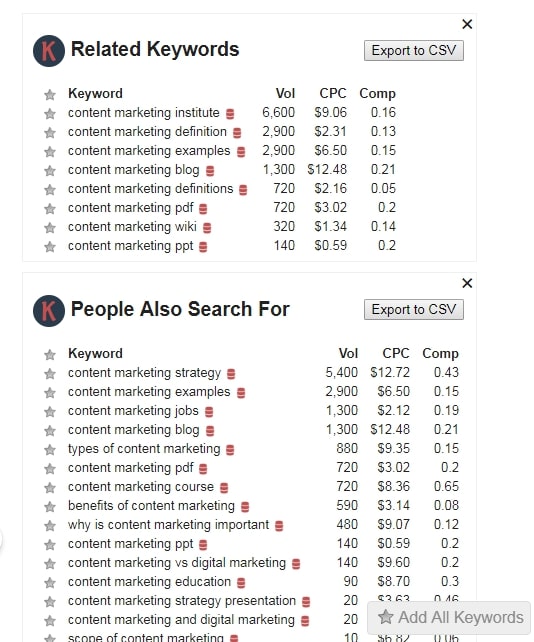 But another you should consider is Keyword Everywhere Chrome extension. It lets you see the volume, competition and CPC for any keyword that you search in the Google Search interface itself. It's great for discovering new keywords while you browse the internet. You can also see the SEO stats for certain websites when you decide to toggle the feature on and off – a fantastic hack.
Pricing: With Keyword Everywhere, you pay as you go by buying credits, from 100,000 credits for $10 to 10 million credits for $1000, valid for 1 year.
6. StoryChief
Adopt StoryChief to stay efficient in your content marketing efforts as it lets you create and publish interactive articles to multiple places at once. You can publish your post concurrently on WordPress, Medium, Shopify, other third-party platforms, social media, and email marketing services like Mailchimp. Your subscribers are sent a notification via email every time you post a new piece of content. Once you make the article's URL public, anybody can access it.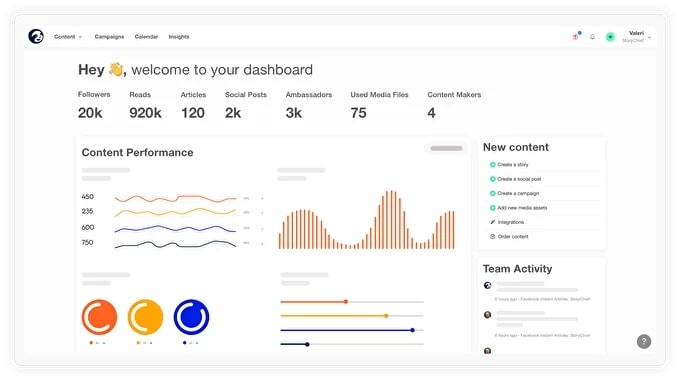 Also, if you want your team members to communicate and provide feedback on each other's work, StoryChief is a great tool to employ.
Having your content organized into campaigns makes it easier to measure its performance and compare it to other stories from the same campaign. This makes it simple for you to track the success of your content.
Moreover, StoryChief has a great feature that enables you to check how your SEO keywords are doing right away in the story. Use a content calendar to set up a schedule for upcoming publications. The package pricing depends on how many articles you plan to produce each month and the features you need. There is also a free trial available.
Pricing: A Team plan will cost you $100/month, a Team Plus plan costs $180/month, and the Agency Plan costs $350/month.
7. ClickFunnels
ClickFunnels is a multi-purpose content marketing tool since it works as a website builder and a sales funnel builder for your business. This will free your business from the constraints of coding and programming.
Also, it can help attract your visitors step-by-step through the sales process with effective keyword mapping for your sales funnel. This will present your users with the relevant content and show them the one product or service they need the most to help solve their issues.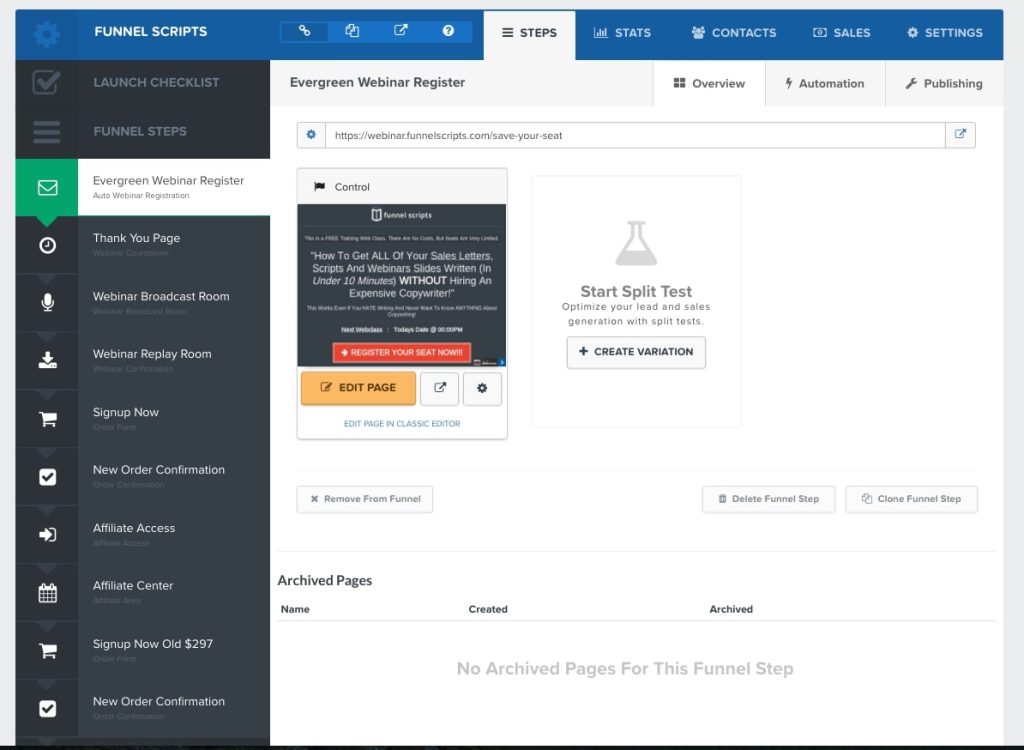 Use ClickFunnels to promote, sell, and distribute your content over the Internet. It is also a useful tool to create a sales funnel that converts using a smart shopping cart with a one-click upsell email. You will have the ability to use Facebook marketing automation coupled with an easy drag and drop web page builder, among the few features.
Pricing: ClickFunnels has two price points — Basic costs $80.84/month and Platinum costs $247.50/month.
8. Tapinfluence
Initiated as a community platform for bloggers, Tapinfluence is known to bring together all content creators, influencers, and brands through meaningful content that is actionable and invokes inspiration in people.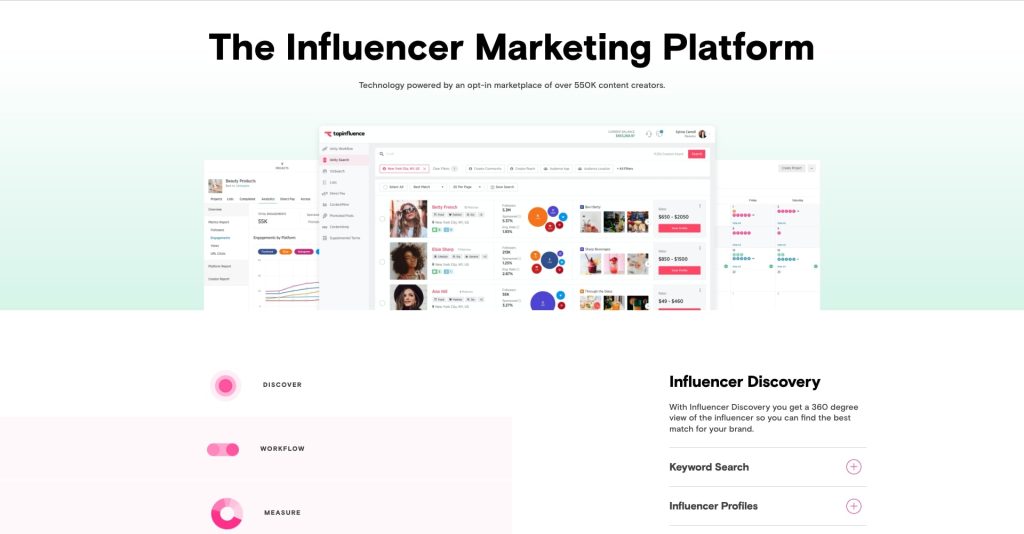 Another aspect that the platform takes seriously, is to reshape content and how it should be delivered to the end readers. With the use of this tool, content marketing managers can create and execute a robust influencer marketing program. It allows easy tracking of how the content is performing beyond blogs. What's more, you get to meet influencers that help you bring more engagement to your blogs.
Pricing: There is no official pricing depending on the features you need. The Influencer Discovery feature is available at $169 for a monthly plan and $90/month for an annual plan.
9. Kapost by Uplandsoftware
You would want to send out the curated content to niche audiences that convert. For this, use Kapost as it offers you to distribute appropriate content to the right audience at precisely the right moment, which higher the chances of conversion. Also, you have the end-to-end editorial process management with Kapost. It is easy to set up processes in Kapost that you can update at any time, allowing your team members to offer each other feedback directly in the tool itself.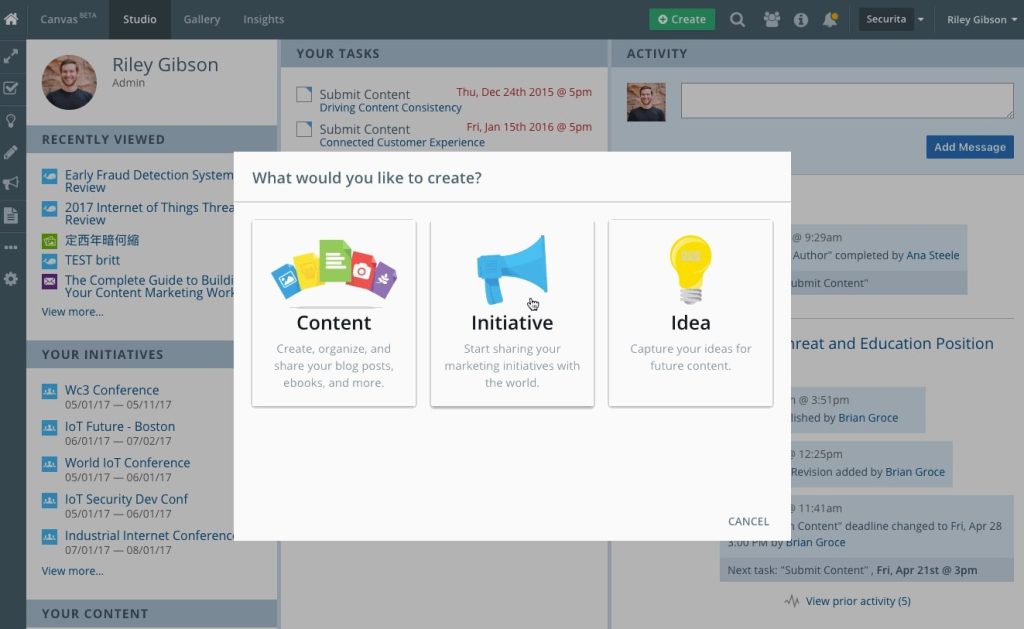 This powerful content marketing tool offers you a content repository similar to Google Docs/Drive. It allows key personnel to monitor the progress of each asset, the future stages, the author, and the submission date for each document. Kapost will enable you to change and identify metadata attributes such as which customer it is for (essential for agencies), deadlines, purchasing phases, tags, Twitter status, etc.
With Kapost, you can discuss content ideas, onboard and organize authors, manage the content creation process, and schedule, distribute and market the content. Aside from textual content, the application can also handle video, tweets, and downloadable eBooks.
Pricing: There is no official pricing, but it will vary depending on your requirement, from $1200/month to $3500/month.
10. BuzzSumo
BuzzSumo is one of the popular tech tools that many content marketers rely on. It works as a content curation and social media analysis platform for content marketers to identify and connect you with the most powerful influencers in your field and their contact information.
Through keyword-driven content curation, BuzzSumo streamlines the whole content ideation and curation process.
It's a super valuable tool if you wish to completely revamp your content marketing strategy. The amount of engagement data you get is more than enough to reimagine your content funnels.
But revamping your strategy may demand bringing changes in planning and implementation. For that, you need to understand what change management is — something that can help you establish new tools and processes for your team. Then, you can introduce BuzzSumo as a starting point to implement new content strategies with a fresh set of ideas and redefined content marketing KPIs.
You can use BuzzSumo to gauge the popularity of content on multiple channels through the engagement it drives on social media networks like Facebook, Twitter, LinkedIn, Pinterest, etc., where results are ranked. This works as a popular method to scrape ideas for new web content that can interest your newly-defined target audience.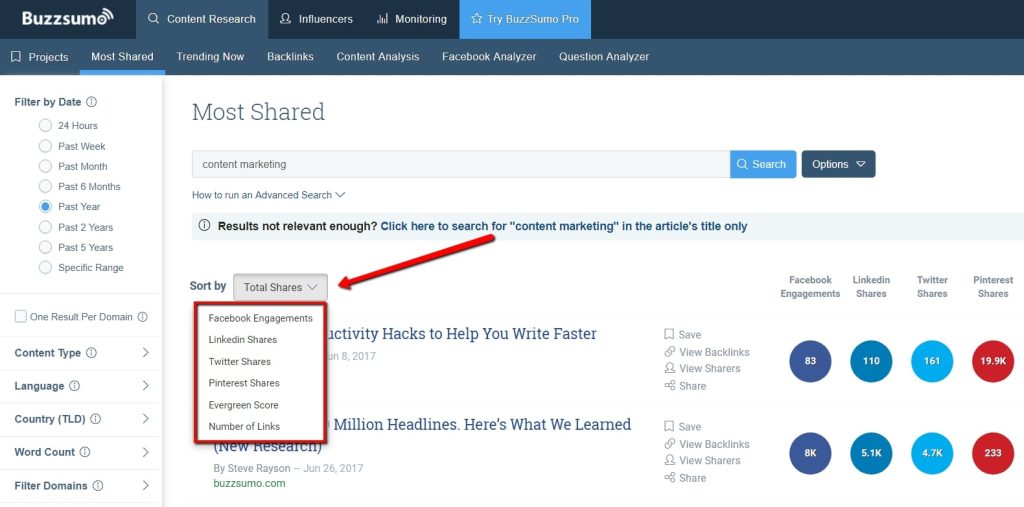 It also lets you apply custom filters that help focus your search. For instance, you can filter out the "how-to" content to narrow your results to a certain region, exclude a particular web address, and do much more. BuzzSumo comes with a range of features and, therefore, multiple price points aimed at the different needs of professional SEOs and content marketers.
Pricing: BuzzSumo has four price points depending on the number of users and the size of the business.
There is a free version that offers ten searches a month. And then a Pro plan at $79/month, a Plus plan at $139/month, and a Large plan that costs $239/month (all to be paid yearly to get a 20% discount).
11. ProProfs Chat
Most content marketers don't fully leverage the power of live chat for websites. Proprofs Chat is much more than a tool for just chatting with website visitors and maintaining customer satisfaction. Instead, it is the ultimate source to understand what your customers actually want from your website or product.
Start by analyzing your chat history and transcriptions to learn about the top-queries that your users asked on live chat. Voila! You now have the material for the perfect content that you need to create that will resonate with your user base.
Pricing: It depends on the features you need, either the Live Chat feature or the Help Desk feature, or both. 3 offers are proposed each time, the ESSENTIALS offer, the PREMIUM offer, and the ENTERPRISE offer, from 10$ to a customized offer according to the company's needs. ProProfs Chat also has a free plan.
12. GetResponse
Marketing managers can use GetResponse for email marketing, creating a website, running paid advertisements, creating sales funnels, and even driving automated marketing activities. This is also a great tool if you plan for a cohesive content marketing plan that involves website tracking and hosting live, on-demand webinars.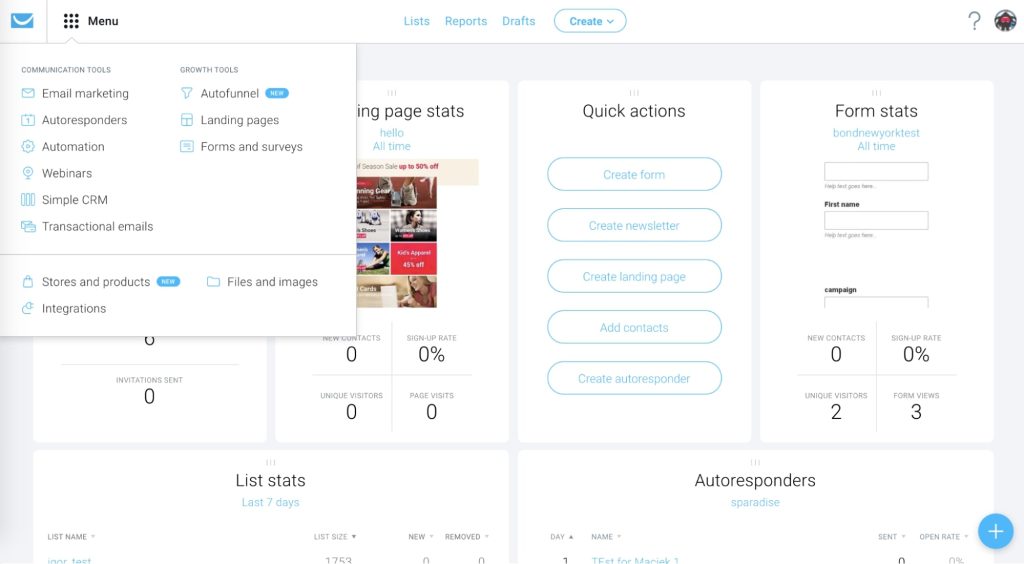 Your content team can make the most of the Free Content Marketing tools capabilities using GetResponse; some complex features are reserved for premium users.
There are three service plans by GetResponse that can serve a wide variety of users.
Pricing: You can test it over a Free plan, and it interests you further. You can choose from other premium plans, the cost of which depends on the number of subscribers. A Basic plan costs $19-$539 a month. A Plus plan will cost you between $59-$599. And a Professional Plan costs $119-$599 a month.
13. Snagit
Often, you need to include screenshots in the form of JPEGs, GIFs or video format in your content pieces. This is especially the case when the focus of your content is on a software or a tool. Or, you need to showcase some data from somewhere like Google Analytics.
If you are still using the PrntScr key in Paint or Photoshop, you are simply wasting your time. Use Snagit to quickly take a screenshot or screen recording. Then, simply edit in its editor by adding annotations, arrows, callouts, and more.
Pricing: Snagit offers a unique price of $62.99/user for a license and one year of maintenance. The price decreases with the number of users and the features change depending on the type of user.
14. Lumen5
Video is the most popular type of content currently, and it shows no signs of slowing down. But creating professional-looking videos must be really difficult to make, right?
Wrong!
Lumen5 is an AI-powered, cloud-based video creation platform. It allows even total beginners to create amazing, highly engaging videos in minutes. "Enter a blog post or RSS feed and the Lumen5 artificial intelligence system will help you summarize the content and match each scene with relevant videos, photos, and music."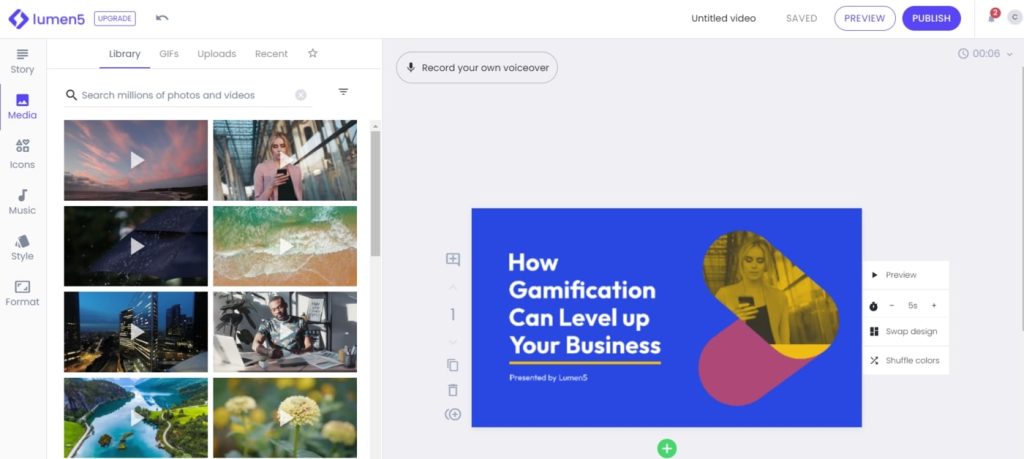 A tool that saves you time while creating awesome videos? Yes, please!
Pricing: Lumen5 offers 4 different plans. Pricing ranges from $0 to $149/year.
15. Brightedge
Brightedge is the perfect option when it comes to creating content that is highly visible to your customers and target audience. The content optimization tool helps you to discover the true search demand of your target audience, which allows you to create content that caters exactly to their needs. You can also measure how your digital content is performing and later improve accordingly.
In short, it is one platform that helps you create a content marketing strategy that helps you target your audience, monitor the performance, and delight them efficiently.
Pricing: There is no official pricing. You will be able to request a demo to find out the pricing depending on your need.
16. Wordable.io
Ever copy and paste your content from a Google Doc into WordPress and it shows up… weird? You end up having to spend precious time reformatting everything to make sure it looks just right.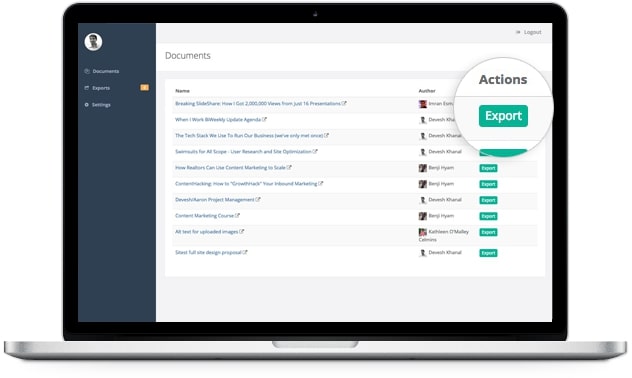 Wordable lets you export content from a Google Doc directly to WordPress. And everything – images, links, text – shows up exactly as you expect it to. Spend less time reformatting your posts and more time writing amazing content.
Pricing: With 6 different plans, Wordable pricing goes from $49/month for a solo plan to $999/month for an enterprise plan.
Over to You
These sixteen tools can help you create the correct marketing tactics, build better relationships, and expand your consumer base by implementing a robust content marketing strategy. But, remember that no app or software can tackle your content or marketing efforts single-handedly.
Tools can only assist if you have a clear notion of the problem you're attempting to solve.
If you're looking for the top content marketing tools, choose the ones that match your content marketing goals and KPIs.
In case any of the applications mentioned above appeal to you, try them out. This will give you a quick overview of features and help you identify whether it can work for you.