We all know how important content is in this day and age.
Good content can drive website traffic, deliver the right messaging across social media, and win the wallets of consumers from all walks of life.
But with millions of businesses fighting for the content spotlight, whether it's on your Facebook Newsfeed or a major blog – it's no easy task to get your brand's voice heard.
Enter content syndication.
Content syndication is a great way to grow audiences and boost credibility.
In a nutshell, content syndication is "The process of pushing your blogpost, article, video or any piece of web-based content out to other third-parties who will then republish it on their own sites." (Engine Watch)
Sounds like a sweet deal? It is. Having other websites host your content is basically free advertising! Why buy your way into publications when you can barter with your own content?
According to WordStream, "Syndicated content not only increases your reach and brand awareness, but it also builds links and can help drive more traffic to your original article."
What's more, getting published on a reputable website can align your brands with industry experts and also be an invitation to the business big leagues.
So if you're not getting the most out of your content distribution strategy and you're ready to give content syndication a try, here are 3 effective tips for getting your content moving and grooving on popular publications.
#1 Start from the bottom
How do you start a 10,000-mile journey?
By taking the first step.
Unless you're an noted blogger or an expert in your field, the A-list publications probably won't be fighting to feature your content on their websites. Instead, they'll save that digital real estate for the well-known and established businesses that are popular among their readers. You can't blame them.
Rome wasn't built in a day, and neither were most content creators running the game today.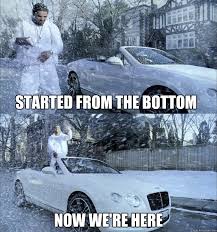 One sure way to get your content spreading is to start small.
Whether you're just embarking on blogging or starting to build a name for your brand, guest blogging for smaller, third-party websites gives you the opportunity to reach out to a readership that have never heard of you.
Try writing for smaller websites that you think target same audience profile as you. Nailing a guest post for them could expose your brand to new potential customers.
As these guest posts grow in number, they'll provide content depth that will be enticing to publications on the hunt for contributions.
Where should you begin?
Start by researching your industry online. Which blogs are your customers reading? Where are the thought leaders getting their references from? Check out forums like Reddit and Quora where people share insights about all types of subjects.
#2 Perfect the pitch
The world's greatest idea doesn't mean anything if you can't back it up.
The art of the pitch is crucial to successful marketing, especially when it comes to giving your content legs.
Most blog editors don't have the time to read over your entire article and give extensive feedback like your high school English teacher. They have their own writers to agonize over.
That's why it's important for you draft clear and concise pitches. 
Editors won't invite you to write for their website on a whim. They should be able to get an idea within the first few sentences why you're worth listening to, and how your contribution could be valuable to their blog. Therefore, you'll need to entice them with original ideas and insights, leaving them wanting to read the rest of your post.
#3 Become a regular
So you've developed good relationships with your content syndication partners, pitching them ideas and contributing to their blogs more and more often.
Why not take these relationships to the next level? Ask to become a regular contributor on their blogs.
Whether it's monthly or weekly, once you become a regular contributor means your content will have a regular audience. Much like a consistent stream of income, this is a good thing.
What's more, your name and content will become more familiar among their audiences, and beyond.
Scheduled syndication gets even better once you create a network of websites that are hungry for your content. Aim for websites known for their syndication networks, like Medium and Inbound.org, and watch as your website traffic soars.
#4 Adapt to succeed
Publications are like snowflakes… alright, maybe not.

But they are unique and should not all be treated equally. Pitching an academic paper on the history of the soybean might be challenging if you're aiming at a trendy restaurant blog. Plus, it's already been done.
So, whether it be your pitch or your published piece, be sure to tweak your content for each specific blog, so it caters to their readers.
You'll want to understand what the publication and its readers are looking to gain from your content. Is it motivation on a rainy bus commute? Practical tips to help them with their business problems? An expert's opinion on a trendy new topic? Try to understand the objective of the publication and write your content to serve that purpose.
If you're just starting out, find a demographic that your content can help.  For Veem, a global payments platform, it was small businesses they wanted to help.
Small businesses are always looking for free tools, resources, and content they need to compete. So they developed content that their SMB audiences would be interested in, answering the burning questions that are often asked by their community.
Final Thoughts
Content syndication isn't a new marketing channel or strategy.  Really, it's a cheaper and more efficient way of doing what you've been doing all along: spreading your content across multiple sources to attract new audiences.
Know your audience, solve their problems, and you'll be your way to creating a content syndication network to be envious of.