Most startups claim to have a customer-centric culture. We are guilty of this as well. However, it became blatantly clear last year that we were in denial — we were not listening to our customers enough, nor providing them with the support they deserved. Obviously, changing this became an extremely high priority starting late 2014.
Here are five things we changed to start putting customers at the center of all that we do at Mention.
1. Distribute support across the team
Support often gives the biggest voice to your customers when they want to be heard. With 100+ support tickets a week, it is an invaluable communication channel for us. We were taking too long to respond to our customers, and it became clear that our process (or lack there of) was largely to blame.
To improve our support process, we moved our support to HelpScout and built a small hack to assign tickets randomly across the team. Once a day, everyone on the team gets in front of a customer and handles at least one inquiry.
As a startup, it's important for everyone to hold support responsibilities, at least for a short period of time in order to better understand how your customers use and interact with your product, where the most common issues are, and to identify popular and interesting use cases. Getting the entire team involved in support has other benefits, including:
Accountability: When we're all doing support, we're all accountable for customer success, which means company success beyond our pre-defined roles. When you've personally interacted with someone, you're much more likely to make sure that their problem is resolved. Otherwise, you run the risk of being seen in less than a positive light by your customers.
Training: For example, our content person is now a whole lot more familiar with how the tech behind the product works, which is important when communicating on behalf of the company.
Feature innovation: When more team members are aware that a feature is high in demand, especially those in sales and marketing, they're likely going to make themselves personally responsible for seeing that it gets done. Not to mention, they might have new, unthought of ideas for how to solve customers' problems.
Results
This approach was not at all time efficient. Dealing with API questions when you are not a developer is a difficult one. Equally difficult is when there is a refund request assigned to an engineer.
However, the process has been tremendously helpful. The approach effectively spread customer feedback across the team and closed the loop between "builders" and customers.
2. Grade yourself
Spreading customer support across the team was a first step in the right direction for us. The second step was to grade ourselves. Closing a ticket is not enough, we want to delight and WOW our customers.
Luckily, HelpScout made this a lot more easier, as they just released their happiness report that allows customers to grade your communications directly in the email.
Results
An internal competition to be the best at delighting customers developed, which is awesome. Company wide, our grade is increasing with more "great" feed-back every week coming from customers. However, we haven't seen an impact on churn (yet).
3. Celebrate wins, designate champions
When making customer success a company priority, we realized that recognition could potentially play a large role in motivating the team to achieve personal success. Therefore, every Friday during our weekly recap meeting, we check the happiness report and based on grades we received from our customers, a weekly customer champion is elected.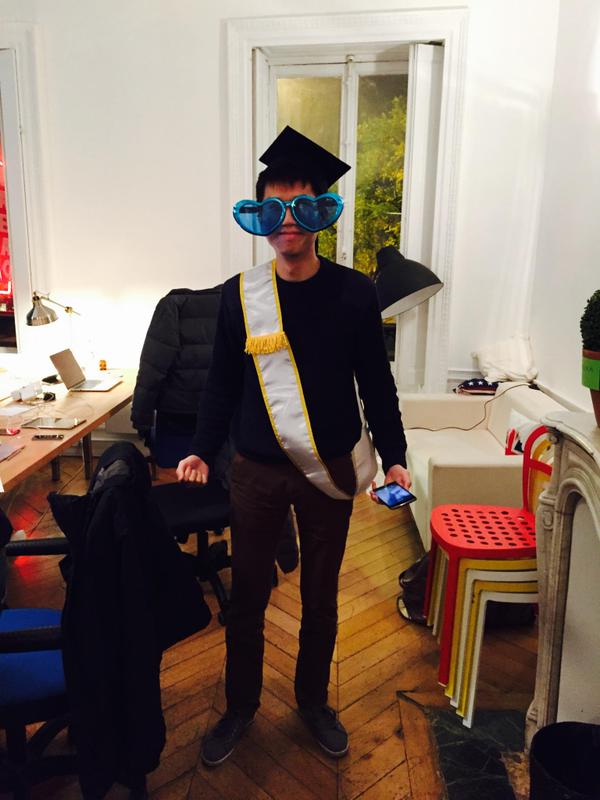 Results
Celebrating weekly champions shows that we really care and that it's an important aspect of everyone's responsibility. In addition, it creates a common ground within the team. And it allows the team to have some fun on Friday afternoons.
4. Centralize feedback
Customer feedback is a goldmine, and we are lucky enough to have a ton. Interacting with customers is one thing, taking action is a whole other thing. For that, we created a simple Google Doc for anyone on the team to share the feedback we receive while doing support. On a weekly basis, together with the product team, we review all feedback and decide how do we move forward (or not) with every piece of feedback.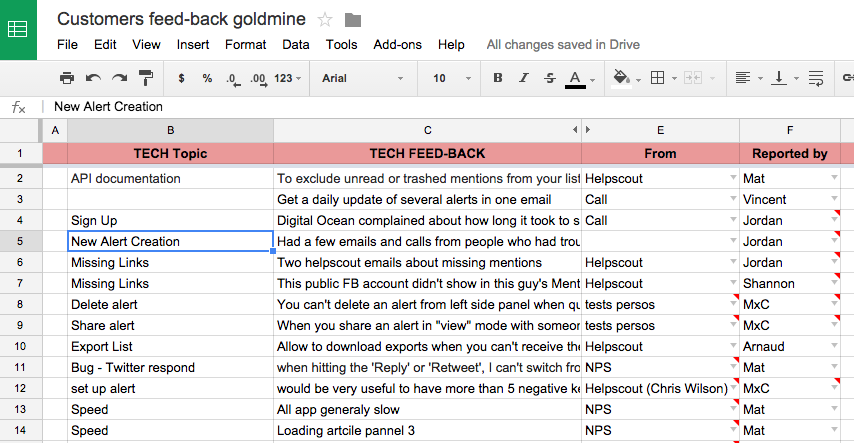 Results
Centralizing feedback reported by customers rapidly became a strong input in our product roadmap, helping us with new features and prioritising our backlog. Stay tuned.
5. Implement a strategy around your Net Promoter Score
Until recently, we never used the NPS in our lifecycle email. Now we are addicted. It became a tremendous point of feedback for our customers. Every new Mention customer is delivered an NPS survey after the 14-day free trial, which provides us with critical feedback on the value perceived by our customers in 14 days.
In addition, all of our paying customers are receiving an NPS survey every three months, allowing us to gauge the evolution of Mention's performance for our paying customers.
Results
Besides having a continuous score on how we perform at delivering value to our customers (free and paid), the NPS survey is a tremendous help in building relationships with every customer who provides feedback and establishing a health score.
This score is then used to improve our personal communications with the customer for an increased conversion rate and strategically reduce churn, consequently increasing monthly recurring revenue.
Conclusion
We are only at our early beginnings of being significantly more customer-centric. However, we've already noticed a positive impact on our customer interactions and, equally important, it creates a common ground across the team.
How have you made your company more customer-centric? Please share your lessons in the comments below!