Instagram is not just a photo-sharing platform anymore; it's a fully fledged sales machine that helps businesses grow revenue right on the platform.
However, in order stand out from your competitors on the platform: you need to take care of your buyers first. This starts with improving customer journey there.
*This is the first of a two-part series, stay tuned for the next instalment!
Back in the 2000s, brick-and-mortar stores were the only way to sell your products. Today, it's the era of eCommerce, and people are ready to buy even on social media. When it comes to Instagram marketing, you can reach over one billion potential clients who are ready to learn more about your product.
According to Hootsuite, 70% of Instagrammers have used their mobile to purchase a product online. It's no wonder that 60% of users want to discover products on the platform, and 75% of users take an action after looking at a brand's post.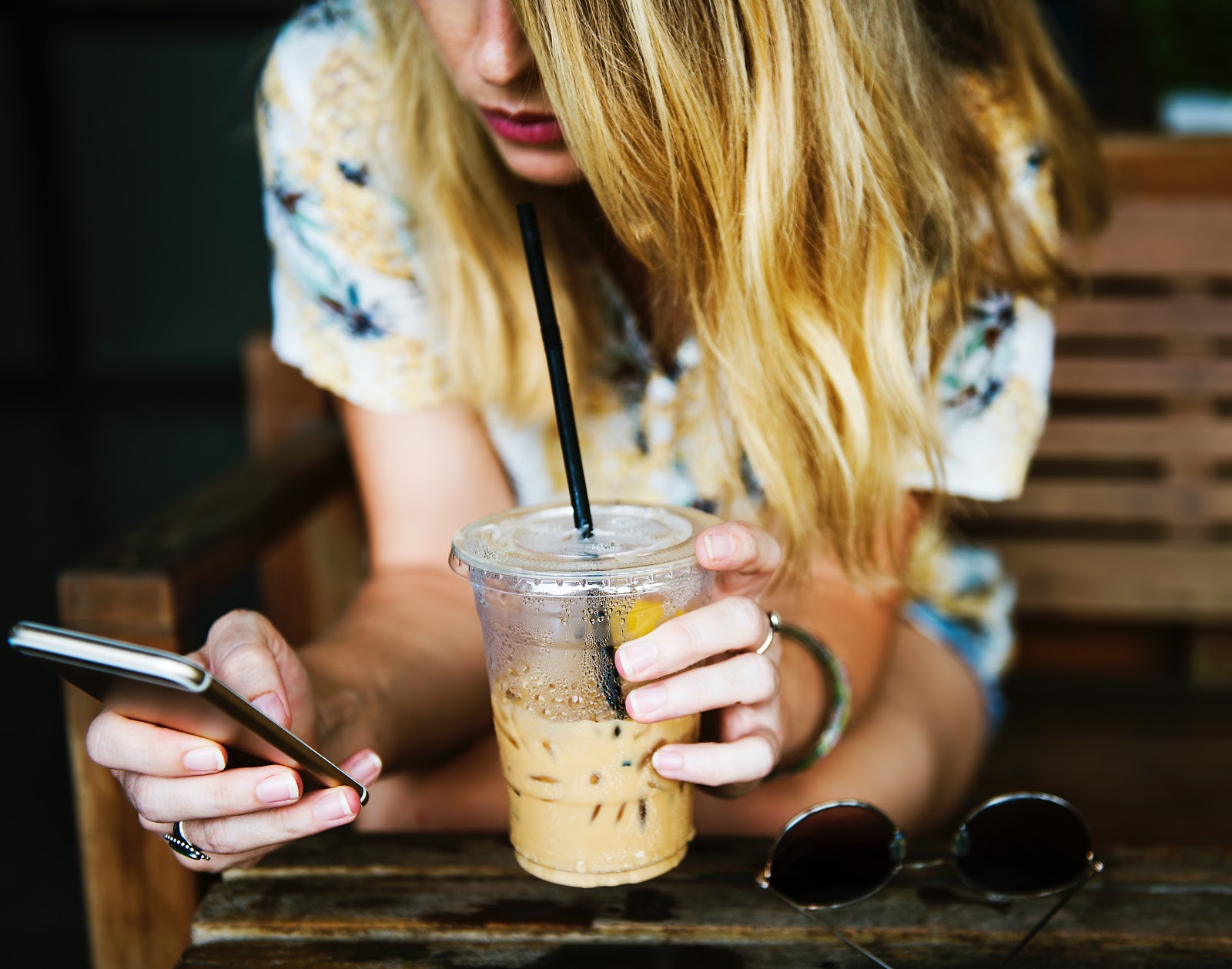 Since users are ready to spend money on the platform, Instagram rolls out more and more eCommerce features to make the process easier. For brands, it means great sales potential.
But, with over 25 million businesses on Instagram, what makes you any different from other brands craving for the attention of the same audience?
Showing off your product isn't enough to thrive on the photo-sharing platform.
You need to put your clients first and take care of them at every stage in the customer journey. In this post, you will find how to build brand awareness and affect customer consideration.

1. Awareness
In 2019, consumers can discover hundreds of items in a day without leaving their homes. There is no need to visit brick-and-mortar stores to spot things you want to purchase. Moreover, 70% of buyers trust online reviews and friends recommendations more than branded copies.
Once a potential customer wants to find a certain product to satisfy his or her needs and wants, online searching begins: as specified in one report by Pew Research Center, 84% of U.S. online shoppers review at least one social media site before making a purchase.
The customer journey starts with customer awareness, so companies should know how to hook potential clients and convince them to consider their products as an option when making purchase decisions.
Show off your product on Instagram posts and Stories
Who else wants to buy a product you have never seen before?
Obviously, no one.
For brands, it's important to not only show off your product from different angles, but also explain what makes it better than other options available on the web. In other words, you need to tell potential clients how your product can benefit them, and therefore solve their problems.
Tip: keep a focus on your product without being too salesy.
A good example is Vans that always depicts its sneakers on Instagram – every post features the product, and it gives followers an opportunity to understand what they can expect after buying your product.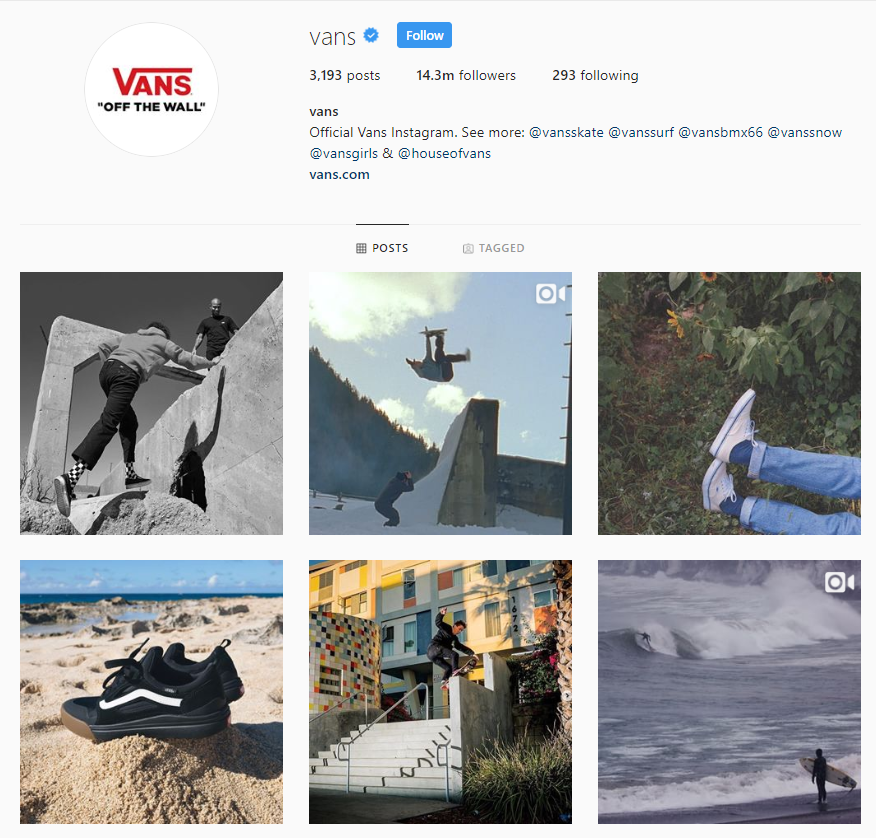 When buying on Instagram, customers can't check for fit and comfort, so you have to help them virtually see, touch, and feel your product. Thus, you have to demonstrate products from different perspectives.
If you publish posts on Newsfeed, that's great. If you use Instagram Stories to show off your product, that's even better.
Why?
Ephemeral content is on the rise these days, and Instagram Stories has 400 million active users. Since these posts disappear within 24 hours, followers are more enticed to watch them in a timely manner. With a great number of active users, Stories allows brands to cut through the noise and deliver the brand message to their target audiences.
Here's how you can demonstrate your product:
Use lifestyle photos to depict products without keeping the main focus on them
Share carousel posts to show your product from different angles
Add Instagram Stories to reach more followers
Your customers have to know everything about your product before buying it, so it's important to tell them everything they may want to understand about your company, products, and benefits.
Collaborate with influencers to build trust
The more Instagram followers you have, the more sales you can make. But before you start thinking about sales, make sure you have a loyal following,
When a visitor comes to your Instagram page, he or she must have a solid reason to follow your brand. While you can publish a post and wait until followers come, you can save your time and collaborate with niche-focused influencers who have the same target audience as you.
Not only can you enter an already-established community of Instagrammers who may love your product, but you can also get influencers' endorsement. In fact, 70% of teens trust influencers, so relying on opinion leaders is a proven way to build customer awareness.
Here's one great example:
In collaboration with fashion and beauty blogger, Zoe Sugg, the Visit Dubai company was able to attract more English-speaking followers.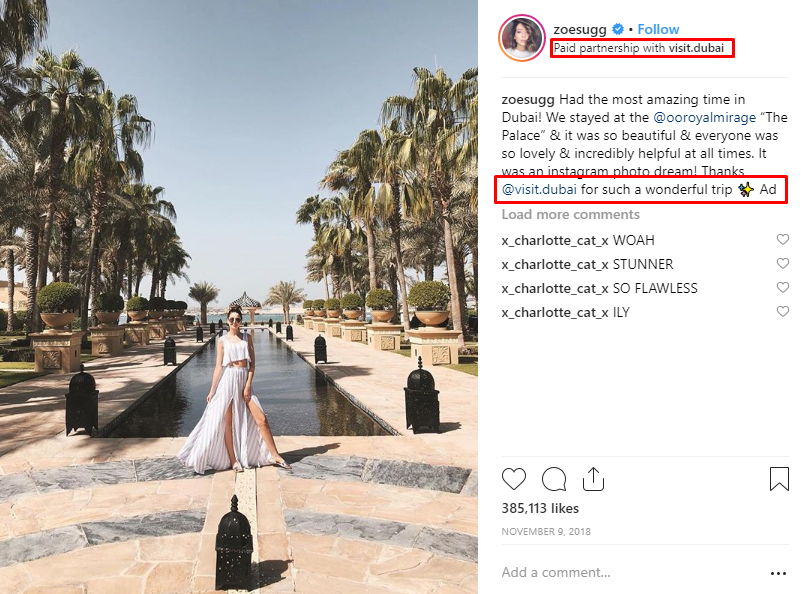 Obviously, mega-influencers with huge followings can charge a lot, so you can turn to micro-influencers. If you're doubting whether working with micro-influencers within your niche can help to attract real followers, track results and get math help to calculate ROI. For the majority of businesses, micro-influencers bring better results even though they don't have an enormous fanbase.
Here's how you can collaborate with influencers to attract your target audience:
Use a social listening tool to find opinion leaders within your niche
Keep track of your engagement rate
Work with influencers who share your views
Boasting about your product's benefits it's not enough to grab your audience's attention these days.
Modern customers crave recommendations, so working with niche-focused influencers is a proven way to spread a word about your product.
2. Consideration
Once your potential customers know about your product, they start analyzing whether it meets their needs, wants, and budget.
All in all, they consider your product as an option, and it's your chance to satisfy their specific expectations, and therefore convince them to choose your brand over hundreds of other companies offering nearly the same product.
This is where you'll want to think about: what do your customers really want during the consideration stage?
One survey by HubSpot Research claims that the majority of people are interested in pricing, product demo, and problem-solving when considering a product.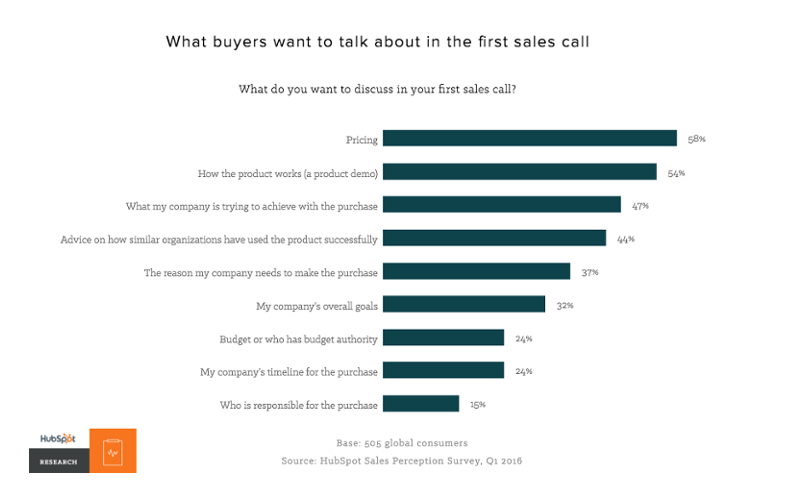 During the consideration phase, potential clients do research to compare and contrast offers on the market. If you have been lucky to interest people, don't miss a chance to help them make the right decision and choose your company.
Create Stories Highlights to make the navigation easier
As mentioned above, 58% of buyers want to know prices. Although the total price isn't the main factor affecting the buying decision process, people always want value for the money they spend.
With a variety of alternatives available on the market, customers can always find another option. Thus, it's obvious they want to choose a product that suits their budget.
What is more, customers value their time: according to Forrester, 66% of people believe that valuing their time is the most important thing a company can do to provide them with good online customer experience. Take care of your customers, and they will never forget you.
Long story short: make the navigation easier.
Let's take Lululemon as an example: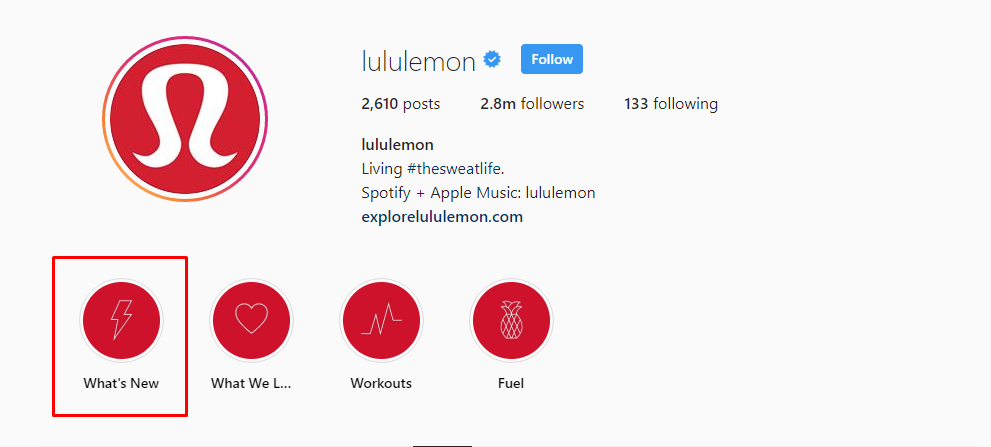 When an Instagrammer comes across their page, it doesn't take much time for him or her to discover more about the products and prices. Why?
The company makes the most out of Instagram features: with Stories Highlights, they group and feature branded Stories into circles to keep all important information at hand, right below the bio section. As a result, both followers and visitors can learn more about the company, its values and products, and prices without spending much time.
Here's how to effectively use Instagram Stories Highlights:
Think about what new followers may wonder about and group Stories Highlights to answer their questions
Create a descriptive title within 15 characters (you can also use emojis)
If possible, add clickable links to Stories so that your followers can learn everything in-app
Since followers want to learn more about your product during this stage, you need to help them without easily and quickly. Thus, it's important to keep all relevant information below your bio – and Stories Highlights is a perfect tool for it.
Publish UGC
No matter how hard you try to list the benefits of your product, customers crave authenticity.
Thus, potential buyers seek out social proof: 71% of consumers will check user-generated content (UGC) reviews before deciding to buy a product. Sharing UGC photos means customers have bought a product and they're satisfied with the purchase to recommend the brand to their friends.
What is more, UGC posts get a 28% higher engagement rate in comparison with branded publications.
Case in point:
One of the most famous coffee chains, Starbucks, needs no introduction, and its customers want to be members of something important, so they often share photos of their coffee cups. For Starbucks, it's a perfect opportunity to build trust among new customers without spending time and money on content creation.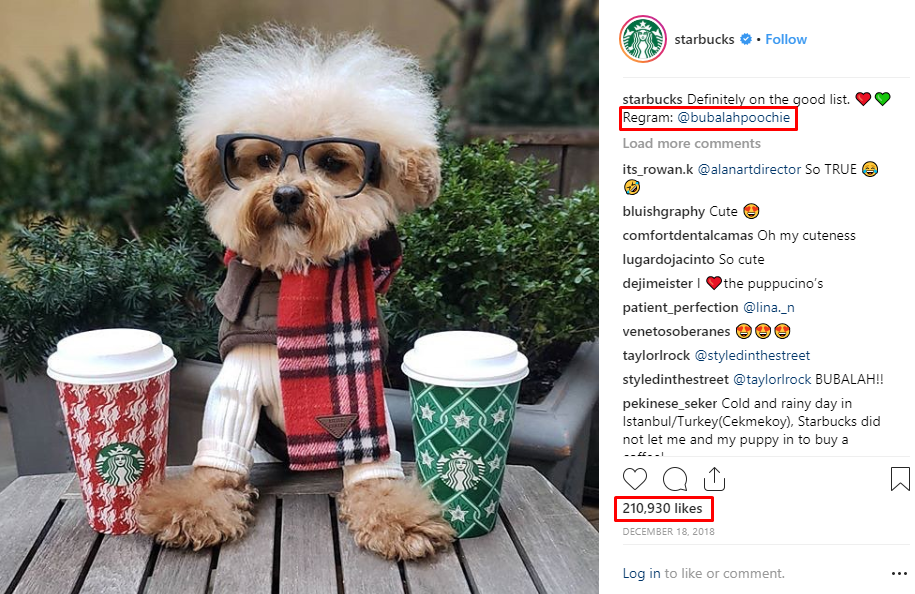 Once people know about your brand and they start thinking about your products as an option, you need to provide them with solid proof your company is trustworthy. Posting UGC on Instagram is a proven way to tell your followers that people choose and trust your brand.
Here's how to encourage UGC:
Offer discounts and perks for sharing UGC
Engage with UGC posts by like and commenting
Share the best posts and tag authors
It's in human's nature to follow a crowd, so potential customers will always choose a product other people buy. To influence buying behavior, post UGC on Instagram and your followers will be more likely to complete purchases.
Run a contest with branded freebies
When it comes to buying a product, the majority of potential customers want to see, touch, and try it, so it's no wonder around 55% of consumers visit stores before buying online.
During the consideration stage, your potential customers are doubting whether they want to trust your brand or not. If you want to turn more followers into customers, you need to convince them that your product is worth buying.
Wouldn't it be great if your customers could try a product before buying it online?
To build brand loyalty, increase the engagement rate, and boost sales, organize Instagram contests with branded freebies to give your loyal followers a chance to try your product without buying it.
For example, My Book Mark often organizes contests with branded freebies as gifts. Not only it engages followers, but it also attracts potential customers.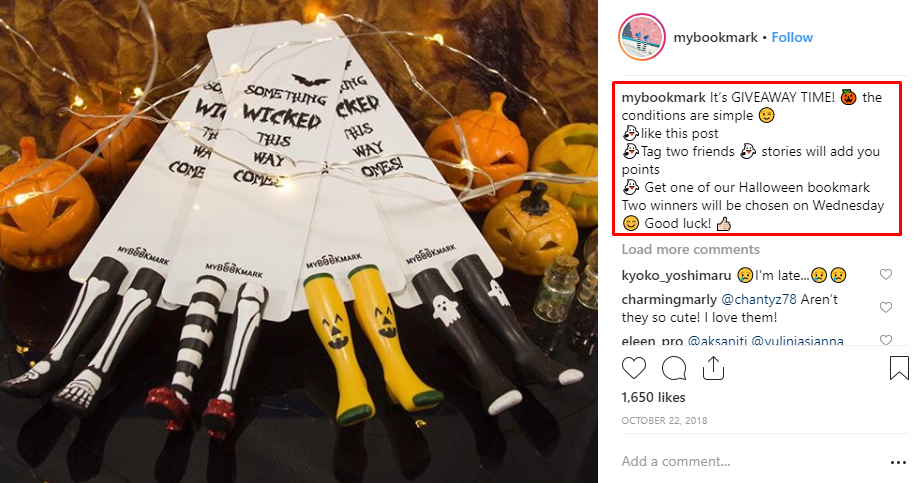 Moreover, it's a proven way to hook people who consider your product as an option. Plus, sending your products is cost-effective as you don't have to spend the budget on buying special gifts for participants.
Here's how to make the most out of contests:
Think about the rules and gifts for your contest
Announce your contest in advance to attract more participants
Interact with all participants (like and comment on their posts) to build relationships with loyal followers
Ask winners about their feedback on your product after the contest
If you have interested people in your company, that's great. If you have convinced followers to purchase your products, that's even better. While your potential customers are hesitating, you can take the bull by the horns and provide them with an opportunity to get your product for free. Over the long haul, the payoff is huge.
Over to you
The customer journey is a long process that summarizes experiences that a potential buyer has while interacting with your company.
For brands, it's important to keep their target audience hooked from the first phase when they get to know your brand and product. If your followers believe your product can meet their needs and if they are satisfied with customer service you provide, they will be more likely to become your clients.
Want to know how to improve customer journey during the acquisition, service, and loyalty stages? To be continued…