In 2019, more and more companies started selling on Instagram.
Working in the competitive environment, it's important to understand how to win potential clients, and walking a mile in your customer's' shoes is a key to success.
In the previous post, we've discussed how to improve customer journey on Instagram when starting out. When your clients get acquainted with your brand and start considering you as an option.
If your product has the potential demand, that's great. If your Instagram followers buy it, that's even better!
However, winning new clients isn't enough to grow revenue. You need to provide buyers with positive customer experience even after they have completed the purchase as happy customers always come back.


Now it's time to make sure your followers will complete the purchase, become happy with the product, and come back for more.
Here's how to improve customer journey once your followers are ready to buy your product:
1. Acquisition
When your followers are ready to buy your product, the acquisition phase begins. Even if they have chosen and added items to the cart, it means nothing until they complete the purchase.
Although Instagrammers can buy items in-app, chances are that they will leave the page without purchases. According to Barilliance report, the cart abandonment rate is 85.6% on mobile devices.
Why?
Customers are bombarded with offers on the market, and they want brands to take care of them during every stage of the customer journey. Having the best product in your niche isn't enough until you have optimized Instagram for ecommerce.
To improve customer experience and convince followers to buy, you need to make sure your consumers get enough information about your product.
Make the purchase process easier
In 2019, it's not a secret that people want to buy goods without leaving the app, so Instagram rolls out different ecommerce features to make the purchase process easier for both companies and clients.
What is more, 84% of people have made impulse purchases, so the easier checkout process is, the more purchases customers complete. In other words, it's important for brands to allow their customers to complete the purchase without spending much time.
Running an eCommerce business is getting easier as brands can add shoppable tags or shoppable links on Instagram, and therefore provide followers with more information about the selected items.
Just take a look at the JCrew account. When their followers scroll the newsfeed, it's easy for them to tap on a small shopping bag to see more information about the featured item.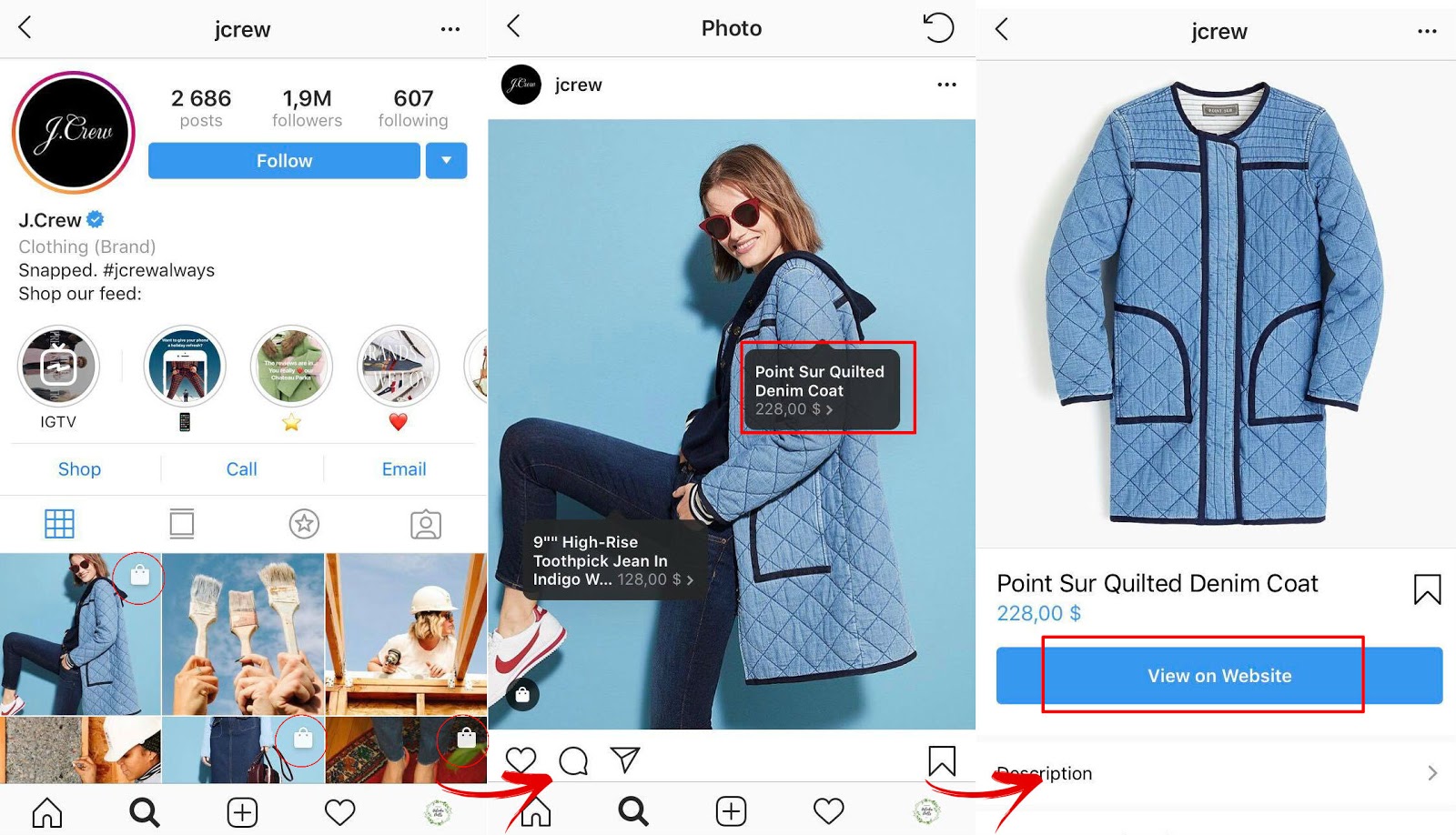 If a person is interested in buying a thing, he or she can read the description, learn the price, and even complete the purchase without leaving the app.
Here's another example by GAP.
Since the company believes in the power of short-lived content, they provide followers with information through Instagram Stories. As a result, they are able to drive ecommerce sales with ephemeral content.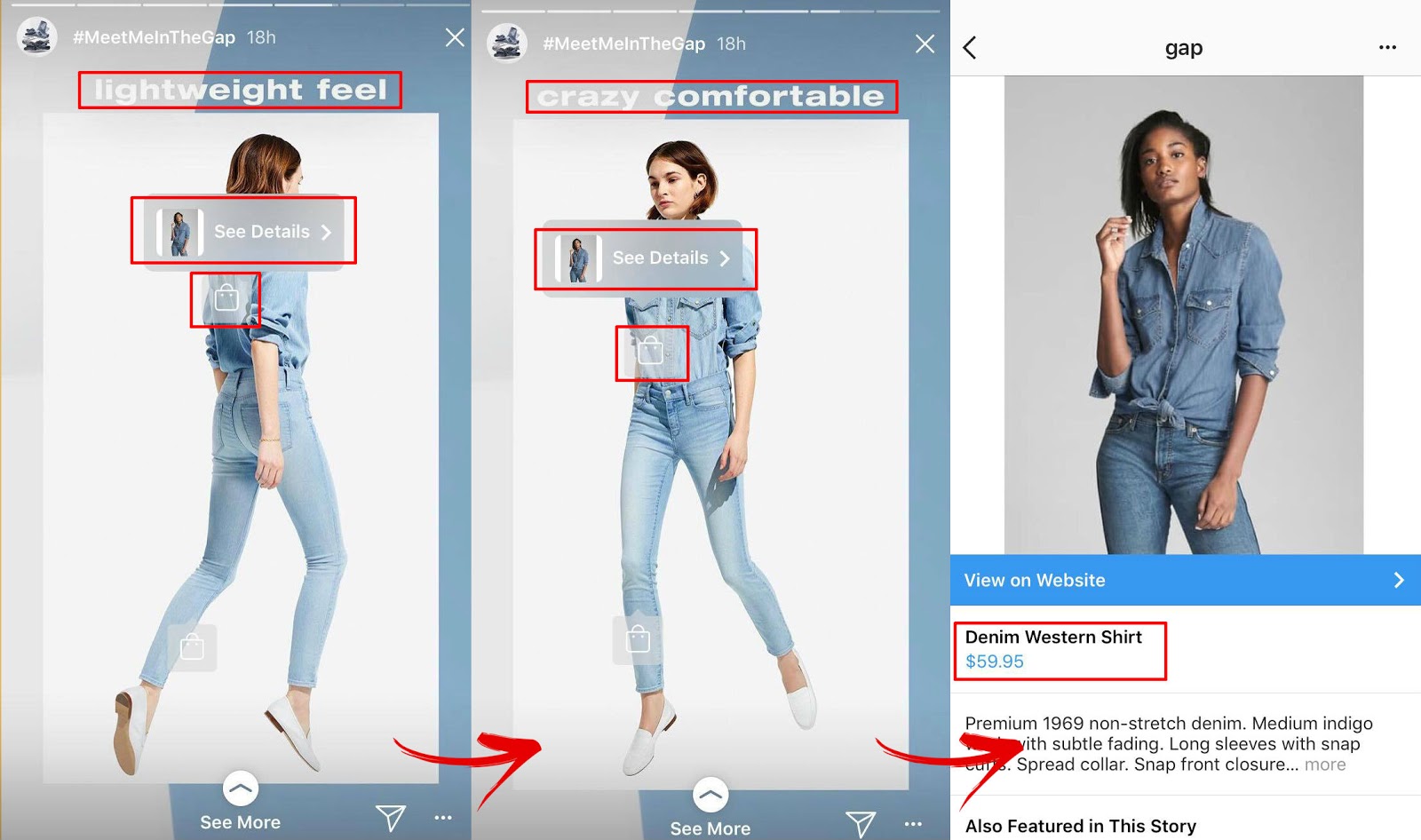 What can we learn from the above-mentioned brands? They take care of their potential customers and want to provide them with information to make the purchase process easier.
The more information your customers have, the faster they will complete purchases. As a result, it means better revenue for you.
Here's how to turn your Instagram into a sales machine:
Show off your product and use descriptive captions
Use shoppable tags
Promote your products via Instagram Stories
Add as much information as you can (the description, material, price, etc.)
During the acquisition phase, your followers buy your products. To increase the number of sales, you need to make sure your customers get enough information about the goods without spending much time.
2. Service
Having customer service is a must: no matter how good your product is, your customers may have questions about it.
Even if your followers have bought an item, it doesn't mean they know how to use it. And when your customers turn to you, it's important to provide them with excellent customer support.
Why? It's not just about customer retention; it's also about reaching new clients.
When you take care of your customers, they value it, so it's no wonder 77% of clients will recommend a company to a friend after having a positive experience with it.
Provide good customer support
In 2017, 35% of customers reported reaching out via social channels. Since the number of people who want to connect with brands online is growing, it's no wonder 90% of businesses are estimated to use social media for customer support by 2020.
If you don't want to fall behind your competitors, you need to provide good customer support. To satisfy customers' needs, you need to answer their questions and predict potential questions they may have after reading your reply.
Here's how Jenn Herman, a popular Instagram marketer, communicates with her followers on the platform: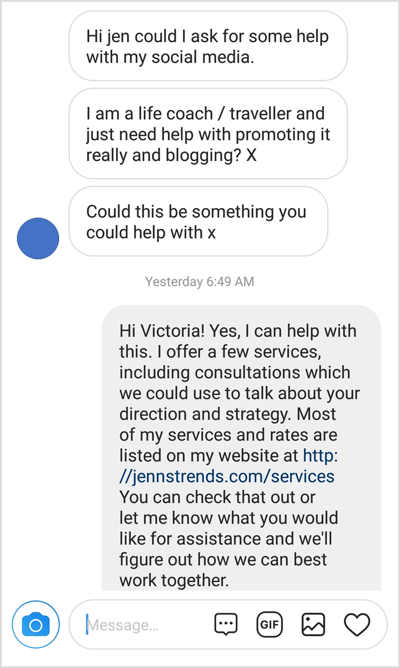 When a potential client turns to Jenn, she sends informative replies to answer all possible questions, and therefore make the conversation more productive. People love when businesses take care of them and it increases the loyalty toward the brand.
However, customer support is not just about replying to direct messages. It's also about keeping a track of brand mentions to deal with negative comments.
Another great example is Whole Foods. The company's posts get many comments, and followers often complain about services via the posts. Thus, Whole Foods keeps an eye on the comments and reply to followers in order to solve their problems and show their care.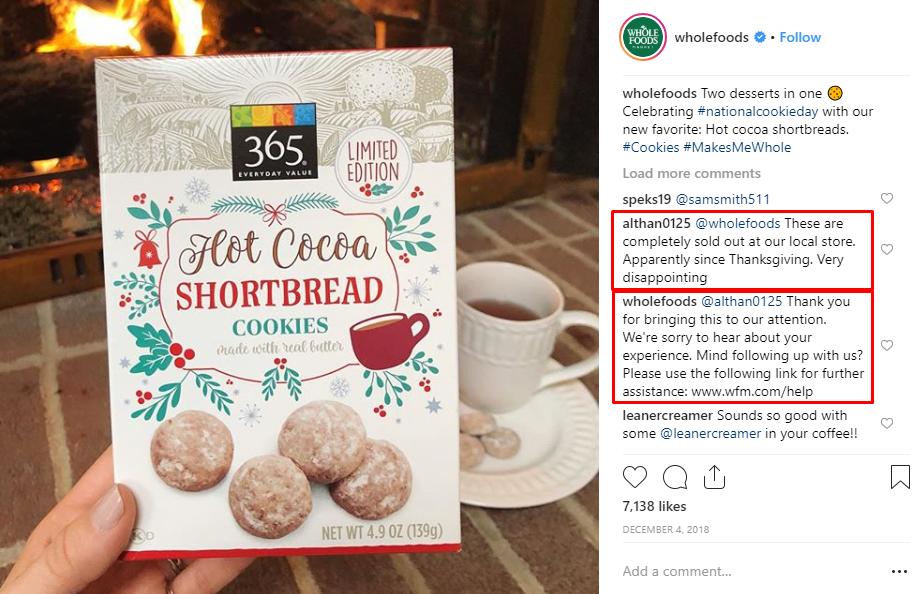 Great customer support on Instagram is an ability to solve followers' problems within the app – whether they slide into DMs or leave comments, it's important to track their inquiries and reply to them fast.
Here's how to provide followers with quick customer support:
Use push notifications to see when people want to contact you via DM
Prepare the list of quick replies
Reply to all comments
If you can answer customers' questions and solve their problems, they will never forget you.
Good customer service is an important element of the customer journey that helps existing and potential clients decide whether they want to deal with your brand or not.
3. Loyalty
Winning new customers is great, but it's even more important to make them want to come back for more. In other words, you have to turn new customers into existing ones.
The thing is, acquiring new clients costs a business about 5-25x more than selling to an existing one; repeat customers generate 40% of a store's revenue; existing clients spend 33% more than new customers.
The bottom line? Customer retention pays off and brand loyalty is a key to your revenue.
Once your customers have bought and tested your product, it's high time to make sure they're satisfied with the purchase. Plus, showing your care is a proven way to increase brand loyalty. After all, loyal clients are more likely to buy your products again and recommend your brand to a friend.
Offer special discounts for returning customers
Just imagine: 93% of shoppers have used a discount code at least once. No matter what your product is, your customers want to find a good deal and save money on buying it.
Talking about increasing brand loyalty, offering special discounts is a great way, too. It's a closed circle: clients become more loyal when you offer individual coupons, and there's no better way to thank your loyal customers than giving a discount.
For a company, it's the way to not only build brand loyalty but increase revenue as well.
Passion Planner, for example, offers discount codes to its followers from time to time.


What can we learn from the company? Offering a time-limited discount creates a FOMO (fear of missing out) effect, so it pushes customers to take an action faster. As a result, your customers are happy to complete another purchase.
Here's how to build loyalty with deals:
Put down details on the image to grab attention
Create simple rules for using the discount
Set time frames to create a sense of urgency
During the loyalty phase, it's important to convince your customers to stay with your company in the future. When you take care of your clients and help them get more with you, they value it and become more loyal toward your brand.
Ask for genuine feedback
Another way to increase brand loyalty is to show that you pay attention to your customers' opinion. What is more, if you know what your clients want, you can improve your product and service to satisfy their needs.
Thus, it's important to listen to them. Plus, people want to be valued, so they are happy to share their thoughts when you show your interest. Just ask clients for genuine feedback and try to make the most out of this information.
Although it's difficult to collect information in a comment section, you can enhance Instagram Stories and interact with your customers in a funny and interesting way: use poll stickers to ask about their opinion.
A great example of this strategy is a beauty brand Sephora that invites users to tell more about their preferences by choosing between two products.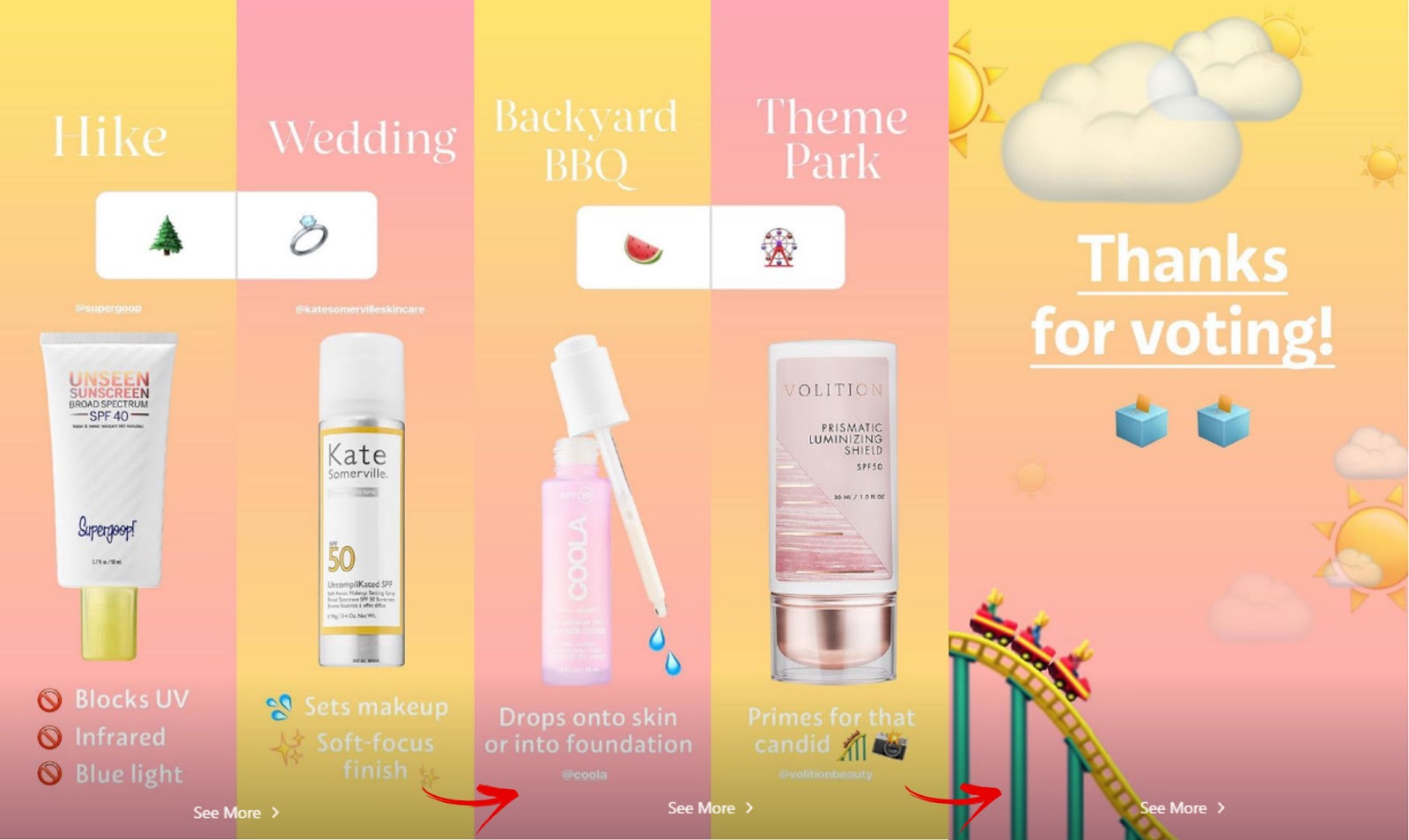 When you use interesting ways to interact with your clients, you hook their attention, and therefore get valuable information without spending much time or money.
Here's how to get feedback on Instagram:
Boost creativity to ask for feedback in an engaging way
Add a clickable Stories link to a survey
Thank every customer for sharing an opinion
Winning new clients isn't easy, but keeping them loyal is even harder. Since positive customer experience leads to building customer loyalty, it's important to take care of your consumers even after making the purchase. The more benefits you offer, the better for loyalty.
Over to you
Instagram has become a powerful sales machine that helps both companies and clients to get what they want. As a marketer, you want to get more paying clients, so you need to convince your followers to become customers.
When you think like your client, you can improve the customer journey on Instagram and keep your buyers satisfied.
The key to success is to ensure your follower gets enough information during every stage of the customer journey. Do it right, and you are well on your way to  building brand awareness, increasing brand loyalty, and boosting sales.