It's pretty normal any time of year for the social media department to look like a hurricane has just swept through it, with so much going on. But during the holidays, it's practically expected.
Every day, you're receiving word of another campaign being added to the calendar, another graphic to post, another discount code to promote. And that's on top of the 20 people tweeting you asking when their orders are getting delivered.
It's the normally hectic day-to-day, times a billion, with a partridge in a pear tree.
A few weeks ago, I teamed up with Blaise over at Bit.ly for a webinar about social media during the holidays. We talked about everything from planning marketing campaigns to establishing smart customer support processes.
There was also one section about prepping your social media team for the holidays.
Even though some stores were playing holiday music before Halloween even happened, I still like to think of the day after U.S. Thanksgiving as the kickoff of the holiday season. So with that deadline looming, here's how to get your social team ready for the holiday marketing rush.
1. Update your social profiles

The first thing you need to do is update your overall social profiles. As soon as you know what campaigns you'll be running, and any specific support instructions. You can add more and finalize it later.
But it's really important that your pages show what you've got going on.
So, what do you do? Look for ways to promote your campaigns or holiday info outside of your individual posts.
On Facebook and Twitter, there's a ton you can do to customize your profile. Most of your above-the-fold real estate is taken by your cover photo and avatar. Create custom cover photos promoting your holiday campaigns or important info. If you like, you can also create a matching avatar.
You can also pin campaign posts to the top of your page. Sure, you'll be sharing campaigns frequently. But you've got a lot going on. If you don't pin anything, the first thing a visitor sees is just the most recent thing you've talked about. Instead, make sure it's the best post to inform them of all your holiday deals and information.
On channels where there's less customization, you can still update your avatar, bio, and link.
Now, about that bio and link. These are great opportunities for promoting your most relevant campaigns instead of using a blanket message year-round.
Instead of linking to your homepage, you can transfer over the rules of advertising and make sure you're always linking to a targeted landing page. Create a "holiday hub" for your brand and include the link in your bio or link to it from your profile.
You can also use your bio to promote the deals you have going on, include a discount code, or mention a campaign hashtag.
Check out our free Social Media Bio Generators to create the perfect bio for your Facebook, Instagram, Twitter, and TikTok profiles.
2. Map out a master plan

Ah, a master plan. It conjures up images of deviousness and world domination. But it will help you dominate your social media strategy.
You need to plan out how, when, and where you'll be promoting each campaign on social media.
When you're developing individual campaigns and coming up with the social media schedule for it, you were probably considering the campaign on its own, not in relation to everything else on your marketing calendar.
So once all the individual campaigns are planned, you have to see how they're going to interact with each other and make any adjustments.
For example, if you had a campaign for 30% off a certain product category, you'd need to look at what other campaigns you were promoting in the same time period for any conflicts.
If there's also a BOGO deal for that product category, do you want to promote them right next to each other? Probably not. Maybe it would make more sense to promote the 30% off deal along with free shipping sitewide.
So map out the original calendars for all your campaigns and make sure that nothing's stepping on anything's toes or interfering with other stuff.
3. Give online support info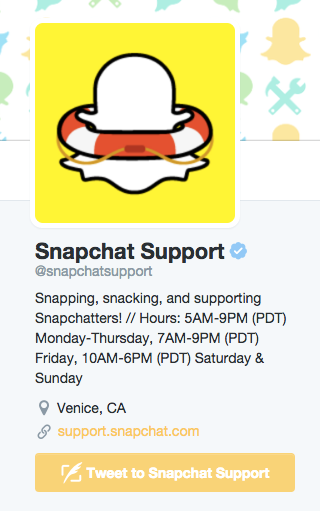 You need to set expectations with your customers from the get go. Let them know when the customer support team is monitoring social media.
People will assume you're going to respond quickly to their inquiries on social media. It's the nature of social – the immediacy and real-time conversations. So if you don't respond right away, and haven't managed expectations, you're letting them down with every minute that passes.
The secret is to manage your customers' expectations before they ever reach out to you. You can do this by posting your support team's "online hours" somewhere.
That way, if someone messages you at 11 pm and knows you're offering support between 9am and 8 pm, the customer won't be sitting there stewing for 10 hours, thinking you don't care about their problems.

You can either put it right on your profile, like you see in the Snapchat example above, or you can link to a page with the information.
I've seen companies include "social media hours" on their main support page, which they can then link to in bios and take up less space. This page could also advise customers on the best way to get quick service when you're off social.
4. Get your tools ready
Lastly, you need to make sure your social media management tools are up to date for the new campaigns and processes.
With your social editorial calendar, take step #2 a step farther and take the calendar for all your holiday marketing and work it into your overall social media calendar. Plan out how holiday stuff will be balanced with your regular strategy.
In your social listening tool, set up alerts monitoring any holiday campaign hashtags. Update your advanced settings to further customize your alerts. You can even create a separate alert for holiday support. A lot of mentions won't include your handle, so you need to make sure your monitoring game is on point.
Finally, set up custom reports in your analytics tools to track the success of your holiday campaigns. Tracking KPIs is not something you want to be spending a lot of time on in the middle of a busy season. Set up or automate as much as you can beforehand.