Does your local online business have enough clients and customers? Do you want to make more money? Would you like to improve your local presence?
If your answers were yes – read on!
If you're eager to get started but don't know where to begin, today is your lucky day. We've developed 7 steps to improve and make your local business more visible online.
Let's run through them together.
1. Identify keywords for local SEO
You already know the potential benefits of SEO. If you can make your business appear first in searches, that's a huge win!
Local SEO is its own beast. But in spite of lower search volumes, local search can drive consistent traffic to your website that is much easier to convert. So it's worth the effort.
To succeed, you first need to find the right keywords.
In most cases, people search for places and businesses near their location. For many local businesses, geographical position is everything. That's where local keywords come into play.
Think of keywords that best describe your geographic location. Use city and town names on your website.
For instance, suppose you sell wedding flowers in New York City: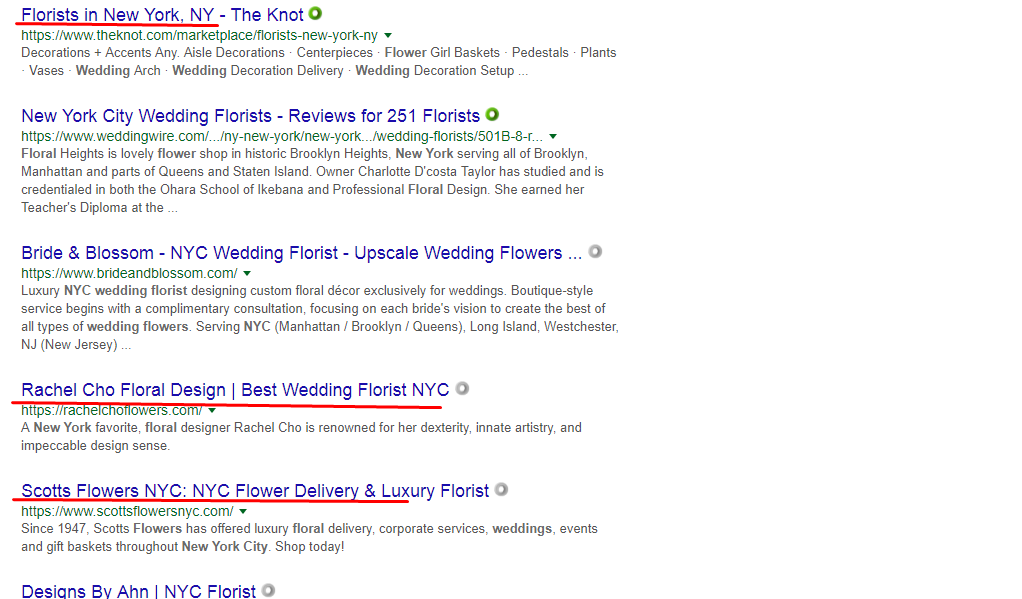 It's not complicated, but including locations in your page title and description gives you a better show in Google search.
To save time finding relevant keywords, use tools like the keyword suggestion tool by SE Ranking. The tool provides a list of short-tail and long-tail keywords and gives detailed statistics on each keyword: search volume, CPC, competition, traffic cost, rankings, and the number of search results.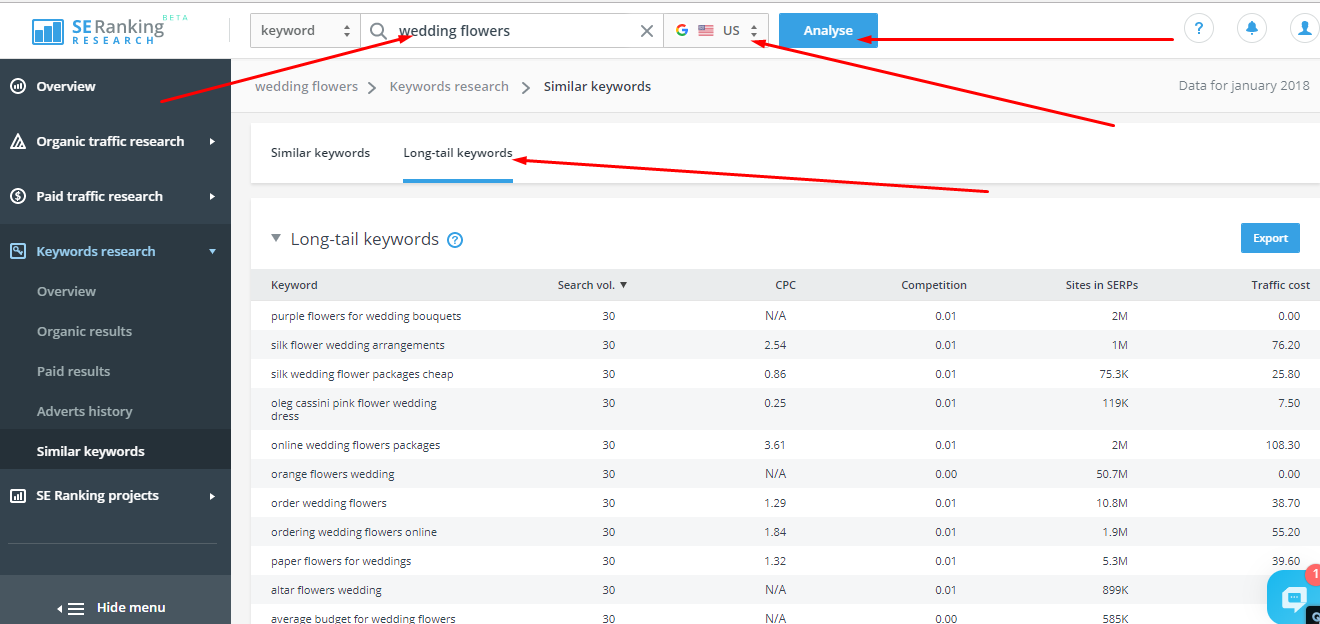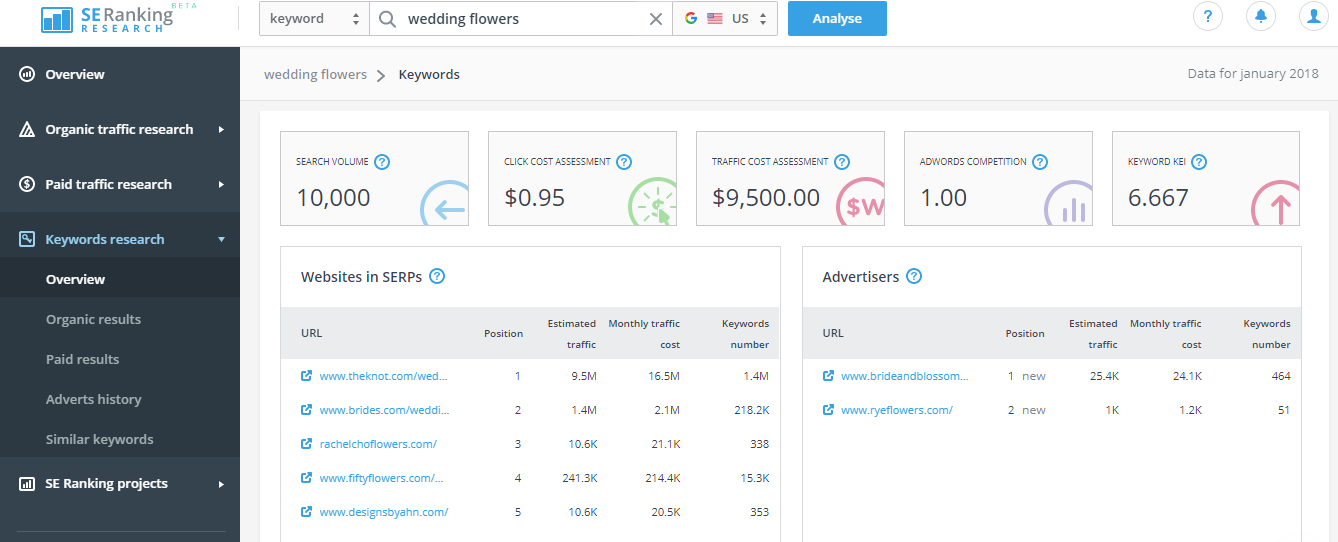 2. Improve your local search optimization
Any local business owner wants to rank high in Google's local pack and Google Maps. There are a few key steps for this.
First, try to optimize and verify your Google My Business page to increase your local visibility. If you make any changes on your website, the information on your Google Business page should be 100% updated.
If you want your site to appear in local search listings, add schema markup to your web page to specify your physical location, telephone number, business hours, etc.
From time to time, try to perform a detailed website audit to detect all technical, content-related and SEO errors. You can use the SE Ranking website audit tool and Google Webmaster Tools. Make sure that you have local keywords in title tags, H1-H2 tags, internal linking, alt tags, etc.
Also, try to localize your content in order to rank higher in local search results. For example, a good idea is to create location-specific guides and list posts about your products or services (e.g., "Where do most Los Angeles car accidents happen?" or "Los Angeles statute of limitations"). As mentioned above, use target local long-tail keywords to produce website content.
For example, Citywide Law Group did a good job on their website for local SEO: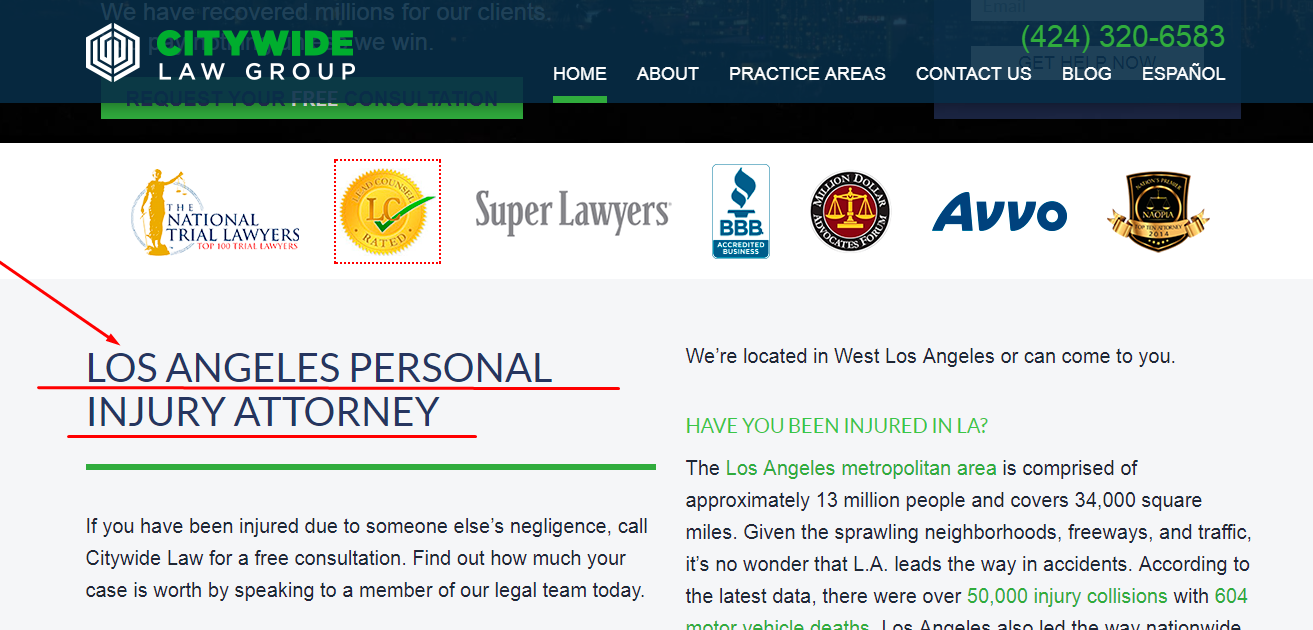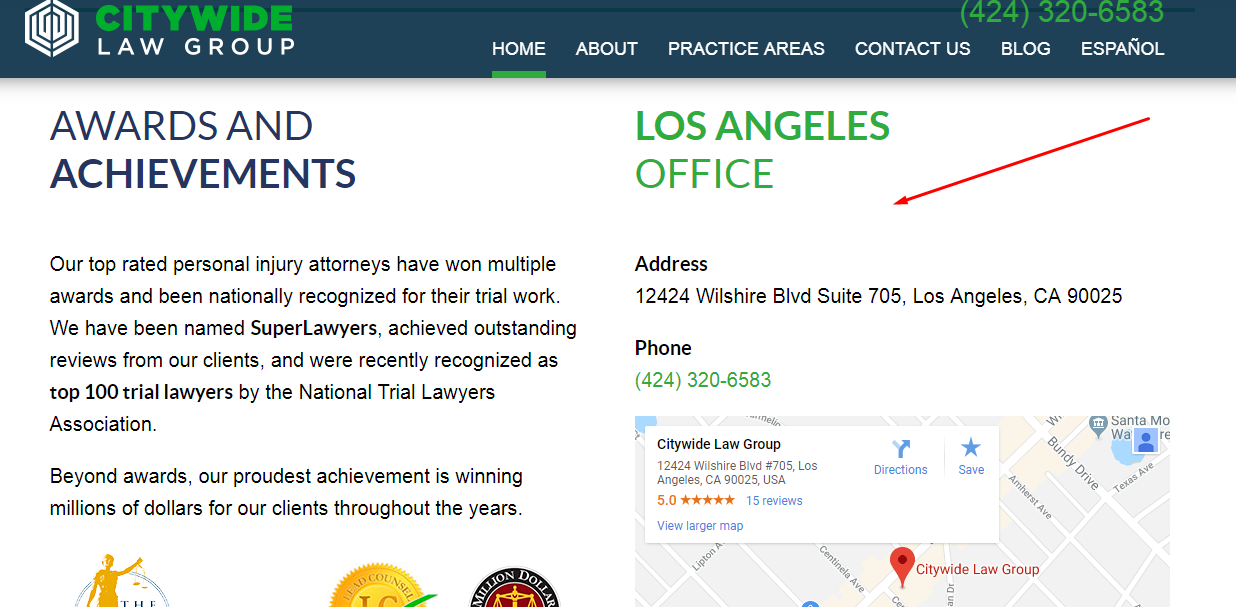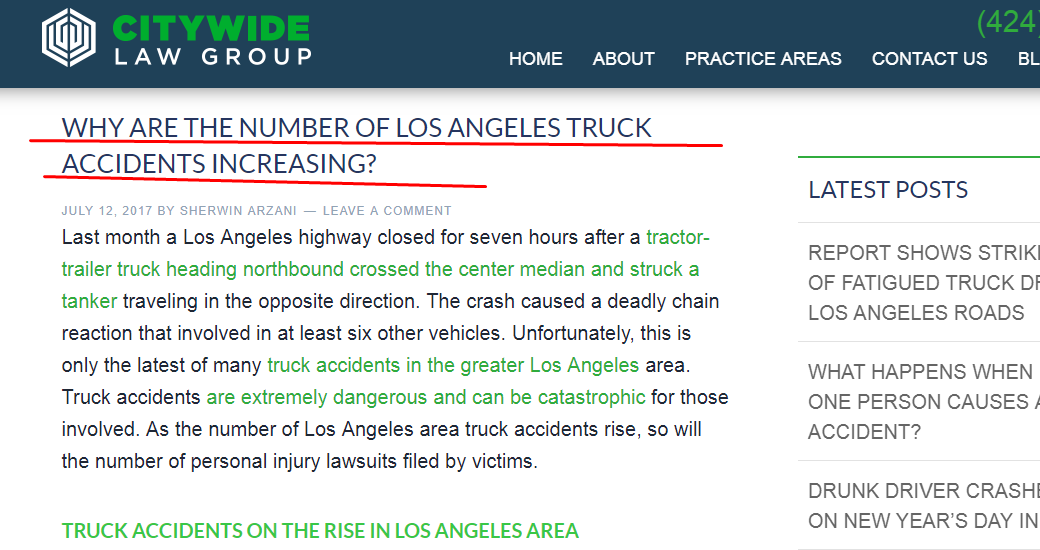 3. Optimize for mobile devices
Every local business is different, and the percentage of mobile viewers is also different. With Google Analytics, find out the total percentage of mobile traffic that falls on your site. Usually, 25%-50% is the trigger to work on your website's mobile-friendliness.
Now people are making online purchases through mobile devices in increasing frequency. Starting April 2015, mobile website optimization is one of the most important Google's ranking factors. The lack of a mobile-friendly website can lead to Google penalties.
To optimize your website for mobile, keep the following things in mind:
Add your address and phone number to your mobile landing pages
Your phone number must be clickable on the website
Touch elements like links, buttons, search box must be clickable and large
Your mobile site must be super fast
Include powerful high-converting calls-to-action
Create useful and straight-to-the-point content
Use Google's Mobile-Friendly test to check whether your website is mobile-friendly enough. It takes about 30 seconds to get results and and a list of errors you need to fix.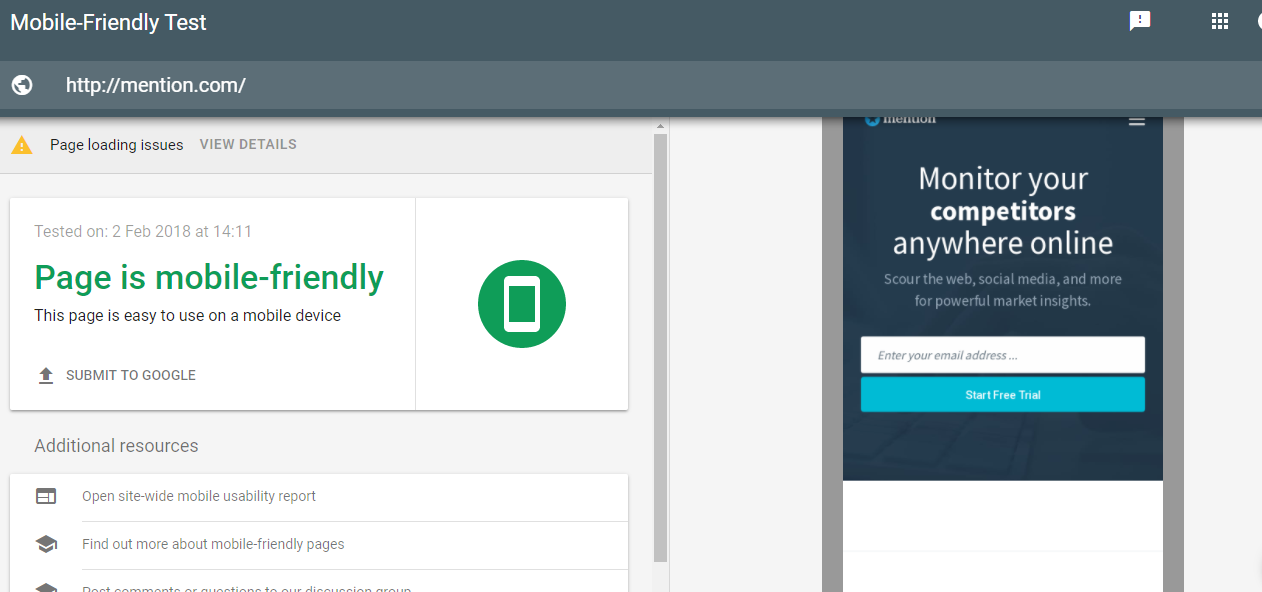 If you need to make your website responsive and mobile-friendly, you can try out the Mobile Website Builder from SE Ranking. The tool converts your site into mobile-friendly version in a few minutes with low budget.
4. Create your testimonial page
Do you want to build trust among your website visitors? Authentic testimonials can make your site trustworthy and generate more revenue.
97% of consumers like looking through reviews and testimonials before making a decision to buy.
Maintain good relationships with your clients and don't be afraid to ask them for a review at the end of the project. Be polite, friendly and concise.
Once you get a review, ask the person if it's ok to place their feedback on your site. Using real photos and names of these people who provide their feedbacks, and even videos, your testimonial page will have more impact. And never distort a customer's words.
To increase conversions, include testimonials on the homepage, or let people know where they can find the reviews and feedback about your product or services, or even leave their own.
For example, the Rodriguez Law Group included testimonials on the sidebar and added the link to the page where more reviews about their company are published: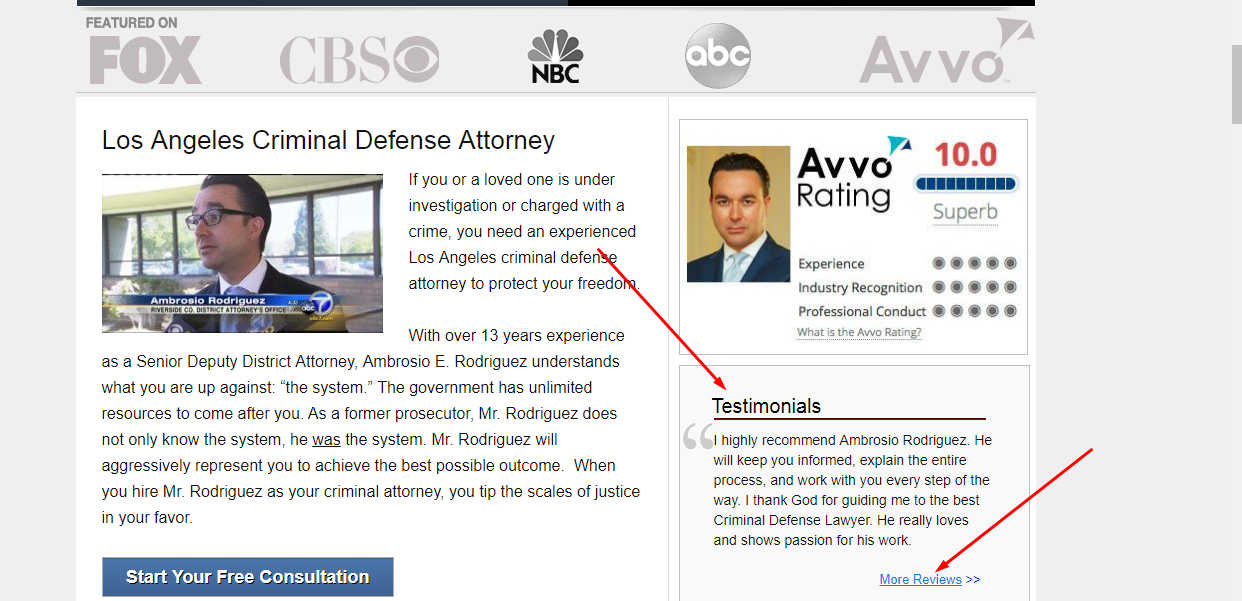 5. Use social networks
Everyone knows how powerful and important social media is for local business. 44% of local businesses use social media to improve brand awareness, while 41% use it to increase sales revenue.
Social media is a great platform to interact with your targeted audience and develop an army of loyal advocates.
Improve your social media profiles and regularly share useful posts. Find which channel yields the greatest returns for you on your efforts and stay active on it.
Take into account people's interests. Growing your social media visibility will boost your local business online.

6. Appear in citation and directory listings
If you want users to find your local business easier, you need to submit your business to local directories and citation sources. This way you can drive more traffic and increase conversions on your website.
Add accurate contact info, address, working hours, photos and brand name to these local listings. Misinformation can negatively affect search rankings.
Once you get listed, Google gets a direct signal that your company is truly local, which boosts chances to appear in the local searches.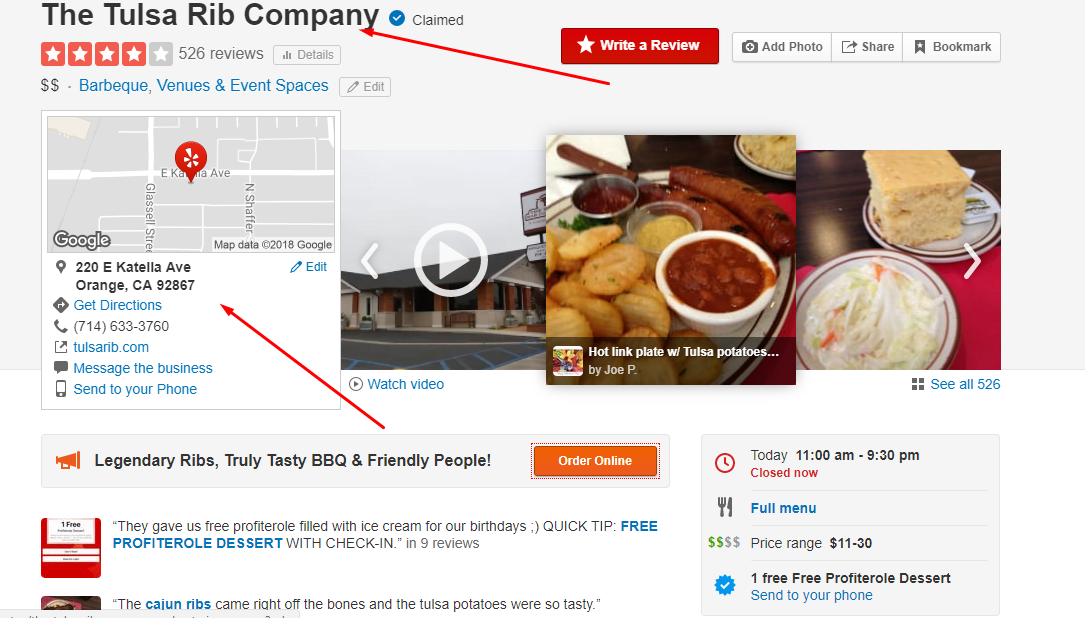 7. Create short videos
Making short videos helps you interact with your users, get more qualified leads and appear in the local search results. and it's simple! Just take some pictures, create an Animato account, add text, and make the video.
Do you want to raise the chances of your video content showing up in search results? You can achieve that by simply optimizing the titles and descriptions before publishing the video on YouTube and embed it on your site.
Try to create engaging videos, and offer tips and solutions to the problems your users are facing. Here is a good example of how to make your video visible and engaging – by placing it right in your homepage: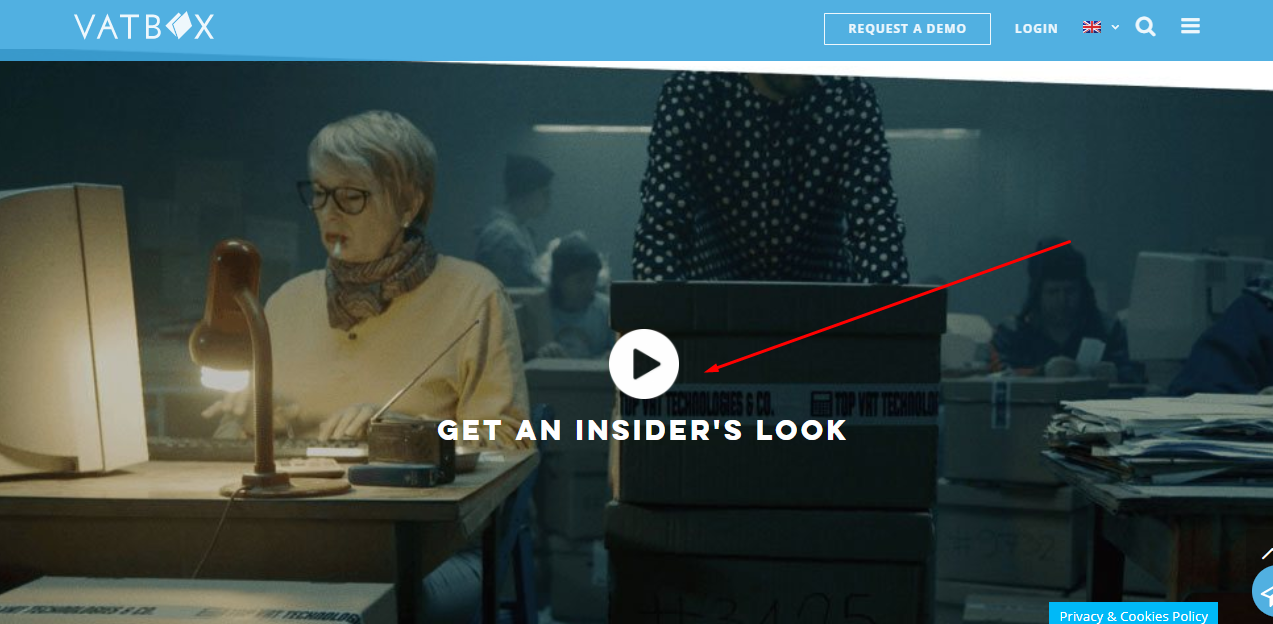 Over to you
No matter what industry you're in, any business owner should always work to build their local presence. The more work you do on your website, the more customers knock at your door.
Have you ever used the marketing strategies mentioned above? Do you know other ways on how to increase local visibility? Let us know in the comments below.