As social media and other online platforms have become more prevalent, managing one's online reputation has become increasingly crucial for both individuals and businesses. Negative feedback or content can significantly affect your reputation and financial performance.
Online Reputation Management encompasses various approaches such as SEO, content marketing, social media management, and crisis management. The primary objective of Oline Reputation Management is to amplify positive reviews and content on search results and social media platforms, while reducing or eliminating negative content.
While there are practical steps you can take to improve your reputation online, there are also tools that'll help get you there faster. We'll go through each of these in detail in this article.
What is Online Reputation Management?
We previously wrote a 5-step action plan to improve your online reputation. In truth, those five steps actually fall under two broad themes:
Understanding what people think and say about you
Actively improving your online reputation
So that's how this post has been divided. The first four tools let you know what your reputation looks like right now. That's essential – if you don't know what's working and what's not, it's awfully hard to improve anything.
The next four let you actually reach out and impact people, to start building a more robust brand reputation online.
What is an Online Reputation Management Tool?
An online reputation management tool is a service or software that helps individuals or businesses keep track of and enhance their online reputation.
It utilizes various techniques to collect data from diverse online sources, including social media platforms, review websites, news outlets, and search engines, to provide a complete picture of your business' online presence.
With online reputation management tools, users can receive real-time updates on mentions of their brand, and stay informed of new content related to it. Additionally, you can access analytics and insights to understand how your online reputation affects your online brand management. This knowledge can be used to develop strategies to improve your reputation online and manage negative reviews or feedback.
Moreover, reputation management tools enable you to enhance your search engine rankings and ensure that favorable content appears first when your name or brand is searched.
They may also include features such as social media account management, competitor tracking, and online reputation performance reporting.
The Importance of Online Reputation Monitoring
Online reputation monitoring is crucial for individuals and businesses to maintain a positive image and build trust with their audience. With the rise of the internet and social media, people are now more connected than ever before, and information travels faster than ever. Therefore, it is crucial to monitor what people are saying about you or your business online.
Here are some reasons why online reputation monitoring is important:
Reputation management: Online reputation monitoring helps in managing the reputation of individuals or businesses. By tracking mentions of your brand or name on social media, review sites, and search engines, you can quickly respond to negative feedback and take corrective action to address any issues that may arise.
Building trust: A positive online reputation helps build trust with potential customers. With the vast amount of information available online, people are likely to research a company or person before doing business with them. Therefore, monitoring your online reputation can help ensure that your brand or name is associated with positive reviews and feedback.
Crisis management: Online reputation monitoring also helps in crisis management. If a negative review or comment goes viral, it can quickly damage the reputation of a business or individual. By monitoring your online reputation, you can quickly respond to negative feedback and mitigate any potential damage.
Competitive advantage: Monitoring your online reputation also provides a competitive advantage. By analyzing what people are saying about your competitors online, you can gain valuable insights into their strengths and weaknesses and use this knowledge to improve your own business.
What Are the Main Differences Between Reputation Management Softwares, Tools and Platforms?
Although "reputation management software," "reputation management tools," and "reputation management platforms" are commonly used interchangeably, they have distinct differences.
Reputation management software generally refers to a collection of tools or applications that aim to help individuals or companies monitor and regulate their online reputation. These tools can comprise features like social media monitoring, review management, sentiment analysis, and search engine optimization (SEO) tools. This software can be installed on a local computer, or accessed through a web-based interface.
In contrast, reputation management tools typically refer to independent applications or services that perform specific tasks relating to online reputation management. For instance, a tool may be tailored to monitor social media mentions, track online reviews, or analyze search engine results. While these tools are usually part of a more extensive software suite or platform, they can be utilized on their own.
Lastly, reputation management platforms are comprehensive software solutions that integrate several tools and features into a unified system. These platforms offer various services, such as social media management, brand monitoring, review tracking, sentiment analysis, and SEO. Larger businesses or organizations that need a more sophisticated approach to manage their online reputation often use these platforms.
The Best Online Reputation Management Tools of 2023
Understanding What People Think and Say About You
The Brand Grader
Everybody loves free online reputation management tools! The Brand Grader gives you a quick overview of a brand's online presence in seconds.
Simply choose the company or product you're interested in, and you'll see:
Their biggest web influencers: major blogs and news sites talking about them online.
Their top sources: see whether most of their mentions come from forums, images, or news sites.
Brand sentiment: whether people speak about them positively or negatively.
Location of mentions: where in the world people are talking about them.
Those are just a few of the very interesting, and often enlightening data points provided.
It's not designed to be comprehensive – that's what the other tools on this list are for.
Instead, the aim is to quickly understand some of the things a brand does best, and what's not working so well. For a free tool that takes a few seconds to use, the results are powerful.
Reputology
As the name suggests, Reputology is just what many brands need to protect their reputation. This tool specializes in review tracking – to let you easily find and monitor brand reviews all over the web.
If Yelp, TripAdvisor, and Facebook reviews have a major impact on your business, this is the tool for you. And let's face it, reviews play an increasing role in sales for most businesses these days. More and more people turn to reviews before making a decision.
One benefit of Reputology over the other brand reputation management tools on this list is that it's location-specific, and for brick-and-mortar stores, this is important.
Let's say you own five fruit and vegetable shops – we'll call them "Melonor Rigby." (This name is free to a good home).
With Reputology, you can monitor each shop location separately, to compare reviews for each. If the Main Street location consistently receives 5-star ratings, while the High Street location only gets 3-stars, you'll need to drill down on these reviews to see what's causing such a difference.
Reputology delivers all these reviews in one place, and even lets you respond to them from within the platform. Couldn't be simpler!
SimilarWeb
Many of us already know SimilarWeb as a website ranking site. I use it almost daily to see how much traffic a particular site or blog receives. Even as a free tool, it gives a very good idea of how your website – the face for your brand – performs online.
But SimilarWeb is also an enterprise monitoring tool that'll tell you a lot more about your website. Its biggest value is that it lets you benchmark your site against competitors for factors such as time on site, bounce rate, and page views per visit. This helps you understand how you stack up against the other players in your industry, and make improvements to your site.
SimilarWeb also offers a range of digital insights – market research about your industry. This includes brand visibility reports to show you how well-known and well-respected your brand is within your field.
All of this is to help you maintain the best website you can, relative to your competitors. When the industry is crowded and there's not much breathing room to go around, small upgrades go a long way.
Mention
If you've used Google Alerts, you'll know how nice it is to receive a daily update of your mentions online. Now, imagine these alerts are in real-time, when you need them, and include social media, forums, blogs, news sites, reviews, and even television.
At its heart, that's what Mention is – a more robust, comprehensive Google Alerts for brand reputation monitoring. But this online reputation management software also includes some very interesting and powerful analytics. For instance, you're able to compare your brand with competitors for factors like share of voice, sentiment, reach, and influence.
So you not only know what people say about you, and when, but you can also identify trends and start making smarter marketing choices. When it comes time to reach out and build a stronger reputation, these kinds of insights are invaluable.
As we've discussed, the first step to a stronger reputation is knowing how people feel about your brand. And if this is your goal, it's hard to go past Mention.
A few bonus tools:
The Website Grader from HubSpot lets you quickly evaluate your website to make sure you put your best face forward.
The Mozbar is a Chrome extension that lets you assess website authority and traffic, like SimilarWeb.
Go Fish Digital made a fun complaint search tool that shows you negative reviews for any brand online.
Actively Improve Your Online Reputation
Get Five Stars
In order to receive 5-star reviews, you need to get reviews in the first place. And reviews don't always happen just by chance. Get Five Stars provides a few solutions to help you encourage responses from your audience.
The first is called Net Promoter Score (NPS). Next time you visit a new website or download an app, keep an eye out for small survey like this: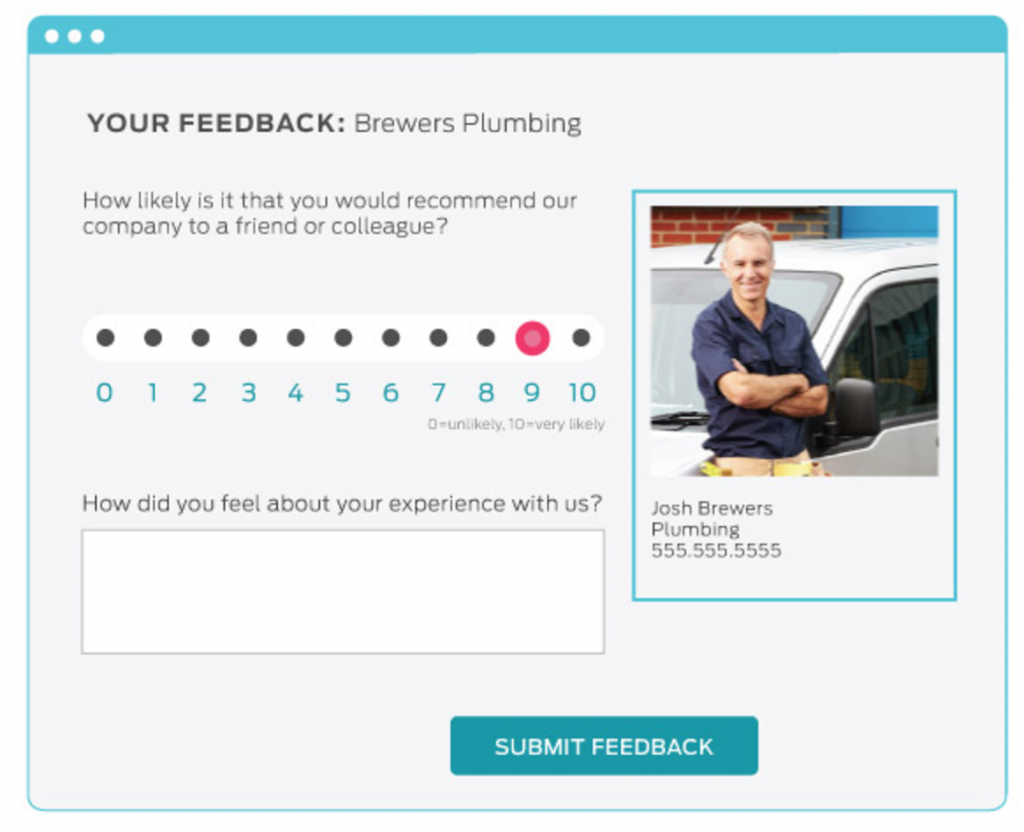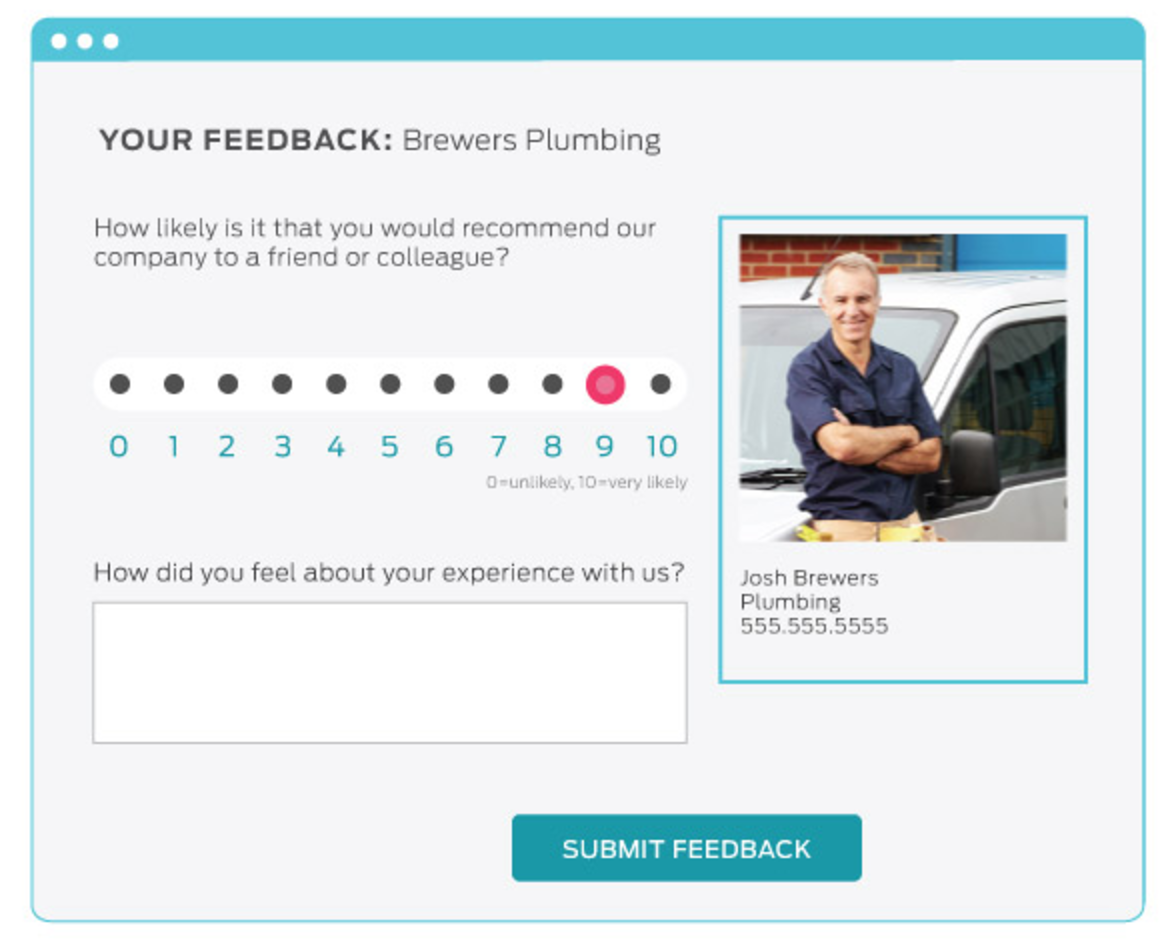 These responses are averaged, and this makes up your NPS. By asking for responses, you actively improve your brand reputation and become more appealing to future buyers.
But Get Five Stars goes even further. When a user completes this short survey, they're given the option to share their happiness on the major review sites. This tiny survey becomes a 5-star review on Google or another high-value site. That's hands-on reputation management right there!
Buffer
This will come as no surprise, but social media and brand reputation go hand in hand. Aside from your website, your social profiles are likely the most visible access points for your business. For this reason, you need to communicate clearly and often on social media.
Buffer lets you schedule and send posts to all of your social media platforms from one place. If you don't have the time or budget to manage social media full-time, this is the next best thing.
How does this improve your reputation? For one, the more quality, engaging content you share with your audience, the better. But it also lets you speak to your followers at inopportune times.
For instance, on July 4th (or your nation's equivalent) when the whole staff is off, you can still post a few holiday-themed messages to build rapport with your customers.
A professional, engaging social presence lets you stay front-of-mind for consumers, and builds trust in your brand. And as word spreads and followers join your flock, your reputation improves.
Brevo (formerly Sendinblue)
How often have you heard this: "I signed up for XYC because it looked cool, but all they did was fill my inbox with spam!"
Not a good look.
Email marketing is key to a strong brand. Whether it's for customer onboarding or plain old marketing, a well-crafted email campaign leads to happier customers, better reviews, and a healthier reputation.
Brevo lets you make email campaigns without a lot of technical knowledge. Start with one of their templates, then drag-and-drop your way to a clean and effective outreach program.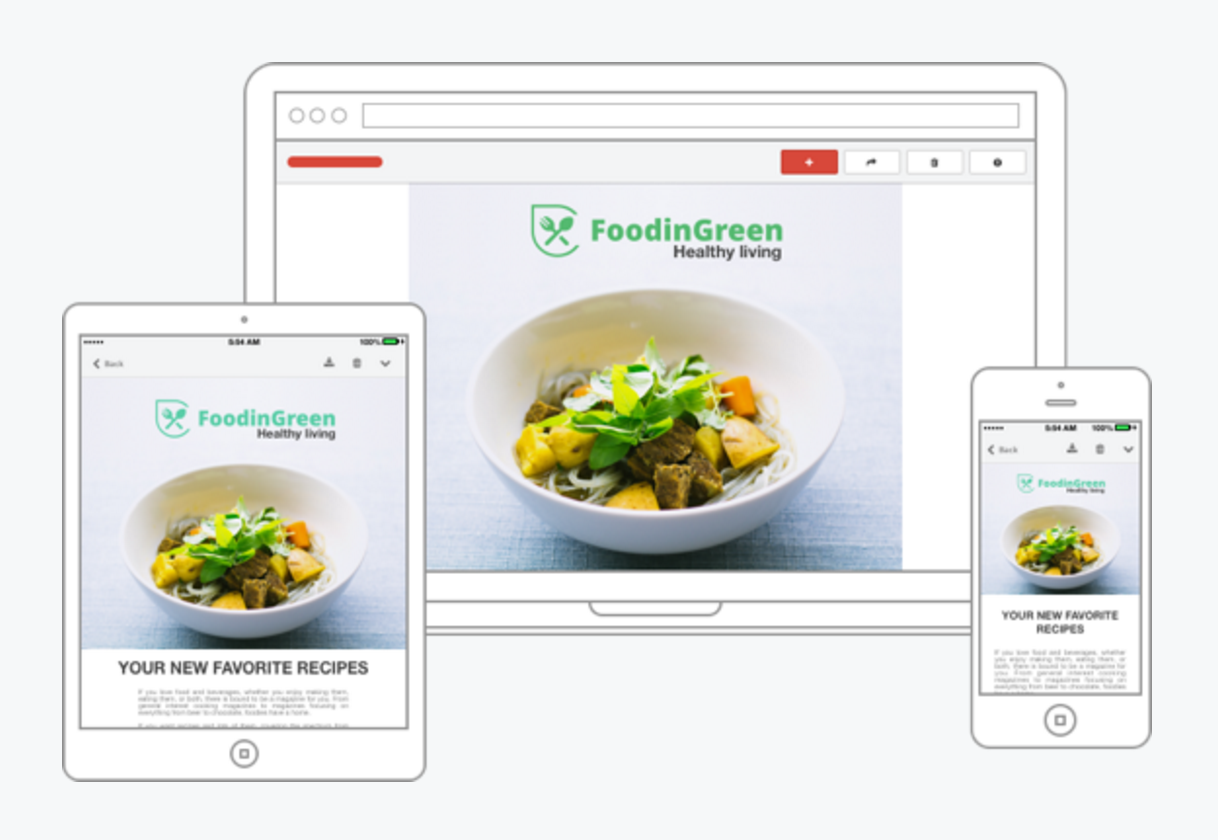 Your emails help maintain your reputation on a daily basis, but also come in handy when a crisis breaks out. Suppose something goes wrong – a product recall or poor choice of words from the CEO. You need to issue a statement, and monitor responses to ensure that this has been handled correctly.
Brevo lets you create a unique campaign for just this purpose, then track the results.
The tool is also perfect for agencies, as it can be white-labeled and onsold to clients. The agency can build and present a beautiful campaign to a client, teach them how to do it the next time, and sell the tool to the client for a little icing on the cake.
Buzzsumo
On the one hand, Buzzsumo could've belonged in the first half of this post. It shows you what content is trending across social media, blogs, and news. Use this to compare your own content with competitors, and try to understand why their work might be more popular online.
But it's also a powerful communication tool. For starters, knowing what works well online helps you produce better content. But Buzzsumo is perhaps best used to identify influencers, and these can have a spectacular effect on your brand.
Influencers are the cool kids at school. Hanging with them makes you look cool by extension. So building a solid influencer marketing strategy is a wonderful way to improve your reputation.
Think about it: if you want to become better-known and respected, having Bill Gates vouch for your brand is like stepping on the fast track. And because it's probably not going to be Bill Gates, Buzzsumo lets you find influencers in your industry that you actually may be able to approach.
It's simple. Just search for a topic of interest, and Buzzsumo shows you the top influencers in that niche.
It includes their social media profile and website, so you can reach out with ease.
A few bonus tools:
SmarterQueue lets you recycle evergreen social media content at specified times, so you don't even have to fill your queue.
Mailjet is a fast-growing and sturdy email automation tool.
Hunter is a free tool that lets you find email addresses on sites like LinkedIn and blogs. Since email is the best way to reach out to influencers, this is highly valuable.
Voila Norbert was elected the most accurate email finder out there according to ahrefs. Whether you're trying to reach out to influencers, build marketing connections or reach potential recruits, Norbert's got you covered.
And as a bonus bonus, Brand Yourself has an excellent Essential Guide to Online Reputation Management for those needing ideas.
Take Charge of Your Online Reputation Management Today
Online reputation management tools can assist individuals and businesses in monitoring their online reputation, keeping track of mentions, and responding to customer reviews, ultimately managing their brand image effectively. Nonetheless, it is crucial to recognize that these tools should not be solely depended on, and human involvement and judgment remain essential in ensuring a favorable reputation.