Among the industries that remained profitable amidst the pandemic was print on demand (POD), currently valued at USD 4.90 billion. The rapid shift to online shopping, as well as the clamor for personalization in recent years, has made POD an attractive option for marketers.
Projections for the print on demand market show that it will continue to grow in the coming years. According to analysts, it is expected to grow at a compound annual growth rate of 26% until 2030. Among the factors that will contribute to this growth are the increasing demand for personalized and short-run products and the continued expansion of e-commerce.
For marketers, print on demand presents an opportunity to create unique and customizable products that can be sold online with little effort. In addition, POD can also be used to create marketing materials such as brochures, flyers, shirts, and business cards. When done right, print on demand can be a powerful marketing tool to help businesses reach new audiences and boost sales.
However, before using POD to market your business, it's important to understand how it works and its benefits and limitations. In this article, we'll take an in-depth look at print on demand and some tips on how marketers can make the most out of it.
Table of Contents:
What is Print on Demand?
Print on demand is an innovative and increasingly popular printing technology that gives businesses the freedom to print products only when there is a customer order. This means businesses do not have to keep inventory, thus saving on costs. In addition, POD also offers flexibility in terms of design and customization, making it possible for businesses to create unique products that appeal to their target market.
POD has become increasingly popular in recent years due to the advances in digital printing technology, which has made it more affordable and easier to produce high-quality print products on demand. In addition, the growth of e-commerce has made it easier for businesses to sell products online and reach a wider audience.
How Does Print on Demand Work?
When a customer orders a product from a business that uses print on demand, the order is sent to the printer. The printer then produces the product using digital printing technology and ships it directly to the customer. This process is made possible with specialized software that allows businesses to upload their designs and connect to a POD printer.
Once an order is placed, the software automatically generates a print file that is sent to the printer. The digital printing technology used in POD makes it possible to print high-quality products in small quantities, making it ideal for businesses that cannot stock large quantities of inventory.
Marketers can use print on demand to produce customized marketing materials, such as business cards, flyers, and brochures. They can also use it to create customized products, such as t-shirts and mugs, that can be sold through online platforms such as Etsy and Amazon.
Print on demand offers several advantages for marketers, including lower costs, shorter lead times, and the ability to produce small quantities of customized materials. It also eliminates the need for large inventories and storage space.
Print on Demand vs. Dropshipping
Print on Demand and Dropshipping are two popular methods for selling products online. Both have their advantages and disadvantages, so it's important to choose the right one for your business.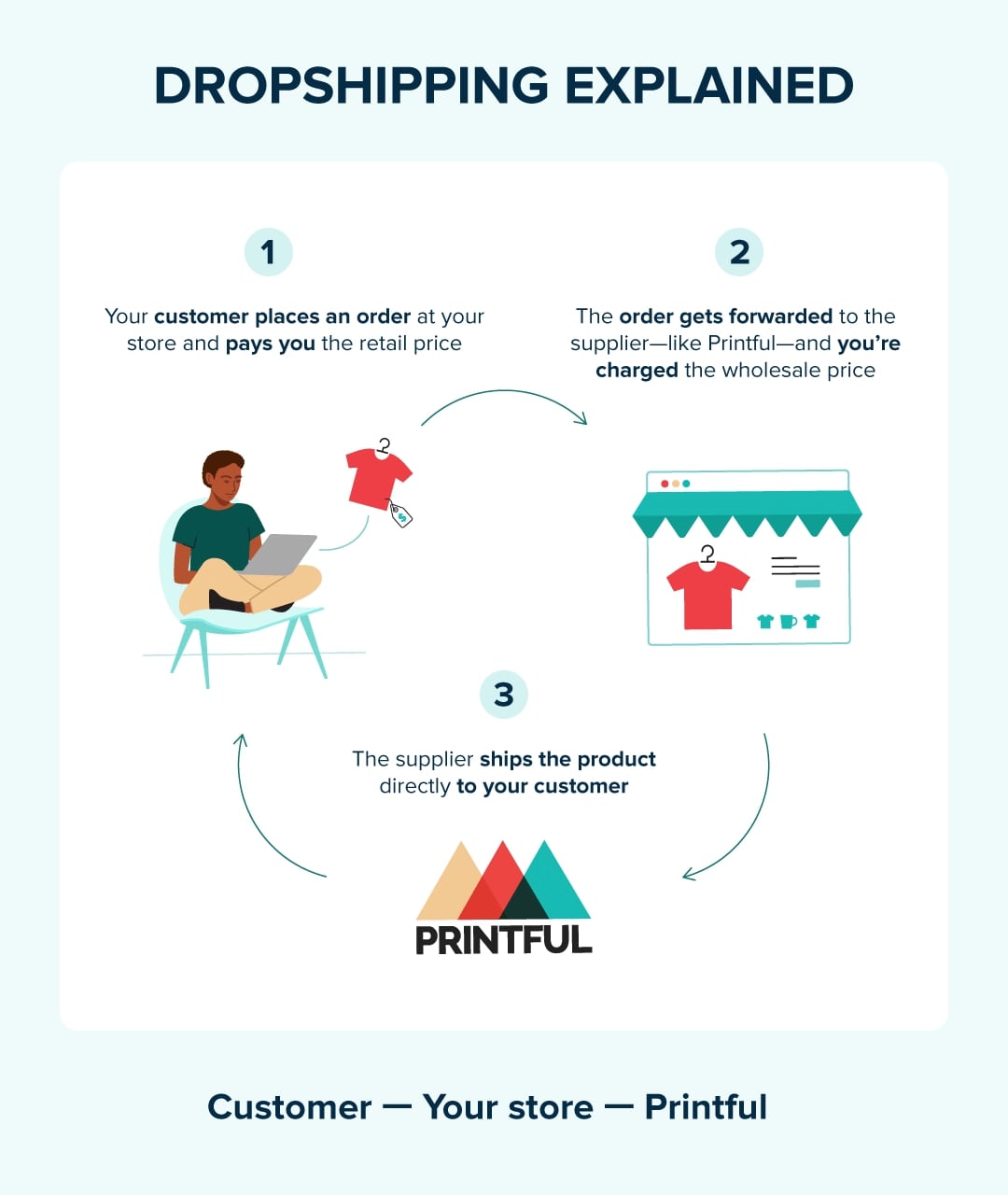 Dropshipping is a type of e-commerce business model in which businesses sell products sourced from a supplier. The products are then delivered to the customer's address straight from the supplier. Dropshipping is a popular choice for businesses just starting, as it's relatively easy to set up and doesn't require a large investment.
The main advantage of dropshipping is that businesses don't have to carry any inventory, which can save on costs. In addition, dropshipping businesses can be run from anywhere in the world, as long as there is an internet connection.
The main disadvantage of dropshipping is that businesses are reliant on their suppliers, and there is always the risk of stockouts. In addition, dropshipping businesses have low-profit margins, as they need to account for the cost of goods, shipping, and marketing.
The main advantage of POD is that businesses can create unique products not available anywhere else. In addition, POD businesses don't need to pay for inventory or shipping as the supplier takes care of this.
Perhaps the biggest disadvantage of POD is the reliance on custom orders, which means businesses need to have a steady stream of customers to keep the printer busy. If a customer cancels their order after goods have been produced, the business is stuck with the product and will need to find another customer to purchase it.
From a consumer or reseller's perspective, there aren't many downsides to POD as it's a pretty low-risk way to test new product ideas. For businesses, there is more of a risk as you're relying on customers to place orders for your products, but if you can find a niche market and build a loyal customer base, print-on-demand can be a great way to generate income.
So, which is right for your business? It really depends on your products, your target market, and your business goals. If you're looking to create unique products and focus on marketing instead of logistics, then POD is a good choice. However, dropshipping might be a better choice if you're just starting out and are looking for a low-cost option.
Common Product Categories for POD
There are many different product categories suitable for POD. However, the most important thing is choosing products that are popular with your target market and will help you achieve your business goals.
Below are some common product categories suitable for POD:
T-shirts: T-shirts are one of the most popular products for POD businesses. Since there are several different ways to design and print T-shirts, you can get really creative with your designs.
Mugs and tumblers: Mugs and tumblers are also popular choices for POD businesses. You can print designs on both sides of the mug or tumbler, which gives you a lot of space to play with designs.
Posters: Posters are a great way to promote your brand or product. You can print them in any size or shape, giving you a lot of scope for creative expression.
Business cards: Business cards are an essential marketing tool for any business, as they're a great way to promote your brand and make a good first impression.
Flyers: Flyers are also a great way to promote your business or product. They're relatively easy and inexpensive to produce, so you can print several in one go to get your message out there.
Brochures: Brochures are a great way to showcase your products and services. They're a bit more expensive to produce than flyers, but they're worth the investment if you want to make a good impression.
Hats, caps, and bags: Hats, caps, and bags are also popular, especially among marketers who want to get their brand out there through premium branded merchandise. They can be given away as premium freebies or sold at conventions, seminars, webinars, or as part of loyalty programs and welcome kits.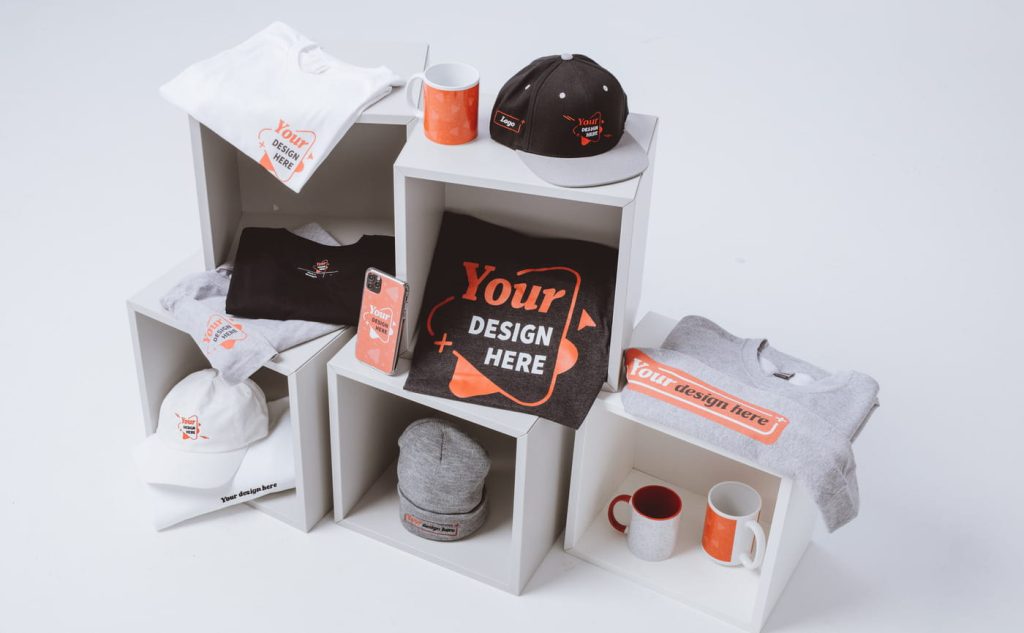 What Are the Benefits of Print on Demand?
There are several benefits to print on demand, including:
Lower costs: POD printing is typically more cost-effective than traditional printing methods, such as offset printing. This is because you only pay for the copies you order rather than paying for a large print run in advance.
Shorter lead times: POD generally has shorter lead times than traditional printing methods. This is because the print job does not need to be set up in advance, as is the case with offset printing.
More flexibility: POD also gives you more flexibility with your design. For example, you can order a few copies to test a new design before committing to a larger print run.
No minimum order: Many POD companies have no minimum order. You can therefore order as many or as few copies as you need.
Personalization: Many print on demand companies also offer personalization services. You, therefore, have the option to add names, photos, or other custom details to your products.
Ease of use: Print on demand tools are often so easy to use that they simplify internal team communication, thus enabling an existing marketing team to place an order without needing specialist training or expertise. As a result, businesses can save on the cost of employing a new team member to manage this.
What Are the Disadvantages of Print on Demand?
Some disadvantages to printing on-demand include:
Limited selection: POD companies may have a limited selection of products to offer. You might not be able to find the exact product you're looking for. This might necessitate looking for another supplier or coming up with a special arrangement with your current one.
Margins are dependent on pricing: Since the costs per item are typically higher for small production batches (as compared to bulk purchases), your profits will largely depend on how well you market and price your products.
Shipping can be tricky: The cost for shipping varying products may differ and tend to get complicated when you have to take into account different shipping zones.
Customization might be limited: The extent to which you can customize products will depend highly on your supplier. When deciding which products to customize, you'll need to consider base costs, customization choices, printing methods, and available sizes. You'll also need to find a reliable supplier who can meet your requirements and budget.
How Can Businesses Promote Their Brand Using Print on Demand?
The demand for unique, personalized products has reportedly risen to 36% in recent years, which means that customers now expect personalization as a standard service.
In addition, more customers are willing to wait longer for a product if it is customized according to their preferences. As a result, print on demand has become an increasingly popular way for businesses to promote their brand and connect with their customers.
This increase in customer expectations is due to the power of social media and the desire for businesses to create unique experiences for their customers. In response, many businesses have turned to print on demand services as a way to create customized products quickly and efficiently.
There are several ways businesses can promote their brand using print on demand, including:
Creating unique and custom products: You can use POD to create unique and custom products that your customers will love. This could include anything from custom t-shirts to mugs and phone cases.
Adding a personal touch: You can also add a personal touch to your products by adding names, photos, or other personalized details. This will make your customers feel special and appreciated and more likely to come back to you in the future.
Offering freebies or samples: Businesses can give away freebies or samples of their products to promote their brand. This is a great way to get people interested in your product and generate word-of-mouth marketing. For example, sending some free products to an influencer on TikTok could garner thousands of impressions for your brand.
How To Choose a POD Supplier
Choosing a supplier is one of the most crucial decisions you'll make when setting up a print on demand business. This is because your supplier will be responsible for printing and shipping your products. It's therefore important to find one that is reliable and trustworthy.
Here are some factors to consider when choosing a POD supplier:
Print quality: The first thing you'll want to consider is the print quality of the supplier's products. Make sure to look at samples of their work before making a decision.
Shipping times: Another important factor to consider is the shipping time. You'll want to find a supplier who can ship your products quickly and efficiently.
Pricing: You'll also want to consider the pricing of the supplier's products. Make sure to get quotes from several suppliers before deciding on one.
Customer service: Finally, you'll want to consider the supplier's customer support. This is important because you'll need to be able to rely on them if there are any problems with your order.
Printful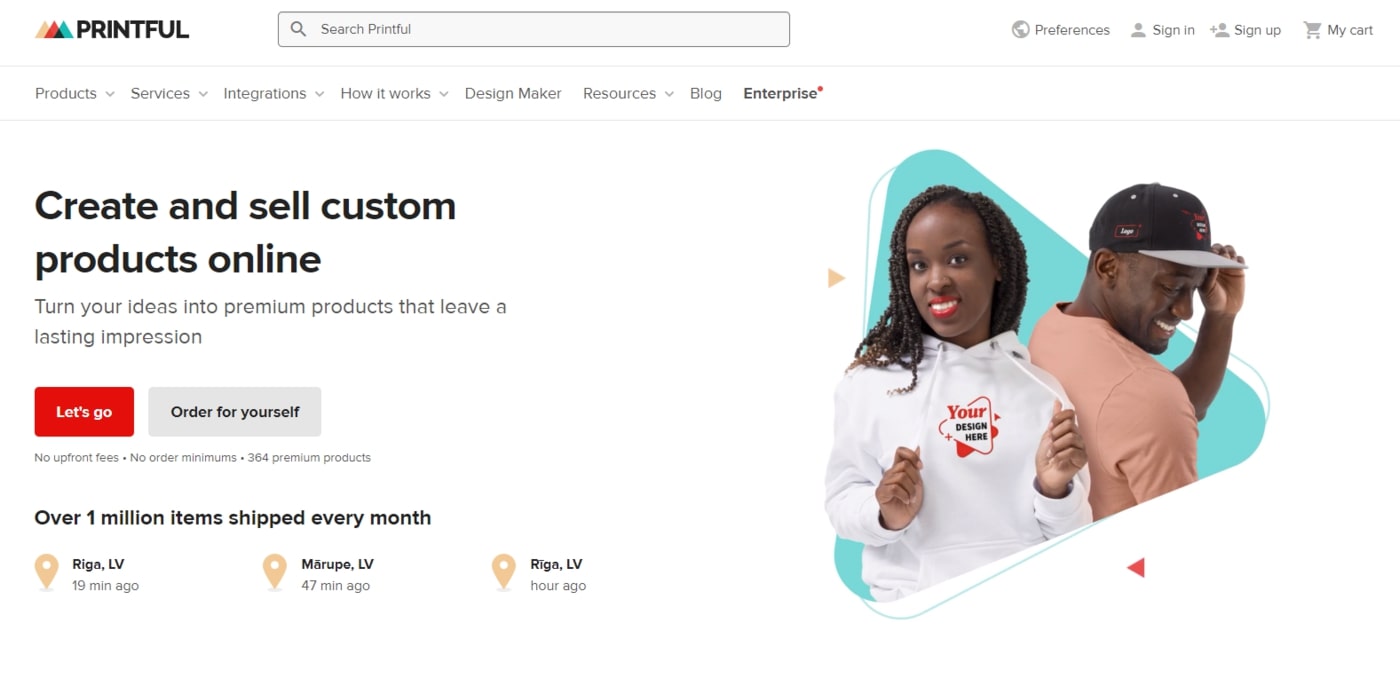 Printful is a popular print on demand supplier that offers high-quality products and great customer service. They also offer a wide range of products, so you're sure to find something your customers will love. They have a wide selection of brands, as well as mock-up generators and branding options for businesses looking to create a unique unboxing experience.
Printful offers a variety of printing methods for apparel items, such as cut and sew, direct-to-garment printing, and embroidery:
Cut and Sew: The fabric is printed on different individual sections and then all the sections are sewn together for a smooth print across the entire garment. While the pricing of the foundation may be greater, you'll be able to create a premium quality product that you can sell for a higher price.
Direct-to-Garment: Direct-to-Garment printing places ink directly onto the cloth, which is ideal for basic designs (i.e., statement t-shirts). As such, you can only print on specific portions of the product.
Embroidery: Embroidery is the most difficult printing technique since the result is a threaded design with a 3D effect. This works best for simple executions that use only a few colors and for items like headwear.
Redbubble

Redbubble is another popular choice that offers a wide range of products, including apparel, home decor, and accessories. They have no minimum order quantity, so you can order as little or as much as you need.
Printify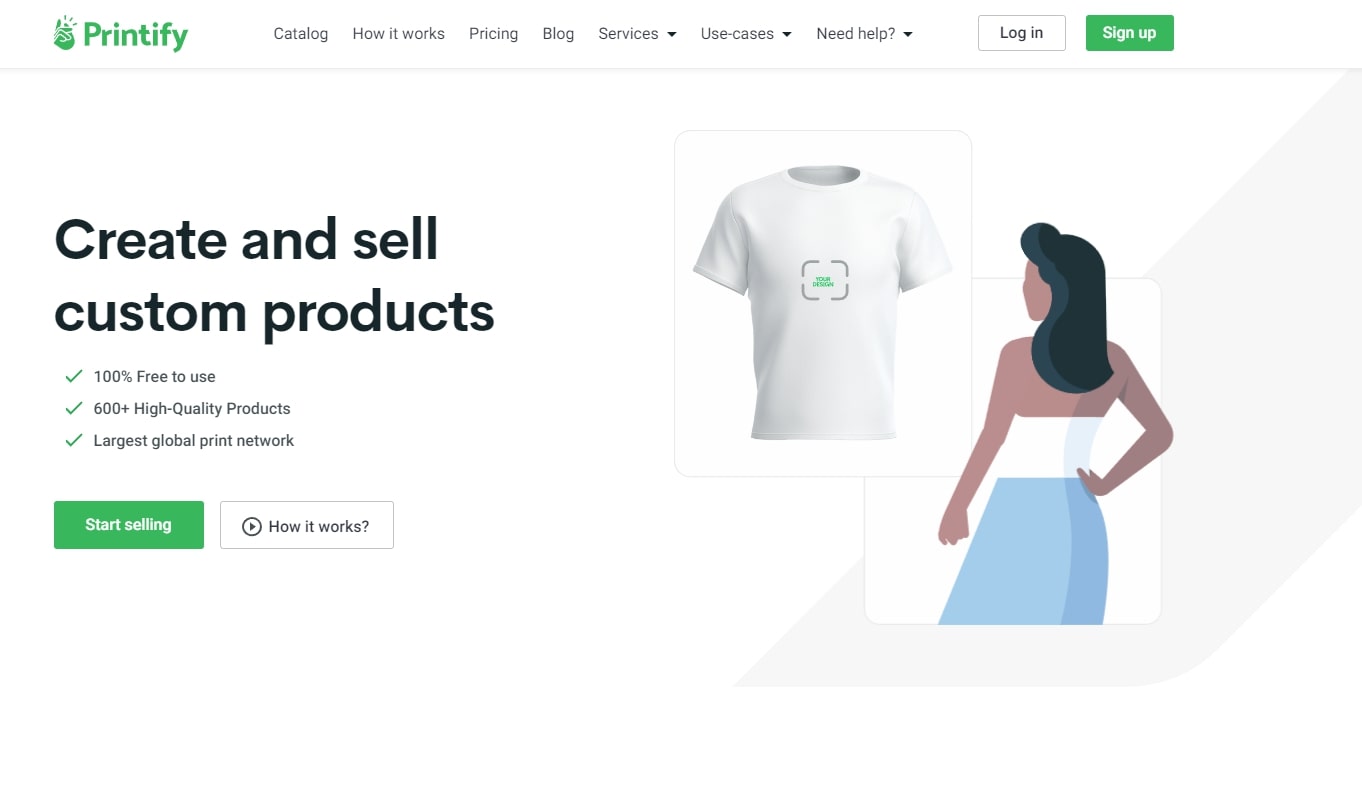 Printify is a great option for businesses looking for a wide range of products and customization options. They offer different types of products, from apparel to home decor, and they also have mockup generators and branding tools.
Final Thoughts
Print on demand is a great way for marketers to create personalized products without the hassle of inventory or minimum order requirements. It's also a great option for businesses of all sizes, from the small ones to the large enterprises.
When choosing a POD supplier, it's important to consider factors such as print quality, shipping times, pricing, and customer service. As discussed, many great choices exist for businesses looking for a reliable and trustworthy supplier.
No matter which supplier you choose, look at samples of their work before making a decision. This will ensure you're happy with the quality of your products.