Every person involved in email marketing is concerned with increasing email engagement. But people opting out of your newsletters sounds like a lot to take on, right? That's because you mistakenly believe this is the end of your relationship with prospective customers. It's so much more than that.
By leveraging effective and visible email unsubscribe buttons, you build customer loyalty and improve their connection with your brand, rather than ruin it. In this guide, we will demonstrate all the benefits of including an unsubscribe button in your emails, and how you can turn it into your secret weapon to generate conversions.
Table of Contents:
What is an Email Unsubscribe Button?
An email unsubscribe button is a button included in your email design – usually in the email footer – that allows recipients to opt out of your email list and stop receiving your emails. In one-click unsubscriptions, tapping on your unsubscribe button directs them to a page confirming the process.
It might seem like a nightmare, but rest assured that a recipient that opts to unsubscribe from your email list isn't a lost cause.
They could change their mind the minute they get redirected to an eye-catching unsubscribe landing page, or you could give them options to customize their email preferences and retain them.
A robust landing page builder will give you the necessary tools to build a compelling unsubscribe landing page that employs humor and creativity, while staying aligned with your overall branding.
But even if they move to an unsubscribe, that doesn't mean that they won't come back someday. In either case, you come off as a respectful brand that gives them several options for managing their email communication with you. And trust us when we say that's a lot.
Let us detail all the benefits that come with adding an unsubscribe option to your emails.
Why Do You Need an Email Unsubscribe Button?
Despite common belief, your unsubscribe option should be an integral part of your overall email marketing strategy. Here are the key benefits of including an unsubscribe button in your email campaigns:
It Improves Your Deliverability
Hiding, or intentionally not having an email unsubscribe button in your emails, does more harm than good. Because if you think that email unsubscribes are your worst nightmare, let us introduce you to spam complaints. When recipients can't opt out, they will find the second-best option to stop receiving emails from businesses. And while some brands make opting out hard for recipients, the same doesn't go for email clients and marking an email as spam.
What happens when many spam complaints pile up? Inbox service providers get the message that your email marketing efforts are of no value to recipients – or, even worse, they annoy them.
In an attempt to avoid spam, even the emails destined for interested subscribers may be routed to the spam folder. That leads to hurting your email deliverability and giving you a bad sender reputation. So, instead of reducing your email marketing ROI, you should give recipients an easy and quick way to unsubscribe.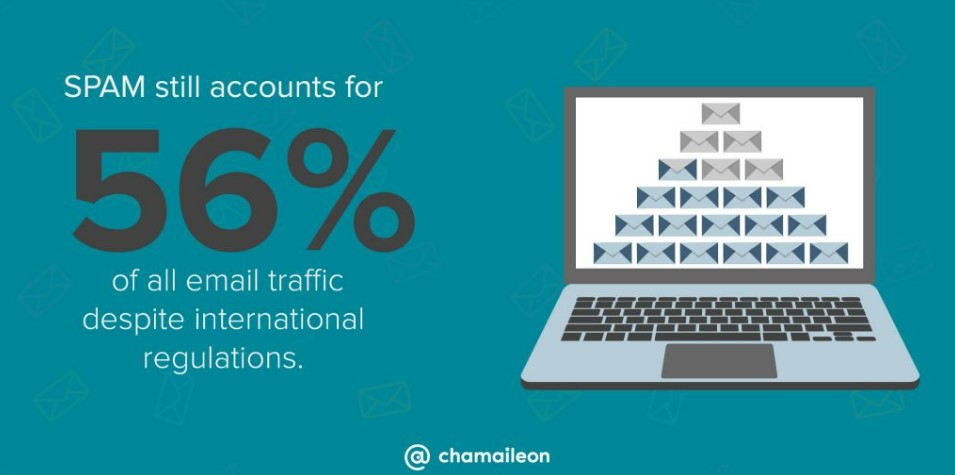 You Focus on Your Most Engaged Recipients
An email unsubscribe button ensures you turn your focus on your most engaged recipients. One of the key reasons for using unsubscribe options is to keep in touch with the people most interested in your content and selling proposition.
You don't earn any benefit from inactive recipients who don't open or click through your emails. Not to mention that their decreased engagement has an impact on your email metrics, leaving you with an unclear picture of your campaign performance.
The more engaged your recipients are, the more likely it is for them to convert and for your brand to build long-term relationships. Moreover, even the target audience that wants to stick with your brand and offers is worried about how you gather and manage their data. So, when they easily detect your unsubscribe button, they feel safe that they can opt out in case they want to. By giving them control over their personal data and the email material they receive, you enhance your brand's credibility.
You Keep Your Email List Healthy
You may hate the thought of reducing your email list size, but the truth is that a large list costs you more than you think. Not everyone on your list is interested in your product or service, which makes forcing them to stay impractical, since it won't result in revenue.
On the other hand, unsubscribes lead to a smaller but healthy list of qualified leads. This kind of list is the key to dispatching personalized email content to recipients based on their preferences, demographics, past behavior, etc.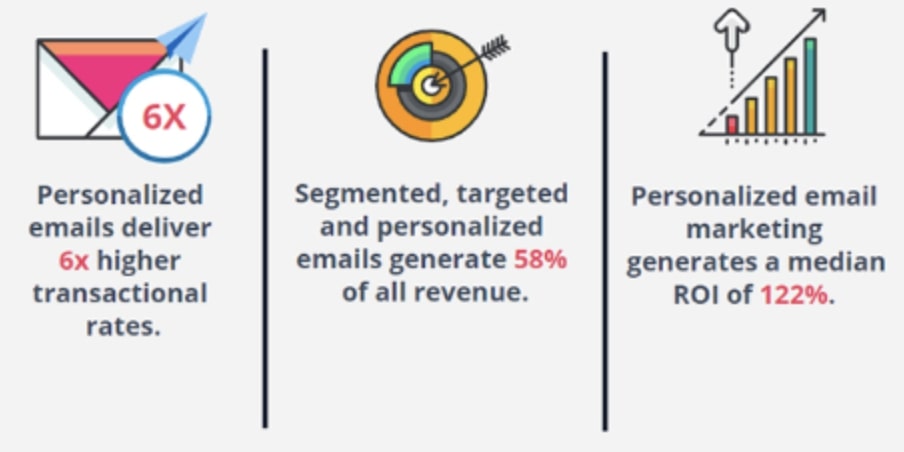 With proper segmentation and targeting, you increase recipient engagement and get accurate results on what works – and what doesn't – in your email strategy. Additionally, if you include a small survey in your unsubscribe page, you gather feedback on what made them turn away from your email promotions.
So, whenever uninterested recipients opt out, remember they are doing you a favor: you get to sanitize your mailing list and collect valuable insight without moving a finger.
It's the Legal Thing to Do
We may have listed the reasons that benefit your business revenue first, but this one is probably the most important reason for using an email unsubscribe button. Providing subscribers with an option to opt out is a legal requirement in many countries. Email unsubscribes are regulated by several anti-spam laws, including:
CAN-SPAM Act (USA)
Anti-Spam Law (Canada)
General Data Protection Regulation (European Union)
Privacy and Electronic Communications Regulations – GDPR (United Kingdom)
Each one of these legislations goes hand in hand with protecting user data. For instance, GDPR prevents brands from distributing users' personal information without their consent, giving them control over them. Especially if your business operates worldwide, try to adhere to all
these laws to stay compliant with all your target audience. It goes without saying that failing to comply with these regulations could result in penalties – therefore, money loss. With an unsubscribe option, you become a trusted sender that only sends legitimate email content.
Best Practices for Using Email Unsubscribe Buttons
We have demonstrated why email unsubscribes shouldn't intimidate you. Now it's time to present you with the best practices to turn email unsubscribes into a lead generation and retention strategy.
Don't Hide It
We have already mentioned this, but we can't stress it enough. Adding an unsubscribe option to your emails will do you no good if you try hiding it.
So, don't surround your unsubscribe option with legal jargon within your copy, don't use too small a font size, and don't pick a color that is almost the same as its background. Also, make
sure readers understand it's clickable and not another word in the text – and please use the actual word rather than ambiguous synonyms.
Your unsubscribe buttons should be prominently displayed and visually accessible to find without trying too hard. Most email template builders give you the ability to customize your email unsubscribe option. Therefore, you can change the font size, color, or copy to make it as visible as needed while matching it to your overall branding. Or you can make it underlined, bold, or even place it within your email copy – instead of the footer where it's usually placed.

Use Precise Wording
So, creating bold and carefully placed unsubscribe buttons is the first step. The next is to use precise wording for recipients to know exactly what happens upon clicking on them. Trust us when we say that frustrating recipients will get you nowhere. Not to mention that leveraging confusing language in your unsubscribe could violate the CAN-SPAM Act mentioned above. Therefore, use clear and straightforward wording so that subscribers understand what to do in case they want out.

Airbnb's unsubscribe link is as precise as it gets. Rather than just using the word "unsubscribe", the copy clearly states that recipients are about to unsubscribe from all future emails. What's more, the brand strategically places the "update your email preferences" link next to the unsubscribe link to urge readers to customize their email communications instead of leaving.
Allow Recipients to Customize Their Email Preferences
The good news is not every subscriber who searches for the unsubscribe button wants to let go of all your emails. Perhaps some leads just want to customize their preferences regarding the email content or frequency. By giving subscribers control over the type of content they receive or how regularly they hear from you, you show them you value their time and foster trust.
For instance, you can give them the option to change the weekly newsletter to monthly, or let them decide on the kind of emails they are interested in. When you give recipients alternatives on how to interact with your brand, not only do they appreciate the gesture, but they are more likely to show increased engagement with your emails.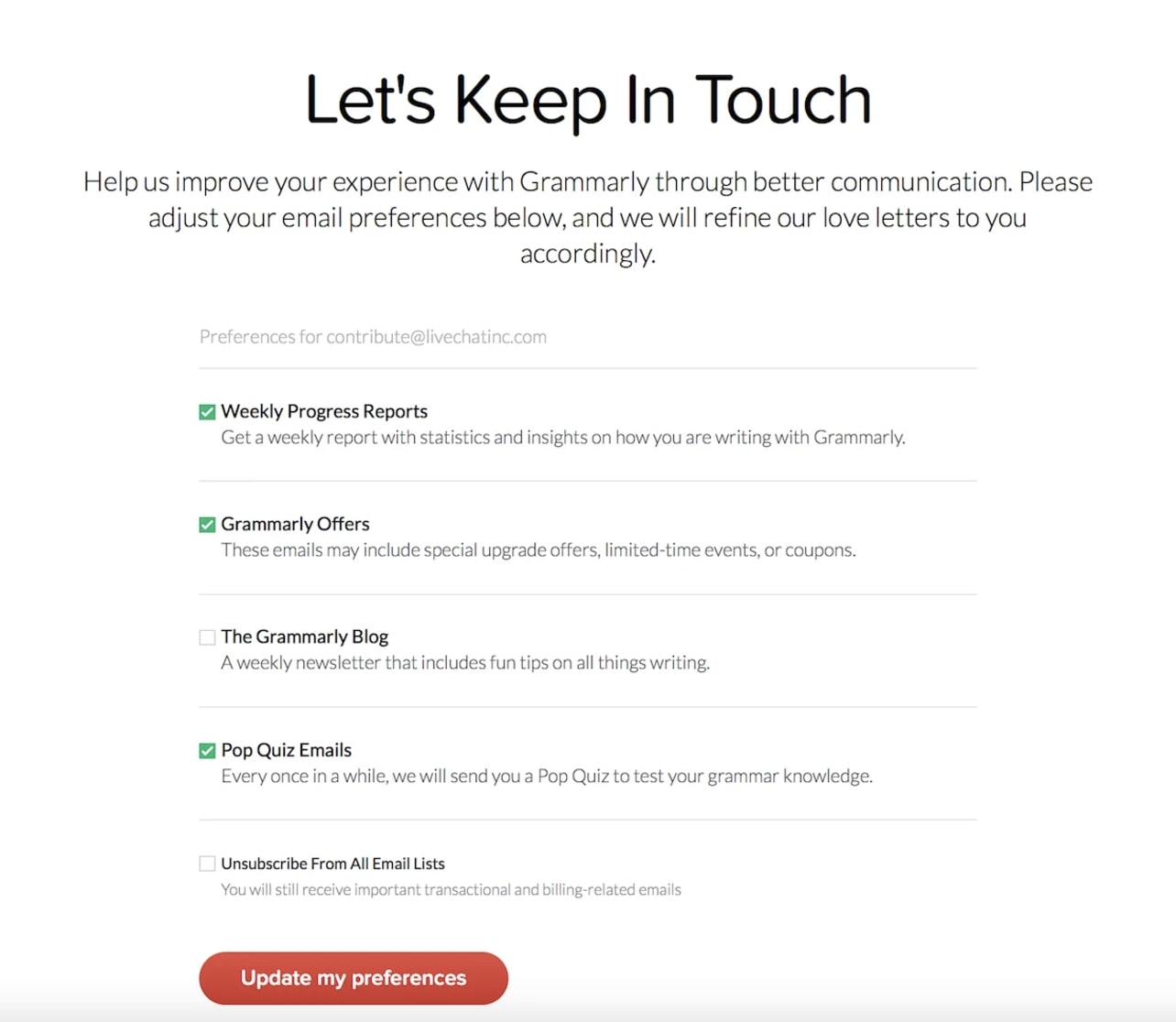 Grammarly's unsubscribe page sets a great example of how to help email recipients update their email preferences. The copy isn't limited to giving them options to customize the email type. It takes it one step further by hitting a soft spot for almost every consumer: showing your business cares about improving their experience and offering solutions to their problems. Combine that with precise information, and this is how good you can get!
Ask for Recipient Feedback
Your unsubscribe rate tells you how many people unsubscribed from your email list. Is that all there is to it? Of course not. It's also critical to determine why they chose to take said action. And the best way to do so is by asking them. Add a short survey to your unsubscribe page and ask recipients to choose the reason that made them unsubscribe. Whatever you do, make sure this step is optional, and include a message that informs recipients of their successful unsubscription.
Their input will provide you with a clear picture of the problem. By identifying the cause, you can match it to the solution, improve your segmentation process, and dispatch more relevant content to each segment.
For example, you could find out that the problem is your email frequency is too regular, or lacks personalization elements. Then, you can test what frequency resonates with your target audience or how you can personalize the email experience. Even if
The feedback doesn't bring the recipients back, it will help you shape your future email marketing strategy and reduce your unsubscribe rate.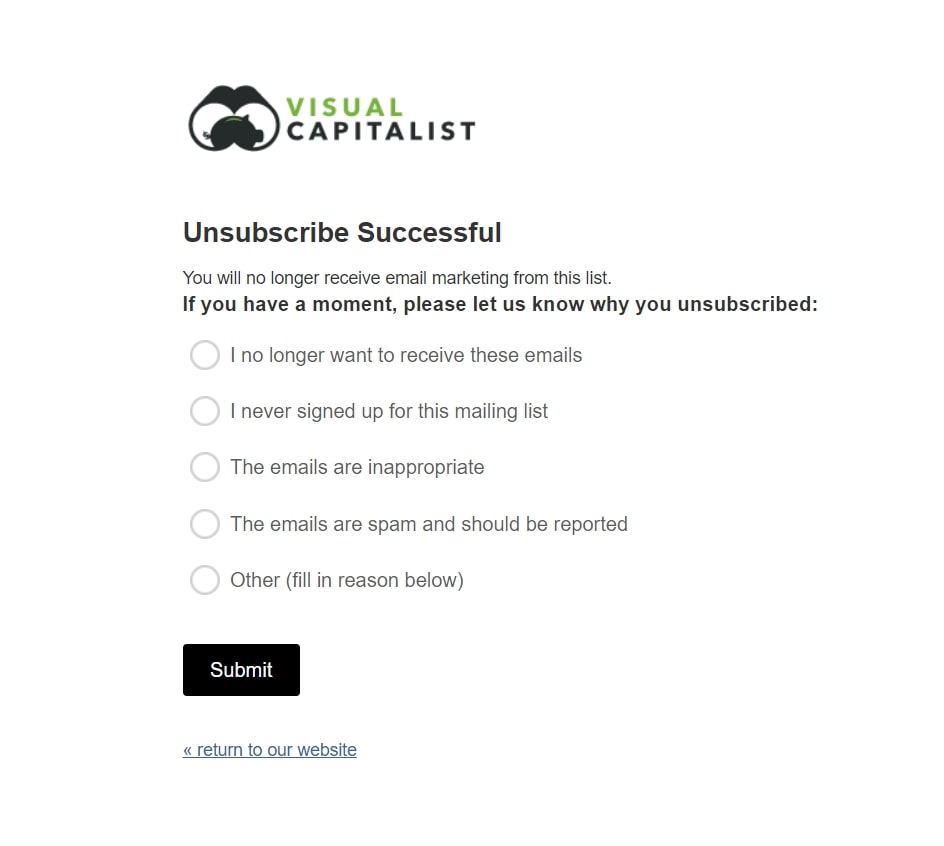 Let's take a look at this unsubscription confirmation page by Visual Capitalist.
Firstly, it informs recipients they successfully unsubscribed from the brand's email marketing efforts. Then, they politely ask users to fill in their survey to gather feedback on the reasons behind leaving their email list. The key element here being the user doesn't feel forced to answer the survey to finally opt out, as they have already unsubscribed successfully.
Craft Great Unsubscribe Pages
Okay, let's say you didn't manage to change your recipients' minds, and they insist on leaving. It's not the end of the world. You get a last chance at winning them back. How? Well, give them a memorable experience – and who knows? They might change their minds and stick around. Or, you get to enhance your brand reputation.
When it comes to creating a compelling unsubscribe page, there's a foolproof way to hit the mark: evoking emotions. Treat it like a joke and be casual about it. You could employ humor, slightly dramatize the situation, let them know you are setting them free, or use a funny video, sad separation song, or inspiring quote to say goodbye. Worst case scenario? You will give them a great laugh or put a smile on their face. And that's not a bad outcome as they will remember your warm farewell, your brand, and maybe consider returning at some point in the future.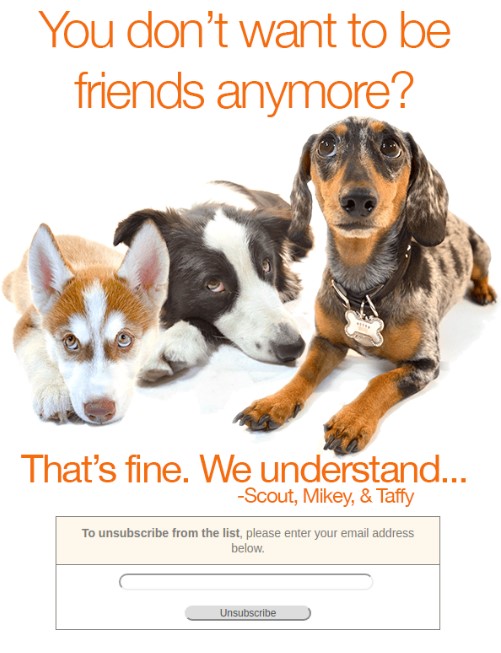 Now imagine you are a PetDoors subscriber and hit the email unsubscribe button only to get redirected to this brilliant landing page. We don't know about you, but it would definitely
change our minds. The brand added an attention-grabbing image of super-cute but awfully sad dogs asking if the recipient still wants to be friends. This tactic led to the brand increasing its unsubscribe page bounce rate and dropping its unsubscribe rate.
Don't Neglect to Add Your Social Media Buttons
Despite all the best practices to bring them back and your goodwill, some of those unsubscribes will eventually happen.
But fear not, you have yet another effective way to engage and keep in touch, even after recipients have left your email list. Email marketing may help you build a more personal relationship with your leads, and you are the one controlling the communication. But still, your social media channels offer a great alternative to engaging unsubscribed contacts.
Some users prefer the liberty of social media. So, unsubscribed recipients should know that you are active on social media in case they want to follow you there for important business news, exclusive offers, or useful industry tips. Include social media buttons in your unsubscribe page or preference center to offer them an alternative communication channel with your brand. It's equally important to add these buttons to every email you send to increase your chances of keeping in touch with your audience – and increase your social media traffic while you're at it.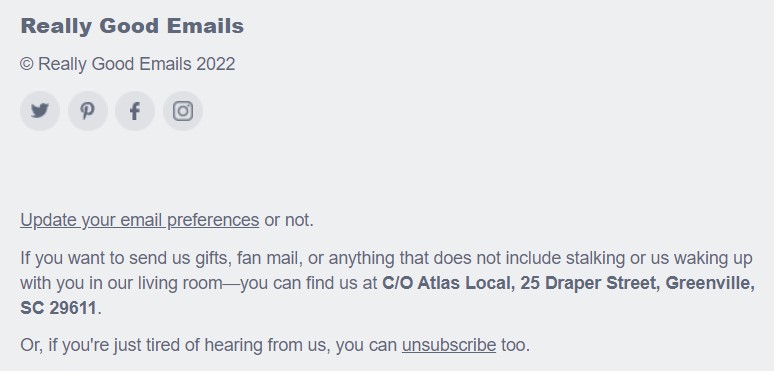 Really Good Emails does more than just include social sharing buttons to its email footer. They employ clever and witty copywriting in the options they provide readers, while making it crystal clear what each of them mean.
Final Words
No matter the effort you put into your email marketing strategy, it's only natural to face the challenges of subscribers who no longer wish to be part of your mailing lists.
So, instead of giving them a hard time, try re-engaging unsubscribes.
Including unsubscribe buttons in your email campaigns saves your sender reputation and keeps your email deliverability rate high. More importantly, it shows recipients that you respect them, their personal data and their needs.
Go ahead and follow the best unsubscribe button practices shared above to make the most out of your unsubscription process. Even if recipients choose to opt out, you create a positive brand perception, helping them remember you as a trustworthy and credible brand that they could do business with again in the future.