Every business needs to invest in marketing, but a successful marketing strategy is much more crucial to the success of a startup or small business than an established familiar company.
This is because startups are often constrained by capital and time – they have limited cash to get needed results for their next round of funding. Similarly, small businesses must rush to prove their products or services have a market or target demographic.
Otherwise, owners and investors are better off preserving capital and allocating it elsewhere.
Ultimately, the most cost-effective marketing option for startups and small businesses is digital marketing. Content and social media marketing don't require you to have an existing audience to build an online brand, earn traffic, and grow revenue.
Here's a step-by-step guide to blogging for small businesses and startups looking to build a following online without the cost of paid media.
Check out our free ebook for more help building your digital marketing strategy!
Why does your startup need a blog?
First off, why bother? Blogs don't directly generate revenue, can take a while to see results, and takes a lot of time. Why not try a more passive marketing strategy?
A blog is a cost-effective way to promote your company and control your online presence.
Blogging can position your company as an authority or innovator in the industry.
Executing a content marketing strategy via a blog can consistently drive traffic, create leads, grow customers, and generate revenue.
6 tips to make small business blogging easier
Now that you know the benefits of blogging, how do you start to take full advantage of it as a content marketing tool? Here are some practical blogging tips for building your blog.
1. Research your competitors' blogs
You understand the concept of developing a unique selling proposition – this is what differentiates you from other companies in your niche. The same applies to your blogging strategy.
In researching your competitors' blogs, it is important to look at their overall approach:
Content style and formatting
Website design and user experience
Keywords targeted and topics covered
User interaction
To complete comprehensive keyword research on your competitor's rankings, I recommend SEMrush. It allows you to get a good idea of which keywords are driving traffic to your competitors, the specific pages that are ranking for them, and what variations of phrases to use within your content when targeting the same terms.
Mention's media monitoring and social listening also helps you find content from competitors, and what your target audience thinks of it on social media.
When you're empowered with this information, the next step is to figure out what's lacking in your niche. While Google's Keyword Planner may help you uncover new terms, one of the best ways to gather this research is to check out the comments section of your competitor's blog.
This is where you'll find regular readers and existing customers asking questions and discussing their concerns/needs, as well as other insights. It's gold for finding out what your audience wants.
2. Identify your blog's goals and target demographic
Goal-setting is the process of identifying reasons you should have a blog and how to tailor your content marketing to help you reach those goals. Your goals should be difficult, but realistic, and push you to work hard.
Here's how to set your business's blogging goals:
Determine your identity
Are you the company that doesn't take yourself too seriously and pokes fun at other companies in your niche for being boring or serious, kind of like T-Mobile does to Verizon and AT&T?
Maybe you want every employee to have a voice on the blog and be able to share their perspective? Or maybe you want total and complete transparency, the way some bloggers publish their incomes and document their progress towards a goal.
Choose a target demographic
Before you can start actually creating content, you'll need to choose who your company wants to serve.
Do you want to target a tiny niche market and become the absolute expert and innovators there, or create a well-rounded product or service that is an excellent resource for beginners who need a little help with everything? Is your target demographic high-end clientele or are they frugal with their spending?
Ultimately, do you have a good product-market fit?
Plan your content
Finally, once you've taken into account your identity, what you've learned from your competitors, and what you want to achieve, it is time to start planning your content.
Consider these points when creating your content plan:
Are you going to address specific needs? Answer customers' questions or problems? Provide information about your company?
The tone of your writing – will it be formal or casual?
Is your audience's preferred medium how-to guides, tutorial videos, long informational articles, visual representations of data, etc.?
Who will be in charge of the blog in terms of content management, scheduling, quality control, and overall maintenance? Assigning someone whose full-time job is the success of the startup's blog may be critical to building it up quickly and consistently.
3. Invest time in publishing in-depth resources
Publishing regularly is essential to your blog's success. However, don't rely solely on short, quick posts to reel in customers. While there's nothing wrong with short posts per se, what you want is to provide readers with long-form comprehensive content that will double as link bait and rank in Google's search engine rankings.
As such, take the time to create in-depth resources that answer questions, serve as step-by-step guides, and solve specific problems.
For example, at StartABlog123.com, I created a resource and infographic on the best free blogging sites.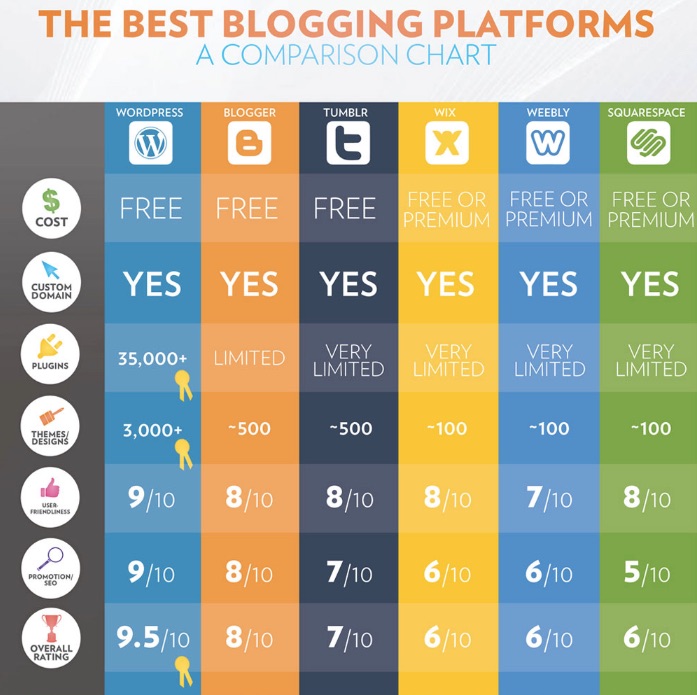 Although the post isn't necessarily a high-converting, money-making page, I published it because I wanted to address all aspects of the "I want to start a blog" market. The side benefit was that the infographic was very informative and served as a great tool in my outreach campaign.
These types of articles will require more time and effort but the rewards are worth it.
Other benefits of investing more resources into fewer yet bigger pieces of content include:
Never worrying about a Panda Update
Ranking for long-tail keywords
Easier outreach and link building opportunities
Higher chance of ranking in Google's top 10 search results
Remember that meaty, insightful content can always be repurposed and shared via other mediums, such as the script for a video, the material for a PowerPoint presentation, snippets for social media updates, and the data for an infographic.
4. After you publish content, promote your posts!
These days, social media is the default when planning content promotion, but there is life beyond social media.
This is not to say that you should ignore social media promotion altogether, since it can make your content viral with a single share by the right person. However, social media isn't always consistent and depending on the type of startup you have, it may not even be applicable.
Diversify your content marketing efforts instead. If you aren't familiar with SEO and content marketing strategies, here are some other dimensions to your marketing campaign.
Get in touch with influential bloggers
Share your latest long-form resource or your impending product launch with powerful bloggers. Email them and connect via social media, but if you can, go to startup events and conferences, ask your mutual contacts for an introduction and network. An existing relationship can make life a lot easier.
Guest blogging is still the best way to expand your reach
Some voices in the blogging community had proclaimed that guest blogging is dead. Contrarily, some of the most successful blogs continue to guest blog with exceptional success.
The key is to be picky about where you contribute, the content you publish, and the links/anchor texts you choose. Done the right way, guest blogging can send you traffic and put you on the map as a thought leader, visionary, and innovator.
As someone who's built websites with 6-figure traffic levels from about 30 to 40 posts, I highly recommend you spend 25% of your time publishing content, and the other 75% promoting it.
5. Leverage your email list
As much time as people spend on social media, everyone still has an email account they check on a daily basis.
In fact, your email subscribers are a hedge against Google's algorithm updates and any social media platforms' limitations on organic reach. Because no matter what, you will always have a direct line of communication with your readers.
Better yet, studies show that email has a higher ROI per dollar ad spend than any other form of marketing, including SEO and display ads.
6. Involve everyone on the team
As a startup or small biz, your culture is probably inclusive and everyone is part of the family. Extend this concept to your blogging efforts to maximize the appeal and reception of your content.
While you need a point-person for the blog, you'll have better results if everyone is contributing topic ideas, design concepts, outreach responsibilities, etc. This adds variety to the content and introduces individual team members to your readers, further humanizing the company.
It also spreads the load of creating content, making your blogging efforts less taxing on resources.
Finally, utilize your founders and executive team to earn high-profile expert accounts at the likes of Forbes, Business Insider, Huffington Post, Wall Street Journal, and other large publications.
Final word
Creating and running a startup blog is much like any other company or professional blog. It all starts with research, planning, brilliant ideas, and consistent execution. It doesn't always go as planned, but with the versatility and flexibility that comes with startup culture, your blog can become your most powerful marketing tool.