There's no doubt that social media has changed the way companies do public relations (PR).
For starters, it used to be that you had to get chummy with journalists and media outlets to get the word out about a new product, upcoming event, or exciting milestone. Now, you can communicate instantly and directly with relevant stakeholders, such as investors, business partners, and customers.
Secondly, more and more people consume news on social media than other sources. As a result, businesses have had to align their PR and social media departments to reach their intended audiences and keep them informed. This is a good thing. Social media PR gives brands wider reach, improved reputation management, measurable results, and more.
Brand visibility is the biggest advantage social media has over traditional PR outlets. In this article, we'll be discussing eight social media PR tips that can boost your brand's visibility.
Table of Contents:
1. Ensure consistent branding
You need a consistent brand identity for a strong social media presence. Let's say you write compelling think-pieces, and your brand voice is irreverent on Instagram but formal on Facebook. The inconsistency will lead people to question your brand's sincerity and content's authenticity. When audiences don't recognize the content as yours, it diminishes your brand's recognition and visibility.
Brand consistency on social media ensures a unified front across all social channels. Check out Skittles Instagram page: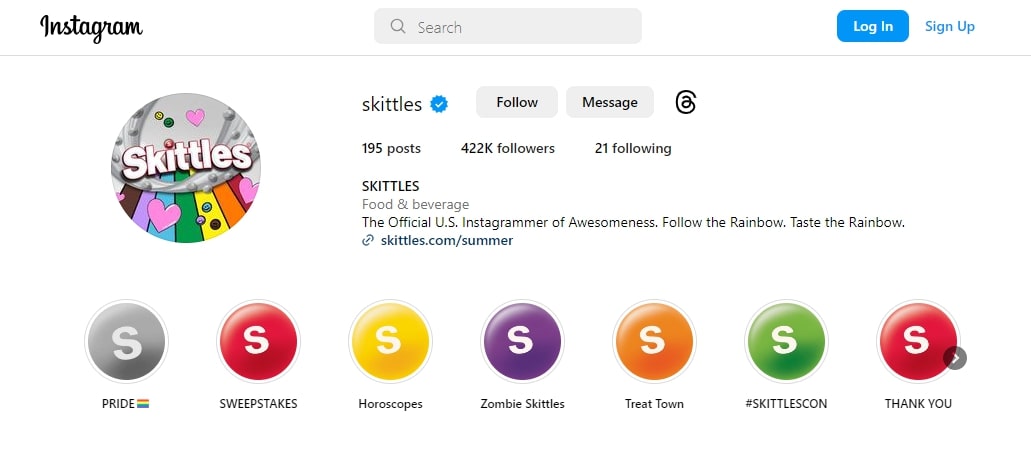 Now here's its Twitter (now X) page:
Notice the consistency in the visuals there?
So, when customers transition from your Instagram page to your Twitter (X) account, they know they're dealing with the same brand. Other benefits of consistent branding are increased customer trust, heightened differentiation between competitors, and authority building.
To avoid branding discrepancies, create brand guidelines and style guides. These documents should include rules on logo usage, brand values, tone of voice, frequency, and level of social media engagement.
Of course, before you create these, you should already know who you are as a brand. If you don't know that just yet, enlist the help of a PR services provider. The good thing about these agencies is that they can help you determine the best way to package yourself for the best social media PR results.
2. Collaborate with influencers
Leveraging influencers for social media PR campaigns is incredibly effective, since 61% of consumers trust influencers over branded content. In addition to giving access to thousands of targeted customers, influencers lend you the trust and credibility they have built with their followers.
So, what should you look for when partnering with influencers?
For starters, don't fixate on follower counts. Mega influencers may have millions of followers, but if they're not active, you won't get the brand visibility you want. Furthermore, influencer fraud is growing, and you risk wasting your efforts on fake accounts.
You want quality over quantity. Hence, you should consider micro-influencers. They have smaller but loyal and highly engaged followings.
Next, look for influencers that are relevant to your niche industry. So, if you're a gaming tech company, collaborate with gamers on Twitch. Partner with marketing experts and thought leaders if you're a social media marketing brand. Their followers are also your target audience.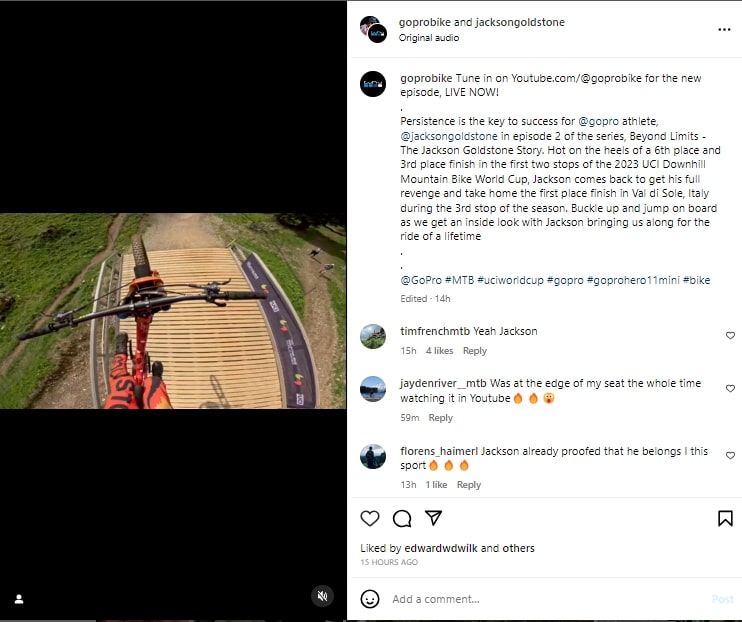 Timex, for instance, partnered with fashion influencer Drew Jessup to promote its newest watch: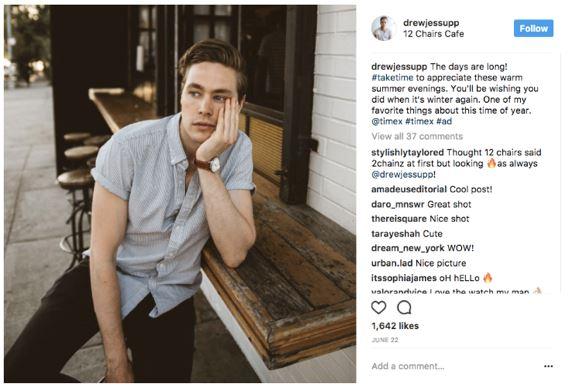 .
There are millions of influencers on social media. Fortunately, you don't have to comb through all of them to find the ones that match your values or target audience profile. Influencer marketing tools enable you to find suitable influencer profiles within minutes.
With Mention, for instance, you can easily find influencers talking about your brand after setting up an alert. The tool can even rank these influencers by influence, so you'll know whom to reach out to for your influencer marketing campaigns.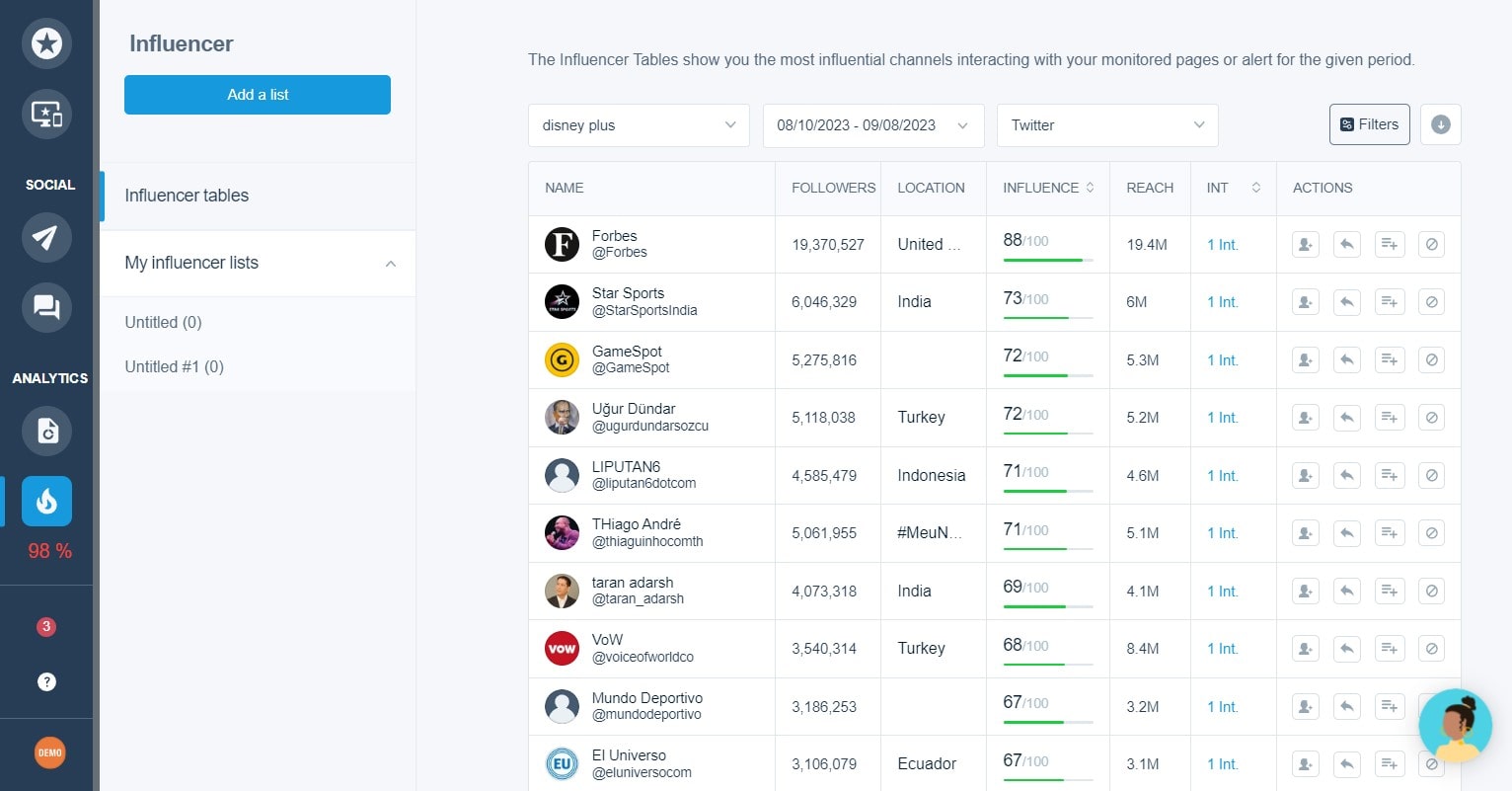 You can also create your own influencer program. Just compile a list of potential brand advocates, develop a process for vetting participants, and negotiate a commission/ incentive structure. It will take time and effort, but you will have a program to suit your needs.
3. Publish high-quality social media content
Content creation is a powerful marketing tool in a marketing professional's toolbox. That's because it's a reliable way to increase your brand exposure. Think about it. Which social media profiles are more likely to get the attention of social media users? The ones with visually appealing social media content, of course.
But that's not all. The right social media content can enhance your brand authority as well. If you're consistent in publishing posts that provide your target audience with valuable information, you end up being seen as a go-to resource.
These informative posts can come in many forms. You can share your blog content, for instance. This is also a great way to generate website traffic. Or you can come up with infographics like Grove Collaborative, an online retailer, does: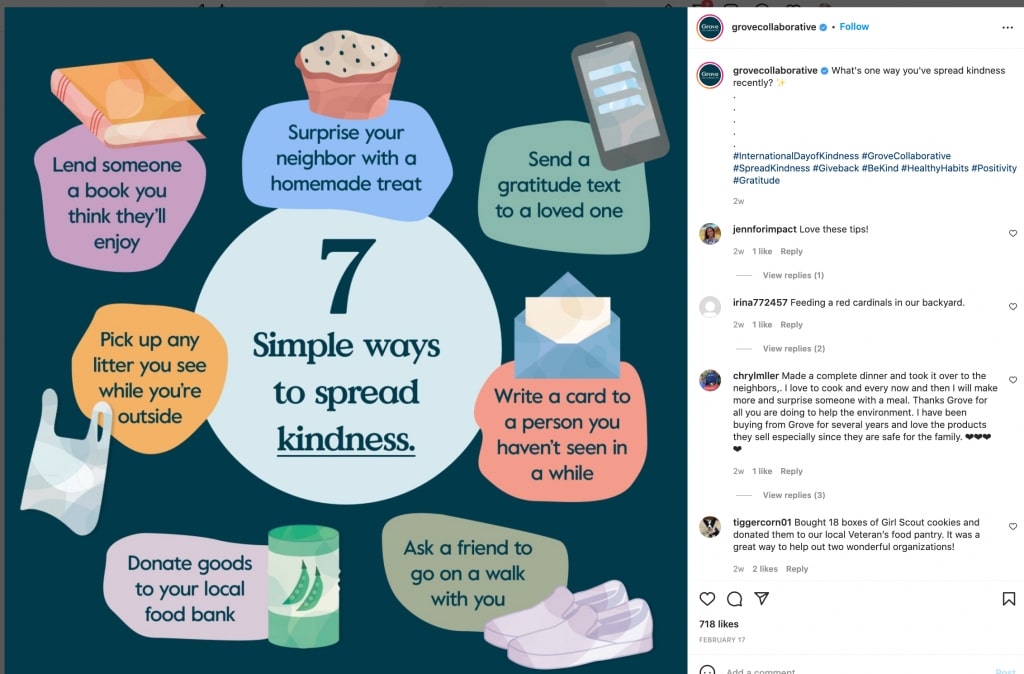 You can also take advantage of the different content formats on each social media platform. For instance, Instagram has Reels and Stories. Twitter (X) has threads and polls you can use to engage your target audience. Facebook has live videos you can leverage as well.
One of the important elements of successful social media campaigns is consistency. You need to create and share your content consistently to build a strong presence. The good news is you don't have to create native content every time. You're probably already spending tons of resources writing high-quality content for your site, so you can repurpose some of this content for social platforms.
Besides the content from your own website, you can also share the content you publish on other sites as guest posts. The benefits of guest posting are already plentiful:
You increase your reach to larger audiences you won't usually have access to.
You drive organic traffic to your website.
You build credibility and authority by associating with reputable online publications.
Likewise, you can add the same content (repurposed) to your social media content calendar.
Social media can also help you further amplify your guest post's reach, and, therefore, lets you maximize your guest posting efforts. If you use AI for SEO to supercharge your guest posting, you can expect even better results.
4. Create branded hashtags
Branded hashtags are keywords or phrases associated with a specific brand, for example, Coca-Cola's #ShareACoke. They can be your brand name, slogan, or flagship product. Think of them as your social media logos. In the same way people visually recognize The Swoosh as Nike's, they associate the hashtag #JustDoIt with the shoe brand.
Hashtags are how people find content around your brand. They give your social media PR visibility. Social media networks use hashtags to determine which content gets in front of certain audiences, affecting content delivery to users' feeds. Therefore, be sure they appear on every post.
Lego uses #RebuildTheWorld to share its brand stories and values. This post also has a sustainability hashtag, making the brand visible to people beyond its customer base.
In addition to brand visibility, hashtag campaigns allow you to monitor brand mentions, engage audiences, and build community.
5. Engage with your consumer audience
Traditional PR is a one-way communication street. Brands release press statements – end of story. Digital PR is different. The story doesn't end with a press release. Rather, that is where it begins.
Social platforms have engagement features that allow brands to engage with their consumer audiences. This two-way communication is a great way to showcase brand personality, foster deep connections, and build lasting relationships.
You can use social media engagement to increase brand visibility in several ways:
Respond to comments in a timely and on-brand manner
Amplify user-generated content by reposting, retweeting, or tagging
Comment on industry-related posts
Below is a classic example from Wendy's.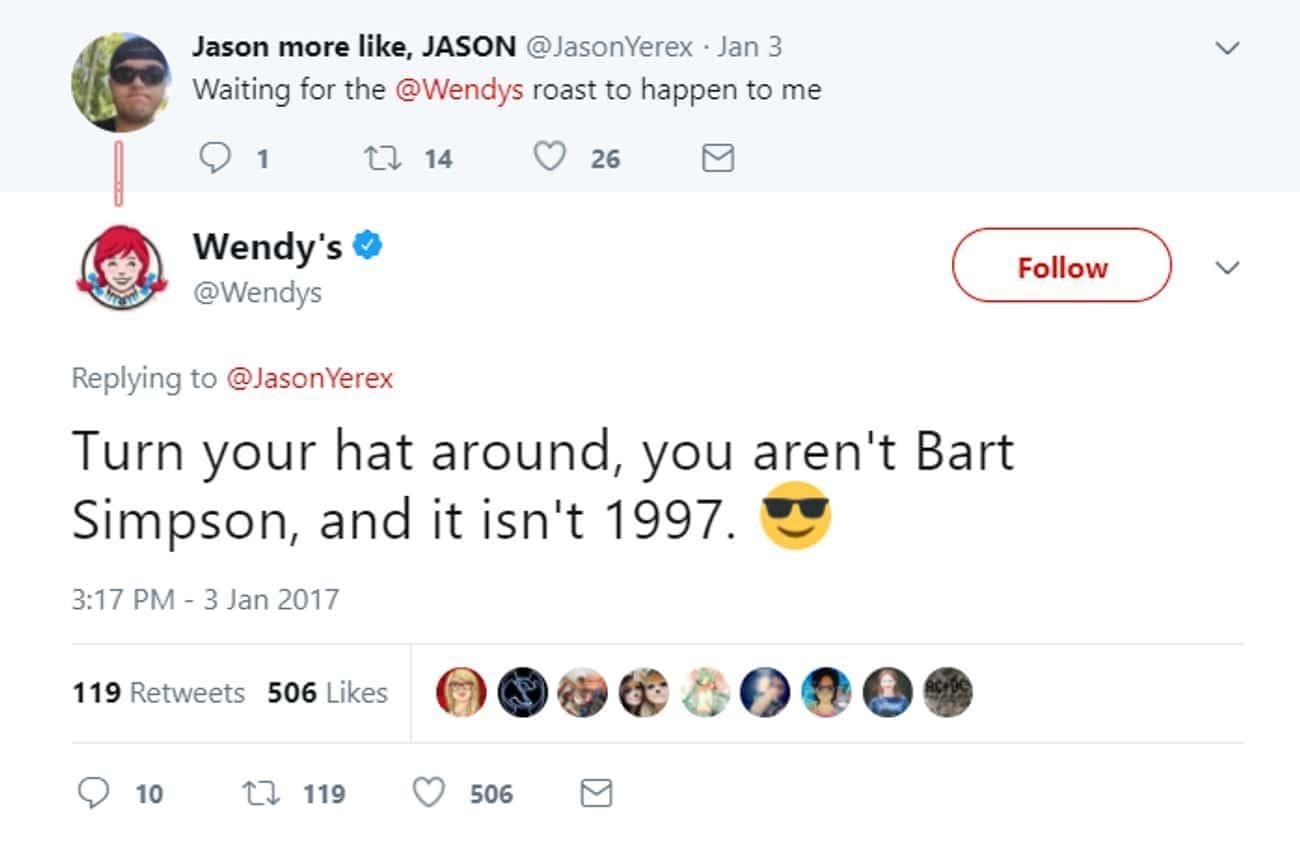 Wendy's is one of the most effective brands on social media, thanks to consistent and creative engagement like this. The brand's Twitter (now X) is known for sassy responses and witty comebacks that even customers ask to be roasted by 'the first lady of fast food.'
Consumers expect brands to interact with them in meaningful ways. Scripted responses won't cut it. Personalized engagement makes them feel like valued community members and that you care about what they say.
6. Build positive media relationships
Journalists are powerful industry influencers. Building positive relationships with them is vital for successful PR campaigns.
Reaching out to journalists is easier than ever. Most, if not all, have profiles on various social media channels. You could send cold pitches to several reporters, but that won't help you in the way of relationship building. Media houses and individual reporters receive hundreds of leads, and your story will get buried if you don't take strategic action.
Remember, you're building a relationship. As such, you should show interest in their work. Follow their social accounts and engage with content. That way, when you finally ask for press coverage, they're likely to be more responsive. Around 54% of PR professionals follow journalists on social media platforms before pitching to them.
You could also offer your help when they need it. Search #journorequests or #HARO (Help A Reporter Out) on Twitter (now X). The example below is a real-time result of just the request hashtag. For more specific results, combine the hashtag with industry-specific terms and you'll find posts relevant to your niche industry.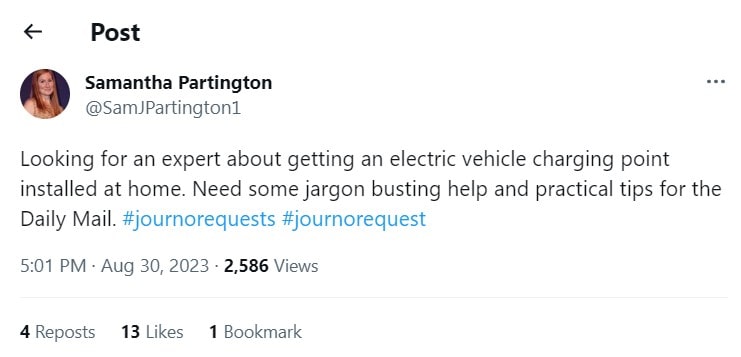 If you offer journalists your expertise when they need it the most, they won't forget you. When you need help (press coverage, maybe), they'll gladly return the favor.
When compiling a list of journalists to partner with, choose reporters from media outlets that cover your industry. If you're in the generative AI space, tech publications like Wired are your best bet. Also, think local. You're more likely to get press coverage from local media than national or global outlets like Forbes.
7. Promote your social media profiles across channels
Just because social media PR happens on social media doesn't mean it has to stay there. Customers consume news on multiple channels – email, mobile, website, search engines, and billboards. Therefore, you should adopt a multichannel approach to amplify your social media PR efforts.
One way to promote your social media profiles is by integrating them into your email newsletters.
The social media sharing buttons at the bottom of this email make it easy for subscribers to engage with the brand's social profiles with one click. During a PR campaign, encourage clicks by promoting posts in the newsletters.
Your website is another great place to promote your social profile. It is usually the first introduction new visitors have to your brand and a jumping point to your social media content. Use the header or footer of your website to share your social media icons to boost your online presence.
8. Develop a social media crisis plan
Managing PR crises is part and parcel of a PR professional's job description. In a perfect world, you wouldn't have to deal with malfunctions, broken customer trust, or malicious comments.
The fact of the matter is that mistakes happen and spread like wildfire on social media. The best you can do is to prepare for them. That's where a social media crisis plan comes in handy. It helps you and your teams navigate a crisis. It helps ensure your brand stays visible and defends itself when a crisis occurs.
In your plan, set up alert systems, identify key stakeholders, and the ways you'll respond to negative feedback on social media. Make your social media crisis plan comprehensive by including different crisis scenarios as well. Share your plan with members of your social media marketing team, so you're all on the same page.
The way you handle a crisis can help or ruin your brand. You must acknowledge the problem, apologize for the negative impact, and explain how you will resolve the issue. That's what H&M did when they came under fire for a culturally insensitive ad featuring a Black child in a green hoodie that read 'coolest monkey in the jungle.'
The Swedish fashion brand published an apology on its social media accounts, and removed the sweatshirt from its stores and websites. It also created a global diversity and inclusivity position to incorporate cultural considerations in their processes.
The worst thing you can do in a PR crisis is ignore the problem. A bad situation can turn into good PR with a well-managed response.
In Closing
These days, PR is more than crafting press releases. The scope of work now includes social media, which is great for brand visibility. With it, you're reaching more audiences instantly and directly.
In this article, you learned eight social media PR tips for your brand. Ensure consistent branding, leverage influencer marketing, publish high-quality social media content, and create branded hashtags.
Also, engage with your consumer audience and build positive media relationships. Don't forget to promote your social media profiles across different channels and develop a social media crisis strategy.
Leverage social media PR, and you'll reap explosive benefits for brand visibility.