Remember looking for jobs in the local newspaper? Or tearing phone numbers off supermarket bulletin boards? Those days appear to be long gone.
Nowadays, employers and job seekers rely on the internet – especially social media. Social recruitment has become the norm for leading companies and recruiters. It's so widespread, that only 4% of recruiters don't use social media in their work. 
And it works. French food services company Sodexo has saved more than $300,000 on recruitment marketing focusing on social, and has seen a massive jump in candidate submissions.
But since everyone's now in the social recruiting game, you need new ways to get an edge.
That's where monitoring can help. By tracking conversations across social media, forums, and blogs, you'll have new insights to improve the hiring process.
Specifically, social listening helps you:
Build new relationships with people you'd otherwise not meet
Explore new social channels
Develop and protect your company brand
Find and connect with influencers
We'll examine each of these elements one-by-one to show you how monitoring can take your social recruitment to the next level.
Build new relationships with potential candidates
Social media lets you interact with people you'd otherwise never meet. Recruiters are no longer limited to their existing networks or the responses to local newspaper ads. Hiring has gone global.
That makes it easier to build your network and put new candidates on your radar. More than half of current employees are either searching for new jobs or open to a change. It never hurts to put yourself and your organization in front of these people.
Monitoring makes it easy to find new people to connect with, especially those with niche job descriptions. For instance, Mention is currently looking for a PHP developer, preferably with Symfony experience. (Hat tip if you understood half of that).
We can create specific alerts to listen for social users discussing these disciplines. When people use these keywords, we'll know right away, and can reach out.
How to find new candidates with social listening
Create alerts using keywords specific to a job description (like Symfony).
Focus on conversations across forums and social media.
Look for smart and original blog posts about niche subjects.
Follow these users on LinkedIn or Twitter, and introduce yourself.
From there, it's all about the right approach. According to Beamery, the key is making an authentic connection. "The primary goal on social media should always be to open up a dialogue or start a new relationship with a candidate, not get them to click on a job advert."
Now sure how to build connections? Get our free guide to social media engagement.
Remember, the top candidates "can afford to be picky" when it comes their next position. It may not be enough to simply show them you have a job available. Building a wide network of interesting candidates – and future candidates – is just as important.
If someone impresses you, it's worth getting in touch even if they aren't looking for work right now. "The candidates that you engage in conversation are far more likely to come out of the exchange with a positive impression of your brand and are more likely to apply down the line." (Beamery)
Using monitoring, you'll make connections that may lead to job offers now or in the future.
Explore new social channels
Social recruiting is so mainstream that virtually every recruiter now uses LinkedIn, Twitter, or Facebook to find job seekers. Everyone has their social network of choice, but the best recruiters use a variety of them.
For instance, jobs website Monster prioritizes Twitter to recruit its own employees. It says that about 40% of companies do the same. Meanwhile, a 2014 study found that 76% of social job seekers found their new position on Facebook. While LinkedIn is the obvious social recruitment tool, other social channels are proving fruitful.
As a result, innovative recruiters now look to other social networks to find candidates, according to Workable. "Instagram leads the pack of newcomers (31% of job seekers have reported finding a job through this social network), with Pinterest and Snapchat not far behind."
This is especially relevant for recruiters covering a range of job descriptions. Certain social networks and forums are favored among developers, whereas salespeople likely spend their time elsewhere.
Specialized professionals tend to have their own specialized social networks and forums. Sites like GitHub (for developers) and Dribble (for designers) are interesting places to find fresh talent.
The biggest challenge for recruiters is finding skilled employees, especially in tech. You'll have an easier time finding the right people if you know where they hang out.
How to find new networks with monitoring
Create alerts for specific subjects related to a position you're hiring.
Scan your results for new forums and social networks.
See whether the people using these networks are the kinds of people you're looking for.
Make a connection.
You may discover social platforms, forums, and blogs that you never knew existed.
Develop and protect your company brand
In the same way that you can research candidates on social media, they can sleuth your company too. And just as you wouldn't hire someone whose social profiles were, say, uncouth, people won't work for companies whose online presence isn't top notch.
Projecting the right "employer brand" has a big impact on the applications you receive. Fifty-nine percent of employees say a company's social media presence influenced their decision to join the team.
We've all heard about the impressive perks and opportunities at companies like Google and Disney Pixar. They promote themselves as dream jobs full of interesting people:
Even if you're not a Fortune 500 operation, you need to make your workplace seem exciting and fun. And the easiest place to do this is on social media.
As Monster's Joe Buzienski says, "make sure your company's image, in words, photos and videos, is consistent across Twitter, Facebook, Instagram, Pinterest, and other platforms."
That's why monitoring your brand is so important.
Monitoring shows you what people say about your business online. That includes potential candidates discussing your job openings, and past employees venting on social media. You need to know exactly what's being put out there, in order to manage your company's reputation.
Keys to protecting your employer brand
Monitor a range of sources, especially forums like Reddit and 4chan.
Use sentiment analysis to catch unflattering comments, and respond to fix the situation.
Check topic clouds to ensure that the key terms associated with your brand are accurate and positive. If not, you may need to work on your brand's messaging remedy incorrect perceptions.
Ask current staff to share their positive work experiences on social media.
Ensure your business looks like an ideal workplace, and recruitment gets a whole lot simpler.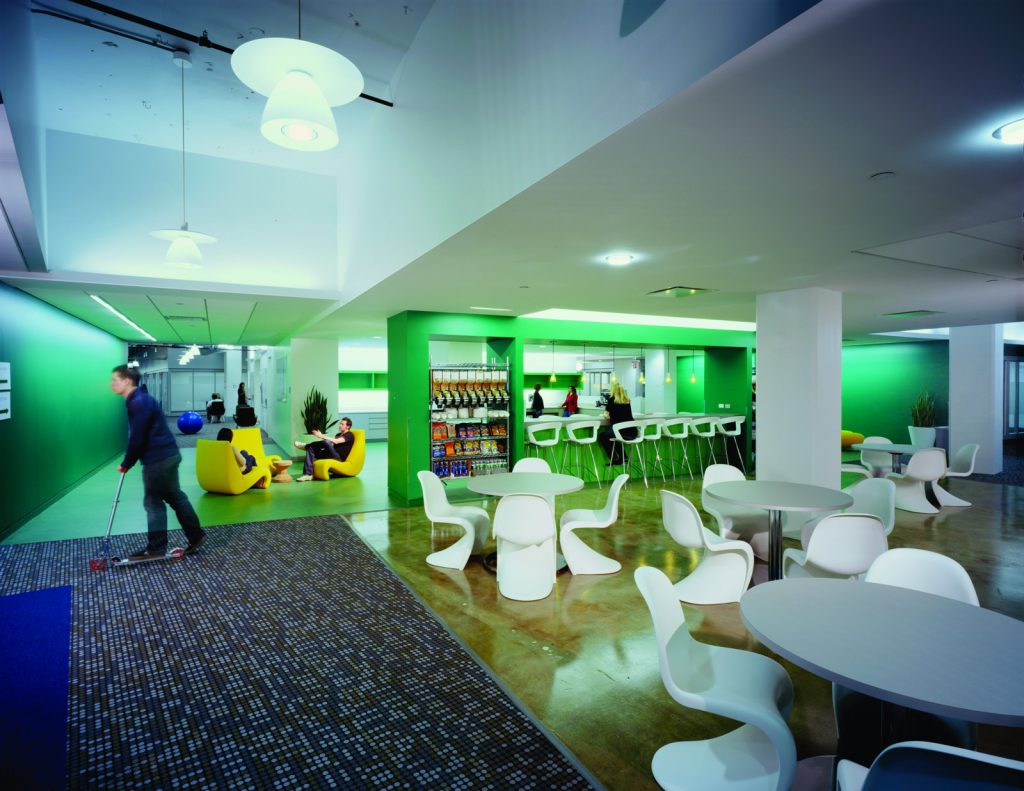 Google's "Microkitchen" in New York.
Learn how to build your employer brand and attract better hires with monitoring.
Find and connect with influencers
As we've seen, a key reason for social recruiting is to expand your existing network. And the quickest way to rapidly grow your own network is to tap into somebody else's. This is where influencers are invaluable.
"These are people you wouldn't necessarily consider for your available role, but who may be able to connect you with their talent networks," says Allison Kelly. Especially on LinkedIn, making connections with the bigwigs can drastically increase your own visibility, and put your job offerings in front of new talent.
Monitoring makes this process a breeze. Good monitoring tools rank your results based on the influence of the person who posted the tweet, comment, or blog post. It's a quick way to find the power players in a given industry.
How to engage influencers
Monitor keywords across social media and the web.
Filter your results based on the influence of the user.
Contact these influencers via social media (Twitter and LinkedIn, for example).
Ask them to share a job offering with their followers.
Don't rush that final step. It's important to provide value to the person you're talking to.
Twitter is a particularly good place to start these conversations. The short messages are low-effort for the influencer, and the fact that it's public encourages others to join in.
And if LinkedIn is your favorite spot, Allison Kelly has a simple recipe for engagement: "Join their groups, respond to the content they post, pose questions, and let them know that you're hiring."
Think of influencers as the cool kids in the playground. Getting close to them not only builds your network, it makes your company look cooler too. Use monitoring to find the best ones, and start building connections that'll pay off time and again.
Conclusion
As we've seen, social recruiting is now the tactic of choice for modern businesses. Analysts are already predicting the end of recruiting events, traditional job applications, and résumés.
At the same time, skilled people have more power than ever. For some, the world is their jobs board. Not only do you need to find these people, you need to show them that your job is right for them.
If you're relying on social media, you need to do social right. That means monitoring conversations, finding influencers, and protecting your own image.
Do these things correctly, and your social recruiting will be best in show.