When we speak of content strategy, things aren't always black or white. A strategy that works for you may not be fitting for someone else.
Most of us think the right way of filling the content funnel is from top to bottom. But, content serves as a means to an end. So, it all comes down to what you seek.
Do you want to increase your brand's reach or are conversions your top priority?
The answer to this question alone can flip the content funnel upside down for you. It paves the way for you to create a content strategy that is more fitting to your needs.
So, is TOFU content the right beginning for your content strategy?
Let's find out.
Understanding Content Funnel
A content funnel can be split into three parts, the top, middle, and bottom of the funnel. Each part classifies your target audience based on their awareness level and readiness to make a decision.
The audience representing the top of the funnel is either unaware or slightly aware of the problem. These users seek information online to find suitable answers to their questions.
The middle funnel audience is a bit more aware in comparison. These users have already found answers to their questions and moved on to the next phase. And that is to find the fitting solutions.
Finally, the users at the bottom of the funnel represent an audience that's the most aware of them all. They have already come across fitting alternatives. However, they haven't figured out which solution best serves their needs and preferences.
The transition of users from one stage of the content funnel to the next pertains to their readiness of making a purchase decision. Through your content, you facilitate these users throughout their journey and help them find what they were looking for.
The objective here is to educate your audience on how your brand serves as the best solution to their problem. And content helps you achieve that goal by nurturing leads at every step of the process.
Content is king. Around 87% of marketing visionaries consider it as the core of their strategies. Moreover, a majority of participants in a survey conducted by ZazzleMedia said that content marketing is an effective strategy for getting traction online.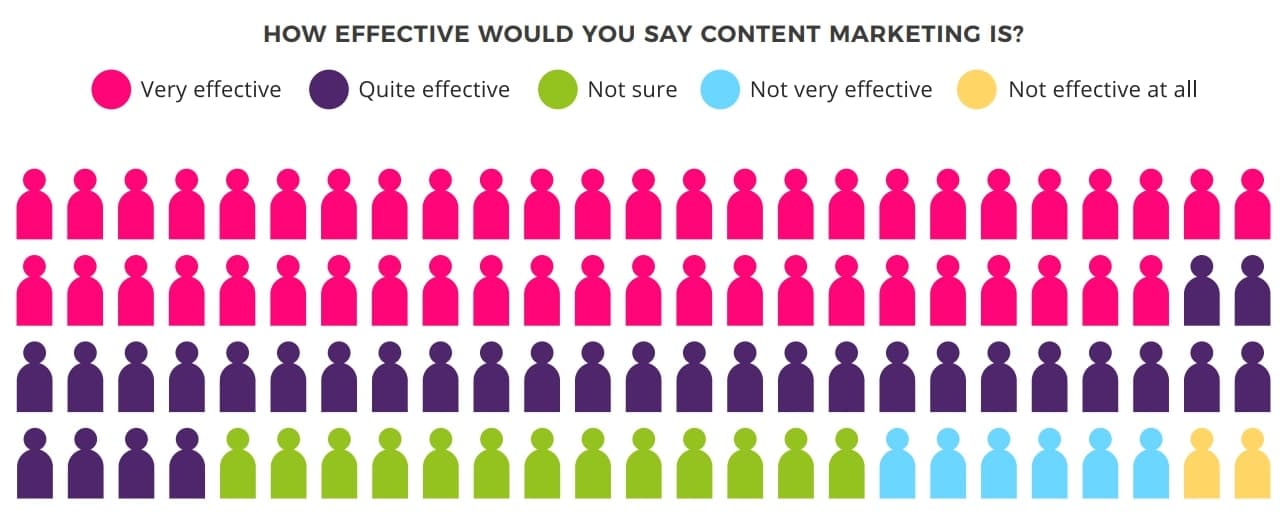 Producing evergreen top-of-the-funnel content enables you to generate brand awareness and connect with the right audience. By helping them solve their problems, you convert them into qualified leads who may consider your product down the road.
That's generally how the content funnel works. Top funnel content serves as the basis of your content strategy and helps you target a relevant audience at the start of their buyer's journey.
However, businesses don't always use this approach when marketing their products. They create content strategies as per the use cases and characteristics of their respective target audiences representing different stages of the funnel.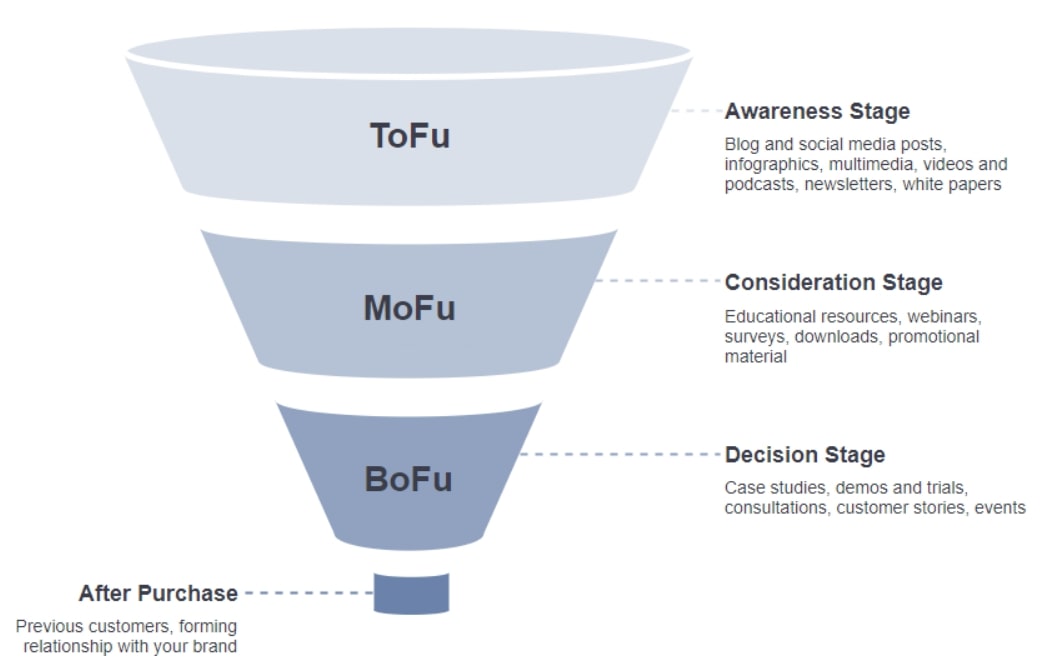 TOFU Content
Businesses produce top-of-the-funnel content to capture as many leads as they can by targeting broad queries. These queries represent the users' questions for which they seek answers online.
TOFU content helps you target an audience that best represents your niche and facilitates your brand's first interaction with potential customers.
You may have noticed that the top part of the content funnel is wider compared to its other stages. This is because you cast a wider net here to convey your message to the masses.
Businesses target high-volume search queries when creating TOFU content. At this point, an audience isn't ready to hear about your product or service and is just seeking useful information.
Helping people find what they're looking for helps you build trust and gain authority in your respective niche. You form a strong connection with your audience and they listen to what you say. And when that happens, nurturing traffic into quality leads becomes easier.
Blogs
Blogs represent evergreen content that you create and publish on your site to educate your target audience or generate awareness. For that, you identify the right keywords and produce content accordingly.
Blogs not only help you get more traffic, but also fuel your search engine rankings. Search engines favor brands that help users find the answers they were looking for. And since your content caters to the pain points of a relevant audience, it's more likely for search engines to rank you higher on respective queries.
A higher ranking on search engines establishes your brand as an authority in your respective niche. And people start considering you as a relevant source of information.
Social Media Posts
Did you know that 43% of people use social media to research their preferred solutions?
Social media enables you to create awareness in your respective niche and generate demand. By leveraging social media platforms, you can engage your audience and help them make informed decisions. Hence, 64% of marketers invest in creating social media communities.
People are generally indecisive and seek recommendations from others when making purchase decisions.
Social media platforms not only facilitate users to interact with their preferred brands online, but also seek recommendations about them from others. These interactions are facilitated by your social media posts, where users share their opinions via reactions and comments.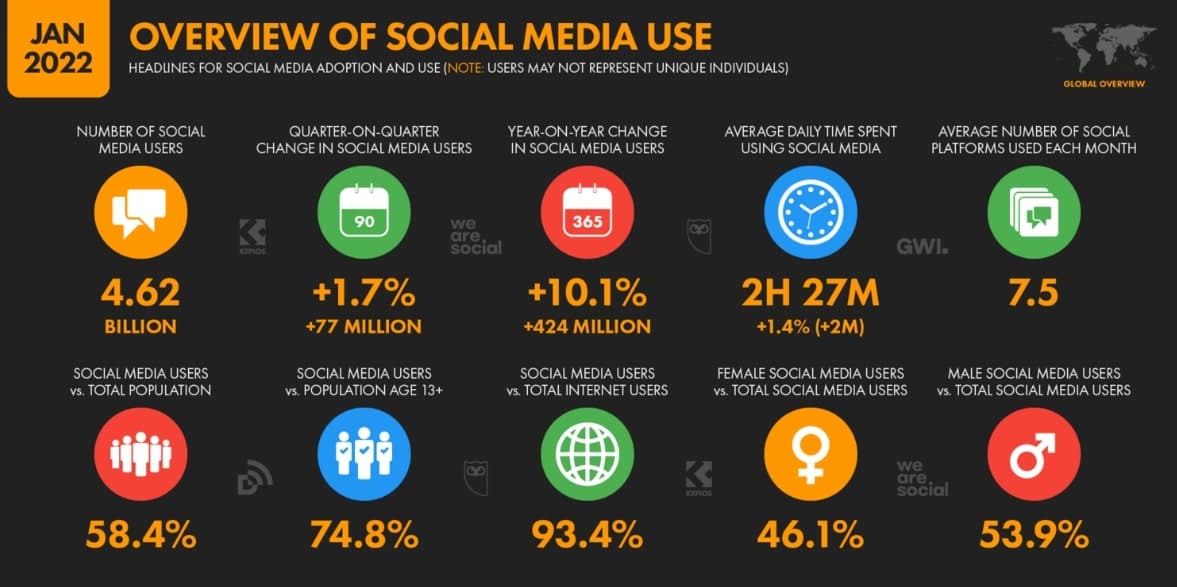 Podcasts
There's been a surge in the popularity of podcasts over the years. That is because podcasts make content consumption easy. You can listen to a podcast while you're driving, jogging, working out, or taking your dog out for a walk.
Podcasts enable you to reach out to the masses and generate awareness. This makes it one of the effective ways to create TOFU content pertaining to your respective niche.
The shareability of podcasts is also higher compared to other content classifications. A study by MusicOomph showed that podcast listeners are much more active on social media. So, it's highly likely for podcasts to get you more eyeballs and engagement compared to other TOFU content types.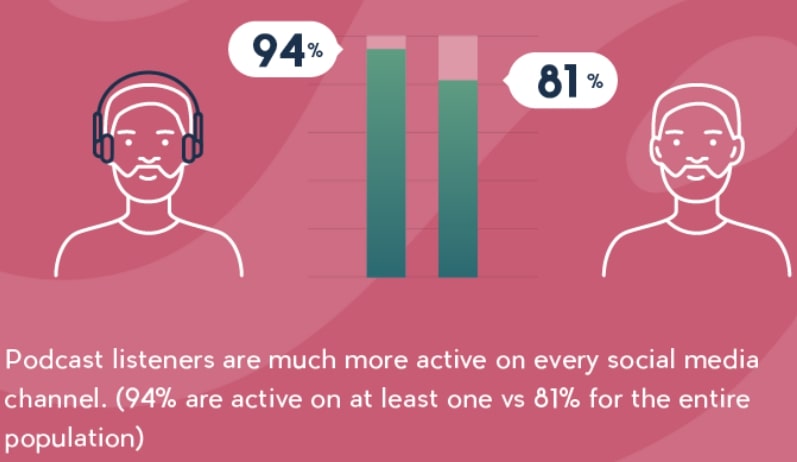 Infographics
An infographic is a visual representation of data or information that you wish to share with your target audience. It's one of the best ways of producing top-of-the-funnel content because people prefer visual content over text.
They say a picture is worth a thousand words. And they're right. An infographic enables you to summarize extensive data and makes content consumption easier for your audience.
It's the best content creation format if your content involves numbers or statistics. Visualizing such content is probably the best idea, as it would make it a little less boring and easier to comprehend.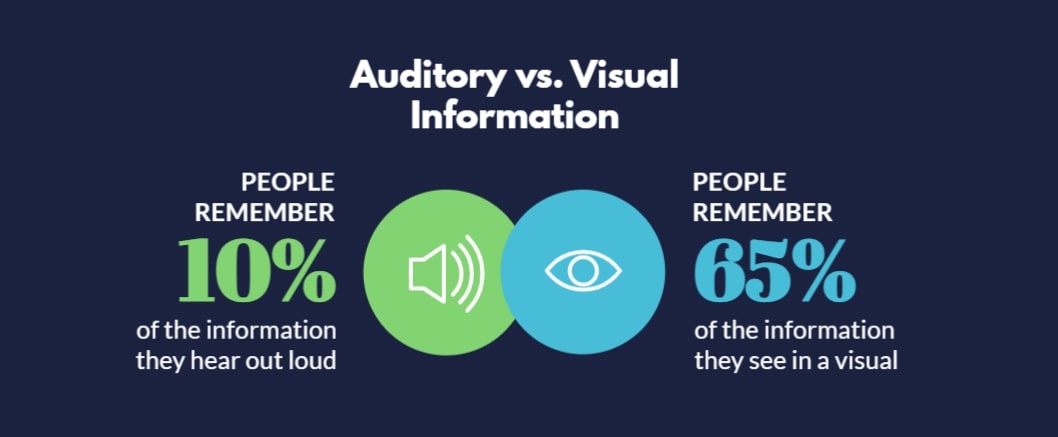 How-To Guides
How-to guides are created to help users solve their respective problems and serve as an excellent content strategy to build trust.
How-to guides are created around relevant topics and contain step-by-step instructions that provide readers with easy fixes. Hence, this content type serves as one of the best instruments to facilitate the transition of your audience from the top to the middle of the funnel.
MOFU Content
Middle-of-the-funnel content facilitates the transition of your audience from the awareness stage to the consideration stage. At this stage, your target audience has already found answers to their questions and now seeks the best solutions.
By now, people have become aware of your brand's existence and are also familiar with the competing brands. So, the keywords that you target at this stage are a bit more specific and the ones that best represent your product attributes.
Middle-of-the-funnel content is the best way to showcase your value proposition and establish your brand as a considerable solution in the industry.
Listicle
A listicle is an article created in the form of a list and published on your site. It's MOFU content that enables your audience to be familiar with the best solutions in your respective niche that solve a particular problem.
At this stage, you address an audience that's actively seeking the best possible solutions. So, making the information readily available in an organized way helps you grab their attention and build trust.
Gated Content
Gated content serves as the best example of MOFU content. It pertains to digital resources that you allow your audience to access in exchange for performing a certain action.
And in most cases, this action requires your site visitors to provide their contact information to grow your email list. Since people are often reluctant to share their personal details, offering them access to valuable digital resources in exchange often works.
The digital content that you share with your site visitors can be an e-book, a free pass to a webinar, case studies, whitepapers, and more. Just ensure that the content offers some kind of value and is tailored to the interests of your target audience.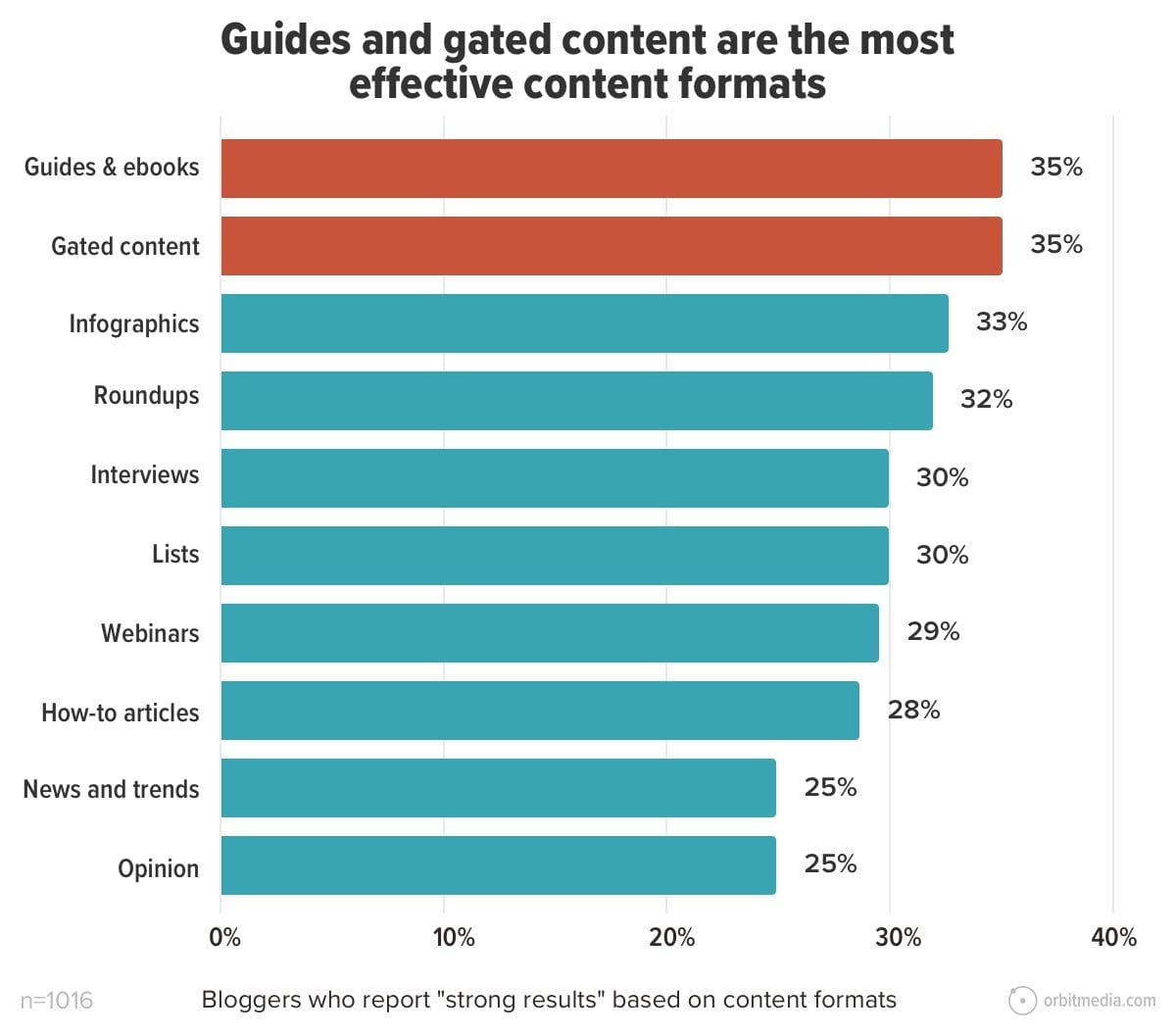 BOFU Content
Bottom-of-the-funnel content is always conversion-focused. Your audience is in the decision-making phase and evaluating your solution with other alternatives in the market.
At this stage, you create content around specific keywords that cater to the queries of your target audience. Here, your content should be tailored to showcase how your solution can best solve the problem for your target audience compared to the rest of the competitors.
While targeting keywords with high volume is a general best practice, the priority here is to target keywords that best represent the buying intent.
BOFU content should be to the point and clearly establish your brand as the best solution in your respective niche. It should highlight your product features and attributes to help your audience make an informed decision.
Feature Page
A feature page represents bottom-of-the-funnel content that describes your product's characteristics or attributes. It lists everything that your product has to offer to help your audience make the right decision.
You can have a single landing page for all your product features, or standalone pages representing each feature of your product. The implication may vary as per the use cases or your preferences.
Comparison Page
The comparison page, also known as versus page, represents bottom-of-the-funnel content that differentiates your product from one or many competitors. Here, you clearly list your product features along with the attributes of the competing brands.
For businesses, the purpose of this content is to target the branded keywords and attract users who have been searching for competing products.
For users, a comparison page makes it easier to choose a fitting solution by contrasting the features of the alternatives in the industry.
Demo Page
The purpose of creating a demo page is to give your audience a glimpse into your product's functionality. It highlights your product's attributes and shows your audience how it works via visual content such as videos.
Some businesses go a step further and offer in-depth closure by enabling their target audience to schedule a demo session. The core objective here is to grab your audience's attention and outdo the competition by showcasing all the important features of your product along with its benefits.
Trial Page
A trial page is created by businesses to encourage product trials. This page targets an audience that is ready to make the purchase decision or already made one. Here, you encourage users to try your product with no commitments or strings attached.
A trial page also helps you target users who have purchased a competing product but are not happy with their decision. This enables you to capitalize on the leads nurtured by competitors and make users reconsider your product.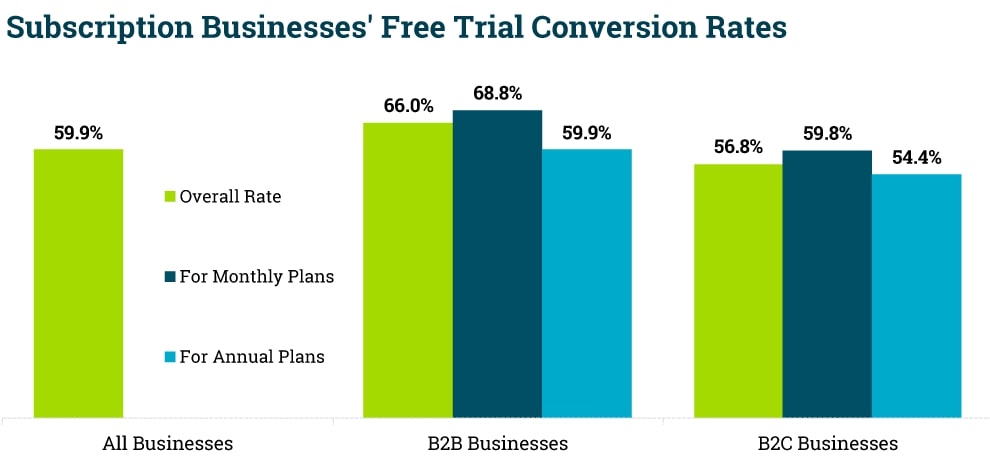 Finding the Right Fit
Whether or not TOFU content serves as the right beginning of your content strategy depends on the respective use cases and your audience's characteristics.
If you're targeting an audience that seeks information about solving their respective problems, then TOFU content yields the best results. It enables you to connect with a relevant audience by addressing their queries and helping them find the information they seek.
Your audience in this scenario is less likely to be familiar with you or other competing brands. So, whoever successfully grabs their attention first takes the lead.
TOFU content is best suited for enhancing your brand's reach, as you target broad keywords that best represent your niche.
MOFU content is best suited when you target an audience that's generally aware. These users have found answers to their questions and are looking for products or services that provide them with easy fixes.
So, the best way to win hearts at this stage is by helping users find fitting solutions that best serve their needs and preferences.
Finally, the audience at the bottom of your content funnel is the most aware. These users are ready to make a purchase decision and are currently weighing the alternatives. So, it's best that your content at this stage showcases your product attributes and sets it apart from the competing brands.
Each scenario demands that you produce a different type of content as the characteristics of the audience change. So, to maintain a seamless flow of prospects in the content funnel, it's best that your content strategy is a well-thought-out blend of all three content classifications.