As the Director of Marketing for Venngage, I spend a solid portion of my day creating and assessing all forms of visual content, but primarily my focus revolves around anything and everything to do with infographics.
Last month, Mention brought me on their webinar to share my advice for you. This post will catch you up on anything you might've missed if you didn't attend!
Before I get into the real meaty content, I'll admit I did not come from a marketing or business background in terms of my education. In fact, I studied Theatre as an Undergraduate Degree, and my Masters was in Digital Media. When I first started working at Venngage I had practically zero experience and knew almost nothing about marketing.
I didn't even know what SEO was.
You're probably wondering why you should take SEO advice from someone who knew nothing just a couple of years ago. The reason is because everything I write about and talk about is from my own real experiences.
Meaning, I only share the tips that have already worked for me in the past, and that have brought me great results.
The last thing you should know about me is that I love experimenting with different tactics and figuring out what works. I love testing out unconventional means of generating traffic and revenue. And if it works, I share my experience with everyone else.
So that's me in a nutshell.
But what's even more important is who you are, and whether this content is even right for you. You should be reading this post if:
You've reached a standstill with your rankings on Google and are at a loss of where to go and what to do next.
You find yourself getting rejected by influencers you reach out to, with little or no improvement.
You've heard about the benefits of using visual content in marketing, and you want to learn how to integrate such content into your own strategy.
You want to successfully accomplish the above without breaking the bank.
Let's get started.
Want to watch my full webinar and see how we do it? Click here to access the recording!
Why visual content matters
To begin, think about how you're currently using visuals as part of your content strategy. What kind of images do you use? Stock photos? Infographics? Both? None?
The reason I ask is because if you're not using visual content in your marketing strategy right now, you are missing out on a lot of potential for increased engagement.
In a 2015 survey conducted by Sproutworth, nearly 75% of marketers said that visual content actually performed 2 to 5 times better than text-based content.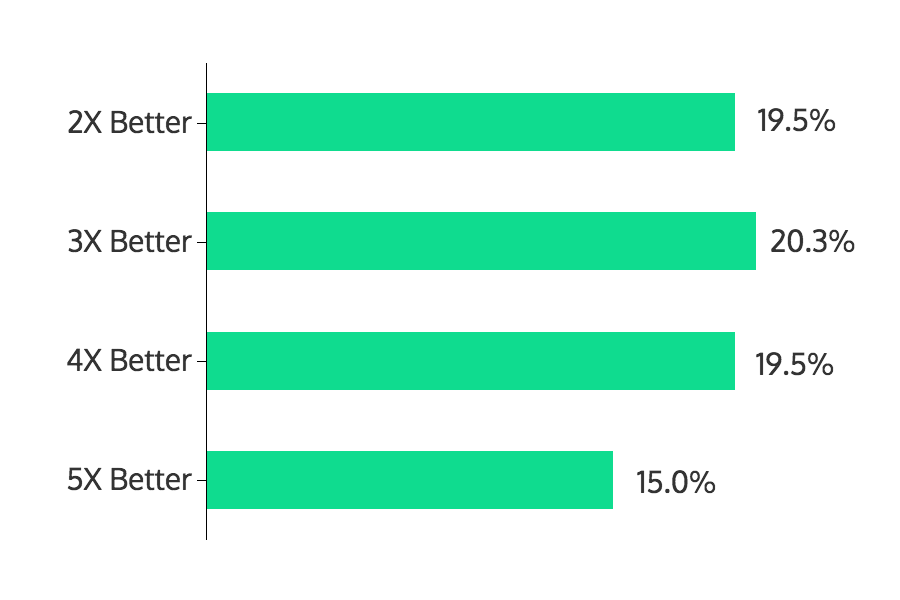 Why is this the case? Because visual content is 60,000 times easier for your brain to interpret.
On top of that, marketers believe that original graphics and illustrations, which include infographics, are 20% more effective than stock images.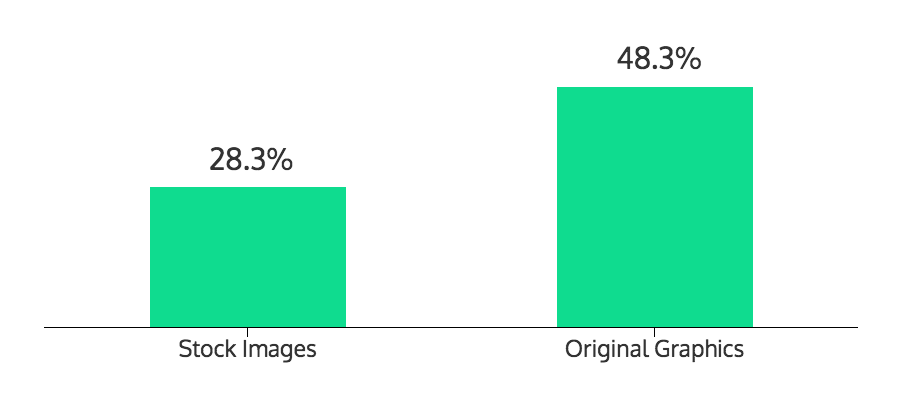 But why am I telling you all of this, and what does this necessarily mean for you? Well, if original graphics, or infographics are more than 20% more effective than stock images, that creates a greater need for original graphics.
This need for original visual content is the perfect opportunity for you to build relationships with influencers and as a result, boost backlinks. And that will in turn increase your SEO rankings, and eventually lead to an increase in organic traffic. Meaning an increase in revenue, as well.
And the way you can build those connections and backlinks are with infographics. By creating original infographics for influencers, there is massive potential for higher rankings and better relationships.
How can you do this?
I'm going to break down the exact process that myself and the team at Venngage used for boosting our own rankings, traffic and revenue up by 400%.
And I'm going to show you in four very easy steps.
Now before I move on, I do want to be completely transparent with you.
What I will be sharing with you is not a quick fix solution. I'm not going to give you a magic formula that will suddenly change your life. What I will do, is share my exact process with you. And if you follow these steps closely and practice this method consistently, over time you will see results.
But it will not happen overnight.
For us, it took just under a year. It might take just as long for you, or it might take less time, but it really comes down to how much work you are willing to put in.
That being said, this process works. In just under a year, we managed to triple our revenue and boost signups and traffic by 400% simply by following these four steps, and I want to make sure that everyone reading this can achieve the same thing.
Step 1: research influencers and top content
Before you start creating any infographics, you need to make sure that you find relevant influencers in your niche. These are the people who you will be making infographics for. You also need to research the content they produce, so that you have something to reference during your pitch.
How do you find the appropriate influencers? I use about three different tools for influencer and content research, but I'm just going to highlight one in this article.
And that tool is Mention's keyword search tool.
The first thing you need to know about building up a contacts list is how to search for the right keywords. Ask yourself the following 3 important questions:
What kind of people in my industry blog a lot?
Which relevant sites have high domain authorities?
And which of those people and sites would want to publish an infographic?
When we thought about these questions, the answers we came up with were content marketers, lifestyle bloggers, education bloggers, and PR people.
These are also the people who are most likely to give you a backlink when asked. Why? Because marketers and PR people also understand the need for links. They spend a lot of time online blogging as well. And lifestyle and education bloggers are typically freelance writers, many of whom have no issue giving you a link in exchange for a service.
Some marketers and PR individuals also have relatively high domain authorities on their sites. Not always on their personal blogs, but usually on their company's blog. Education publications can typically have a decent DA as well, because they're a useful resource for many teachers and are constantly referenced.
And of course, freelance writers contribute to  a variety of different sites, some of which include publications like the Huffington Post, Forbes, Entrepreneur, and Inc.
Search for influencers
So we searched for content that fell into those categories. Some of the keywords we plugged into Mention were phrases like:
Social media marketing tips
Content marketing blog
How to rank on SEO
10 tools for educators
Blogging tips
Anything we thought those people were interested in, we would check out.
We then chose to filter out every mention except articles and news publications. Why? Because Twitter mentions would not necessarily help us with SEO, nor would articles published on sites like Tumblr and Blogspot, which do have a high DA, but which only supply you with no-follow links, and that's not what we were after.
Export and organize your list
Now we move on to the fun part. Organizing the list. Once you've exported your list, you need to organize that list and filter out all the junk. This includes:
Anything with a low DA
Any site that only has no-follow links (forums, reddit, Blogspot, Pinterest, etc.)
Import your lists into a Google Spreadsheet.
Then delete all the columns except for the blog title and URL. Add columns for name and contact info.
The tricky part is going through each URL and finding out who the author of each article is, and what their email is. This is why you really want to filter out the junk before hand so you don't waste your time finding information for useless sites. Then it's time to populate your list with their contact information.
Populate your list with contact info
How do you do this? There are a few options, and two of those include deciding whether you want to populate your list manually, or hire a VA to do it for you.
If your list is under 100 people, then manually populating your list is definitely doable, but anything more than that is extremely time-consuming. Simple data-entry work like this is something you can hire a virtual assistant for. I recommend using Upwork to find someone remote.
If you decide to do the work manually, Rapportive is a chrome extension that syncs with Gmail. You can validate whether an email you've entered is correct since it pulls up the individual's LinkedIn profile for reference.
So when you get the right email, it looks like this: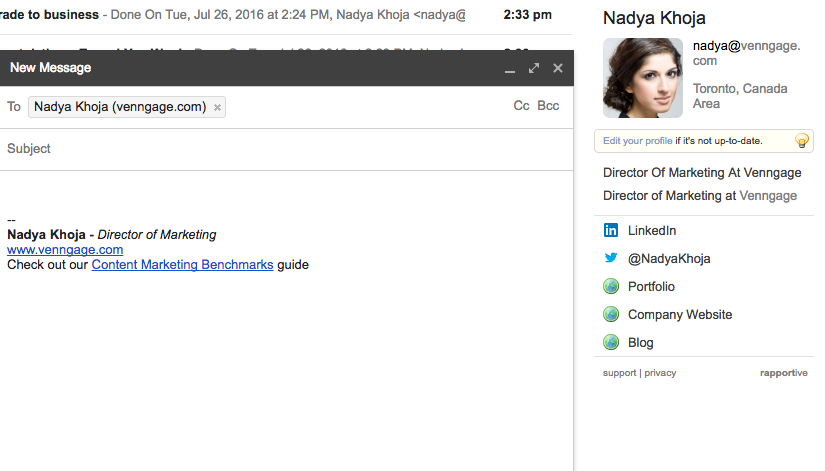 Yes, that is my actual email.
Step 2: pitch and request
The next step is to pitch your offer to your list of influencers.
Your pitch is what will determine whether or not an influencer decides to work with you, so you need to make sure it's a great one.
Your pitch should be made up of five components.
The Subject
The Opener
The Presentation
The Ask
The Sign-off
Each component is crucial to include.
The subject
Your subject line is how someone decides whether or not to open your email. MailChimp did a study that looked at different subject lines in an email and analyzed how certain phrases performed best than others. What they learned was the subject lines which were direct, to the point, and not too salesy performed best.
In other words, try to refrain from cheesy subject lines like, "This will be the best email you read all day!" Because what if it isn't the best email they read all day? Then you're just a liar and people will dislike you.
The opener
The opener is the introduction line of your email. If the subject line is your Tinder profile, think of the opener as a first date. Just like a first date, you want to appear genuine. Start with a friendly greeting, and don't be afraid to show some of your personality.
The presentation
As you may have guessed, the presentation is the meat of your pitch. It's the part where you "present" the reason for emailing them. Whether you want them to share an article for you, or give you a link, you need to present it in a way that's appealing to them.
This is why it's important to offer the influencer something. In our case, we offered to make them an infographic, which was a proposal that was very difficult to refuse. Who doesn't want a free infographic? Most agencies charge anywhere between $1500 to $5000 for one infographic, so a free one is an obvious steal.
Find a way to offer this person something irresistible. But don't ask them for anything…just yet. First, reel them in and make sure they are hanging onto your every word.
The ask
Now that you've offered them something, you can ask the influencer for a favor. You can choose to send the ask in a follow-up email after you're sure they want the infographic, but it's not necessary.
Keep it simple, and once again make it seem like your request is tiny compared to what you are giving them in exchange. We asked them if they would be willing to include the infographic we made for them in the original blog post, with a simple attribution link back to us.
The sign-off
Finally, the sign-off is how you end your email. Try not to be overly pushy. Don't use words like "I expect to hear back from you." Which yes, was how someone signed-off an email I received not too long ago.
Instead, express to the influencer your excitement to collaborate with them. Not only is it not pushy, but it can act as a subtle ego boost to the person you are reaching out to.
Step 3: make an infographic
After you've emailed everyone in your list, it's time to make an infographic.
There are two steps to this:
Requesting an outline.
Actually designing the infographic.
Now if you're freaking out and worried that you have no design skills, don't worry. We'll address that issue. I had absolutely NO design skills when I first used this process. I wouldn't say that I'm a master designer now either, but I've definitely improved a lot.
Requesting an outline cuts your work in half
Like I said, the first step is to ask the influencer to send you an outline of the exact content they want to see in the infographic. They already know the content in the blog post very well (because they wrote it), so it will take far less time for them to just send you a quick outline of the article.
They will know better what material the infographic can do without and what information is crucial to keep in it.
It also saves you time. In the past I've noticed that even though the influencer asks me to prepare the outline for them, they always have plenty of last minute suggestions and changes they want to make. There's a lot of emailing back and forth and it's a serious waste of time.
Getting them to prepare the outline ensures that they are happy with the content being included.
Use a tool or hire a designer?
The question that's probably on your mind right now, is how to even begin creating an infographic.
Assuming you're not an expert designer who is highly skilled in the art of Photoshop or Illustrator, you need to seek out other alternatives. In this case, you can choose to use an online tool, or contract a designer.
Now if you use a tool, you can look to spend anywhere between 15 to 50 dollars a month and it would take you about 2 to 5 hours max to create an infographic.
Naturally, I recommend Venngage, but I'm biased.
You can also choose to hire a designer.
If you hire an in-house designer, the cost can be roughly 30 to 40k a year at a minimum. Typically, designers take at least a full day to get back to you, and some take up to a week to get something done. A designer also gives you one more person to communicate back and forth with.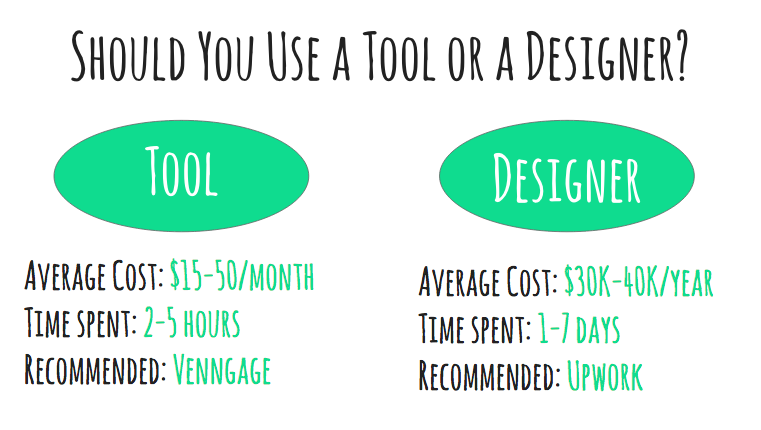 Step 4: promote, promote, promote
The last step in my four-step process, is to promote like a machine. Just because you've created an infographic for a specific influencer doesn't mean you can't promote it to other influencers. After all, you put your time into creating that infographic, so you might as well make the most of it, right?
So what can you do?
You repurpose that infographic and pitch it. This includes guest blogging. You can republish one infographic a hundred times, as long as the copy you write is different. Many marketing sites just require you to write 400 to 800 original words if you want to post something.
You can also ask other influencers or bloggers who write about similar subjects to include the infographic in their posts. For instance, If you made an infographic about the "10 dos and don'ts of SEO," search the title and see who else has written something along the same lines. Then follow the initial list-building process and reach out to them asking if they would be interested in posting your infographic.
Here's a tip: Instead of sending them the image attachment, send them an embed code. Not only does this speed up the process for them when they want to publish the infographic, but it lets you include a link back to your site as the creator of the infographic. Two birds, one stone.
Conclusion
If after all this you're still skeptical about using infographics, chill. They aren't the only tools that lead to higher rankings and better relationships.
Maybe you're great at making and editing videos? Offer to create a short video for an influencer. Are you skilled in making Slideshares and presentations? Offer to do that instead. You can create ebooks for people, or even make interesting custom charts. Use a chart maker tool like Beam by Venngage to create them for free.
The point is, figure out where your talent lies and what skills or services you can offer someone.
But just remember: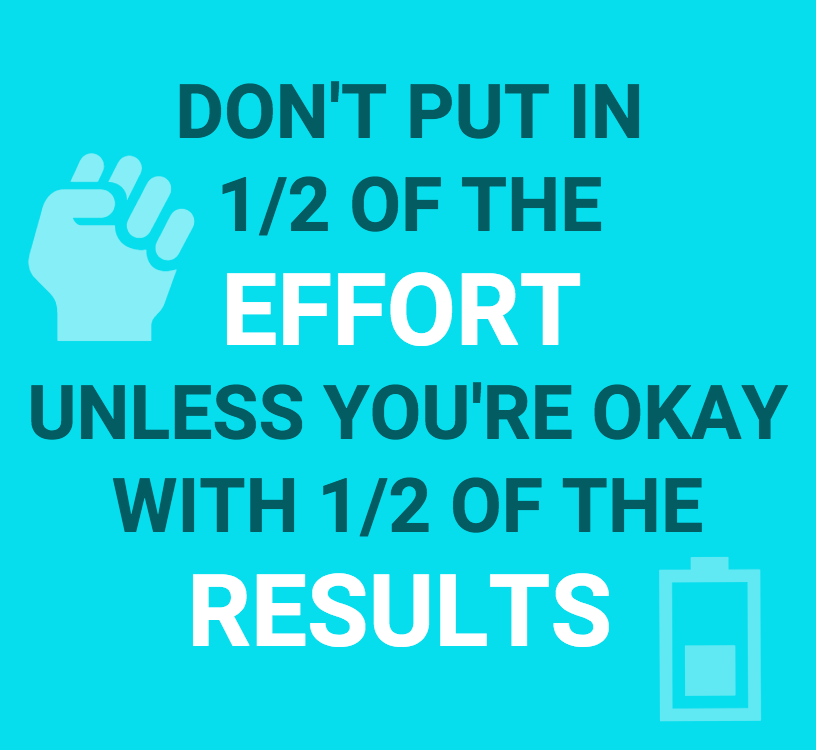 If you really want to achieve the best results, you can't just do some of the work.
You need to be willing to invest the time and effort if you want to make a dent in your rankings and if you want to connect with more influencers. Like I said, this process has worked for me and for Venngage in the past, and it continues to work for us.
Want to watch my full webinar and see how we do it? Click here to access the recording!