Do you want to learn how to write persuasive marketing emails? If so, you're in the right place!
Email marketing is a great way to stay in touch with your target audience. Business leaders across all industries use email to improve sales, engagement, and customer satisfaction.
There are many reasons email works so well, with the main reason being 96% of people who visit your website are not ready to make a purchase. With this statistic in mind, encouraging users to join your email list is a logical choice. Even if visitors are unwilling to place an order the first time they visit, you can turn these users into loyal customers with continued nurturing and interactions through email.
Today, we will share eight tips you can use to write more persuasive emails for your subscribers. These techniques will help you fine-tune your email marketing strategy and encourage users to interact with your brand in new and exciting ways.
Let's begin!
Table of Contents:
Segment Your Subscribers
Before you can create truly persuasive emails, it's important to segment your subscribers. Simply put, segmenting is the process of dividing readers into groups based on their goals, interests, demographics, pain points, and shopping habits.
This step is so important because segmenting allows you to personalize emails for each user. It isn't easy to write an engaging email if the content inside doesn't matter to the reader.
On the other hand, an email that's hyper-personalized is far more likely to see clicks and other forms of engagement. If you're wondering how this will affect conversions, consider this; nearly 80% of all email ROI comes from campaigns designed for specific segments.
We suggest using feedback forms, email surveys, and shopping history to build buyer personas for each segment of your audience. Buyer personas, or customer personas, are fictional profiles that touch on the aspirations and roadblocks users encounter around your product or industry.
Here's an example of a buyer persona for the company Munro Shoes: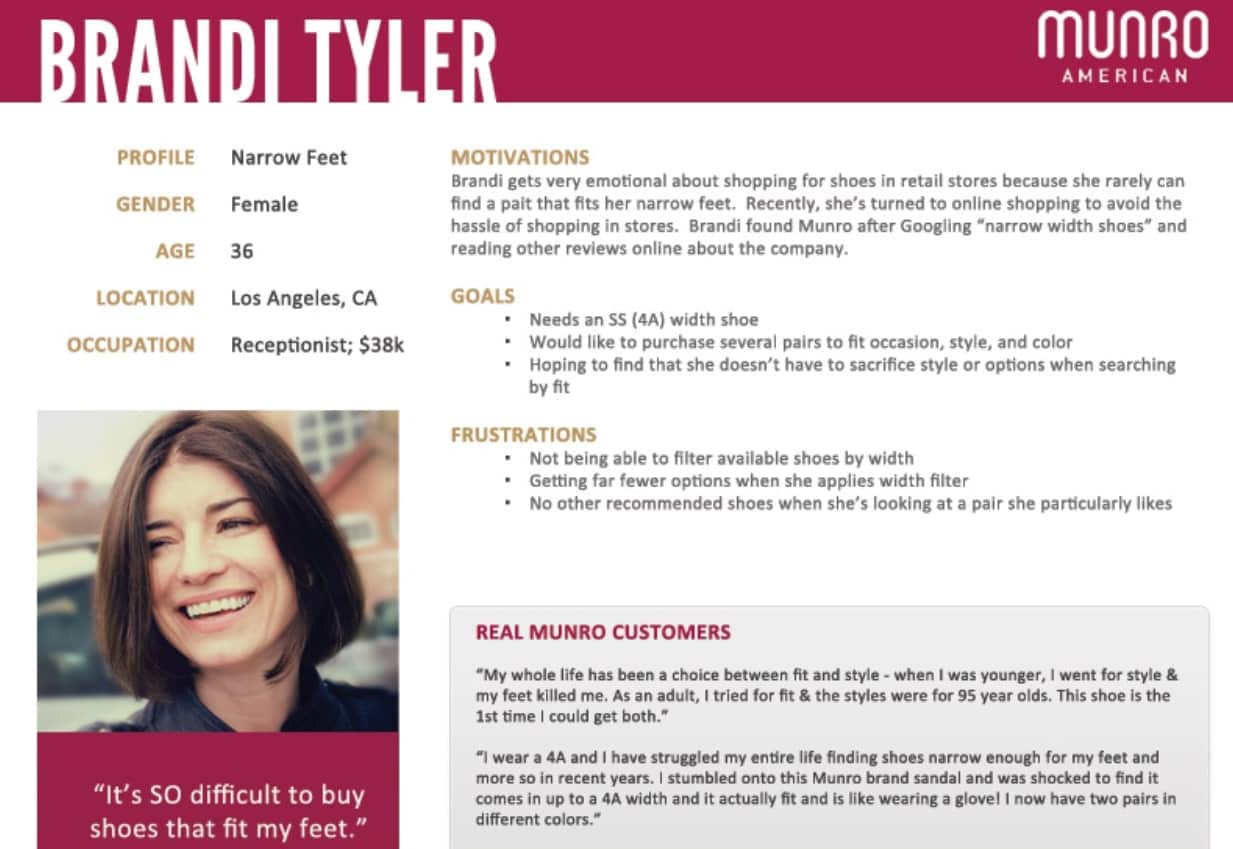 An email marketer from Munro Shoes would look at this information and create emails that appeal to shoppers' frustrations while helping them achieve their goals.
The best way to gather information for your buyer personas is to talk to your audience. You could send email subscribers a survey, ask your followers on social media, or review your analytics for in-depth information about the people who visit your website.
Decide on One Goal Per Email
Once you've divided your customers into groups based on their interests, it's time to decide on a goal for each marketing email.
In order to create a truly persuasive message, you must have a clear objective. Otherwise, subscribers won't know what you expect them to do once they read your message.
Understanding your goals will also help guide you through all the creative steps in writing your email.
It's worth mentioning that your goal for each specific email and campaign will vary based on your industry and current projects.
Here are a few common objectives marketers focus on when brainstorming for future emails:
Boosting sales (generally or for a specific product)
Enhancing brand awareness
Promoting upcoming events
Increasing website traffic
Growing social media profiles
Attracting multilingual audience (you'd need to translate your emails for this)
You can then take these broad categories and narrow them down to a specific goal. For instance, you may want more people to sign up for your next webinar.
Write Attention-Grabbing Subject Lines
Now that you better understand your audience and know what you want to achieve, it's time to start writing.
All good emails need attention-grabbing subject lines. Research shows that about half of all emails are opened or deleted based on the subject line alone. We've all scrolled through our inboxes and deleted emails en masse because they didn't appeal to our needs or weren't interesting enough to open.
You can bet your audience goes through a similar process when they clean out their inboxes.
A great subject line should briefly explain what subscribers can expect when they open your message. Here's an example from Grammarly: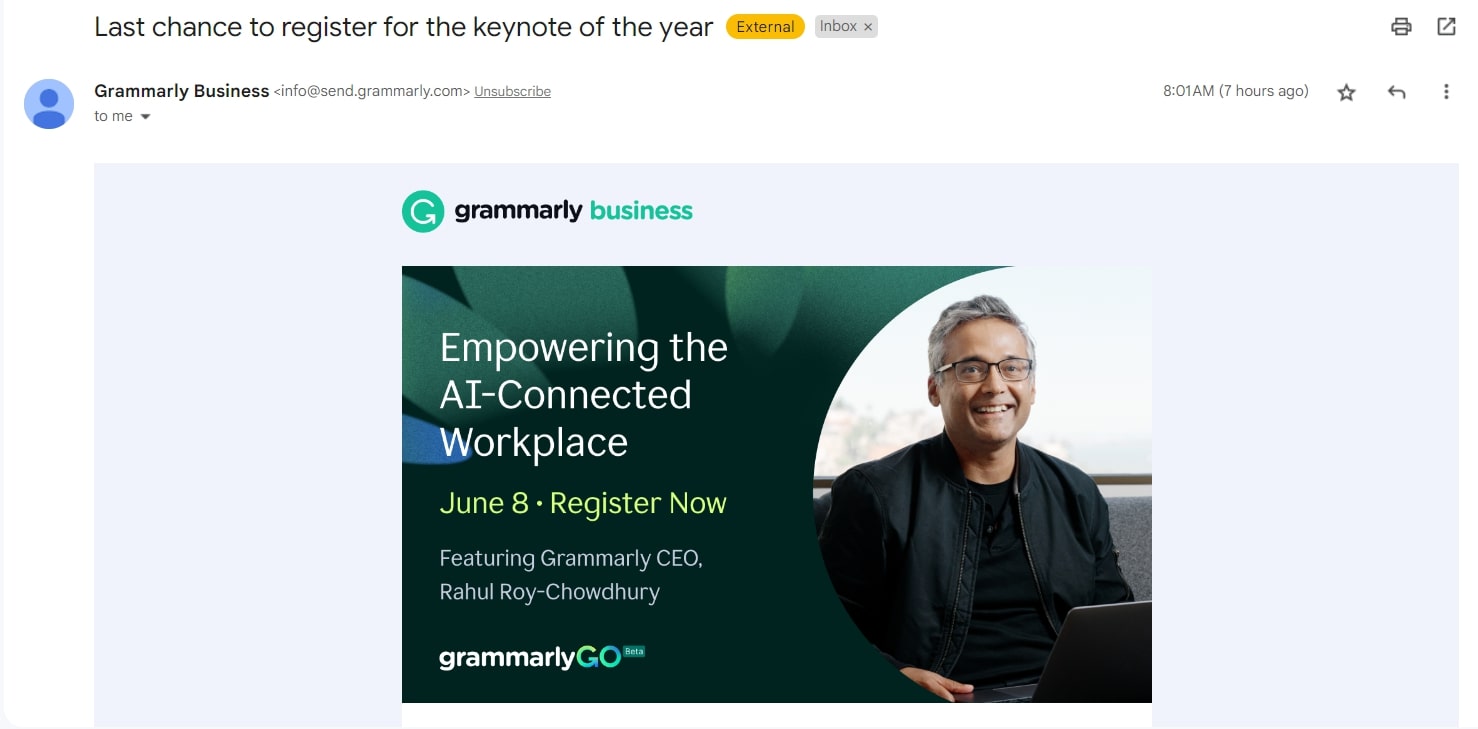 The top of this email tells the subscriber exactly what they need to know. There's a keynote presentation coming up, and this is their last chance to sign up. Beyond explaining to readers the point of the message, it also inspires fear of missing out (FOMO).
The phrase "last chance" is attention-grabbing and makes people think, "If I want to go to that event, I need to sign up right now."
Another way to make your subject lines more engaging is to use personalization. For example, you could start your subject line with the subscriber's name. We've found this strategy works well for getting clicks and engagement. In fact, people are 26% more likely to open an email if it features a personalized subject line.
Use Conversational Language in Your Copy
Conversational language is one of the best ways to establish a connection with your subscribers. Boring, uninspired emails will not make your message more compelling. In most cases, it will have the opposite effect.
Instead of yawning halfway through your email, you want readers to eagerly read what you have to say.
Plenty of advantages come with using conversational language throughout your writing. For one thing, emails with a friendly, conversational tone are easier to read. Subscribers won't have to stop and process what you're saying too often because it will feel like they are reading an email from a close friend.
On that same note, emails with this format help build authenticity and make subscribers feel like you're talking directly to them instead of giving a far-reaching sales pitch.
Your emails will feel far more conversational if your message is relatable, interesting, and inspires some sort of emotion. You can also incorporate interactive content in your email in order to engage your readers. Let's look at an example from copy.ai so you can see what we mean.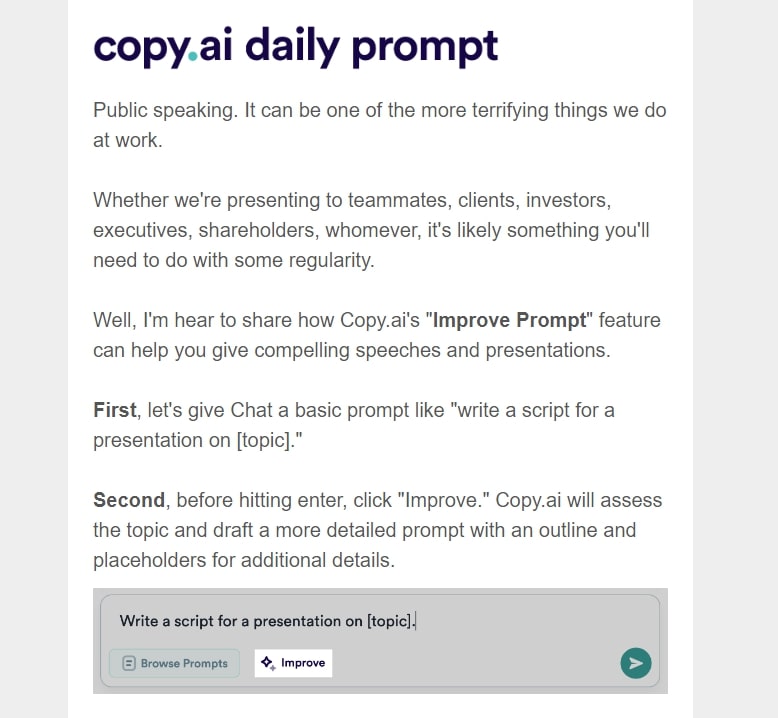 The opening line of this email does an excellent job of being relatable and inspiring emotion. Most of us, on some level, fear public speaking. The fact that the writer of this email decided to hone in on that emotion helps keep readers hooked.
They also talk about different examples of when you'll need to speak in public, which gets users in the right mindset for the rest of the email.
Build Trust with Readers
It's safe to say that we are more likely to be persuaded by people we trust. This same concept translates to marketing emails. If people don't know for sure if they can trust your company, there's a slim chance they will take action.
The good news is there are plenty of ways to build trust with your subscribers with your emails.
One of the most effective strategies, especially if your goal is to sell a product or service, is to include a review or two from other real customers. We found that 97% of people look at reviews before they buy a product. Adding reviews will give readers peace of mind and help them understand how they can benefit if they accept your offer.
You can find reviews on your product pages, social media, and feedback forms. I suggest reaching out to the original customers first so you can make sure it's okay to use their reviews in your marketing emails.
Once you explain your value proposition, include a section that says, "Here's what our customers are saying." This seemingly small addition acts as social proof and will certainly help you build trust with readers.
Another similar strategy is including case studies or statistics that highlight your point. Here's an example from an OptinMonster email so you can see for yourself: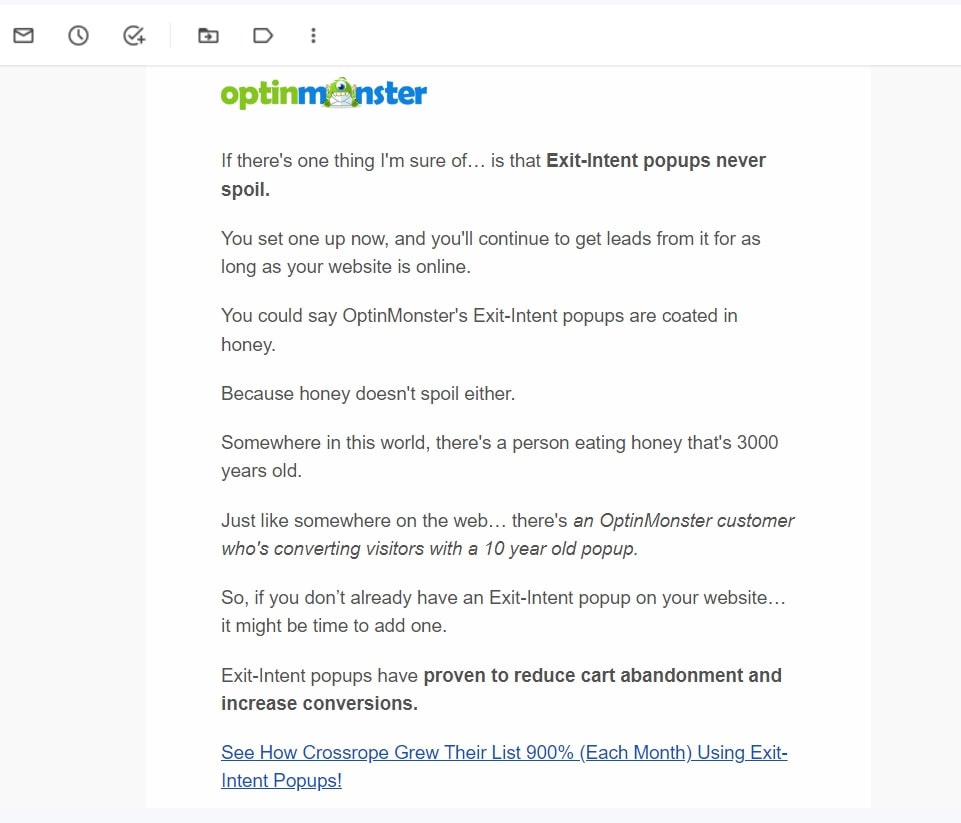 Much like our previous example, this email does a great job of setting a conversational tone from the first line. If you look towards the bottom, there's a link to a case study published on the OptinMonster website that explains how a customer grew their email list by 900% each month after using the strategy proposed in the message.
You're far more likely to persuade readers to take action if you include a concrete article or data point that speaks to what you're offering in your email.
Highlight Your Value Proposition
Your email copy should always highlight your value proposition in a way that makes sense to your audience. If people don't have a reason to take action, they will simply delete your email and move on with their day.
For many marketers, this defeats the purpose of their emails.
You'll want to pull up your buyer persona profiles so you can find ways to tie your goals to reader benefits. Pay close attention to demographics, interests, and shopping habits so you can present a proposition that is relevant and click-worthy.
Let's say you plan on hosting a webinar that teaches people how to use your social media marketing software. Instead of just asking people to register, give them an overview of the topics and how they relate to the needs of an average social media marketer. This addition will help readers understand how signing up for your event could improve their lives.
One of the best ways to be persuasive is to help people understand what they stand to gain by taking the next step.
Finish with a Strong Call-to-Action
The last element all persuasive emails need is a strong call to action (CTA). If you don't explicitly tell subscribers what you want them to do after they've finished reading your email, many will hit the back button on their inbox and not look back.
Good CTAs are direct and use action words to explain to users what will happen when they click through. Let's look at an example from Canva: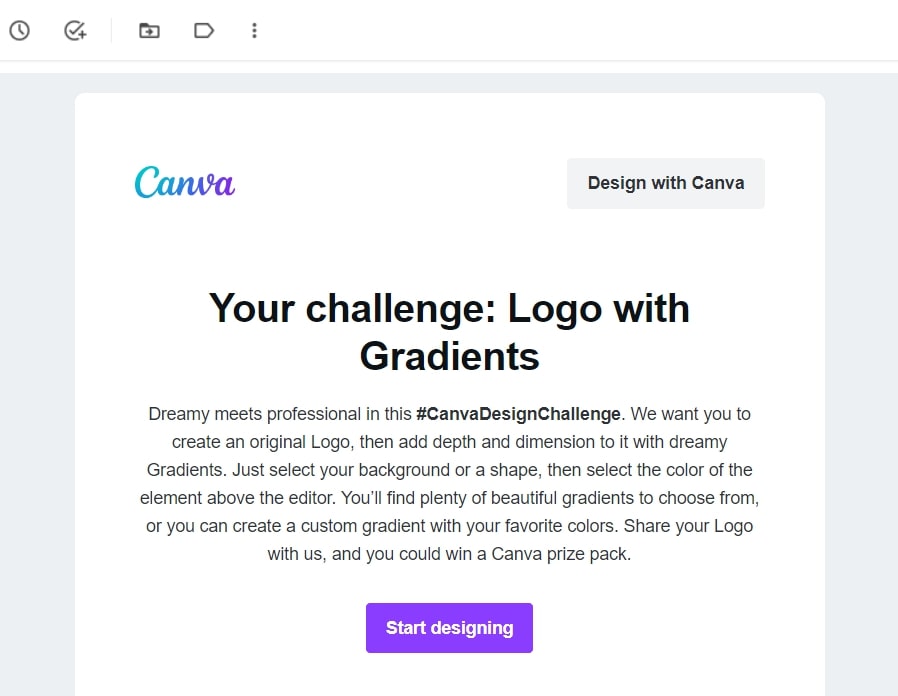 Canva does a lot of really good stuff in this email, but their call to action illustrates our previous point perfectly. It tells users exactly what will happen and uses relevant action words. Since users download Canva for image designing, this CTA makes perfect sense.
This email would have less impact if it read "click here" or "learn more." The phrase "start designing" gets users excited about what's in store and directs them exactly where Canva wants them to go.
When creating a call to action for your emails, use contrasting colors (like the one in our example) so it practically jumps off the page. Again, this CTA wouldn't have the same impact if the background, text, and font matched the rest of the email.
You should also experiment with where you place your button. We've found that strategically placing it toward the top of the email can result in more clicks. It's always a good idea to run split tests so you can find out which format convinces subscribers to take action.
Analyze Your Results
Finally, all marketers should review their email analytics if they want to improve future messages. People respond differently to emails across different industries and demographics. Looking into your analytics will help you understand what kind of messaging works best for your audience.
Analyzing the results of your emails will help you fine-tune your message to make it more engaging for your subscribers.
Let's say you take our advice from the previous tip and experiment with your call to action placement. You won't know which strategy works or where you can improve if you're not regularly analyzing your open rate, click-through rate, and other forms of engagement alongside your tests.
If your email with the CTA above the fold has a click-through rate of 40%, while the version with the CTA at the bottom only converts 10% of readers, you can use this data point to improve future emails.
We suggest pulling up your analytics at least once a week as well as before you start working on a new campaign. Checking this data consistently will help you identify trends in user behavior, which will make it easy to adjust your strategy over time.
Final Thoughts
Writing emails is an art form. It takes time and patience to build rapport with subscribers and turn them into happy customers. Marketers who know how to tap into the needs of their customers and create compelling emails are more likely to find success.
If you follow the tips presented today, you'll have a better chance of improving with each message and winning over subscribers with interesting, persuasive marketing emails.