Some people make their clothes from scratch. But for most of us, it's easier just to buy them.
Some brave souls attempt DIY home renovations. But most of us know that we're better off trusting a trained carpenter.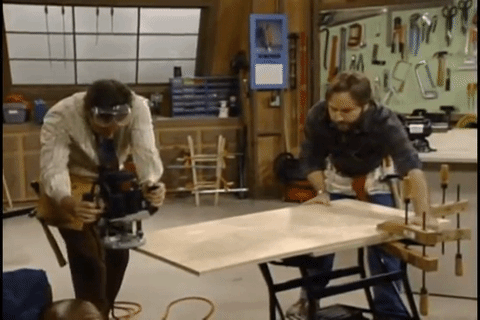 And some companies have the time and money to build a comprehensive media monitoring tool. But the smart ones just use an API. You save time, effort, and maintenance costs by relying on a tool that you know works, rather than building one yourself.
Whether you're building your own monitoring tool, upgrading your website, or adding listening to your existing app, a good API takes the torture out of the process.
To illustrate, let's look at three ways you can use an API like Mention's, and talk to the companies already seeing success.
1. Add social listening to your own tool
Socialdraft is a social media scheduling tool with some impressive extra features. These include a drag-and-drop calendar, PDF reports, and tools for better teamwork.

They also have an "Alerts" feature, which tells users whenever their keywords are used on social media. This powerful function, also known as social listening, helps Socialdraft clients react quickly to conversations about them online.
These kinds of features take a long time to build. And even then, you need to constantly improve it as new social platforms emerge and customers' expectations change.
That's why Socialdraft uses Mention's API.
As Head of Product Antonio Evans explains, "I can build a crawler. But we're not that big of a company. Why get one of my guys to spend three months – and three months' salary – to build a crawler, when there's a great API right here that does it for you?"
If they'd built the crawler themselves, Socialdraft would need to update it constantly. "There are so many other uses for it that we didn't notice at the beginning. Insurance companies use it to crawl Angie's List. So I'd have to build an Angie's List crawler, and then a Yelp crawler. It would be a full time job for my developers."
"Or, for a small amount per year, we can use Mention."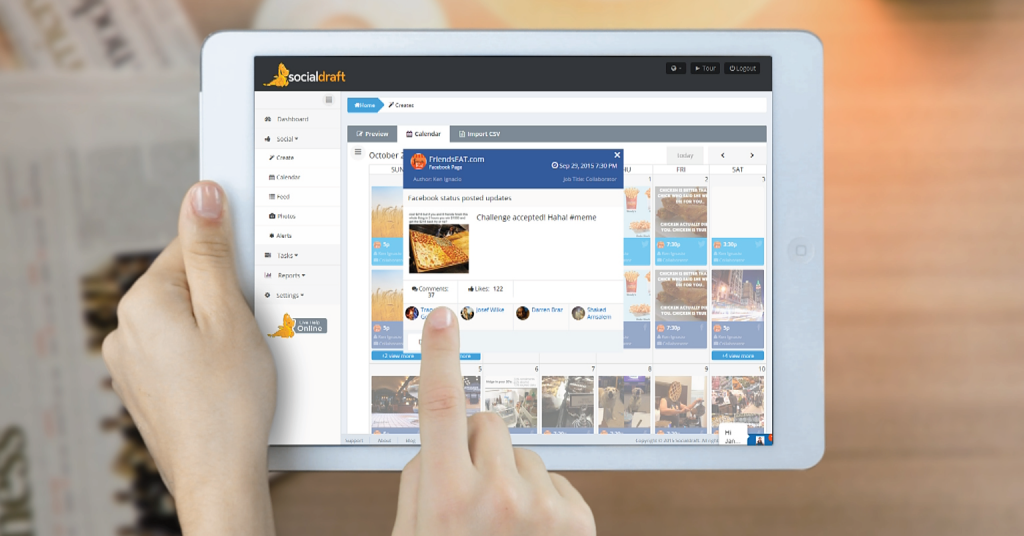 Aside from saving Socialdraft time and effort, using Mention's API lets their customers achieve specific business goals. These include real-time competitive analysis, and protecting their reputation thanks to sentiment analysis.
Competitive analysis
Socialdraft also helps clients monitor their competitors. "One of our clients owns a restaurant. He has a competitor who owns another restaurant in the same space. He's always watching his menu. Literally, day-to-day. He's using Socialdraft as a spy tool."
Because these comments are on review sites and social media, these clients can monitor their competitors in real time. They don't wait for new reviews or word of mouth to spread – they know straight away.
"He's not reading newspapers every day. He's using Mention."
Sentiment analysis
Sentiment analysis shows you quickly whether social media mentions are positive or negative. You can use this on a macro level to look for trends, or you can watch out for negative mentions as they occur. This makes it easier to protect your brand name from harmful reviews.
Socialdraft helps clients monitor these negative mentions. "One of our clients is a non-profit. They're really obsessive about their brand name. It's very important, because they make $200-300 million from their brand name. So if they hear someone talking negatively about their brand name, right away they have to interact."
Mention's sentiment analysis makes sorting feedback easier. "For restaurants, if it's a positive review, they can share it to social media. If it's a negative review, they can go and engage that person and find out how to make that customer happy."
Sentiment analysis is built-in to Mention's API, so companies like Socialdraft can easily offer it to their clients.
Learn more about how Socialdraft uses Mention's API
2. Create marketing campaigns around trending topics
We've talked about this marketing strategy before. Newsjacking lets you capitalize on the the hot topics of the day to bring yourself more exposure.
In a nutshell, you take a major news story or event like an election or the Oscars, and make it relevant to your own brand. Then, when people are looking for information or social media conversations around it, there's a good chance they'll find you.
For many brands, that means live tweeting and sharing reactions during the event. For Geckoboard, it means displaying big data in dashboards for everyone to see.

Geckoboard custom-builds analytics dashboards for all kinds of companies. If you want a way to share your marketing or sales numbers with your whole team, these guys can help.
To showcase their tool, they like to build public dashboards to monitor big events. In February 2016, they built a social listening dashboard to monitor the Superbowl. Sports fans love statistics and records, so this was an ideal event.


"We tracked mentions of the different players in the lead-up to the game, conversations about ads, and activity on the day," says VP Marketing Simon Whittick. "That brought us a lot of attention, and a lot of traffic."
This tactic isn't just great for publicity, it leads directly to sales. "The Super Bowl dashboard led to our biggest week of signups so far. I believe it was our biggest week of MRR as well – a 25% increase."
But Geckoboard isn't a media monitoring tool. They don't collect their own social media data. Instead, they use Mention's API to find these conversations, then integrate them directly in their dashboards.
They did the exact same thing for the 2016 United States presidential election. This meant collecting mentions of the main candidates, then displaying these alongside poll results and other interesting political data.
"Mention does a really great job of aggregating huge amounts of social data. Think about the sheer number of times that Donald Trump has been mentioned during the campaign so far. It's a huge volume of data. We can pull that information out of the Mention API and present it really nicely."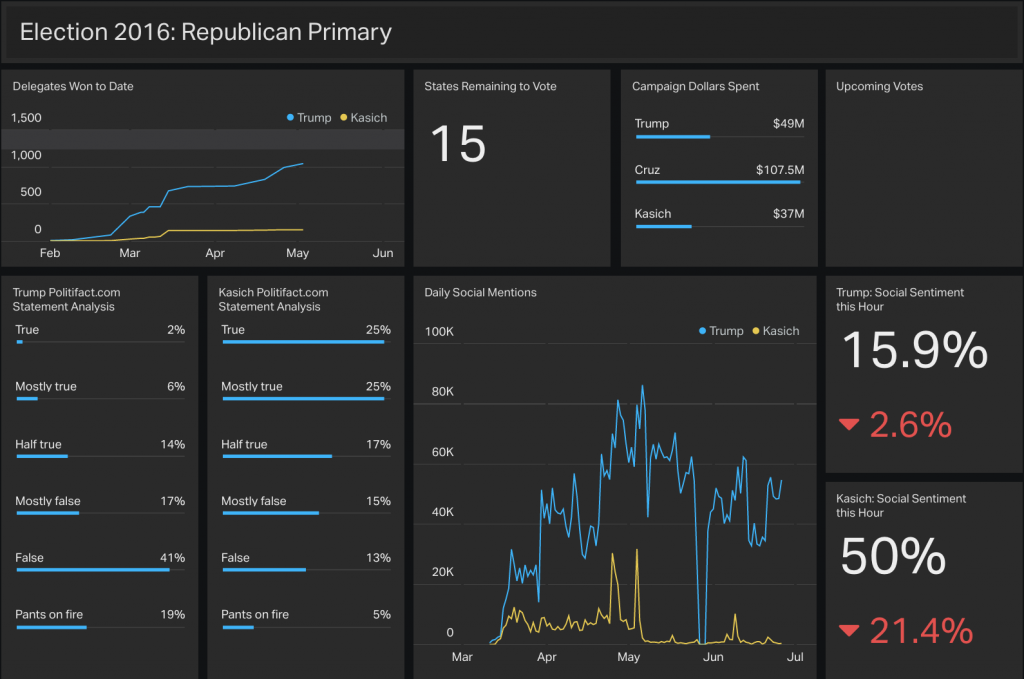 This dashboard also used sentiment analysis to show whether social media uses spoke kindly or negatively of the candidates. Since they were dealing with millions of mentions, it was a great way to find trends in those conversations.
"It's all well and good seeing the total number of mentions, but knowing how many are positive and negative is also really valuable. That makes a huge volume of data easily digestible, which is what we're all about."
At Mention, we did something similar called the "Social Media Olympics" during Rio 2016. We actually used our own API to build a dedicated page for the Games.
It's a fun way to bring extra eyeballs to your product. And in our case, it was an excuse to watch as many events as possible.
Read more about how Geckoboard uses Mention.
3. Find and share user-generated content
User-generated content (UGC) is a win/win for companies. Not only do you get to share authentic people using your products, but they do the work for you. That's more impactful content, for less effort.
Luxury watch brand SEVENFRIDAY knows this, and they make good use of UGC.

SEVENFRIDAY is easy to find on Instagram. #SEVENFRIDAY has been used more than 550,000 times. And most of the time, it's accompanied by a picture of a SEVENFRIDAY watch worn by a happy fan: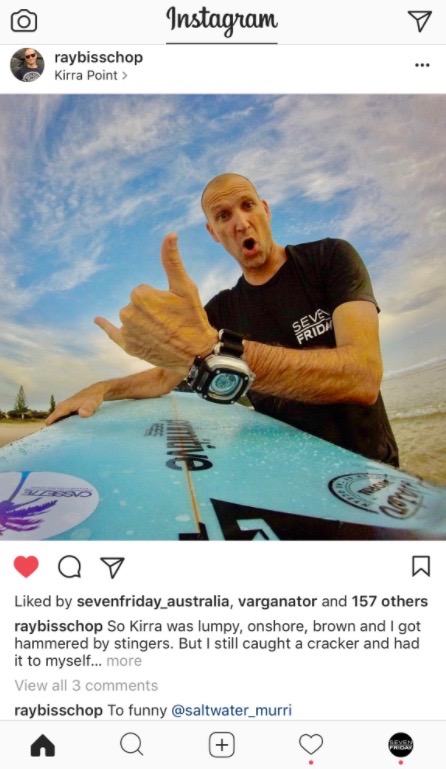 The company wanted to use these images in their online store to show buyers what they would receive. "We can take people from Instagram, direct it to our website, and make the images they were looking at before shoppable," says Global Brand Manager Ties Hendriks.
"We filter the nice pictures out, use Mention tags to mark product categories, campaigns, or events, then link them to our website." This keeps their homepage fresh, and allows shoppers to find and buy watches with to user content.
A media monitoring API like Mention's can help fuel UGC from any source, not just Instagram. Other clients display tweets in real time on their website, for example. This keeps a site full of timely and interesting content, and can be completely automated.
And you don't need to build a "crawler," or integrate six different social media APIs. You just take one stream, filter it however you need to, and connect it to your site. That's faster, easier, and almost certainly cheaper too.
Read the full SEVENFRIDAY success story
In short, if you want the benefits of media monitoring, but with more flexibility, try an API. This lets you do all the things we've seen above:
Social listening
Fetching data in real time
Sentiment analysis
Finding new content
But good media monitoring gives you even more options. Whether you want to build your own media monitoring tool – but without the hassle – or give more interesting information to your team, a monitoring API will help.
You'll also be able to:
For tech-savvy people, here's Mention's API documentation. Or, if you'd rather talk to us in person, just request a demo: