Discover our media monitoring tools
Explore the many ways that monitoring makes your business more effective, and helps you grow your brand.
Measure opinions
Quickly analyze public opinion
with sentiment analysis for all
mentions.
Customize your alerts
Filter by source, language, & date. Refine your alert by adding or deleting keywords.
Engage your audience
Connect your social accounts to respond to your community directly within the app.
Work together
Share alerts and tasks with your
team in a collaboration-friendly
dashboard.
Increase awareness
Discover brand influencers, bloggers, and press to help spread your message.
Manage a crisis
Mobile apps let you react
immediately, before problems
can spread.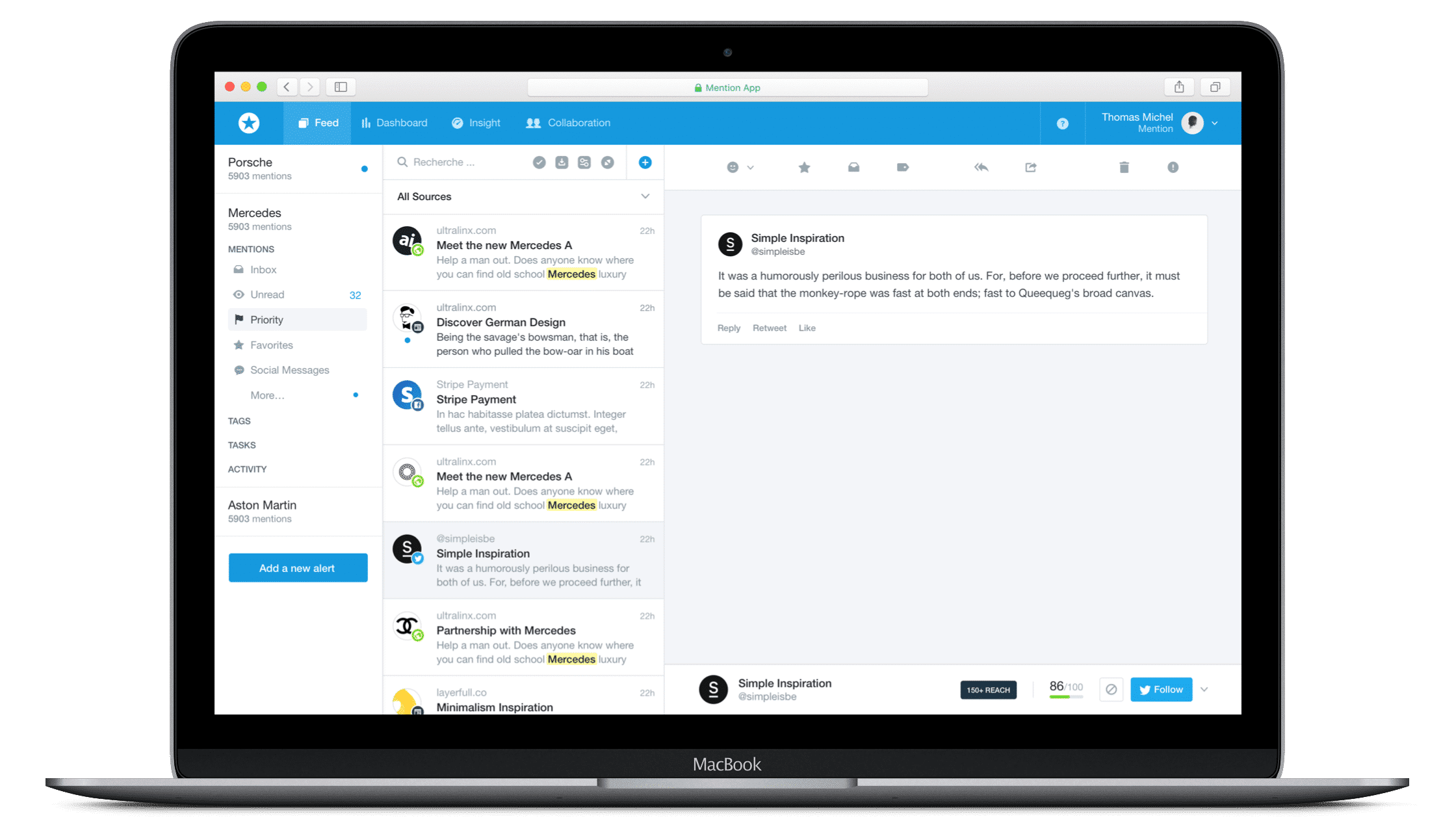 Media monitoring is essential
Everything is discussed online, including you, your company, and your competitors. Monitoring and listening to what people say is essential to understanding your audience.

Track your reputation across social networks like Facebook, Twitter, and Instagram, in addition to news sites, blogs, and millions more.
What about social
media monitoring?
Follow conversations, find customers, and track
your mentions on Facebook, Twitter, Instagram,
and more. Connect your social accounts to
comment, share, retweet, and react to mentions
straight from the Mention dashboard.
Comprehensive web monitoring
News, blogs, forums - if you're mentioned, you'll know about it. Discover and engage new influencers and potential ambassadors with our Influencers dashboard.
Find influencers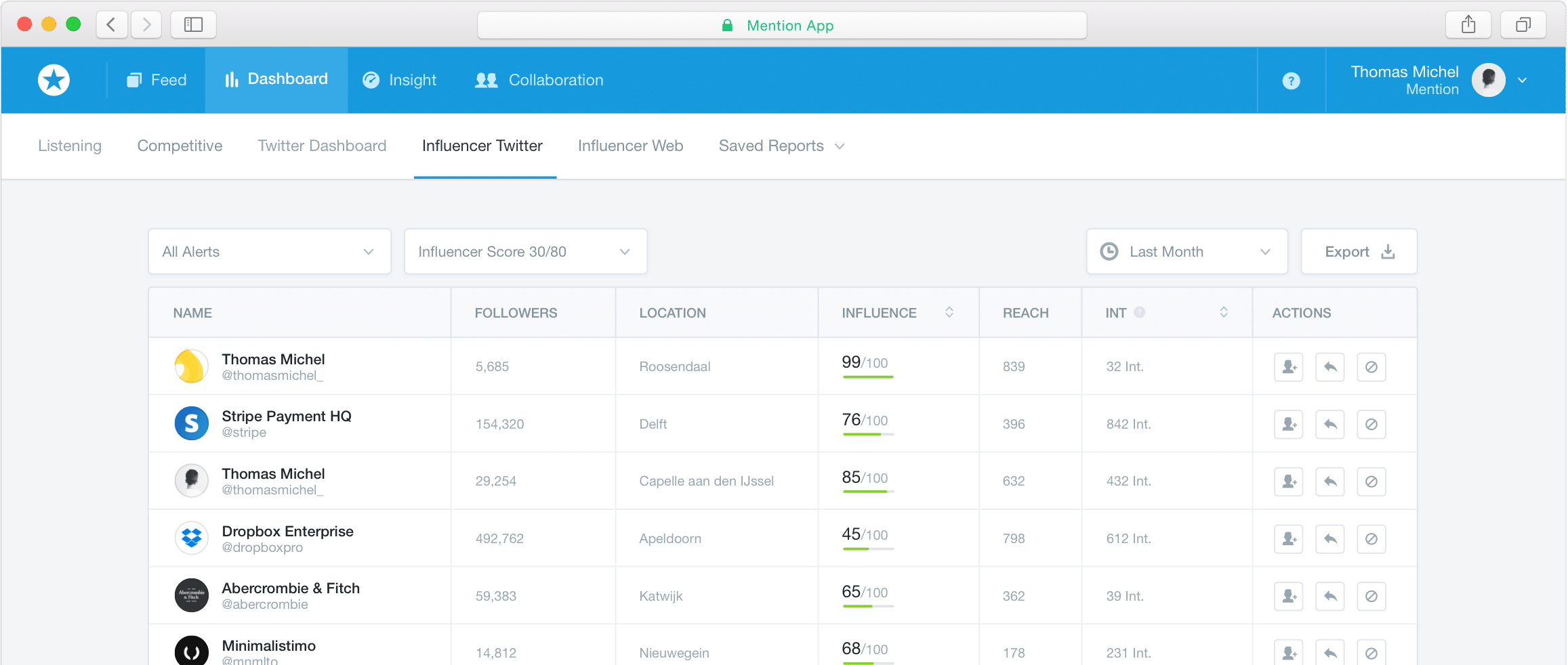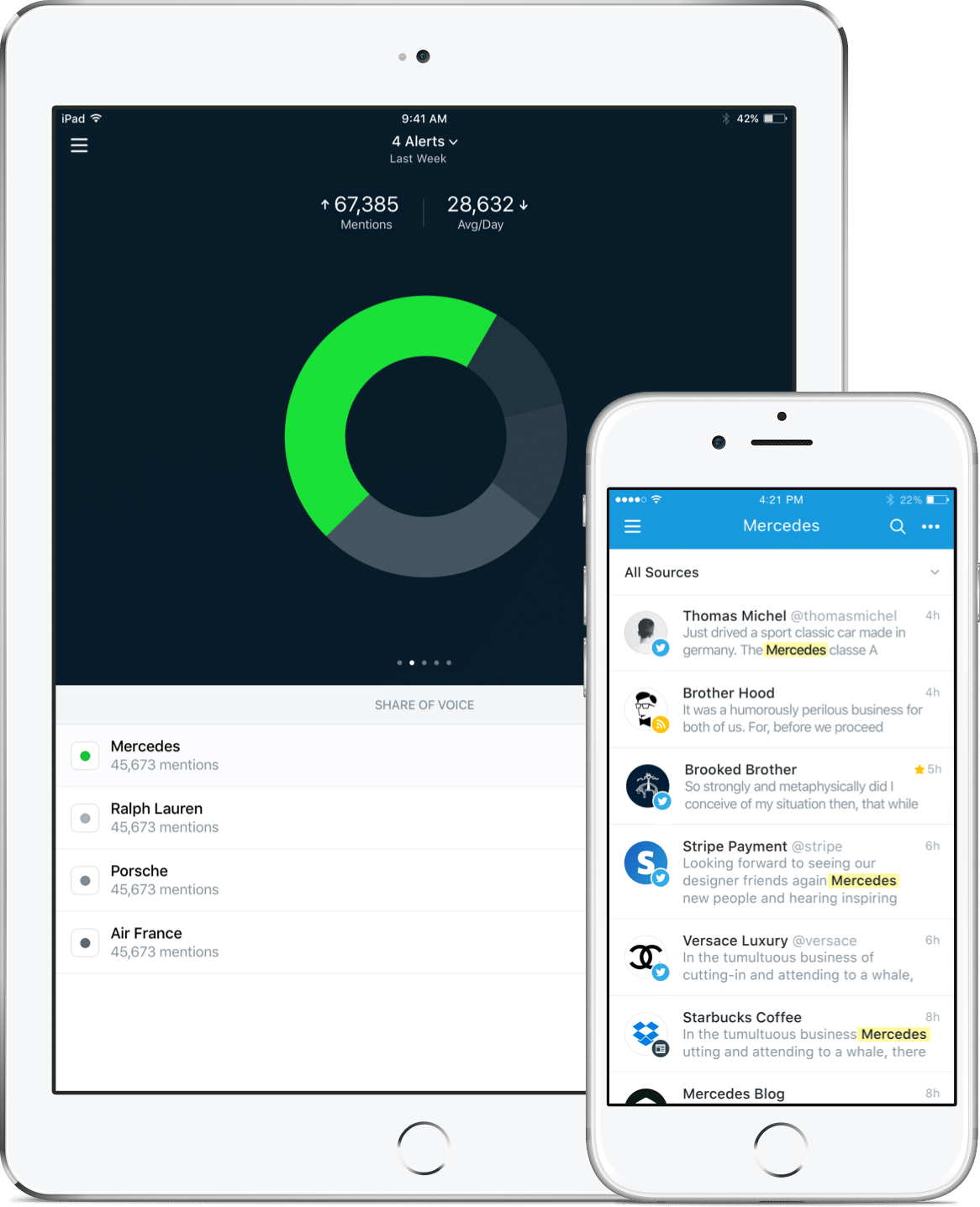 Complete brand
tracking & on mobile
People talk about your brand 24/7, and brand monitoring needs to be just as constant. Luckily, Mention never sleeps. We'll catch everything that's said about your brand, and deliver it to you in real time. Learn more about Brand Tracking.
Media monitoring for any brand
Everyone has different monitoring goals. Mention lets you achieve them easily, no matter what your needs are.
Mention for agencies
Track clients' campaigns, identify new outlets and coverage opportunities, and generate reports to send automatically to clients.
How agencies use Mention
Mention for schools
Track campuses, events, students, faculty, and alumni. Find stories to share with your networks, and respond to crises before they get.
How schools use Mention
Mention for business
Identify influencers, engage with your social community, and generate reports on your brand's online performance.
How businesses use Mention
650,000 companies use Mention daily.
You too can make better business decisions based on real-world data. Join us today.