Congratulations on an awesome YouTube video. But, the real work begins now. In this blog, I'll explain the different ways you can repurpose your YouTube videos and drive more traffic to it.
But, first, let us answer a few basic questions.
Why do I need to repurpose my videos?
Think about it, you've spent a lot of time and effort to:
Come up with ideas for your YouTube channel
Create/shoot those videos
Edit them to suit your brand/style
Fill in the descriptions, tags, etc.
Make thumbnails that stand out (this is such a pain!)
Spent an entire morning thinking about the best title
And so much more…
Furthermore, content creators must pay heed to this universal fact: Spend 20% of their time creating content, and the rest 80% distributing it. Not the other way around.
Why?
Because there is enough content on every possible topic under the sun. But, the majority of this content is not discoverable. Nobody knows where it lies.
It applies to your YouTube videos too. That's why you need to repurpose and promote your existing content on YouTube.
Okay, let us go over them one by one.
1. Make a podcast
This is one of my favorite ways to distribute YouTube content. Podcasting is here to stay and people listen to podcasts all the time – while driving, showering, or even while tending to their roses.
So, here is how you convert your YouTube video into a podcast.
Remember to set up a podcasting channel for yourself, such as Spotify, Anchor, etc. Then, you need to extract the audio file from your video, which is fairly easy.
Go to the original video file that you have used to upload on YouTube.
If you're using iMovie to edit your videos, go to the top-right corner of your video project, and click on the 'Share' icon.

You'll notice that you can export your file in the below formats:
Video and Audio
Audio only
Choose 'Audio Only' to extract your audio file.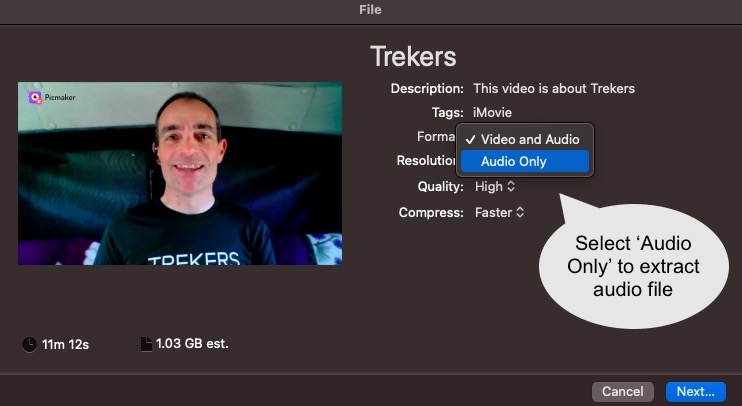 Woohoo! You have the audio file in your hands without the visuals. Now, you're ready to upload it in your podcast that you've set up earlier. This way, you barely need to move a muscle to get so many more people listening to your podcast.
(In this blog, I've explained how you could extract your audio file on iMovie. This feature is available in most video editing software too.)
Bonus tip: Every podcast channel gives you the opportunity to provide more details. Don't forget to give links to your YouTube video channel on each podcast description. This way, your podcast audience will know where to find you if they find your podcasts interesting.
Besides, you'd be astonished at the number of ways you could promote your podcast too.
Note: This tactic works best for videos that are conversational, opinionated, or discussion-based. But, if you rely on visual imagery, for example, explaining how to make a raspberry cake, then this may not be the best. In that case, you may need a separate audio file which can give you more views.
2. Write a blog post
This is one of the best ways to reuse your videos. And the good part? You need not spend 6 hours writing a blog on an existing YouTube video.
So, if you already have a website for yourself, besides your YouTube channel, then your YouTube video has another distribution channel.
If you're using a script to record a video, then that is awesome. Why? Because, you can create a blog with the script, and embed your video right at the top or wherever it fits.
However, if you aren't using a script to create a video, you could use the subtitles of a video to create a blog. Here is how you extract the subtitles of a YouTube video:
Go to your YouTube studio and click on 'Content' on the left-hand menu bar.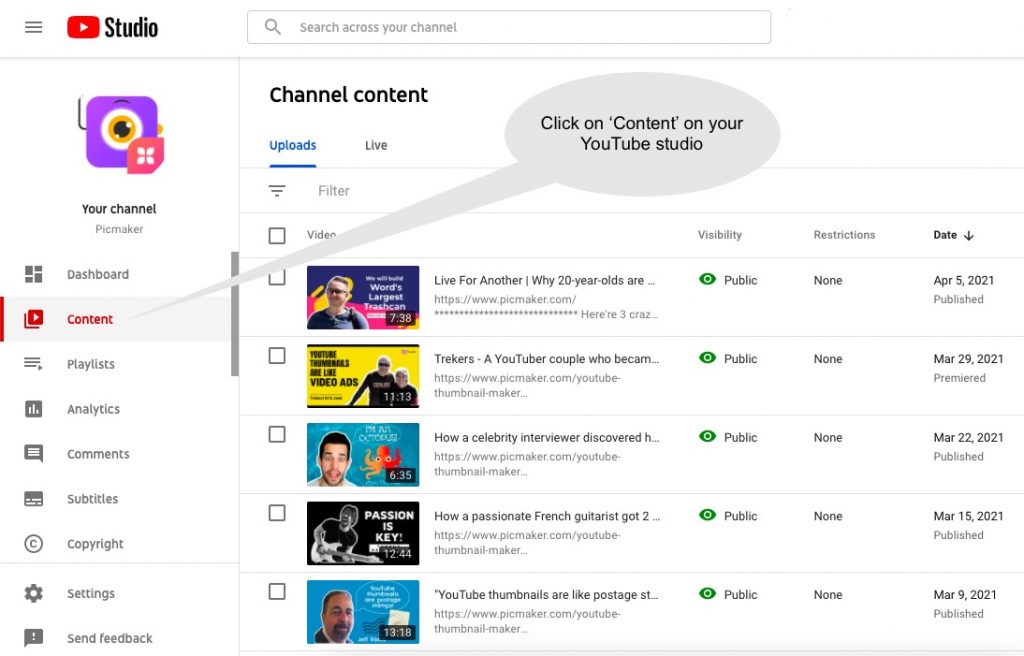 For a video that you select, click on 'Subtitles' on the left-hand menu, and then click on 'DUPLICATE AND EDIT.'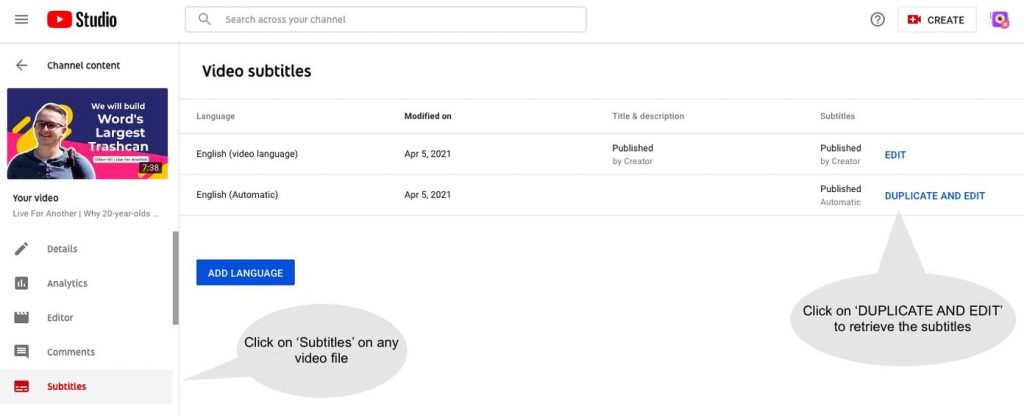 Now, unless you have uploaded your subtitles manually, this file will be raw/unedited.
Why?
Because YouTube's algorithm creates subtitles based on your voice. Nevertheless, copy the raw text of the subtitles.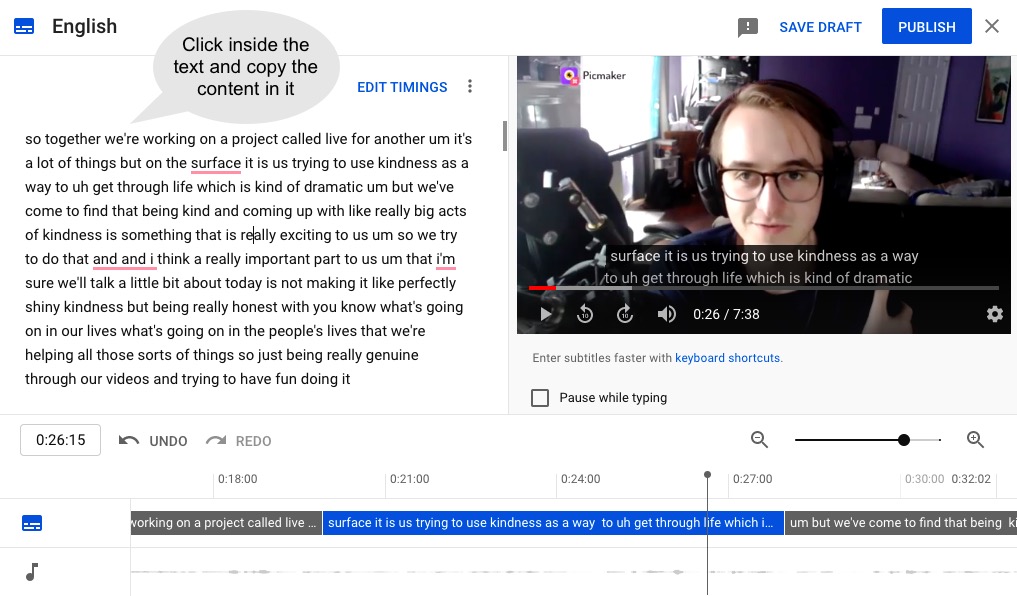 The next step is to edit it to make it easily readable.
So, copy and paste this raw content into your MS Word document or Google Docs to edit it. When you're done editing, upload this blog into your Content Management System (CMS) such as WordPress and publish it. Remember to embed your YouTube video in the blog.
Note: Don't edit the text within the subtitles field in YouTube, because it is quite cumbersome to do it.
Bonus tip: Remove words like the 'Um,' 'You know,' 'I mean,' etc. and make them into shorter sentences. If you've read interviews on popular news websites, you'll notice that despite the speaker's colloquial responses to a query, the copy you read is smooth. When you're done, publish it into a blog, preferably with a catchy title.
How do you benefit from this tactic?
This is a natural writing process because it originates from a vocal script. So, you'd have touched upon a lot of ancillary sub-topics along with your core topic. Therefore, such blogs will flow better. They will combine a cluster of sub-topics too.
Ever heard of hitting two birds with one stone? I just gave you an example of how that is done.
3. Embed your videos on a existing blog
If you already have blogs on a particular topic, then you should consider inserting your YouTube videos there.
Why is it important?
You'd have written your blogs after a lot of research. But, research proves that we love watching videos more than reading text.
So, go to your content management system, fish out those blogs that need a newer coating. Insert these videos into these blogs so that readers can view them while they are on it.
Besides, it makes your blog more relevant and contextual for your readers.
Note: If you rely on third party platforms like Medium or LinkedIn to write blogs, then go ahead and embed your videos on these platforms. Their readymade YouTube plugins ensure your videos render clearly on all devices.
4. Make small clips for social media distribution
This tactic acts as a teaser or an advertisement for your YouTube videos for all your social media channels. If you're active on Instagram, then you should surely do this.
Make small clips from your videos that can attract the right audience. These clips can probably stand on their own. But, the key here is to let the audience know that in order to watch the full video, they'd need to view your YouTube video.
For example, if you're explaining a recipe in your video, then make smaller clips of the preparation and put it out as Instagram reels. Or, maybe show the complete dish and how somebody is taking a spoonful out of it, and use it as an Instagram reel.
Instagram reels are 15-second clips that you can use as promos for longer videos.
You could use the whole video on Instagram's IGTV too with a proper description, and a link to to find your YouTube channel.
Bonus tip: If you're active on LinkedIn, you can use these clips to promote your video with posts. Remember to insert the YouTube video link in your post comments than inside it.
Why?
Because, unlike any social media, LinkedIn does not want their users to leave their platform. So, if you insert your link within a post, LinkedIn's algorithm will not promote your post as much within your followers.
5. Use stills from your video for social media
Your video will have loads of useful and informative content in it. So, why not bring them out more in the public domain?
Take screenshots of your YouTube videos, save it on your mobiles, and share them as:
Instagram posts
LinkedIn posts
Facebook posts
Tweets
However, to make it relevant on each of the above channels, you will need to write accompanying descriptions, insert hashtags etc.
Moreover, each of the above social media channels need you to post continuously so that they can recommend to your followers. So, why not use your YouTube videos to fuel your social media strategy?
But, how will you benefit out of it?
Think about it. YouTube stills are high-quality graphics that don't need too much work. Besides, they're extremely relevant to your category.
If you were to produce graphics individually for your social media channels, you'd need to spend loads of time ideating and creating them. (And, you might have to spend money to pay creative professionals.) But, not if you had a solid YouTube video strategy.
6. Reusing it even more with creatives
Now, you don't have to stop with the last tactic. Instead, go one step further and get more inbound traffic to your YouTube channel.
When you have a video ready, you can use free online graphic design software to make a series of creatives that users can flip one by one.
For example, LinkedIn allows you to share documents on its platform. Each page of this document can lead to the next page. The last page can have a call to action asking viewers to watch your video for more details.
Similarly, Instagram lets you post creatively, and so does Facebook too.
What's more? You can even use the URLs of your posts on LinkedIn/Instagram to embed in your blog or website. That way, people have a summary of your whole video in a few clicks.
Bonus tip: You can create a series of posts and host it on platforms like Pinterest. They continue to attract a lot of views and traffic for creatives that are done thoughtfully.
7. Answer Quora questions
Quora is still a favorite amongst those who are seeking answers. So, go ahead and answer questions around your video topics.
But, remember, Quora also loves answers that are not artificial and have interactive media around them. That includes graphics, charts, video, etc.
So, when you're answering a question on Quora, make sure you embed a video in your answer. It helps people gather more information and context on any given topic.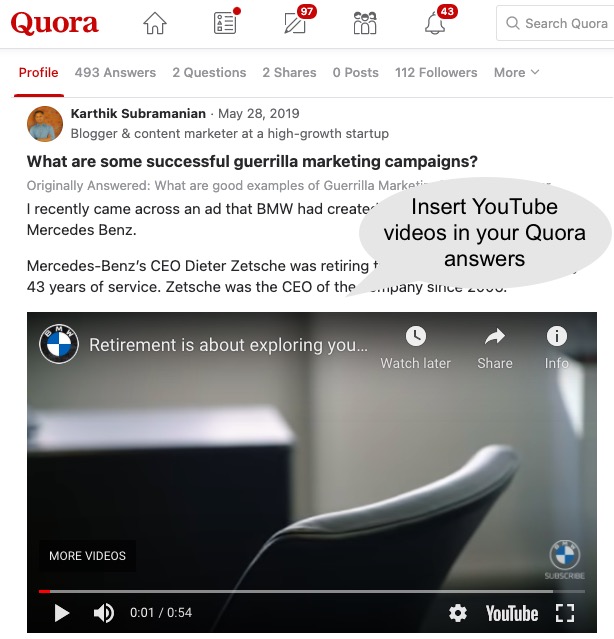 8. Publishing videos via newsletters
If you've built an email list over the years, then this one's for you. (Read this blog to know how to improve your email marketing campaigns.)
Before proceeding any further, here's what you need to keep in mind while adopting this tactic:
Use a reliable email provider to send emails. If your list is larger than 20k, you might need to use vendors such as MailChimp, ConvertKit or similar tools. If you're stuck on deciding which one to go for, this email tool comparison might help.
Come up with an attractive subject line that gets your subscribers to open your email.
Use a short copy for your email. The shorter your copy, the higher your chances of getting views.
Copy the URL of your YouTube video and embed it into your email. This ensures that your audience can view it right inside their inboxes rather than going to YouTube to view it.
Ensure your email id is sufficiently warmed up to avoid bounces.
Bonus tip: When you have a collection of videos on your YouTube channel, send a fortnightly or monthly newsletter that features them collectively. You could even have a special edition newsletter that combines videos of a certain category.
Wrapping up: Which tactic/s works for you?
Until now, we've seen a number of smart tactics to reuse your YouTube videos. Let us recap them so you don't forget them:
Make a podcast
Write a blog around your video
Embed your videos in existing blogs
Make small video clips for social media
Use stills from your video
Make creatives out of your videos
Answer Quora questions
Publishing videos via newsletters
Each of these tactics are easy to implement and do not cost you much. Moreover, they are interlinked. For example, if you're using used tactic #5, you can make a creative with it that suits tactic #6.
But, remember, no matter which tactic/s you choose, you need to stay invested in it for the long run to see results.
Check out our YouTube Video Downloader to effortlessly save your favorite videos and apply these tactics seamlessly.