Amazon's global ad revenue is set to reach $26.1 billion this year. The eCommerce mammoth is constantly expanding its ads service portfolio and giving advertising tech giants like Google and Facebook a run for their money.
Keep reading to learn just about everything you need to know about Amazon Advertising — what it is, why it's worth investing in, some ad placement options, and optimization strategies.
What are Amazon ads?
Previously called Amazon Marketing Services (AMS), Amazon Advertising is an umbrella term for all the advertising solutions Amazon offers its sellers, vendors, and registered brands.
Amazon Advertising can be broken down into two main categories:
Self-Service Amazon CPC (cost-per-click ads): Includes ads on the Amazon website.
Managed-Service Amazon demand-side platform (DSP): Includes CPM (cost per thousand impressions) ads both on and off the Amazon website.
The second category lets advertisers (even if they don't sell on Amazon) programmatically buy display, video, and audio ads to reach audiences across Amazon-owned sites and apps, like IMDb, and other publishers' sites via direct inventory from Amazon Publisher Services and third-party exchanges. Amazon DSP ads typically require a big budget of at least $35,000, and unlike a CPC campaign, which you can create and publish relatively fast, you'll need to contact an Amazon Advertising account executive to get started.
So, for the most part, we'll cover self-service advertising solutions as they're easier to get started with for new brands looking to test the waters of Amazon Advertising.
But you may be wondering…
Should you market your product on Amazon?
In a word, yes!
For starters, stats suggest Amazon is the fourth most popular site in the US, gets over 2 billion visitors each month, and has over 300 million active users. So building a stronger presence on Amazon makes a lot of sense.
What's more, Amazon searches have a high purchase intent — people who see your ads are ready to buy. Plus, well-crafted ad campaigns not only help drive more sales but also improve your organic rankings and brand awareness on Amazon.
No wonder 32% of sellers say that the ability to use Amazon's Advertising solutions effectively is one of the most significant contributors to their success.
As such, Amazon is a great platform to supplement your eCommerce operations. If you compare Amazon to other platforms like Shopify, selling on Amazon means you don't have to worry about fast shipping, customer care, returns, etc. Couple that with the built-in advertising solutions and — and you can boost sales quicker.
So whether you run your own branded WooCommerce store or are a private-label reseller, if you've established a foothold on other major ad platforms like Google, Facebook, Instagram, etc., then investing in the next big advertising network is almost a no-brainer.
Types of Amazon ads
Now that you know the what and why of Amazon Advertising, let's dive into some of the ad placement options you can use to promote your brand and its products on Amazon.
Amazon sponsored ads
Most brands start their Amazon Advertising strategy with a Sponsored Products ad campaign. These are keyword-targeted self-service CPC ads for individual products that show up in the search results and competing product pages.
With keyword research, you can easily get started with these ads to promote products that you think would work best to drive some quick sales.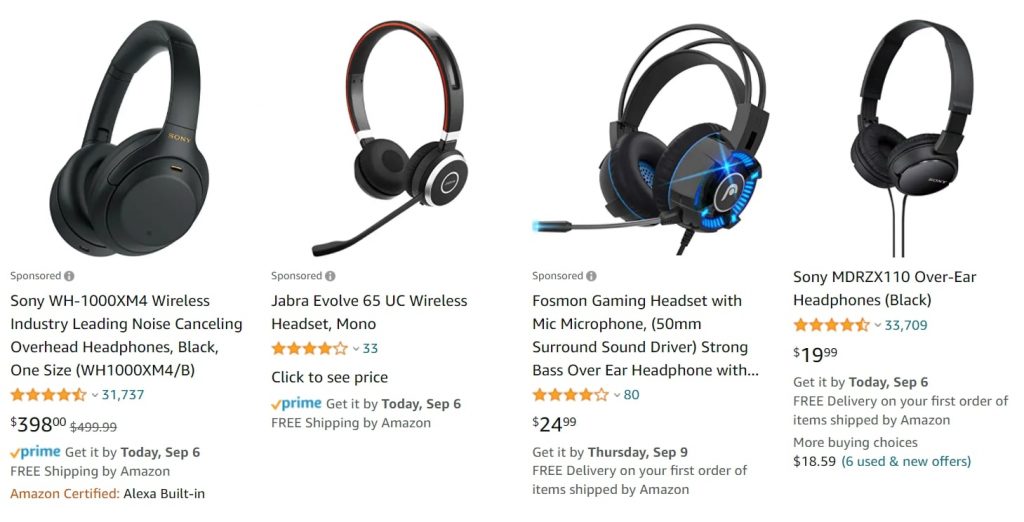 In the above screenshot, the products with the "Sponsored" tag are ads targeting "headphones" as a keyword.
If you go for the manual keyword targeting option, you can set your keyword search specificity to broad match, phrase match, or exact match:
Broad match: In this case, keywords can appear in any order in a search query, and additional words may be included (i.e., if your target keyword is "gaming headset," your ad will also appear for "gaming headset with mic"). This exposes your ads to the greatest amount of traffic but can potentially reduce the relevance and thus, click-throughs.
Phrase match: These ads target the sequence of the keywords in the order entered but may include other words before or after (i.e., "gaming headset for laptop" and "extra bass gaming headset" will both display your ad).
Exact match: The most restrictive type, the user's query must include the exact keywords for your ad to show up and no other words. So only "gaming headset" will be targeted.
Alternatively, you can opt for automatic keyword targeting, wherein Amazon's algorithm does the hard work for you to target the most relevant keywords for your product ads. You can also go for the product targeting ad type, wherein you target your competitors' product pages instead of keywords.
To evaluate the performance of your ads, Sponsored Product Ads has a reporting tool that shows your ad's clicks, spend, sales, and advertising cost of sales (ACoS).
Below are a couple of best practices to use Amazon Sponsored Product ads correctly:
Find keywords that have low conversion rates or aren't relevant to your product and set them as negative keywords, so your ads only reach the right audience with high intent.
In manual targeting campaigns, if eligible, use Bid+ to boost the odds of your ad showing up at the top of search results.
Amazon headline search ads
Now called Sponsored Brands ads, this self-service ad format lets you display keyword-targeted CPC ads for a set of up to three products above, below, and alongside Amazon search results.
As the name implies, Sponsored Brands help boost brand awareness by prominently showcasing your brand name, logo, and custom ad creative (headline plus product thumbnails) in relevant shopping results. You can drive traffic to your custom Amazon storefront or a specific product page on Amazon.

In the above example, if you click on one of the three products, you'll be redirected to that specific product page. If you click on "Shop the Galateo Italia North America Store on Amazon," you'll be redirected to the brand's Amazon Store, which is similar to a custom eCommerce website on Amazon (more on that in a later section). And if you don't have an Amazon Store, you can send people to a custom Amazon landing page.
Here are a few best practices to make the most of Amazon Sponsored Brands ads:
Feature your three top-performing or most popular products in your Sponsored Brands campaign to try and maximize click-throughs and sales.
Include the biggest benefit in your ad's headline as mobile shoppers can only see the ad's banner image and headline.
Run tests to optimize conversions. Change only one variable at a time (such as the order in which your products appear, headline copy, etc.), and run tests for at least two weeks to get meaningful insights.
Amazon product display ads
Another self-service ad solution, this CPC ad format offers a variety of placement options, such as:
Amazon's homepage
A competitor's product page
Below search results
Customer review pages
And more.
The major difference between this format from the previous two is that rather than targeting keywords or competing products, you'll target customers based on interests, shopping behaviors, and if they've viewed any of your product pages in the past. But you can also target specific products and category pages.
You have access to a reporting tool to see your campaigns' clicks, spend, sales, advertising cost of sales (ACoS), detailed page views, average cost-per-click (ACPC), and more.

Keep the following couple of best practices in mind if you plan to use Product Display Ads:
Use product targeting to upsell and cross-sell your customers on competitor pages, complementary product pages, and your own product pages.
Write headlines with enticing adjectives like "Exclusive" and "New" but never make claims like "#1" or "Best Seller," or your ad will get rejected.
Amazon native ads
Like the usual native ads that appear on a web page but don't really look like ads, Amazon Native Shopping Ads are ads that you can place on your brand's website.
The difference is that instead of showing recommended content, you display highly relevant product recommendations that lead people to purchase from your Amazon store. You can place native ads at the end or within your content flow.
"Native Shopping Ads, placed on the bottom of our articles, have performed well. The native ad blends well with our content and does not look like an advertisement which provides value to users browsing our articles," says Derek Scott, Editor at Android Authority.

Within Amazon Native ads, you have three options:
Recommendation Ads: Place these ads in product article pages to automatically show relevant product recommendations from Amazon based on your content and visitors.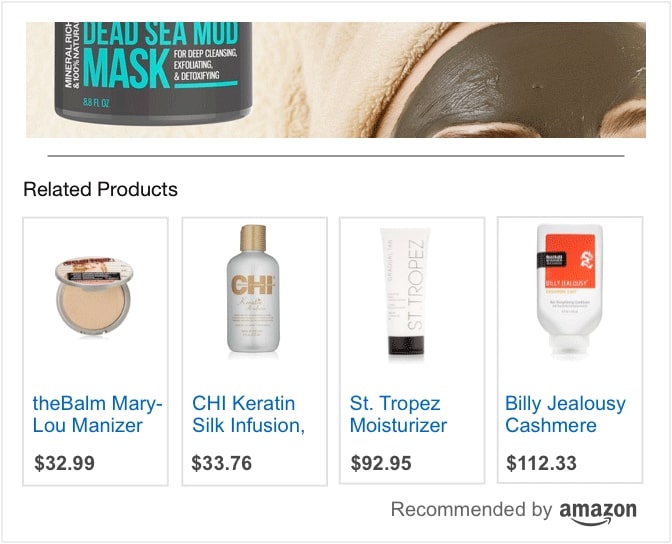 Search Ads: These ads enable visitors to use search results from Amazon directly on your website. People get product recommendations based on their search phrases or keywords they enter on your website or Amazon.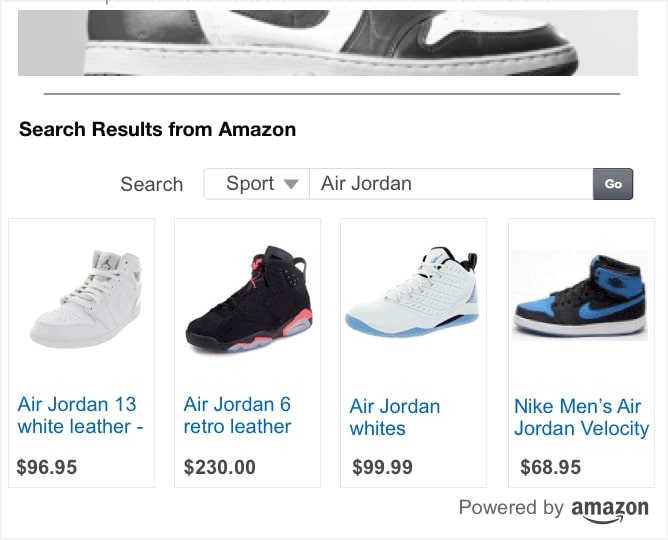 Custom Ads: Have a specific set of products you'd like to promote on your website? Use this placement option to pick your own set of products to showcase within your product article posts.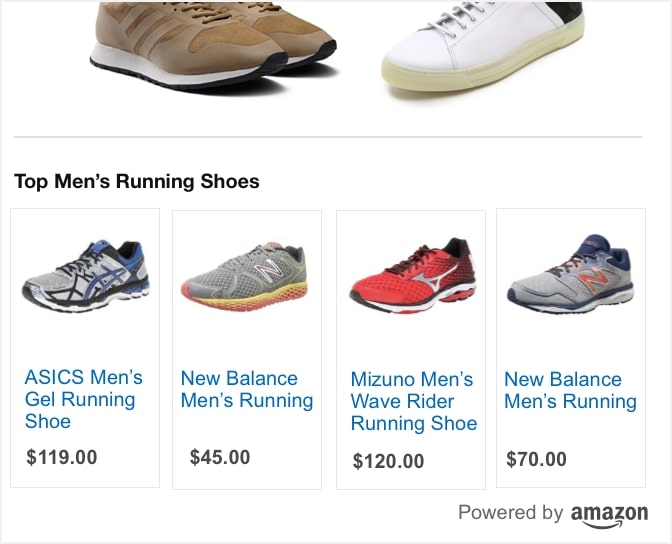 If you plan to use Amazon Native Shopping ads, follow a couple of best practices:
Focus on making the product recommendations as relevant as possible to the page's content, so it appears as a natural call to action.
Encourage people to check out your product catalog on Amazon with an explicit concluding paragraph in your blog posts.
Amazon video ads
Wish to stand out from your competitors on Amazon's search results page for your target keywords? The Sponsored Brands video ads placement might just do the trick.
These ads are CPC and take customers directly to your product page where they can learn more and buy.

Note that we're not talking about streaming TV and online video ads that let you place video ads on Amazon-owned sites like Amazon.com, Twitch, and IMDb, Amazon devices like Fire TV, and various properties across the web. As a part of Amazon DSP, these typically require you to opt for the managed-service option, for which you need to spend a minimum of $35,000 to work with Amazon's ad consultants.
Sponsored Brands video ads play automatically when 50% of the video is on-screen and are mute by default.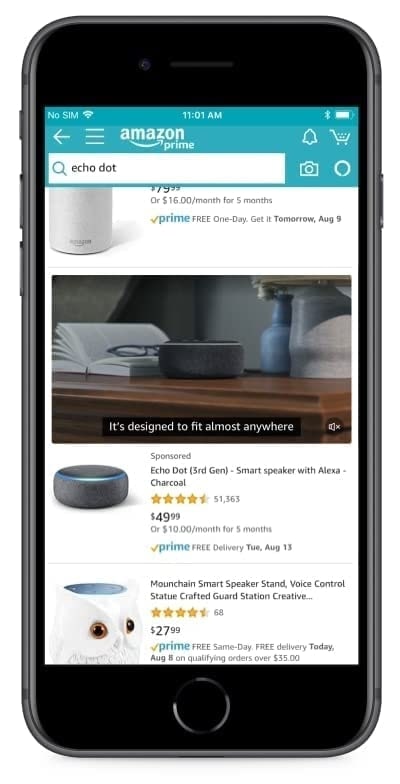 When creating a video ad, be sure to follow these best practices:
Create a demonstrative, product-focused video that answers customers' questions.
Keep your videos to the point, covering only the key features and benefits, as the optimal video length is just 15–30 seconds.
Add captions, so customers don't have to unmute to gain value from your video.
The video will loop automatically, so focus on making the loop as smooth as possible.
Do not use fade-in effects or have black bars on any side of the video.
Have on-screen text and captions greater than 30 pts.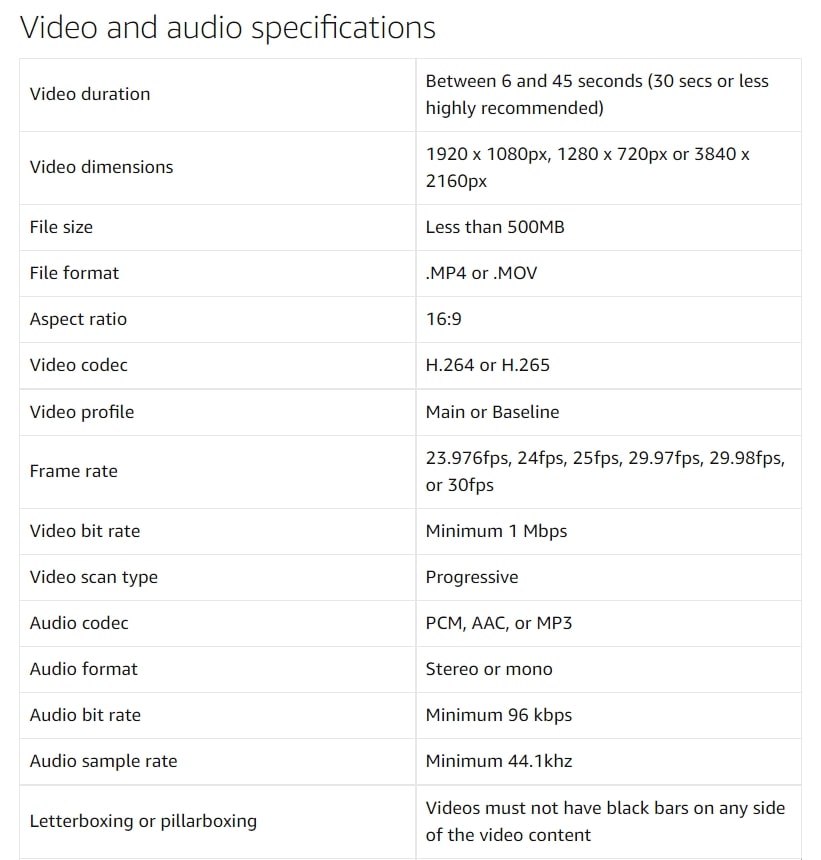 A well-crafted video ad with compelling visuals and subtitles instantly conveys all the key details a potential customer wants to know about the product. Review Amazon's video guidelines to avoid creating a video that gets rejected.
Amazon stores
If you've enrolled in Amazon's Brand Registry Program, you can build an entire multi-page eCommerce store on Amazon through the advertising console, free of cost.
Using a drag-and-drop builder and templates, you can add subcategories, images, videos, banners, and other modules on a dedicated destination where there's no clutter or ad distraction from other brands. You also get your own Amazon URL (amazon.com/BRANDNAME) and can view the analytics (sales, visits, traffic sources, etc.) of your store's performance.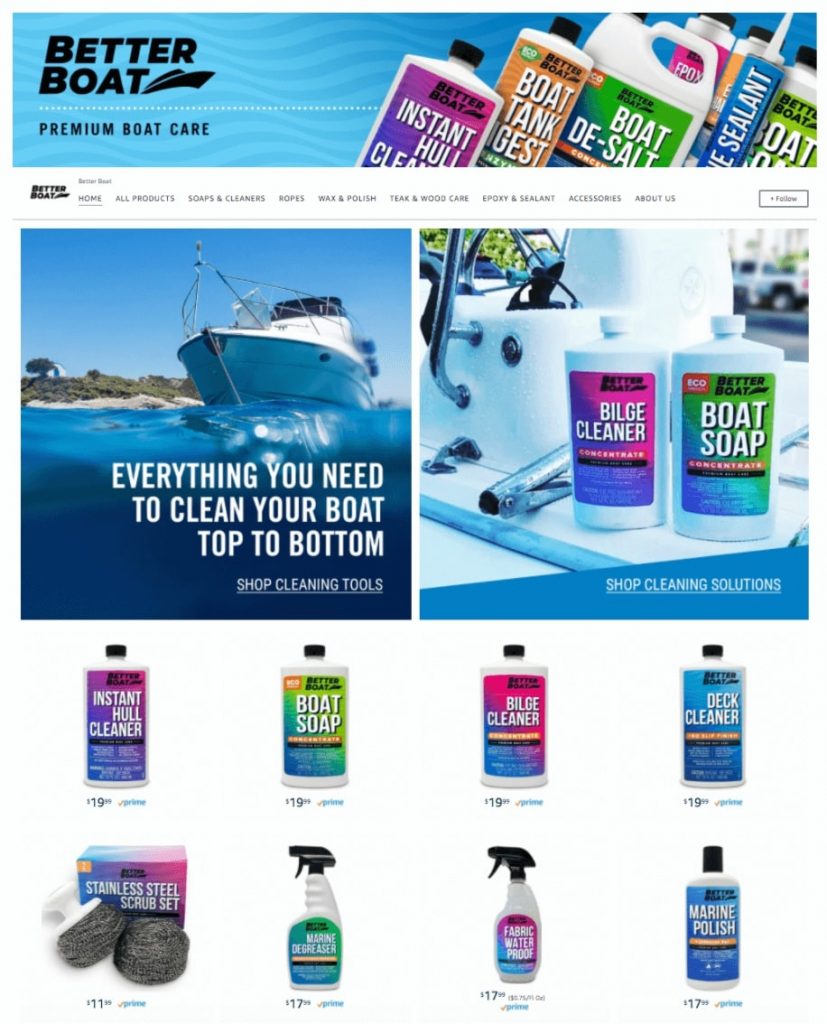 If you build an Amazon Store, make sure to follow these best practices:
Use high-resolution product photos and videos with easy-to-read captions and pricing.
Showcase your top-selling products first, along with newly launched ones.
Categorize your products in the top navigation bar.
Use the Stores insights dashboard to track and improve your store's performance.
Help shoppers learn your brand story with a detailed "About Us" section.
Amazon marketing optimization strategies
With so many brands and products competing on Amazon, you may be a bit skeptical about the efficacy of Amazon Advertising. You may have the best eCommerce marketing arsenal, but you need to go beyond a basic bid-and-forget strategy when it comes to Amazon Advertising success.
Here are five ways to make your ads stand out on the eCommerce giant.
1. Structure your campaigns by product category
If you have experience running Google Ads, then you know what's coming — the first step is to structure your campaigns and ad groups on Amazon's ad platform.
Create a separate campaign for each of your primary product categories, and then under each campaign, create specific ad groups. For instance, if you sell men's running products, you can begin with your top three best-sellers:
Men's running shoes
Men's running shorts
Men's running socks
Under each campaign, build ad groups for particular categories. For example, the first campaign could have three ad groups: men's daily trainers, men's marathon racing shoes, and men's tempo running shoes.
For each ad group, chalk out a list of relevant keywords (stay between 15-30 keywords per ad group). And then, pick a relevant ad format and craft the copy for each keyword group.
A well-thought-out account structure helps you create more relevant ads, which in turn helps cut down costs and improve your ROI. So, be sure to structure your ad campaigns by product category. If you have a lot of product categories and subcategories, consider using a product management tool to keep track of them all for efficient campaign structuring.
2. Create a compelling and specific copy
Of course, first and foremost, your ad copy needs to be accurate and descriptive about what you're selling. Mention the key features, attributes (size, color, quantity, etc.), and your brand name at the end, if possible.
But you can make it more compelling and stand out by incorporating a sense of urgency. For example, if you're selling a limited edition product, be sure to make it prominent in your ad, such as in the one below.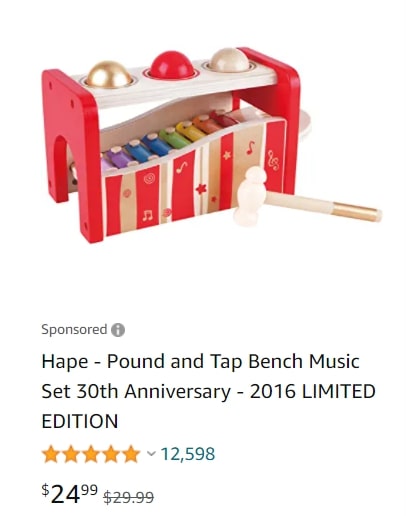 Another important best practice when it comes to ad copy is to write one that's super-specific in terms of what you're selling. Let's say you're selling an action camera. Your potential customers want whether it's waterproof, if it shoots in 4K, if it has video stabilization, extra batteries, and what have you.
It may not be easy to pack all information in the ad title, but make sure to include the most essential details in the headline itself.
Check out the action camera example below from GoPro to see how it's done. The headline nails pretty much every detail a customer would need to click-through and finalize the purchase.

3. Use a mix of ad formats
While sponsored product ads may seem to drive the quickest and most tangible ROI, headline search ads, aka sponsored brand campaigns, could result in more loyal, repeat customers by building better brand awareness.
So, when starting out with Amazon Advertising, it's worth trying out a mix of ad formats to learn which fetches you the best ROI. Once you know what works best for your products, you can double down on that by reallocating your budget to specific ad types.
4. Use negative keywords wisely
This one's similar to pay-per-click advertising on Google, where you'd use negative keywords to minimize wasted ad spend from irrelevant clicks.
For instance, you're an optometrist who sells eyeglasses. If you bid on the keyword "glasses" with a broad or phrase match, then someone could type in "wine glasses" or "beer glasses," and your ad could still show up.
If they unwittingly click on your ad, you'll be paying for a click from someone intending to purchase a set of drinking glasses, not eyeglasses. And so, take the time to think of negative keywords to avoid paying for irrelevant clicks.
Furthermore, be prudent with your match types. Try to keep away from broad matches, focusing more on mid-to-long-tail phrases and exact match keywords. For example, rather than simply targeting "running shoes," you can consider targeting "lightweight running shoes" — it's all about being more specific to target your ads at a smaller but higher-intent audience.
And, of course, invest time in conducting thorough keyword research to make sure you're targeting the right keywords.
5. Test out sponsored brand vs. sponsored products
Our final tip is to test and determine what works better for your goals, considering the two primary ad types — sponsored brands and sponsored products ads.
Let's look at an example.
When we look for "whey protein" on Amazon, the first ad placement we see at the top is Zomato's sponsored brand post, which showcases their products in a banner along with one product as a separate title. This helps build brand awareness and drive sales.

But when we click on an individual Zomato product, at the bottom right of the product page in the "Buy Now" column, we find a sponsored product placement from Abbzorb Nutrition for their whey protein product.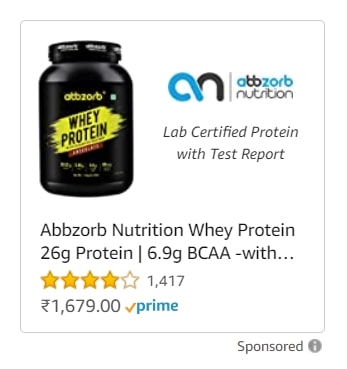 And that's the difference between the two ad placements. Simply put, a sponsored brand placement can showcase a few of your products and is the way to go if you wish to boost brand awareness around a particular line of products.
On the other hand, a sponsored product placement is essentially a CPC ad that puts individual products in front of high-intent buyers on Amazon. These are better-suited if you wish to drive direct sales to a specific product or target a niche set of prospects (for example, people who have already arrived at a competing product but are hesitant to see the purchase through).
Time to zone in on amazing returns
At the end of the day, Amazon wants brands like yours to succeed. That's how Amazon itself continues to grow into an eCommerce mammoth. And that's why they continue to offer new advertising solutions to improve brand awareness and sales.
Sponsored product ads are a good bet to get started with Amazon Advertising and quickly reach new customers and boost sales. You can then experiment with other ad placements, such as product display ads, and ultimately figure out the right advertising strategy for you.
To conclude, as more and more people continue to get hooked to Amazon's near-unparalleled convenience, Amazon advertising can make an increasingly impactful difference to your eCommerce success.