Keeping track of customer demands and communications is becoming an increasingly complex discipline. The buyer's journey today spans a growing number of touchpoints, and people expect the businesses that they interact with to know more about them as the relationship grows beyond marketing and sales nurture to encompass support, success and even advocacy.
Amid all of this demand, CRMs, or customer relationship management tools, are becoming the bedrock of a data-driven business. Sales and marketing departments keep expanding to new platforms, consumer priorities are changing constantly, and customer loyalty has withered away, making it ever more vital for organizations to stay on top of their customer relationships.
However, just 32% of organizations have a single view of customer information, which is one of the central benefits of a CRM. At a time when CRM adoption is above 90% for companies with 10 or more employees and the CRM market is expanding at a CAGR of 13.3%, that indicates that many companies aren't using the right kind of CRM for their needs. And yet, demand for CRM tech is projected to more than double by the start of the next decade.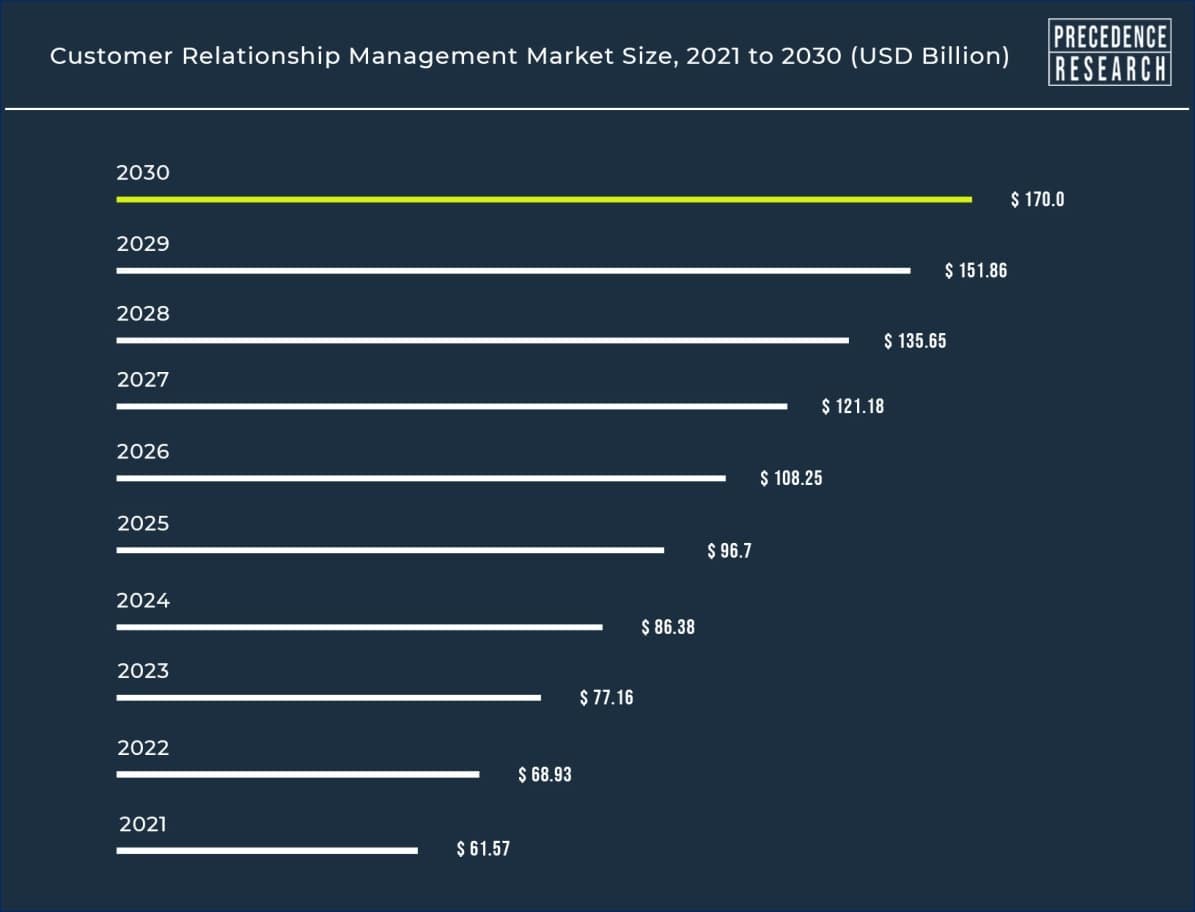 According to recent research, 85% of customers expect consistency in their interactions with your company. That's tough if every employee is reading from a different hymnbook.
At the same time, customers are demanding more personalized relationships, with 73% of buyers indicating that they expect companies to understand their unique pain points and preferences. And 64% of B2B buyers citing impersonal cold calls as the main reason why they wouldn't buy from a given vendor.
Diversifying use cases for relationship management tech
Today, there are many ways to approach CRM, and this variation isn't only about pricing or the design of their interfaces. It's also, and much more importantly, about the emphasis they place on different aspects of customer relationship management.
For example, marketing, sales, and customer support departments all use a CRM, but with different goals and different ways of relating to customers. They track different KPIs, too. Sales might track pipeline and revenue, marketing may measure lead conversions and engagement, and customer support could monitor response times and satisfaction rates.
As such, all of these roles need different functionalities. In larger companies there are even differences in CRM use _within _marketing departments, with some focusing on social media interactions, for example, and others on triggered email marketing automation or lead scoring.
It's likely that the two-thirds of companies that are using a CRM without enjoying a single source of truth for customer preferences have been confused by the complexity involved in choosing a CRM today. They might have even ended up with the wrong CRM for their role or objectives, and are having to invest more time and effort to use a tool that's working against their needs.
Here are six top CRMs for your company to consider, depending on your business size, style, and operational requirements.
Table of Contents:
Best CRM software for marketers
Hubspot is well-known for marketing and sales knowhow, and it's channeled its expertise into a CRM that grows with your company, making it a good choice for businesses that are expanding rapidly.
The basic CRM is free, easy to use, and offers functionalities for marketing, sales, and post-sales customer support. As your organization scales and departments have differentiated requirements, you can upgrade to incorporate additional marketing sales, CMS, and support tools in the Hubspot suite.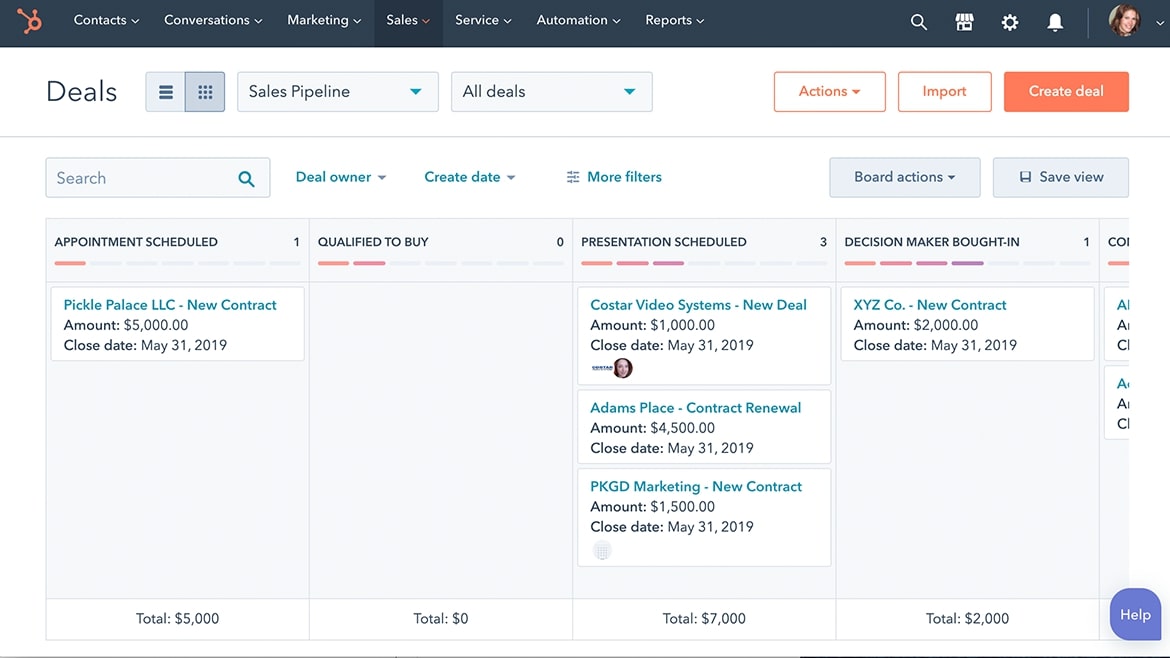 Each hub offers slightly different features. Depending on which plan you choose, the Marketing hub offers A/B testing and SEO optimization; the Sales hub includes conversation intelligence and a product library; the Service hub offers call routing and automated email sequences; and the CMS hub brings optimized website templates and a website builder platform.
Best CRM software for social media prospecting
Nimble differentiates itself by focusing on social media prospecting, making it a great option for any business that relies heavily on social media and/or has a significant presence on multiple channels.
Nimble can extract data from social media to bring you to a multidimensional understanding of customer preferences and behavior, and manages the data, so you can manipulate and explore it more easily. You can also use the CRM to enrich prospects' profiles as you browse social platforms and websites, and even to engage with people on the fly.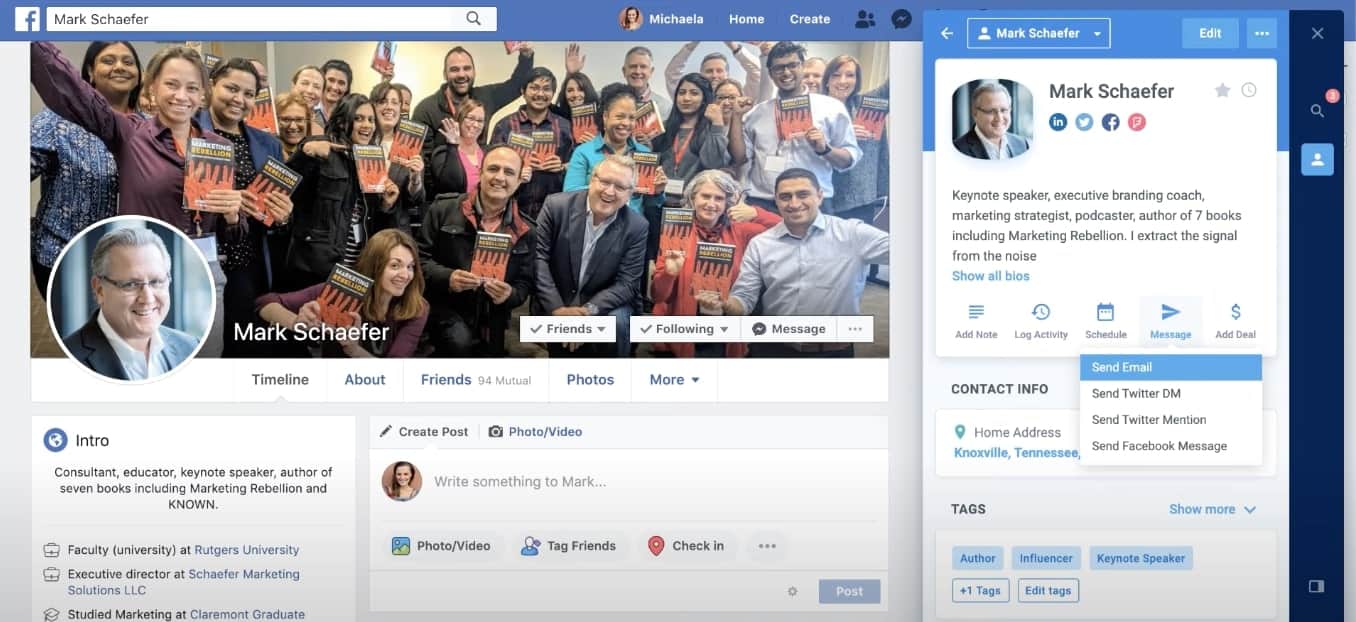 While Nimble's social media functionalities make it stand out from the crowd, it also offers useful collaborative tools and integrates with core business platforms like Google Workspace and Office 365.
Best CRM software for small businesses
For solopreneurs and small businesses that need tools that help them punch above their weight, vcita's all-in-one business management platform is a great choice. It offers a powerful CRM which helps you keep track of all your customers, leads, and contacts. Together with a pre-integrated suite of small business tools such as online appointment scheduling, modules to help you get paid faster, and a self-service customer portal.
The vcita CRM includes powerful tools for creating custom segments and tags for nurture, loyalty, and reactivation. Small teams in the service sector can use marketing automation functionalities like proposal e-signatures, automated appointment reminders, template-based triggered emails, SMS messaging, and rich analytics reports to help improve your understanding of your audience.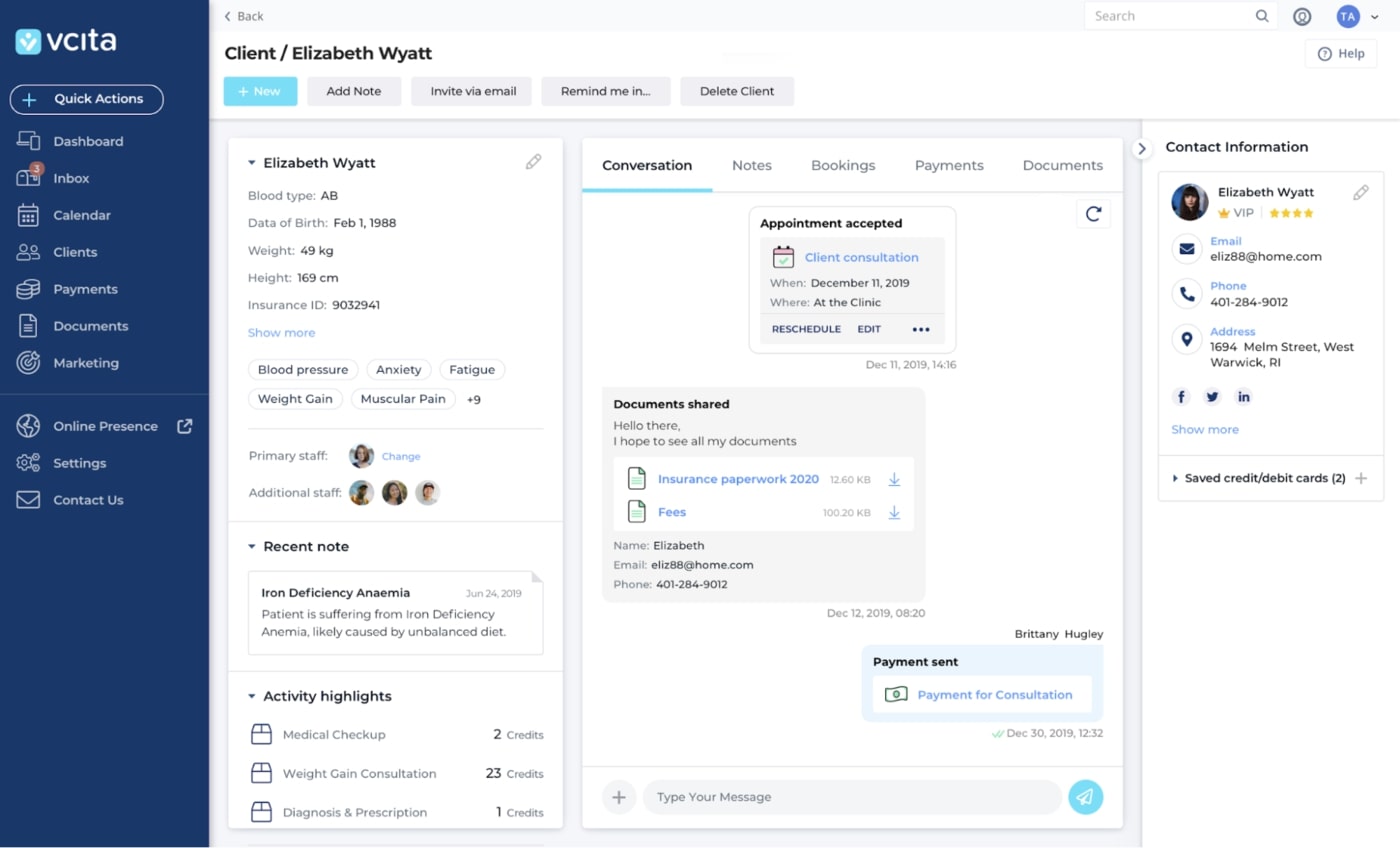 The many native functionalities here mean that you can draw information from all the arms of your business into a single repository. And manage multiple tasks from a single location, without any hassles associated with context switching or manual tech stack integration.
Best CRM software for advanced customization
Unlike other CRMs, Quickbase is a low-code CRM, which means it's not an out of the box CRM software, but it is highly customizable and adaptable. In fact, Quickbase is less of a proper CRM and more of a platform for building whatever in-house apps your enterprise needs.
You'll get the framework and basic building blocks to create a CRM or whatever other process management solution you like, but it's up to you and your tech team to add the tweaks and extras.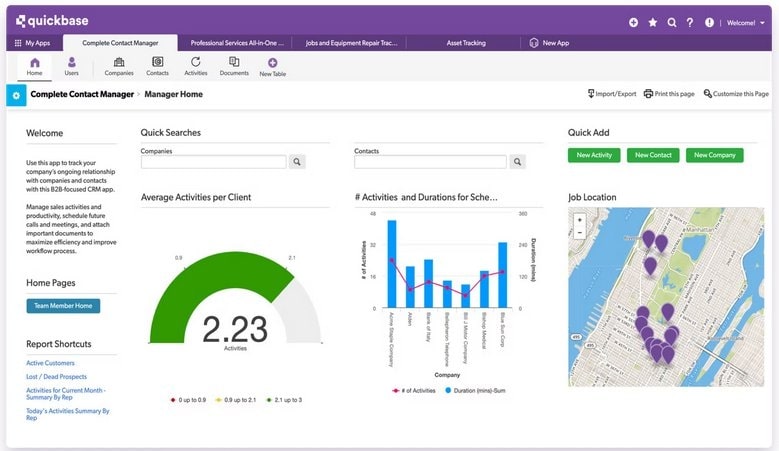 This makes it ideal for anyone looking for a CRM with specific features, integrations, workflows, and automations – as long as you're not in a hurry, and have easy enough access to a reasonable level of tech expertise.
Best CRM software for financial management
Sage is best known for its financial management suite, but the company has been diversifying in recent years, adding marketing tools, HR functionalities and an ERP to its stable. The Sage CRM concentrates on functionalities for customer support and post-sales interactions, as well as sales conversations, making it best for businesses that have significant post-sales requirements.
Among other features, Sage offers case history metrics and resolution times, reporting tools, and team collaboration functionalities.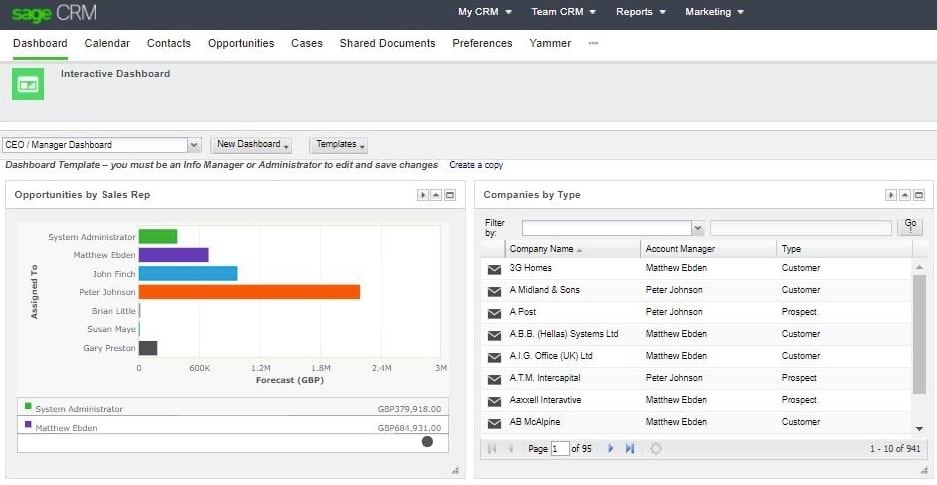 You can also use it to create a customer self-service portal to improve customer service in your organization.
Best CRM software for AI-powered insights
As part of the Freshworks suite, Freshsales brings users a flexible CRM that's suitable for businesses of all sizes, but its main benefit is its AI assistant, Freddy.
Freddy draws on customer sales and behavioral data to enhance your understanding of customer preferences.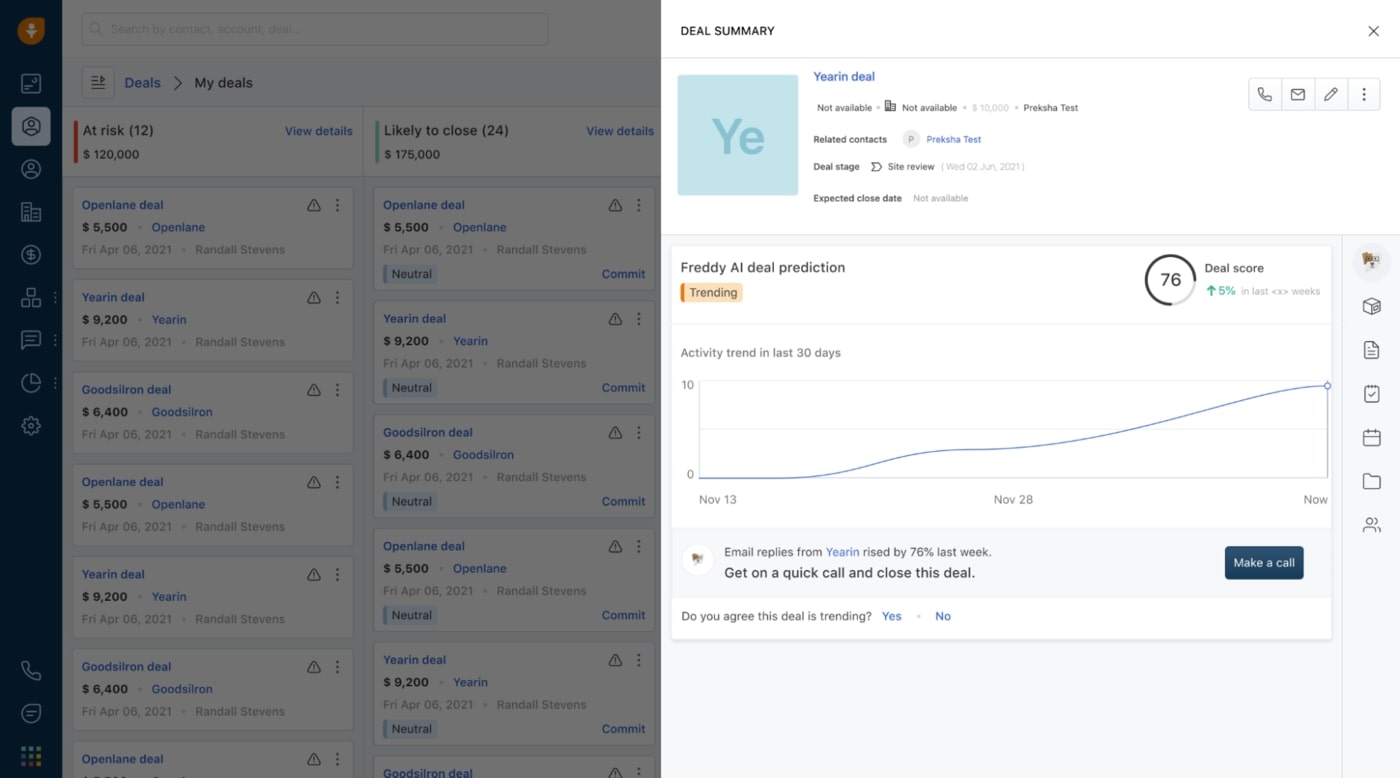 The AI-powered insights into customer demands and fluctuating trends makes it ideal for B2C or D2C businesses in fast-changing verticals such as ecommerce and fashion retail, where it's vital to keep ahead of the curve.
The right CRM can make all the difference to your business
Following the logic of the old adage that "If all you have is a hammer, everything looks like a nail," it's easy to argue that if all you have is a sales CRM, everyone looks like a sales lead. This perspective might be detrimental in today's business environment.
Choosing the right CRM for your business size, focus, and vertical means that you can access the data and insights they need, and you can gain a better understanding of your audience. What's more, your team can work more efficiently and effectively to create seamless, personalized journeys that span communication channels and customer lifecycle stages.