You absolutely need to track these SEO KPIs, if you aren't already. We've also included some of the best SEO dashboards to use for that, so you can just jump right to it (and beat overwhelm).
You are right to want to view your SEO key performance indicators (KPIs). It can help you determine where you are in your SEO journey. Moreover, analyzing your SEO KPIs will help you pinpoint what actions you can take to improve your SEO results.
In this post, we share nine of the most important SEO KPIs today. You'll also find examples of the best SEO dashboards for visualizing, tracking, and analyzing your most important SEO metrics.
9 Crucial SEO KPIs to Track Right Now
Search engines like Google Search and Bing are secretive about exactly what they look for to boost your online visibility. What you can count on is that the following KPIs for SEO will make a difference for your website or campaign.
In addition, the more you measure, track, and act on these SEO KPIs, the better you will be at deciding what you need to do next to best your SEO results.
Table of Contents:
#1 Search visibility
Also known as SERP visibility or total impressions, it measures how visible your website is online for a particular keyword. This reflects how often your site appears on search engine results for one or more specific keywords.
Whenever your site appears on search results, you receive a search impression. However, this only means a person may have seen your site's link, without necessarily clicking on it. Yet, your search visibility numbers can help tell if your brand visibility is growing, and potentially, your market share. This is why search visibility is such a key Share of Voice (SoV) metric.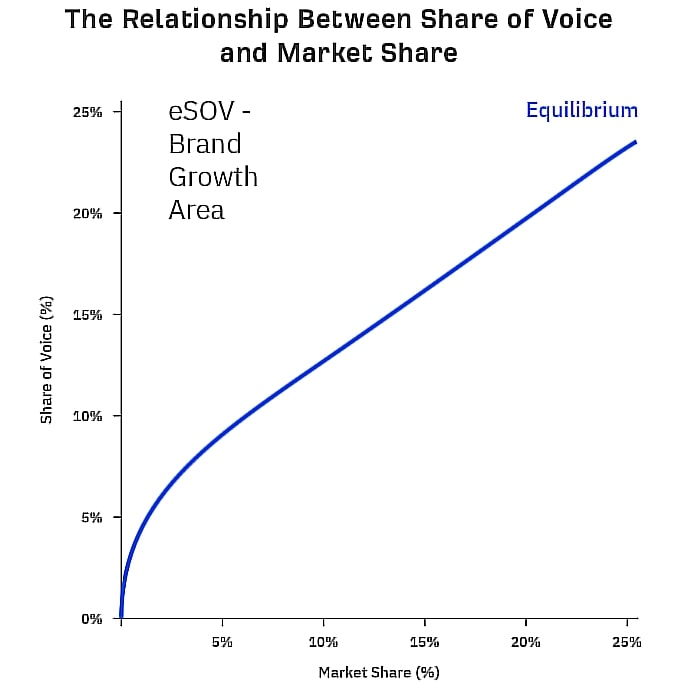 In addition, this can help you focus on keywords that need more attention or to amplify successful keywords.
#2 Click-through rate
CTR tracks how many searchers click on your content in search results in relation to your search visibility. This tells you how well your pages attract clicks from the exposure they get organically.
Titles and headings' tags, as well as meta descriptions, have a significant impact on your CTR rate. Say a page has high search visibility, but a low conversion rate. In that case, consider tweaking the copy and tags in its title and meta description to increase its appeal.
#3 Backlinks
In search engine optimization, backlinks refer to links that point to your website from other websites.
A backlink signals to search engines that other websites are referencing your website, page, or content for its value, boosting your credibility and E-A-T score (Expertise, Authoritativeness, and Trustworthiness).
Another thing. Analyze the Domain Authority (DA) of the websites that link back to yours. You want their DA to be as high as possible to boost your credibility further. It is a lot like receiving social media mentions from well-known industry figures. The association often generates a positive impression of you.
#4 Keyword ranking
Also called Search ranking, this SEO KPI measures how well a site ranks organically based on a specific keyword(s).
You can track your keyword ranking/search ranking to see what position your site appears on search engine results (SERPs). If you rank higher on the SERPs, more people are likely to view your website link and click through to your landing page, blog, or services page.
Be sure to track your most important keywords first, using tools like Moz, Ahrefs, and SEMRush to see changes to your rankings, search volumes, and more.
#5 Organic traffic
Your site's organic search traffic refers to the non-paid traffic you receive from search engines such as Google and Bing. Searchers didn't just see your website when they searched online.
In addition, they clicked through to see what you had to offer. It is a big step towards converting the visitors into return readers, such as loyal newsletter or email subscribers, or buying customers.
Some of the best SEO tools, including the performance tab in Google Search Console, will often quickly provide you with this data. You can then analyze how a specific keyword's performance has been changing over time, enabling you to spot and act to boost the slow-performing ones.
#6 Conversions
Conversions refer to the number of people who take a desired action after visiting your website from non-paid traffic sources. The conversion rate is the proportion of visitors who take a desired action.
These desired actions range from subscribing to your newsletter or sending you an email to scheduling a demo or making a purchase.
By tracking your conversions, you can determine whether or not your SEO optimization efforts are paying off (SEO return on investment). Then you can improvise the campaign or stop it altogether to avoid losing marketing dollars.
#7 Page load time
Also known as Page Speed or Load Time, this is one of the crucial Core Web Vitals that Google introduced a while back. In some SEO circles, load time is considered a minor ranking factor that doesn't necessarily influence results.
But the thing is how fast, or sluggish, your website loads affects user experience. For example, your website visitors are likely to visit another website if yours takes more than 2.5 seconds to load a page.

Load speed or time affects user experience hence organic traffic and how long visitors stick around
So, shorter load times may not boost your rankings per se, but longer ones will certainly hurt your organic traffic and conversion rate. Poor page speed can also increase your bounce rate — and speaking of bouncing away.
#8 Bounce rate
This is a powerful SEO KPI because it tracks how long people tend to stay on your website; the longer the better. If the visitors stick around for only a few seconds, visit a single page, or do not take any desired action, your SEO dashboard will likely show a high bounce rate.
A sluggish website or page load time could be a culprit here. Yet, it is also possible that you may not be answering searcher's intent as well as you could.
For example, visitors may not be finding information about what they searched in their search engine. In this case, you may need to add more actionable details to the content to make it more helpful to them.
#9 Time on page (Session duration)
Session duration is closely related to the bounce rate in that it measures the number or percentage of people who remain on a webpage for an extended period of time. Prioritize tracking a specific page's session duration instead of just the overall website's average.
Those who stay on the page longer are more likely to find it helpful and to take the desired action.
Heatmaps, available through platforms like CrazyEgg and SEMRush, enable you to see what specific areas of a page your visitors tapped or clicked most, which tells you what sections the visitors were most interested in.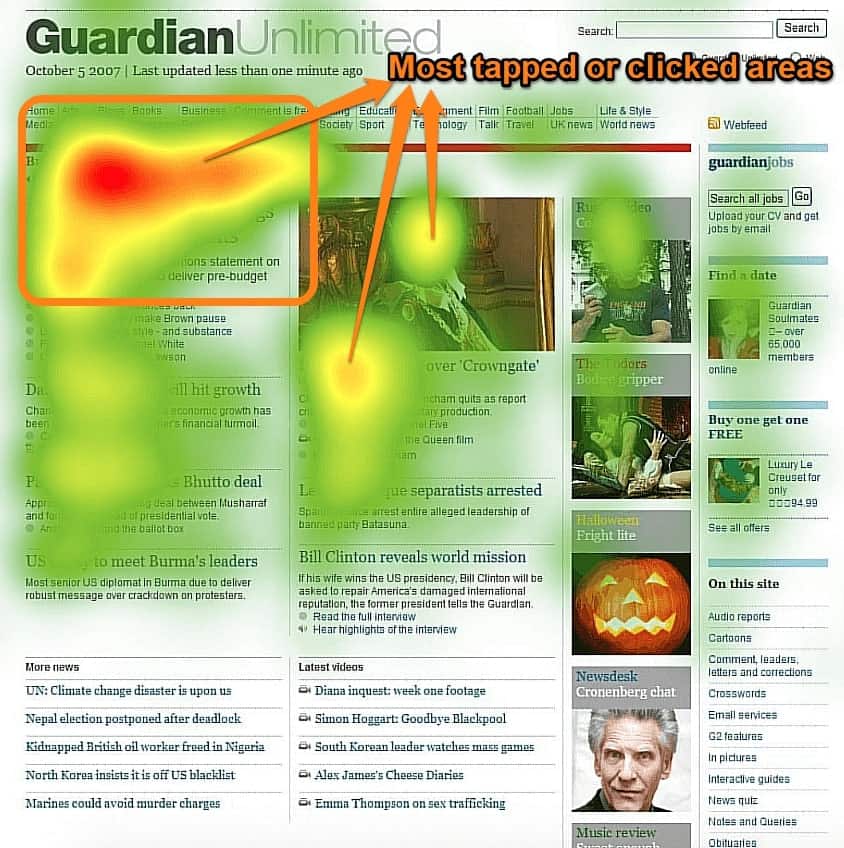 How a website heatmap works – CrazyEgg
Then you can use this intel to decide where you could make improvements, such as placing illustrated examples, A/B tests, call-to-actions, or discount offers. Or, you can apply the same strategy to a poor-performing area.
So, what can you do to get all the SEO metrics you need and the KPIs you want without losing your mind to overwhelm?
A robust SEO dashboard.
Top SEO Dashboards to Analyze Your Site Performance
Good SEO dashboard software can help you visualize, analyze, and act on your most important SEO metrics within a single pane of glass. This way, you can monitor your website's SEO performance over time and overall health relative to search engines.
The best dashboards for SEO let you customize what KPIs to collect and prioritize, so you can get to and act on them quickly. Many dashboards pull SEO data from multiple sources, are mobile-friendly, and include competitor analysis to improve analysis.
Here are examples of SEO dashboard software that may prove useful to your campaigns:
Table of Contents:
Looker Studio (formerly Google Data Studio)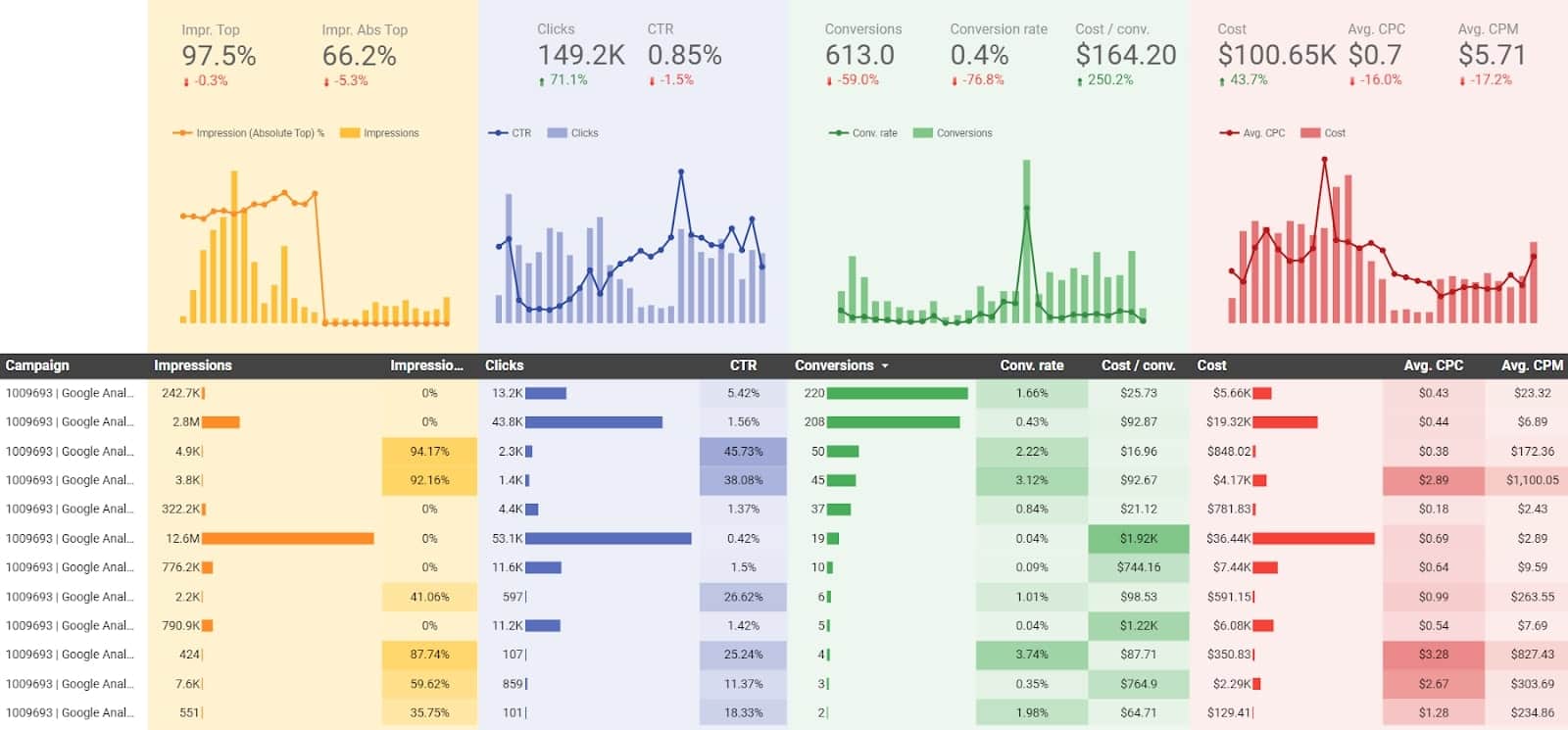 Looker Studio delivers a highly customizable SEO dashboard to simplify tracking performance changes. You can also segment data into granular, immediately actionable insights, including pinpointing traffic drops, useful content, and common entry points for conversions.
Geckoboard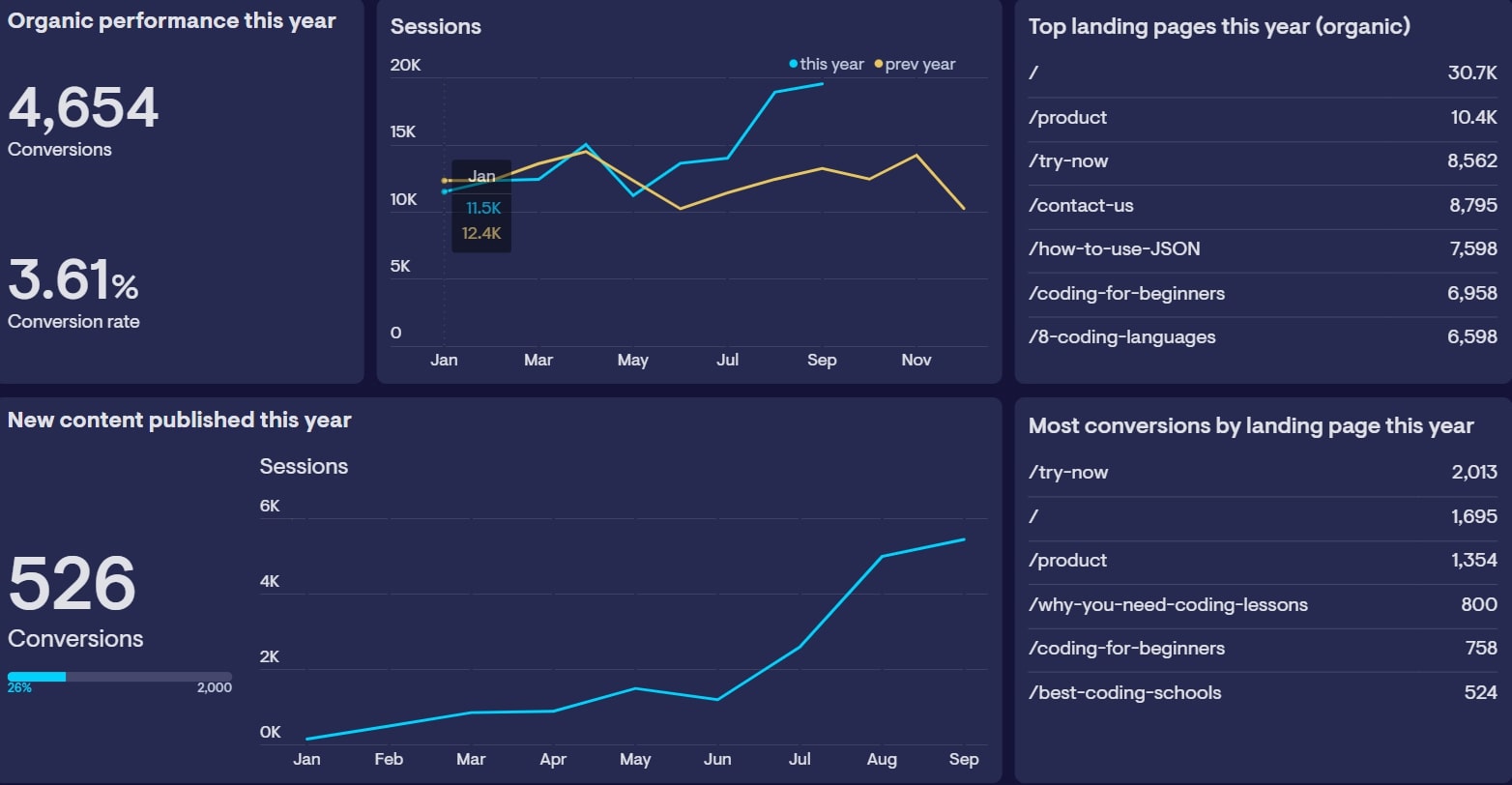 SEO professionals can use Geckoboard to automatically audit their sites for errors, opportunities, and performance metrics. It sources your SEO data from multiple resources, integrates with various other marketing and data platforms, and supports custom workflows through Zapier.
Linkody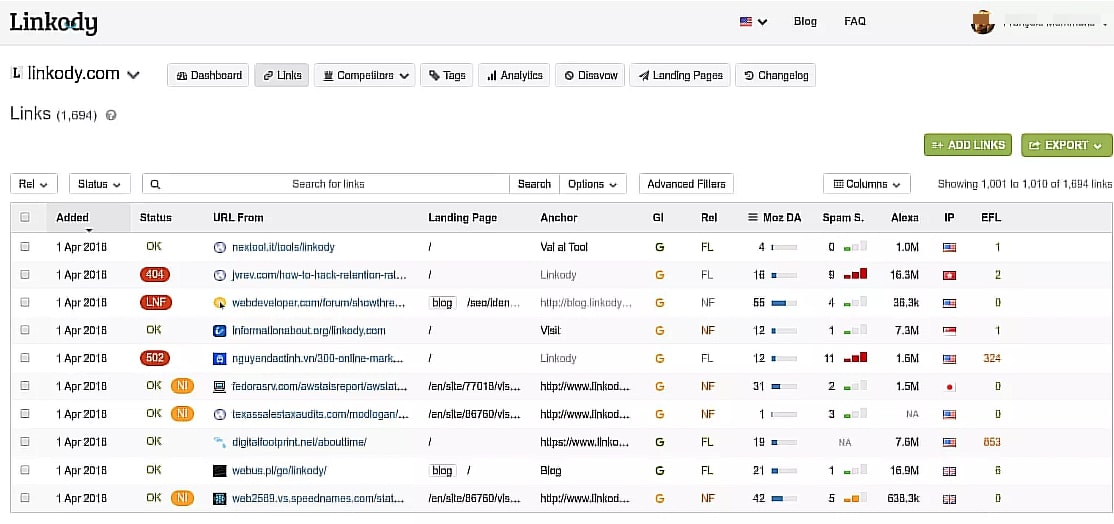 Linkody is a dashboard for tracking your link-building efforts. Expect it to analyze your backlink profile, including the domain authority, source URL, target URL, and hosting IP of websites that link to yours. Further, you can check the anchor text used for a link, such as whether it is a "dofollow" or "nofollow" link, so you can gauge its relevance to your site.
Whatagraph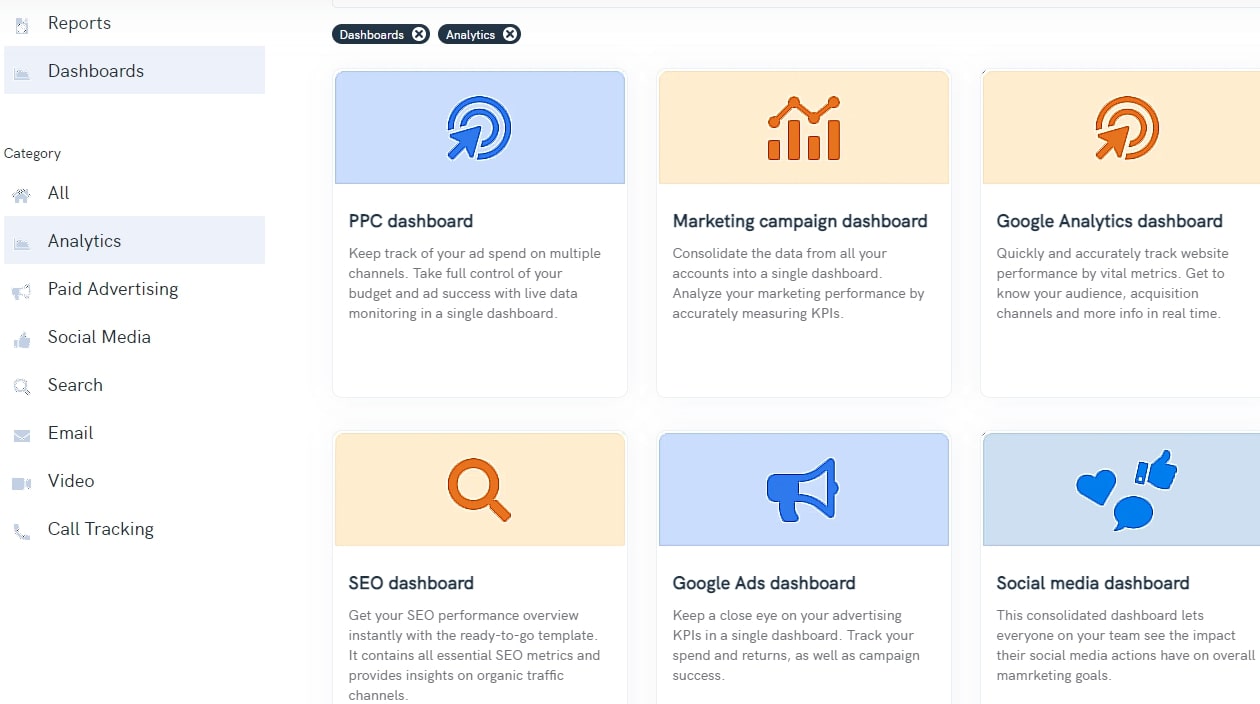 Whatagraph offers pre-made widgets and templates to get you started quickly. It delivers intuitive setup and customization when you start from scratch. Live dashboards support collaboration and scheduled PDFs simplify sharing progress with others. You can also export the SEO insights to csv/excel or transfer them to BigQuery for further analysis with other tools.
Databox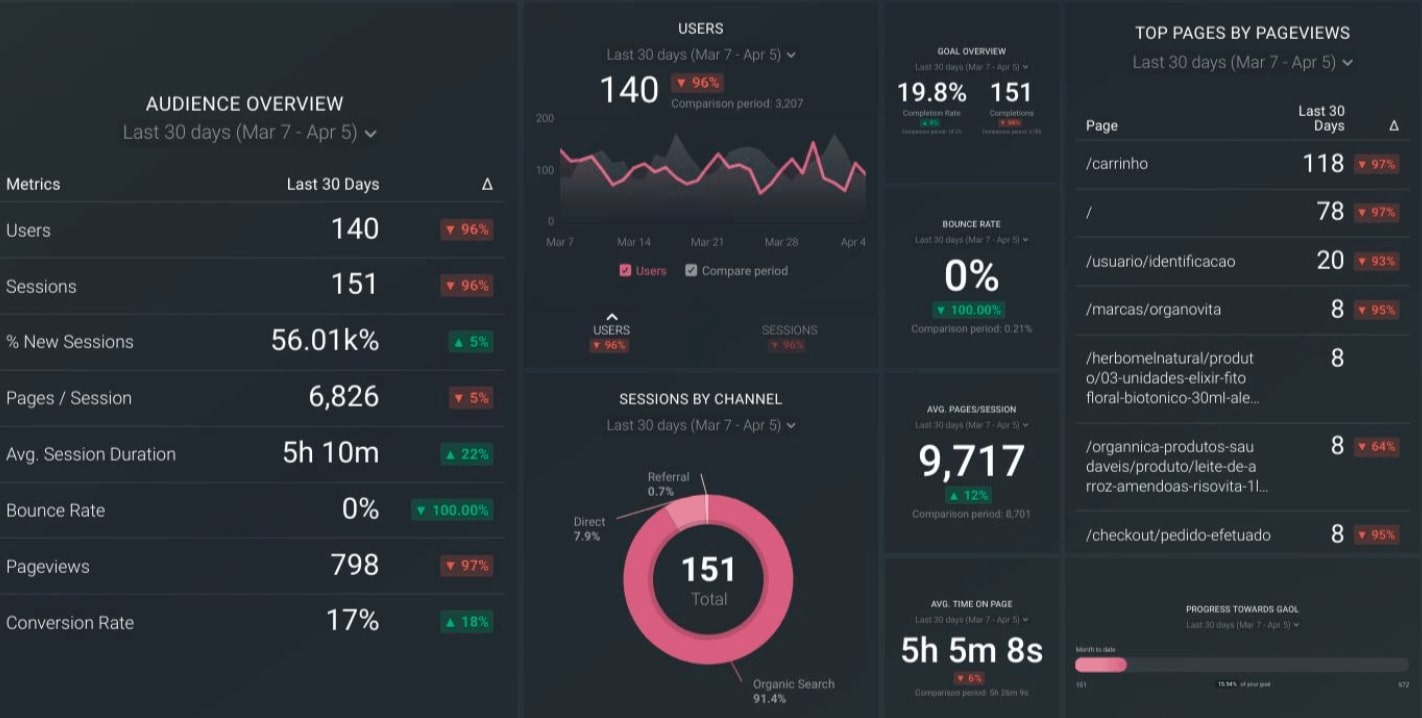 Databox is a free and comprehensive SEO dashboard. It pulls your SEO data from over 75 data sources, enables you to visualize it in real-time, and act on it within one platform. You can choose to view overviews or deep dive into specifics to gauge keyword rankings, organic CTR, and more.
OnCrawl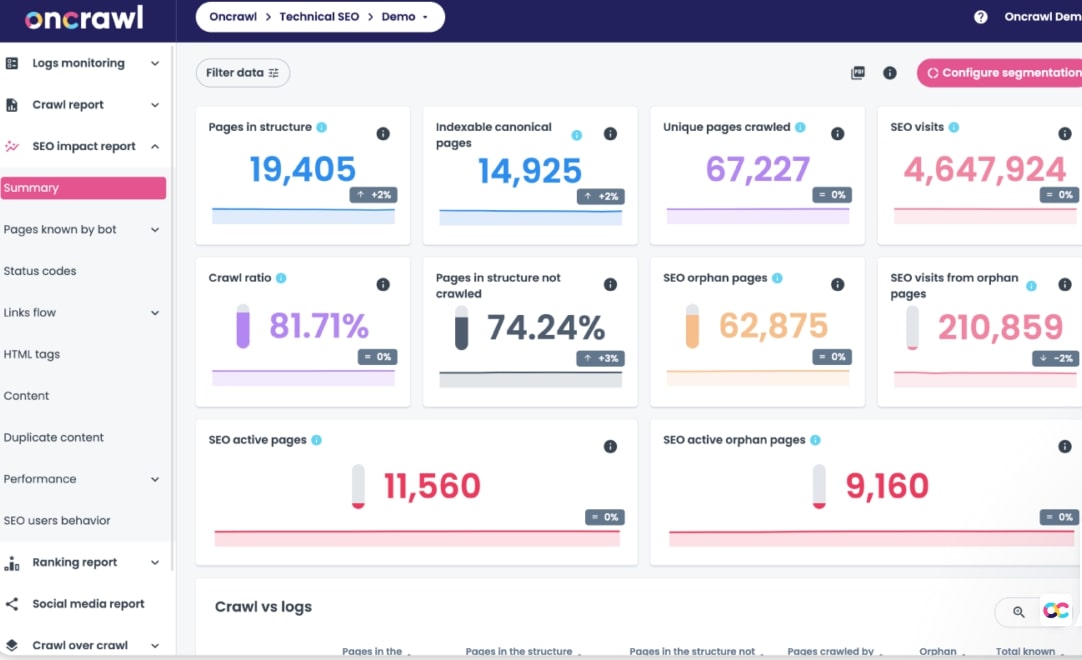 Consider this SEO dashboard software if you want to visualize, analyze, and share technical SEO data. The OnCrawl SEO dashboard packs a ton of SEO metrics with filters to help you sort and prioritize the most SEO KPIs for your specific goals.
DashThis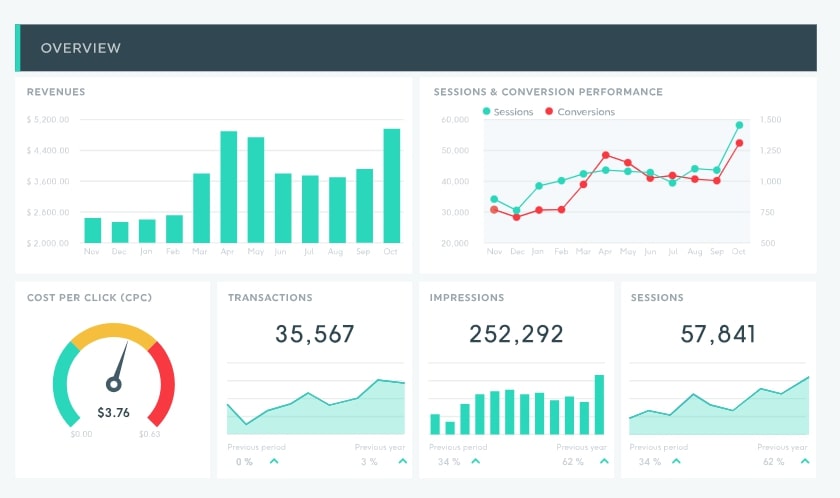 The DashThis SEO dashboard is particularly suitable for tracking your e-commerce SEO campaigns. Accordingly, it offers multiple ecommerce report templates and pulls data from over 34 sources, including digital marketing platforms. A white-label version is available.
Klipfolio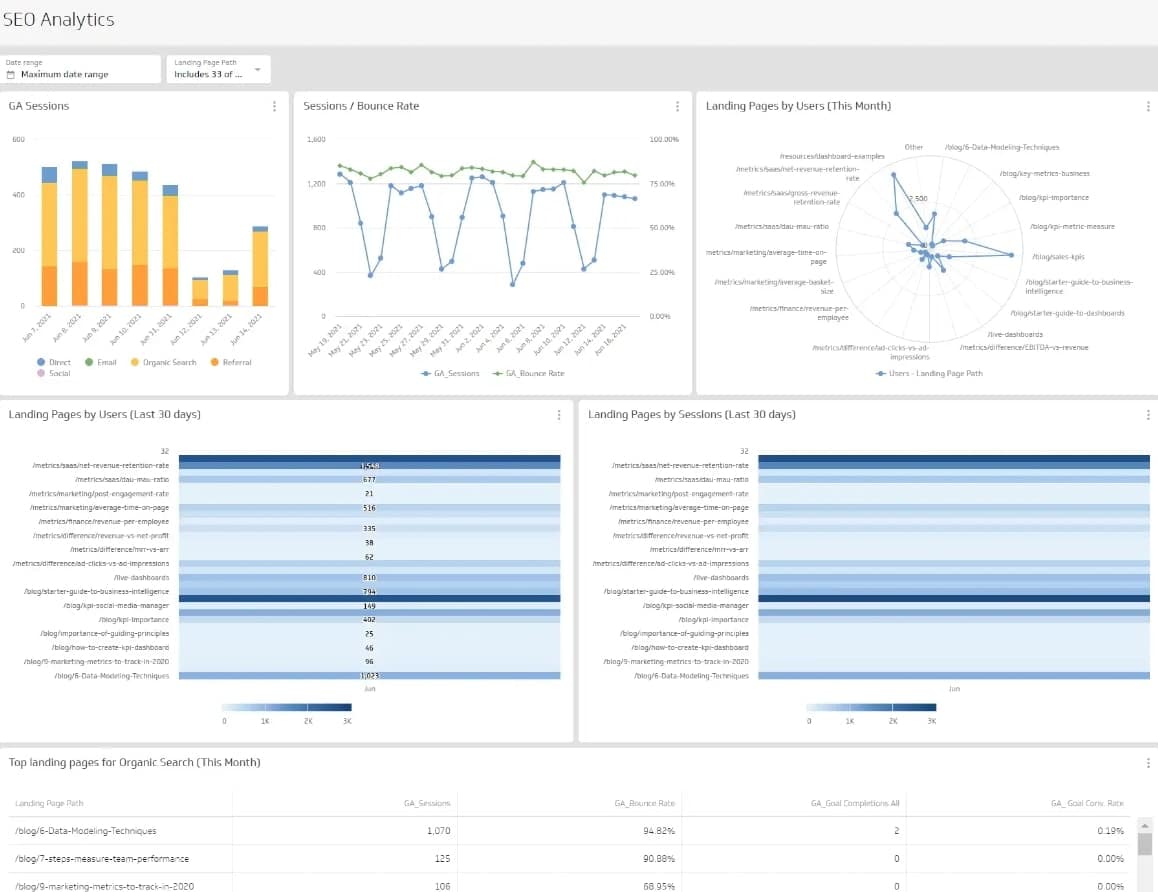 Klipfolio's SEO dashboard has what you need if your primary goal is to analyze SEO in relation to revenue. The platform is a hub of business metrics, from monthly recurring revenue (MRR) and goal conversion to insights on privacy consent approvals.
TapClicks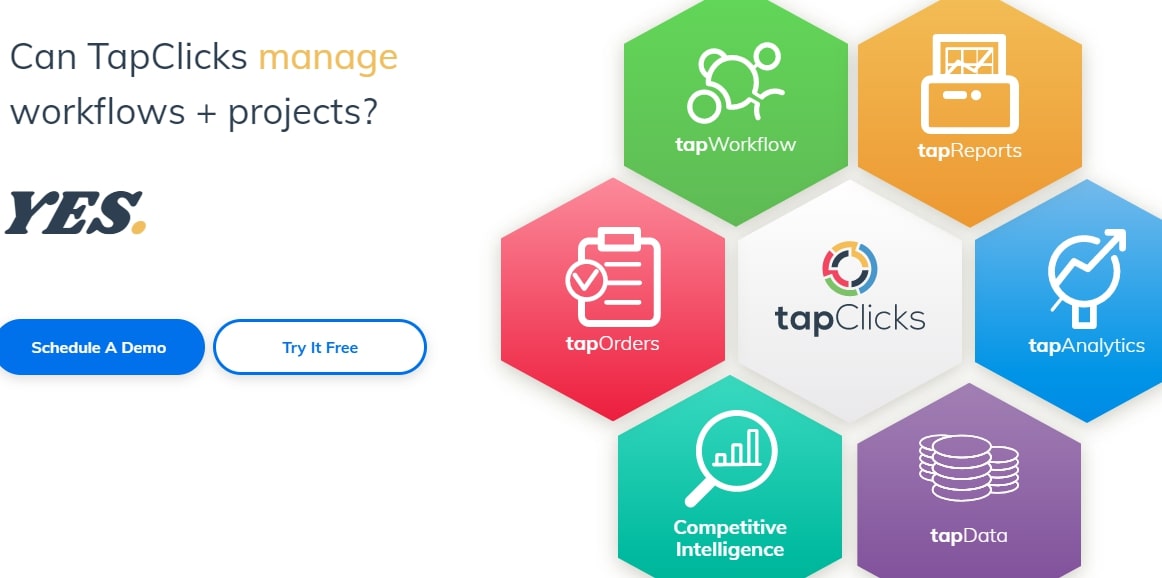 With TapClicks, you can source your SEO metrics from over 200 resources. Its highly customizable features make it ideal for multiple industries, such as e-commerce, healthcare, and marketing. Also expect competitive analysis and intuitive integration with Looker Studio.
What Next
With these SEO KPIs and dashboards, you can track your online visibility, conversions, and overall SEO ROI. You've probably noticed that this guide is jargon-free, short, and sweet by design — to empower you to beat overwhelm and start tracking your SEO campaigns like a pro. Are you up to the challenge?