Is your website converting leads to paying customers? Even if you use cutting-edge tools and marketing strategies, if your website design is not conducive to conversions, it will not matter.
A website conversion occurs when a site visitor completes a desired and pre-determined action on a web page.
Examples include signing up for a newsletter, buying a product, or downloading a whitepaper. The conversion rate is the percentage of people that complete your call-to-action.
Without conversions, your business will have no customers. So, it is important to choose a website builder capable of providing a user experience that results in sales.
Table of Contents:
Web Design Tips for Better Conversions
Before you can choose a website builder, you need to know what design elements affect conversions. Below are some website design tips that increase conversions:
Overall Appearance
Use consistent branding across all pages
Choose attractive color combinations that are aesthetically pleasing, fit your brand image, and evoke the mood you want your customers to experience
Use abundant white space to avoid making your site look cluttered
Do not overwhelm your audience and keep your homepage simple
Clean Navigation
Make sure your navigation is intuitive and easy-to-use so visitors can find what they are looking for with a minimal amount of clicks
Arrange page elements according to the F-shaped pattern with the most critical information in the location visitors look first:

Across the top of the page for headlines
Down the left side of the page with bullet points or numbers
Across the page again to read sub-headlines or bold text
Content Areas
Choose no more than three font sizes, colors, and styles and test how readable they are on various devices
Use images to attract and engage your audience and encourage them to read your content
Compress images without compromising quality to ensure web pages load quickly
Write in short sentences for better comprehension and mobile experience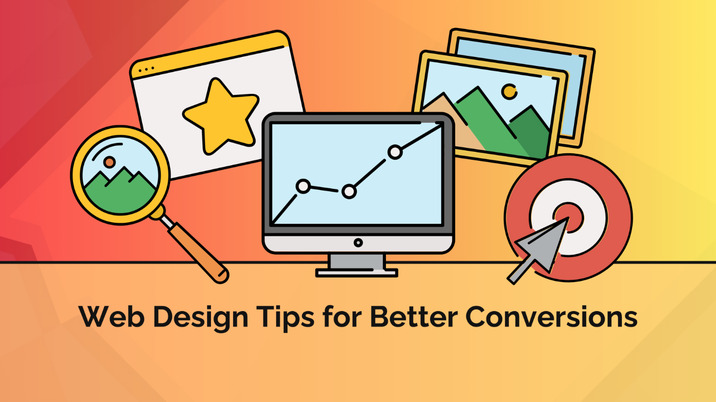 Conversion Optimization
Focus on the primary desired action you want users to take to avoid offering too many choices
Include clear and strong calls-to-action to entice your website visitor to take the desired action
Clearly define your value proposition to promote your products or services by:

Describing the specific benefits of your product or service
Explaining how your offerings will solve a potential customer's problem
Differentiating your brand from your competitors so that visitors will buy from you and not them

Include testimonials, user reviews, and certifications or awards to show your professionalism, expertise, and build trust
Test different variations of the above best practices to see which design elements work best for your specific audience.
The website builder you choose must have the ability to display all the above web design tips to ensure optimum conversions.
Your goal is to impress potential customers who arrive at your website enough to pique their interest so they will stay on your site.
If your site looks just like others, it will not stand out. If it is too confusing, they will leave. Your site design should be user-friendly, easy-to-navigate, and compelling enough for visitors to act.
What can you do if you are not a web designer but need a professional-looking website? Use a tool called a website builder.
What is a Website Builder?
A website builder is a platform that enables you to build a functional and attractive website without needing to know how to write code.
Most builders provide prebuilt templates created by web design experts that you can tailor to your business and goals.
By customizing a template with your branding, content, and offerings, you can quickly create a unique professional website.
Benefits of Website Builders
Creating your business site or online store using a website builder makes it much easier and speeds up the creation process.
It does not require technical or programming skills and typically uses an intuitive drag-and-drop interface.
Other reasons site owners use website builders include:
Designing is made easier by selecting and customizing a professionally designed template
Being able to edit your web pages from any computer anywhere with an Internet connection
Having access to various tools, applications, and third-party integrations to add functionality
Simplifying the website creation process and quickly launching your site
As technology advances and user expectations change, the world of website builders has transformed and become more complex. They have increased capabilities over when they were first introduced.
Modern-day website builders provide additional features such as transaction processing, inventory management, and digital marketing tools.
This makes it even more important to choose your website builder carefully. Website speed, support, extra features, and ease-of-use are all critical factors to consider.
Ultimately, which website builder you choose will depend upon your individual business needs. However, there are some key elements to focus on to help you make an informed decision.
Ease-of-Use
If a website builder is not user-friendly, it defeats the purpose of using it in the first place. Keep in mind that the more features and functionality offered, the longer the learning curve.
However, if you need a comprehensive instruction manual to use functional features, it might not be the best builder for you.
Quality and Quantity of Pre-Made Professional Templates
Most importantly, make sure the templates offered are mobile-responsive. They should also be attractive, simple, optimized, and modern.
Depending upon your technical expertise level and how capable you are in customizing templates, the more choices available, the better.
You do not want your website to look exactly like many others on the web using the same template.
Website Speed
Website builders not only help you create your site but also host it. Both the builder and the hosting determine site speed.
Shoppers have no patience to wait for pages to load. According to the research report "2019 Retailer Website Performance Evaluation: Are Retail Websites Meeting Shopper Expectations?", 90% of shoppers have said they left a site that failed to load as fast as their expectations.
So, if your site does not load quickly, your visitors will simply leave, and you will not get the sale!
How fast the pages load is also a significant ranking factor. Slow pages reduce traffic, and fewer visitors equals less income.
Website builders may be slow because some layout elements load excessive, unnecessary code. Because speed is so critical, be sure to look at how fast the builder loads pages.
Additional Features
As mentioned above, your specific business requirements will help you choose the best website builder for your needs.
Each product has its own additional features, benefits, and costs. So, choose a brand that offers what is most important to your business.
Some additional features include:
Membership area and email integrations
SEO tools to increase traffic and conversions
SSL certificates
Customer Support
How a company responds to customer issues and inquiries should be taken into consideration. You cannot convert any visitors if your website is down.
If you have a simple question, you want to reach customer support via support ticket, email, phone, knowledge base, or forums.
But if you have a serious technical issue, phone support is best followed by an email or support ticket. What you need may not be available in the knowledge base. And no one may be able to answer in forums.
Be sure to notice what type of support each platform provides. You may have to pay more for better support.
Features for eCommerce
Regardless of which builder you use, you need a way to integrate one or more payment solutions. Ideally, choose one that also provides dashboards because they enable you to check your sales instantly.
Dashboards make it easy to verify whether sales are trending up or down so that you can take action to keep your business operating in the black.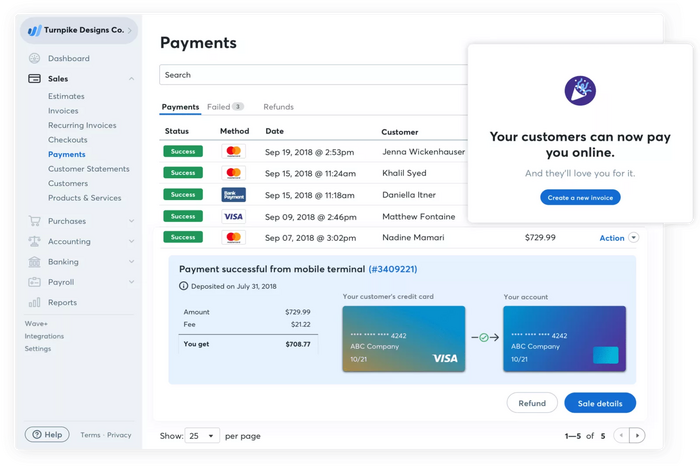 Use dashboards to see essential transaction details, such as the date of the sale and payment method.
As eCommerce sites become more prevalent, processing transactions is one of the most important features the website builder you choose should include.
If the checkout process is not seamless and user-friendly, conversions will suffer. Look for add-ons or integrations that enable cross-selling and upselling.
Installing an improved search function is critical to making sales. For example, if someone searches for red shoes and the results include everything red on the entire site, you need a better search.
Because not all transaction processes are the same, you will need to compare the effectiveness and costs.
Cost
Beware of hidden fees. Compare builder prices carefully to see which features are included and which require you to purchase an add-on.
Now that you know what elements and features are essential, below are our recommendations for the best website builder options.
Zyro
PC Magazine describes Zyro as a cost-effective website builder with unique and powerful design tools and an intuitive interface. Users can maintain a lot of control over the look and functionality of their online presence.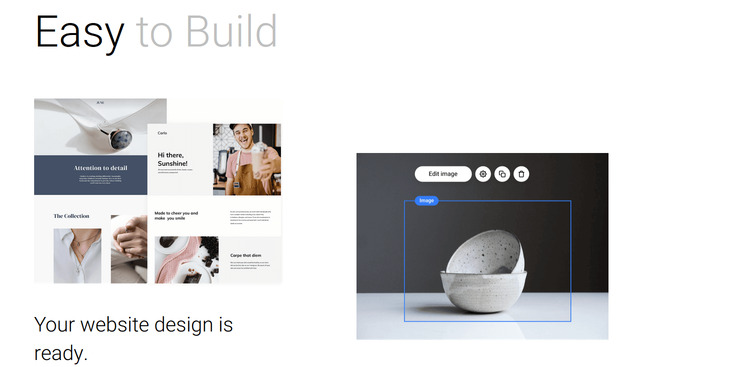 Whether you are a regional farmer, a local store, or a musician, Zyro enables users to build functional and attractive web pages. Other benefits include:
User-friendly and easy-to-use
Ability to conduct A/B testing to increase conversions
Includes AI heatmap to predict what visitors focus on the most and how they navigate your website
Harnesses the power of AI for features such as predicting site visitor behavior and generating copy
Customer support available 24/7
Numerous free tools, including a logo maker to help with branding
Free SSL certificate
Responsive pre-made templates
Massive image repository including an integration with Unsplash making it easy to use imagery in your blogs and other content
Competitive pricing options
Excellent speed and uptime via website-monitoring tool
Some of the downsides to using Zyro include:
Limited AI Writer categories
Free accounts have limited functionality in terms of add-ons
Does not offer as many template selections as some other builders
Zyro is a great option for beginners who want a high-quality website builder with AI-powered tools, a flexible and easy-to-use editor, and a free option.
Wix
Using Wix, you can create a beautiful website with just a few clicks. It is easy to use, and you can get started for free.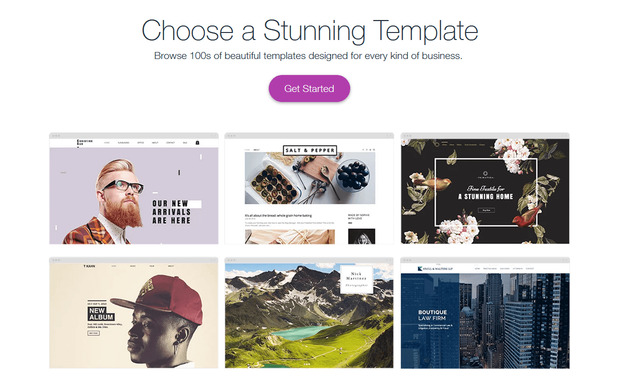 Wix is an online website builder with a powerful and intuitive interface and features. Some of the benefits of using Wix include:
A free option to get started quickly
Hundreds of pre-made templates for different niches to customize and create a unique site
Excellent customer service support
Optimized for mobile
Intuitive interface with drag-and-drop editing
SEO-friendly components to drive traffic to your site quickly
Includes commission-free sales and web hosting
Pricing tiers that enable you to expand as your business grows
On the other hand, some of the drawbacks of using Wix include:
Limited bandwidth (500 MB) for the free version that negatively impacts storage and site speed
Inability to switch templates once the site is live
The SEO feature is limited and can reduce online visibility, thereby negatively affecting conversions
Requiring the site to be hosted on Wix servers
The free plan includes distracting advertisements which may annoy customers enough to make them leave
Overall, Wix is a good choice for beginners looking for customizability with many design options.
Shopify
Crazy Egg identifies Shopify as the best website builder for customizations and one of the most popular for eCommerce.

Shopify gives businesses the ability to create a customizable online store using pre-made templates, service offerings, and product pages. It also provides:
Advertising and marketing tools
Customer analytics
Website hosting
Selling options on multiple channels
Integration with a Facebook online store
Intuitive drag-and-drop interface
All the tools you need in one place
Multiple customization options such as updated privacy policies, personalized emails, and adjustable shopping carts
Excellent customer service
Some features Shopify lacks include:
The inability to automatically resize and crop images
Being more expensive than many other options
Minimal free templates from which to choose
Issues or problems might arise that require coding knowledge
Not offering a free version
Which Website Builder Should You Choose?
Every website builder has its own set of unique strengths and weaknesses. For example, if you are looking specifically for a high-powered online store, Shopify might be your best option.
If, however, you want a builder for any type of website, Wix could be the right one for you. And finally, if you are looking for an easy and straightforward builder with a quick learning curve, affordable paid plans, AI-powered tools, and the ability to run A/B tests to increase conversions, Zyro is an excellent choice.
Although website builders have been around for years, new technologies and features have been added to offer more robust services.
Website builder solutions are available for anyone needing an online presence to create anything from a single-page site to a professional online store.
The website builder you choose will determine what your site looks like, how it functions, the features it provides, and ultimately, how many sales your site will generate. Choose wisely.