The Mention blog is an important vehicle for our team across departments. It functions as an inbound marketing channel, but it's also where we publish educational content on how existing customers can make the most of the platform. It's imperative that we're constantly producing fresh content. However, as a small team, it isn't always easy.
No matter what your role is at a startup or within small team, you're likely getting pulled in many directions at once. It's that excitement and opportunity to learn that attracted us in the first place, right?
Good news is, with the proper process, workflows, and team buy-in in place, you can produce high-quality content on a regular schedule, while maintaining your normal level of sleep…whatever that is.
Here's how you can manage a blog with a small team while producing quality content on a regular basis.
One quick fix is always having ideas to write about – download our free cheat sheet to get endless ideas!
1. Set and manage clear expectations
As the manager of your blog, it's your duty to ensure that everyone on your team (i.e. the people who may request your attention elsewhere) understands how much time is required to maintain your blog and content responsibilities. To do this, share your weekly goals and achievements with the team.
For example, every Monday, you could share your content tasks with expected timelines. Then on Friday, share what you accomplished and how long it took. Even if you only do this a few times, it gives everyone, including yourself, a clear understanding of how much time you're spending on each task and where your priorities should lie. Don't forget to detail your activities, such as editing, uploading into the backend, distributing, outreach, etc. Even if the details are only for you to see. I personally use Teaux Deaux and Trello, but I also hear iDoneThis is great for sharing done lists with the team.
Once you have an idea of how much time everything takes, you can schedule your time accordingly, which brings us to the next tip…
2. Share your results!
You shouldn't waste much time on ineffective strategies, especially when you're juggling multiple responsibilities. Don't be afraid to try new things — that's the only way you'll learn what works — but always be measuring and iterating accordingly.
Did a certain content series drive more sign ups than another? Create another series that appeals to that audience. Is your content constantly a top performer on growthhackers.com, but falling flat on reddit? Stop wasting your time posting to reddit, try a different subreddit, or create a different type of content relevant to the audience.
How you measure your blog and content success depends on the overarching business goals for your business, but suggested metrics based on our experience include:
Conversions
Engagement (comments, questions, clicks)
Return visits
Brand awareness measured by mentions
Share your data findings with your team so that they understand the importance of the company blog and your time spent on it.
3. Get your team producing content
Now that your team understands the importance of your blog for the bottom line and online reputation, get them contributing! It's likely that members of your tech or sales team have domain knowledge that your readers would find valuable. It will be beneficial for the company has a whole to get them to share that knowledge.
Team contributions add diversity to your blog, let your fans meet a different team member, and potentially help reach a broader audience.
Getting teammates to agree to contribute isn't always easy. You must first explain why you're asking and what your goals are, then make the process as easy as possible for them. Depending on their skill level in terms of writing, the process may take any of these forms:
They submit an entire draft → you edit and upload
They submit an outline → you draft the post for them, collaborating as to not lose their voice
You have an in person / skype / phone conversation or interview with them where they share their thoughts → you take notes to draft into a post
Although this will take some editing time for you, having the team contributing will lighten your content load and give you more time to write.
4. Recruit guest bloggers
Similar to team contributions, recruiting guest bloggers adds value and creates opportunities for your blog. By recruiting influencers in your area of interest, you can leverage and tap their networks — spreading brand awareness to a broader relevant and engaged audience. Having thought leaders contribute to your blog also lends to your brand's credibility.
Recruiting guest bloggers is all about building relationships. Is there an industry thought leader whose writing you follow regularly? Reach out and strike up a conversation or ask them a relevant question. Make sure to follow them and comment on their blog posts. Don't be afraid to reach out to ask for a guest post when the time comes, you'll be surprised how many say yes.
When you do reach out, have guidelines, clear goals, topic ideas, and deadlines outlined for them — even if these elements are flexible. You'll be far more likely to get a response when you give your contributors a choice, but make the decision as easy as possible for them.
5. Create detailed blog guidelines
Thorough blog guidelines will make your life a lot easier when recruiting team and guest contributors. At the very minimum, make sure yours has these elements:
Goals
Categories and topics of interest
Audience
Formatting
Post-publication instructions
Use your guidelines to remind your contributors that you need their help distributing their post. Share some templated tweets or social media posts to make it easy for them. We include detailed instructions such as to include a couple internal and external links, sample calls to actions for the end, and clear grammatical instructions. You can check out our guidelines here.
6. Repurpose without losing quality
It's clear that you put a lot of time and effort into your blog and content. For that reason, you should make the most of each piece you produce. Have an ultimate goal in mind when planning your content for the month or quarter.
How can you reuse each piece? Is there a theme among many pieces? Are you producing a series you can take key points from and turn it into an e-book, Slideshare, video, interactive web piece?
Top Rank, for example, created an ebook for Social Media Marketing World 2014, then repurposed that content for three high-quality blog posts, infographic, expert quotes on social, and more.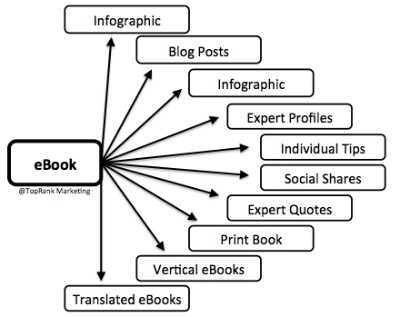 7. When in doubt, make a list
Never make a list just to make a list. But it's possible that you already have tools that you use that make your life easier as a marketer or writer. Consider sharing these with your readers. This can be a relatively easy and quick post to put together when in a crunch for fresh content. And that does happen. It's just the reality of running a blog with a small or solo team. The best thing you can do is when hitting a lul is to do what you can and get creative without beating yourself up over it.
I did this with our post on "7 Basic Tools for Creating Content That People Will Actually Read" and it's now one of our most popular posts ever.
8. Most importantly, remain flexible
Rarely does life go as planned. This holds true when planning and executing content. Remain flexible and always have a plan B. Try your best to build up a library of original and contributed content and always have a few "quick and easy" but high-quality ideas in your back pocket and ready to execute.
Want more on how to streamline your content process? Check out these tips from Garrett Moon at CoSchedule.
Have any blogging tips for a small team of your own? Share them in the comments below!