If you haven't yet, this is the time to start taking live video shopping seriously.
The value of sales generated from livestream e-commerce in the U.S. is expected to reach $35 billion by 2024—a growth from $11 billion in 2021.
The situation is even more impressive in countries like China, where livestream ecommerce sales are expected to be over $600 billion by 2023.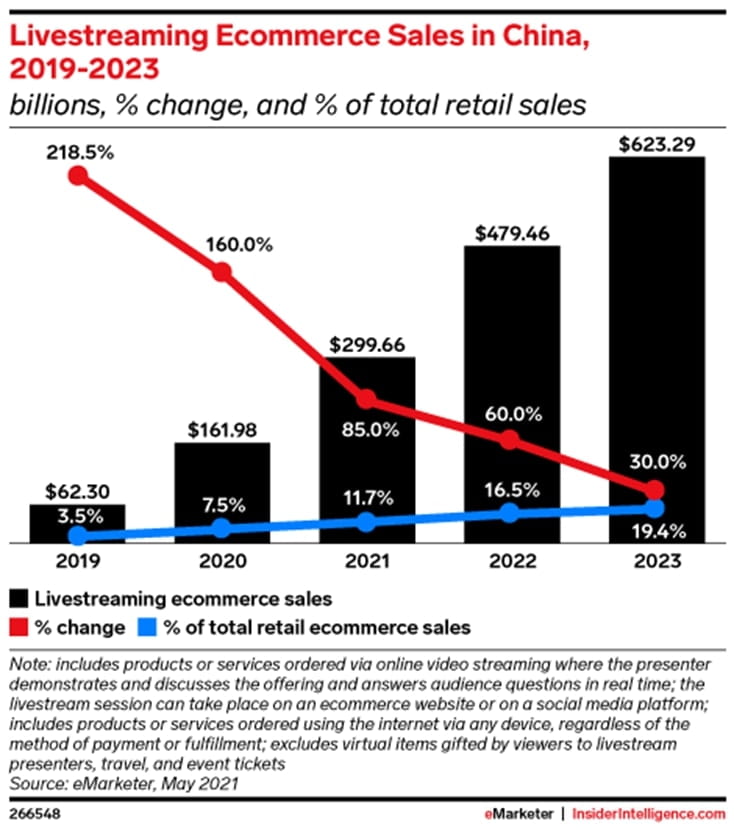 What's more, consumers want brands and retailers to get more aggressive in using technology to level up their experience.
Research shows that 66% of consumers wish businesses would be more digitally innovative, and 60% would buy from a brand that's digitally innovative.
It's indisputable. Live video shopping is the way to go for e-commerce brands pursuing growth and profitability.
So, if you want to get started with live shopping, here's how you can carry out a successful live video shopping event that generates sales.
How to Use Live Video Shopping Effectively to Improve Ecommerce Sales
Here are some steps you can take to get started on the right path and boost your ecommerce sales with live shopping.
Table of Contents:
1. Choose the Right Platform
Choosing a platform for your live video shopping event is an important step in conducting a successful event that boosts your ecommerce sales.
Let's look at your options.
Dedicated Live Stream Platforms
There are plenty of live stream platforms you can use for your event, such as GoLive and Bambuser.
An advantage of this option is that you integrate the tool with your ecommerce platform and host the live shopping campaigns on it. It gives you more control over the shopping experience your audience gets.
In addition, you'll have access to participants' data, which you can feed into your lead-generation software for your re-engagement campaigns.
A word of caution—be sure that your ecommerce website can handle the increase in traffic caused by the live video shopping stream.
Host the Event On Social Media
You can also use social media networks for your live video shopping event. This is an especially good option if you want to drive sales using your social media audience.
It's also a great option if your audience mostly engages on social media or you have strong social network visibility.
Additionally, it helps expand your audience.
For this, it's best to use social media platforms that make it possible to create shoppable videos for your live event. This enables buyers to check out without leaving the platform.
For example, you can use the Instagram Live Shopping feature and tag products in the video. The viewers can buy the product by clicking on the CTA button.
Social networks like TikTok and YouTube also provide integration with Shopify. You can tag and pin products from your Shopify inventory at any key points during your TikTok Live and YouTube Live video shopping stream.
Host Live Events on Amazon
If you sell your products on Amazon, you can stream on the platform to sell them too.
Amazon Live makes it possible for ecommerce store owners to create a live video shopping stream using the Amazon Live Creator app.
Being a competitive marketplace, the live video shopping feature helps you increase your reach and drive more sales in real time. This is especially important during shopping days like Black Friday and Amazon Prime Day.
In a nutshell, you want to go for a live video shopping platform that's:
Convenient for you and your customers
Helps you reach as many of your target customers as possible
Makes it possible to place and process orders fast and accurately
2. Create Timely Content
Based on the products in your ecommerce store, know how to capitalize on special events, trends, seasons, and holidays.
It helps your live video shopping event target an audience that's primed to buy.
Organizing timely live video shopping streams means paying attention to trending topics and conversations that your target audience is actively engaged in.
When your live video shopping streams are in perfect harmony with what's happening around the world, they can make a greater impact.
For instance, during the festive season, you can set up a themed live video shopping event that includes a festively dressed host, décor, and a range of products perfect for gifting.
To do this right, identify upcoming seasons, events, and holidays and add them to your calendar. Your calendar should also be flexible enough to accommodate live video shopping events that respond to pop culture events and current news.
Nordstrom, for instance, has several seasonal live video shopping events lined up for the upcoming holidays. They even market them well in advance to get viewers.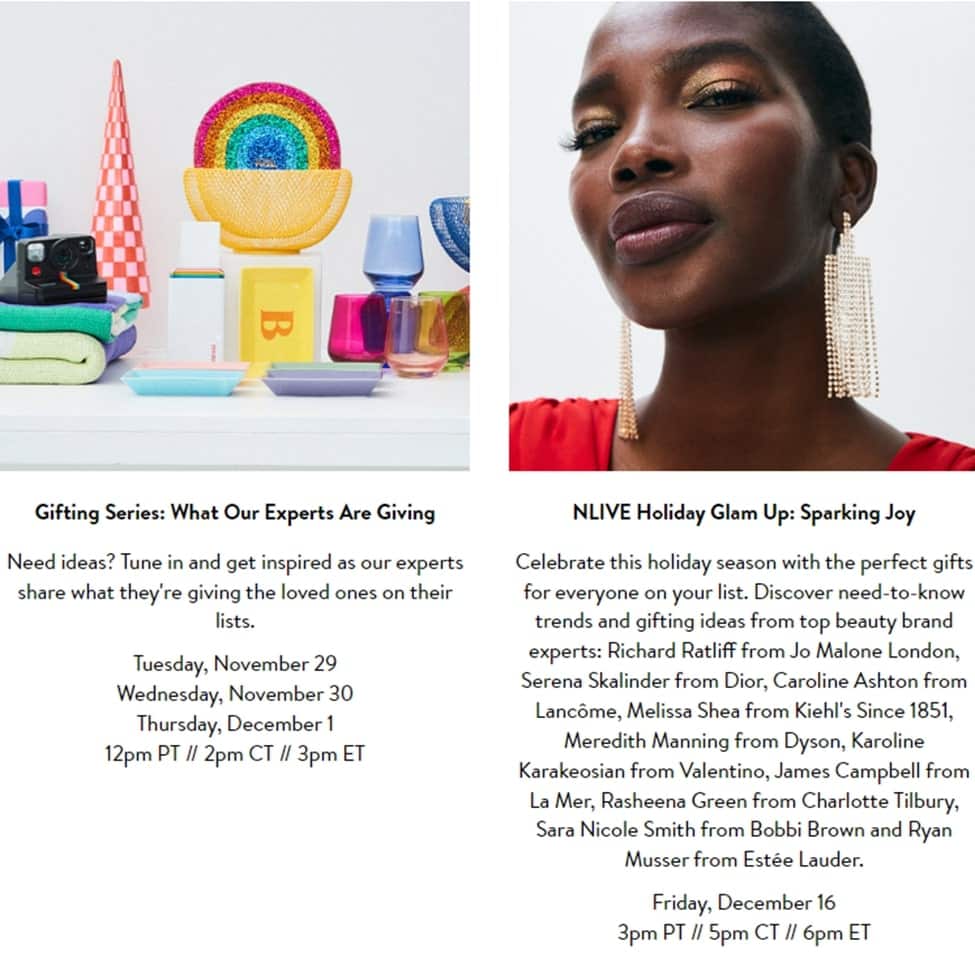 Including timely content in your calendar helps you market the products your audience currently needs, which can help generate greater sales for your ecommerce store.
3. Make It Irresistible
A great way to increase the viewership of your live video shopping event is to provide a unique offer or an exciting discount to your audience during the event. It can help you tap into the impulse buying sentiment of people.
Research shows 57% of women buy clothes and shoes on impulse. For men, 49% will buy electronics on impulse, while 44% will buy toys, games, and books on impulse.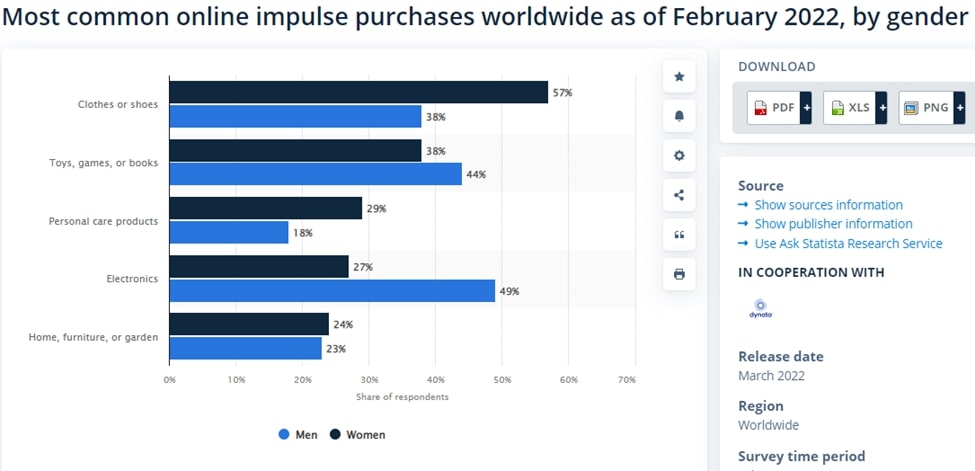 By making the customer feel they're saving some money, you can make them buy more and boost your e-commerce sales. The greatest advantage here is that it's a time-bound sale, so there would be a huge fear of missing out (FOMO) among the viewers too.
An exclusive giveaway can also make your event irresistible.
Consider it an investment that'll build awareness of your products and brand. Even if the viewers don't buy now, getting a taste of what your ecommerce store offers could turn participants into future loyal customers.
Here's an even bigger benefit you'll get.
Once your audience knows that you provide offers, discounts, promos, and freebies during your live video shopping events, they'll be sure to log in to check out your future events and may end up buying from you.
Exclusives can also make your live video shopping events irresistible.
These are offerings and experiences that you provide solely in the live video shopping event. This can further help you tap into the FOMO of your audience, as they won't find those offerings otherwise.
For instance, you can provide attendees with early access to a new product or service that'll only be available for a time window.
Besides buying more, these customers will feel a part of something special.
The selectiveness also creates a sense of thrill that amplifies the customers' connection to your brand. It nurtures them to become loyal customers with a high customer lifetime value (CLV).
4. Leverage Influencer Marketing
Are you working with an influencer to market your products? If not, you're missing out on a great opportunity to drive your sales.
Influencer marketing can impact sales, and your competitors know it. In fact, about 54% of brands working with influencers operate e-commerce stores.
What makes influencer marketing effective in increasing ecommerce sales is that:
Influencers share details about their personal lives with their followers and interact with them. This establishes trust between the influencer and their audience.
Influencers appear to be more credible and believable than a brand trying to market its own products.
They're knowledgeable in their field of expertise, which makes their followers trust their opinions and product recommendations.
Influencers build a loyal following through their storytelling skills and ability to create engaging and compelling content. These abilities make them effective in marketing.
Besides, you'll not just reach your audience but the influencer's loyal following as well.
To take advantage of this power of influencer marketing, have an influencer host your live video shopping event or co-host with them.
You need to be strategic about the influencer you collaborate with.
Micro-influencers tend to be a better choice than macro and mega-influencers. These are influencers with 10,000 to 100,000 followers.
I recommend working with micro-influencers because:
They have a higher engagement rate than others. A lower follower count means they can respond to comments and engage with their followers, which creates a more authentic connection.
They hyperfocus on one niche and are recognized by their followers for their knowledge of it.
Micro-influencers charge less than macro and mega-influencers, which makes them more suited to smaller businesses with lower budgets.
One of the most harmful influencer marketing mistakes you can make, though, is choosing an influencer whose niche doesn't align with your brand. You must ensure that your influencer's followers match your target audience.
Once you've settled on an influencer, you can ask them to create product video marketing content, such as unboxing videos, how-to videos, and product demonstrations. And all of these can be live videos through which influencers can drive your sales.
See how Eau Thermale Avène collaborated with influencer Naomi Yeo for an Instagram live video shopping event.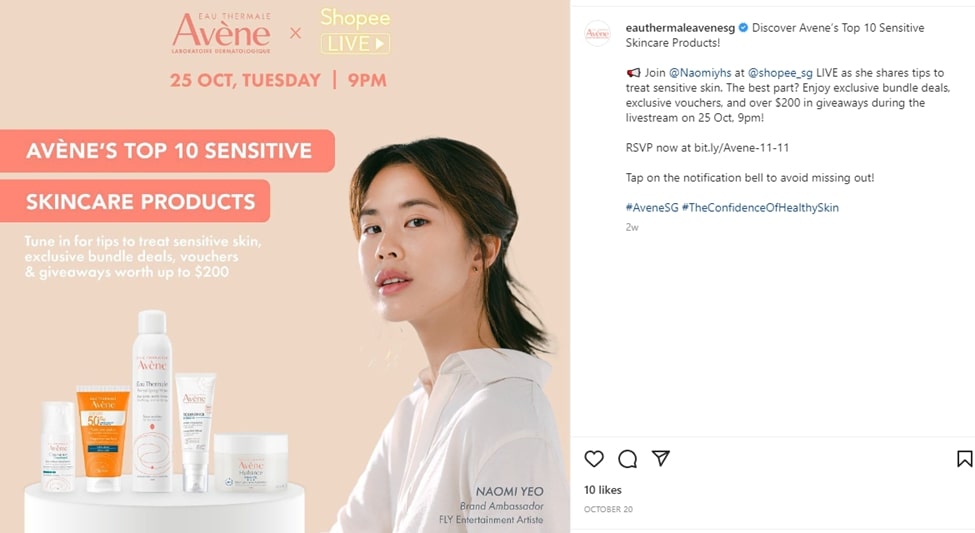 Besides having an influencer, the live event includes bundle deals, exclusive vouchers, and giveaways to increase attendance and sales.
The influencer, Naomi Yeo, has only 60,000 followers. As a result, she is able to engage with her audience and respond to their comments and has built a powerful relationship with them. This makes her a perfect fit for the live shopping event.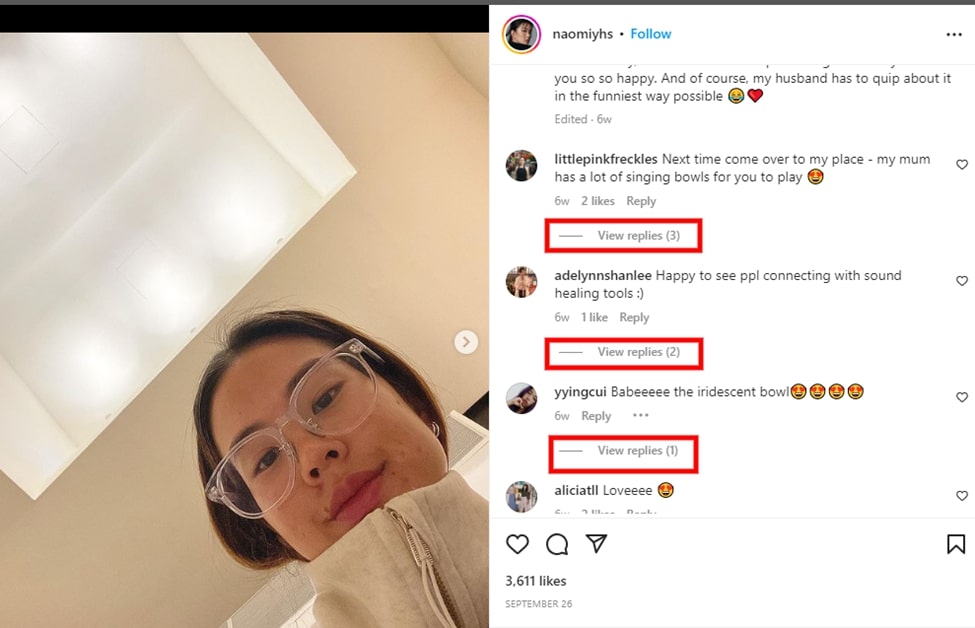 5. Get the Audience Involved and Immersed in the Event
One of the best things about live video shopping is that the audience can interact with you in real time.
Unlike browsing your ecommerce store or engaging with your social media posts, live video shopping creates a more sensory experience for them, and this can accelerate conversions.
Participants can have a live interaction with your brand through Q&As and chat, watch unedited product tutorials and demonstrations, and get a raw behind-the-scenes look into your brand.
You can get the audience even more involved by:
Encouraging questions and responding to them
Using subtitles. When you add subtitles to a video, it makes it more immersive and makes it possible for viewers to watch the live event on mute
Acknowledging their comments
Getting suggestions from the audience and holding polls
Hosting interactive activities like games, competitions, quizzes, and prize draws to keep them engaged
Get innovative in your delivery. The growth of contactless shopping has led to the growth of cutting-edge contactless marketing solutions that you can use to improve your audience's experience.
Immersive video is a great example.
By using a 360 camera, you can give participants an even greater chance of interacting with the video, as they can rotate the view themselves. This can make the event more engaging.
A good way of utilizing this type of video would be to place all the products around the camera so that the viewers can see the products they want, when they want.
6. Don't Forget to Provide Value
Remember, the live video shopping event is not only about promoting products, but providing value as well.
Content like how-to tutorials can help the audience learn something new and get the most out of your products. It also shows the audience how the product can fit into their day-to-day life, which can encourage conversions.
To make the most out of these live videos, you could call experts in your niche to hold a live seminar. Or if you are a retailer or reseller, call brand representatives to speak and answer the audience's questions.
Having a strategic collaboration with a brand offering complementary products can also help you provide value to your customers and broaden your audience.
For instance, if you sell makeup products for a certain skin type, you could collaborate with a business offering dermatology services to provide skin care tips and answer the audience's questions.
If you sell clothes, you can collaborate with a fashion stylist who can give styling tips to the audience.
In Aldo's livestream shopping pilot, one of the hosts was Mimi Cuttrell, a fashion stylist. She gave the audience tips on how to wear the various styles of Aldo fashion footwear and accessories.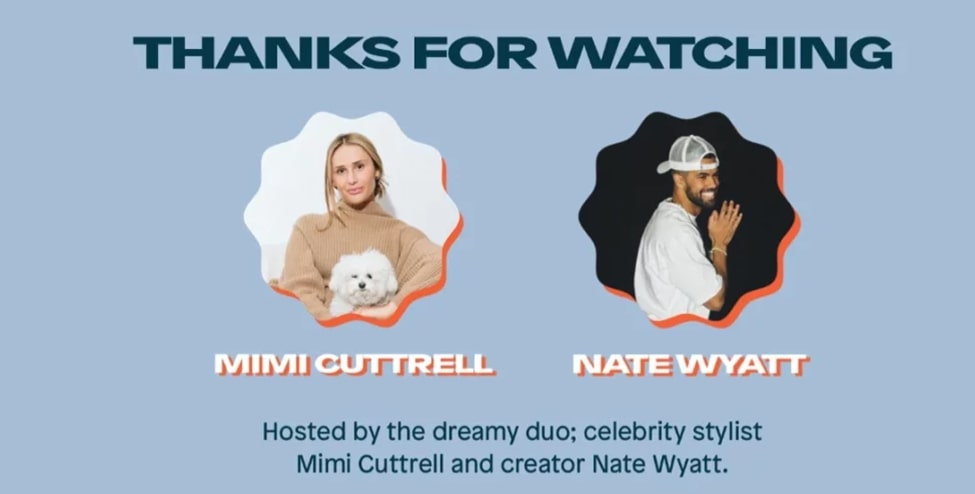 Such collaborations can make the live video shopping event more valuable while the invited guests get exposure to a new audience. The guests can also prove to be great crowd-pullers for the shopping event.
7. Track Your Metrics
Tracking your metrics helps you know the success of your live video shopping event. It helps you know what works and what doesn't and sheds light on areas that need improvement.
In addition to the number of sales you make compared to the event attendees, here are some important metrics to track:
Device viewership
Repeat traffic
Average viewing duration
Viewer engagement
Average order value (AOV)
Integrate these insights into your overall experience management strategies to craft better live video shopping experiences.
It'll increase interest and sales in your next live video shopping event and help you build better customer relationships.
Make Record-Breaking Sales in Your Next Live Video Shopping Event
Live video shopping events are interesting from the customers' perspective. They're even more valuable for the brand in terms of the sales, awareness, and engagement they generate.
But you have to conduct your live stream using the best practices to experience these benefits.
Start by choosing the right platform and micro-influencer to host your live video shopping event. Ensure your content is relevant, irresistible, valuable, and engaging. Most importantly, measure the results of the event to identify areas of improvement.
So, you're now all set to launch your live shopping event now.