Despite what social media videos boasting #copywriting in their caption say, copywriting is not an easy side hustle. Yes, if you've got a laptop and some sort of word-processing tool, it seems simple to set up. Unlike many professions, there appear to be low barriers to entry – everyone can write, right? But just because you have all the gear doesn't mean you can do it successfully.
A prerequisite for creating good copy is a natural knack for writing – preferably honed through experience and in the hellfire of a good editor. From metaphors to idioms and everything in between, a good copywriter can transform the mundane into something special.
But more than that, a good copywriter has to understand what motivates people and how to write words that compel them to act on those motivations. Unlike other types of writing, copywriting is judged on its ability to inspire action. A good copywriter is more than a talented wordsmith but a master marketer who knows how to choose the right words to persuade the reader to take a specific action.
So, with thousands of copywriters out there, how do you find the unicorn that will get results for your organisation? Here's everything you need to do and consider when choosing the right copywriter.
Table of Contents:
Finding the Right Copywriter for Your Company
The first step in choosing the right copywriter is knowing where to look. From online forums to social media, start actively searching for writers that might fit the bill. Here is a list of places you could find a copywriter:
Social Media: a great place to scout out talent, social media is at the top of our list for finding experienced copywriters to help you dot your Is and cross your Ts. And when we say social media, your first port of call is LinkedIn – use search terms that include your sector + copywriter, and you're sure to find a long list of viable candidates.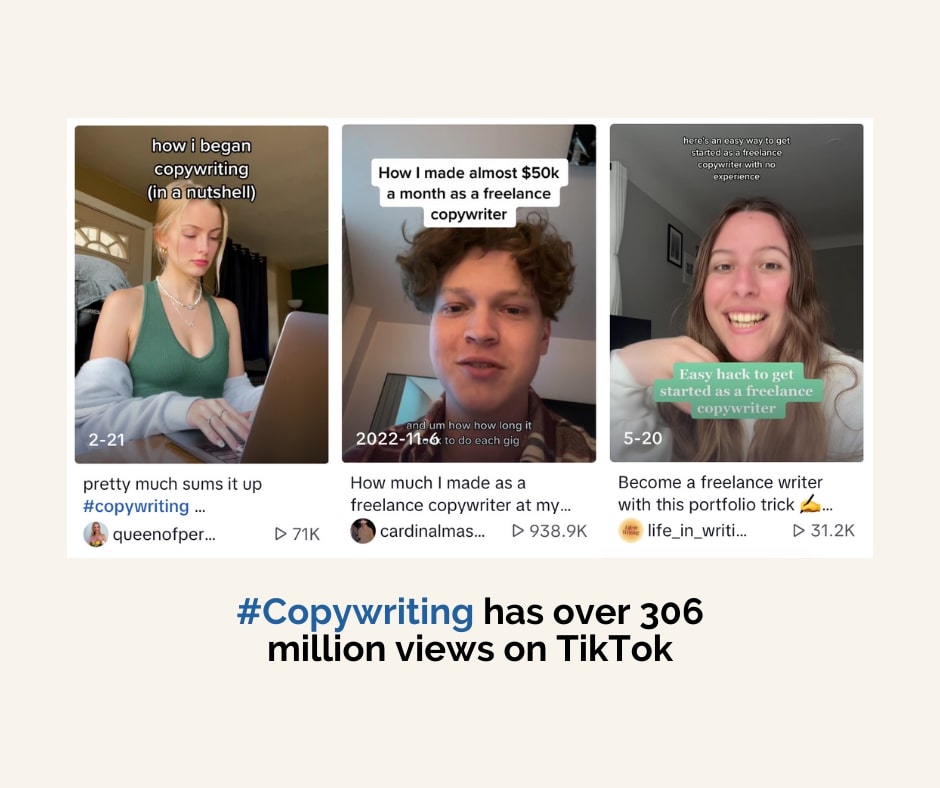 Community Forums: from online question boards to niche-specific Facebook groups, other business owners or creatives in your circle will point you in the right direction.
Google Search: search terms like "copywriters near me" or "freelance copywriters". Chances are, if they rank well in Google, they have business authority and may be worth a shot.
Job Boards and Platforms: Clutch, Bark, Upwork and Fiver are a few that come to mind. Be wary when navigating these sites, as there is a lot of spam. Before hiring a copywriter, we recommend ensuring they have great testimonials and work examples handy – but more on that later.
Local Business Directories: similar to a Google search, head to your local business directory to find a copywriter nearby – a great choice if working remotely isn't for you.
Word of Mouth: finally, through networking and conversations with other professionals online, recommendations are always helpful – especially from those you trust.
The list above is just a starting point. Gather a small group of writers who give an excellent first impression and begin narrowing it down. Our best piece of advice would be to remember that outreach does not equal commitment.
You can research a hundred copywriters and decide not to proceed with any if no one hits the mark. Don't get caught up in the thrill of an initial conversation if the spark isn't there. You're better off breaking things off and moving on than risking having to cut your losses and start the process again later.
What to consider when searching for a Content Writer
In today's fast-paced and information-driven world, the choice of a content writer can significantly impact the success of your projects. Whether you aim to enhance your website, create captivating blog posts, or refine your marketing materials, selecting the right content writer holds utmost importance.
Look for candidates with specific experience in your sector. If you're in a very niche area, look for those with experience in adjacent industries or for talented all-rounders that handle complexity or technical details well.
What type of content do you need?
Some writers excel at long-form blog posts, some rock at optimised web copy, and others thrive on micro-copy for better UX.
There's a vast range of abilities and experience out there – sometimes, you can use a relatively inexperienced writer at a lower rate for low-stakes writing – formulaic product descriptions, for example. You can use cheaper writers if you have an in-house content manager or editorial team when you can provide good brief templates and support the writer with proofing and feedback.
There's no point paying an ad agency high-flyer to write simple landing pages – save them for your positioning statements and your clever straplines. On the other hand, if you want better search results, consider paying more for someone with expertise in SEO.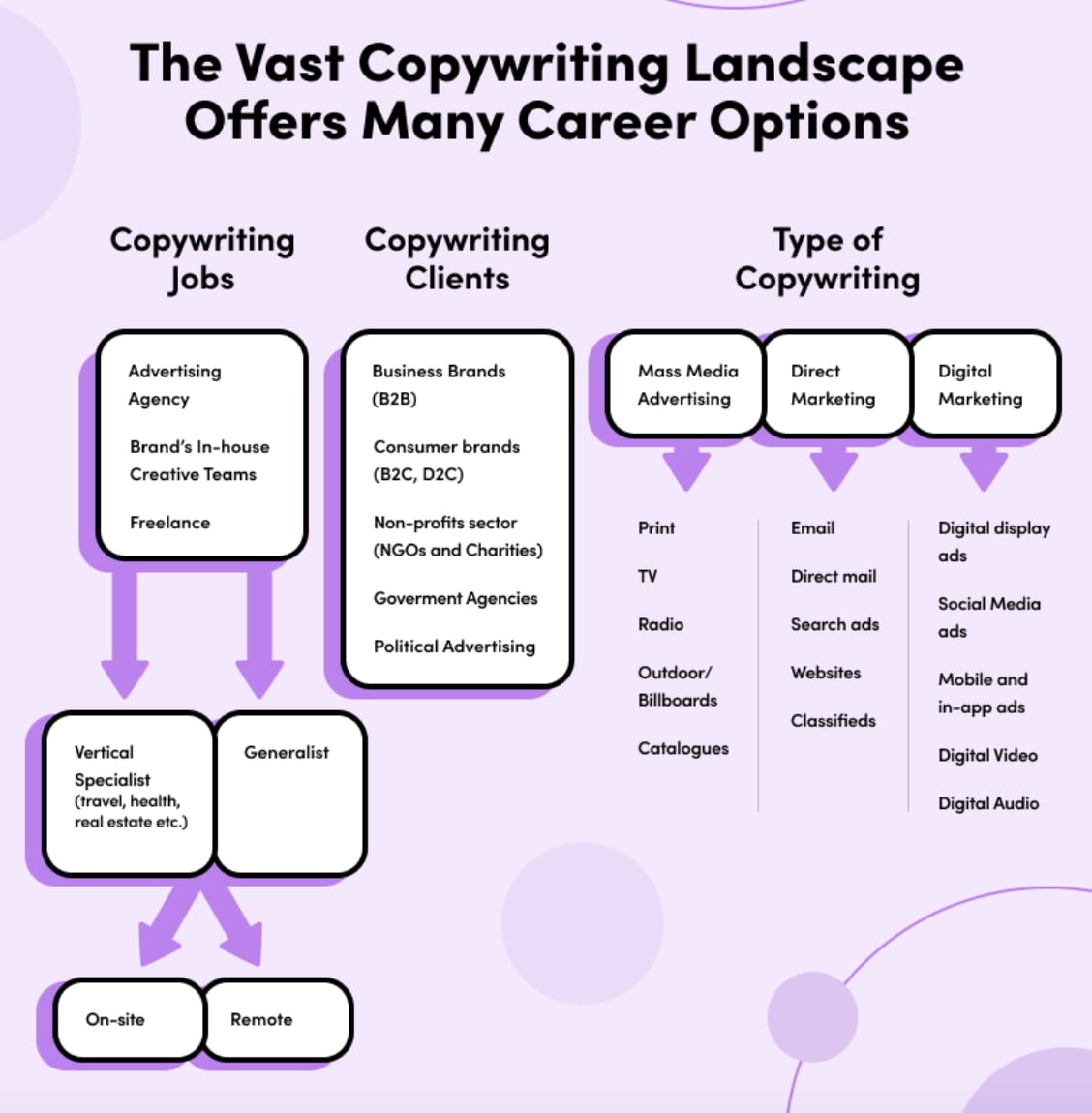 Distinguishing a Good Copywriter and a Great Copywriter
Every serious copywriter has a copywriting portfolio, and once you've narrowed down the great pool of copywriters to a few you wish to contact, you first need to look at their track record. But distinguishing between a good and a great writer can be challenging.
If they've been rocking the copywriting world for a while, that's a clear sign they know their stuff and are here to stay. No one sticks around for long if they can't deliver the goods, right? The same goes for the quality of their portfolio. If it's packed full of compelling copy, written in a range of styles and for various brands, that's a good sign that they know what they're doing.
Check out their testimonials – if there are named individuals in their case studies, reach out and find out what they thought of the copywriting candidate you're interested in.
While many copywriters can write, often, the big difference between stellar copywriting and merely mediocre comes down to the individual's career experience and knowledge of the subject. You might want to go with a recent grad or a newbie writer for those simple, straightforward gigs – and sometimes, it does pay to take a chance on these fresh faces.
But if you're looking for something extraordinary – something that'll make your audience go, "Wow! This is epic!" – you're better off bringing in the big guns, aka someone who's been in the copywriting game for a while.
How Do Copywriters Market Themselves?
The next place to help you decide which copywriter you want to hire should be the writer's website or social media profiles.
Take a look at how they are showing up and making moves online. Are they frequent bloggers? Or social media high flyers? Do the words they use to market themselves have any impact? Or do they fall a little too flat?
You don't want to work with a copywriter whose own "about" page sends you to sleep. A good rule to follow is if they can't sell themselves, they may be pretty naff at selling anything else.
What do other people say?
People trust people. 49% of customers trust online reviews as much as personal recommendations, which proves that customer feedback is really useful. Social proof helps fuel customer loyalty and trust, and reading the reviews left by others is a good indicator of whether or not a copywriter is worth contacting.

Talk, talk and talk some more
By now, you will have narrowed down your group of potential candidates to a handful you wish to either test, trial or get to know a little more. The initial conversations with these writers are crucial. During these chats, you can work out if this person is genuinely someone you want to work with. And it's not just about the quality of their work.
It's worth seeking a copywriter willing to work to a brief (perhaps even to help you create the brief), adapt to your brand's tone of voice and be ready to listen to feedback.
There is no better way to get to know a copywriter than to talk to them. Turn up to your first meeting equipped with questions to help you understand their work processes and schedule. Many freelance copywriters will already have established workflows, and choosing one that suits the needs of your business is integral.
The same goes for their schedule. Popular copywriters may be fully booked in advance, which might not work if your project has a tight turnaround. At this stage, it's all about trusting your gut. Go with the person who makes the most sense; the worst that will happen is it doesn't work out. And if that is the case, you'll have to return to the drawing board.
Start with a sample
Once you've narrowed your list to two or three copywriting candidates, you should request a sample from each. They may be willing to do a short test for free, but if you want something specific or to trial a complex brief, you should expect to pay to commission a sample. And if you plan on using the copy they produce, you should pay for it – you may face copyright issues if you use the writer's work without them assigning ownership to you.
This is still a cost-effective way to judge the copywriters and see whether they will fit your process and tone of voice. Once the sample has been written, you'll know if a working relationship is possible. And if the test piece doesn't fit the bill, don't be afraid to part ways.
That said, it's always worth keeping a second or even third choice in reserve if your first choice doesn't work out.
Trust the copywriter
Working with a copywriter is a two-way street. It's a creative process, so there should be give and take. Trust in their abilities and experience and provide as much detailed feedback as you can in the early stages of the project.
One tip on feedback: give one round of feedback with one voice at each draft, rather than letting each stakeholder in your organisation give feedback individually – this is a nightmare for any creative to deal with and never leads to good results!
It's also important to be specific in your feedback – phrases like "please rewrite this bit differently" or "we like this, but can you change it slightly" will only lead to disappointment and frustration on both sides.
What Does a Good Brief Look Like?
It's up to you how much leeway a copywriter has while working on a project; your expectations must be outlined in a clear brief. Without a good brief, you can expect a vague copy that misses the mark. Your project brief should include the following:
An overview of your business and its objectives: what do you do, and how do you do it? Describe your process and product offering in simple, easy-to-understand terms.
Unique selling proposition: what sets you apart from your competitors? It might be a material used in your product or a benefit of your service that has never been seen before. Whatever it is, make it known to your copywriter.
Brand values: your brand's values underpin everything you do, including your copy. Therefore, anyone joining the team should be made aware of what you stand for.
Your competitors: we know what sets you apart from your competitors, but who are they? Include links to their websites or social media to be extra helpful.
Your tone of voice: tone of voice guidelines are essential. Making your copywriter aware of yours will help them get the copy spot on from the start. If you don't have tone of voice guidelines, your copywriter may be able to help you create them. At the very least, give them some examples of companies or publications you like the sound of so they have something to work with.
Your audience: who are they, what is their pain point, and why are they likely to choose your company? If you have a customer persona to hand, this is a good time to share it.
The project specifics: you need to include what you want, how many words you need and when you want it. Avoid something pretty blasé like 'write me a blog' and instead opt for something like: 'Write a 1000-word blog on XYZ, targeting the keywords X, Y and Z.'
Once the first draft has been returned, feel free to request any revisions. How many revisions are included in their fee should be discussed in the initial workflow conversations. Typically, you would expect one round of revisions and minor proofreading tweaks after the second draft.
Why Should I Invest in Copywriting?
Investing in great copywriting can mean better search results, more traffic, improved conversions and long-lasting customer engagement. It is a vital component in virtually any marketing activity. On average, readers spend 37 seconds on an article – and even less time on a website's homepage – before deciding whether they like what they see. Every word counts.