It's hard to be original. The B2B marketplace demands innovation, but when it comes to content marketing meeting deadlines can be counter-productive to creativity.
Many creatives might work under more pressure than they would like, finding it difficult to "invoke the muse" or brainstorm ideas in tight spaces. It is understandable.
Nevertheless, creativity should be at the forefront of campaigns, with writers, marketers, and designers breaking new ground at every opportunity.
But since creativity is subjective, a tangible process for guaranteeing high-quality creative content does not exist. In the event your business has yet to find its Michelangelo, here are 15 inspiring examples of content marketing done right.
First Steps
Across the infosphere there are plenty of tips for cracking on with creative content, but little actionable advice. That ends here with a guide packed full of creative practicalities.
Find a Time and Place for Creativity
Is it difficult to "get in the zone"? People are more creative in a relaxed environment where they can explore ideas. Whether it is your office, a coffee shop or under the bed, it is vital to find a safe space in which to let your creative mind wander.
Look for Inspiration
Originality is just a different perspective. Most work is in some way derivative and there is no shame in adapting tactics which have found success elsewhere. Imitation is the sincerest form of flattery, but avoid replication. People will notice and it betrays poor planning.
Brainstorm First, Edit Later
Out of chaos comes order. A blank piece of paper can be intimidating, so try not to overthink them at first, just get the ideas down. Once a first draft has been finished it is easier to take stock of where you are. At this stage, procrastination is a killer.
Stay Informed
Subscribe to newsletters, watch the news, listen to podcasts, follow industry trends and keep up to date with peers. Marketers that stay informed, not just on their industry but the wider world, will find they have more to work with.
15 Creative Content Marketing Examples
1. Global Study: IT Leaders Reveal Key Goals and Challenges for Driving Digital Acceleration
This is thought leadership at its finest: Workday, a cloud-based enterprise management company, launched this exclusive report with data from over a thousand interviews with c-suite members.
The study shows the major roadblocks for digital transformation, such as a company culture resistant to change and lack of digital skills among staff.
Packed with bar charts and key findings, this is the type of content that engages decision makers on LinkedIn and can even influence their corporate culture to become tech-centric.
2. Copywriting: The Definitive Guide
Like web tools, a guide can become industry-standard teaching fellow professionals what they need to succeed.
Backlinko founder, Brian Dean, covers everything a copywriter should know, explaining topics like how to get social proof, conducting client interviews, and devising formulas for landing pages and blog posts.
Compared to others, the Backlinko guide provides actionable advice for new writers and contains examples to illustrate the points.
3. How to Write the Perfect Email to Apply for an Unlisted Role
Find a niche. This HubSpot blog post features a scannable infographic by Resume.io specifically about cold emailing recruiters.
It outlines the steps to find a recruiter's email, how to avoid being ignored, and advice on following up. And because of its easy-to-read format, it can be digested in less than five minutes. It's info on the go.
4. What We Can Learn About Productivity and Focus from a Cognitive Neuroscientist and High-Performance Psychologist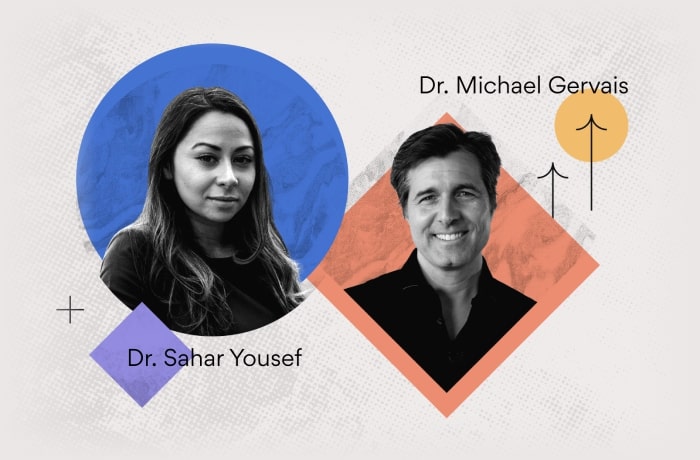 Expert advice can make great content. In this example, Asana, a productivity and project management tool, features a discussion between a neuroscientist and a psychologist.
They discuss qualitative aspects of working, such as how to dissociate yourself from the "noise" in your routine, why multitasking is a myth, and how to improve focus.
Asana adopts a hands-off approach, allowing the experts to instead question each other without a moderator. Expert opinion can help provide an authoritative voice on relevant issues, so try hosting discussions on your platform.
5. The Mysterious Life of Developers
Designed to attract more job applicants for the Norwegian software company Kantega, this video is a parody of David Attenborough nature documentaries and features clichéd developer types in their natural habitat.
Recruiting talent in a competitive field such as tech can be difficult, but this sociable, approachable, embeddable multimedia content made it all look so fun.
In fact, the video went viral helping to boost traffic to Kantega job pages by 3,571%.
6. Generate More SEO Traffic (or How Google's Search Engine Really Works)
Entrepreneur and marketer, Neil Patel, explains how Google's algorithms work when ranking content via his blog post.
Functioning as another resource to aid fellow B2B professionals, the blog covers website crawlers and how PageRank and RankBrain determine how relevant content is ascribed to search terms.
A blog is a great place to establish a name for yourself. In this instance providing valuable industry knowledge not only boosts website traffic, but also brand strength and relevance.
7. The Message
This podcast by General Electric (GE) is a throwback to Orson Welles' reading the War of the Worlds, and serves as an example of audio content like that provided by the GE Theater on CBS radio.
This is highly branded content disguised as entertainment and works by way of association. In this one, GE emerges from the narrative as the saviors of the Earth! After all, it was their "sonic health technology" that allowed a team of scientists to decipher the alien signal.
In an interview for NiemanLab, Andy Goldberg, former Chief Creative Officer (CCO) of GE, explains his thinking behind the podcast:
"I don't consider it advertising. It's a podcast show that just happens to be produced by a brand instead of a network. I'm not saying, 'Hey, go out and buy a jet engine.' It's a science fiction story to connect listeners with what the GE brand is about, without selling the GE brand.
8. Social Media for Nonprofits: Empowering Younger Generations to Take Action
Featuring a communications specialist, this article from social media analytics platform, Buffer, works like a brand spotlight turned in on itself.
By showcasing the noble goals of clients, Buffer is in fact promoting itself by attempting to align its own values with those of its target audience. As well as plugging offers of course, in this case a 50% discount for nonprofits.
9. The State of Statistical SEO Split-Testing in 2021
In this research piece for the SaaS online visibility and content marketing platform, Semrush, the topic of SEO is used as a vehicle to promote its new split-testing tool.
The company polled 54 SEO professionals at companies with 100+ employees to gather data on testing and the issues they face, before presenting their own tool as a solution.
10. Mailchimp 101
A marketing automation platform, Mailchimp has created a good-looking guide for newcomers to the world of optimized contact data.
The design here is key, with hand-drawn illustrations and an informal tone helping to onboard new clients in a calm and reassuring way, while at the same time pushing the brand.
The site also functions as a pillar page, linking to guides by Mailchimp on subjects like landing pages, email design and consumer journeys. There is nothing wrong with syndicating your own content to facilitate stronger SEO results.
As an aside, those companies that fail to formulate their own style face the ignominious fate of becoming a meme.
11. The Complete Guide to UX
This guide by Hotjar, a website heatmap and analytics tool, describes key principles behind user experience (UX) design, the creation process and the differences between UX and user interface (UI).
Thanks to intelligent use of simplified language, it functions as a comprehensive asset both for UX beginners and seasoned designers who want to expand their knowledge.
Constructing a well-written and researched guide like this allows companies to plug other content too, in this case signing up to Hotjar's insights mailing list.
12. Mozilla Explains: Cookies and Supercookies
The software community Mozilla is perhaps best known for its internet browser Firefox. In this article, it explains what cookies are and how they track browsing activity, before presenting its own services as a solution in much the same way Semrush did.
The quality of information from articles which come straight from the horse's mouth, as it were, is generally very high, well regarded and in some cases can work to inform changes to company policy. Content like this helps maintain industry relevance.
13. HBR IdeaCast
Each week, the Harvard Business Review (HBR) interviews an industry leader on a pressing topic, such as stakeholder capitalism, how to foster imagination or even the fall of Carlos Ghosn.
It utilizes the podcast format well to craft compelling stories instead of lecturing listeners. As such, more discerning audiences tend to be loyal, valuing the quality of the content as a staple in their learning calendar.
14. How Bushel Uses Google Workspace to Innovate in Agtech
In this personable video presentation, Google introduces a dedicated platform developed for the agricultural technology (Agtech) industry that allows farmers to better track all aspects of their business.
Instead of a hard sell, the video reflects on changing working practices, incorporating the Covid-19 pandemic, and showcasing those people at the forefront of the industry.
Not really an advert, it's more a miniature case study into their own success, tying digital operations to their practical application in the physical world. And it screams one thing: relevance.
15. Big Data and AI are Pushing MotoGP to Achieve Unthinkable Speeds
As we have already discussed, do not be afraid to be niche. This article/case study by tech giant Lenovo unashamedly focuses entire tranches of the tech sector through the narrow lens of motorbike racing.
But it also does more; it tells a story. A history. And before we know it Lenovo has been integral to the development of one of the most popular motorsports on the planet over the past 70 years.
This type of content helps develop an already established brand name further, adding prestige by identifying their own place in the annals of history. And not a SDR in sight.
Conclusion
To round up, let's review a few of the fundamentals that can be gleaned from these examples:
Fun
Creativity should be fun. For any creatives struggling to get going, think of the most fun and entertaining way to present your information and start from there. The award-winning GE radio show, for example, would have appealed to people with no interest in the product, yet still promoted the brand. And don't be afraid to use humor, the truest words are often spoken in jest.
Tell A Story
Everyone loves a story, especially if it's a true one. Using real people to sell a service, promote a brand or showcase a product lends campaigns a sense of uniqueness, a feel for the genuine, a personal endorsement. Stories can also be emotional, which means people can become invested in campaigns for more qualitative reasons.
Focus on the UX
What does the UX have to do with creativity? Ensuring content is easy to understand, share, and act upon is essential to creating a successful campaign. Images, videos, infographics, and scannable copy not only help consumers better understand a topic, they are also great formats for further syndication across multiple channels and platforms.
Supply Expert Opinion
Providing a platform for expert opinion is a good shout. It isn't new, not even particularly novel, but it is a defining characteristic of the best content. The presentation of industry knowledge in an unbranded way is refreshing and more newsworthy than regular syndicated content. The right guest can also lend a brand an air of authority and help attract new clients.
Invest in Good Design
Finally, intelligent design makes content accessible and enjoyable. If the content is good but looks bad, then it is possible no one will consume it. This would make entire campaigns pointless, impacting the bottom line with poor ROI and plummeting expectations.