How did you discover your favorite brand? How did you learn about their promotions or campaigns? What made you feel engaged and connected with their brand?
Whatever your answer is, content definitely played a part.
You learn about brands and connect with them through the content that they create. Through social media posts, you learn who they are and get regular updates. You read their blog posts, marketing emails and watch their videos. And, you might even download their eBook, whitepapers, infographics and case studies.
The bottom line is:
Content is king.
Today, there are currently 1.97 million blog posts published on WordPress alone.
That's a lot of fresh content created for the sole purpose of attracting new customers and increasing conversions. However, this also means that there's a lot of competition in the content industry.
So, how can e-commerce brands drive more sales through content? How can they stand out, in spite of the millions of blog posts on the Internet? This post will share the strategies of top e-commerce brands who are nailing their content marketing and what we can learn from them.

How Top E-Commerce Brands Use Content Marketing
1. Airbnb
The hospitality industry has thrived for millennia without much change.
So when Airbnb set out to disrupt global traveling habits, they turned to social media.
Short intro
i. Features their customers' experiences on Instagram
Airbnb's popularity can be partly explained by their Instagram strategy.
The brand has a beautiful feed filled with photos and videos of off-the-beaten path destinations and unique homes from around the world.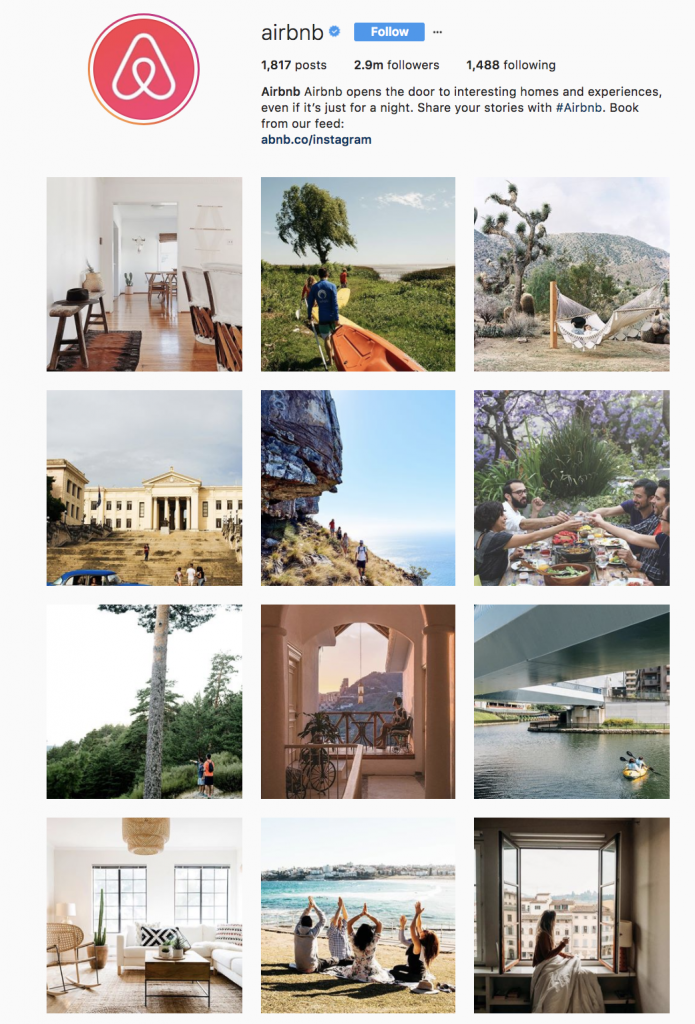 But they're not just beautiful vistas and scenic landscapes. Most of their photographs feature customers enjoying the experience.
This focus on people entices Instagram followers to try out Airbnb, or explore a new region.
And the response to their posts is incredible. Each of their Instagram posts receive from 10,000 to 30,000 likes, and hundreds of comments. They've also amassed 2.9 million followers on Instagram.
ii. Collaborates with celebrities and famous influencers
For the past two years, Airbnb has created celebrity-sponsored posts. These posts have garnered 18 million likes, 510,000 comments, and an engagement rate of 4 percent. Altogether, the combined reach of their sponsored celebrity posts is 966 million.
One example is Lady Gaga's post of her $20 million Airbnb estate for Super Bowl LI. In exchange for the gift, she thanked the brand in a sponsored post, which received half a million likes.

For Coachella, the brand provided extravagant Airbnbs to celebrity performers and guests Drake, Martin Garrix, Wiz Khalifa, and Stefanie Giesinger, among many others.
Thanks to the news coverage and the fans, Airbnb achieved an immense reach.
iii. Creates city guides to improve tourist's experience
So you want to go to San Francisco? You book and Airbnb, then ask: Where are the best clubs and bars? How do I get around the city? What are the things I can do in San Francisco?
If these are your questions, Airbnb's city guide has all the answers.
These guides let you know what locals love, what they complain about, public transit routes, and featured neighborhoods. You can also browse the "Things to do" section to find out the main attractions, shopping districts, entertainment and activities, parks, restaurants, and much more.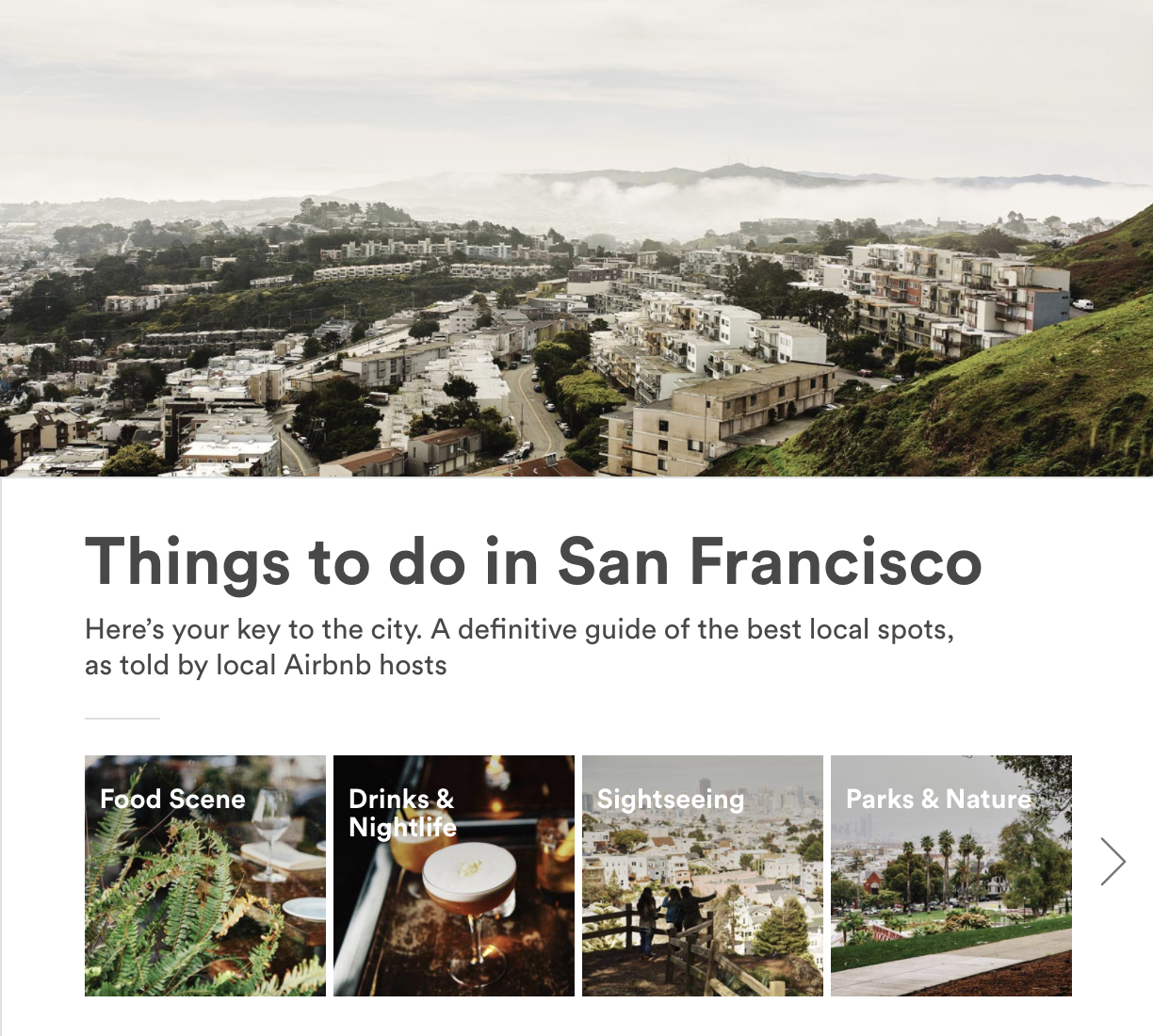 The best part? City guides feature content from travelers themselves and contain a detailed map, so you can easily find the top destinations.

iv. Launched Airbnb magazine
If you think magazines are dead, chances are you've never read the Airbnbmag.
The magazine is not just filled with random destinations; Airbnb uses the digital data that they get from their hosts and guests to determine their content.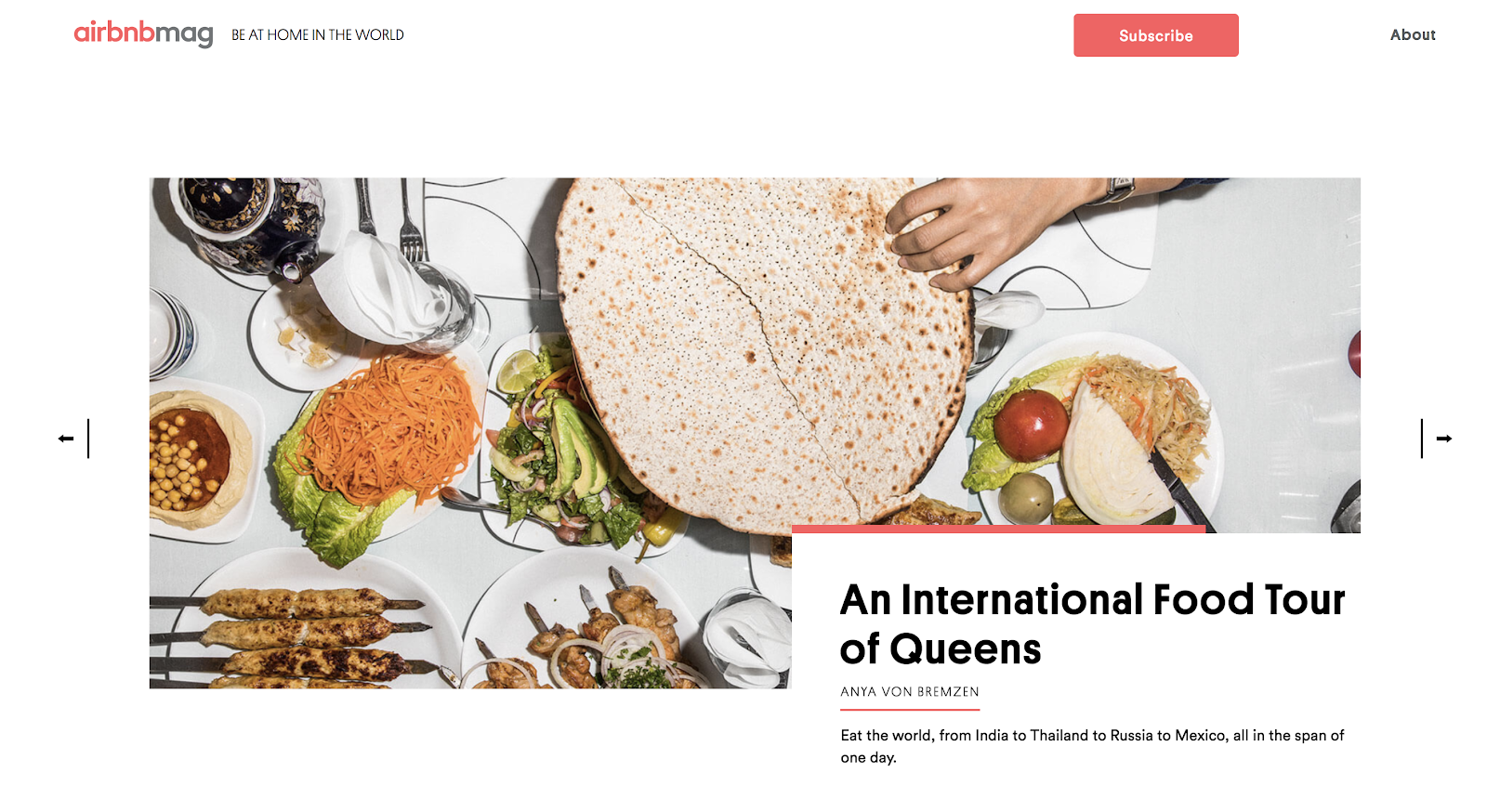 They determine how many customers are interested in traveling to Tokyo, New York, or Toronto, and they use this data to find out which destinations their magazine should feature.
2. Keds
In 2012, Keds repositioned itself as a brand for teenage girls.
Here's how they used content to make this transition.
i. Bravehearts campaign—inspiring women to "Be Brave"
Keds believes that the "Keds girl" lives without limits. She is optimistic, kind, bold, and brave. She is focused on making a positive change in her community and wants her opinions to be heard.
Based on this consumer insight, Keds launched the fully integrated and customized Bravehearts site on Tumblr. Posts tagged with #BraveHeart included the goals and acts of bravery of their young customers.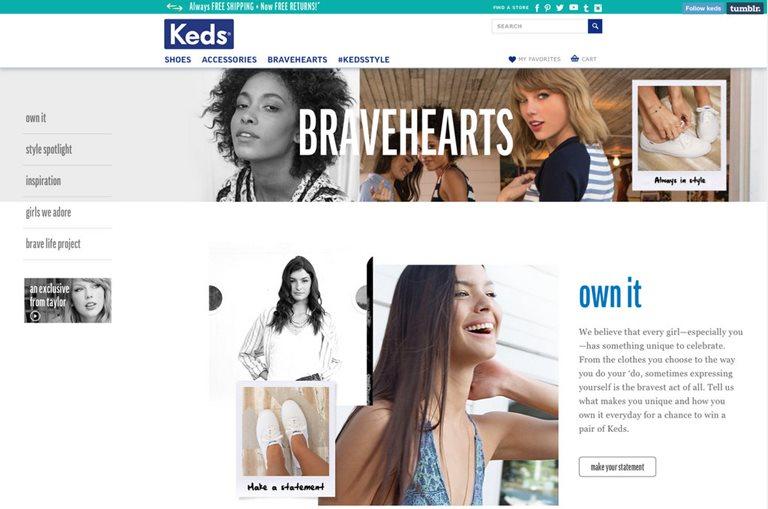 The site also features inspirational quotes and stylish lookbooks to inspire young women to take a leap, dare to dream, and live a life without limits.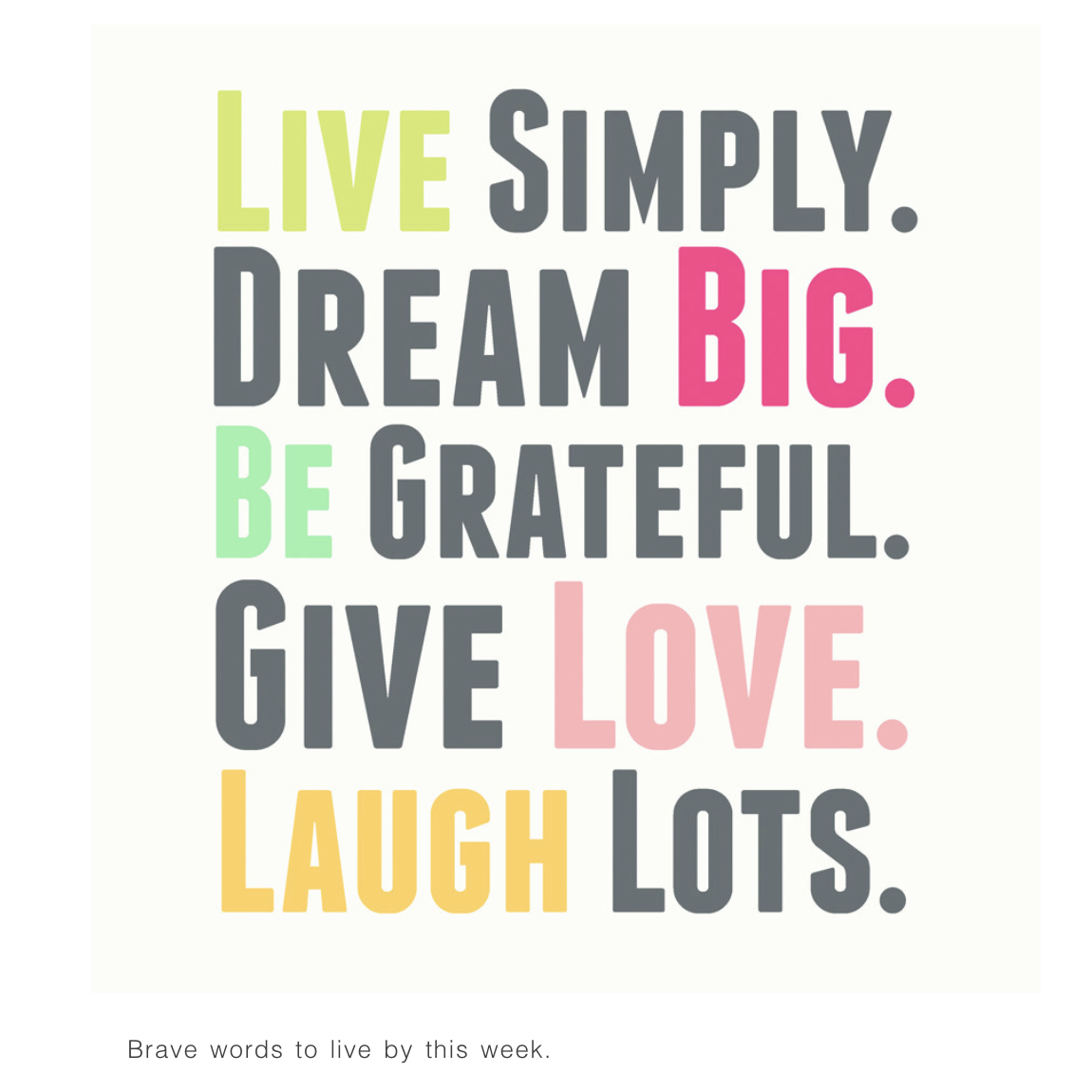 ii. "Ladies First" – launched a conversation about female empowerment
How do you celebrate women's empowerment? Keds gathered insights from 10,000 countries to find out.
It then created the "Ladies First" campaign to connect with the younger generation.
The brand posted images with inspirational quotes whose backdrops were created by female artists such as illustrator Priscilla Witte, surface artist and pattern designer Kendra Dandy, and street artist Paige Smith. The images starred Taylor Swift and were posted on social media, buses, and subways.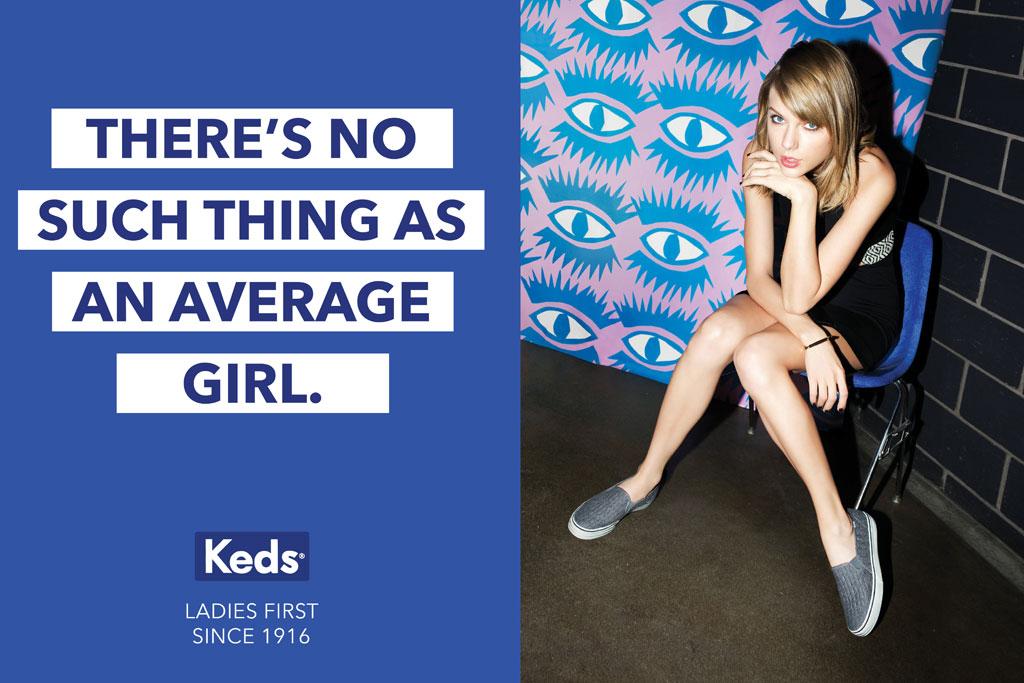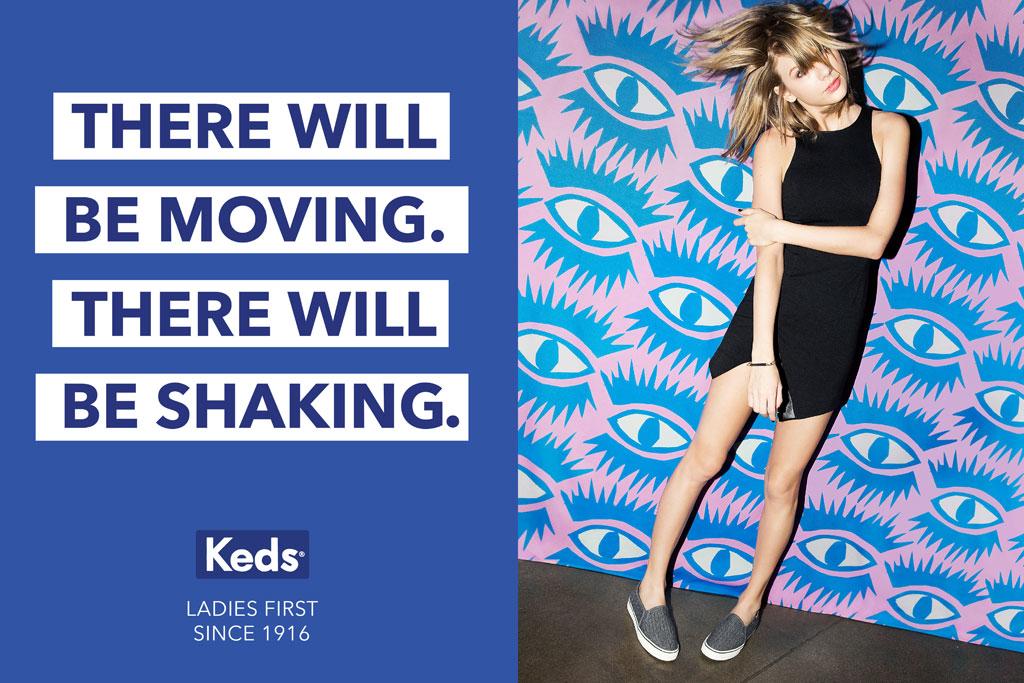 Image source: Adweek
Instagram is a great place for young girls to show off their Keds. Girls love posting pictures of the Keds they wore while attending concerts, traveling, and hanging out with friends.
Naturally, Keds decided to take advantage of the visual content that their customers create.
The brand's social media and web developer teams created a shoppable feed that placed all social posts from Keds.com on their website's homepage. When a photo is clicked, customers see the product details and price tag.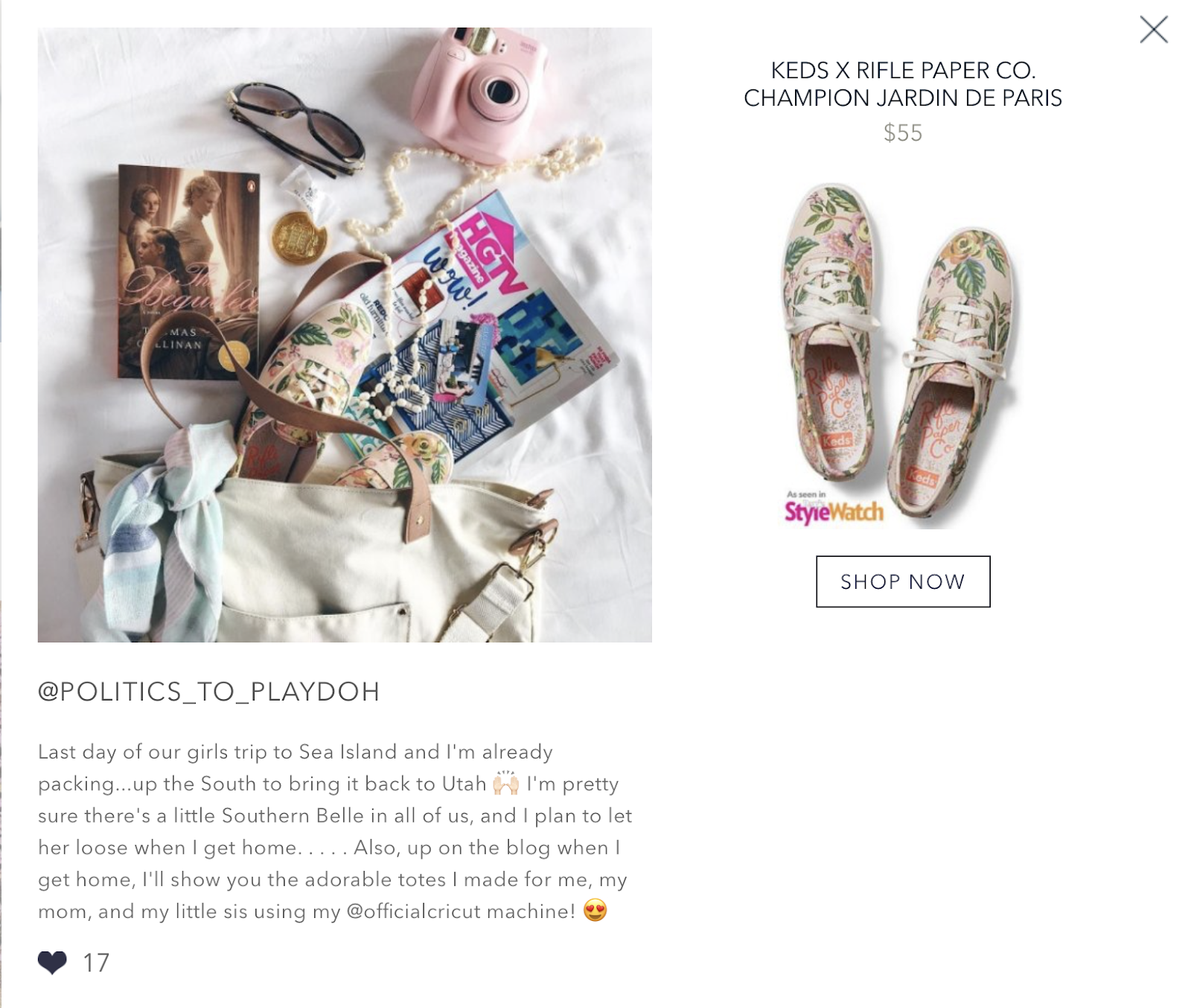 By creating a shoppable Instagram feed, Keds is able to take advantage of a perfect merchandising opportunity and release digital and mobile content.
3. ASOS
ASOS was established in 2000.
After a few years, the brand has become one of the world's top fashion empires. How did it achieve fame and fortune? In part, through content marketing strategies that focused on brand awareness and popularity.
Want to read a magazine and shop right from the page? Then check out the ASOS Brand Magazine.
The magazine features a strong lineup of editorial content, which includes celebrity style, shopping tips, outfit ideas, and how-to articles.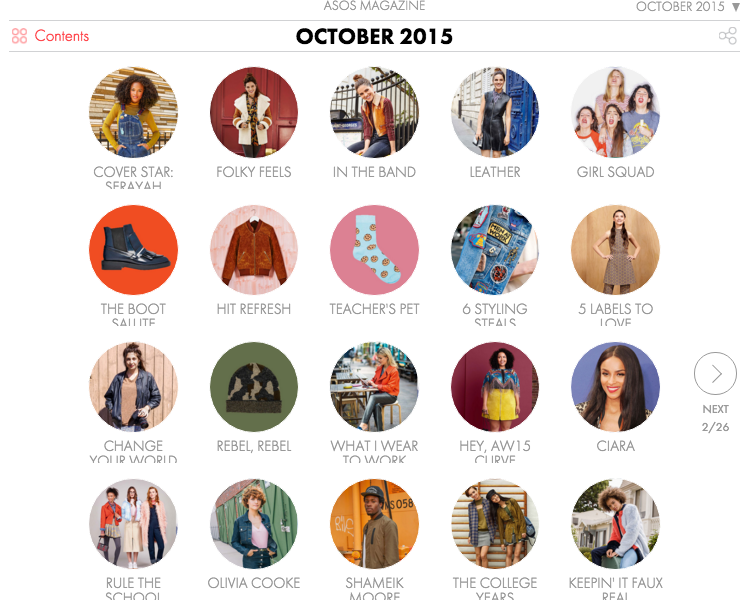 There are downloadable and print versions of the magazine. And by downloadable, I don't just mean PDF files. Instead, think of a magazine where you can shop clothes and products after you see it from the page itself.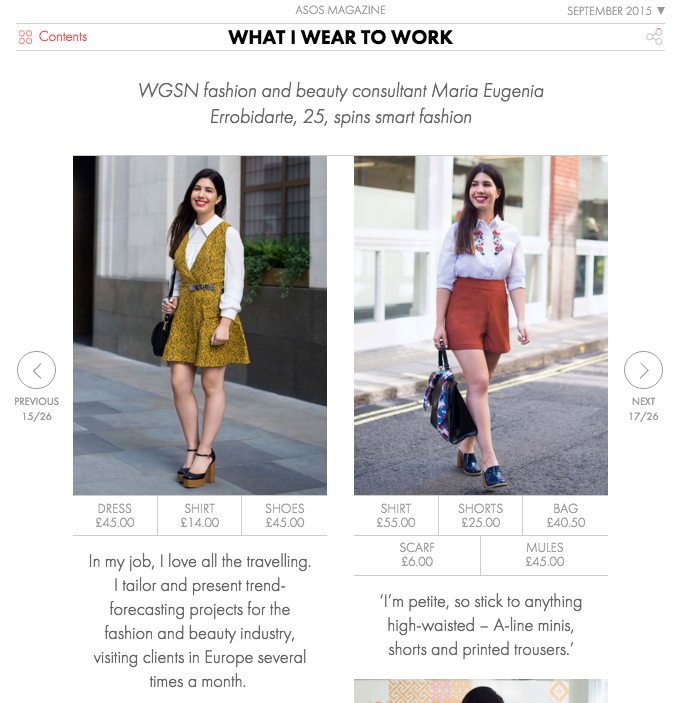 Now this is how you get readers to buy your products.
ii. ASOS Insiders community – communicated with customers via influencers
People love influencers because of their ability to create authentic content.
ASOS understood the importance of authenticity, which is why they created the ASOS Insiders community. The community consists of 20-year-old influencers who post ASOS OOTDs (Outfit of the Day) which encompass '90s looks, street style, maternity wear, and more.
Each influencer also has a curated page on the ASOS website, which features the products they wear.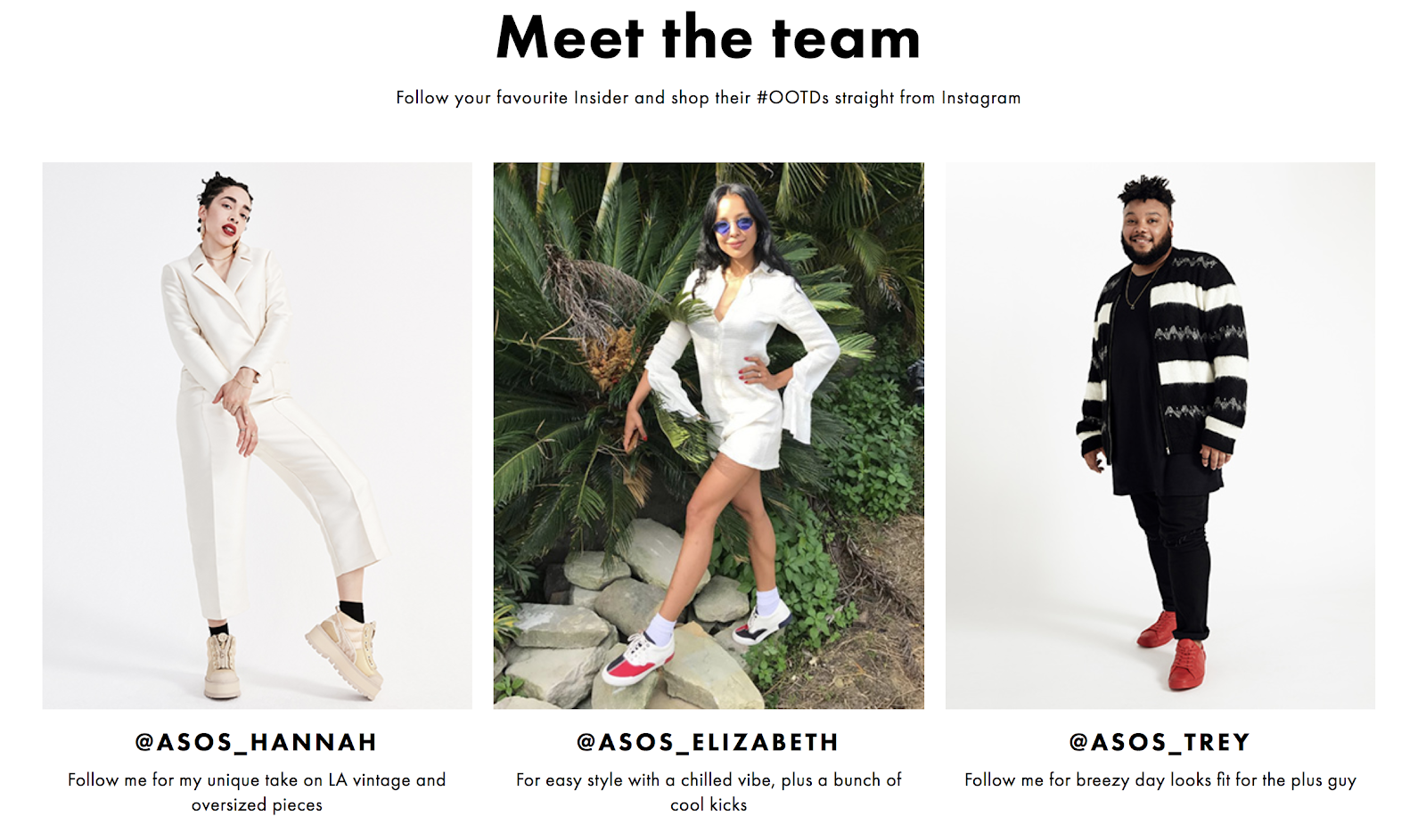 And these product photos are not just for viewing pleasure. Customers can click on the image and buy the product through their social media posts or see the product code in the caption.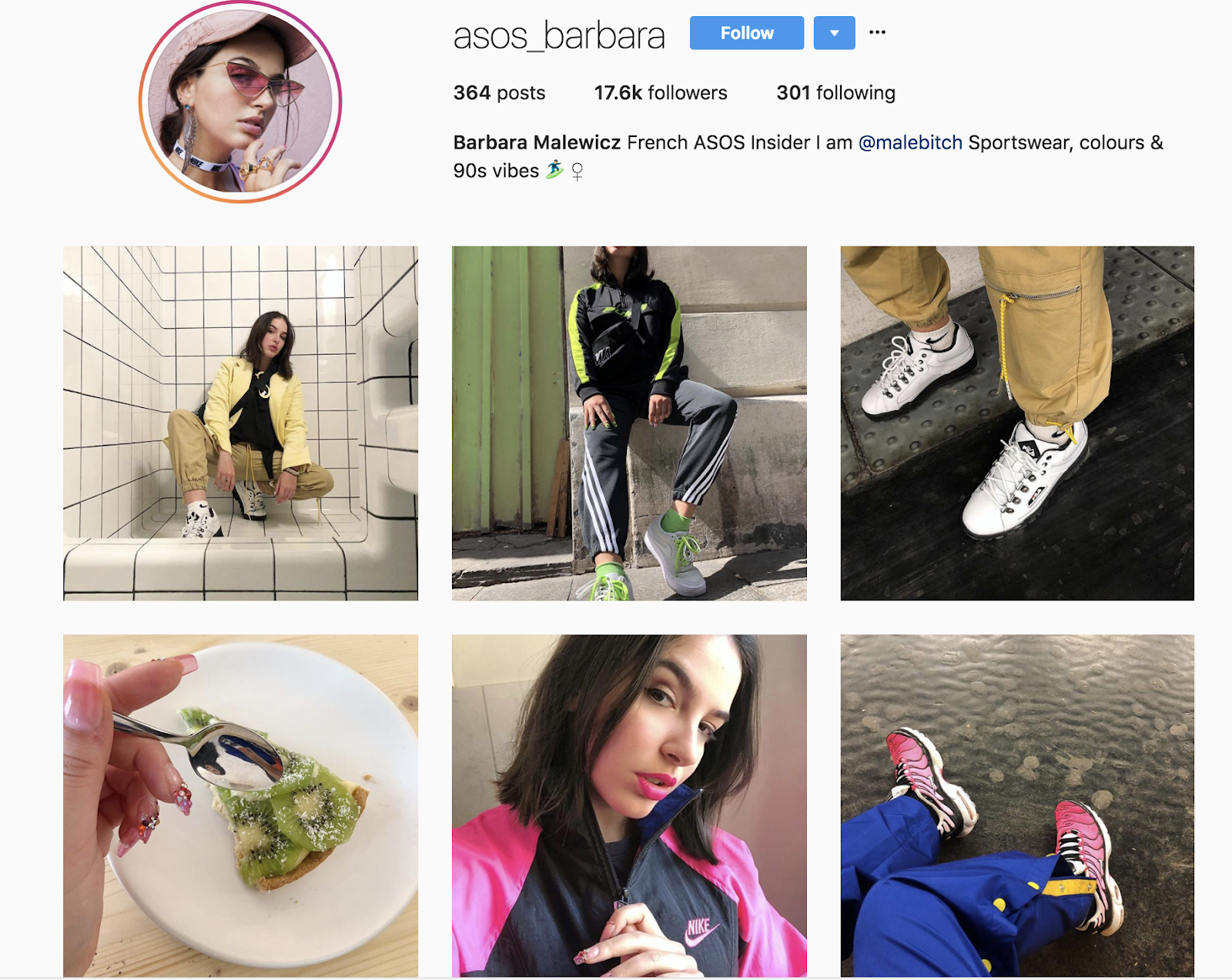 iii. Targets its young and trendy customer base via social media
ASOS has an exceptional social media strategy.
It has an active Twitter page (@ASOS) which is filled with witty and relatable posts as well as product photos. The brand's most popular tweets include funny GIFs and easy to follow fashion tips, which receive hundreds of favorites and retweets.
Been paid and waiting for the long weekend like… 🍹 pic.twitter.com/nBMfm4KqT1

— ASOS (@ASOS) March 30, 2018
Ok, so we *may* have printed 17,000 bags with a typo. We're calling it a limited edition. pic.twitter.com/wTpKNid4V5

— ASOS (@ASOS) March 21, 2018

It also has separate accounts for ASOS Australia, US, France, Spain, Germany, Italy, ASOS Menswear, ASOS Careers, ASOS Fashion Finder, ASOS Marketplace, and ASOS Green Room. This allows the brand to interact and engage with specific marketing segments from around the world.
Meanwhile, ASOS's Instagram is filled with witty jokes and comments about existing fashion trends and their latest products. This makes the brand relatable for its followers, and it gives inspiration to fashionistas who love ASOS products.

The ASOS Facebook page is one of the most popular fashion brand pages, with over 5.5 million followers.
The brand posts promote partnerships and products as well as delivering updates to customers. A recent example of this is a post commemorating the ASOS Made In Kenya SS18 partnership. The brand collaborated with SOKO Kenya to create their first unisex collection, which brought together designers, collaborators, and makers.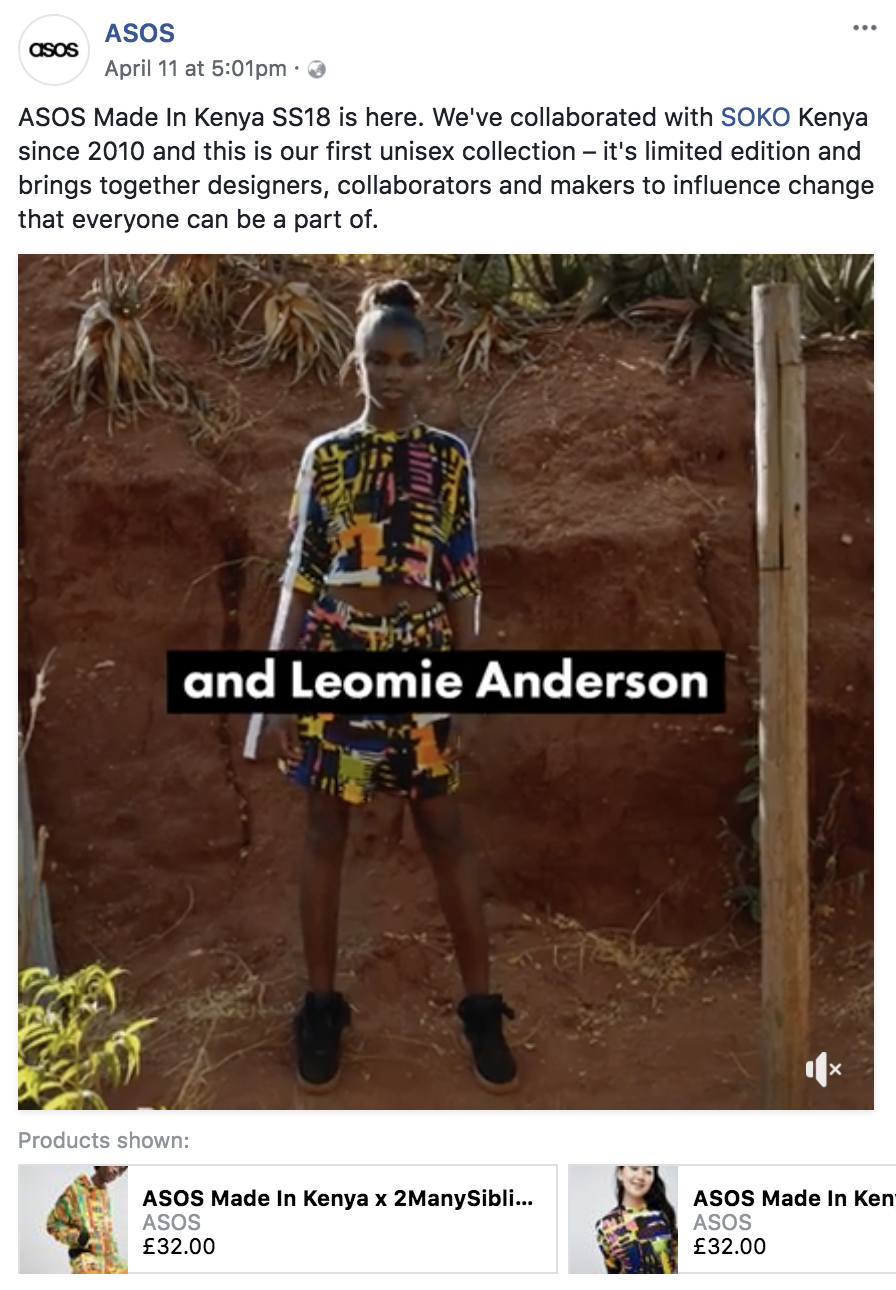 They also promoted their collaboration with GLAMGLOW and My Little Pony to create a magical range of glitter masks, exclusive to ASOS.


This is a particularly effective marketing technique, as it allows customers to receive updates about the brand's new collections and learn about products that are in line with their taste and style.
Another great thing about ASOS?
The brand diligently replies to company enquiries about purchases on social media. They respond to customer enquiries and complaints in a polite and respectful manner.
They also run the Twitter page — @ASOS_HeretoHelp — to connect with customers.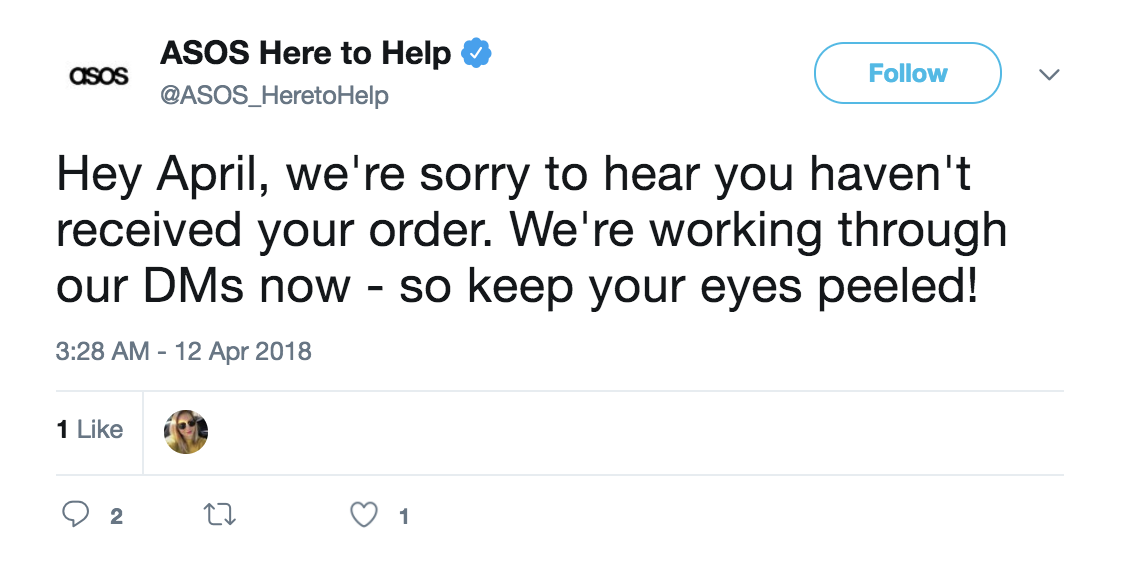 4. GoPro
GoPro is one of the most popular camera brands in the world.
How did GoPro become famous? You've probably heard of the brand thanks to their awesome content marketing strategy.
GoPro's success can be attributed to its user-generated content.
The brand uploads videos of its customer's adventures and exploits, which are shot with their own video cameras. They have also partnered with talented content creators and sports enthusiasts to create video content that stands out.
These clips are combined and edited to create the video collections "GoPro Compilations" and "People are Amazing" videos, which have the potential to go viral.
The best part?
The brand gets free promotion and content.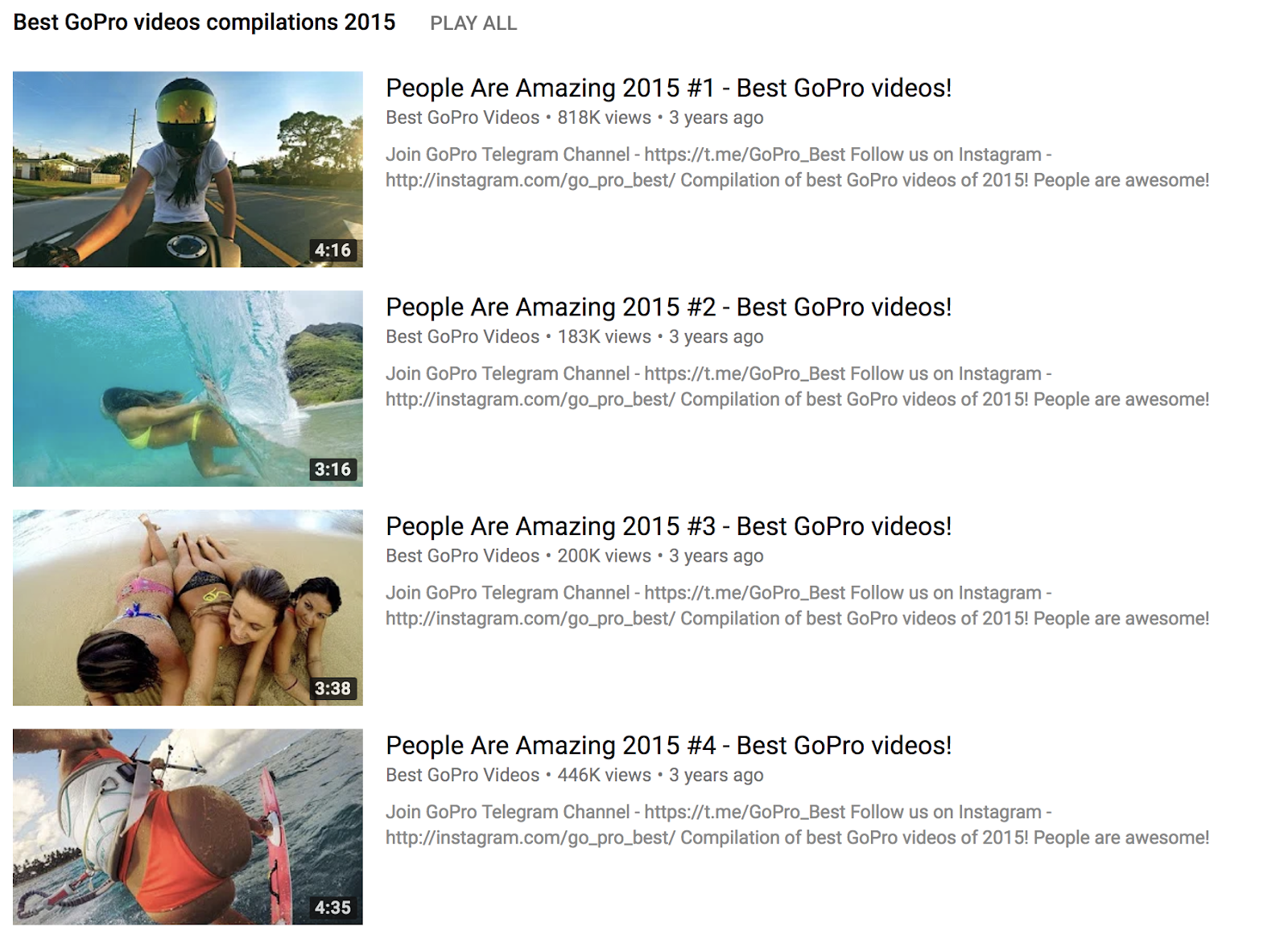 How does GoPro encourage users to create content?
The brand holds the GoPro Awards and allots up to $5 million annually to GoPro users who win best visual content in categories which include motorsports, music, animals, and travel.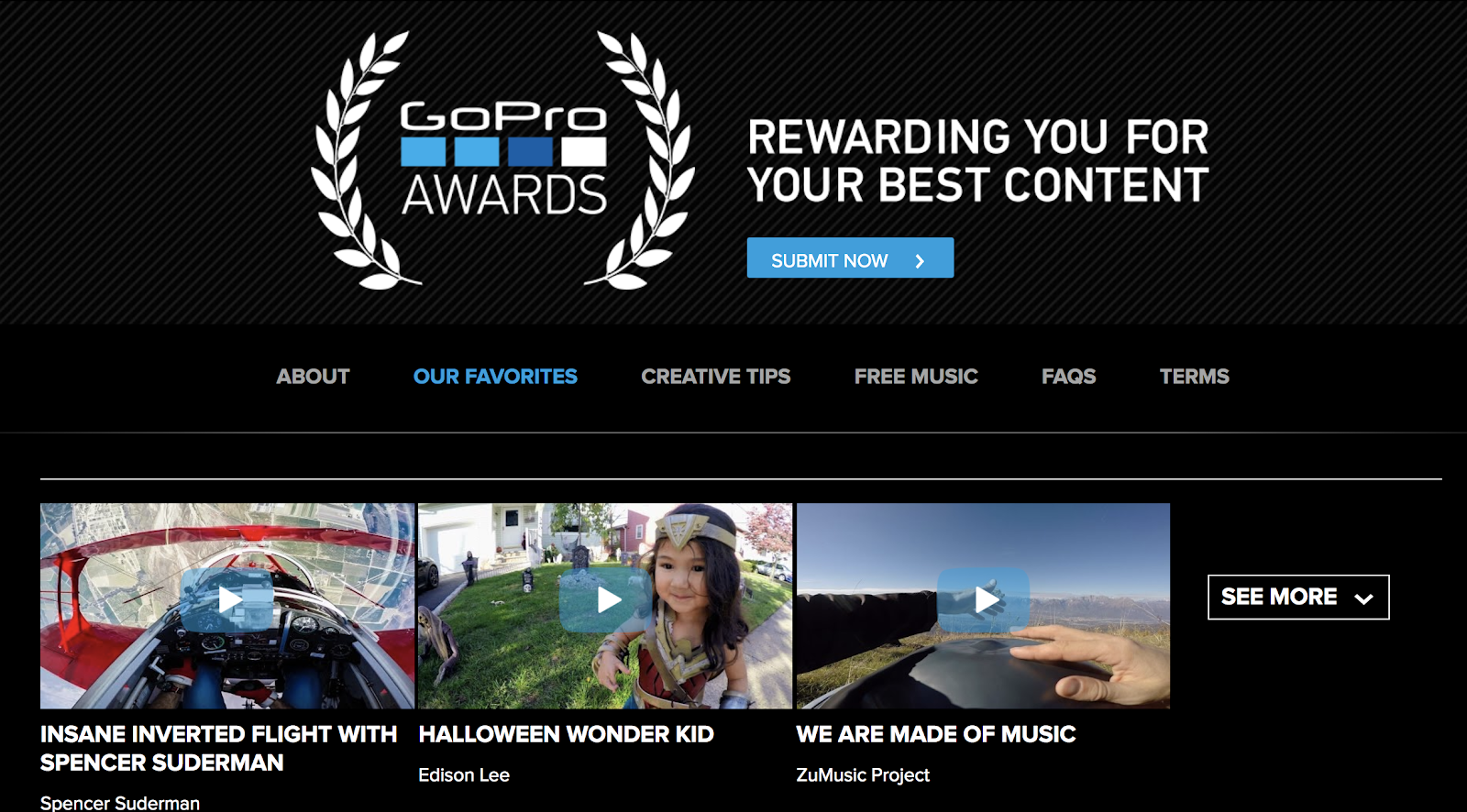 It pays $500 for outstanding photographs, $1,000 for raw video footage, and $5,000 for edited clips. One winner is chosen in each category every week throughout the year.
5. J.Crew
J.Crew is worth $2.4 billion.
It's a successful retailer of men's and women's apparel, shoes, and accessories around the globe.
How did the brand use content to gain billions? Let's find out.
i. Collaborates with online influencers
More businesses are incorporating videos into their content marketing
strategies—and for good reason.
According to Wyzowl's 2017 State of Video Marketing survey, 81 percent of the businesses who created videos experienced a surge in sales.
Not surprisingly, J.Crew has created video content, but it uses influencers to create online hype.
Last year, the brand collaborated with YouTube influencer Casey Neistat to promote their Ludlow Traveler suit. The video featured 17 tips to travel in style, which amassed 3 million views.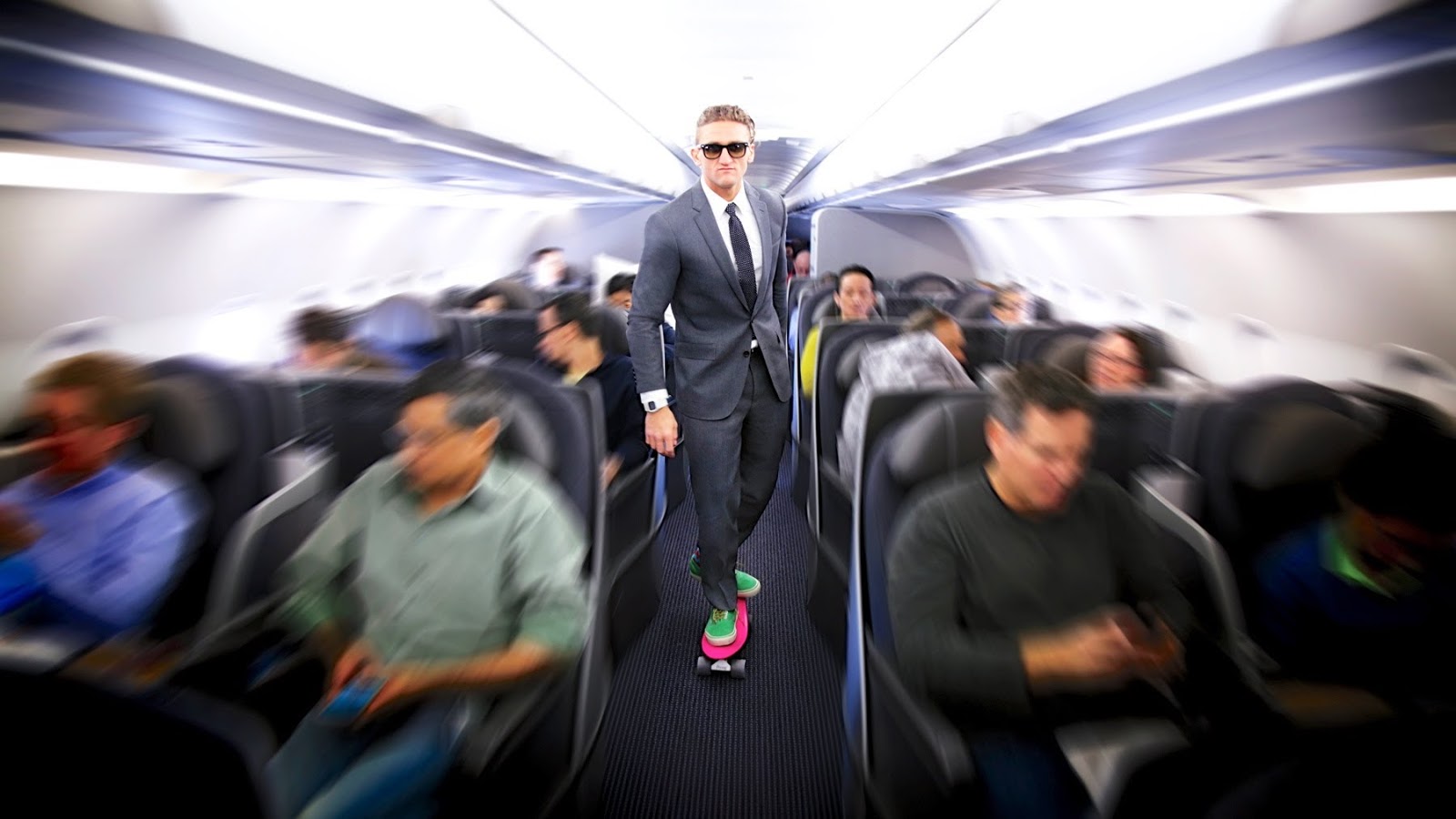 ii. Created the J.Crew blog for customers
J.Crew took content marketing to a whole new level with their J.Crew blog.
The blog features style hacks and fashion tutorials for both men and women.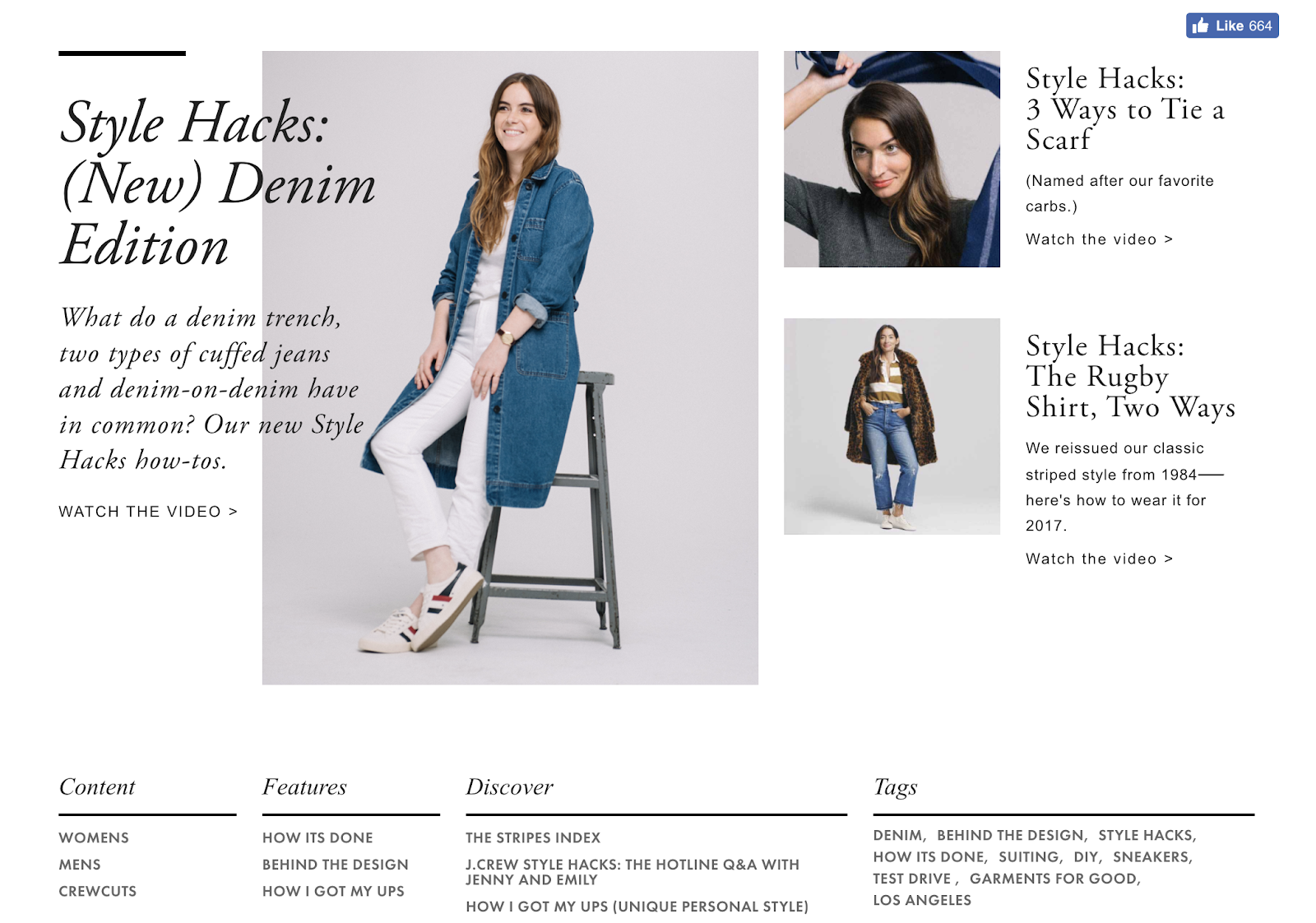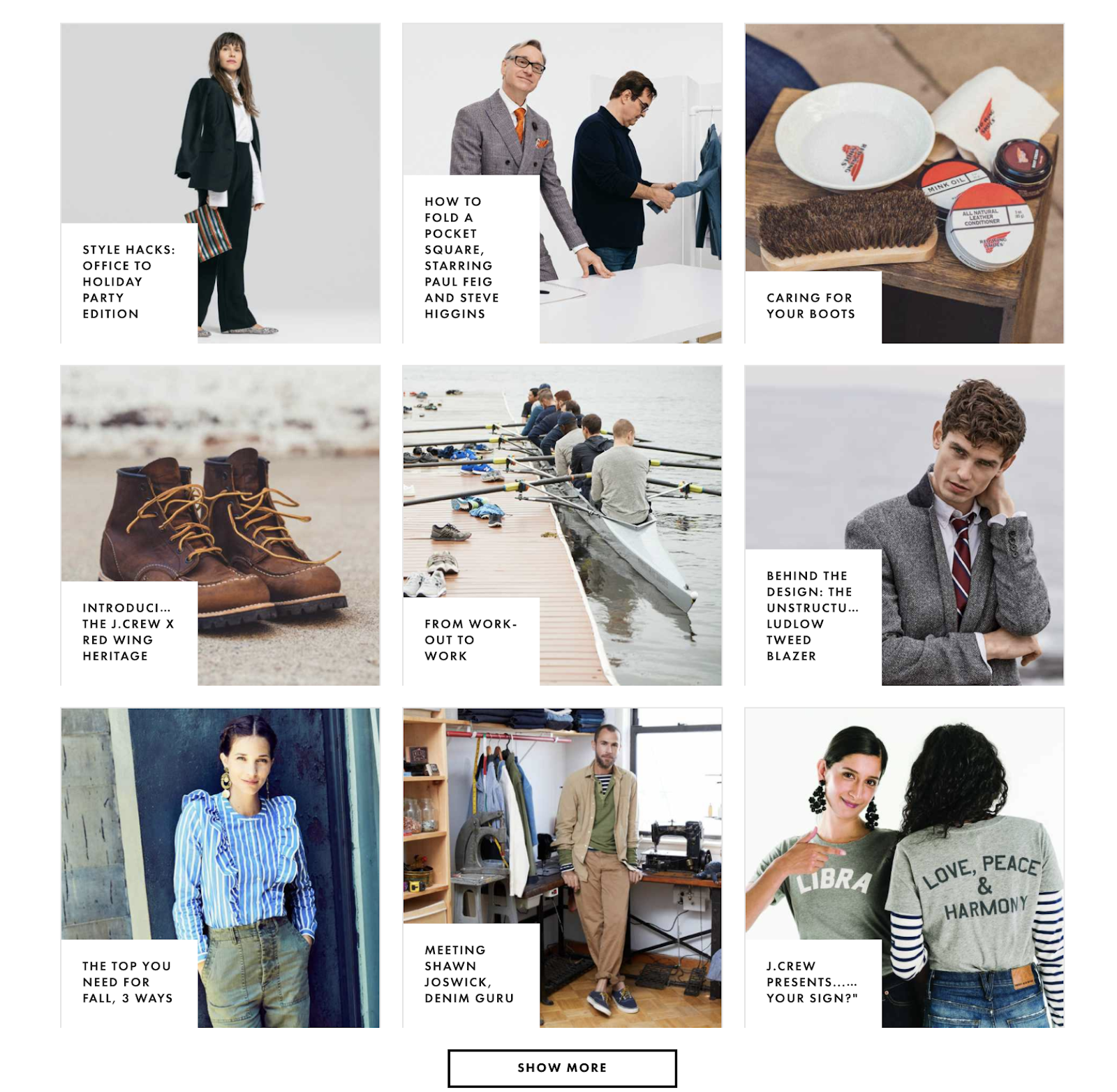 Each post contains videos and pictures, which enable the brand to deliver premium content to its readers.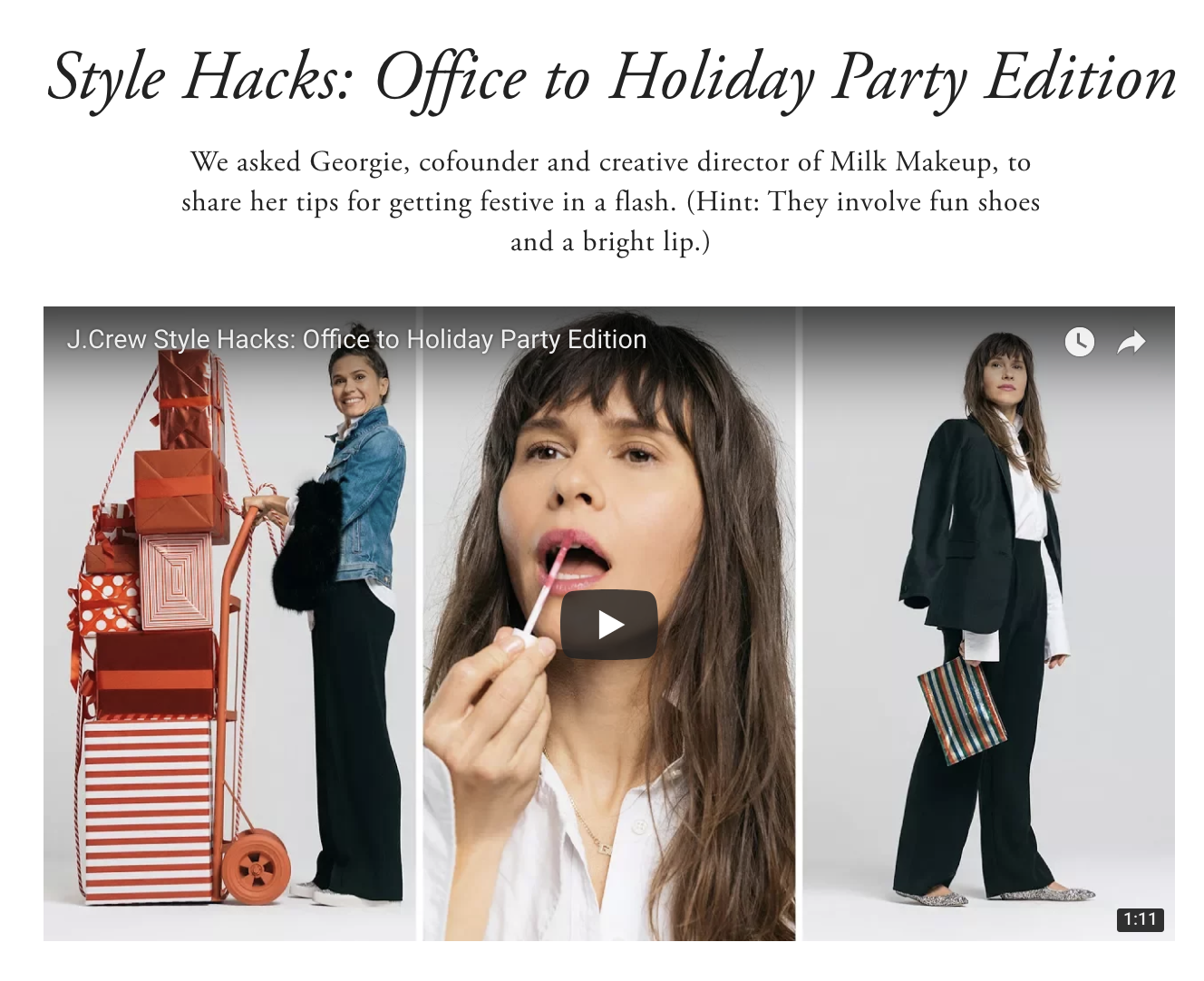 iii. Uses social media to promote blog posts
How do you promote your blog?
Would you make customers click a link or swipe up on Instagram stories to reach the brand website?
J.Crew believed the latter. So it posted calls to action on Instagram stories to encourage viewers visit their blog posts.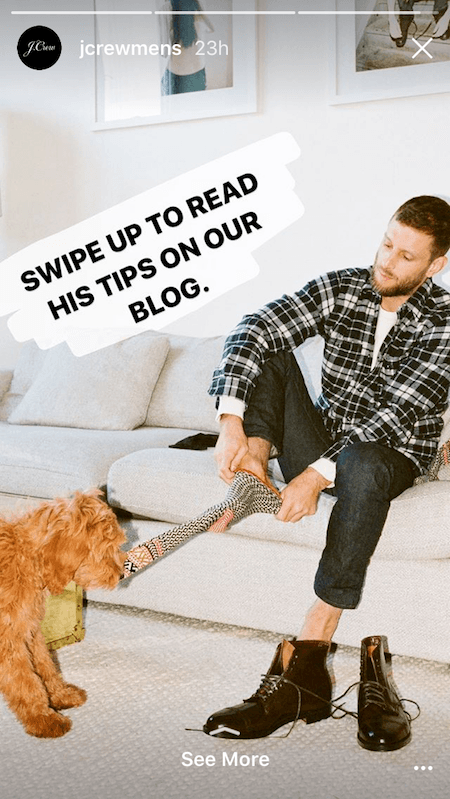 J.Crew also promotes its blog through Pinterest.
Some of their pins feature quotes from the people featured in their blogs with a link to the blog post.

iv. Creates product posts in social media
J.Crew's success can also be attributed through their high-quality product posts on Instagram, Twitter, and Facebook.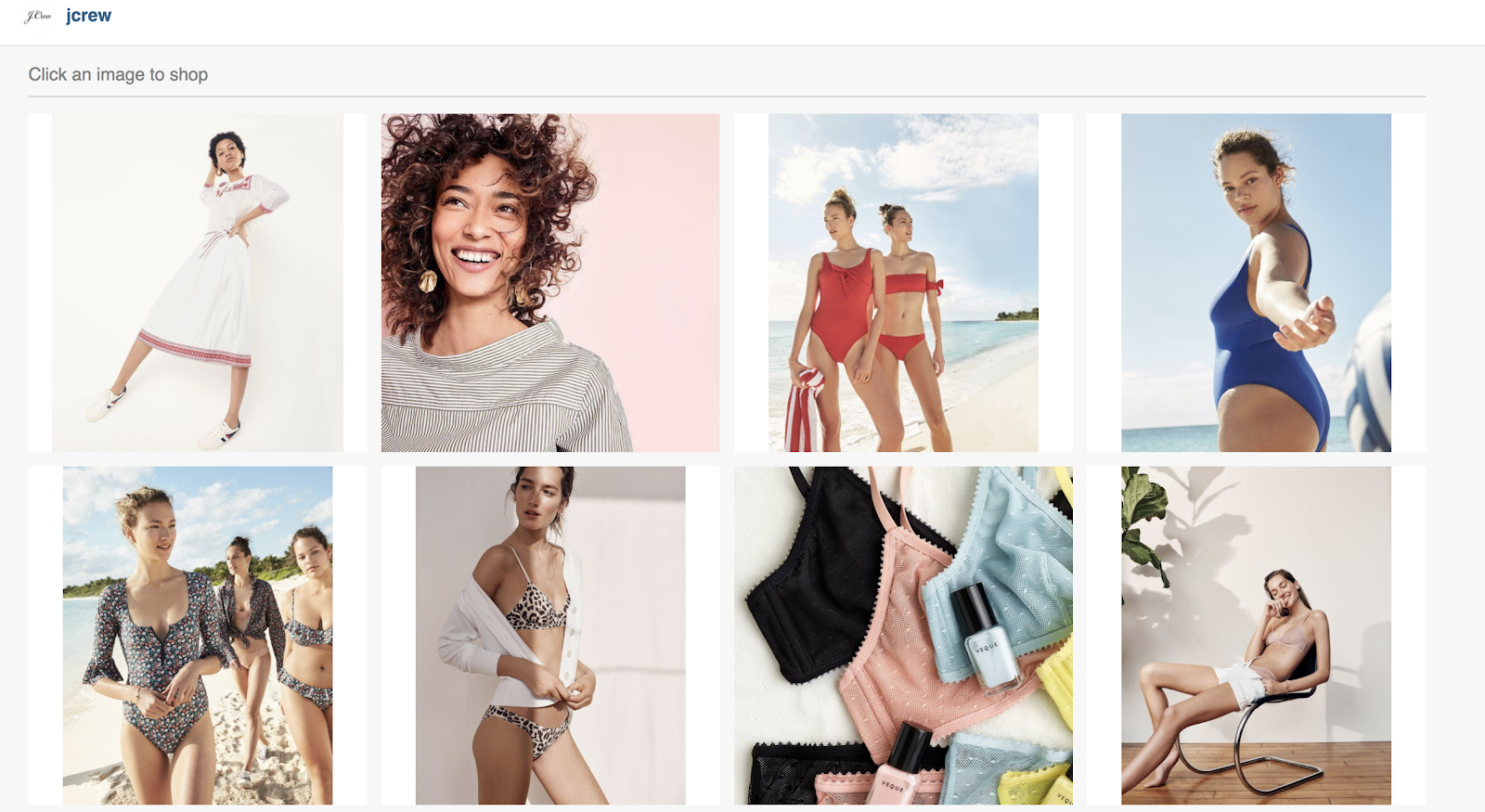 Not only do they post great photos, but they also add a link to their product pages.
4 days until #nationalstripesday! Get into the spirit with these limited-edition @Vans. #jcrewalways https://t.co/VXYsQtrAdd pic.twitter.com/WlwlpsrCdz

— J.Crew (@jcrew) March 27, 2018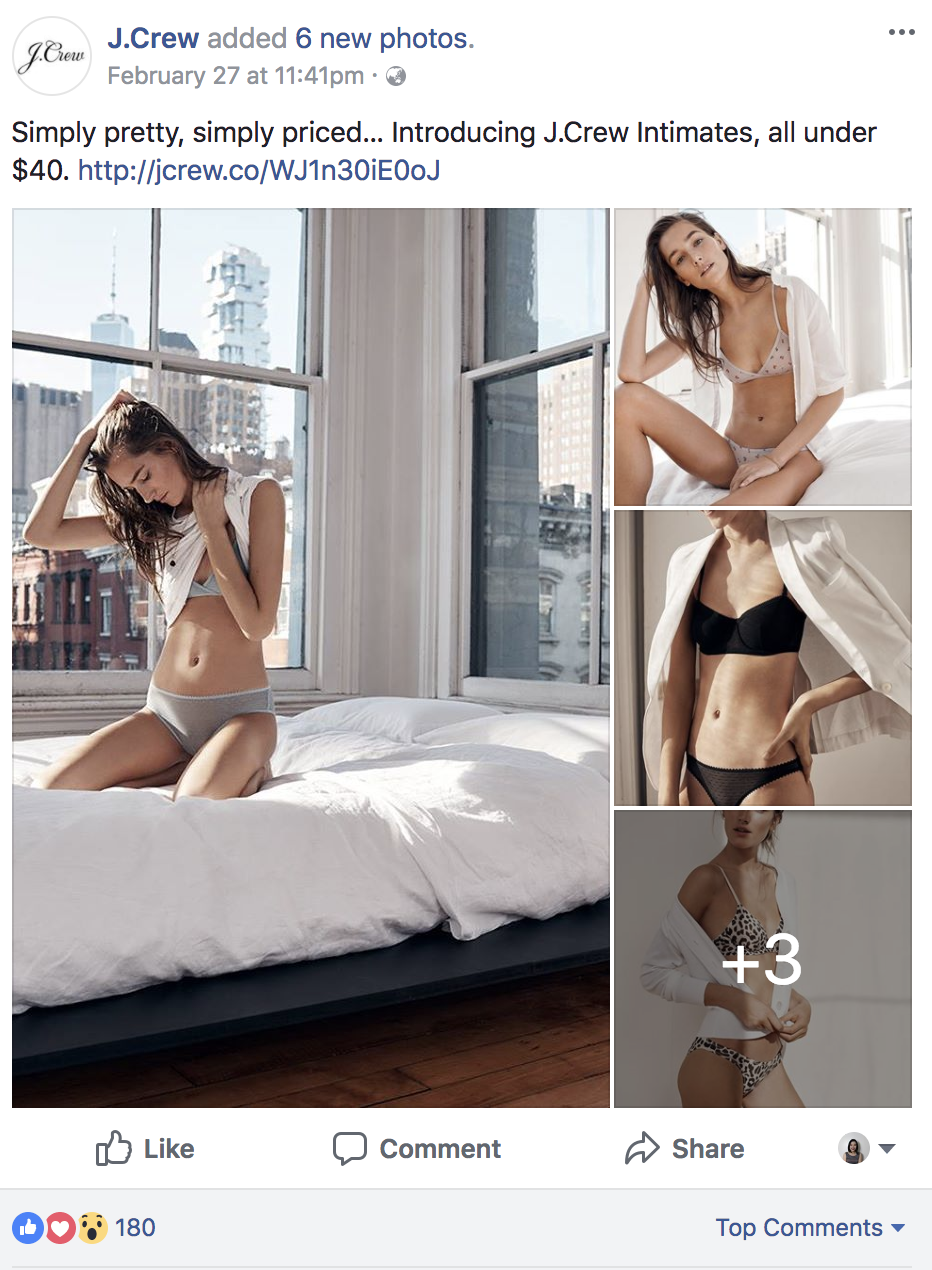 The brand also replies to consumer questions and messages from its fans.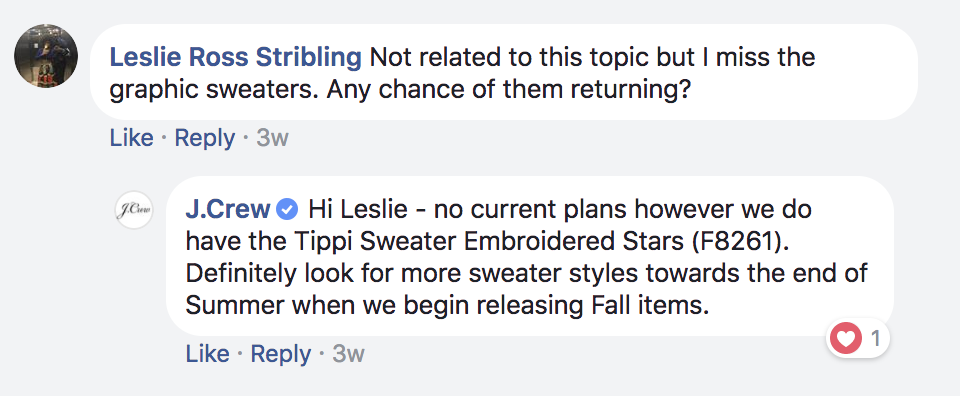 How Will You Use Content to Boost Your Sales?
Now that you have an idea of how top e-commerce brands use content to boost sales, it's time to create your own content marketing strategy.
You can encourage customers to create content that features your brand. You can even create interactive magazines, upload relatable social media content, create articles, videos, and high-quality photos.
Whatever you content you create, remember that creativity is key. Think about how your content will grab people's attention.
Got any ideas for your next content marketing strategy? Let us know in the comments below.

Check out our latest report on the retail industry!