If there's one brand that earned a reputation of being a master in social media marketing, it would have to be Starbucks.
They not only have a huge following (37 million on Facebook and over 11 million on Twitter) but have generated significant revenues from their followers.
Their Tweet-a-Coffee campaign, for example, brought in $180,000 in sales within less than a month!
However, they're not alone. Other brands like Zappos and Southwest Airlines have experienced the same results.
Now, you may think that this is all because these brands can afford a solid team of marketing experts handling their social media campaigns.
That may be true, but that's only part of the entire equation.
In fact, much of the success they had on social media is because they transformed their employees into a strong army of brand ambassadors using an employee advocacy program.
What is employee advocacy?
Employee advocacy is all about getting your employees involved in promoting your company's brand and products online.
In many ways, it's very similar to influencer marketing.
Both involve collaborating with men and women who are knowledgeable in their specific field.
Both promote a company's brand and products to their followers on social media.
The challenges of influencer marketing
The most significant difference between using micro-influencer marketing and employee advocacy is that micro-influencers are not connected with a particular company.
This can, of course, lead to serious challenges.
For starters, you'll need to compensate these micro-influencers for helping you promote your brand and products to their followers either by paying them for their service or giving them free products.
Either way, you'll have to spend a significant amount to get an influencer to collaborate with your brand.
How much you'll pay a micro-influencer greatly depends on the type of content they will create, their followers, and length of the collaboration.
It's estimated that brands will spend over $1 billion to work with influencers on social media.
This leads to another problem: determining your influencer marketing ROI.
Influencer marketing is still relatively new, and many of the conventional practices when it comes to setting a marketing budget don't apply when working with influencers.
It's for this reason why 78% of B2B marketers point to determining the ROI as their biggest challenge when running an influencer marketing campaign.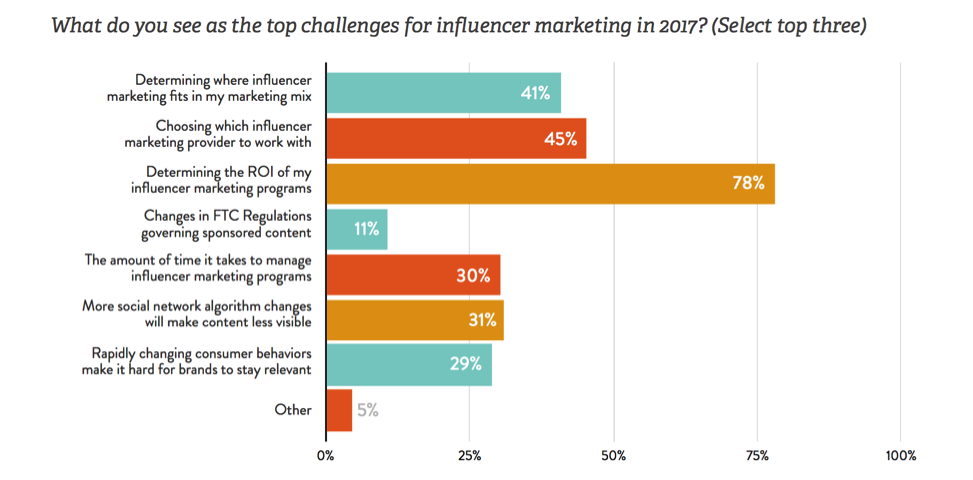 The rise of influencer marketing has also received some unwanted attention from the Federal Trade Commission (FTC).
Since 2017, 90 social media influencers and the brands they represented were given a notice by the FTC for failing to disclose their business partnerships accurately.
What's even more alarming is that even though the FTC released guidelines for influencers and brands to follow, 93% of paid endorsements done by influencers on social media are still not adequately disclosed.
With the FTC becoming increasingly aggressive against these, not only can we expect more lawsuits to be filed, but also stricter guidelines will be imposed.
Then there is the changing perception of consumers towards influencer's posts.
As influencer marketing continues to become popular, many of their followers are increasingly becoming more skeptical towards what these influencers post on their social media accounts.
All these mean only one thing: brands need to find a new way to promote their brand authentically, and genuinely that resonates with their target market.
The employee advocacy advantage
Although your employees may not have the same follower base as micro-influencers, transforming them into brand ambassadors with an employee advocacy program does have its benefits.
Aside from spending much time online, the average number of followers each of your employees have is 10x more than those you have on your brand's social media account.
Content shared by your employees are shared 25x more frequently and gets 8x more engagement than if the material was published on your brand's social media account.
The reason is that they're a part of your company, so these posts appear natural and genuine to their followers.
Here are some of the other benefits of transforming your employees into brand ambassadors through an employee advocacy program:
Positioning employees as thought leaders
Business owners are afraid that when they transform their employees into brand ambassadors is they'll leave the company after they establish their personal brand.
The reality is quite the opposite.
Your employees crave for attention and appreciate it when you provide them with opportunities for them to grow as individuals.
By transforming them into your brand ambassadors, you're paving the way for them to establish themselves as experts in their field.
Not all companies are willing to do this, and they're aware of that. So the likelihood for them to stay is significantly higher.
Transforming your employees into thought leaders within your niche will also have an impact on your brand's reputation online.
Customers are more willing to trust businesses made by leaders and experts, making them more willing to do business with you.
Humanize your brand
In today's digital world, customers are craving for that "human touch" among businesses.
Transforming your employees into your brand ambassadors gives your company's brand a human voice that can lead to developing authentic relationships with your target market.
This human factor is what your customers will connect and resonate with, making them eager to learn more.
Cost-effective marketing
Providing your employees with perks and incentives is essential in keeping your employee advocacy program going.
While this means you'll still need to spend money on these, the amount is significantly lower than what you'll otherwise pay a micro-influencer to post one piece of content on their social media account.
How to transform your employees to brand ambassadors
1. Set clear goals.
Before you launch your employee advocacy program, you'll need first to set the objectives you want to achieve.
This gives you and your employees a clear picture of what they should do. It will also guide you to track and monitor the results.
When setting your goals, it's critical to be as specific as possible. For example, if your goal is to promote product awareness, be clear which product would you like your employees to promote, and how you'd like them to promote it.
The clearer you make it for your employees, the more your employees will be able to help.
2. Keep your brand's message consistent
Creating a social media messaging guide is one way to ensure that your brand's remain consistent.
This guide should provide the different guidelines your employees need to observe for each of the social media channels you want them to promote your brand and products.
It should also contain guidelines for your employees on how they should create their posts. Here are some things you can include:
What types of visuals to use,
How should they word their posts,
How should they respond to comments left by people in their network, and
The frequency of their posts.
If you're using a project management tool in your company, creating a checklist template will also help ensure the consistency of the messaging and image of the posts your employees create.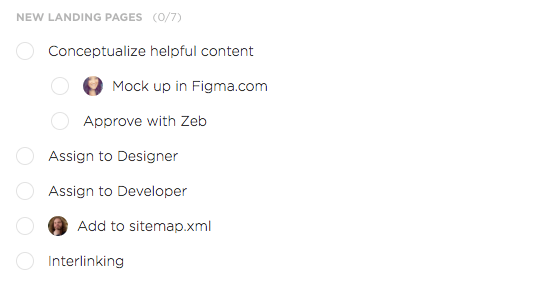 Source: Clickup
What's great about this is that your employees can quickly ask for guidance and clarification as they go through the checklist, making it even easier for your employees to create the kind of posts you expect.
3. Allow flexibility
One of the main reasons why employee advocacy works is because your employees have unique personalities. These personalities often extend to the posts they publish on their social media accounts.
That said, when you set your guidelines, make sure that you leave a little bit of wiggle room to give your employees the ability to create posts that allow their personality to shine through. After all, they'll be posting these on their social media accounts. So they know what intrigues their followers and spark engagement.
4. Establish your metrics
Like any marketing strategy, you have to know which social media metrics to monitor to see if your employee advocacy program is helping you reach your goals.
When choosing your metrics, make sure that these also help you evaluate the performance of the employees participating in your employee advocacy program. Here are some suggestions:
Top contributors. Who are the employees that are sharing the most content?
Organic reach. Which of your employees is getting the most attention on their posts?
Engagement rate. Who are the employees generating the most likes, clicks, comments, and shares on their posts? Which social media channel and type of content is receiving the most engagement?
5. Invest in an employee advocacy tool
An employee advocacy tool like Smarp gives your employees a central content hub where they can go to find content that they'll share on their social media accounts.
At the same time, it also makes it easy for you to evaluate content your employees create before they get published.
Not only will this help ensure cohesiveness of your brand's message, but it will also train your employees how to create content that's engaging and puts them and your company's brand in a good light online.
Employee advocacy tools also provide you with analytics that can help you create reports when you need it. That way, you'll be able to easily monitor the performance of your employees and the program as a whole.
6. Have a social media training program
Believe it or not, not all of your employees that aspire to become brand ambassadors know how to do social media marketing.
You'll need to provide them with the right amount of training based on their knowledge and experience.
That way, your employees-turned-brand ambassadors will be able to generate the most amount of reach and engagement whenever they post on their social media.
The good news is that you don't have to create a social training program from scratch if you don't have the resources to do so.
Mention has several webinars on social media marketing that you can recommend your employees to watch to learn.
It's also a good idea to include in your training any trends that can affect the performance of content published on your site and on social media.
For example, Google recently rolled out its mobile-first indexing update.
Informing your employees about what this is and, more important, the best practices to observe here will help them create more mobile-friendly posts.
This is particularly important if you'll require them to create blog posts on your website as part of your employee advocacy campaign.
No doubt, influencer marketing will continue to generate results. However, the anticipated increase in their rates and the aggressive crackdown by the FTC encourages small business owners and startups to look for alternatives.
Transforming their employees into their brand ambassadors through an employee advocacy program is one of them.
By following the steps shared in this post, employee advocacy can provide your brand with the benefits of influencer marketing while still managing a lean budget.
More important, it will boost your employees' confidence, making them truly feel that they're a significant part of your company that makes a difference.