After establishing itself as one of the best outreach platforms around, TikTok continues to grow as a super convenient content-delivery machine. And while the social media app has become (in?) famous for attracting audiences through its short, memorable videos, the appeal of live streams on the platform is something you can't afford to ignore if you are looking to grow your presence there.
Unlike classic promotional video content — like ads, commercials, and animated explainers — live streaming gives brands and content creators the opportunity for rapid two-way interaction with their audiences, allowing them to deliver their message and respond to any feedback or queries. It creates a sort of immediacy and responsiveness perfect for developing stronger relationships with the people you are trying to reach on the platform.
But conducting a successful live stream on TikTok takes more than hitting the "Go Live" button and hoping for the best!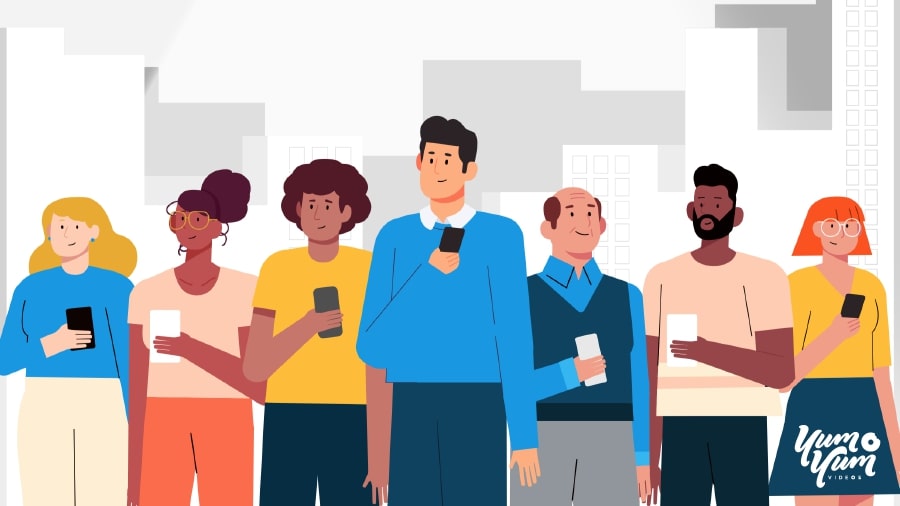 In this article, we'll walk you through planning, setting up, and executing a TikTok Live Stream like a pro and deliver a high-quality experience that helps you grow your presence on the platform.
TikTok Streaming 101: What You Need to Know Beforehand!
Before we jump into setting up and running your first live stream on the platform, there are a few things you should know (and prepare!) ahead of time to improve your chances of having a successful stream.
Platform Requirements for Hosting a Live Stream
Unlike Facebook and Instagram, users can only live stream on TikTok after their page reaches a minimum of 1000 followers, and they also need to be older than 16. Another thing to consider is that both companies and influencers can launch live events that encourage viewers to send monetary gifts or donations. But the event's host needs to be 18 or older in those cases.
Read the Community Guidelines
Users wanting to live stream on the platform need to adhere to TikTok's community guidelines. These guidelines aim to moderate content across the platform, ensuring that no criminal or unsafe acts occur. If they are violated, TikTok will stop the event, and this could result in the user account being temporarily or permanently banned.
Prepare a Topic of Discussion Ahead of Time
Good live streaming requires someone with excellent on-the-spot communication skills, and the best way to nurture those skills is to be prepared. Having someone who doesn't know what they're talking about or cannot convey points clearly will result in viewers clicking off. So, to prevent any digital stage-fright, brainstorm a few topic ideas you can draw from as you stream (more on this later!).
Pre-announcements
Informing an audience prior to live events is a great way to increase turnout. All you need to do is to post on your social media and other outreach channels the time and platform you'll be conducting your stream and give them at least a sense of the topic you'll be discussing.
Technical Aspects
Your streaming setup plays a crucial role in holding your audience's attention. Hence, investing in a good camera and creating a well-lit and uncluttered background will add to the viewer experience.
Moreover, you'll also need a crisp, stable Wi-Fi connection with solid upload data rates. Nothing gets viewers to click off faster than a video that's laggy and pixelated. Also, make sure that there is no copyrighted content playing in the background, as this could lead to your content being taken down and even set off legal action in serious cases!
Setting up a TikTok Livestream Step by Step
Ah! Now that we got the essentials are out of the way let's go over the process of actually executing your TikTok live stream!
Step 1: Set Up Your First Live Stream on TikTok's App
When you click the '+' button at the bottom of your feed, the camera will open up.
Underneath the red record button will be timer options and photo templates. You'll need to scroll to the right, and the live feature will appear (if it isn't there, you probably haven't reached the minimum follower count to enable it).
Once you click on the "Go Live" button, your camera will start rolling in 3 seconds.
It's often useful to do a few test streams — of a few seconds at most — ahead of the official starting point for your announced stream. This will allow you to check and calibrate things ahead of time and prevent delays that might cost you viewers later on!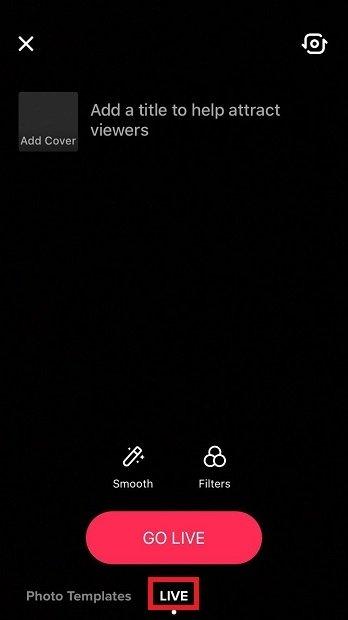 Step 2: Add a Video Title and Cover Photo
Once you've gone live, you can add a cover photo and a caption by clicking on the two boxes on the upper portion of the screen. These are elements that you'll want to prepare ahead of time, and what qualities as "exciting" will vary according to the type of audience you are trying to appeal to. Though, a good tip to keep in mind is to make sure your title and cover convey your brand's feel and give people a clear sense of why they should drop by your stream. To make it even easier, you can use a TikTok Caption Generator tool to quickly create an attention-grabbing caption for your live video.
Also, you can add relevant hashtags to increase the visibility and exposure of your video. This can be done by researching which hashtags other brands or influencers in your niche use.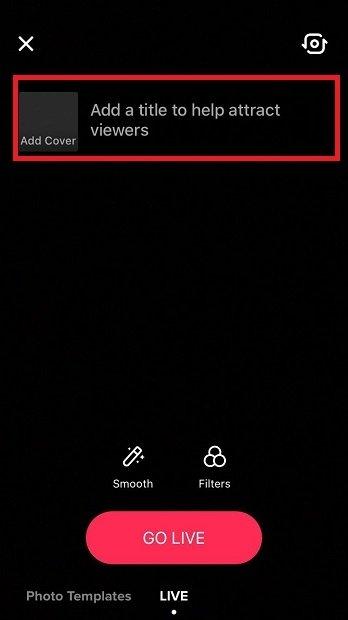 Step 3: Using filters
Every live streamer has to look the part. Thankfully, TikTok provides filters that make sure you look presentable even if you're having a terrible hair day! There are also a few fun and quirky filters that can be used to lighten the mood and entertain your audience.
Above the "Go Live" button will be two features: "filters" and "smoothen". You can add each just by clicking the options. Try them out and use what you need to improve your stream's visual presentation.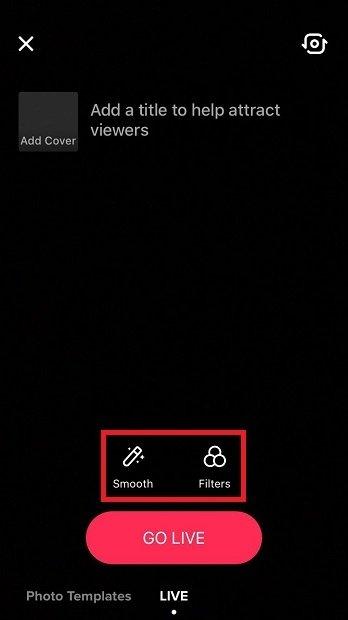 Step 4: Ending the Live Stream
When you're ready to stop live streaming, click the 'x' at the top-left corner of the screen. The live stream can be saved and will remain in your user profile for up to 90 days. And that's it! Give yourself a pat on the back for hosting your first live stream.
Troubleshooting: Still can't access TikTok live?
Don't be too alarmed if you're still unable to launch or access the live stream feature even after meeting the requirements. This could be due to one of the following reasons:
There are too many people using the feature at that given time. TikTok restricts the number of users that can go live at the same time, so if this happens, try again at a later stage (and yes, this might require you to re-schedule your stream, but it is not a common occurrence).
Your current content violates or does not fall in line with their guidelines. This would require reporting the issue and contacting the company directly.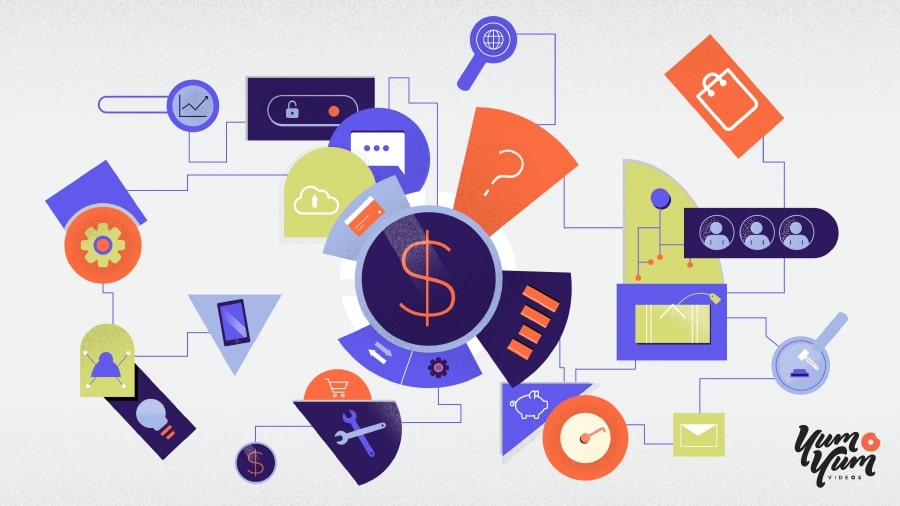 5 Great Video Ideas for your TikTok live
So, TikTok's live videos hold massive potential for building an audience of people interested in what you have to say. But now that you know the basics of preparing and running a live stream on the platform, it's time to talk about improving your stream's content and ensuring your audience has a good time.
The key to a successful live stream is being able to engage your audience and encourage them to be a part of a discussion. All it takes is the right response or question to spark a chain reaction of different opinions in the comment section to create a positive-feedback loop that carries your stream forward.
So here are a few awesome concepts you can integrate into your live stream to get your audience talking and sticking around for longer!
Q & A's
Q & A's are one of the easiest ways to start conversations during a live stream. Viewers often want to ask questions to learn more about a brand, its culture, products, and content.
TikTok has also recently provided users with several features to make sure their Q & A's flow better. This includes allowing them to pin up specific questions in the comments and separate previous questions for new attendees that join in.
To enable these features, you'll first need to switch to a creator account by going into Settings > selecting "Manage Account" > and clicking on "Switch to creator account." Once that's done, go back to Settings > select "Creator" > Q&A > "Turn on Q&A".
Product Demonstrations
Showcasing a product your audience might be interested in through a stream is also a popular way to generate live engagement.
Through live product demonstrations, you can clear any confusion your viewers may have around a product, demonstrate in real-time how it can satisfy multiple needs, highlight key attributes, and boost your brand's overall credibility and trustworthiness. All of which can be useful for brands wanting to promote or content creators working as influencers or brand advocates.
These discussions will get viewers intrigued, encouraging them to contribute their own opinions and be open to those of others, making for an eventful live stream!
Promotions & Announcements
Once the live stream has reached a point where your viewers are actively participating, this is the perfect opportunity to throw in promotional codes, special offers, or whatever other time-limited incentive you can afford to increase interest in your content.
Not only will this delight your viewers and make them feel special, but it will also communicate that your live events offer value for their time, increasing their likelihood of coming back for the next one.
Upcoming campaigns can also be discussed on their own to preview sneak peeks or big announcements and reveals. However, it is important to consider the quality of content being delivered to your viewers. If you place too much emphasis on promotional aspects, you risk appearing too salesy. When it comes to live streams, promotions should be incorporated into the experience, not the other way around.
CSR Initiatives/ Fundraising
Launching a fundraiser for a non-profit that you want to support can be done via a live stream to benefit all involved. These events are often a good place to have emotionally meaningful conversations with your viewers, inform or educate them about important topics or causes, and help generate support for them.
Through TikTok's live gifting feature, viewers are allowed to send Coins to the host. These virtual gifts can be redeemed for actual money at a later stage. Users are eligible to collect coins provided that they're over the age of 18 and can give you a medium to receive donations. However, if you are looking to partner up with specific organizations, reach out to them and see if there are any integrations or support channels you can use to make things more transparent and easier for everyone involved.
Collaborations through Dual Lives
One of the most popular live stream ideas used today is planning collaborations with another brand, influencer, or content creator in your niche.
Having another person to bounce ideas off of and vice-versa makes for more in-depth and dynamic conversations that viewers can find more compelling. You could say it's like a podcast, but better. The audience will be able to listen in as well as contribute with their thoughts, opinions, and questions. These collaborations also allow users to expand their reach, as it gives them an opening to engage with their counterpart's audience as well.
To set up a Dual live, click on the '+' button, scroll right until you reach the live feature, click on "Go Live" and in the bottom-left corner, there should be a link icon. Once you click on it, you will be able to invite another user to join your live stream.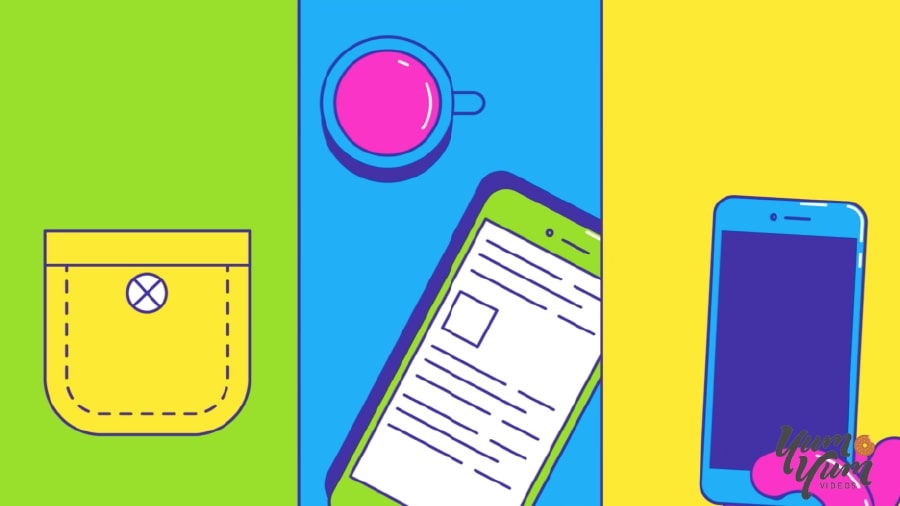 Why Use TikTok Live as an Outreach Channel
You already know the basics — and not so basics — of using TikTok for live streaming. But some of you might be wondering, is it worth it? Well, we wouldn't be talking about it if we thought otherwise! But here are two vital aspects of TikTok live streaming that might put those doubts to rest.
Personal branding
"Personal branding" is how many refer to the set of skills and values that make you stand out to potential audiences. It's your calling card, a consistent public image that shows what you bring to the table. Many brands and influencers already use social media posts, videos, and even blog content to build their personal brands, and hosting live streams is quickly gaining popularity as another key medium for it!
Live streams stand out from mainstream content. While written posts and short videos are staples of most outreach strategies, live streams' immediacy and availability allow content creators to convey their personal brand in a more interactive way. How they conduct themselves during these interactions gives a true indication of their capabilities and is what will lead to the development of a strong reputation, especially for audiences on a platform like TikTok.
Grow Your Account & Earn Diamonds
Unfortunately, we still haven't found a magic wand that can make you go viral overnight. However, thanks to TikTok's unique algorithm, quality content is a major determining factor that can lead to increased views and discoverability. The more engagement your live stream receives, the more feeds it will appear on. This provides opportunities to draw in new viewers and potential followers.
As your account grows and your live streams start becoming more popular, TikTok will reward you with Diamonds. Like coins, these virtual gifts can also be redeemed for cash, allowing users to get paid for creating awesome live streams their viewers enjoy.
Summing Up
Setting up a TikTok live stream is a lot less intimidating than it looks and can prove to be an effective way of engaging with your audience in real-time. By hosting live events that broach a variety of discussions and topics, companies can simultaneously communicate their brand offering and reassure customers.
TikTok live can also function as a helpful tool for expanding a user's reach and helping them move up the ladder as an informed creator. Close-knit online communities are built by providing useful, relevant, and entertaining content. Thanks to live streaming you can do just that and take you and your brand's reputation to new heights.