We're living in an increasingly visual age where everybody prefers images to text, videos to articles, and emojis are considered a new universal language.
That being the case, there's no leeway for marketers to drop the ball on visual assets, and they are nobly rising to the occasion. The percentage of marketers who agreed that video is an important part of their marketing strategy rose from 78% in 2015 to 93% by 2020, and 48% said that they saw ROI on video increase last year.
But producing strong visual assets – be they videos, images, infographics, or other content types – isn't that easy, especially at the scale necessary to feed those hungry social algorithms.
Unless you're a design specialist, visuals are often more challenging to create than text, and stock photos simply won't cut it any more.
Marketing generalists have too many tasks to sink several hours a week into visual asset creation, and they seem to be struggling to find tools that can speed up the process. Although 41% of marketers told SEMrush that creating more visual content was their most efficient marketing tactic in 2020, only 27% said they were using visual content creation tools.
To help things along, here's a list of five especially useful tools that non-designers can use to produce excellent visual assets without spending all day over it.
Table of contents:
1. Visme for infographics
Infographics have been used by social media marketers for decades, but they remain the best and most beautiful way to present a lot of data and statistics, hands down. The Content Marketing Institute reports that infographics saw their biggest jump among B2B marketers over the last four years, with 67% using them regularly.
But while infographics are easy to consume, they can be tough to produce. You need something more than just a collage maker to assemble it all. Thankfully, Visme helps make it much easier. This intuitive web app offers not just templates, but also goes a step beyond with pre-made elements like text blocks, editable graphs, graphics, and statistics blocks, as well as a drag-and-drop editor.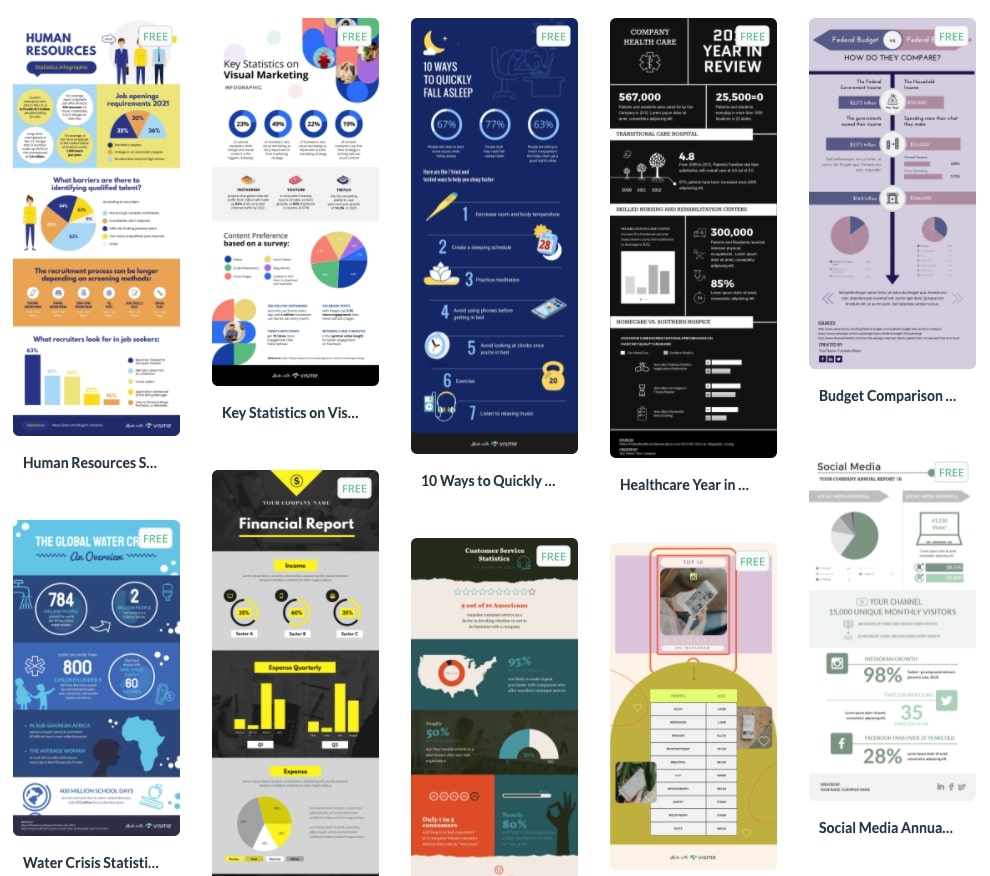 Select your visualization or content style, enter your data, and drag and drop it to the ideal location to customize your infographic layout so it doesn't look cookie-cutter.
2. Filtertune for applying consistent style to photos
According to SEMrush's State of Content Marketing report, posts that include an image get twice as much traffic as posts containing text only, as well as enjoying 30% more shares and 25% more backlinks. But one of the biggest challenges for marketers is producing consistent visuals that match your branding.
Filters and presets can help. When every image is processed using the same preset, it creates a consistency of branding regardless of the content.
Filtertune is a mobile photo editor with thousands of filters for both stills and videos that are simple to use for non-designers. You can produce awesome results in a few seconds, simply by applying one of the scores of community-created filters offered for discovery, or you can drill down and use the intuitive editor to create your own filter..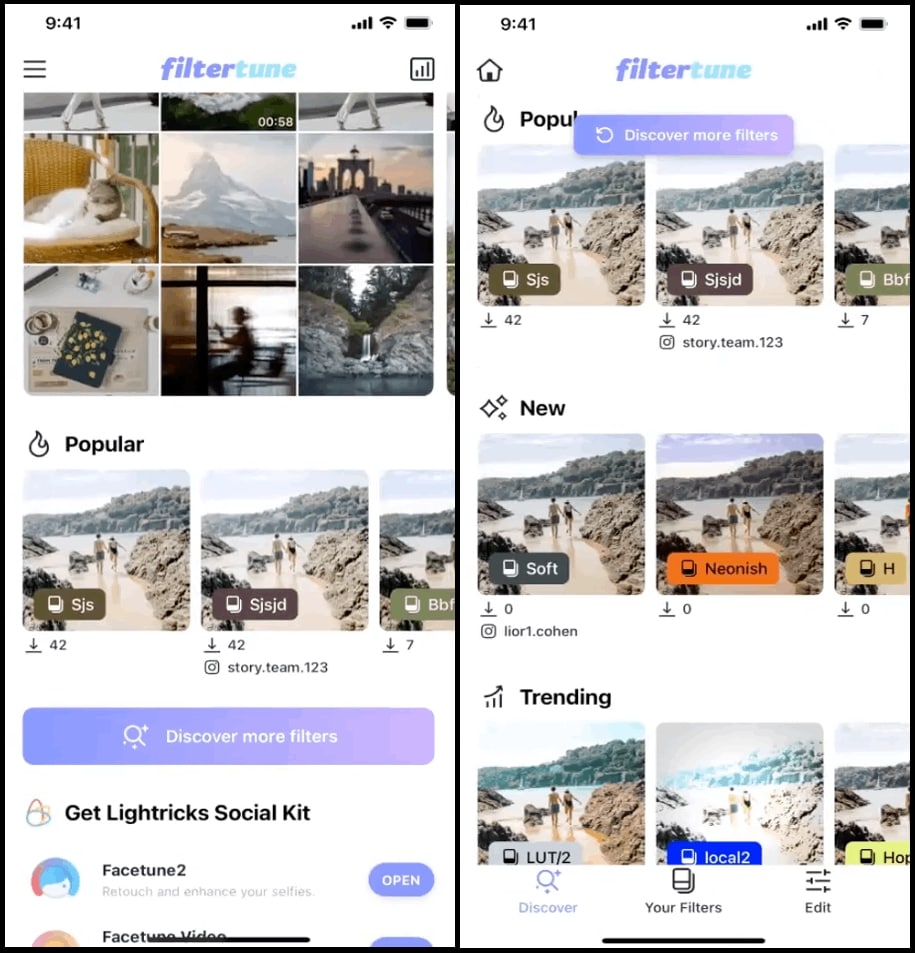 With Filtertune, you can choose one or a combination of filters and apply them to the entire image or just certain parts, like the sky or the water, to add effects instantly. Save your filters to your personal library, and then you can apply the same look to all of your visuals in a single tap.
3. Elementor for scaling visual web assets
Websites, minisites, and landing pages play vital roles in engaging and converting leads, especially when you succeed in creating a series of linked, branded realms that deliver a seamless cross-channel customer adventure.
One false move, and you've lost your lead. In one recent survey, 90% of respondents said they've bounced from a site because it was poorly designed. Everything from the navigational hierarchy to the color scheme can make a difference, but if you're not a design expert, it can be excruciatingly difficult to create these assets at scale.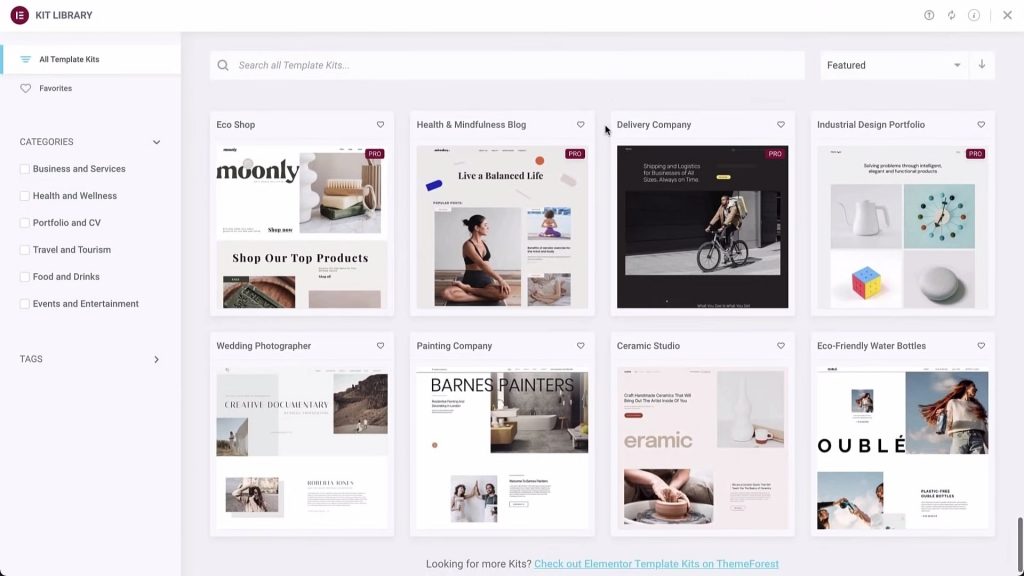 Enter Elementor Academy. Elementor is an easy to use website builder platform with a library of designer-made website kits, but it also offers educational design resources. For non-designers struggling with visual design, Elementor can provide enough knowledge to help you understand a wide variety of design-related issues and create a professional-looking website.
4. Crello for animation
With animation, you can take visuals and take them up a level to cute, funny, and memorable videos that are ideal for tutorials, trainer videos, and explainer clips. Video content is wildly popular, with consumers twice as likely to share video content than any other type of content, and 94% of marketers saying that video converts the same as or better than other content forms.
Crello saves the day for marketers with a large library of animation templates and pre-animated objects and characters, plus you can upload your own if you have a corporate character or favorite sequence.
You can use Crello's free editing software to combine videos and GIFs with animated images, to make a moving background for your designs. The platform also integrates directly with social media channels, making it easy to publish your completed creations.
5. Blush for illustrations
Illustrations and drawings still play a major role in customer engagement, but what are you going to do if you just can't draw?
Turn to Blush. The cloud-based platform is home to more than 10,000 illustrations, sorted into collections of different styles created by artists from around the world. You can choose the illustration style you prefer, swap out different elements, mix and match characters and backgrounds, and tweak the colors to match your branding.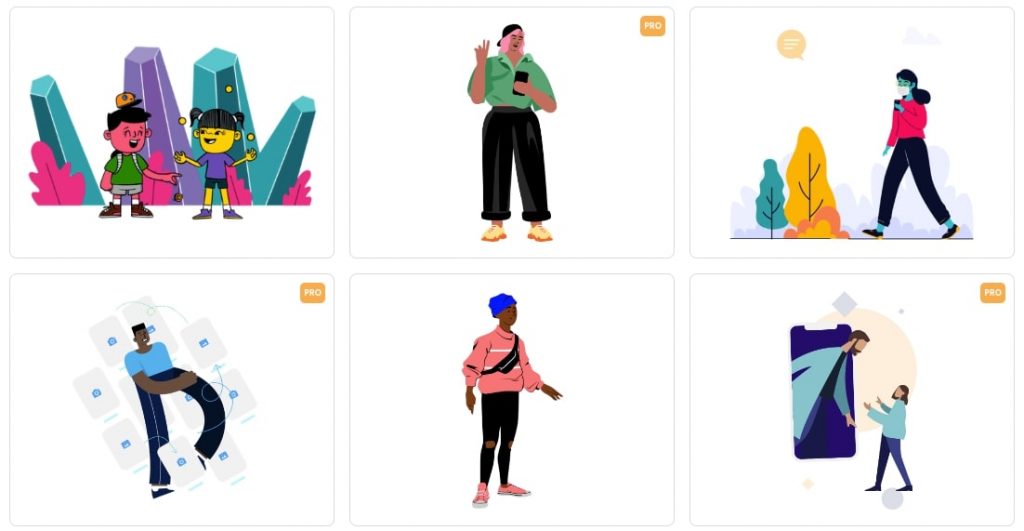 Once you've found an approach you're happy with, save the designs to re-use them later on. Blush offers downloadable copyright-free vectors, so you can scale images up and down at will.
Awesome visual assets don't have to take all day
There's no need to compromise on your visual marketing assets just because it takes too long, or you don't have the artistic ability to realize your vision. Use one of these tools to make awesome illustrations, websites, still images, animations, and infographics that add that je ne sais quoi to your marketing mix.