It's almost a given that every new online business should consist of (at least) a developer and a marketer. You need someone to build the product and you need someone to get that product into the hands of users.
Because many early stage startups are running on a shoestring budget, paid marketing campaigns are often out of the question. Instead, marketers need to invest time and sweat equity into growth!
Growth hacking means trying a variety of different marketing ideas to grow an engaged user base as fast as possible. Serial entrepreneur, Neil Patel writes, "Growth hackers understand the latent potential of software products to spread themselves, and it's their responsibility to transform this potential into reality."
Whether you're trying to pull off a successful product launch or looking to grow your business. Companies from Dropbox to Airbnb have successfully used growth hacking techniques to grow their startups into the big companies they are today.
There's a lot that marketers at early stage companies can learn from these companies, so I thought today we could dive into the ways they used growth hacking to … grow!
For another example of fast growth, download our free cheat sheet to see how Mention increased our search traffic by 373% in just 6 weeks!
7 ways to use growth hacking for quick user acquisition
1. Find a distribution system to hack
In the very early days of your startup, you need to find an existing distribution channel to hack.
What's a distribution channel? It's a place where your target customer is already going to find what they need.
For example, when Airbnb first launched they came up with two ways to leverage Craigslist, which at the time was the number one site people used for finding temporary housing.
First Airbnb drove traffic to their listings by encouraging new users to cross post their listing on Craigslist with a link back to their Airbnb page.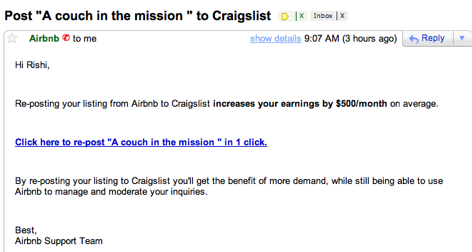 This enabled two important things. First, as a new startup they didn't have a lot of people coming directly to the Airbnb site to find temporary housing. They could have paid thousands of dollars to advertise their site to find people searching for housing, but instead they created their own free traffic by having their users cross post to Facebook with just a couple of clicks through the Airbnb app.
Of course they had to invest time into creating this technology, but it instantly allowed them to drive lots of traffic to their site. Once there, someone interested in the property would sign up for Airbnb to contact the poster.
This allowed them to grow their customer base AND website traffic without spending any money on paid advertising!
Next, that tackled the problem of creating and expanding inventory offered on their site by contacting people posting directly to Craigslist asking them to sign up on Airbnb!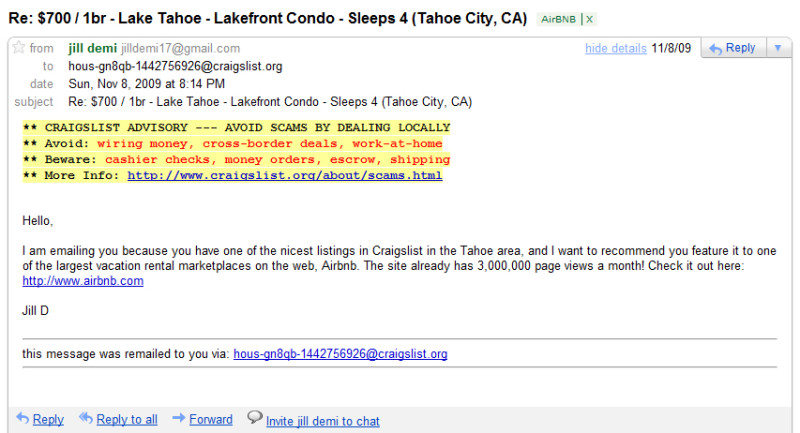 They hired people to reach out to new Craigslist posters to tell them about Airbnb as well. This allowed the startup to poach traffic and listings right from a competitor!
This is definitely a form of spam, but it's helpful spam because by cross-posting the home owner does get more views on their property.
Nice work by the growth hackers at Airbnb to drive traffic and users quickly and at no additional cost!
2. Leverage the distribution channel(s) you already have in place
Once your startup has gained some traction, you can begin leveraging the distribution channels you own yourself.
First, during the signup process you can ask your new user to refer a friend to receive some incentive.
For example, Dropbox increased their new user signups by 60% when they started offering users 500MB of additional storage for free whenever someone they referred signed up for the service!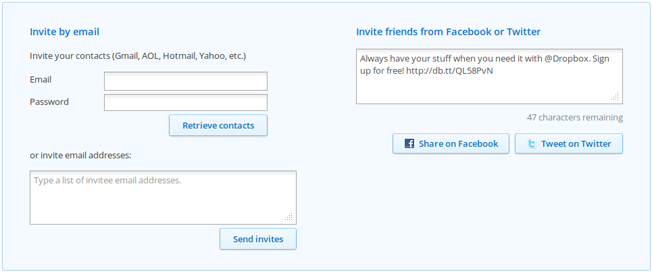 The person being referred also receives the additional space, giving them an incentive to use the referral link rather than just going to the site and signing up on their own. This allows Dropbox to better track the source of their signups.
Then they take their user incentives strategy a step further by also offering some additional storage if a user explores social sharing features and/or shares information about Dropbox with friends via social media.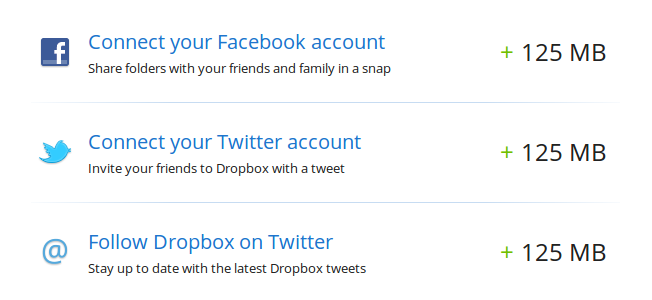 They also incentivized sharing of photos and videos via Dropbox, which helps them reach new users via word-of-mouth from longer time customers.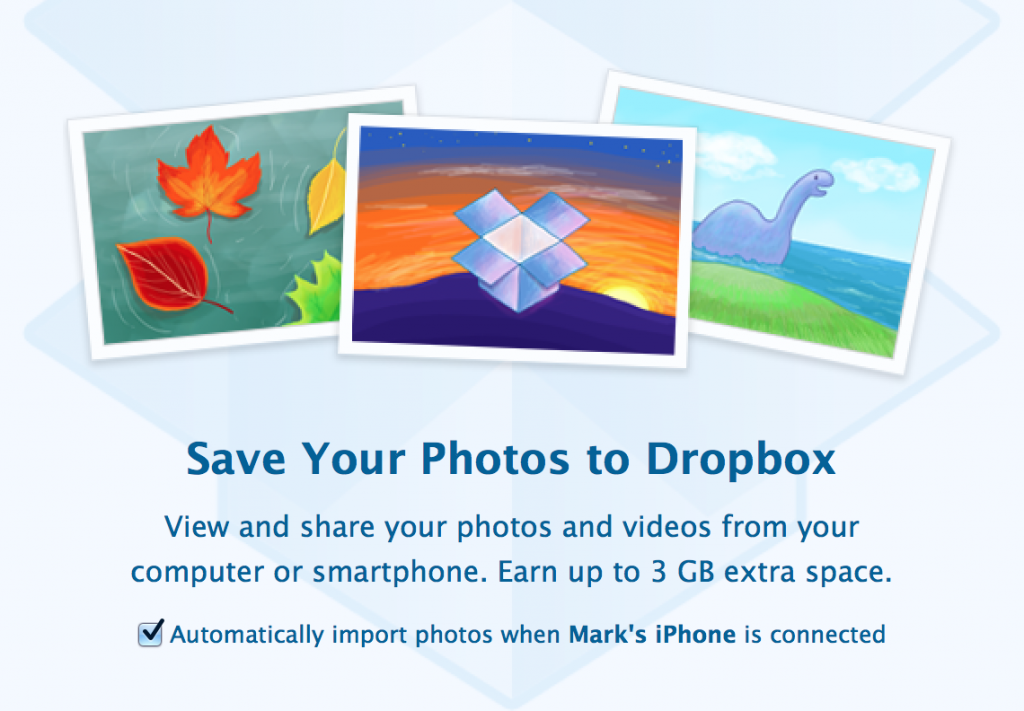 Using these incentive-based growth hacks, Dropbox saw an immediately 60% lift in new sign ups and this increased rate of adoption has remained steady since!
3. Help your existing users create new distribution channels for you
If you're in the B2B space and it doesn't make sense for you to run a referral program like Dropbox does, consider running a referral program like Heap Analytics does.
With Heap, users can increase the number of visitor sessions they can track for free from 5,000 to 50,000 just by adding the Heap badge to their website footer.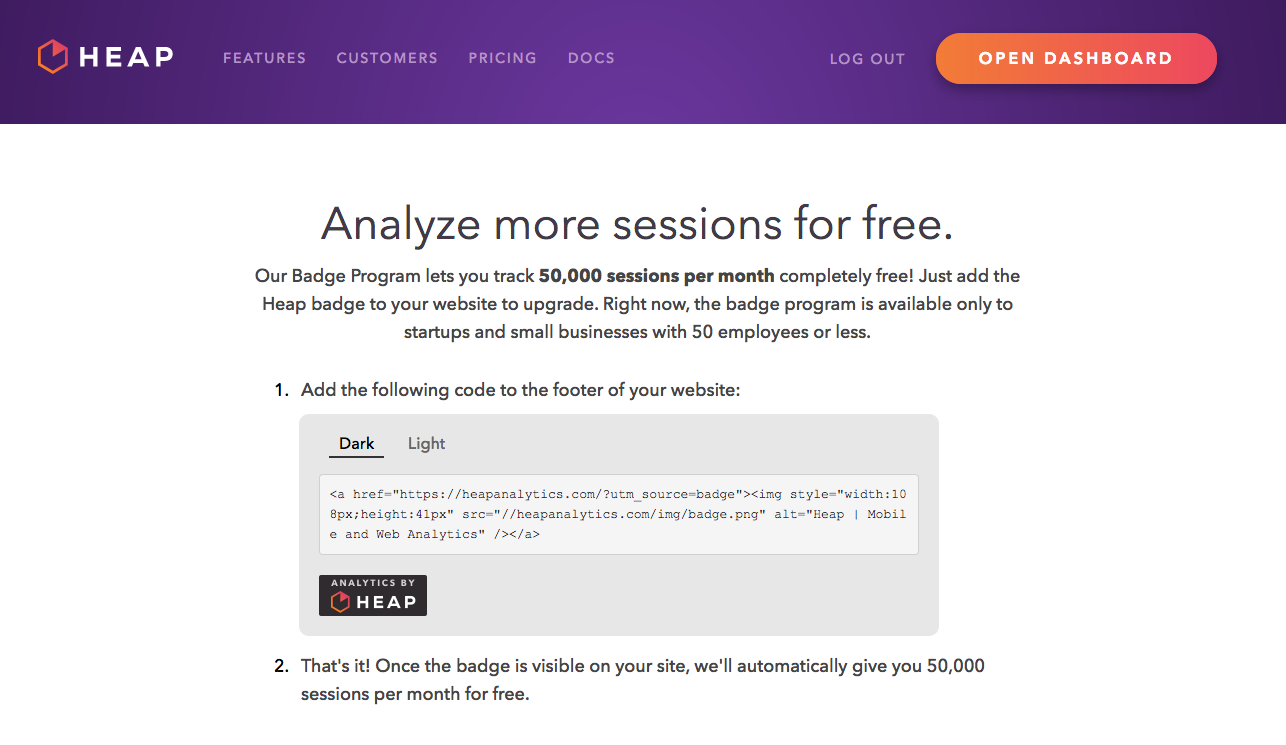 This instantly gives Heap visibility to all website visitors that go to their users websites!
At Foundr, we leveraged a cool tool called Upviral  for the launch of our Kickstarter campaign for our book Foundr Version 1.0. We created an online competition where the top 3 winners would win a free copy of the book, along with a number of other prizes.
All they had to do was to spread awareness of our book in order to earn points. People could earn points by simply sharing it over on social media, or even emailing their friends and family. To make the process even easier, we even created a resources page which contained all the images that people could use along with a sample copy for each social media platform!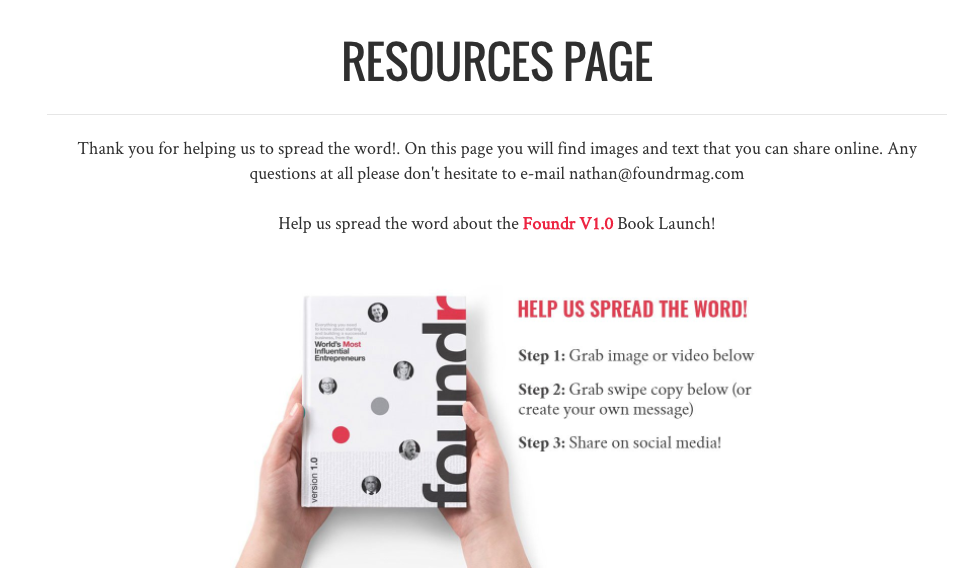 By leveraging our community and getting them to generate more awareness and exposure for us we managed to blow past our $50,000 goal on Kickstarter and raise four times the goal amount!
4. Make your brand EXCLUSIVE
In the early days of your startup, you may not be ready to handle thousands upon thousands of new sign ups, and you may not want to either. Your product may not be tested and ready for more than a small group of people using it at once.
Of course you don't want to turn interested people away.
What's your alternative?
Well you could collect their email addresses and notify them when you're ready to open your platform to more people, but by then they may have forgotten who you are and why they wanted to sign up in the first place.
The best way to handle an influx of traffic that you can't yet serve is to build up a feeling of exclusivity. Instead of saying "Sign Up to Be Notified When Registration Opens" you can instead say something like:
Membership now closed
Ask for an invitation
Apply to join the community
Using these words that evoke an air of exclusivity helps people remember you.
You can also use a waiting list / limited availability as a method for driving brand awareness.
Sean Ellis says, "Xobni was the first company I worked with that used a waiting list. The reason was that the product launched at TechCrunch 40 and it was quickly clear that there were significant performance issues. So rather than risking a bad reputation, the company threw up a waiting list wall. The wall became a pretty good marketing gimmick. It created scarcity and desire to try the product. People would fill out surveys, share, etc. to try and gain early access."
Robinhood, a zero commission stock trading app, used this growth hack to create an air of excitementaround their app.
Their landing page had a sign up that included a mention of gaining priority access to the app with a few simple social shares.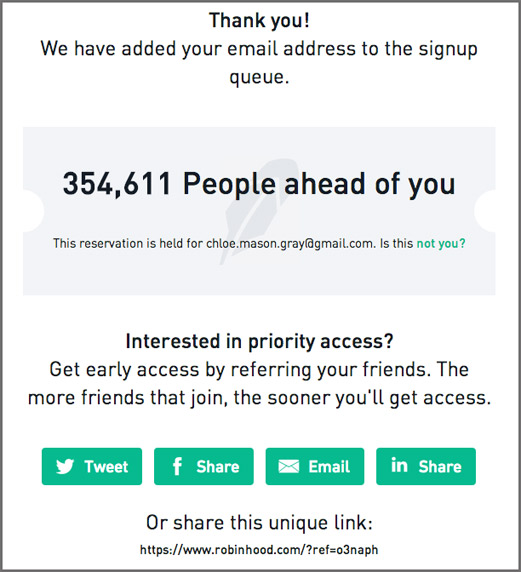 They also followed up with an email to drive this message home.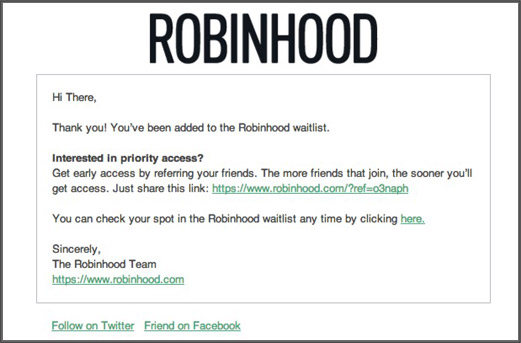 Within just one year Robinhood had a waiting list of 1 million people!
5. Create a sign up frenzy using scarcity
Similar to exclusivity, scarcity also drives sign ups and sales because people experience a fear of missing out. You know, FOMO.
On your startup's home page or product pages try using words like:
Limited offer
Supplies running out
Sale ends soon
Today only
Get them while they last
Using scarcity to increase conversions is a tried and true marketing tactic that is used with success by businesses of all sizes.
Here is an example of Williams Sonoma using "quantities are limited" to drive sales.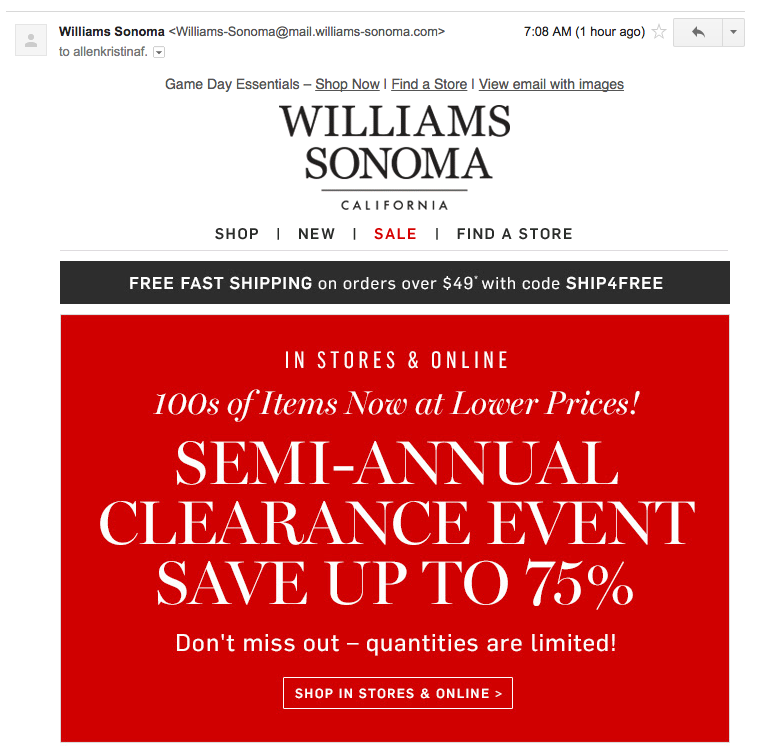 Even if your own quantities are not limited, you can still say they are to increase sales over a period of time.
If you're not an e-commerce store you can drive scarcity messaging by using messaging such as:
Open to X number of people ONLY!
Only X registrations left
Sign up before all the spots are taken!
Registration closes on X [date]
Activewear brand Oiselle uses this strategy for signing up people into their Volee club.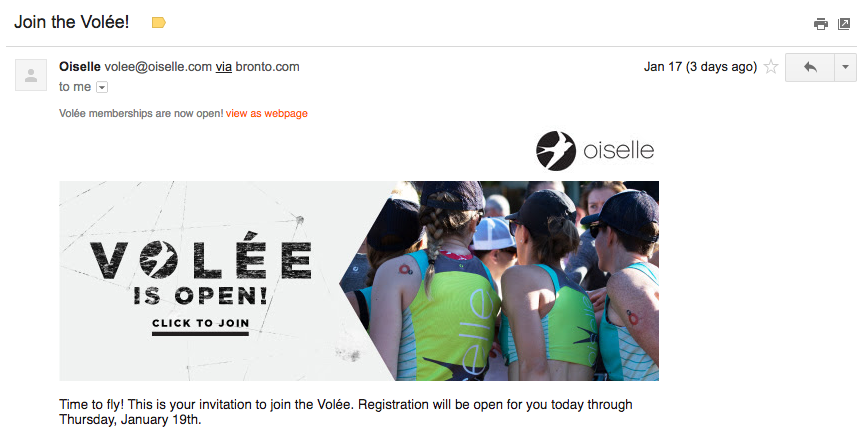 Each quarter they open registration up for 48 hours and then it closes again and a waiting list goes up.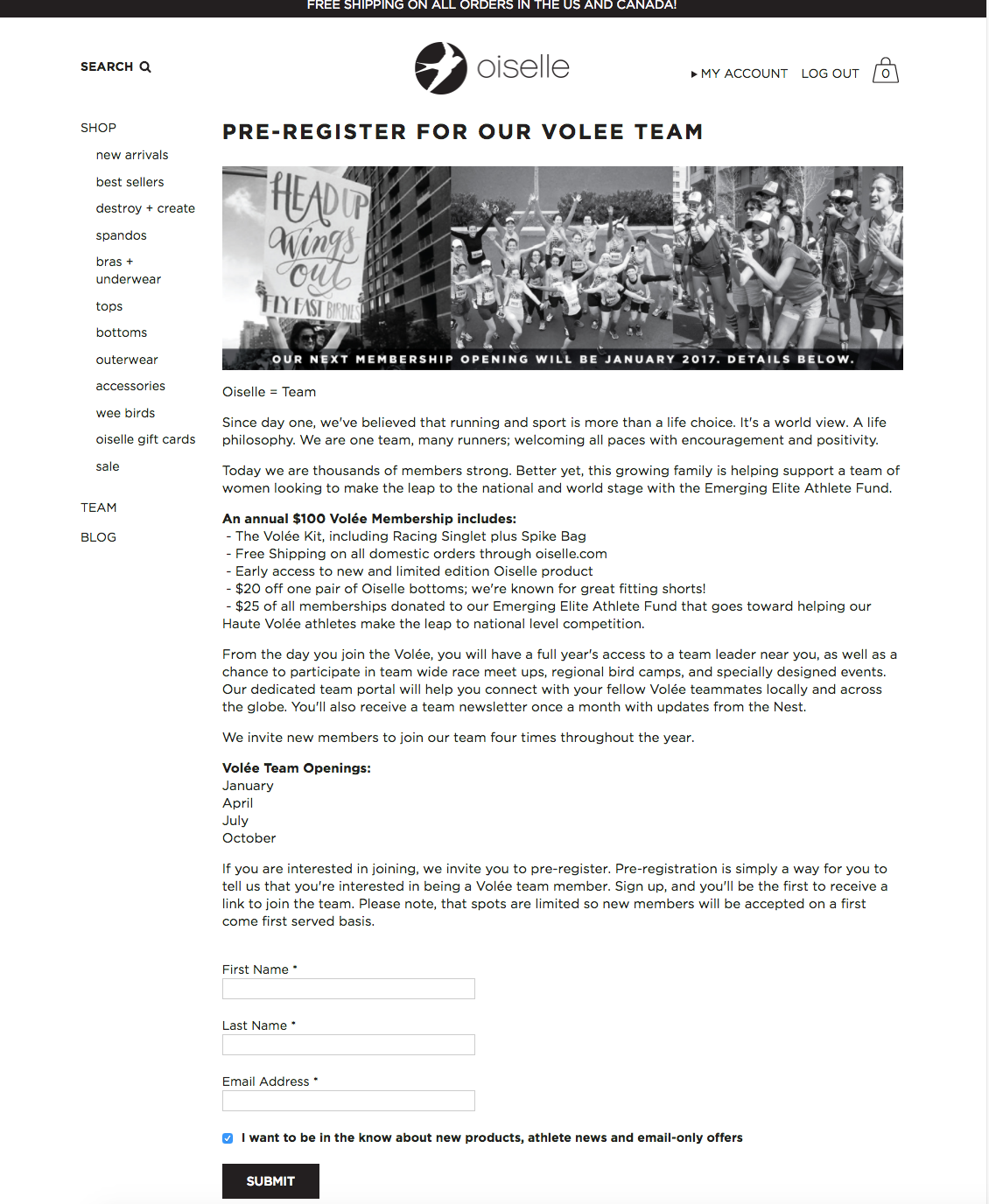 This method of constantly opening and then closing a scarce number of membership spots creates a frenzy in which would-be members anxiously await their invite and eagerly pay the $100 fee.
6. Turn Twitter into an acquisition channel
There are many different ways a startup can use Twitter to its advantage. Companies like Comcast and BlueHost use Twitter to provide customer service. Dropbox uses Twitter to share company news and Buffer uses Twitter to share helpful content it's published.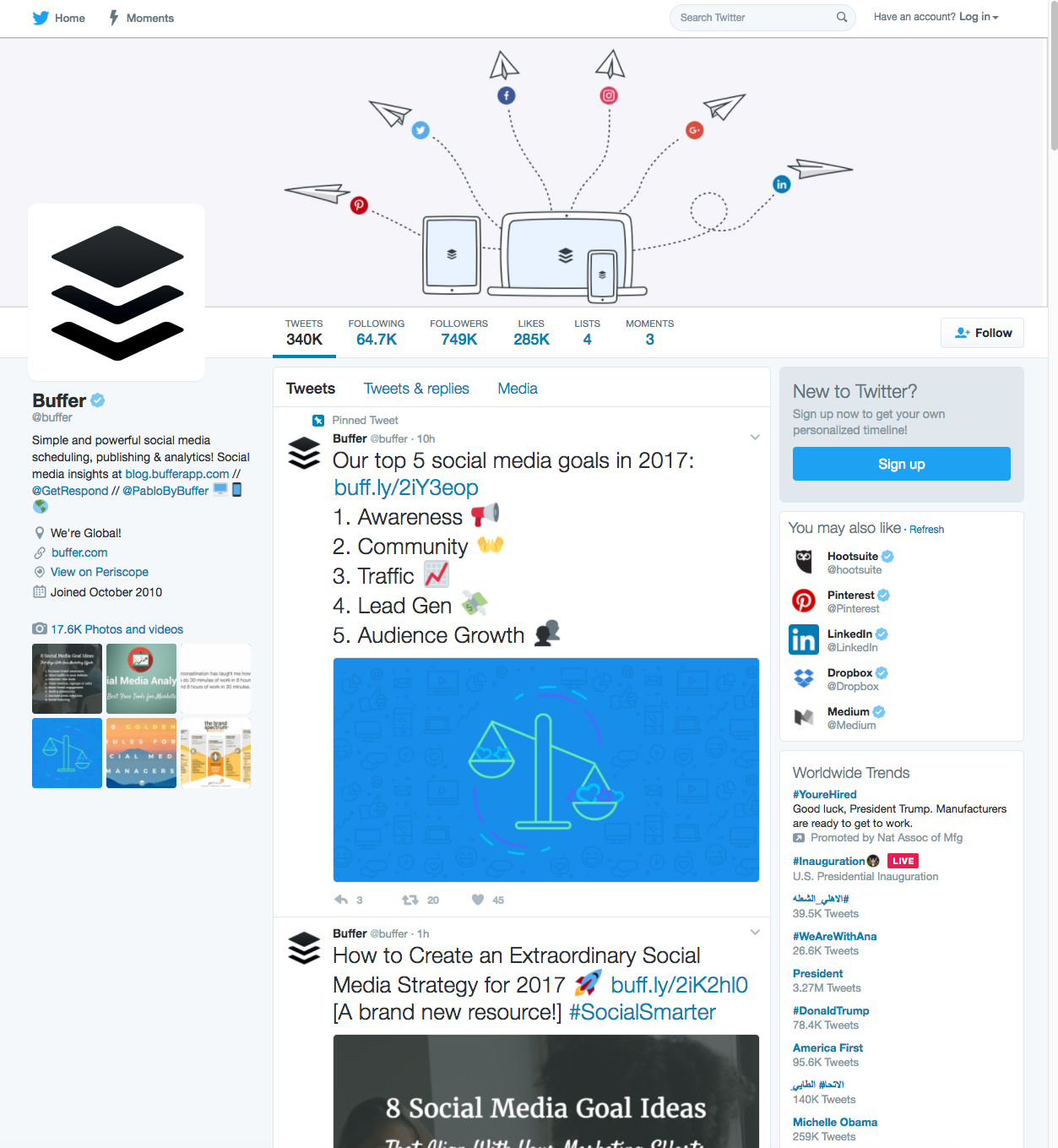 These are all good reasons to use Twitter, but today we're specifically looking for great growth hacking ideas.
Austen Allred, senior growth manager at LendUp, has found a simple but effective way to drive user acquisition without spending a time on Twitter ads.
"Let's say you sell beard oils. To smoke out potential beard oil customers, you might navigate to a competing brand's Twitter account and follow all their followers. This, however, would bog you down with spam accounts. Another strategy would be to search for "beard oil," but the results would be populated with idle talk of beard oils and tweets from beard oil companies, and take ages to sift through.
Allerd's hack helps target people who are looking to buy beard oils, and it's ridiculously simple. Just search for something like "need beard oil."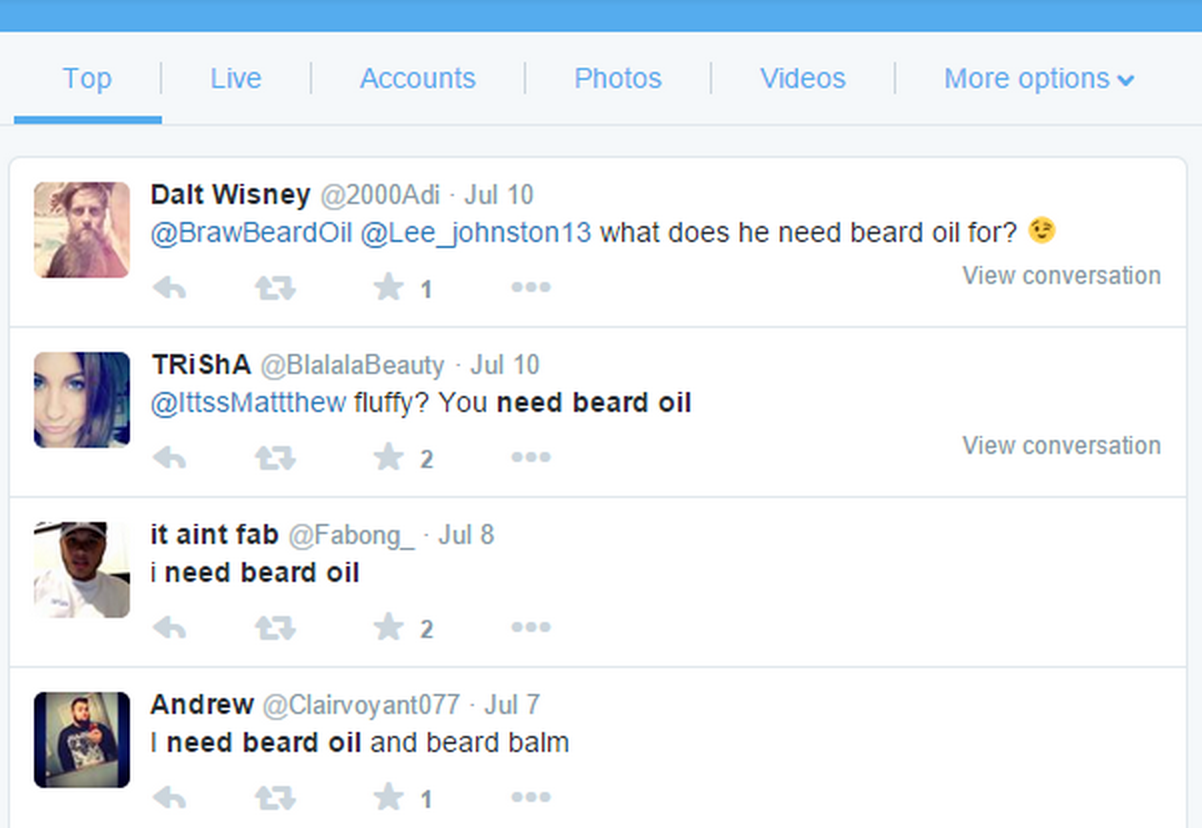 You are then shown people who are in need of beard oil and can reach out to them one-on-one with a clever, witty or just super helpful response with a link to your beard oil e-commerce site, or a note to check out your products in their local store.
You might offer them a limited time promo code or coupon they can use as a first time purchaser. By making the offer limited time, you create a sense of urgency so that they buy right away.
7. Implement a customer loyalty program to obtain repeat business
When we speak about growth hacking, we're primarily talking about new business acquisition, but increasing the lifetime value (LTV) of existing customers is equally important to growth.
Once you acquire a customer, it should require much less time (and money) to get them to make a repeat purchase as long as quality and customer service lived up to promise. This is how you grow your company without spending all of your time finding new customers.
One great way to increase repeat business is by offering a customer loyalty program.
It's easy to view customer loyalty cards as something of the past, but they are still in circulation by many companies today because they work.
In a study conducted by the University of Southern California, when implemented properly loyalty cards resulted in 178% more repeat business!
How is that possible?
Well, at a car wash company researchers handed out loyalty cards with stamp boxes. Customers earned a free car wash for every 10 stamps they received.
In the study, half of the cards had 8 of the 10 spots pre-stamped, while the other half only had 2 of the 10 spots pre-stamped. In the end, customers who received the 8 stamps up front come back for additional car washes in droves! To the tune of 178% more than the customers who received only two stamps.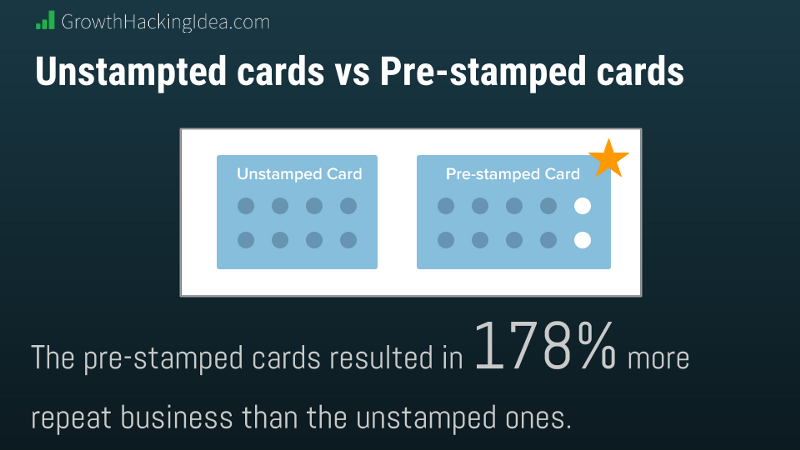 These customers appreciated the many stamps they were given up front and felt like they were being singled out for a good deal which in turn made them loyal to the car wash company. Plus, the incentive of a free car wash seemed much easily achievable when they only had to come back for two more washes before redeeming their card for the prize.
Even if you don't have a brick and mortar store, you can still implement this same type of customer loyalty strategy.
Ecommerce shops can easily build a customer loyalty program so that when X amount of dollars are spent, or when X number of products are purchased customers earn a prize.
For example, Birchbox offers Birchbox Points to account holders. "Birchbox Points are what you earn when you shop, review samples and refer friends. They translate into currency that can be used to purchase any full size products in the Birchbox Shop or in our NYC store. 100 Birchbox Points equals $10, and points can be redeemed in increments of 1."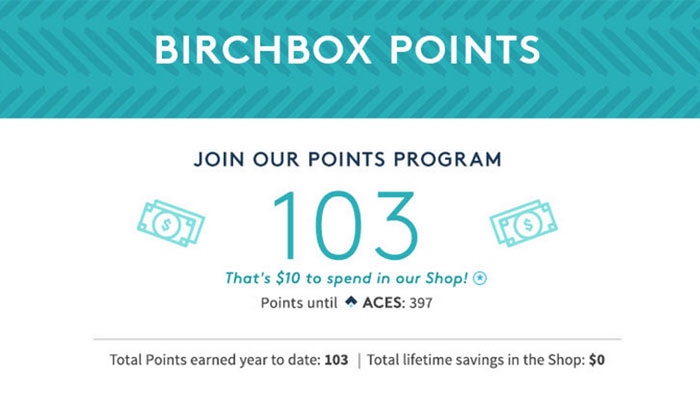 If your company isn't an ecommerce shop, you'll need to get creative with your loyalty program. You might offer an incentive after X number of months a person is a customer or an incentive for X number of times a customer uses a specific feature.
Of course you'll want to pick a feature that is highly useful. This gets the user reliant on using the feature to make his or her life easier. This makes it harder for the user to cancel since he or she uses the feature so frequently!
Getting Started
Hopefully by now you are visualizing ways to grow your own startup using these hacks or variations of these hacks you come up with on your own!
If you're feeling unsure of where to start, leave me a comment below and I'll do my best to help!