Visual search is the most trusted information source, with 59 percent of people considering it more important than text information. With growing mobile devices, e-commerce, internet access, and camera devices, the need for accurate image search is on the rise.
Search engines, including Google and Microsoft, have initiated visual search platforms for their users. Is your brand prepared for the visual search? Is visual search the new form of search?
Let's dig deep and see how visual search is reshaping the search ecosystem at the macro and micro levels and what's in it for businesses and marketers.
What Is Visual Search?
Visual search helps people search for similar images. The search query in this case is an image instead of text or a voice command. Artificial intelligence (AI) is used to understand the image, the object within the picture, and its context. This data is stored and indexed like conventional context and then served to the users for matching visual search.
Here is how visual search works: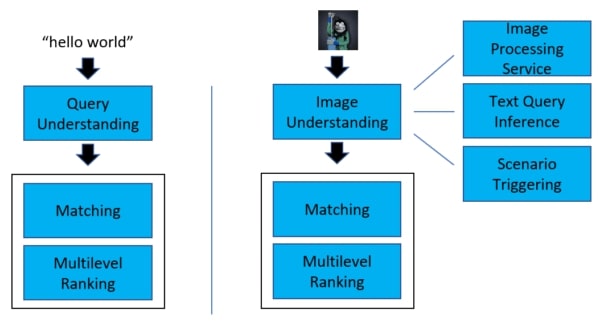 It involves understanding the image and finding relevant images from the index. It isn't the same as image search, where you use text to find images. Visual search uses images to find similar images.
There are quite a few companies that support visual search, including Google Lens, Pinterest Lens, Snapchat Scan, Bing Visual Search and Amazon StyleSnap. So, if you have an image, and you are interested in finding similar-looking images, you can use one of these visual search tools.
Why Visual Search Is Important?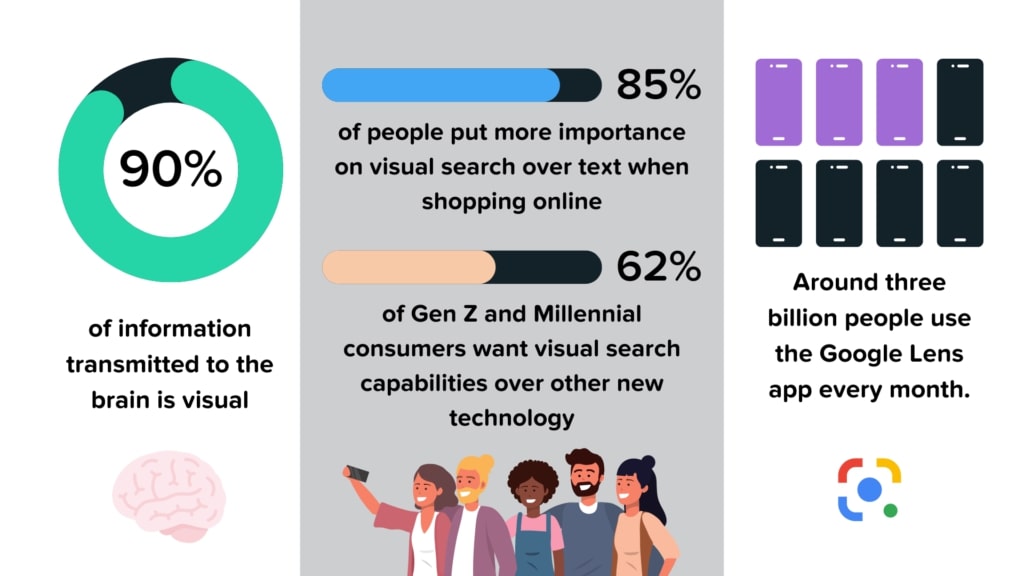 Google reported Google Lens is used over 8 billion times per month. A survey found that 62 percent of Gen Z and millennials want visual search more than any other technology. This is because visual search is extremely fast.
It is reported to be 5x faster than text search.
It reduces the pain of typing a search query and then finding the right product or information you are looking for by scrolling through the top search results. The visual search takes under 27 seconds to help users find what they are looking for.
This is a reason why a lot of people prefer using visual search when they are looking to buy a product.
As more people use their smartphones to access the internet, visual search will continue to increase exponentially. Visual search works best on phones with cameras, and with 5.34 billion (66.9 percent of the global population) unique mobile phone users globally, it is clear why brands need to focus on visual search.
Brands that optimize their websites and products for visual search see higher conversion rate and revenue. Boohoo increased its organic traffic by 125 percent and conversion rate by 85 percent for visual search via camera.
Visual search isn't a matter of choice, it is a necessity. Your target audience has camera phones and internet access, and it can take a picture of anything and search for it. You need to make sure your brand, its products, and services are optimized for visual search.
Visual Search Characteristics
What makes visual search even a thing, and why does it matter?
Visual search serves a unique purpose that you don't get with any other type of search. Imagine you have an image of a pair of shoes, and you have no idea about its brand, price, and where to buy it.
Traditional search isn't helpful here.
Visual search can help you not just find the name of the shoes, its brand, and its manufacturer, but it will give you shopping options.
That's what makes visual search a must-have in today's world. But there is more…
Here are the key visual search characteristics:
Simple and Instant
Visual search is simple and unambiguous.
Users just need a photo and that's it. The output from the visual search engine is extremely easy to navigate, as it is easier to find visually similar images.
Exact Search Query
Visual search has a single exact query in the form of an image. There is no room for longer search queries with visual search.
From a user's perspective, this isn't of much importance, but from a marketer's perspective, this means a lot. If you are trying to rank for an image, you need to be among the top few results to drive traffic to your product or website. This is due to the exact search query.
Technology
Visual search relies on both artificial intelligence and algorithms.
Visual search engines don't rely on metadata, as it happens to be an inaccurate and unreliable method. Reverse image retrieval is the process used for visual search that focuses on finding patterns in the image as we humans see it.
Similar images are then retrieved and served from the database. So, there is minimal involvement of text in the case of visual search.
Need for Camera
Visual search is geared toward camera-enabled devices, especially mobile phones. You can use the visual search on your computer and laptop by finding similar copies of any image you have, but it is pitched as a camera-driven search.
While traditional search works seamlessly across all types of devices, including dedicated voice assistants, visual search is more suitable for camera devices only.
Top Visual Search Platforms
There are quite a few visual search platforms that offer users the ability to search images and graphics free of cost. The leading platforms include:
Google Lens
Bing Visual Search
Pinterest Lens
Snapchat Scan
StyleSnap.
Google Lens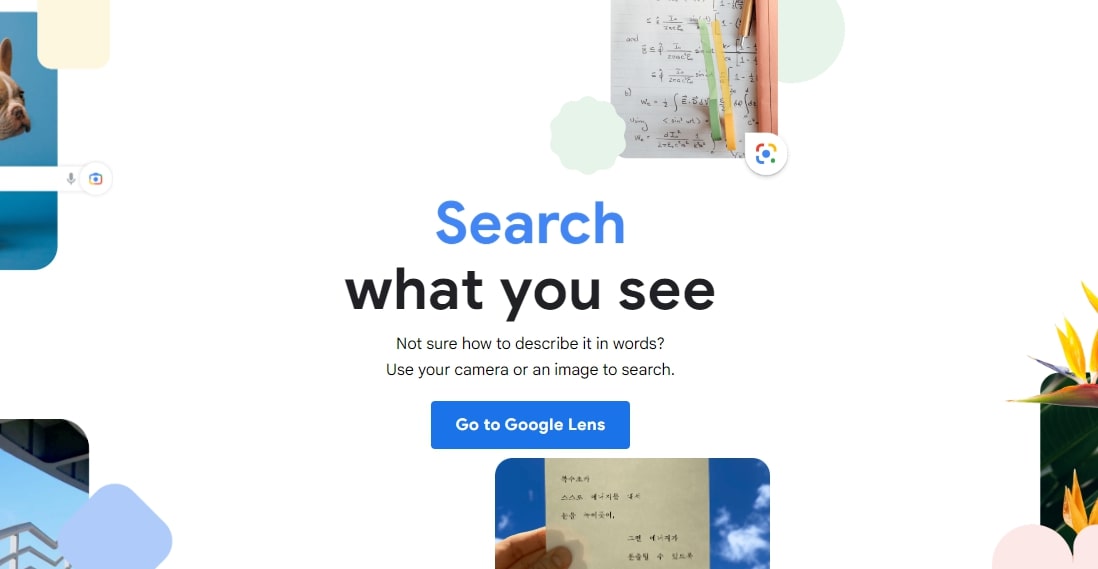 Google Lens is the leading visual search platform that's available for both mobile and desktop users. It is embedded in several Google products, including Google Search, Photos, Google Assistant, and more.
Desktop users can look for similar images with a simple click on any image on the web. Being the most used search engine globally, Google Lens is extremely accurate as it uses Google's index, images, and content from its search engine.
A bigger database means AI can learn and evolve quickly.
Bing Visual Search

Bing Visual Search is a Microsoft initiative and it works with Bing search and Microsoft products and apps.
It works like Google Lens, where users can upload an image to find similar images from a desktop or mobile phone. The visual search is available for mobile and desktop both and works with Bing and Microsoft apps.
The best thing about Bing Visual Search is its developer platform that gives more control to businesses on how to interact with traffic generated via visual search.
Pinterest Lens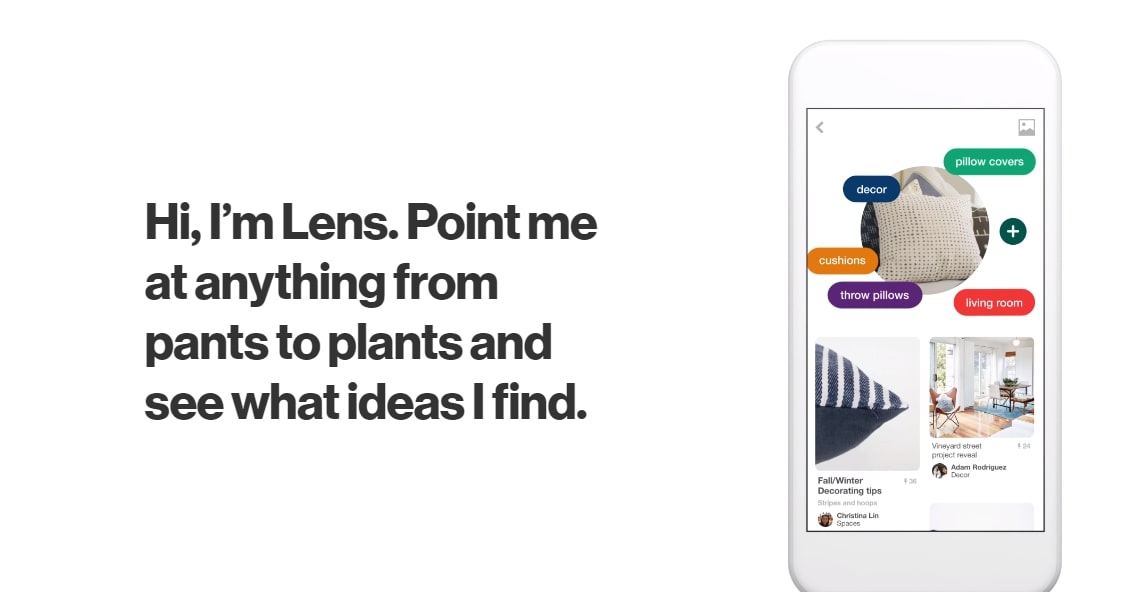 Pinterest Lens is a platform-specific visual search that is only available to Pinterest users. You can take a photo of anything or use an existing photo to see similar photos and products.
Pinterest also offers a shop tab that lets users shop for similar products. This has made Pinterest a great platform for businesses where they can promote and sell their products.
Snapchat Scan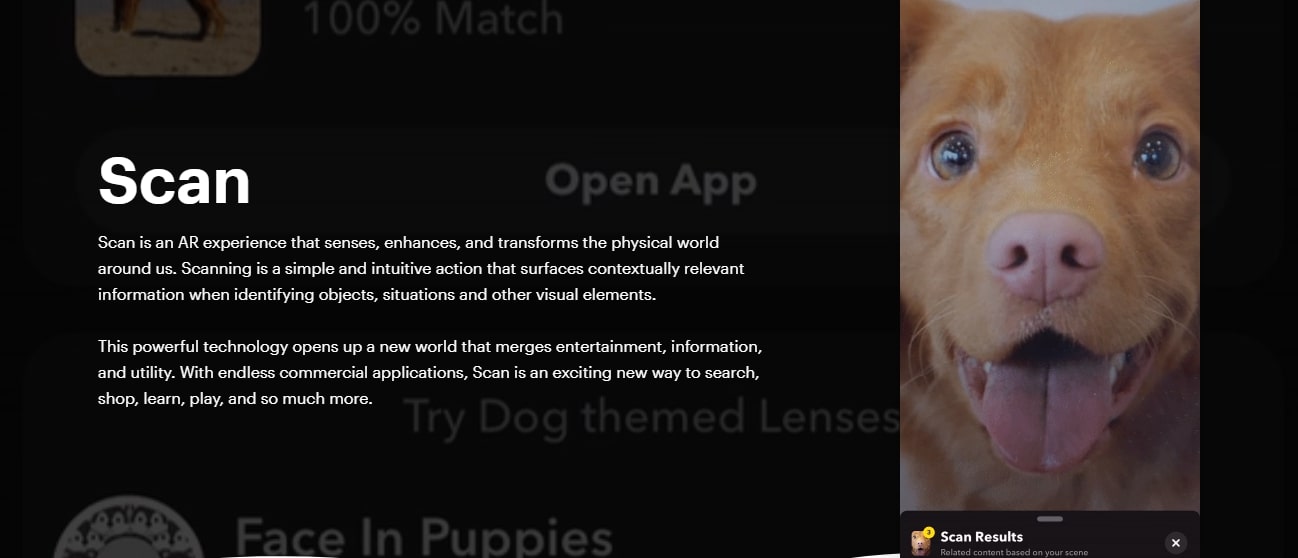 Pinterest isn't the only social networking platform that offers visual search to its users. Snapchat has a similar feature known as Scan.
Users can scan similar objects and shop related or similar products by simply pointing their camera at anything. It gives a lot of options such as finding a product, song, solving a problem, identifying a plant, and much more.
It is an AR-based platform that isn't just limited to shopping but rather helps people solve problems such as identifying a dog breed.
StyleSnap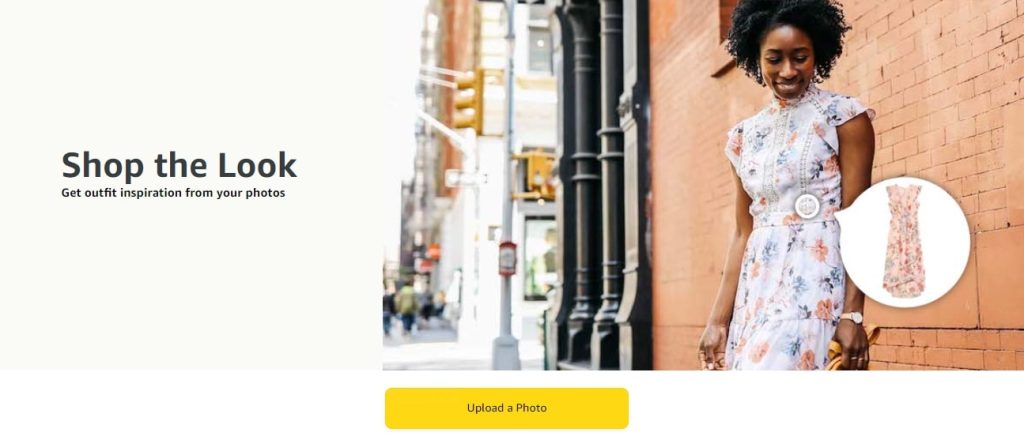 StyleSnap is a visual search feature by Amazon that's available for app and desktop users. Anyone can upload a photo of a product and the visual search will find and list the same product on Amazon.
This is a new way to shop and buy things online.
How to Optimize for Visual Search
If you want to get in on the 8 billion visual searches each month and improve your chances of finding new customers or readers, you'll need to optimize the images you add to your site. Here's how to do it.
Do Keyword Research
Keywords impact visual search and will help your images show up in SERPs. Try using a keyword research tool like Ahrefs to find long-tail keywords for your image or product. These keywords will help users find your products and give them a description of your items.
For example, if you're selling coffee mugs, a keyword of "personalized insulated coffee mug" is going to attract a better customer base than a generic "coffee mug" keyword.
Add Descriptive Alt Text and File Names
Here's where your keywords will come in handy. Avoid a generic file name and definitely don't leave it as "photo12.jpg." Your file name should be descriptive and incorporate a keyword.
Your image alt text should also help search engines and readers understand what your image is about. Use a keyword to describe your image. "Gold earrings with diamond stud loop" is certainly better than "Earrings." As always, do not keyword stuff.

Optimize Your Photos
The resolution of your photos can impact the search engine's ability to get a good read on your image. But if you're too high resolution, that can impact load time. Size your photos appropriately and even think about how they'll appear on phones and tablets. Use a tool like PageSpeed Insights to see how your images are impacting your site speed. Also, be sure to use the right file type. For example, Google supports file types of:
Use Multiple Photos
Using multiple photos with various angles will help readers find your product. If a user is searching for a side view of a product, having a side view photo on your site will help your image come up in their search.
Add Structured Data
Structured data provides info about a page to search engines and classifies the page content. Adding structured data to your site will enable special features and enhancements in search, such as rich snippets or carousel displays. Google has structured data guidelines to help you include everything that's needed.
Submit an Image Sitemap
Creating an image sitemap further helps your images get discovered by search engines. This is particularly useful if you load images via JavaScript. Google's image sitemap guidelines will help.
Is Visual Search the Future of Search?
Visual search is growing fast and transforming search engines. Yes, it is all set to become the future of search.
What you can achieve with visual search can't be achieved with voice and text searches. Visual search is all set to become a global trend in the coming years and will take over traditional search (just like voice search did). We might see dedicated visual search devices with more advanced features.
It will transform into a standalone search ecosystem where anyone could find similar images with a simple tap or click.
As a business, you need to start optimizing your brand, products, and UX for visual search. Early adopters (though it is still not too early) will have a competitive edge over competitors.