When it comes to marketing, nothing is too much. If you've ever set up a marketing strategy involving specifically targeted campaigns, you already know how important it is to be thorough and never miss a chance to reach your targeted audience.
There are many ways to deliver your message to your customers, starting with distributing valuable content and launching an advertising campaign. Sometimes, however, you come to the conclusion that you need to do more for your brand and/or company.
This is where influencers come into place. They're able to open new horizons for you and at the same time, deliver your message to quality, niche audiences. These are the audiences you've been longing for, assuming you choose the right influencer.
We're going to discuss how to find these ideal influencers But before getting on to the main subject, let's answer the most important question first:
What is an influencer?
You probably already know a little about influencer marketing. Marketers speak highly of this specific strategy but in order to implement it and make it successful to you, you need to understand the basics of it.
So what is an influencer? Or rather, who is an influencer?
Well, according to Business Dictionary, influencers are "individuals who have the power to affect purchase decisions of others because of their (real or perceived) authority, knowledge, position, or relationship. In consumer spending, members of a peer group or reference group act as influencers. In business to business (organizational) buying, internal employees (engineers, managers, purchasers) or external consultants act as influencers."
In other words, influencers are individuals who have a solid background and following in a particular niche. They're constantly engaged with their audience and are respected and highly regarded by this audience. Hence, their voice is most likely to be heard and when they recommend specific products, they can convert followers into leads.
From a marketing point of view, we can narrow down this definition to the following list of possible influencers in your own niche:
Celebrities
Thought leaders and experts from your niche/industry
Influential bloggers and content creators
Micro-influencers
According to AlistDaily's stats, "71% of consumers are more likely to make a purchase based on a social media reference." Also, "90% of consumers trust peer recommendations, while only 33% trust ads."
If you want better results, you should consider supporting your ads (or replacing them) with influencers who can spread the word about your brand.
We know that celebrities can influence decisions and opinions. We also know that tough leaders and experts from a specific niche can also influence how people interact with brands from that industry. Influential bloggers are also backed up by large audiences and if you use them in your marketing campaigns, most certainly, you will have access to a large audience.
But what about micro-influencers?
Well, this is where we get to our main topic and throughout this article, I'll try to shed some light on this specific subject.
What is a micro-influencer?
We usually think of micro-influencers as people with a decent audience in a specifically targeted niche. For instance, you can hire a traditional influencer to market your products and rest assured they have millions of followers to spread your message to. However, you don't know how many of these people will actually get back to you, or how many of them might be interested in what you have to offer. Influencers have general audiences.
If you want to narrow down and get to a more niche group of people, you might need the help of a micro-influencer. I am referring to a person who is highly regarded in your own industry, and has a blog or social media profile with extremely well-targeted followers. A micro-influencer will not give you access to a large audience but nevertheless, they will give you access to exactly the type of audience you require in order to market your brand or business more effectively.
Depending on your industry, micro-influencers may have between 1000 and 50,000 followers. It's a small number compared to the celebrities that post frequently on Instagram and YouTube but at the same time, you may get a higher engagement rate, since they are following a niche blogger who writes about specific products or services.
Influencers versus micro-influencers
Many marketers are split on whether micro-influencers are capable of delivering better results than their more popular colleagues. In a way, it all comes down to personal preferences and of course, your own goals and marketing strategies.
However, there are some levels at which micro-influencer marketing performs better.
MediaKix has a great infographic which includes a few key figures. We learn from them that the engagement rate is higher when you hire micro-influencers to market your brand or business (2.75% versus 2.65%). The difference is not significant but still, there is one.
Although they have a smaller reach, micro-influencers speak to a more niche audience and this is the main reason they may perform even better than macro influencers. Their audience is interested in a specific topic.
Therefore, if you're able to find the micro-influencers from your main industry, you might get better results by speaking to their focused audience.
At the same time, the report specifies that the total number of likes received by macro influencers is 20 times higher than the number of likes received by micro-influencers. However, there are times when the number of likes or followers doesn't count. They do not convert into real customers. This is why, when dealing with micro-influencers, you narrow the audience up to the point that 3 likes may be more valuable than 100, due to the fact that they come from people who are really interested in your niche.
What about the costs? Well, according to another report, you will pay at least $250 for a micro-influencer post on Facebook and Instagram and $500 for a blog post. When it comes to macro influencers, the costs can start from at least a few thousand dollars, depending on your campaign. Therefore, micro-influencers are less costly.
Finally, micro-influencers also act as a form of online public relations. They help you spread the word about your brand and products and at the same time, grow your audience and attract new followers.
How to find micro-influencers
Let's assume you've chosen to embark on this quest and include a micro-influencer-based marketing in your strategy. I am sure you're now asking yourself, "how will I find the right micro-influencers?"
Let's try to answer it now, before proceeding further.
1. Find micro-influencers among your fans
Look through your list of social media followers and fans. There's a good chance you will find some micro-influencers among them.
What's best about this approach is that once you identify them, you can almost be assured that they will be willing to help you. They're already invested in your brand or business, they're already following you, and they're already familiar with your brand and your products.
2. Find influencers through hashtags or popular topics
There will always be micro-influencers that have never heard of your brand even though you are already active in a specific industry.
Can you reach them? Well, of course, you can.
The easiest way to do it is through the most popular topics and keywords from your own niche. On social media, you can search by hashtags. Make sure you don't use generic hashtags however, because they might prove to be less effective when it comes to influencer marketing. For instance, take a look at the following example: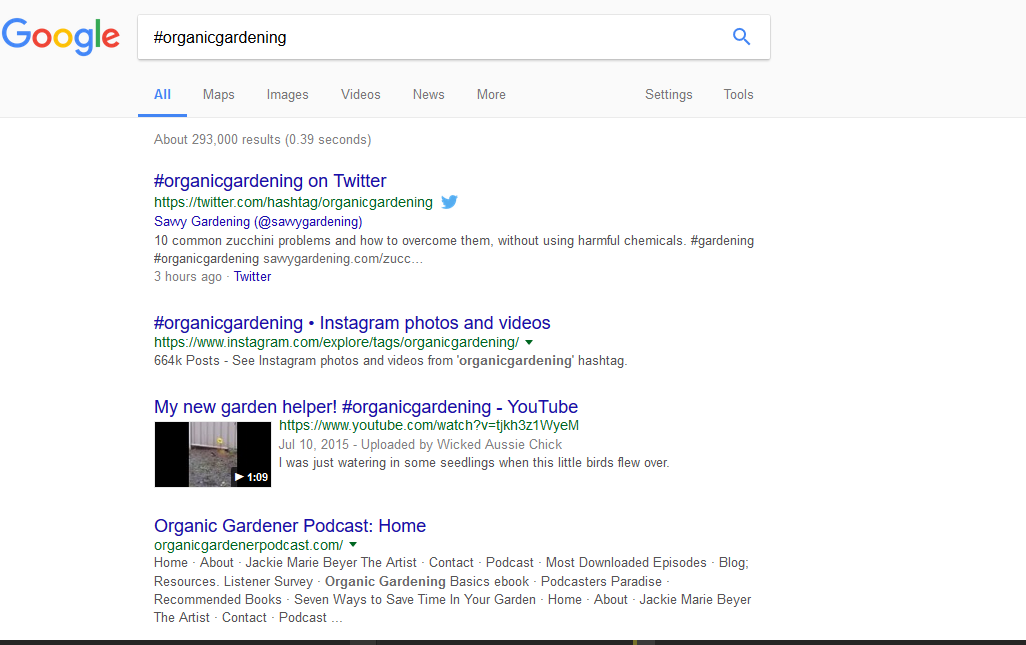 You see that I am searching for influencers in the organic gardening industry. A hashtag search that contains only the word "organic" will give a much wider range of topics related to the keyword that may or may not be related to your business. However, if you use the whole #organicgardening hashtag, you can narrow down the search and reach out to exactly the people you are interested in engaging with.
Also, the above image is representative of our search as a great example of how to use hashtags on search engines as well. You can find your targeted community on social media but also find blogs and websites from your niche and get in touch with some micro-influencers that aren't present on social media.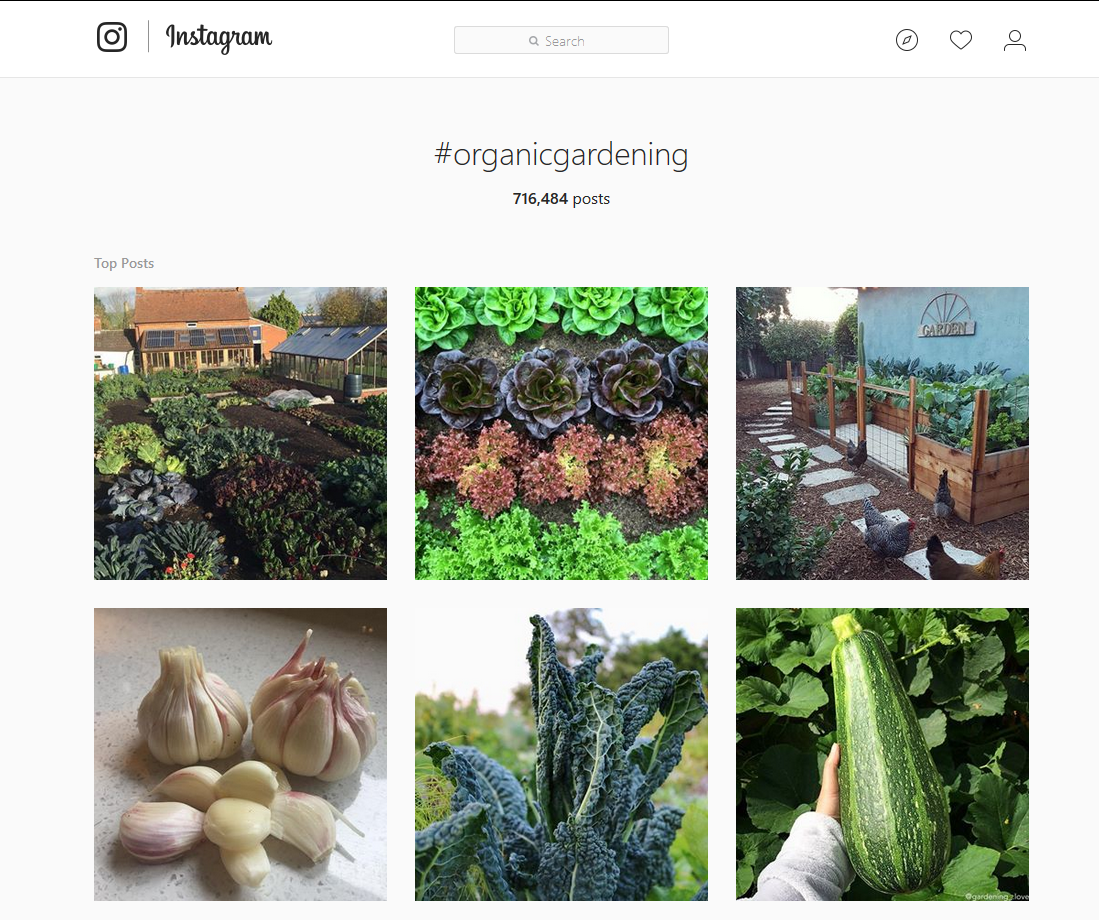 A similar search on Instagram on the other hand will get you a list of the top photos shared under the researched hashtag. Browse at first these top photos because they are the ones that received the greatest number of likes. There is a good possibility your will be able to find some micro-influencers this way.
3. Use a professional online service to find micro-influencers
You can also get ahead in your research by using tools designed to deliver the same results.
There is, of course, Mention, a powerful monitoring solution that has an integrated influencer research feature. You can use it to track influencers and micro-influencers from Twitter, Instagram, and popular blogs in your niche.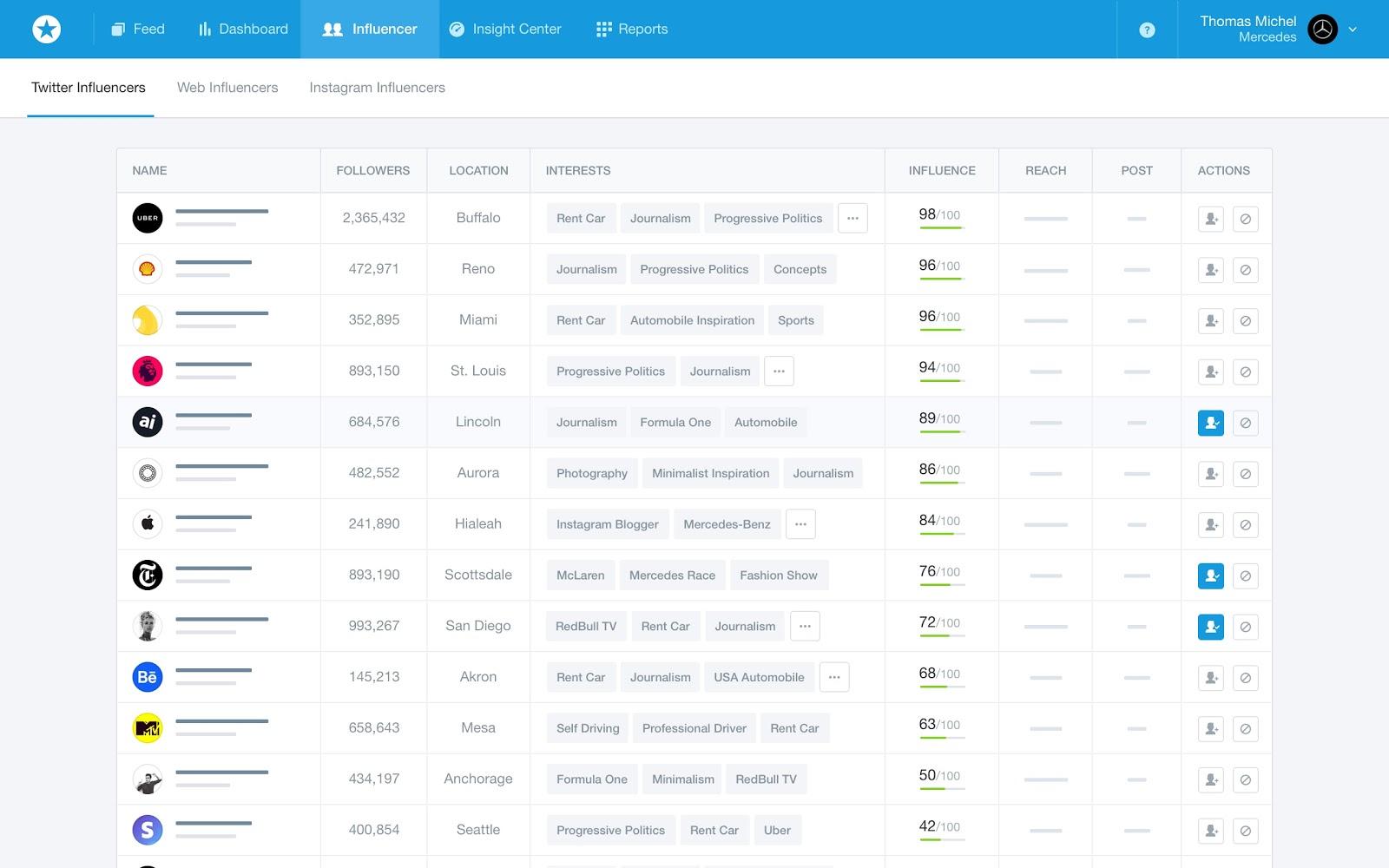 Another great tool you can use in your research is Buzzsumo. As you can see in the following screenshot, I've performed a quick search based on the same hashtag (keywords) used in the previous examples.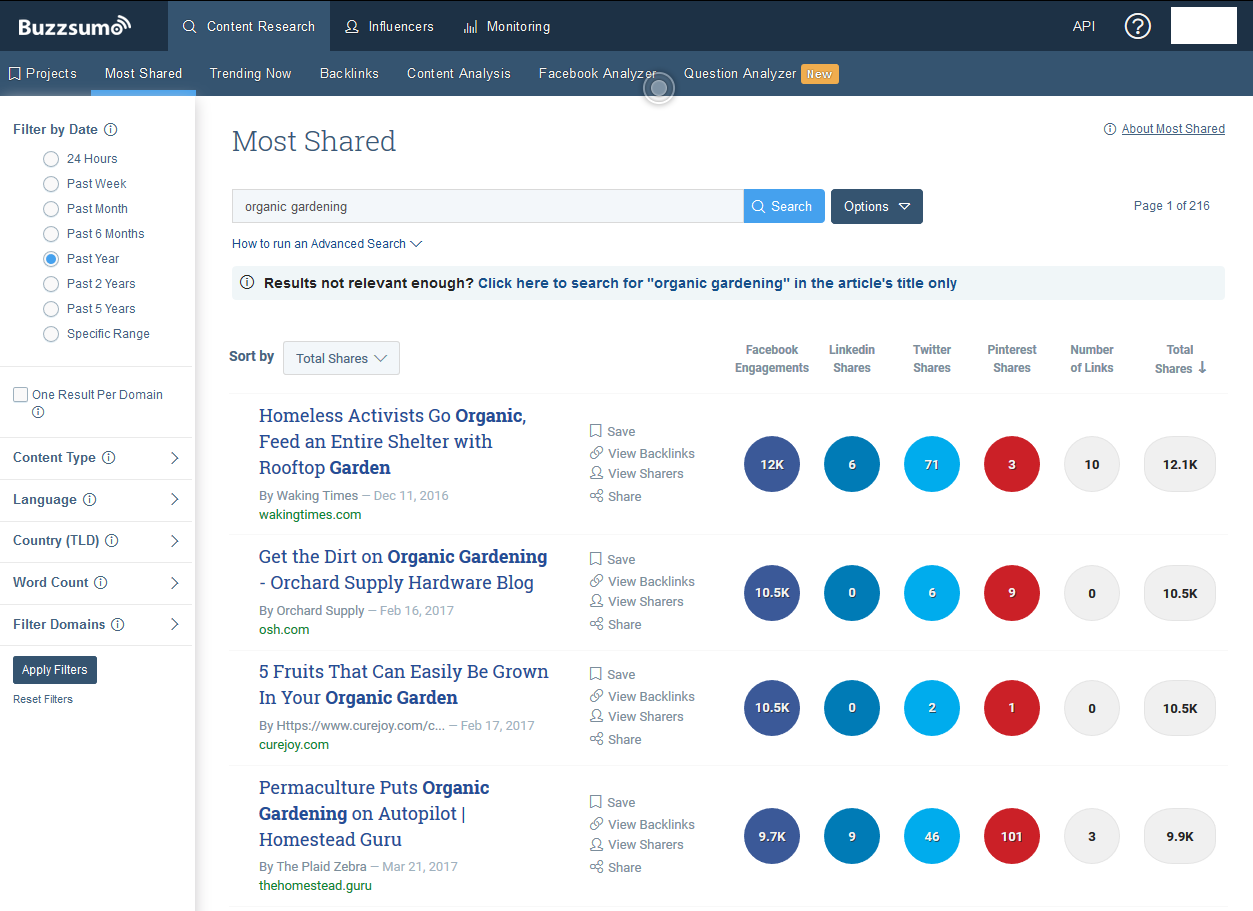 The tool will immediately list some of the most popular articles based on your keywords and the number of share and likes on social media. Thus, it will be easier to select some of the best bloggers in your niche and contact them to talk about your campaign.
Buzzsumo also features a Facebook analyzer. Here, you can narrow your research only to Facebook if you're planning to make this social media platform your main marketing channel.
So, if you want to really be thorough in your research on social media, you can use Buzzsumo for Facebook and Mention for Twitter and Instagram. They will both work great if you want to find bloggers, however.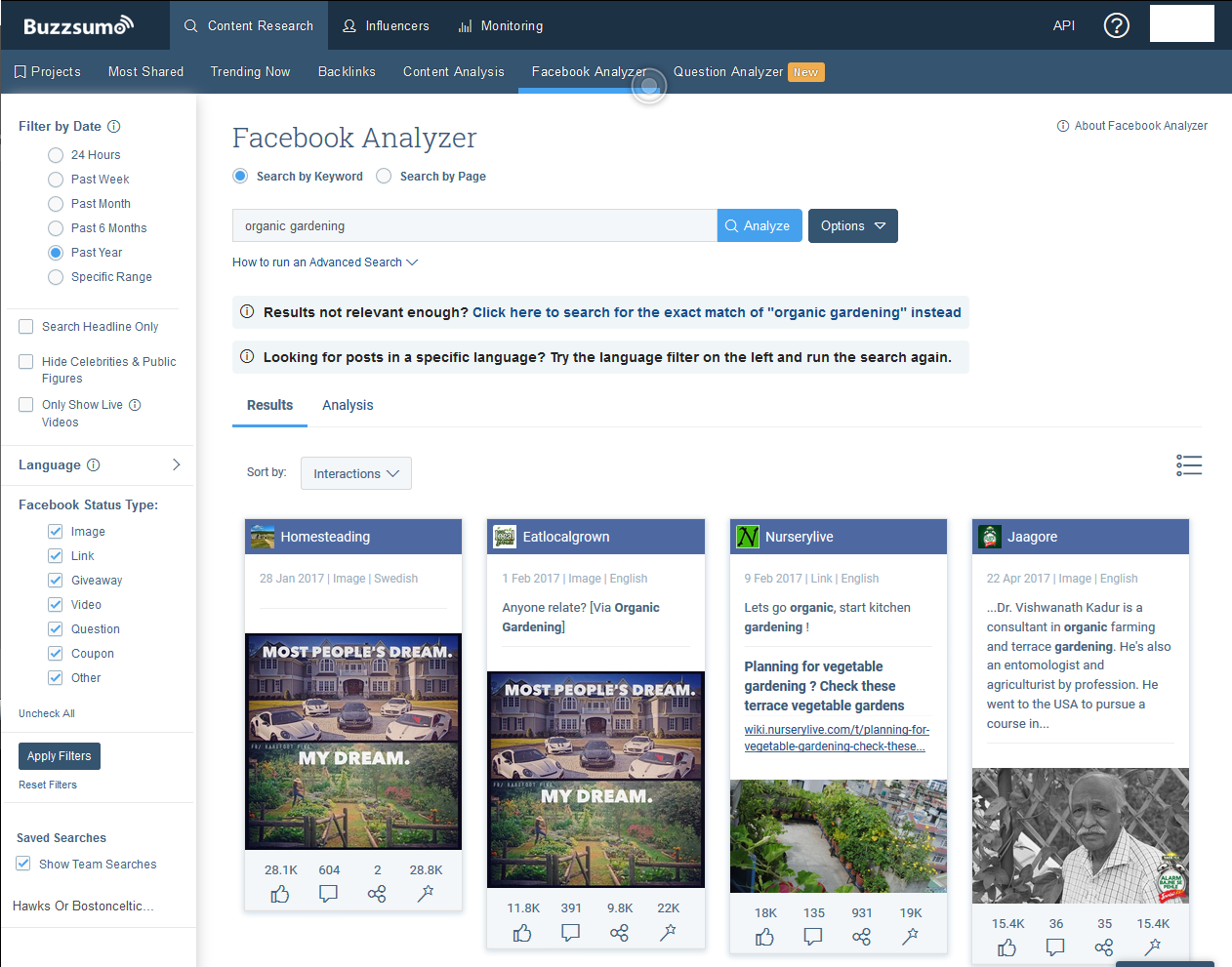 Here, if you hit the "Analysis" panel, you will also get stats relevant to your researched keywords like monthly interactions or the engagement rate.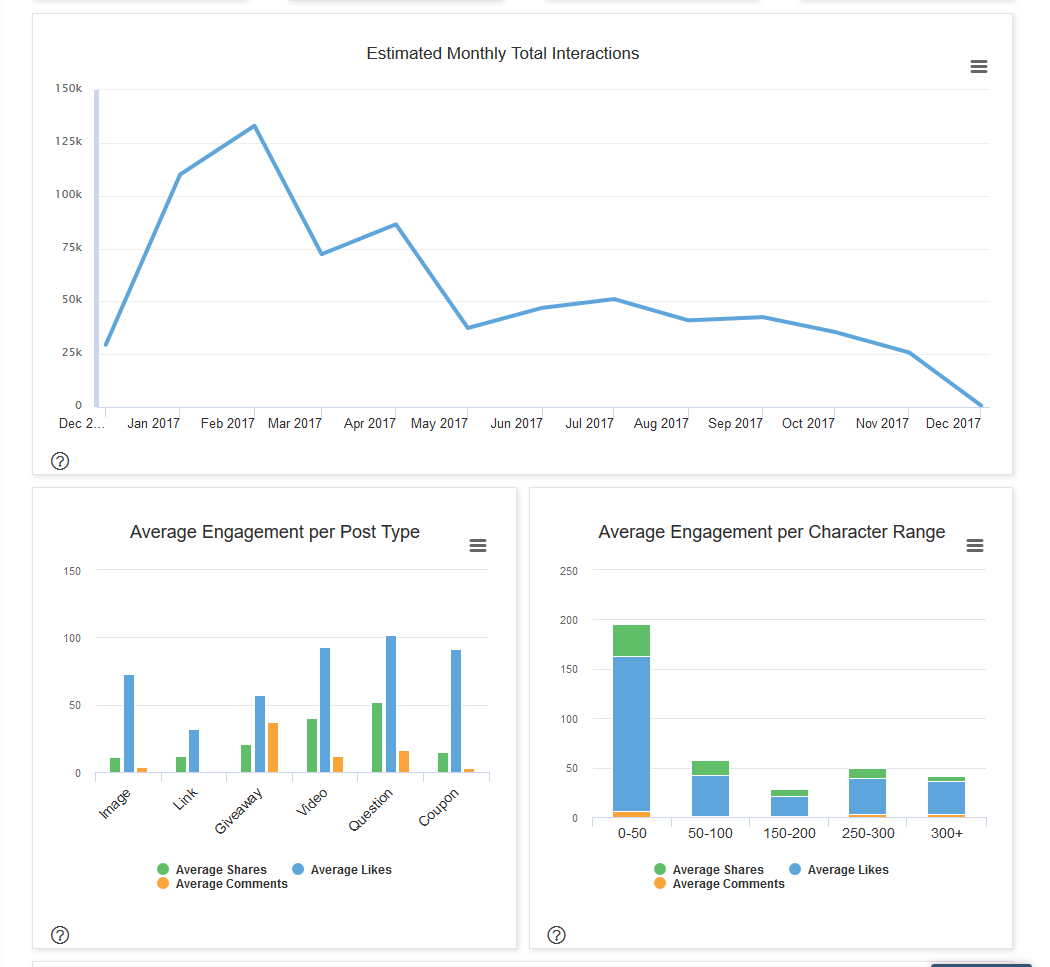 Tips and examples of marketing campaigns based on micro-influencers
If you are searching for tips on how to run a campaign with the help of micro-influencers, the best way to learn more about this topic is through the power of example. We already know from Experticity that 82% of consumers are more likely to buy products that are recommended by micro-influencers.
Let's learn how to harness their marketing power through some recent examples of brands that did it successfully.
1. Glossier's referral program on Twitter
A great way to market your business and build awareness of your brand or products is to do what Glossier did the past few months. Encourage organic reviews on social media and blogs by giving something in return for your referrals.
In this case, the company offers freebies to their micro-influencers and loyal customers who refer them to their list of followers. Usually, they offer products before they're available on the market, giving this a great incentive to their promoters.
I love introducing friends to @glossier like YOU'RE WELCOME 💕🎉

— Hannah Chait (@hanchait) June 16, 2017
2. Tom's of Maine enlists micro-influencers from Instagram for an engagement boost through honest reviews
Tom's of Maine is a small company that produces personal care products using only natural ingredients. It's obvious that they operate within a very narrow niche. This is why a very well-targeted influencer campaign was one of their first choices.
Their main goal was to boost their social media engagement and of course, to attract some new customers. While other brands are trying to enlist macro influencers right from the start, Tom's of Maine selected only micro-influencers, everyday customers who shared photos of products from the same niche.
One of these influencers is Allison Goines (@oursmallhours) who has almost 4000 followers. See below a screenshot of the review posted on this account: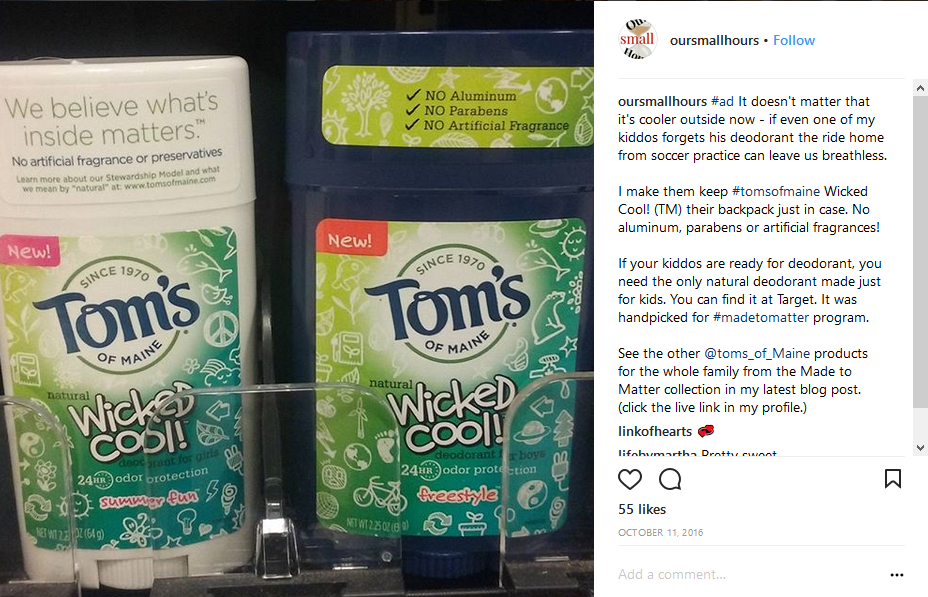 With this campaign, Tom's of Maine was able to boost their consumer engagement by a staggering 600%. This means that for every 1000 micro-influencers they were able to engage, they receive at least 6000 interactions. Not bad, for a micro-influencer based campaign, isn't it?
Tip: When dealing with photo-based social media platforms such as Instagram, create posts that, like advertising banners, deliver more to your audience than a simple product image. You can create professional visuals and posts online with tools like Bannersnack and push them to your micro-influencers to share them as well.
3. Engage your targeted audience through tutorials and how-tos like True Botanicals
Twitter and Instagram are not the only places to look for influencers and engage them in your campaign. True Botanicals gives us yet another great example of how you can create success through sponsored videos on YouTube.
In this case, they enlisted Tamira Jarrel, a beauty influencer, active on the video sharing platform. She created a sponsored video where she talked about some of the True Botanicals beauty products. She selected the products that worked for her and explained how to use them and why she likes them. This is a simple example of a how-to shared by an influencer.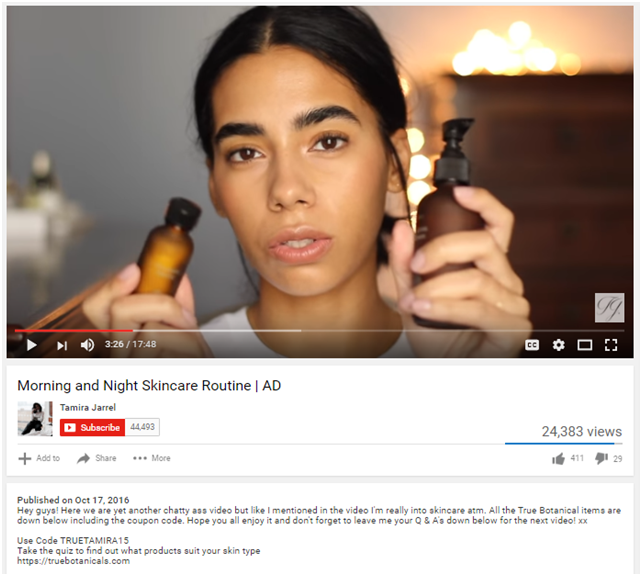 4. Enlist influential bloggers to market your brand
Social media marketing is a powerful tool you can use for your company's benefits but it's not the only tool available for content distribution. In fact, blogs may be more beneficial since their content is static and always available. Blog posts aren't ephemeral like a social media post.
In this case, the example comes from Delta Faucet, a company that specializes in selling faucets. They worked with Cherished Bliss, a blog specialized in home décor, home improvement, and DIY tips. The sponsored content was implemented in the form of a blog post dealing with a kitchen makeover with products sold by Delta.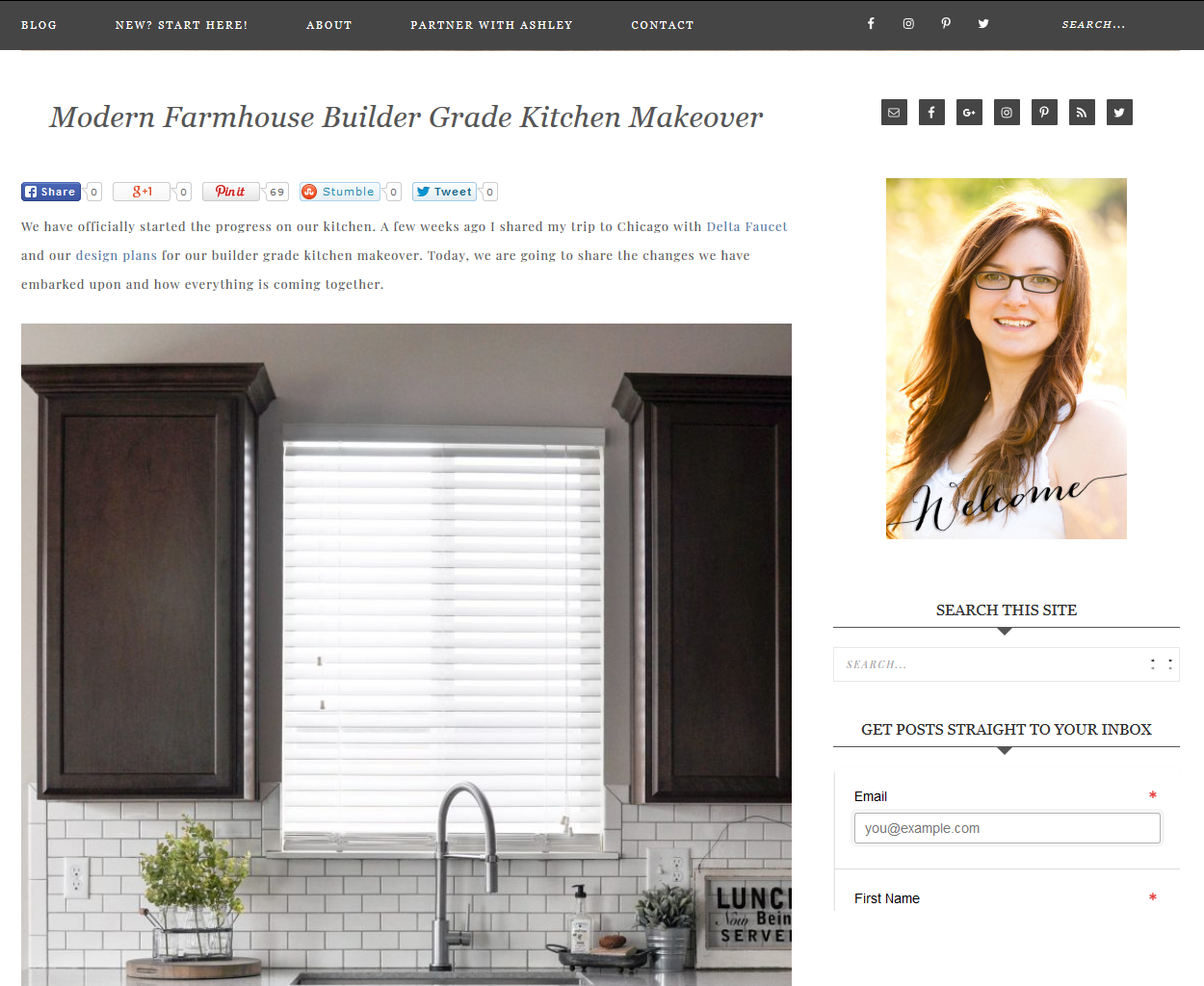 5. Use micro-influencers from Facebook Video and get the best out of the most popular social media platform
Every marketer knows that Facebook channel has a high engagement rate and a total audience of over 2 billion users. But if you want to create a successful influencer campaign on Facebook, you should consider engaging the audience with videos and not just simple posts.
There's not much to say in a post, but a video will be more visible and easier to engage with. According to TechCrunch, Facebook users watch over 8 billion videos per day. Another report states that these numbers can be translated into more than 100 million hours of video content being watched daily.
This example comes from Crayola, a company that chose to partner with several social media influencers in order to market their new Air Marker Sprayer. Your Everyday Canadian, created a Facebook video post telling a story about the aforementioned product.
What were the results? Well, if we consider that YEC's posts had over 500k thousand views, it was a complete success.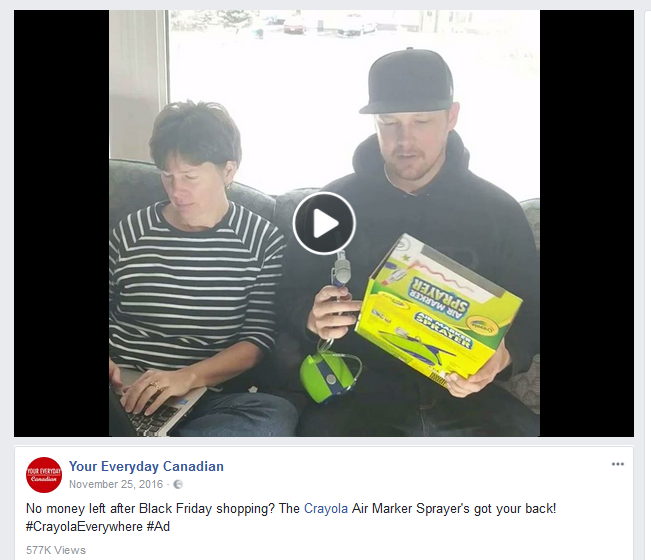 Conclusion
Your marketing campaign starts from the day the business comes to life, and it never ends. You'll try several marketing strategies that over time may prove to be successful or not.
However, being an ongoing mission, your marketing campaign shouldn't be linear. You need to try everything that has the slightest chance to be effective for your brand or business and create campaigns for different goals and ends.
Influencer marketing may prove to be an effective option when it comes to marketing. At the same time, if your business or products come from a very tight niche, you might also want to consider enlisting some micro-influencers to market your brand. We've seen that it works, we've seen some examples that may help you create a viable strategy. Now, it's time put all this knowledge to work.
What do you think about the effectiveness of using micro-influencers in a marketing campaign?