At this point, it feels almost redundant to point out the importance of having a social media presence if you run an eCommerce business. Setting up a Facebook or Instagram account is just one of those things you do in the beginning stages of launching your company's online assets. The same way you might create a newsletter signup call to action (CTA), write your first blog post, or add flaming gifs next to your company's logo (just kidding, we don't do that anymore).
However, many businesses run the risk of thinking about these tasks as something that simply needs to get done and is then left alone, hoping that it will somehow contribute to sales.
These companies are missing out on one of the most effective ways to expand and optimize their sales funnels. At best, some of these eCommerce companies think of social media as a mechanism to build brand awareness or possibly generate some traffic.
If you have a passive approach to integrating social media into your company's sales cycle, or you're not even using social media at all, this post is for you.
Why is Social Media Important for eCommerce Companies?
The easy answer is to simply look at the following statistics, courtesy of VisitSure and Global Web Index:
Facebook has 2.4 billion active users.
Almost 60% of US millennials have Instagram accounts.
22% of US adults actively use Twitter.
Pinterest boasts a user base of approximately 322 million.
People spend 30% of their "online time" using social media.
Now combine these astonishing figures with the fact that every single one of these social media platforms can be leveraged to, directly and indirectly, generate traffic, create leads, and drive conversions on your site. In fact, two of the biggest players in the Social media game, Facebook and Instagram, both have storefronts built directly into their user interface.
Can you, or any company that depends on online transactions, afford to leave this market untapped? The answer is a resounding "no."
Another rather important reason to start actively incorporating social media into your company's strategy and operations is the fact that you can be pretty certain your competitors are doing it.
"Keeping up with the Joneses" may be a slightly archaic saying in the context of suburban rivalries, but when it comes to the cutthroat world of eCommerce, store owners simply cannot afford to be left in the dust by forward-thinking competitors. That's just bad business.
Right, now that we've got your attention, it's time to get to the point and justify the reason you clicked on this article link in the first place. Here are proven ways that you can leverage social media to boost eCommerce results.
Table of Contents:
1. Choose the Right Platforms and Use Them Intelligently
Before you pour every ounce of your energy into a social media strategy that covers everything from Facebook and Instagram to Snapchat and YouTube, consider how appropriate each of these is for your audience. It's vital that you don't waste overhead on platforms that simply aren't a good fit for your product.
By now, most eCommerce companies know the importance of building buyer personas or, at the very least, have a very clear idea of their target market. Do you sell to business executives looking to improve their productivity, or is your target audience literally anyone who owns a cat? You need to know this for many reasons that don't involve your social media strategy, by the way.
It's critical that the social media channels you invest in resonate with your audience. Each of these platforms has unique functions, content types, reputations, and communities that may or may not be appropriate for the people you're trying to sell to.
Demographics also play a really big role here. Understanding who uses what platform and comparing this data to what you know about your target audience is vital.
2. Create Content Relevant to the Platform
Your choice of platforms, to a very large extent, drives the type of content that you're going to share with your audience. A product whose qualities are best represented visually (or something that is bought mainly for aesthetic reasons) is ideal for social media platforms like Instagram and Pinterest, which prioritize visual content. Products and services that thrive on communication, interaction, and discussion will be more suitable for platforms like Facebook or Twitter.
True Grit Texture Supply, a company that sells Photoshop textures, brushes, and effects have poured their resources into building a very strong following on Instagram – a platform that is very much aligned with their product.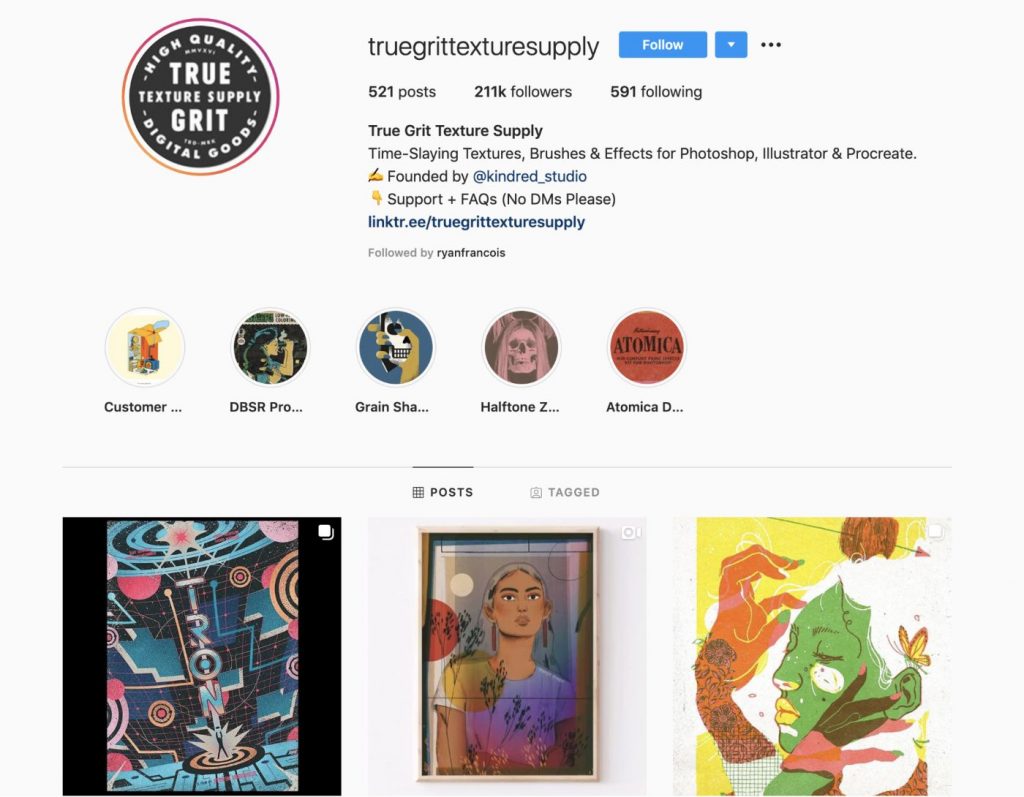 On the other hand, SM Cyberzone has prioritized Facebook as their primary social media platform since it allows them to communicate the detailed technical aspects of their inventory more efficiently.
Redbubble, a company that sells, among other things, meme-themed products designed by independent artists, is able to make use of Twitter hashtags to insert relevant products into trending conversations. Their inventory is wide, constantly in flux, and often quite "of the moment" – which makes Twitter an ideal platform for them.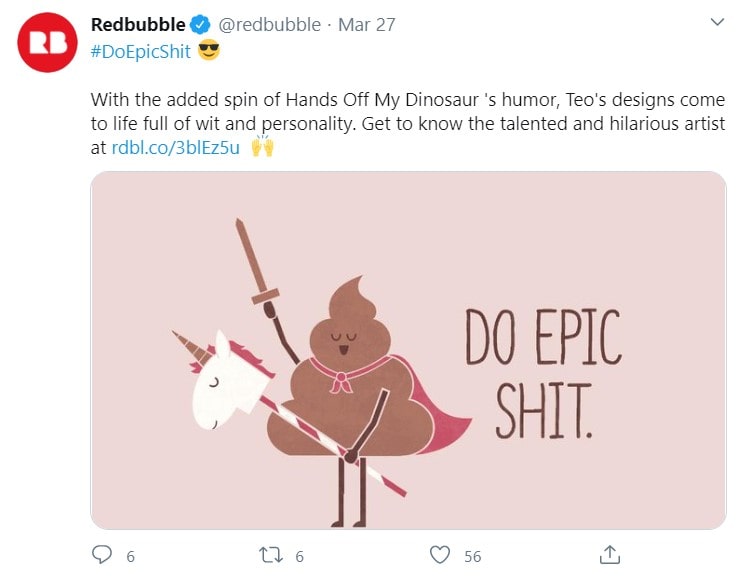 What's vital is that your content resonates with the audience, as customer experience is a critical part of a successful social media strategy.
3. Create Visually Engaging Content
As we mentioned in a previous post about mastering graphics without any design experience, content with attractive visuals can expect 2.3x more engagement than text-only posts.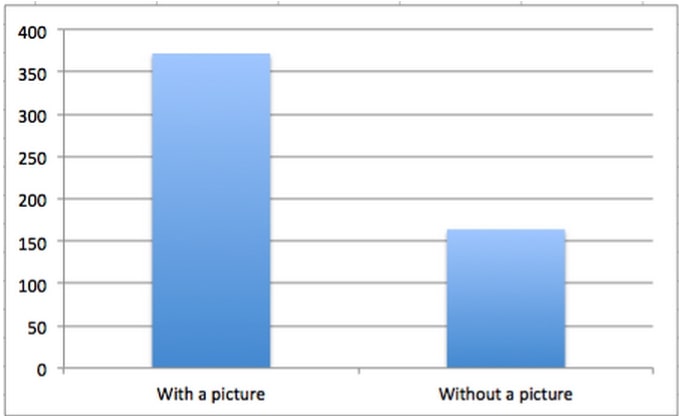 Post engagement is critical to social media success. It gives you the opportunity to get to know your potential customers, foster a sense of community, and promote your brand, all the while improving the post's reach as well.
Both Facebook and Instagram's feed generation algorithms favor posts that receive plenty of likes, shares, and comments. If you're creating posts that receive a like or stimulate conversations, you're significantly improving your chances of being seen. Both of these platforms are incentivized to deliver relevant content. To them, the longer they can keep a user's eyeballs fixed on the laptop or mobile screen, the better for their bottom-line.
How can an eCommerce company leverage this approach? Simple, really: Use pictures. Pretty ones. Pictures that'll resonate with your followers. Think of the visual tone associated with your product and make sure that this is consistent with the imagery you post.
Somnifix is an excellent example of how a product's mood can be expressed visually. Their Pinterest page is populated by a beautifully tranquil selection of images, all contributing to a consistent visual tone. Colors are muted and subjects are peaceful – all adjectives that are very much aligned with their product's primary objective: providing customers with a great night's sleep.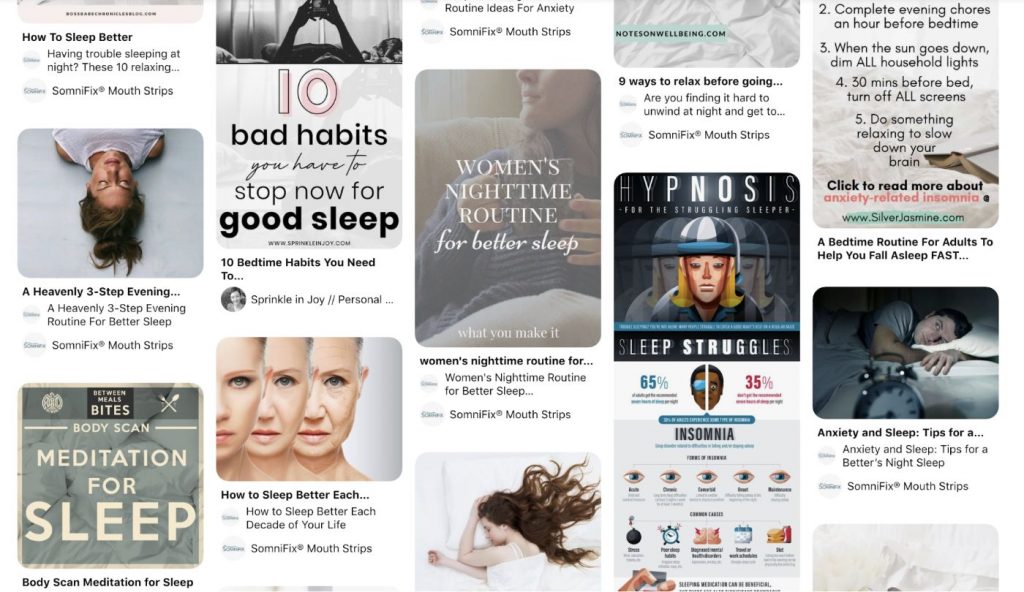 And don't stop at aesthetics. It's not only an image's color and subject that contributes to a post's engagement potential. Elemental Labs, manufacturers of a sugar-free hydration drink, make clever use of impactful imagery and meaningful text to communicate their product's main selling points.
The company's Instagram page addresses myths and offers tips in a highly engaging visual tone, communicating a sense of health-consciousness that's very much aligned with the values of their customer base.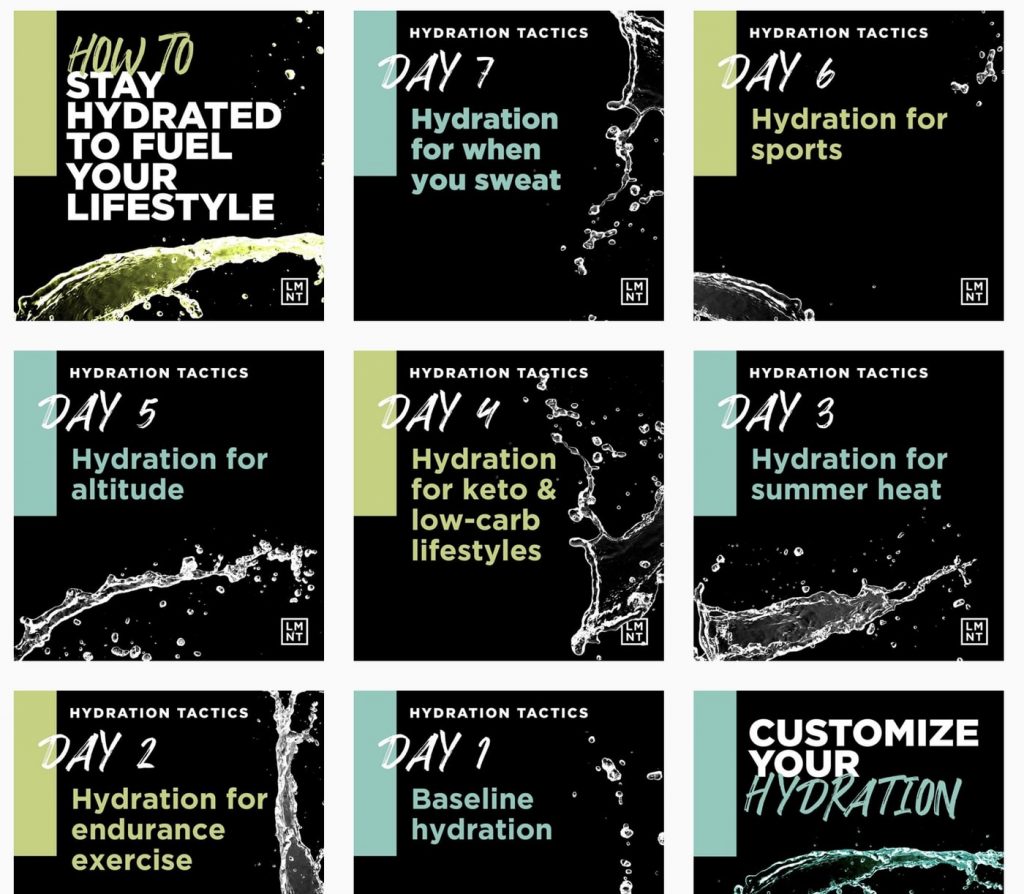 4. Promote Your Social Proof
There's an immensely strong correlation between eCommerce success and social proof. Evidence that existing customers have had a pleasing experience with the product is one of the biggest drivers in online shoppers' decisions.
Evidently, in the eCommerce world, the opinions of strangers are taken very seriously (something I'm sure we'd all be delighted to see spill over into the arena of political discourse, but let's not go there now).
The importance of social proof isn't one of those "tips for success" that many eCommerce entrepreneurs need to be sold on. You get it. Happy customers result in more customers.
As a result, companies strive hard to obtain customer feedback, ratings, and testimonials. Doing so has made its way into the book of best eCommerce practices, and several tried-and-tested methods exist to maximize your chances of receiving that delicious glowing review.
What's important is that you create communication channels that make it super easy for a customer to send you usable feedback. Online forms exposed to verified customers is one way. Reaching out via email is another. Third-party tools integrated into your online store are also an option.
We're not going to delve into the topic of where to place these reviews on your site. We trust you got this covered. What we do want to cover is the role social media can play in promoting social proof.
Firstly, let's point out that social media channels are absolutely tailor-made for this type of content. You're communicating with a group of users who have already indicated an interest in your brand. You're also "broadcasting" the content rather than waiting and hoping for site visitors to find evidence that you're not peddling snake oil.
Zoma Sleep has combined its social proof efforts with candid celebrity/expert endorsements. Using their Facebook and Instagram accounts, Zoma frequently posts photographs of professional athletes posing in their homes with their newly acquired memory foam products. These posts are also accompanied by a concise, sincere message from the athlete. This content is replicated on the Zoma home and product page, but it plays such an integral role in their marketing strategy that replicating it is a no-brainer.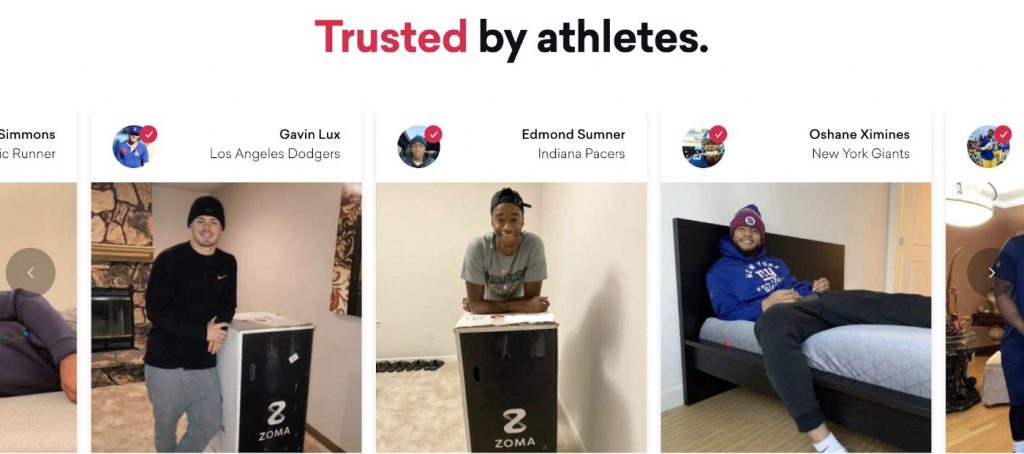 Another excellent and innovative method of displaying social proof on Instagram is brought to us by vegan-friendly supplement company Future Kind. Seeing that frequent testimonial posts on their social media accounts are not part of their marketing strategy, they opted to create one long supercut of customer feedback.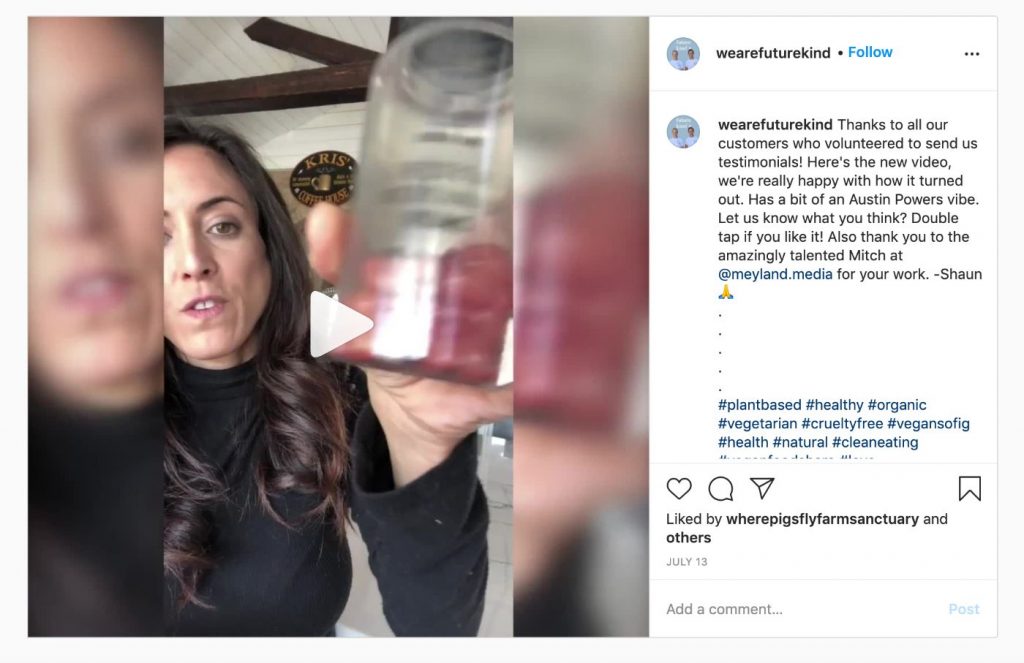 This keeps viewers engaged by showing them only relevant portions of what must have been relatively lengthy video clips sent in by the customers. The video is also interspersed with internally-produced graphics and animations complementing the feedback where relevant.
5. Engage with Your Social Media Community
Social media activity isn't just about broadcasting messages to your followers, hoping to slot them somewhere into your sales funnel. If this is the extent of your community management efforts, you're missing out on opportunities to grow your following, create brand loyalty, and find the holy grail of marketing: brand ambassadors.
Yes, I also have goosebumps.
Let's take a look at some effective ways that eCommerce companies can interact with their followers, stimulate interactions, and generate brand loyalty.
Don't shy away from difficult conversations
A mentor of mine once gave me the best UX design lesson I've ever received. In just three sentences. He said: "Users use. Don't ever blame them for the way they do it. Don't expect different behavior from them."
People are going to use your social media accounts to ask for help or to complain. Get over it. Quickly. Don't expect them to only do what you want them to do on your Facebook page. Try to see it not as an obstacle, but rather as an opportunity. Each time a user asks you a "stupid question" or "whines" about how your product didn't meet their expectations, you have the rare opportunity to delight them and everyone following the conversation with your incredible dedication to customer service. This is a chance to illustrate how seriously you take your customers' happiness.
Start conversations
Every comment on a social media post represents an opportunity to kickstart a conversation. Every conversation represents an opportunity to build a relationship with a customer or client. In practice, this means that whoever is managing your social media accounts needs to actively find ways to promote a discussion whenever an opportunity presents itself. Simply liking a comment doesn't count. Saying "Thanks for the feedback :)" is better, but still not sufficient to make your followers feel part of the community you're trying to build.
Ask your commenter a question. Make them feel like they're actively being listened to. Find out more about them. Involve other members of the community, where possible. Brand loyalty comes from feeling like you're part of the company's family – let your audience know they're not simply a nameless entry in your sales funnel. None of us want to feel this way.
And when your brand is tagged on social media, this is a great opportunity to continue conversations. Hoodie and blanket brand Orizaba Original re-posts images on Instagram when they are tagged. This is a great way to express gratitude and build an audience.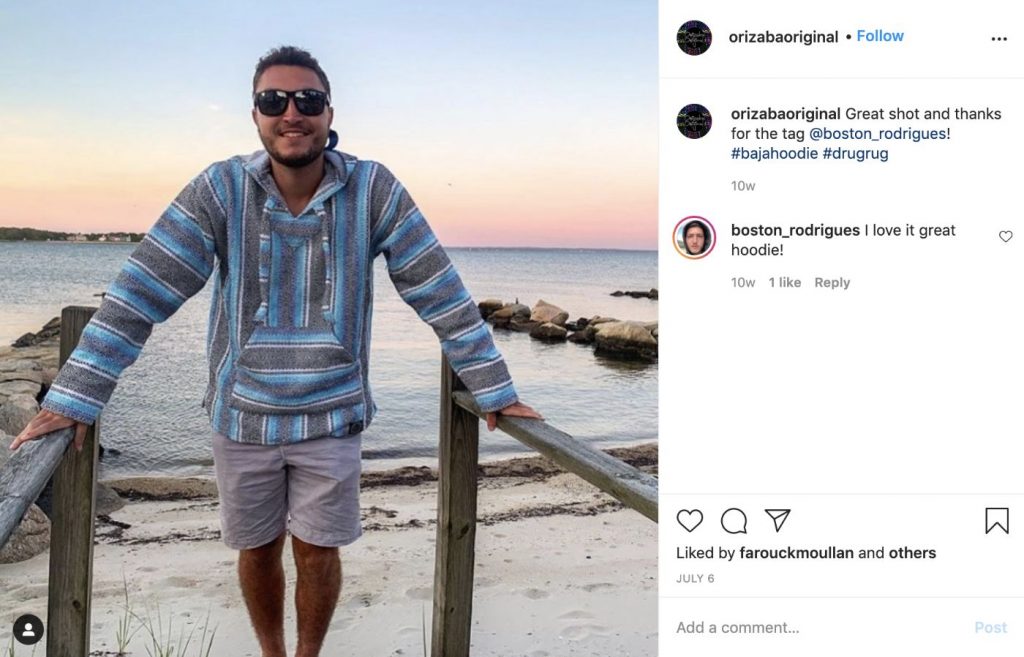 Hold a contest
What's better than sharing something on a brand's social media account and seeing your comment get a nice, friendly response? Easy, making a comment on a social media account, and winning a Porsche!
Hyperboles aside, contests are fun, affordable, and sustainable ways to promote extremely valuable engagement with your potential customers. What's more, is that they can be implemented in a variety of innovative ways that result in even greater visibility.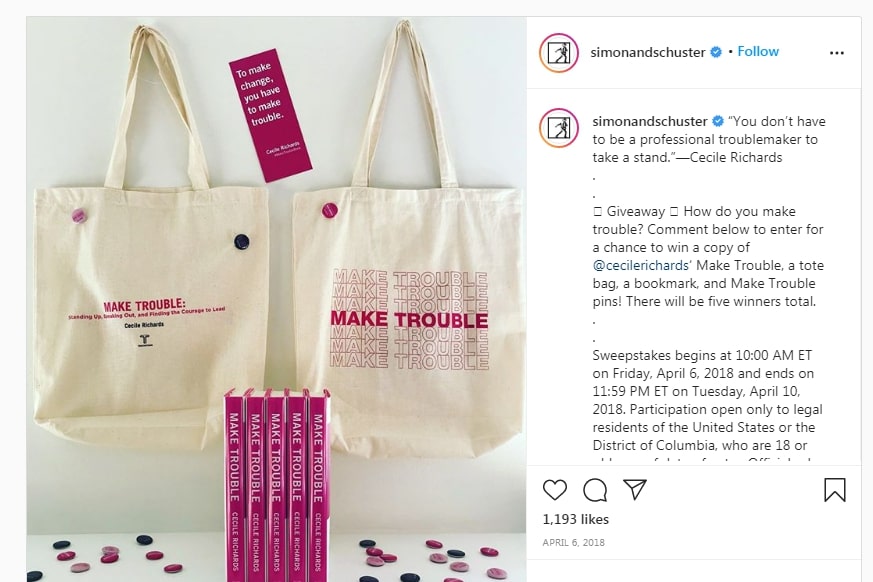 Ask your community to share a photo of them using your product. Get them to tag your account in the post. The post that receives the most likes wins. By basing the winning contribution on engagement, you're also ensuring that your brand is seen by a host of people who aren't aware of it yet. You can be pretty sure that some of the contestants will be getting everyone in their digital Rolodex to like their entry.
Another great contest is one that promotes engagement with the content you've created. Post an interesting photograph of your product, company office, or particular staff member doing something cute and invite your followers to get creative with captions. Announce when you'll pick a winner. If possible, try responding to each entry. Which will help make contestants feel like their contribution is valuable, regardless of whether they win or not.
Deal with disruptive community members
The problem with the global village is dealing with so-called "global village idiots." Toxic behavior and inappropriate conduct not only have the power to damage your brand's image, but they could also harm your relationship with the social media platform itself.
This risk is even more pronounced if your social media strategy includes promoting user-generated content. If your Facebook account allows users to post content that's immediately visible to everyone who visits it, you stand the chance of causing irreparable damage to your brand reputation.
This is where social media moderation comes into play. It's absolutely vital that your social media manager takes this part of their job seriously. Feel free to read this detailed guide on how you can do this successfully.
In Closing
Social media has revolutionized the way people interact with each other and with companies. Although it might like they've been around forever, it's still relatively "wild west" out there. Sure, there are best practices, some of which we've highlighted here, but there are always opportunities to innovate.
It's a great idea to use guides like this one, follow advice from experts, and emulate what's worked for other companies. But don't lose sight of your agency to try something new. Social media platforms are incentivized to consistently come up with features that keep users engaged. Stay on top of these developments and always look for ways you can use them to make your sales funnel more effective.