If you're like most podcasters, you're always looking for ways to grow your audience.
After all, a bigger audience means more listeners, and more listeners mean more success.
However, growing a podcast audience can be challenging, especially if you're just starting. That's where marketing techniques like SEO come in.
Optimizing your podcast for search engines enables you to reach a whole new group of potential listeners. After all, 30% of podcast listeners use internet searches to find new podcasts.
Like with any other type of content, the better your podcast ranks in search results, the more likely people will find and interact with it.
Luckily, you can do a few simple things to improve your podcast's SEO. Let's dive in!
Perform Keyword Research
If you want people to find your podcast in search engines, you must talk about relevant topics.
This means planning your podcast content around topics from your niche that people are searching for.
To find relevant topics, start by brainstorming a list of potential topics that you think would be of interest to your target audience. Then, perform keyword research to revise your list and deepen the search for perfect topics for your podcast.
Keyword research is a process of analyzing and selecting the most relevant search terms for your primary keyword. For example, if you host a podcast about social media marketing, the term "social media marketing" is the one you want to research.
From there, you should get a list of additional keywords that are also relevant within your niche. For example, you may find "social media marketing strategy," "types of social media marketing," and "examples of social media marketing."
You can perform keyword research using tools such as Answer The Public or Surfer's Content Planner.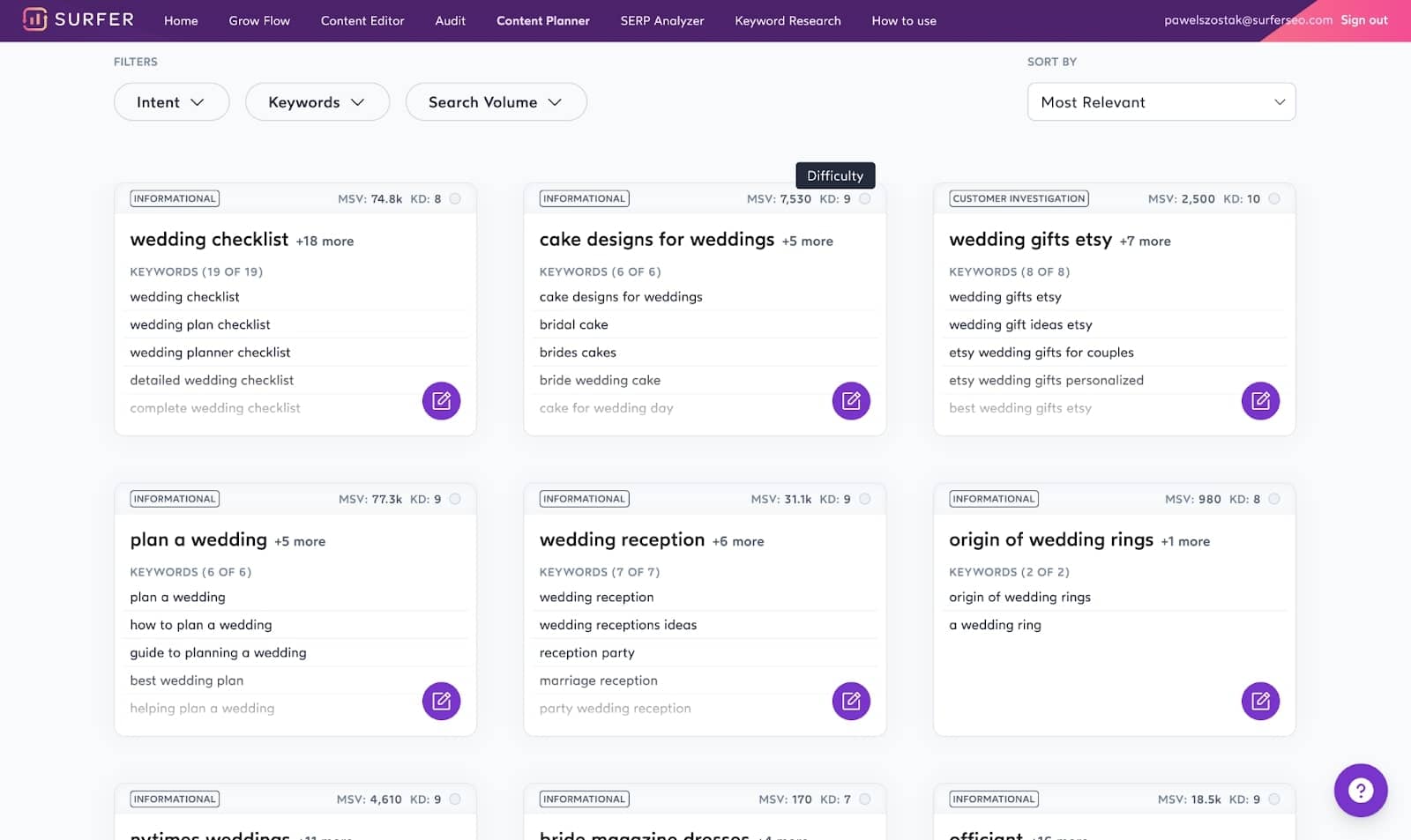 Surfer's Content Planner does all the work for you when it comes to keyword research and planning your content.
It can help you organize thousands of search terms into groups you can easily target, with written and audio content. These are grouped keywords that would probably slip your mind during traditional keyword research but often rank together high on the SERPs (search engine results page).
Your content will be perfectly organized to support your audience growth and help you establish topical authority.
Optimize Your Podcast's Description
A podcast description is the summarization of each podcast episode. This is the text you can see below the podcast title. Because this summarization can be up to 200 words, it poses an excellent opportunity for optimization to rank high in the search engine results.
A podcast description is your chance to add keywords related to a specific episode's topic. You can use the keywords you identified during the keyword research. Summarize the episode to showcase what it's about, and add keywords that will make your podcast easier to find.
However, look out for keyword density. Don't stuff the description to the brim with keywords. It will seem obvious and unnatural. Neither Google nor people appreciate that.
Below you can see an example from Ologies with Alie Ward. The podcast episode is about sleep, as the title states. In the description, you can see keywords related to the topic of the episode, such as "insomnia," "sleep stages," or "why we need sleep."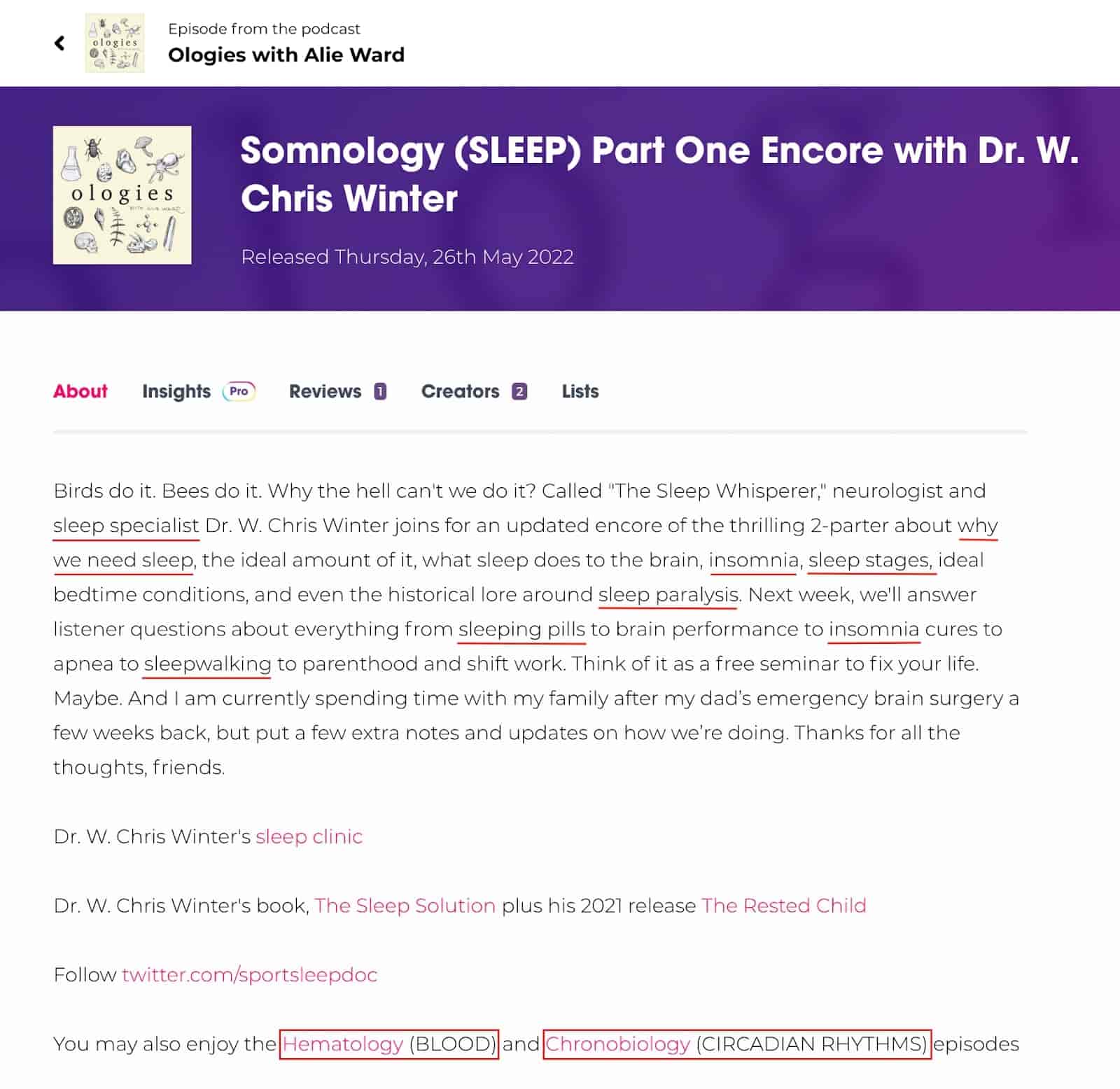 You can also add external links to your podcast's description. These can be to your website, other episodes, or your products or services. You can see in the example above, there are links to the previous episode at the bottom of the description. Keep in mind that the links should be relevant and add value to the reader.
Include Metadata
The purpose of metadata is to provide additional details about your podcast. In addition, it helps podcast directories and search engines to categorize your show, making it easier for people to find.
Metadata includes:
The podcast description
Show notes
The title of the podcast episode
Tags
Remember to add niche-relevant keywords to the podcast metadata so that your show is easy to find. When registering your podcast in online directories, remember to create a podcast title that will boost your SEO rankings. The more distinct it is, the more it will attract web surfers.
For example, if you start a podcast in an online marketing niche, you'll need to cover marketing-related keywords like "Online Marketing Hour Podcast."
A great example of using relevant keywords in metadata is The Science of Birds Podcast. The name of the podcast includes the main keyword, which is "birds," and you can see related terms in the description, such as "bird biology" or "Ornithology."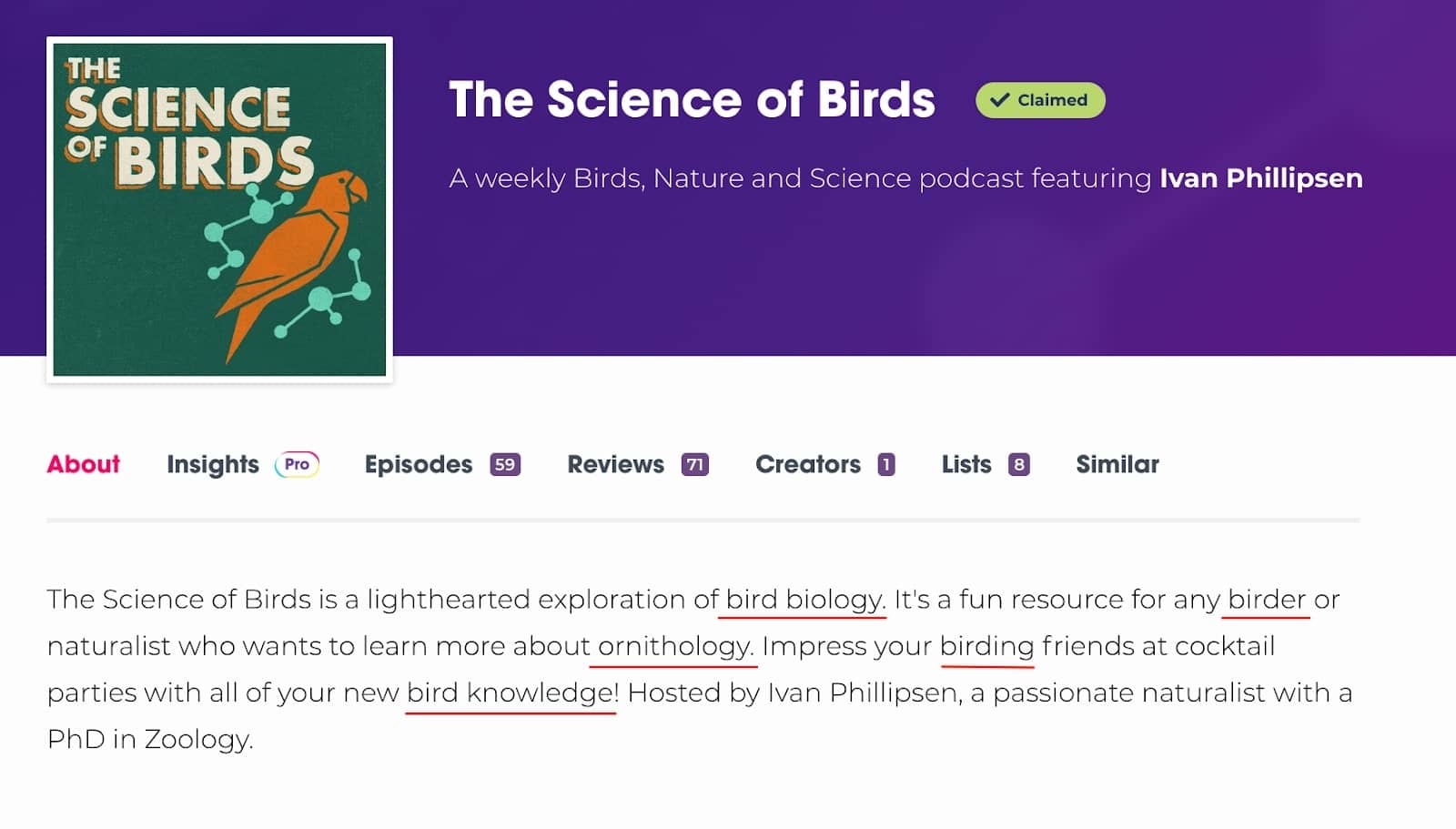 Adding tags can also be helpful for your podcast growth. Tags allow people to discover podcasts by browsing through categories or genres. You can add multiple tags but ensure they are all relevant to your podcast.
Including metadata will help you get more podcast listeners from search engines. It'll also make your podcast easier to find for people who search for podcasts in applications like Spotify, Google Podcasts, and Apple Podcasts!
Build Site Authority And Relevance With Quality Content
As with any other SEO project, optimizing podcasts for search engines starts with having a custom website.
It is essential to have a separate website (not just a page on social media or podcast directories), where people can listen to your podcast episodes and read show notes or transcripts.
To attract new listeners, you need to give them a reason to visit your website. If you post quality content, such as blog posts, complementary to your podcast episodes, people will always be on the lookout for your latest posts.
An example of such a strategy is the Arner Adventures Podcast. The hosts also have a blog that compliments the lifestyle content they talk about in their show.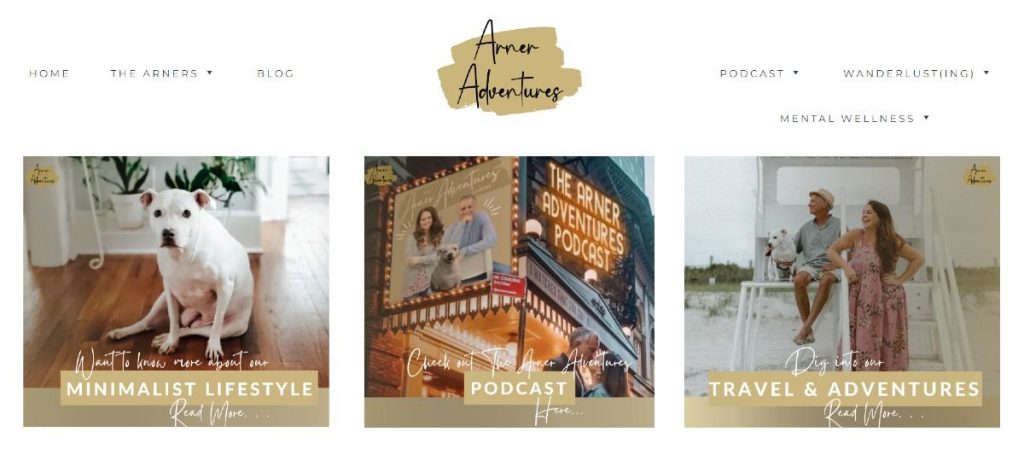 This is one thing you can be sure of – quality content will draw people to you, even if you don't care about being in the first position on the SERP. SEO practices work best when you have a solid starting point for your podcast, and consistently deliver high-quality content.
Your podcast will continue to grow as long as you publish new podcast episodes that people find helpful and relevant to what they want to hear.
Generate Links Through Social Channels
Link building is an essential part of search engine optimization. It's the process of getting other websites to link back to yours. This sends a signal to Google that your website is valuable and trustworthy. Acquiring backlinks for a website you want to rank high is essential for boosting the authority of your page, which helps it rank higher.
If you want to get links to your podcast website, you can start with your own channels, such as social media accounts and podcast directories. However, at the end of the day, you'll need additional backlinks from other reputable websites.
To get those, you can reach out to your complementary businesses or podcasts, and offer to be a guest or have them as a guest on your show. This can also help build influencer relationships through podcasting and further promote your show.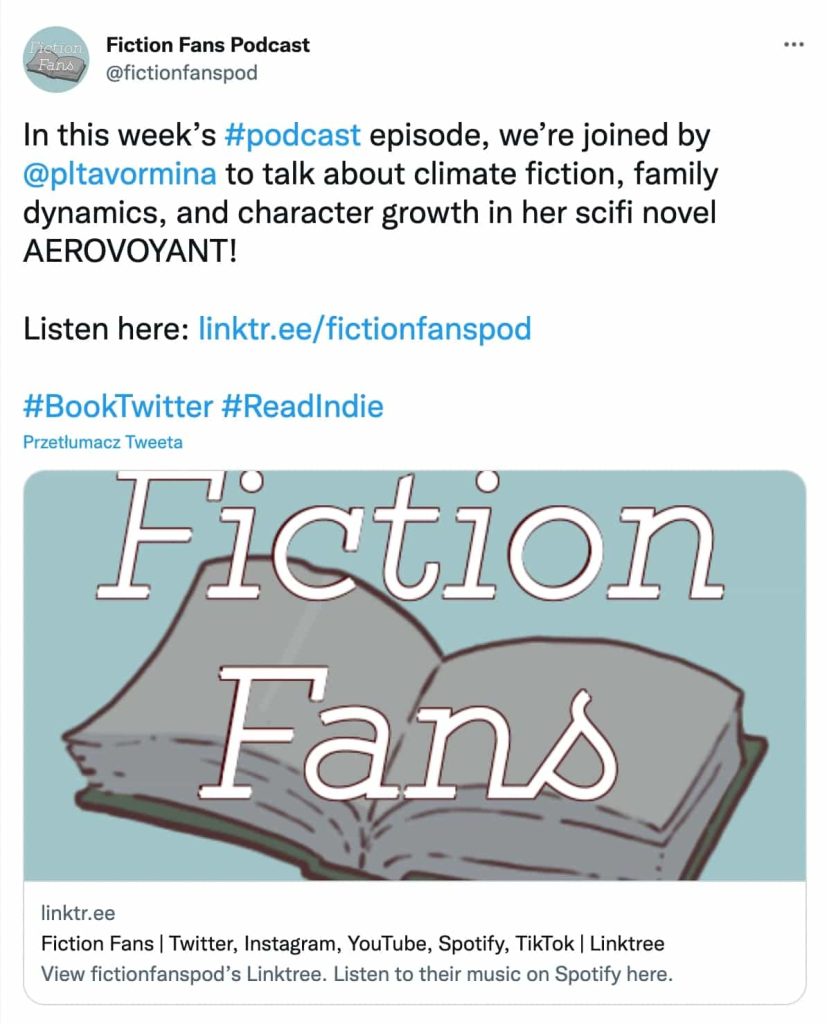 If you invite guests to your podcast, you can ask them to link to your website when mentioning the episode you've made. That's how you can acquire the links naturally and bring more traffic to your podcast website.
Add Transcripts
One of the easiest things you can do to boost your podcast SEO is to publish transcripts of your episodes. This helps your visibility in search results, and makes your content accessible to more people.
Because Google mainly processes written content, it's easier to rank high with a blog post rather than an audio file. Converting a podcast into a transcript can help your podcast visibility without changing the content itself.
If you prepare scripts for the episodes you record, you can use them to map out the transcript and write it yourself. However, some tools can help you process speech to writing.
To make this job easier, you can use Trint or Google Transcribe, or hire a freelancer who, in my experience, can charge ~$20 per 1-hour long podcast.
Ask Your Audience For Ratings And Reviews
Most podcast directories allow listeners to rate the shows. This is really important, as ratings can help you appear in podcast rankings, and more people will discover your podcast.
The more reviews you get for your show, the more people will trust that it's worth their time to tune in. Good reviews also signal to search engines that your podcast content is helpful. This could trigger search engines to recommend your podcast to even more people.
Therefore, encourage your audience to leave reviews and try to make it as effortless as possible. Remind them in every episode that they can support you by rating and reviewing your show.
Don't forget to post a link to your podcast on your social media accounts, including Facebook, Twitter, Reddit, and others, and ask your followers to rate your show. You can also encourage your listeners to share your podcast with their friends.
Repurpose Podcast Content
To successfully promote a podcast, you must deliver quality content in various forms.
One way to do this is by writing blog posts based on your podcast episodes. This will give people who are interested in your topic more information about a particular podcast episode.
Not only that, but blog posts are also a great way to show off your expertise and build credibility.
When writing blog posts, include relevant keywords in key places, such as the H1 tag, so that people can find your content in search engines.
If you want to get more advanced and custom-suited SEO guidelines for your content, check Surfer's Content Editor. This tool provides tips and steps to follow to make your content appear higher in search engines.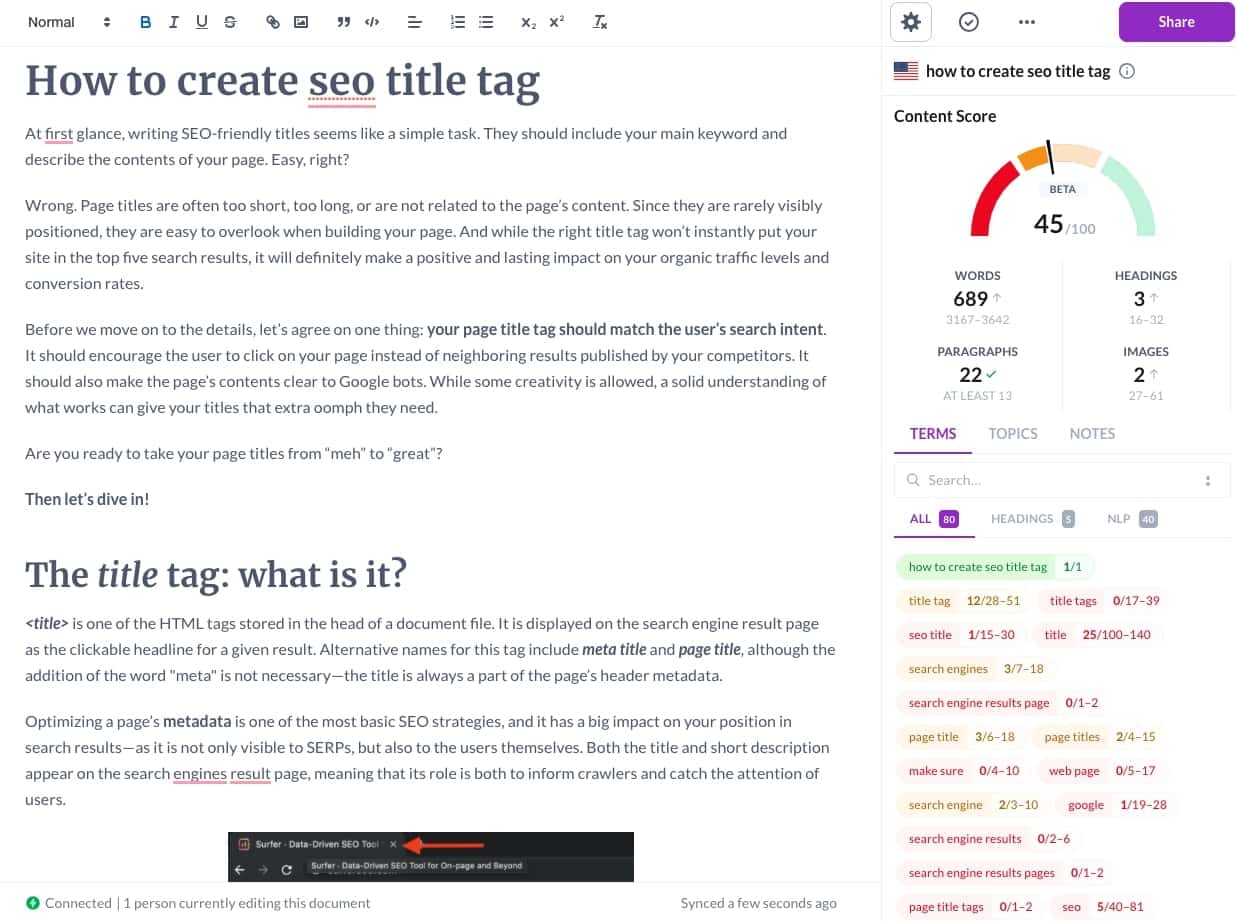 Another great thing about blog posts related to your podcast episodes is the links you can add. For example, sometimes, you mention a person or a video in an episode, and you want to direct people to the right place. You can do so by sharing it on your blog post.
Split a Podcast Into Smaller Episodes
When your podcast's episode pops up in search results, aim for a shorter podcast episode that conveys a lot of information.
People who enter a specific search term are probably looking for a quick answer. If you want them to click and listen to your podcast, try making your episode as informative as possible, in a short amount of time.
A great way to achieve that is by creating shorter podcast episodes. You can then connect the short episodes to a longer pillar episode, and create a topic cluster. This technique is often used to write blog posts. However, it can be just as effective in podcasting.
In Closing
SEO can be a great way to increase the visibility of your podcast.
Keep in mind that everything starts with proper keyword research and having a website, where you can publish your episodes, transcripts, and relevant articles to establish authority and gain more visibility.
Aim for short episodes answering specific questions people might be searching for – nothing beats high-quality content that answers an actual need.
This includes writing blog posts based on your podcast episodes, so that people who are interested can get more information about the topic. Remember to include keywords in key places, such as H1 title tags.
By following these steps, you can optimize your show for search engines, and reach a whole new audience.
Of course, the above podcast SEO strategy is just one piece of the puzzle when it comes to promoting a show. It would help if you also had great content, strong social media promotion, and an active listener base. But if you want to give your podcast the best chance at success, optimizing it for search engines is an excellent place to start. Good luck!