Sourcing new leads is one of the biggest challenges for any SaaS company. The sky-high cost per acquisition and the constant fear of your lead churning at any point, leaving your sales pipeline dry, make acquiring new customers all the tougher. But can referral marketing for SaaS be the solution to generate leads without spending thousands on marketing?
We say, yes, it can be! Want to know how? Join us on the journey while we dive deep into referral marketing for SaaS
Table of Contents:
What Is Referral Marketing?
A referral program (aka customer referral program) is a form of word-of-mouth marketing that turns your satisfied clients into raving fans—and their recommendation drives more customers in. In exchange, you reward them through cashback, gifts, coupons, or discounts.
Put simply, you give referrers a referral code or link to share with their friend, family, or audience. Then, whenever an invitee signs up for your business using the same link or code, the referrer gets rewards. For better conversion rates, many businesses award both the customer and the invitees.
Referral marketing produces noteworthy results. Take the Dropbox referral program, for example, which increased its user base by 3,900% in only 15 months.
Yes, that's the power of a successful referral campaign.
The reason why referral programs work is simple. When you reward your user for something, they feel obligated to make a purchase—just like returning a favor. Referral marketing uses the same reciprocity psychology.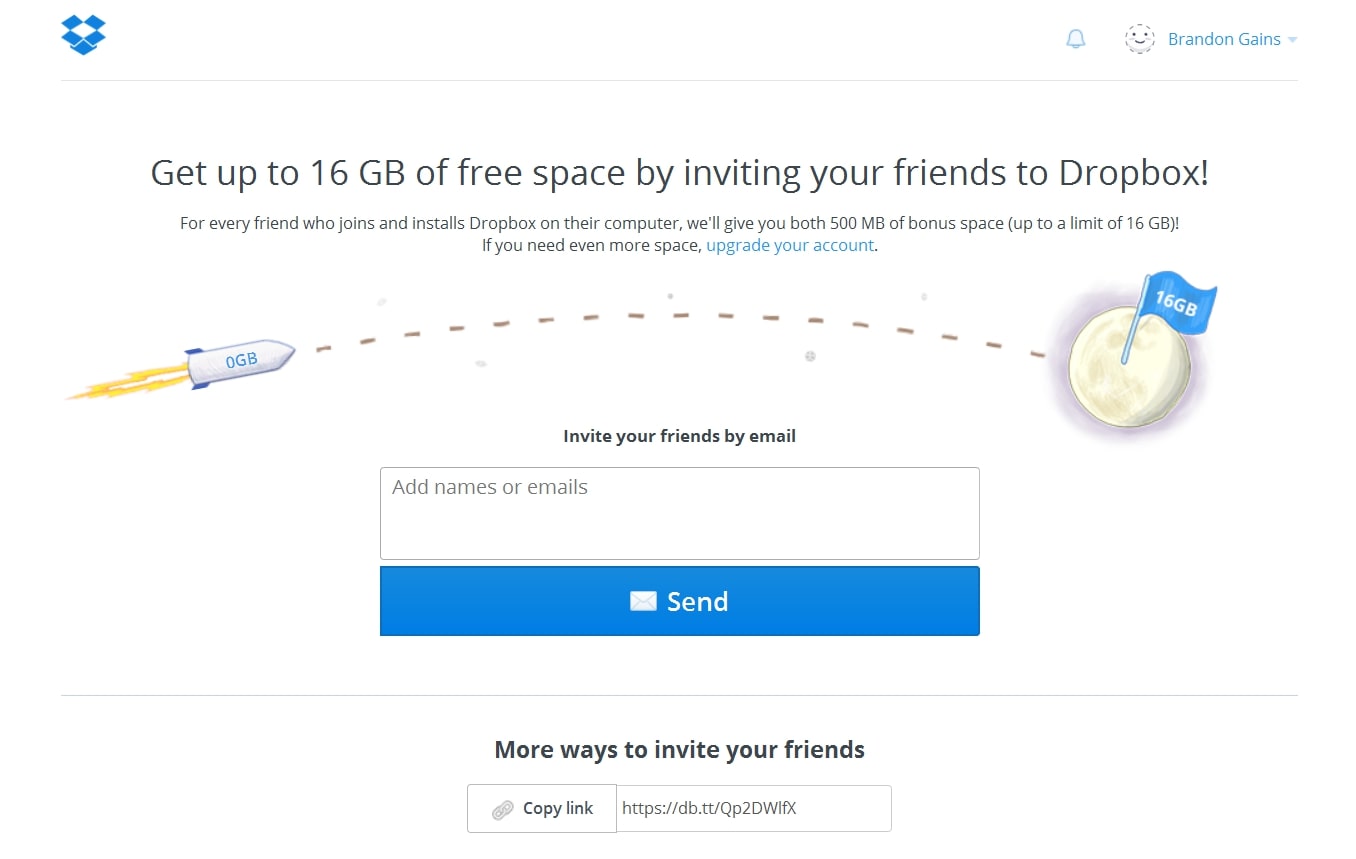 Benefits of Referral Marketing for SaaS
Nothing influences peoples' buying decisions more than a genuine recommendation from a trusted friend. Especially for SaaS businesses, a trusted referral goes a long way to convert potential leads into paying clients.
However, besides expanding your customer base, there are multiple reasons why a referral program should be a part of your go-to-market strategy. Let's get into them:
Lower customer acquisition costs
One of the biggest advantages of a solid referral program is how it significantly lowers customer acquisition costs (CAC). With the highest B2B conversion rates, at 3.63%, it's an efficient and cost-effective way to acquire new customers without much effort.
Increase the lead quality and quantity
78% of B2B marketers believe that leads brought in by referral have much higher quality, whereas 60% of marketers consider it to bring more leads in total.
This data, coupled with lower CAC, makes referral marketing a valuable strategy for SaaS businesses.
Customer loyalty
For SaaS businesses dependent on recurring revenue systems (monthly or annual subscription), decreasing customer churn rate and increasing customer lifetime value is a priority. Fortunately, these outcomes are made easy with a referral program.
Rewarding your customers for every referral keeps them loyal for a longer time. Data is on our side too. As per a study, referred customers have a 16% higher lifetime value than clients acquired via other marketing channels.
Brand awareness
Name a popular coffeehouse brand. We know you're thinking of Starbucks. But when was the last time you saw a Starbucks ad? Can't recall? That's because Starbucks has become a global coffee giant based on referral marketing.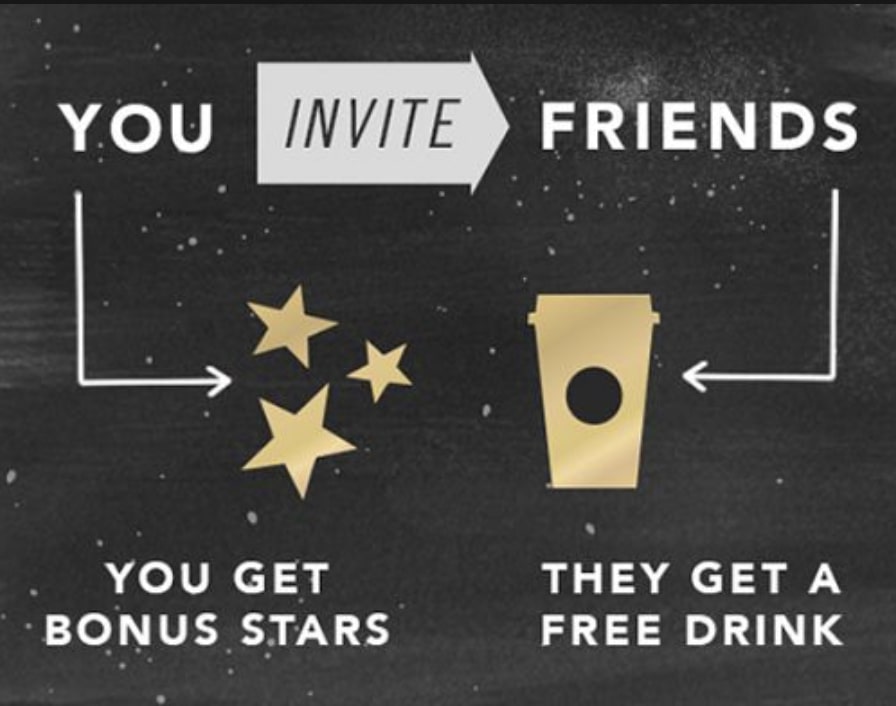 While only some businesses can have Starbucks-level success, a good referral program in place can still immensely impact your brand awareness.
7 Steps to Create a Rockstar Referral Marketing Campaign for Your Saas Business
Now that you understand the immense opportunity of an extraordinary referral marketing program, how do you create one for your SaaS businesses?
Here's our step-by-step guide:
Step 1: Make sure customers love your SaaS tool
To get the people talking about your SaaS tool, you must be the best in the industry. If you consistently receive a 9/10 rating and five-star reviews from your customer already, you are all set for a rockstar referral program.
If that's not the case, however, you should improve your customer reviews and satisfaction levels.
Start by asking your customers for their genuine feedback. Ask what they want to improve in the product and act on it. Next, dive into competitor research and learn what's working for them that you can leverage.
Keep upgrading your product—your customers deserve nothing less than the best.
Pro tip: We all know reviews are very precious, but do yours really work as they should? We have just the article that will teach you how to take full advantage of your online reviews.
Step 2: Identify your referral technique
Incentives are at the heart of a good referral program; identifying the right referral technique can make or break your efforts.
There are three types of referral incentives you can choose from:
One-sided referral incentives
When you offer single-sided incentives, you only award either the referrer or the referred for participating.
Pro: Given the reward, more users will participate in your campaign.
Con: The lack of reward for both sides might discourage a few from participating altogether.
Two-sided referral incentives
In the double-sided incentives referral program, both the referrer and the invitees are awarded for participation.
Pro: Since it appeals to the altruistic nature of humans, more users will participate, resulting in a higher conversion rate.
Con: Awarding both sides will cost your business more with each new referral.
No referral incentives
For companies not looking to spend a fortune on referral marketing programs, offering no referral incentives can be a great starting point. However, with no rewards to offer for referrals, your SaaS tools must be so exceptional that people spontaneously talk about them.
Pro: You won't have to spend any money on rewards, and you can track the actual word-of-mouth of your product.
Con: No incentive means fewer referrals.
Step 3: Choose your referral program rewards
In an ideal world, customers will recommend your SaaS product to their friends and family simply because they love it. Sadly, that's not often the case in real life. You need an appealing referral award that encourages the users to become your brand ambassadors.
Here are some of the most popular ways to reward both your satisfied customers and new clients:
Option 1: Cashback
Who doesn't like cash? Google Workspace leverages this reality in its referral program by rewarding $8 to $23 per user for each referral. Using cashback as an incentive lets your users calculate how much they make in a tangible way—thus increasing the participation rate.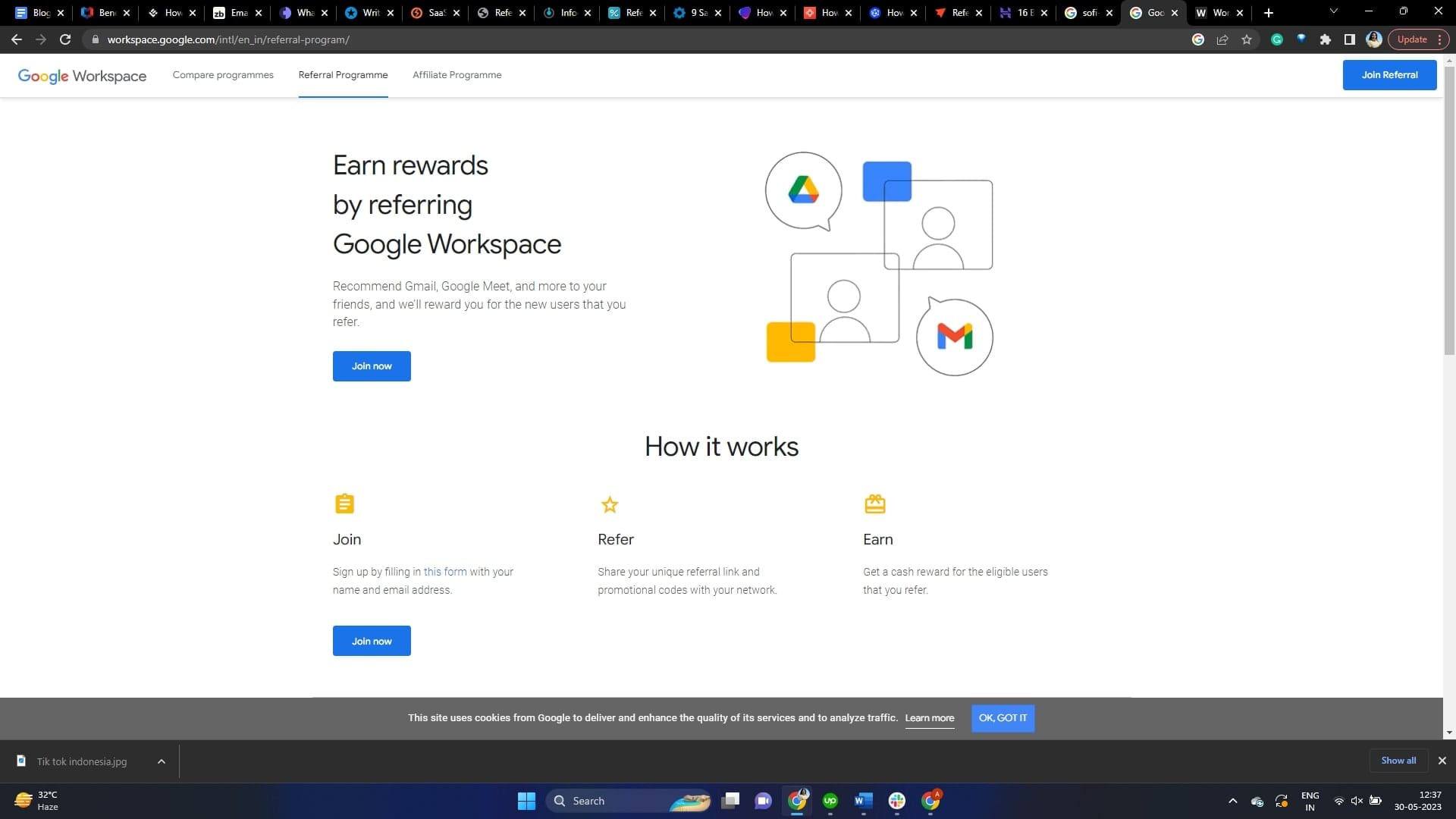 Once the referred lead has signed up, you can easily send the rewards directly to their account on online wallets without any hassle.
Option 2: Redeemable reward points
If you don't want to give away cash, this option might be for you. The secret advantage of giving away redeemable rewards points is that it encourages users to spend more on your product.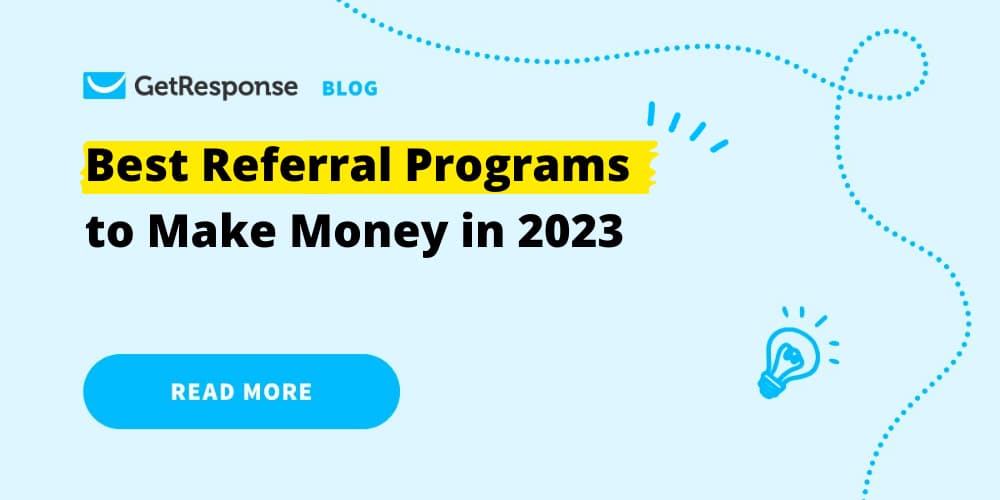 SaaS companies like SoFi and GetResponse consistently use the reward point to gain more leads. Even Tesla gives out 100 credit points to its referrer—earning Elon Musk 40x the ROI.
Option 3: Free subscription
A free subscription (for a month) is a great referral reward for legacy customers and new clients. The incentive is especially great for SaaS businesses because there's no better way to advertise the benefits of paid subscriptions than to let the users experience it firsthand.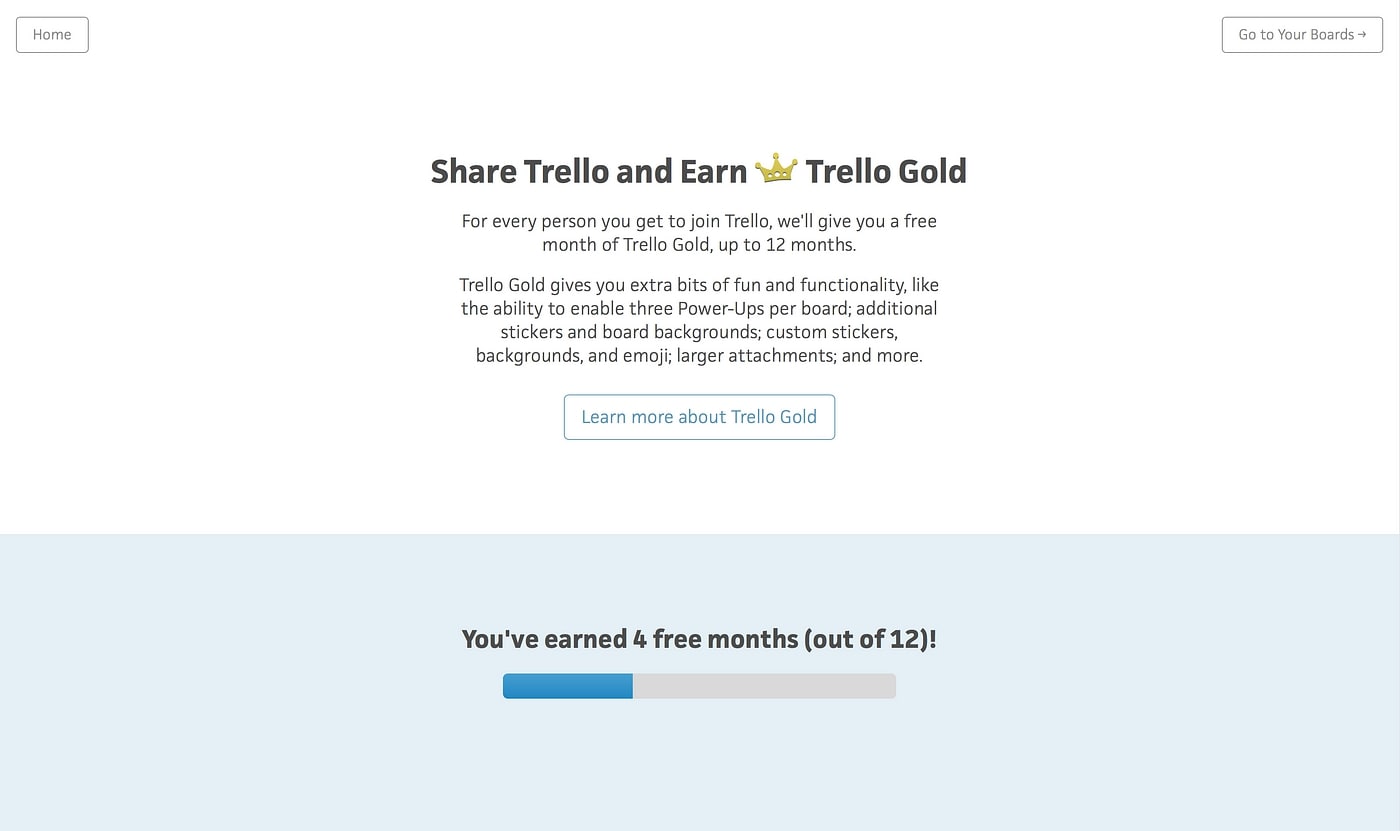 For example, Trello offers a free upgrade to premium to everyone who joins Trello through referrals. Their user base grew from 500,000 in 2011 to 50 million in October 2019, with referral programs as their primary marketing strategy.
Option 4: Discount coupons
Discount coupons as referral incentives are a great way to retain your existing customers while encouraging them to invite new ones. You can get even more business by making these coupons transferable.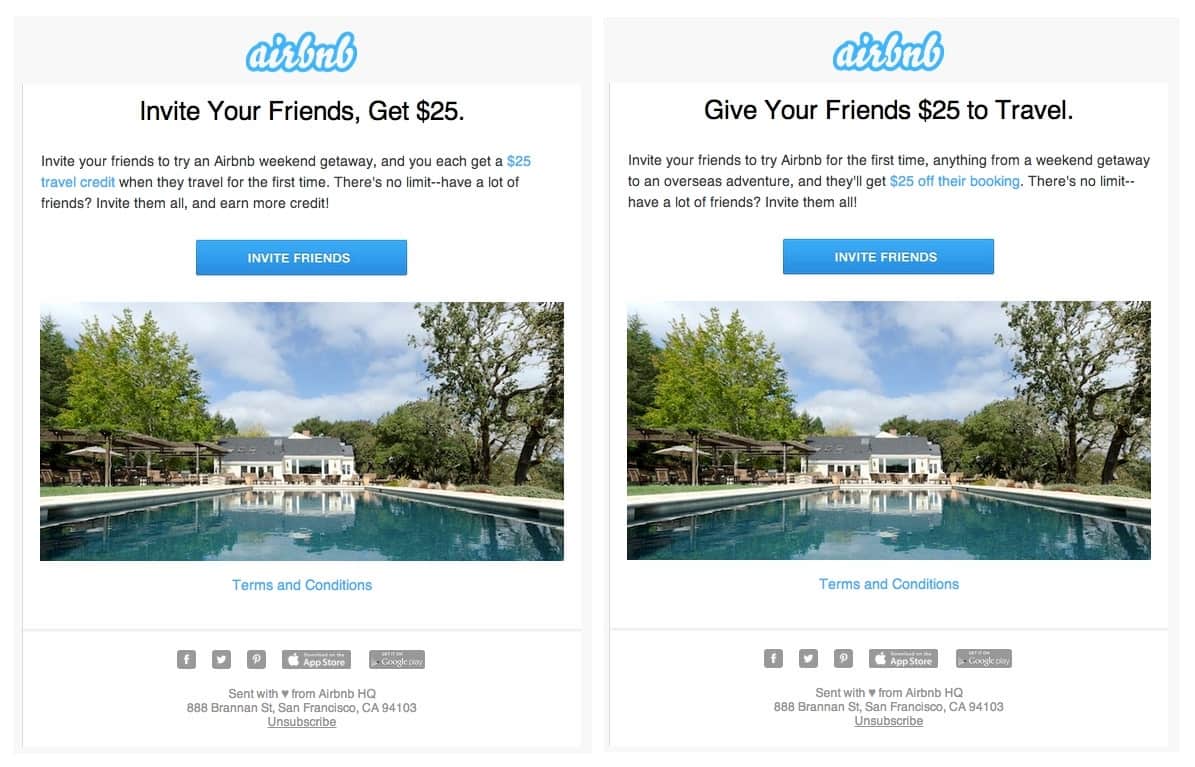 This strategy is precisely what Airbnb uses in its referral marketing, offering a $25 discount for accommodation to the referrer and referred. Take a look at the Airbnb case study, and you will realize how the company has built an enormous community leveraging its pretty basic referral program. Such marketing case studies are always useful to understand how you can leverage a similar strategy. Moreover, they can give you successful examples that you can make your own, and apply to your business.
Option 5: Exclusive content
If you are just starting off and can't afford to spend a fortune on referral rewards, consider offering access to exclusive content. Growth Summit, for example, rewards its users with access to exclusive ebooks, videos, PDF guides, and webinars.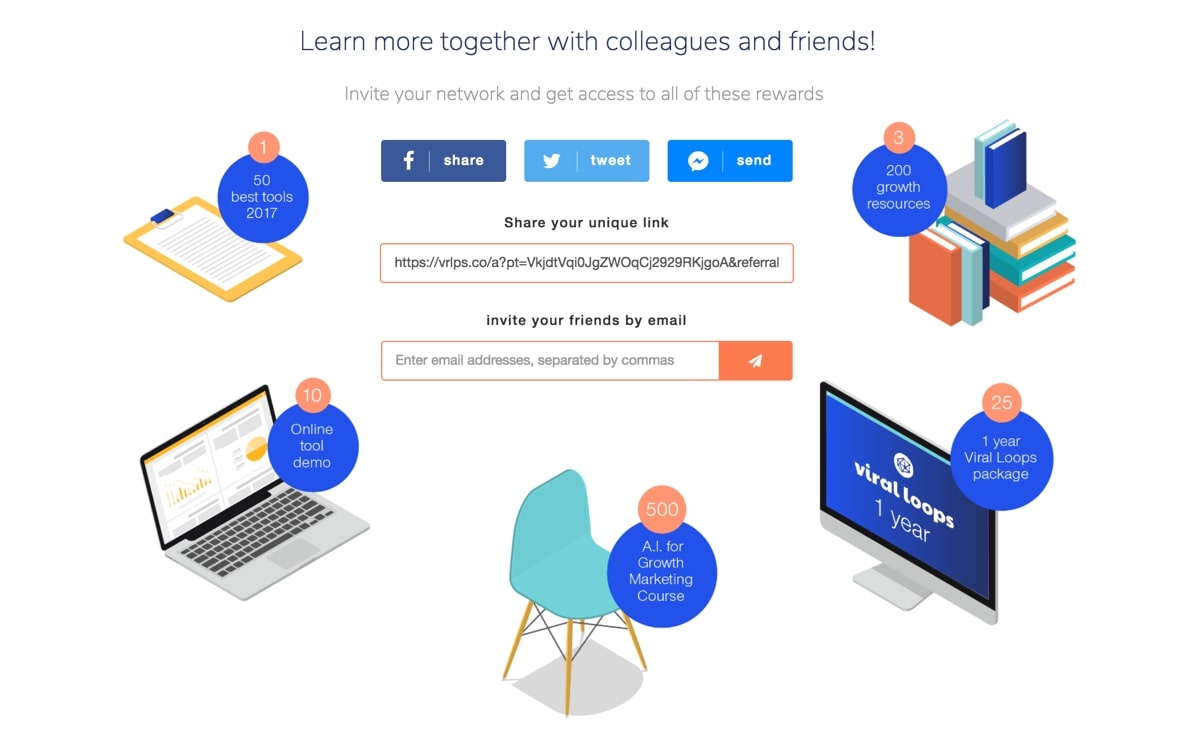 Expert Tip: When choosing your incentives, do thorough risk vs. reward analytics to ensure the benefits surpass the costs.
Step 4: Set up your referral marketing program criteria and rewards
Be super clear on the terms and conditions of your SaaS referral marketing program—leave no grey area.
Some users try to find ways to outsmart businesses to get free stuff, be it cashback, reward points, or discounts. For example, if the invitee quits only after the free trial of your SaaS product, you can't send away reward points.
Many similar situations can arise during the process. Establish your referral programs' criteria to defend you from potential troubles.
Develop a thorough plan for the referral marketing initiative and keep everything crystal clear—eligibility criteria, reward structure, and implementation considerations.
Expert Tip: You can add an additional level of security to the referral program with email verification. By confirming the legitimacy of the referrer's and invite's email addresses, you can minimize the risk of spam, fake referrals, and wrong use of the program.
Step 5: Create your referral program marketing link
When you have created the perfect referral system, the last thing you want is to make the process so complex that users give up halfway.
That's why when creating the link for your referral program, make the reward simple and clear. Also, place the link in a visible and accessible place on your landing pages or new customer onboarding process.
Here's a great example by TikTok Indonesia: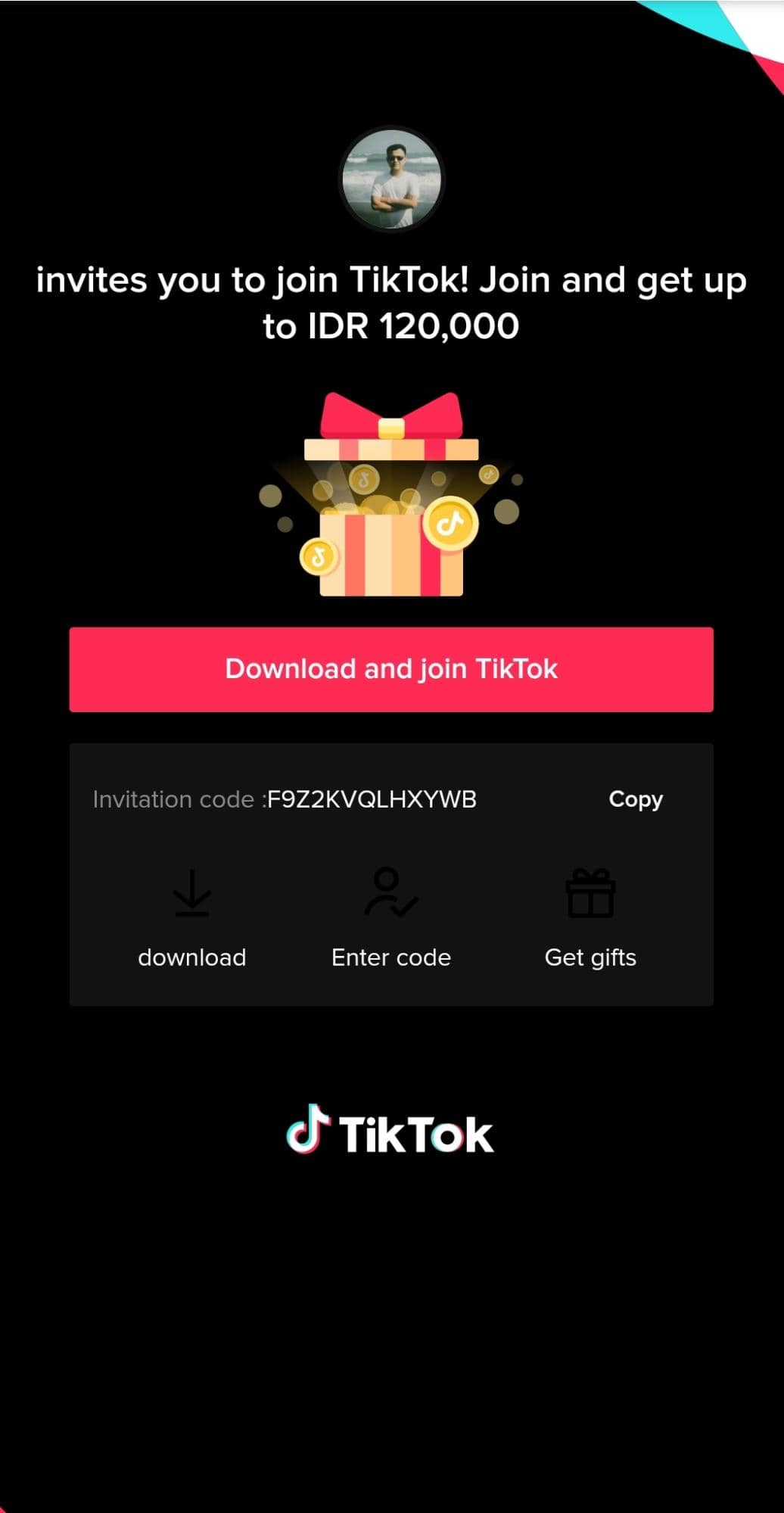 With the referral reward of IDR120,000 ($8) clearly mentioned on the page, TikTok gives users a solid reason to participate. Make sure to keep your referral link appealing and obvious.
Expert Tip: Keep the referral-sharing process less than 30 seconds long and offer a variety of sharing options, such as social media or email.
Step 6: Start promoting your SaaS referral program
Just setting up a referral program and calling it a day won't get you the results you want. To reap the maximum leads, start promoting it as much as possible. Treat the program as a new product feature; don't hide it in a hard-to-reach sub-menu.
Here are five clever ways to promote your referral program:
Make the referral section (usually stated as refer/invite a friend) easy to find on your website or application
Create a customer outreach list and invite them to refer their contacts
Integrate the referral link into your custom Ad platforms. This method will help you access more data while promoting, thus becoming a tracking and measuring tool for the program
Write a blog post announcement
If your target audience spends much of their time on social media, share the news on Facebook, Twitter, and other platforms
Include the program promo in your drip campaign to let the users and new subscribers get the message.
Step 7: Track, measure, and improve
Regardless of your company size, you need to have a tracking system in place to measure the referral program's progress. Make sure to track the following:
Who was referred and by whom
When was the invitee referred
Whether or not invitees convert into paying clients
How you're following up with them afterward
If you receive a solid lead from a referral, reach out to them immediately. Contact them and persuade them to purchase your tool, or at least give the demo a go.
Do know there's no universal blueprint to the perfect customer referral program. Sometimes, it might take a few hit-and-miss efforts to identify what works and what doesn't, which is normal — nobody's nerfect, after all.
Don't be afraid to experiment with your program. Send customer feedback and surveys to know what they might want to improve. And as you move forward, the program will generate more valuable leads and customers.
Saas Referral Marketing: the Bottom Line
SaaS marketing is all about trying what works for you, and given the success of referrals, it's a great channel every business should test. When done right, it can be one of the most powerful tools of your SaaS sales funnel.
However, we still feel that referral marketing is a grossly underused strategy in SaaS businesses. That's why we created this thorough guide for you!
So, does your SaaS business offer referrals to its loyal customers? If yes, what benefits has it reaped for you so far? If you're not already, what's stopping you from investing in a rockstar referral program? We're excited to hear your take on the topic.