Social media is easily one of the most massively used strategies that brands and influencers employ to target potential users. Over half of online users in the US have come across an advertisement on social media.
And unlike display advertisements, consumers aren't miffed about brands or influencers selling their products on social media platforms. In fact, 70% of users look up a brand on Instagram.
And according to Brizfeel, more than 50% of users follow a celebrity or an influencer account on social media.
At the very outset, it seems to be an extremely thriving ecosystem with brands engaging, resolving issues, and offering experiential shopping to consumers who are equally pleased with the convenience.
However, excellent social media engagement does not necessarily translate to heavy offline footfall or vice-versa. Nor do brands or influencers offer a way for users to re-engage on social media once they've purchased a product or visited the store.
Online and offline engagement are often siloed + The solution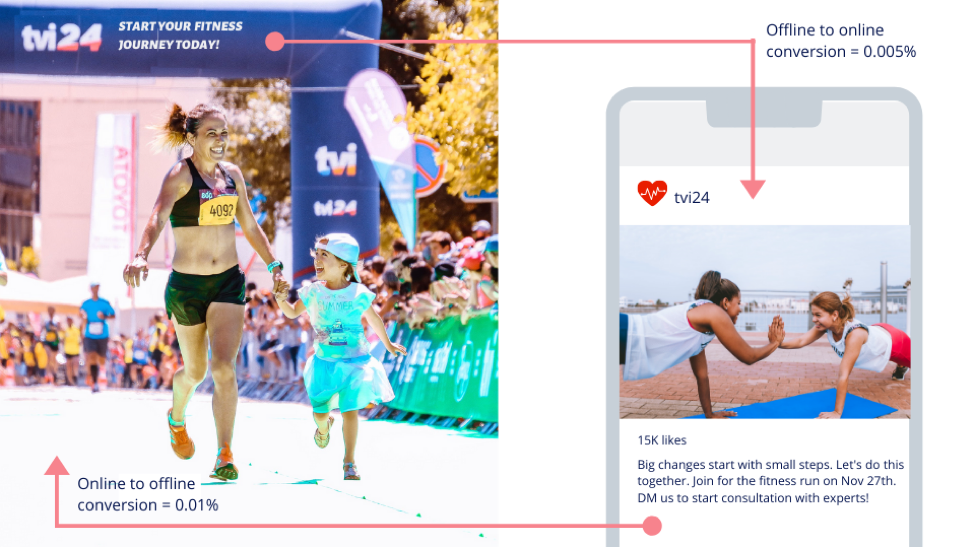 Brands cannot rely on social media listening as a proxy for how customers react to their campaigns. A recent large study done by Engagement Labs on major brands confirmed that online and offline engagement do not correlate.
While working with influencers, these metrics are even more skewed, in part because of the Majority Illusion. It is also an extremely common practice for influencers to buy followers, likes, to make their engagement gargantuan.
It becomes increasingly difficult for brands to calculate the conversion from an influencer's post to in-store purchases.
3 ways to close the social media and offline footfall loop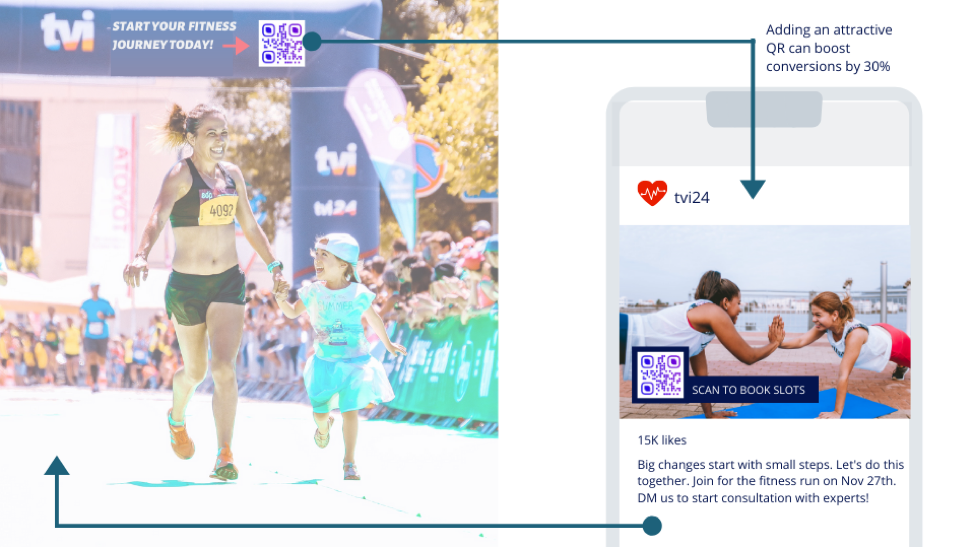 Closing the loop is essential for four main reasons:
Offering a seamless way to drive engaged online users to stores, pop-up shows, and events
Re-engaging with current and potential consumers
Driving offline customers to social media channels
Retargeting users online on social media
The simplest, most cost-effective way to achieve all these use-cases is to use dynamic QR Codes. A dynamic QR Code is one that can be edited as frequently as required; even after it's been printed. That means brands can reuse the same QR Code to link to up-and-coming social media posts regularly.
Here are some brands using QR codes. Brands like Ralph Lauren, Calvin Klein, Puma, Nike, and Fender are actively using QR Codes to drive users to download apps, visit social media channels, leave feedback, authenticate products and make automatic calls.
Here at Mention, we created a social media QR Code generator that you can use for free.
How to create one QR Code for all social medias
In order to create only one QR Code for all social medias, choose a QR Code Generator that allows you to create dynamic QR Codes
Copy and paste the URL of your profile or page
Customize the QR Code by changing the color, shape, and pattern and add a logo for brand credibility
Download it in your preferred format
#1. Driving engaged users to stores, pop-up shows, and events
It's hard to miss a brand's new flagship store promotion or an influencer's meet-up invite.
Although some brands and influencers live and breathe social media, they typically host meetups, pop-up shows, or make appearances because fostering meaningful connections goes a long way in building loyalty. Twitch streamer Ninja had a Fortnite Conference in Las Vegas, Podcast personality Stassi Schroeder did a live tour, and YouTube star Miranda Sings (Colleen Ballinger) goes on tours all the time.
Ensuring turnout and keeping them engaged is as simple as having a dynamic QR Code on the post or emailing them with a QR Code.
With these QR Codes, brands and influencers can keep pushing the latest updates, encourage users to add an event to the calendar or even allow consumers to send their favorite influencer questions for a Q&A session.
Evaluating the impact of an influencer campaign
Influencer marketing is an $8 billion ecosystem in 2019 and is expected to grow to $15 billion by 2022.
However, with Instagram testing removing the number of likes on posts and YouTube's algorithm constantly shifting, it is difficult for brands to gauge the real-world value of engaging with influencers.
The benefit of leveraging QR Codes is that it can help brands measure the impact of an influencer marketing campaign.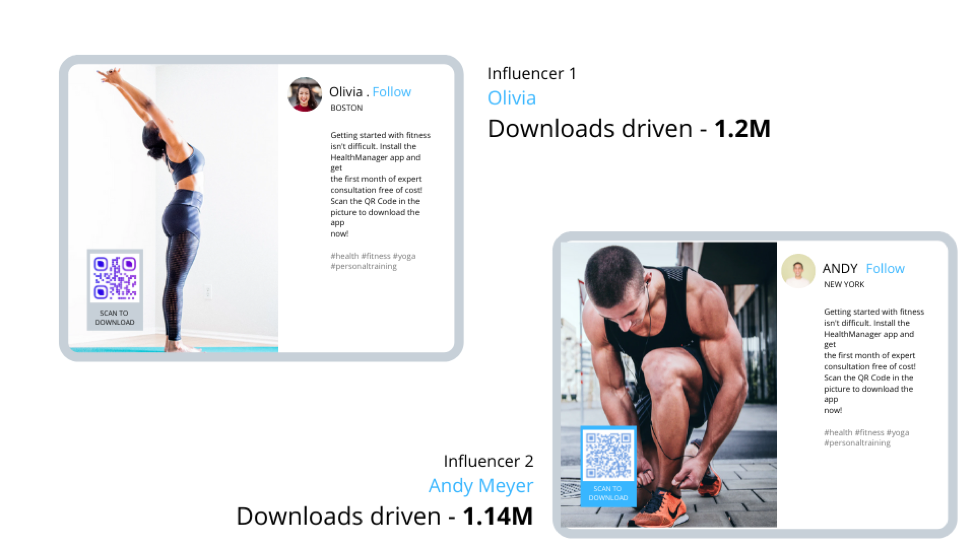 Influencers give their subscribers exclusive coupon codes. A customized QR Code that has the coupon details can be created that salespersons can scan at checkout attributing the sale to the brand's campaign.
#2. Re-engage with current and potential consumers
A QR Code on the product packaging or merch can lead buyers to the social media pages of the brand or the influencer to increase customer retention rates.
Most products feature logos of all their social media channels to suggest their presence on these channels but very few have a seamless way to allow users to engage with the brand on their social media handles.
96% of users talking about brands on social media aren't actively following those brands. That means if a product has been purchased through an Instagram advertisement or via an Influencer post, buyers are most likely not engaging directly with the brands.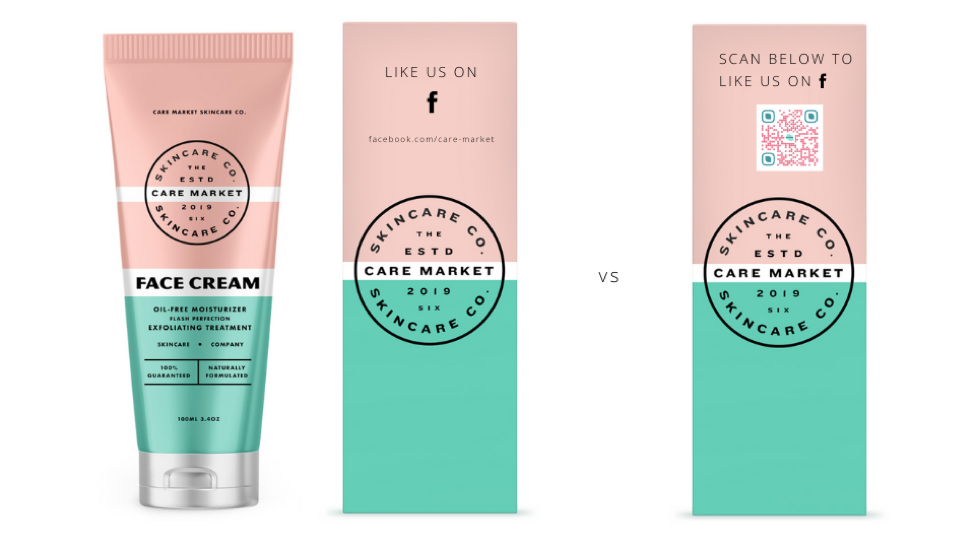 This is counterintuitive because users who engage with a brand on social media daily are more likely to make 2x as many purchases from that brand compared to someone who only engages with the brand only once a month.
That means a custom QR Code with the brand's logo that leads to an aesthetically pleasing landing page can not only increase brand awareness but also keep customers engaged.
And by using a QR Code Generator, brands can switch between their top landing pages linked to the QR Code as often as they like and create more opportunities for consumers to re-purchase.
A prime example of a company that used a physical product to drive users to their Twitter account is Bitly.
Bitly added QR Codes on the backs of gum packets as a fun giveaway that leads anyone who scans the QR Code to their Twitter page.
Added benefits of using QR Codes on products
Providing an easy way to authenticate products
A ton of influencers also offer drop shipping or do brand giveaways which may have consumers questioning the authenticity of the product. Including a QR Code on the product provides an easy way to authenticate products. All a user has to do is scan the QR Code using the native camera on the smartphone.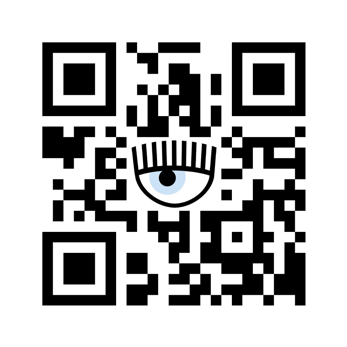 Fashion blogger, Chiara Ferragni, has a line of clothing all of which include a QR Code smart label. Buyers can authenticate the product via her app.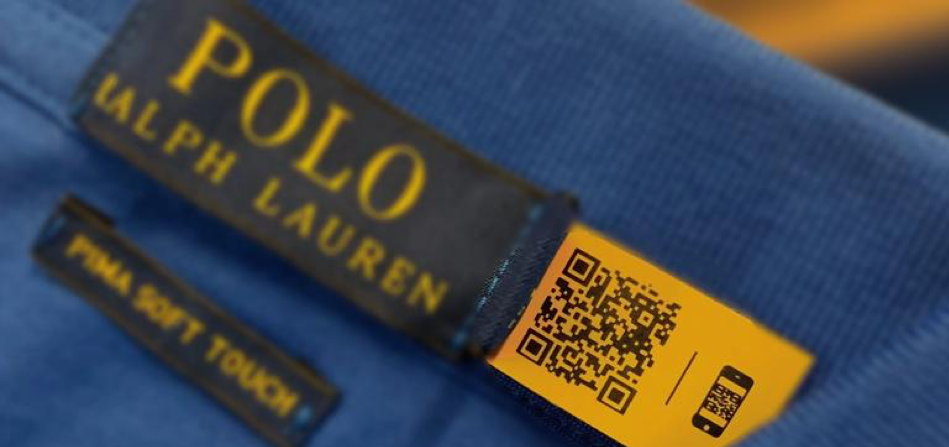 Ralph Lauren has also gone the QR Code route to assure buyers that the product they have purchased is genuine.
Retargeting users online
Additionally, it is also possible to retarget users who have interacted with QR Codes on Google and Facebook. Retargeting yields 10x the CTR of a normal display ad.
This serves as a perfect way to recapture the attention of users who didn't go through with a purchase, or those who need more convincing before they make their mind.
We'll go into more detail on how to set up retargeting later in the article.
#3. Drive offline customers to social media channels
In the interest of creating a continuous feedback loop, it is also essential to drive customers who visit offline stores or pop-up events to social media platforms.
Several brands and companies have already seen the value of integrating social media in their offline strategies via a QR Code.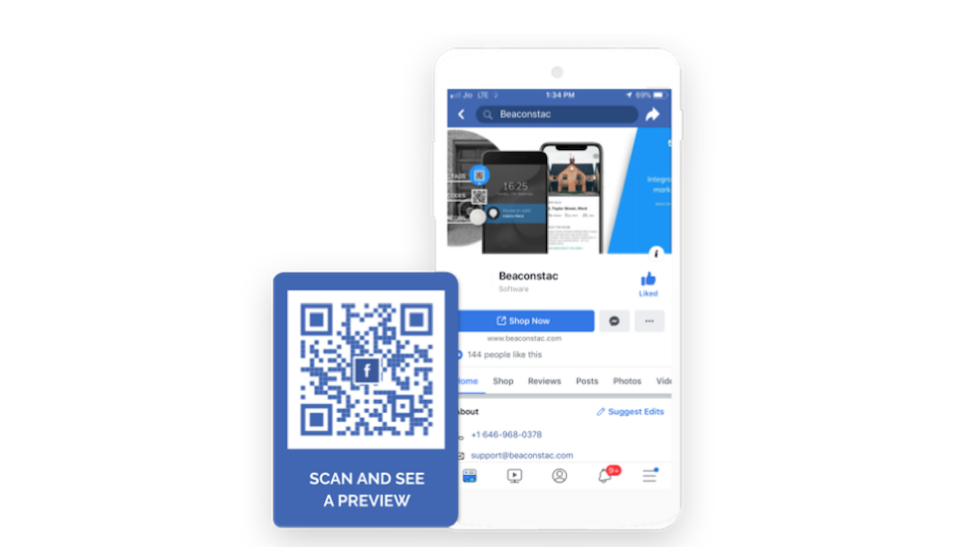 Use FACEBOOK's QR Codes to drive traffic

FACEBOOK offers businesses the option to create QR Codes that when scanned can prompt users to leave a review, check-in to a location, view active offers, and get users to automatically like a page. 
Emulate Levi's in-store campaign to leverage Snapchat's AR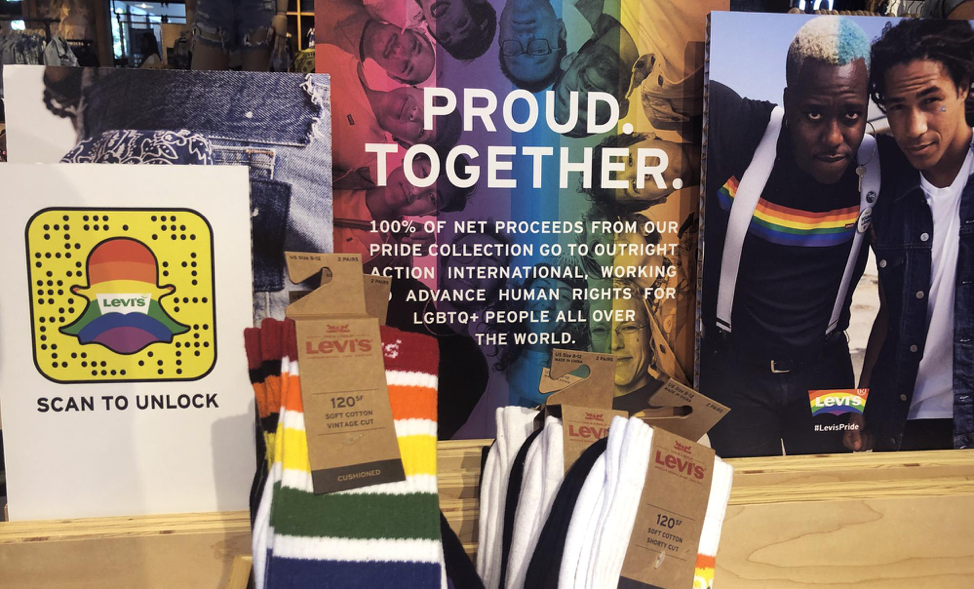 Levi's ran an in-store campaign that allowed users to scan a Snapchat QR Code which opened up a Snapchat filter that let them try on a jacket and take pictures in it through the power of Augmented Reality.
#4. Retargeting users online on Facebook
QR Codes allow brands and influencers to retarget customers and potential buyers on Facebook at every stage of their journey.
This means continued and more business because 44% of consumers say that Facebook influences their purchases. 26% of Facebook users who click on ads make a purchase. (Source: Adespresso)
How does offline retargeting with QR Codes work?
Let's say, you're a brand who is hosting an event. You can add QR Codes to the invite or have QR Codes at the event. When event-goers scan the QR Codes and visit the URL, they get added to a retargeting list.
The next time they browse through Facebook, they will come across the Facebook ad or post. Not only does this do wonders for brand awareness and recognition, but it also gives those users who didn't make a purchase the first time around to now do so. Retargeting always helps in being the +1 touchpoint for potential customers.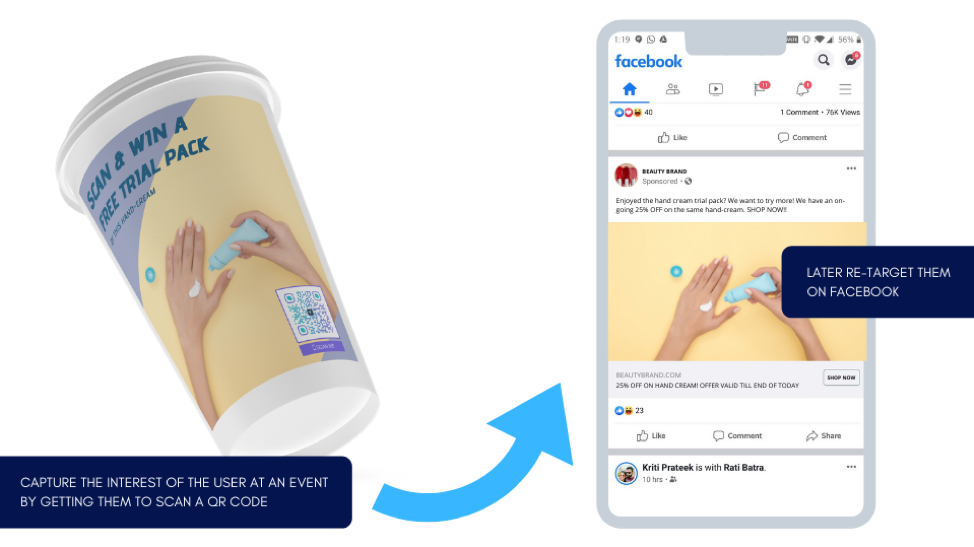 How to set up retargeting with QR Codes?
To retarget consumers, you only need the Facebook Pixel ID and integrate that in the QR Code Solution that you are using.
7 ideas for where to place QR Codes to start offline retargeting
Place the QR Code on the physical invite.
Add a QR Code in the invitation email that allows consumers to add the event to their calendar.
Have QR Codes in prominent places at the entrance that allows for a seamless registration.
Give attendees an event pass with a customized QR Code that allows them to get the latest updates during the event.
Give out flyers or brochures at the event which contains a QR Code to link to your website or social media.
Use QR Codes to collect feedback after the event.
Put QR Codes on cookies or other food items that may intrigue attendees.
Mastering the art of connected experiences
According to Brizfeel, there are about 3.03 billion people on social media around the globe. And yet, millennials and Gen Z shoppers still go offline for retail therapy.
Brands and influencers are missing a valuable opportunity by not closing this loop effectively or being caught up with social media metrics that may have no bearing in offline conversions.
Brands that have understood the importance of an omnichannel experience have started buckling down to create these seamless experiences.
Nike's, Puma's, and Burberry's flagship stores all have QR Codes to offer customers a VIP experience, instant checkout, and Augmented Reality experiences.
Today, it's all about connected experiences and creating seamless ways for consumers to connect with brands online and offline and the QR Code seems to be the most natural way to bridge the gap.