How frustrating is it to put so much effort into your blog content and still see no surge in traffic?
You may even be coming up with the best blog post ideas that cut straight to the core of your target readers most pressing needs. Perhaps you're an impeccable writer too, but let's face it—none of that matters if you don't have a constant flow of (new) readers coming to your blog and fueling the rest of your business.
Launching a blog and starting to publish content is the easy part. The real work begins when it's time to drive high-quality traffic and grow your number of readers.
While it's well-established that you need to be talented with words in order to become a successful blogger today, what's equally important is knowing what your audience wants and being a true-blue content marketer that can satisfy their needs.
Now, let's take a look at the eight key strategies I've used to grow my own blog's traffic to more than 584,000 monthly readers.
1.   Optimize your blog's on-page SEO
If you already have a blog, the first aspect you need to take a hard look at, is optimizing your content for search engines (SEO), because that'll have an impact on your search rankings—which is a crucial organic traffic driver.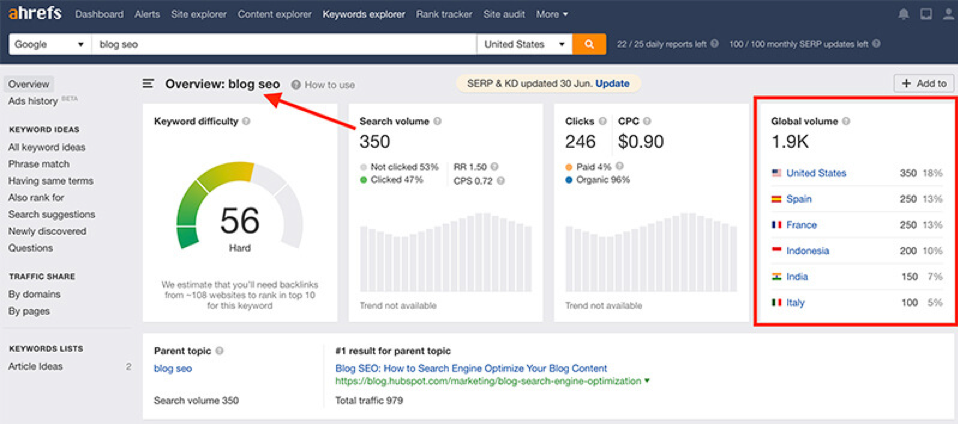 Nailing your on-page SEO involves optimizing the content on your blog. These are the factors you need to consider when creating SEO-friendly content or updating your existing articles to boost their search rankings:
Writing unique and descriptive headlines using a tool like CoSchedule's Headline Analyzer
Optimizing your blog post URL by including the target keywords
Crafting a well-written meta-description in 50-160 characters which clearly communicates the benefit of reading the article (and includes the main keywords)
Using your main keywords in the title and alt text of images to improve searchability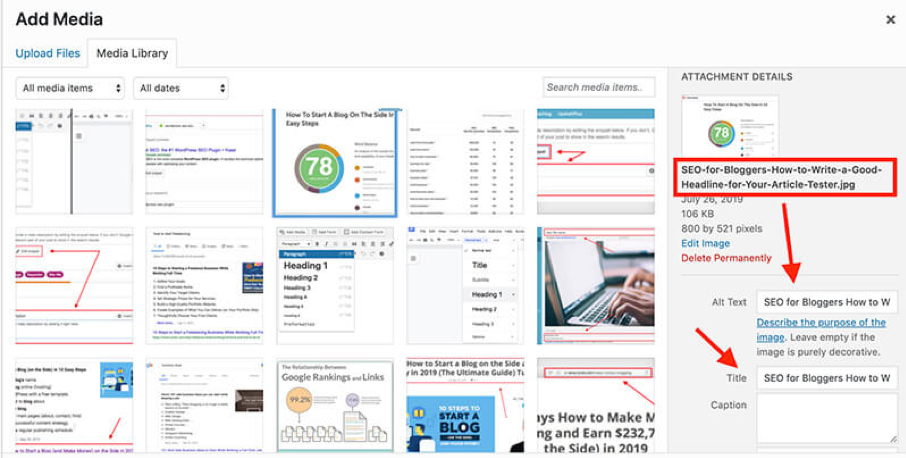 Internally linking to relevant content across your blog to keep readers engaged for longer periods of time and allowing search engines to connect your content
Ensuring your blog pages load quickly using optimization plugins like Perfmatters
Choosing to use only mobile responsive WP themes that'll load a reader-friendly version of your blog posts on any device
By following this simple on-page SEO checklist before hitting publish, your blog content will be much more likely to climb the organic rankings for the keyword phrases you're pursuing.
2.   Develop a research-backed content strategy
One of the major ingredients of a successful blog is consistency—and there's no way you can achieve that if you don't have a content strategy in place. Developing a research-backed content strategy begins with asking yourself questions like:
Who are my ideal readers (and why)?
What pain points or problems do I want to address for them?
What content formats can I best solve those challenges with?
What is my blog's unique selling proposition to those readers?
In order to understand who your ideal target audience is, you need to create audience personas that specifically spell out your readers' interests, needs and pain points that relate to the content you want to create. This'll help you deliver more relevant and better-targeted articles to them.
Next, create an editorial calendar to help you plan and organize your blog posts.
Make it as detailed as possible by including article titles, main keywords, expected publish date, content type, who's responsible and which call-to-action you'll be highlighting most prominently.
Once you have your content calendar in place, you need to consistently come up with refreshing blog post ideas that would be of interest to your audience.
Leverage tools like Google's Keyword Planner and Twinword Ideas to identify the most commonly asked questions in your niche and gather suggestions for related terms you should consider going after.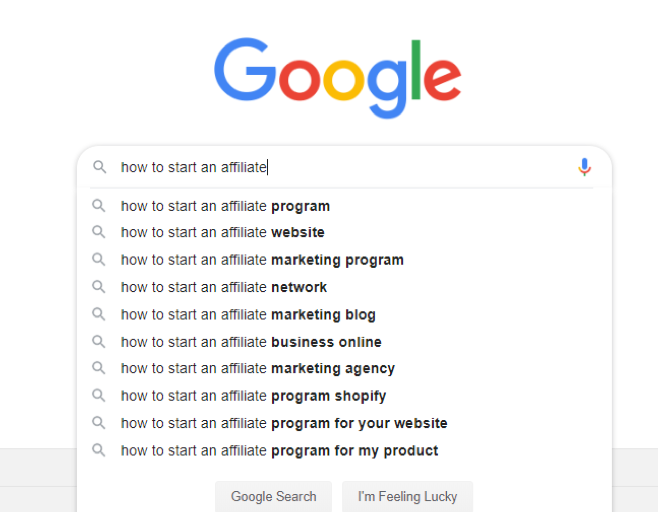 You should also employ tools like Mention to analyze trending topics and monitor your competitors to derive insights from the content they're publishing too.
Apart from these readily accessible tools, it's important to go out of your way and ask readers what they want to learn more about—and also keep an eye on the comments section of your blog posts.
If you're engaging in discussion with your readers, the inspiration for your next article may just be hiding in the comments and conversations that arise there.
3.   Create valuable pillar content
An important part of developing your content strategy is identifying the content pillars that will form the foundation of what your blog is ultimately about.
Pillar content most commonly comes in the form of lengthy, comprehensive articles that address a couple of high-value keyword phrases and topic clusters.
It's that guiding pillar post that can inform on the smaller individual content pieces you should publish in the future.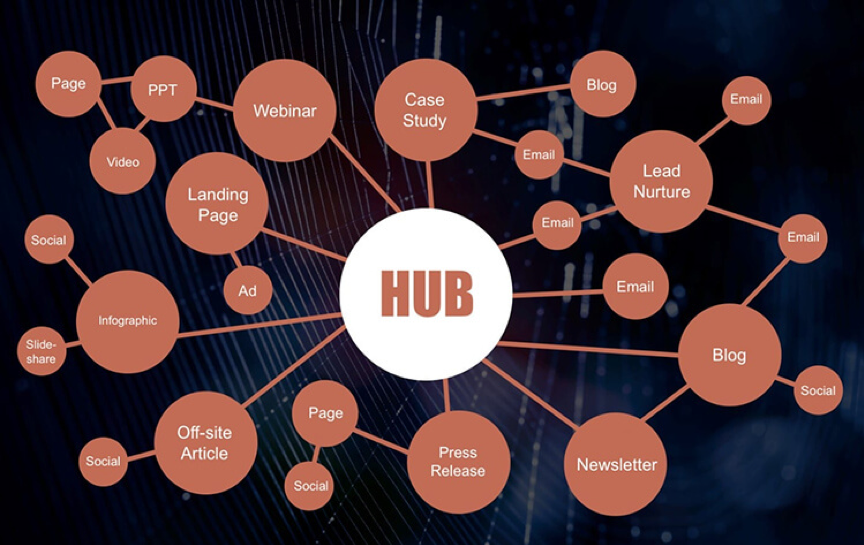 At the center "hub" lies your pillar content—and every other article you create on your blog should be somehow linked back to this "hub" page in order to reinforce its relevance.
Doing this will not only increase the time spent on your blog as readers navigate around to related topics they're interested in, but it'll also increase overall traffic as your internal linking translates into more SEO benefits over time.
Identify umbrella topics and keywords you can write about using tools like AnswerThePublic to cleverly outline your content pieces & get valuable suggestions by better understanding the common searches and queries related to the core topic of your pillar page.
4.   Go after long-tail keywords
One of the reasons you decided to start a blog in the first place, was to attract readers, right? Well, that goal will only be attainable if you begin by optimizing your content for long-tail keywords where you'll have less competition.
If you instead approach very high volume, high competition keyword phrases like "freelance business" or "business ideas," then you'll be fighting an uphill battle against other websites that are long-entrenched in the momentum they already have on these keywords.
Sticking with our example, if you were to go after long-tail keyword phrases like "how to start a freelance writing business" or "online side business ideas in Europe" that have less search volume (and thus less competition), you'll be doing two things:
Making it easier for your articles to rank higher in targeted organic searches
Attracting a much more qualified, higher-intent reader to your blog
Plus, as the number of daily Google searches reaches more than 5.5 Billion, the opportunity for attracting a significant number of readers with hyper-specific content is only growing.
All in all, taking the approach of targeting a larger number of long-tail keyword phrases, rather than aiming for the most competitive keywords in your industry, will serve to bring you more of the right readers and boost conversions.
5.   Write share-worthy articles
The day your content goes viral across a particular social media channel, you can really give yourself a pat on the back—because that's when you know you've created something truly great that compelled people to go out of their way and share it with their networks.
Social shares naturally matter a great deal to bloggers, because the more frequently your article is organically shared, the more traffic that'll flow in—resulting in the opportunity to also grow your email list.
So, what makes a piece of content share-worthy?
In the age of social media, validation is everything—and producing shareable content gives you a healthy amount of social proof and credibility, helping you amplify your message and reach new audiences.
6.   Guest post on authoritative blogs in your niche
Guest blogging is when you write an article for someone else's blog, with the sole purpose of generating traffic (from their existing pool of targeted readers) and naturally growing the number of high quality sites that link to your blog—which in turn grows your reach and authority online.
My very first guest post sent a massive surge of traffic back to my site during the week it was published—with 1,874 readers coming by in one day, which was far above my average at the time.

To be successful in a guest blogging campaign, you need to start with making a list of relevant websites you want to pitch on hosting your content—these will be blogs that ideally have a similar target audience as yours, yet aren't competing for the exact same keywords.
Observe the content these blogs publish and send a well-written pitch for an idea that's a natural fit for them to publish about. Then, once your content topic is approved, write a strong, value-driven blog post in line with their guest posting guidelines—and include a contextually relevant, tasteful link or two back to content on your own blog.
Guest posting is a win-win for both parties, because the publisher is getting (most often free) quality content, while you're increasing your exposure to new audiences.
7.   Encourage readers to become email subscribers
Starting a blog and building an email list should go hand-in-hand. How else will you communicate with your readers on a personal level and eventually build relationships with them?
Here are the most impactful ways to encourage readers to become email subscribers:
Placing email newsletter opt-in forms within your blog content
Installing exit-intent popups to capture email addresses of would-be leaving readers
Offering a content upgrade (that matches reader-intent) in return for their email address
Here's an example of what my most successful email capture mechanism looks like on my blog, especially when it's placed in a relevant spot within the content on the topic of starting or growing a blog: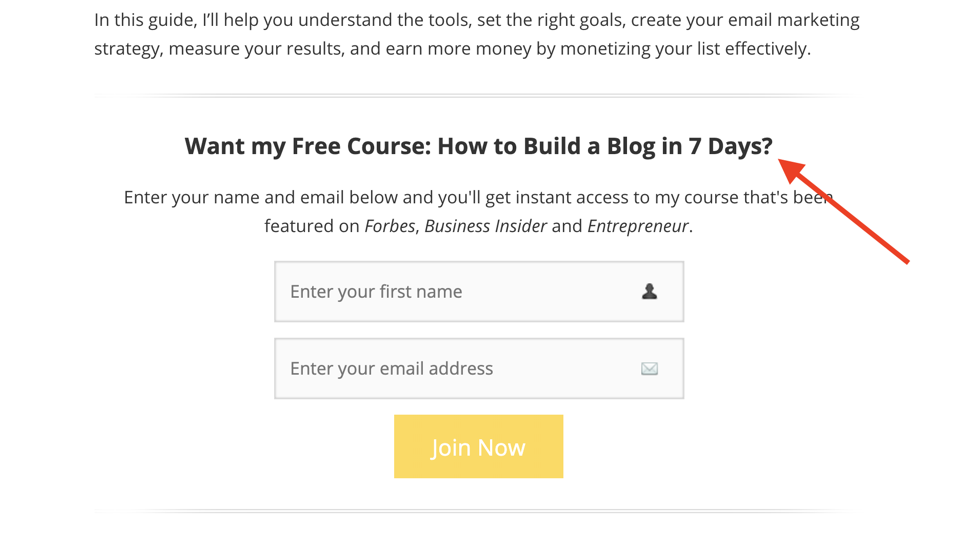 The key with any high-converting call-to-action, is that it needs to visually stand out from the rest of the content on your page—and offer something meaningful & clear in return for readers submitting their name and email address.
8.   Answer questions on Quora and Reddit
We all know that amplifying your content sharing across the social media channels can provide a big traffic boost, but have you ever used more community-oriented platforms like Quora or Reddit to attract readers back to your blog?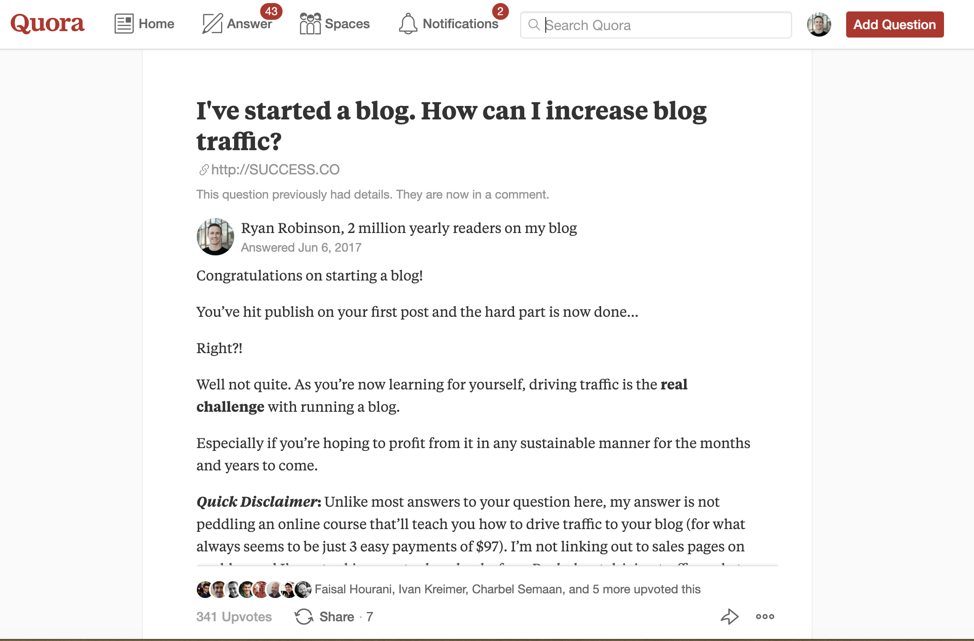 Every day, millions of active users take to these forums to share content and ask questions, making it a goldmine for bloggers and content marketers to be helpful—while also referencing their existing content on their websites for additional reading.
The most effective way to gain visibility on these platforms is by cleverly and thoroughly answering questions relevant to your niche. On Quora in particular, quality and in-depth replies tend to rise above the one or two-line answers, while witty replies will catch on faster with Reddit users.
In either case, never use your answers solely as a place to question askers with links to your blog content. You need to be tactful with occasionally inserting links and ensuring you have an insightful answer to offer, in order to get noticed amongst the sea of responses.
Final Thoughts on Growing Your Blog
Doing the foundational work today in building up your traffic and converting those new readers into subscribers (that are invested in your future content), will contribute significantly to the long-term growth of your blog as a business.
While monetizing your blog is a challenge in its own rite, never lose focus on the key principles of what it takes to succeed as a blogger—consistently creating high-quality content and keeping your readers at the heart of everything you publish.
No matter what you do though, building your traffic to the hundreds of thousands of monthly readers won't happen overnight. It takes time, repetition and healthy dose of experimentation.
If you follow these strategies, make smart plans and regularly execute on your objectives—you'll be well on your way to building a successful blogging career.