Brand collaborations are an exciting way for businesses to grow and expand, but they can also be intimidating.
You have to navigate working with partners who have different goals and methods. And while this can be challenging, the rewards can be great – when done right.
By learning from successful collaborations that have come before us, we can get a clearer picture of what works and what doesn't.
In this post, I'll share some interesting brand collaboration examples to learn from, that will help your business take its next steps in the right direction.
Each brand collaboration is unique and will open your mind to unique ways for you to partner with other brands or individuals to strengthen your brand.
Why Brand Collaborations Matter
Business partnerships involve negotiation, experimentation and can be quite expensive.
Not to mention, if the brand collaboration goes wrong, it can have a negative impact on the business.
However, when it works, brand collaborations offer numerous benefits that simply can't be replicated through your own efforts.
Here's why business collaborations matter and are worth undertaking:
Shared Resources: You get to share resources, such as equipment, office space, or expertise. This can help you to reduce costs and operate more efficiently.
Innovation: By bringing together different perspectives, skill sets, and working with others, you may discover new ways of solving problems or developing products.
Increased Reach: Collaborating with other businesses can help you to reach new audiences and expand your customer base. By partnering with a business that has a complementary product or service offering, you may be able to cross-promote each other's businesses and attract new customers.
Risk Mitigation: You may be able to spread risk across multiple parties. For example, if one business is experiencing financial difficulties, the others in the collaboration may be able to step in and provide support.
Competitive Advantage: Collaborations give you a competitive advantage by allowing you to offer unique products or services that you might not have been able to offer on your own. By working with others in your industry, you may be able to differentiate yourself from competitors, and capture market share.
In short, you stand to save time and grow faster if you work with another brand.
However, it is critical to have common goals to see success.
Each brand collaboration mentioned here is unique and will open your mind to interesting ways for you to partner with other brands or individuals. Let's get started and check out some awesome business collaboration examples.
Brand Collaboration Examples
HubSpot x Mention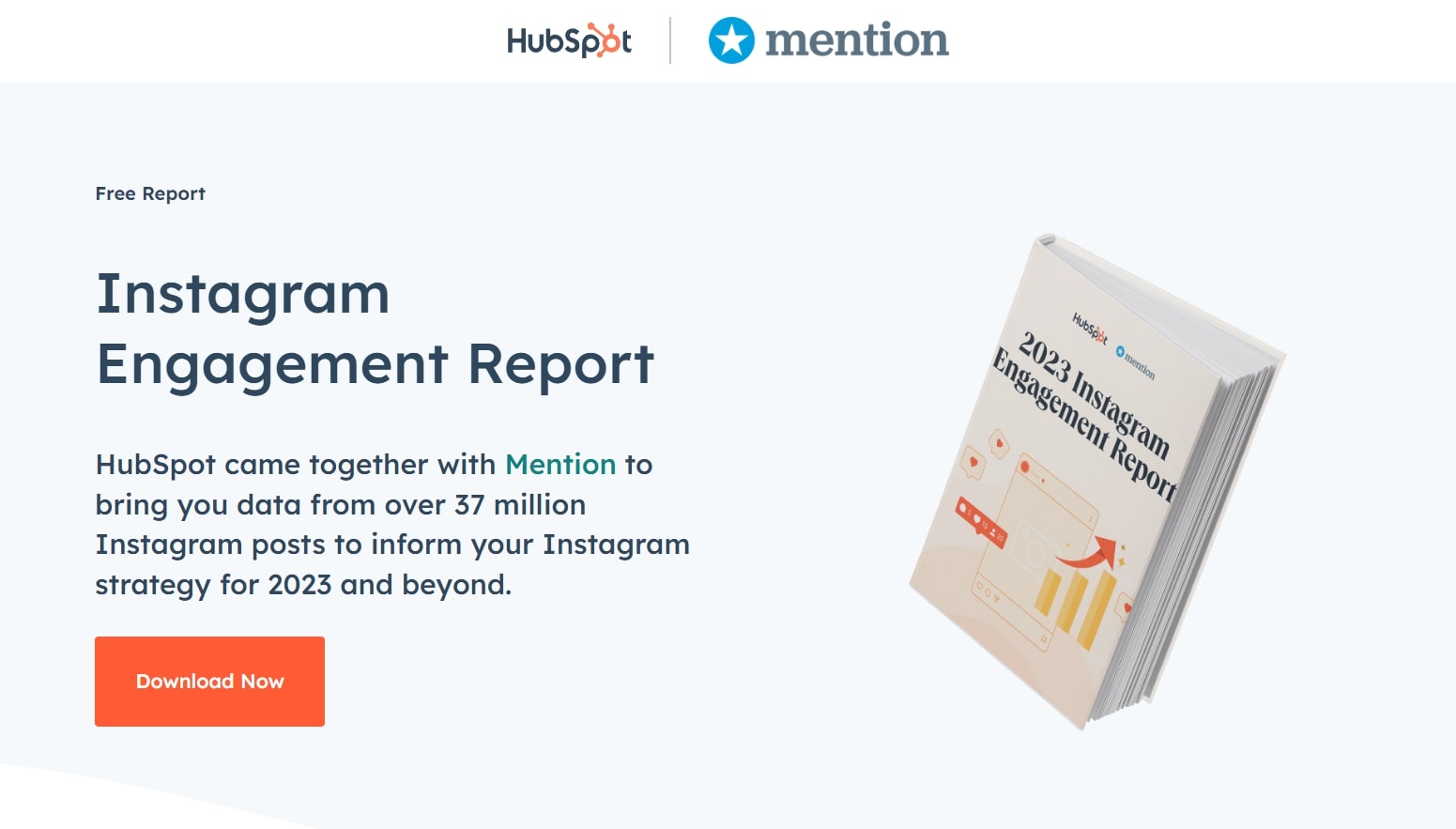 Get insights on how to boost your Instagram engagement with Mention and HubSpot's free report.
Mention and HubSpot are two powerhouse brands that, individually, are well-known for providing top-notch social media and marketing content.
However, by collaborating, they showcase how brands can create even more value by supporting their overlapping audiences with valuable content.
Mention is a social media listening and monitoring platform with powerful features to help you reach your audience more effectively.
And HubSpot is a marketing and sales platform providing a top-notch CRM tool, and free tools for businesses.
Together, they combined their expertise to create the most comprehensive report on Instagram engagement.
Their Instagram Engagement Report for 2023 draws insights from 37 million Instagram posts, which helps business owners, social media professionals, and aspiring influencers learn how to get more followers and boost interactions with them.
This partnership is a great example of how two brands can work together to create something bigger, better, and more valuable than what they could have done alone.
Key Lessons
The key lesson from this collaboration is to find complementary businesses with whom you can collaborate and create valuable content for your respective audiences.
This will build your reputation by working with a well-known brand. You'll get more traffic, build your email subscriber list, and reach more people with the content you create.
Jasper x Blog Growth Engine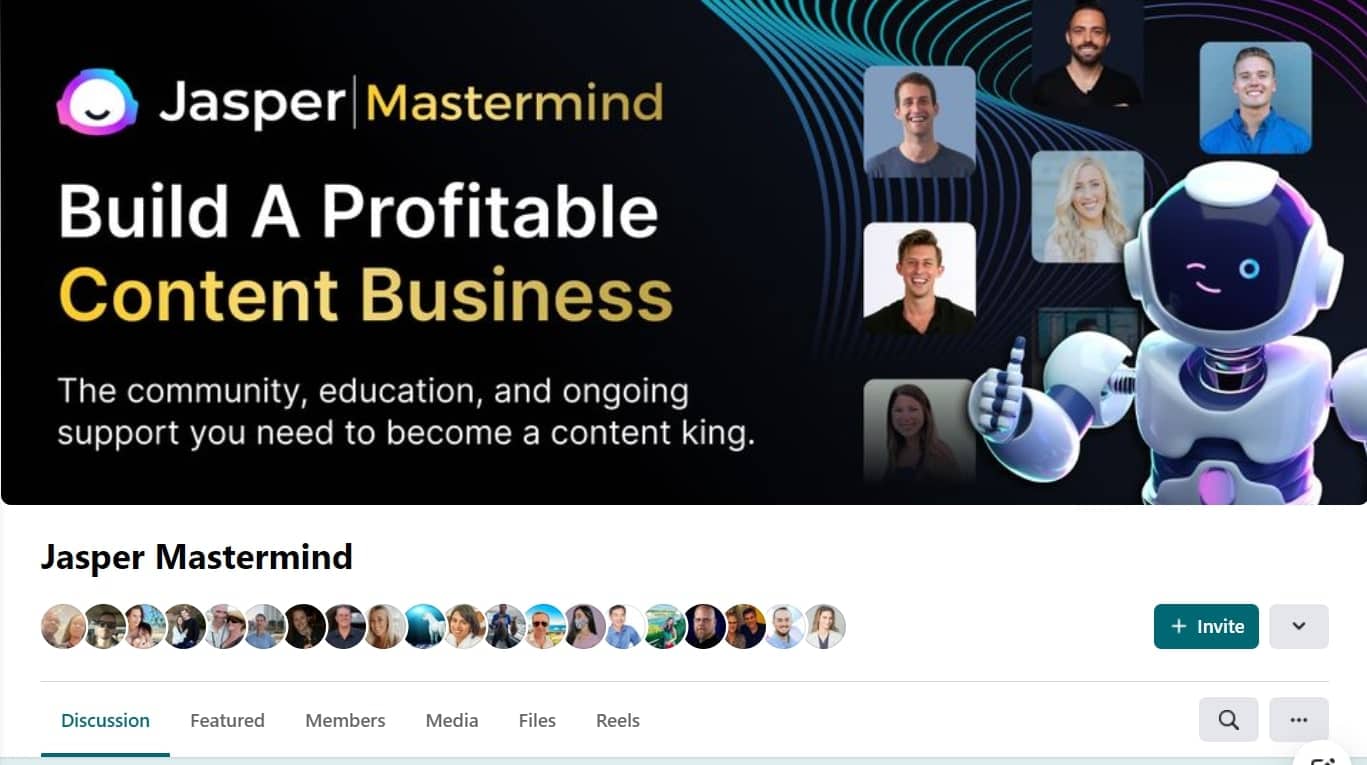 Jasper and Blog Growth Engine (BGE) collaborated to help businesses succeed by giving them access to a unique program called the Jasper Mastermind.
Jasper is an AI-powered app for writers that helps businesses stay up-to-date on their competitors, and the industry at large. BGE is an online blog course created and run by Adam Enfroy, Colin Shipp, and Andrew C McGuire.
Their collaboration lead to the creation of 'Jasper Mastermind'.
This was a program that helped Jasper customers learn how to turn their writing into a passive income-generating blog.
It provided users with a chance to apply their writing skills, thus leveraging the strengths of both companies. Unfortunately, the collaboration didn't last long as it detracted from Jasper's core focus – developing a great writing tool.
Despite this, customers were retained by transitioning them to BGE and providing continued access to its community.
This serves as an example of how businesses can partner up (and even split up!) without compromising customer experience, or their own product offering. All collaborations need to prioritize customer satisfaction, while also ensuring that they are beneficial in the long run.
Key Lessons
The key takeaway is that meaningful collaborations should be mutually beneficial and focused on creating value for both businesses involved, not just one or the other.
Collaborations should never compromise customer experience or existing products/services offerings, and should align with each company's core focus.
Also, both parties should have a clear understanding of the goals and objectives of the partnership to ensure that everyone is on the same page.
With these guidelines in mind, businesses can use joint campaigns or offerings to their advantage, and expand the reach of their products, while also helping customers get more value out of them.
SurferSEO x Semrush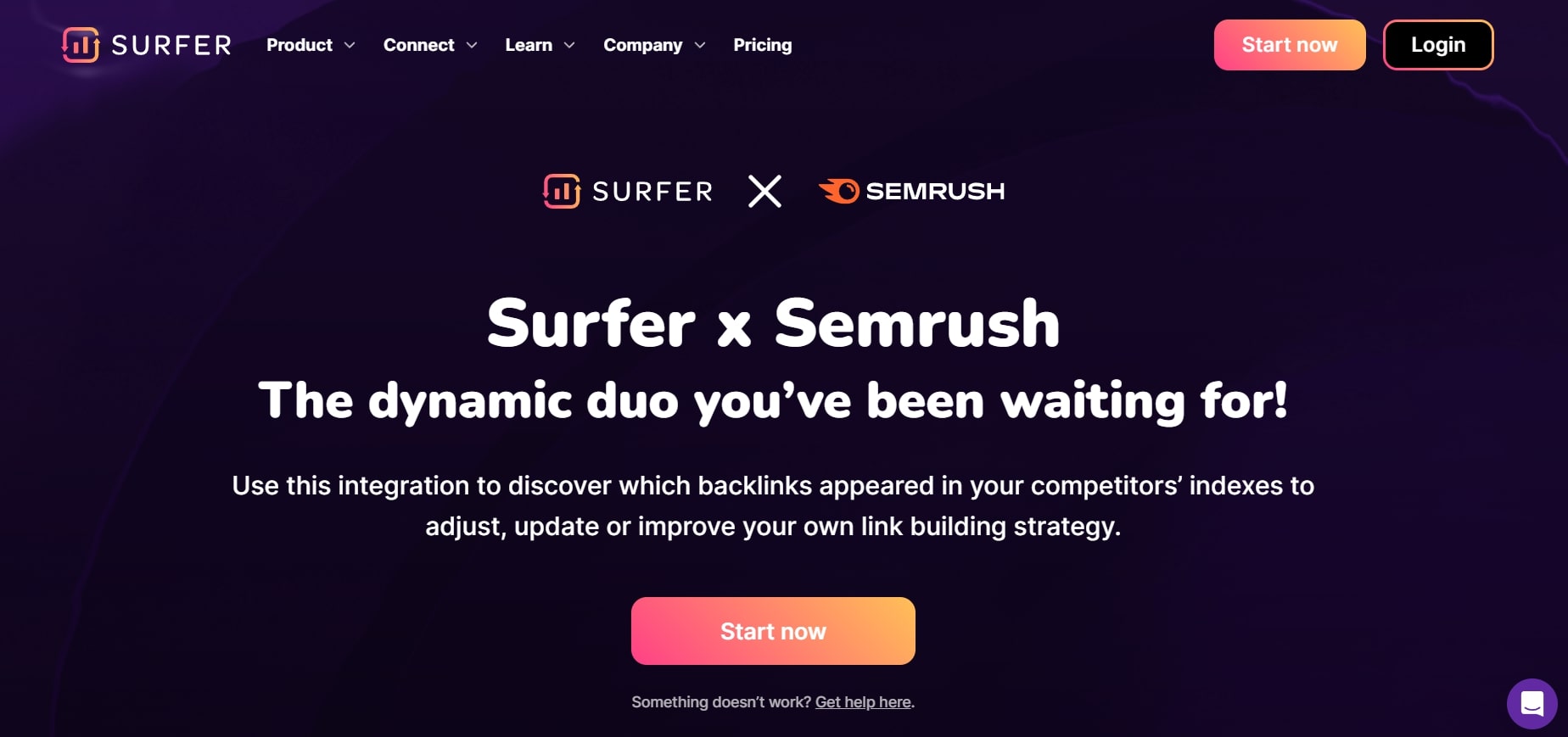 An interesting and recent collaboration to learn from is one between Semrush and SurferSEO.
SurferSEO is an innovative SEO tool that helps businesses optimize their websites for better search engine rankings. It primarily focuses on helping users create SEO-optimized posts, but it also has other features that help with keyword research, building topic clusters, page optimization, and more.
Semrush is a powerful and comprehensive SEO automation tool that helps businesses optimize their online presence.
It provides users with a suite of features to help them achieve better search engine rankings, such as keyword research, content optimization, link building, and more. With Semrush's advanced technology and user-friendly interface, businesses can easily manage their SEO campaigns for maximum success.
Additionally, the platform offers insights into competitor strategies, so that users can stay ahead of the competition.
Semrush, like SurferSEO, also has a writing assistant feature. In fact, these two companies are direct competitors. However, both these tools – with overlapping functionalities – have collaborated to offer free services to users.
The main focus of this integration is to help small business owners, and entry-level marketers, with better backlinking strategies.
Key Lesson
What's interesting about this collaboration, is that it shows how even direct competitors can collaborate. As long as you provide value to customers, you can find integrations, especially if you can fill each other's gaps.
Shell x LEGO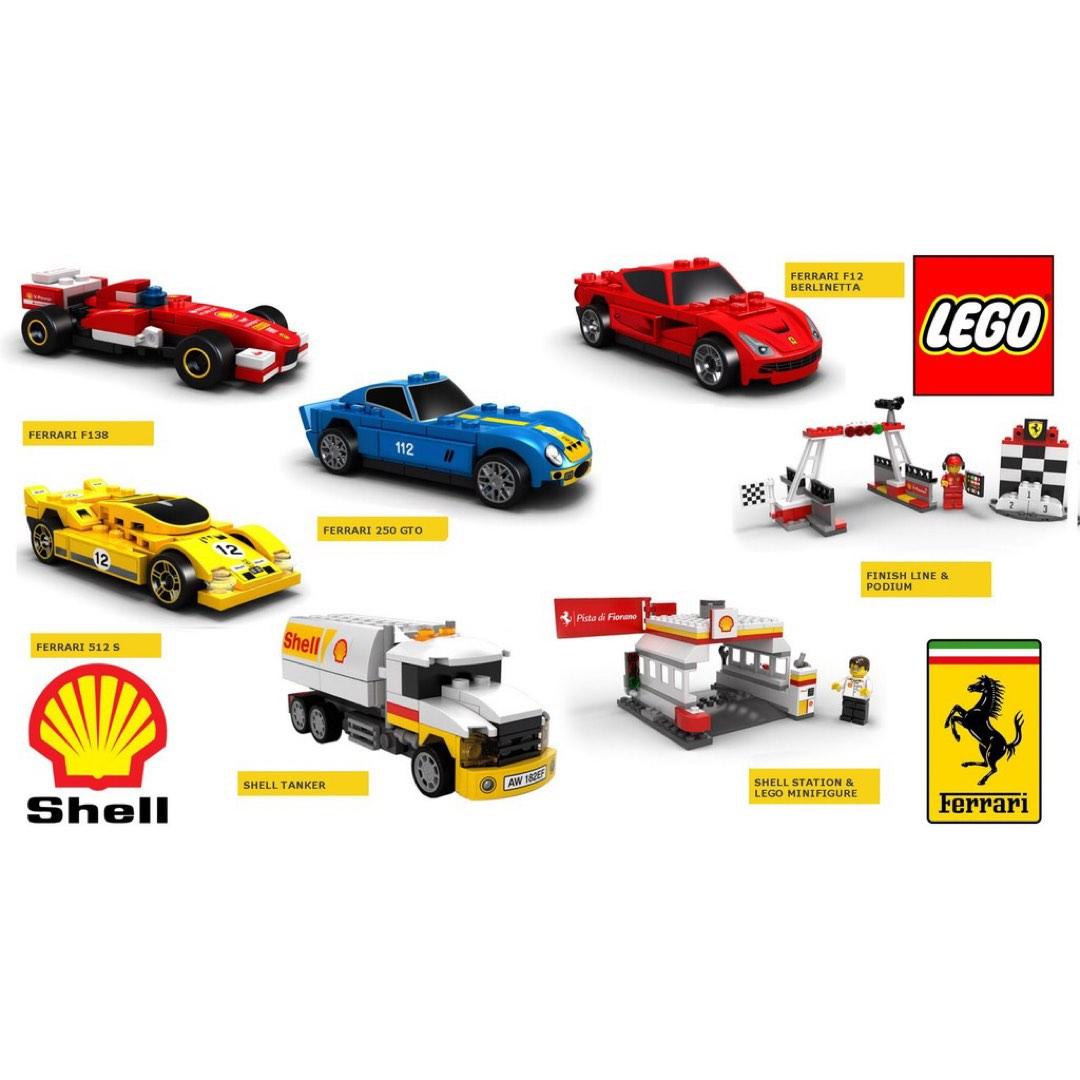 For decades, iconic children's toy company LEGO had a partnership with Shell, where children around the world could play with these unique Shell-branded LEGO sets and build memories.
However, Greenpeace launched a campaign targeting LEGO, and its association with Shell company. The campaign gained widespread attention, and it was clear that LEGO's brand was dropping in public estimation.
LEGO specifically stopped collaborating with Shell because of this public outcry against the oil company and its practices.
News reports, however, show that this collaboration came to an end reluctantly. The CEO of LEGO even stated that he did not approve of Greenpeace's methods. He also stated that scientists and engineers, like those who worked at Shell, were the ones who would create real solutions to energy problems.
Key Lessons and Takeaways
There are many ways to view this business collaboration, and several lessons to learn from it.
Here are some things to consider to avoid such a turnout:
You must be careful about collaborating with an industry or company that has a major social and environmental impact, especially if that impact is perceived as negative.
Ending an amicable brand collaboration may be the best move to support your public image.
Choose wisely when selecting another business to collaborate with. You want to ensure your values and features are aligned.
Successful collaborations depend not only on internal relationships and synergies, but also on external pressures.
A final takeaway from this business collaboration example, is that you have to reconsider your partnerships over time. It's not a good idea to continue a business relationship just because it's been that way forever. You need to work with a PR team or a media team and look at social trends to determine if a collaboration is still beneficial for both organizations.
Kanye West x Gap, Adidas, and More
We won't dive too deeply into this business collaboration, since it's well-covered online, and issues in this scenario are beyond the scope of this post.
However, this is a powerful example of seeing brand and celebrity collaborations play out in recent memory. It's also an event that many people are aware of, even outside of business contexts.
Rapper and singer, Kanye West had partnered with several companies over the years, including Gap and Adidas.
However, the star created negative publicity and backlash by publicly airing grievances with his partners, and by making several controversial statements.
Since then, companies that are globally renowned and have had a long-standing and positive collaboration with Kanye have cancelled their brand relationships with him.
Critical Takeaways
Some interesting lessons that stand out to me are:
Perhaps these brands should have noticed that this celebrity's behavior has been more erratic over time.
That small 'red flags' should be treated seriously at all stages of a partnership.
And that it's important to take a stand and sever relationships when a partner's public image might damage your brand.
The bottom line, is that even if the collaboration has been successful in the past, it needs to be monitored, and you shouldn't ignore changes in the public's perception.
Canva's Multiple Collaborations
Handling a single business partnership is hard enough, but Canva does several all year around! And every year too.
It's worth checking out Canva's reports on its partnerships in 2022. There are several interesting collaborations with multiple brands, communities, and themes.
Here are some worth noting:
Canva joined hands with Creatively to support the job platform for creatives in the field of design and creativity.
It created the People's Voice Toolkit, and enabled Webby's community to create designs for award nominees.
Canva worked with Thomson Reuters Foundation to support Echo – a commercial radio station in Moscow that criticized the invasion of Ukraine.
It supported fans of the show 'The Walking Dead', which led to the creation of 20,000 digital assets.
It also created templates and assets for the fans of the Eagles sports team.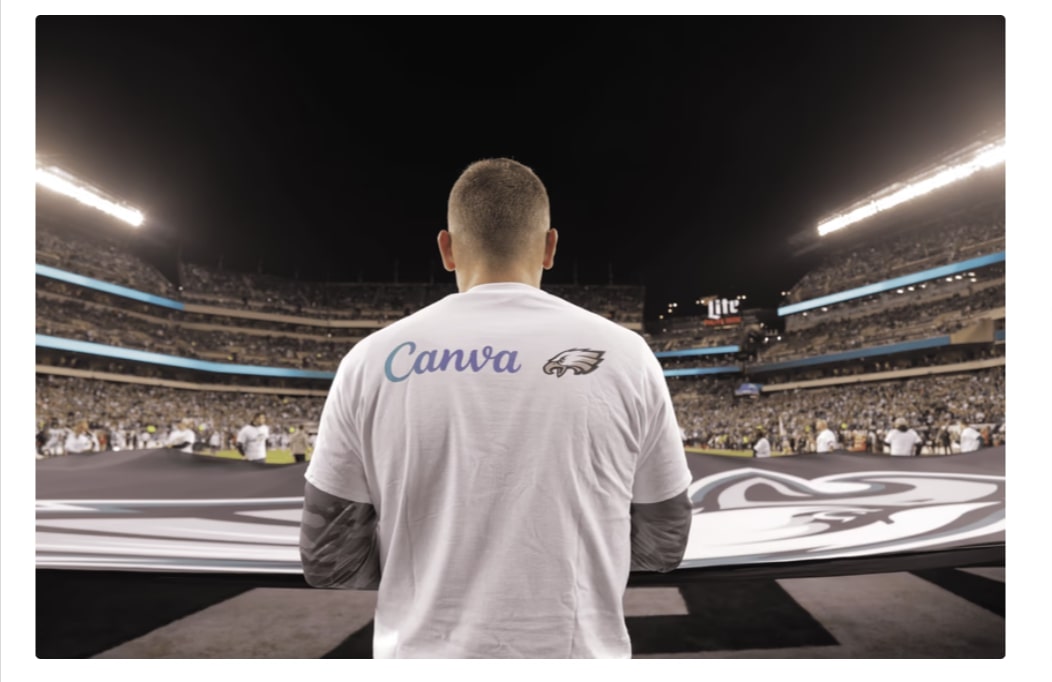 Major Lessons and Takeaways
Canva's multiple collaborations with different groups are unusual but powerful examples of how a business can respond to different needs.
The brand was able to collaborate with platforms and communities that had nothing in common with its usual focus. It showed how important it is to stay open-minded about the potential for collaborations, and to be willing to go beyond your regular partnerships.
Another key lesson lies in how Canva supported communities and people through its collaborations. It highlighted the importance of considering the value that collaboration will bring to everyone involved, not just your own business.
The benefit of thinking about a community as a partnership, is that it's a great way to draw positive attention to your brand. When your collaborative work, products, contests, or themes support a group, you automatically have an audience that is interested in your work.
This approach makes it easier to reach out and create relationships with potential customers. By tapping into these networks, businesses can reach out to more people and build a better brand reputation.
Final Takeaway from these Brand Collaboration Examples
There are as many different types of collaborations as there are companies in the world.
A business' goals, products, and services will determine the type of collaboration it should pursue. You need to be prepared to deal with the unique challenges and opportunities that come with your partnerships.
Here's a summary of the key lessons you can take away from the examples in this post:
It is possible to partner with companies that compete with you directly, especially if all parties have other features that do not overlap. The key is to focus on providing value to customers, and to find gaps in your offerings.
Even long-standing and successful partnerships can come to an end, if external pressures (like negative media attention) force you to step away from a collaboration.
It's important to monitor your brands – especially the behavior and developments in your partner's online and offline brand image. Their reputation can rub off on you if it takes a bad turn.
When building a partnership, find ways to involve a community or group. Doing so can help you get more attention faster, and can create loyal customers.
Finally, it's possible to end a collaboration on a positive note. But don't forget how exiting a partnership affects users or customers. You need to ensure that your users' needs are still met, even if your partnership ends.
Overall, the key takeaway is to be creative and flexible when looking for collaboration opportunities.
Conclusion
Overall, these examples show how important it is to think outside the box when it comes to brand collaborations.
A successful brand collaboration should bring value to all parties, and it should be based on mutual respect, understanding, and trust. They can also be varied and should take into account the needs and interests of different groups.
Use these examples and lessons to help you come up with your own strategies and plans for successful business collaborations.
Thanks to modern communication and collaboration technologies, it's easier than ever to find the right partner and build a successful partnership that works for everyone. So, don't be afraid to explore different brand collaboration possibilities and see what comes of it.