If you have been paying attention, you will have seen the explosion in popularity in online education.
What used to be a niche – and mistrusted – field is now fully accredited and even offered for free through Ivy League universities.
Online education has also opened the door for experts in every category to show others how to do what they do: from advanced mathematics to croquet – you can find it on the web.
Brands are taking the same idea and adapting it for their audience. For example, Hootsuite regularly releases webinars about their tools and features, or social media in various fields. Marketing Week has many different webinars to see and you can sign up to participate live.
Businesses still use webinars because they make great lead magnets with an incredible conversion rate.
When done right, between 30% to 40% percent of those visiting the webinar landing page register. What's more webinar marketing can become a solid income building source by itself as well as major sales driver.
Sounds simple right? It is, but you'll first need to learn how to launch a successful webinar marketing campaign.
Learning as a marketing strategy
There is a reason that webinars are becoming so prominent as a marketing tool.
People on the internet are craving information.
Many are seeking new skills and want to become better at their jobs, hobbies or enter into a new field entirely.
Just look at your average artist: their specialty is their art and creativity. What they might not be so good at is getting the word out, attracting an audience online and promoting their work under their brand. The most successful artists are the ones who can adapt to the digital age and accumulate followers.
But how do they do that? There are several avenues to follow, as we know. The problem is that they don't know. No one has been there to teach them the process of building that presence and exploiting it.
Now take that example and substitute it with any business model: real estate agent, writer, Etsy fashionista, landscaper, dentist, restaurant owner, Instagram model… it doesn't matter.  They all need to learn how to market themselves online.
What this means for companies
You can give these people what they want. Webinars have been shown to drive sales, generate leads and help you to maintain a follower pool that will last. But it is also a fantastic path towards reputation management – it helps by directly boosting your brand's expertise and authority.
The question is: how you can make the most out of webinars and increase their effectiveness? I'll break down the 6 ways to do this.
1. Come up with an engaging topic
A webinar is a content asset, like any other, so one of its goals is to rank for important keywords that could drive target customers to your site and engage them.
For that you'll need to:
Come up with a great topic that would be interesting enough to get people to sign up
Come up with relevant keywords and optimize your webinar landing page to generate some long-term traffic from Google
Start with your traditional keywords research to identify a keyword to focus on.
Serpstat has one of the largest keyword databases out there and I like using it for my keyword research because it offers all those handy filters to narrow my research down. For example, when doing webinar topic research, I'll use the following filters:
Keyword difficulty: From 0 to 10 (these are those having the lowest competition)
Includes: Video results (If Google shows a video carousels, it must mean its users are likely to engage with video content well when searching for this specific query)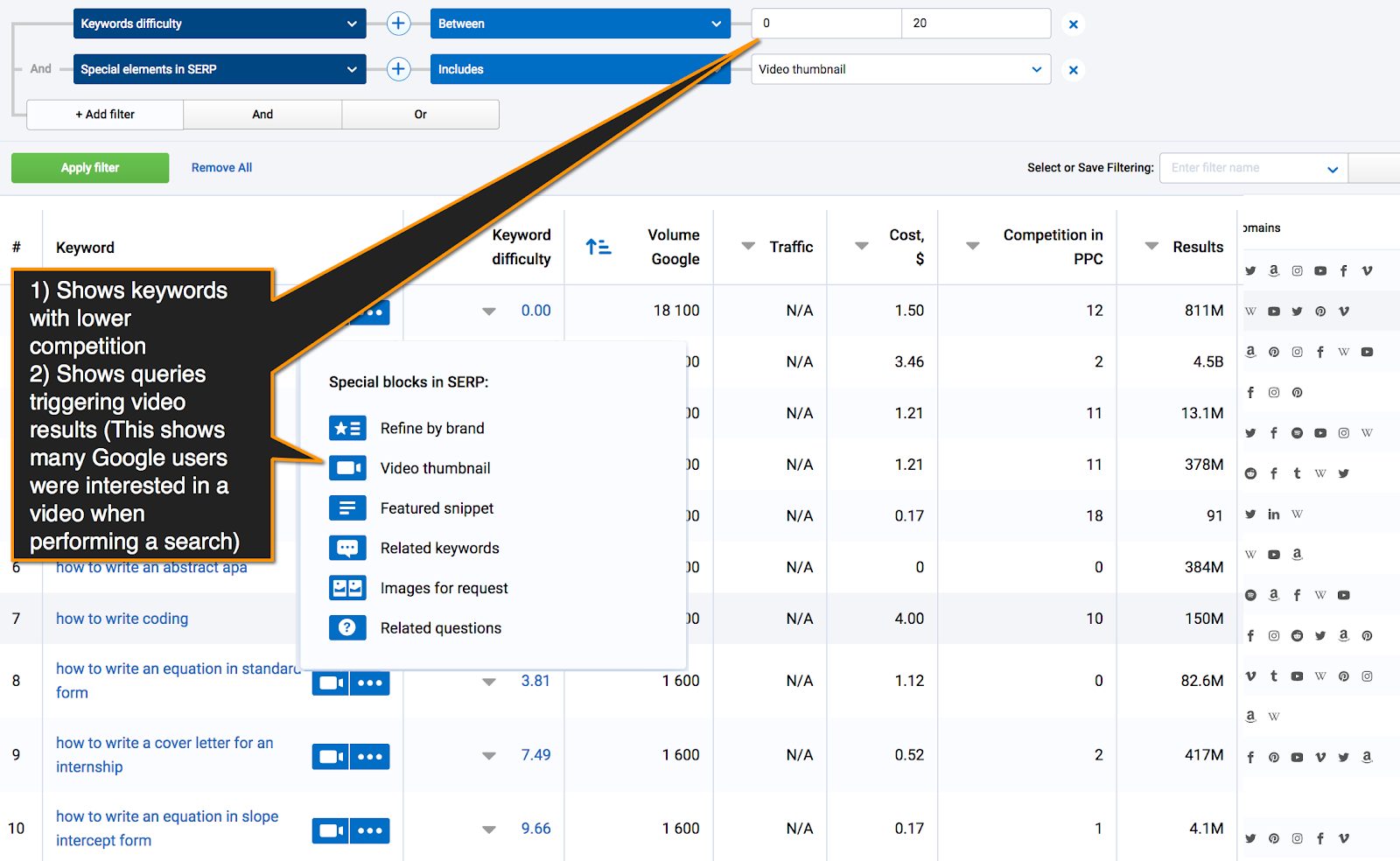 Once you know the core keyword to focus on, you can come up with interesting angles to attract more interest.
This is where TextOptimizer comes into play, a unique topic research and optimization tool that extracts Google or Bing search snippets and uses semantic analysis to extract related terms and questions.
TextOptimizer works for both brainstorming and optimization by showing you the semantic context your key term tends to appear: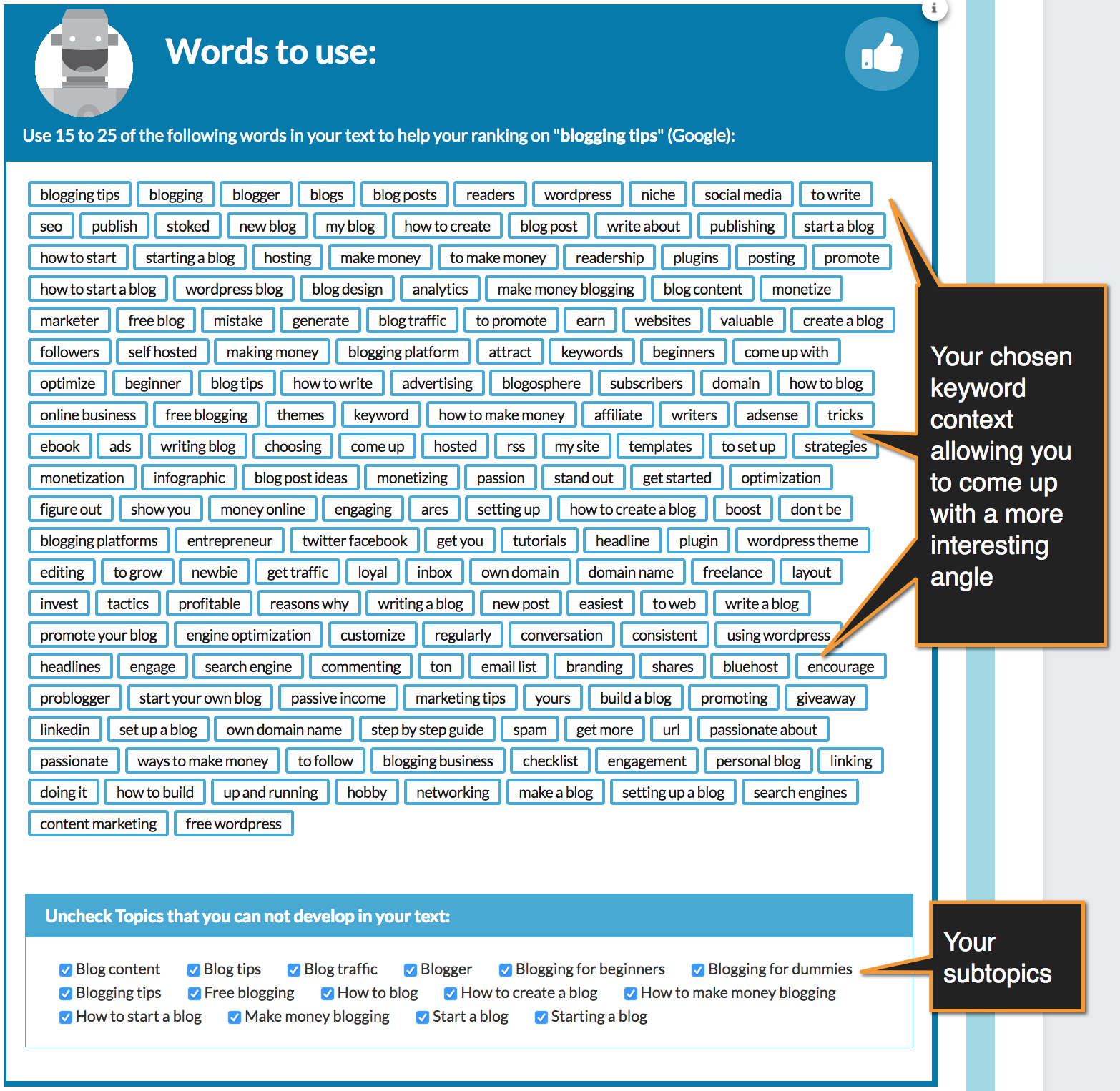 and related questions containing your term: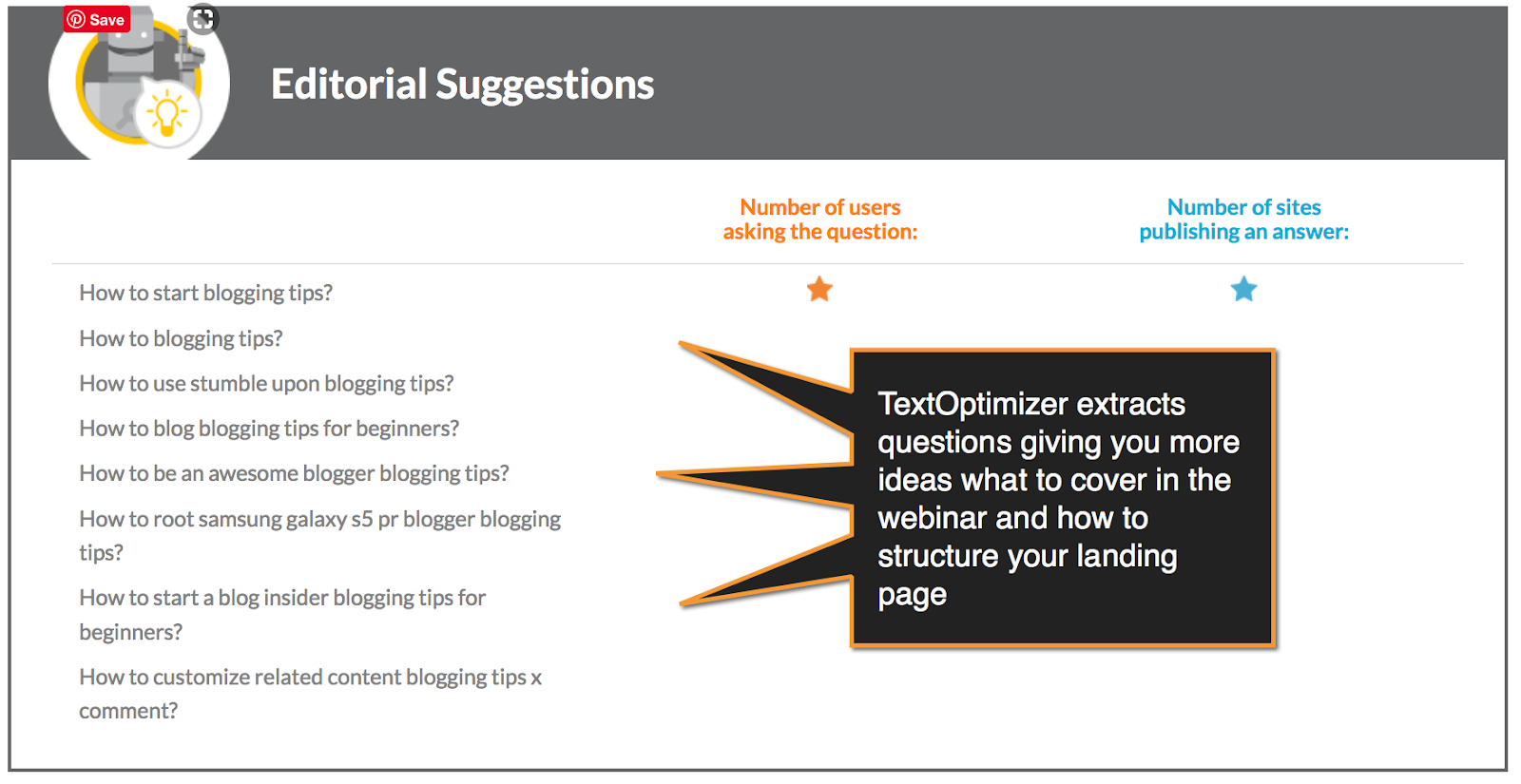 2. Call on those networking connections
I will never underestimate the sheer driving power of influencer marketing.
I regularly leverage influencers for content on every level, from guest blogging to Twitter. Influencers establish a feeling of trust through familiarity, especially if your intent is to focus on those who are within your particular industry.
We have all made great connections over time, whether it is through shared content, meeting at a conference or just retweeting one another from time to time. Start calling in those connections. Offer a monthly webinar from different influencers.
Learn from the example: SEMRush releases webinars in more than seven languages and there are always a few international influencers hosting. Using the technique, the company has established itself as a niche authority hub:

How to host an influencer-driven webinar?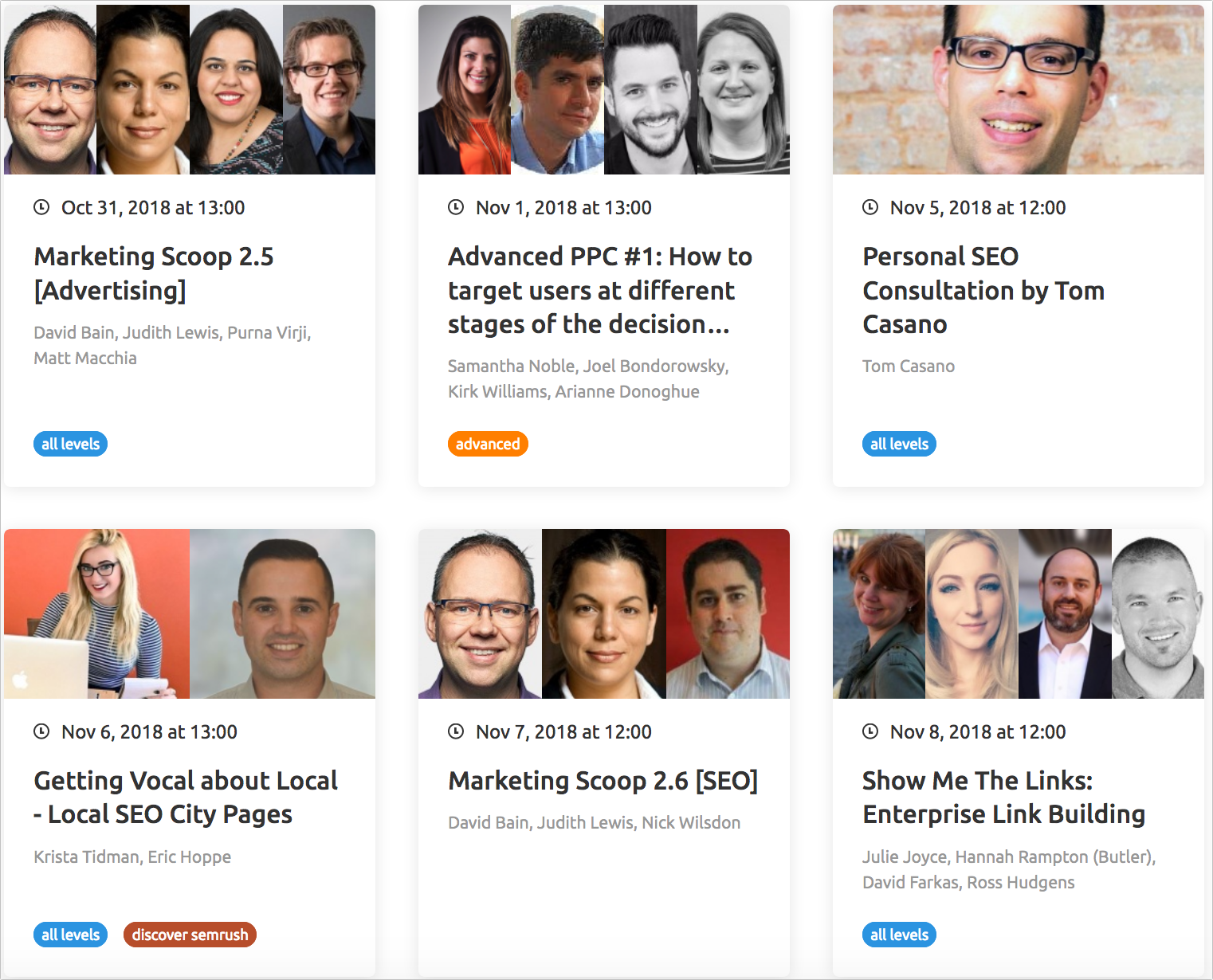 Using live-streaming functionality (i.e. Facebook Live, Youtube Live, etc.) is a great way to drive more views and exposure to your webinars (live streams always get more attention thanks to the social network notifications and instant engagement opportunities).
Additionally, Facebook Live allows for cross-streaming capabilities which will allow your influencer to stream the webinar to their own page, hence leveraging their established community for more marketing benefits.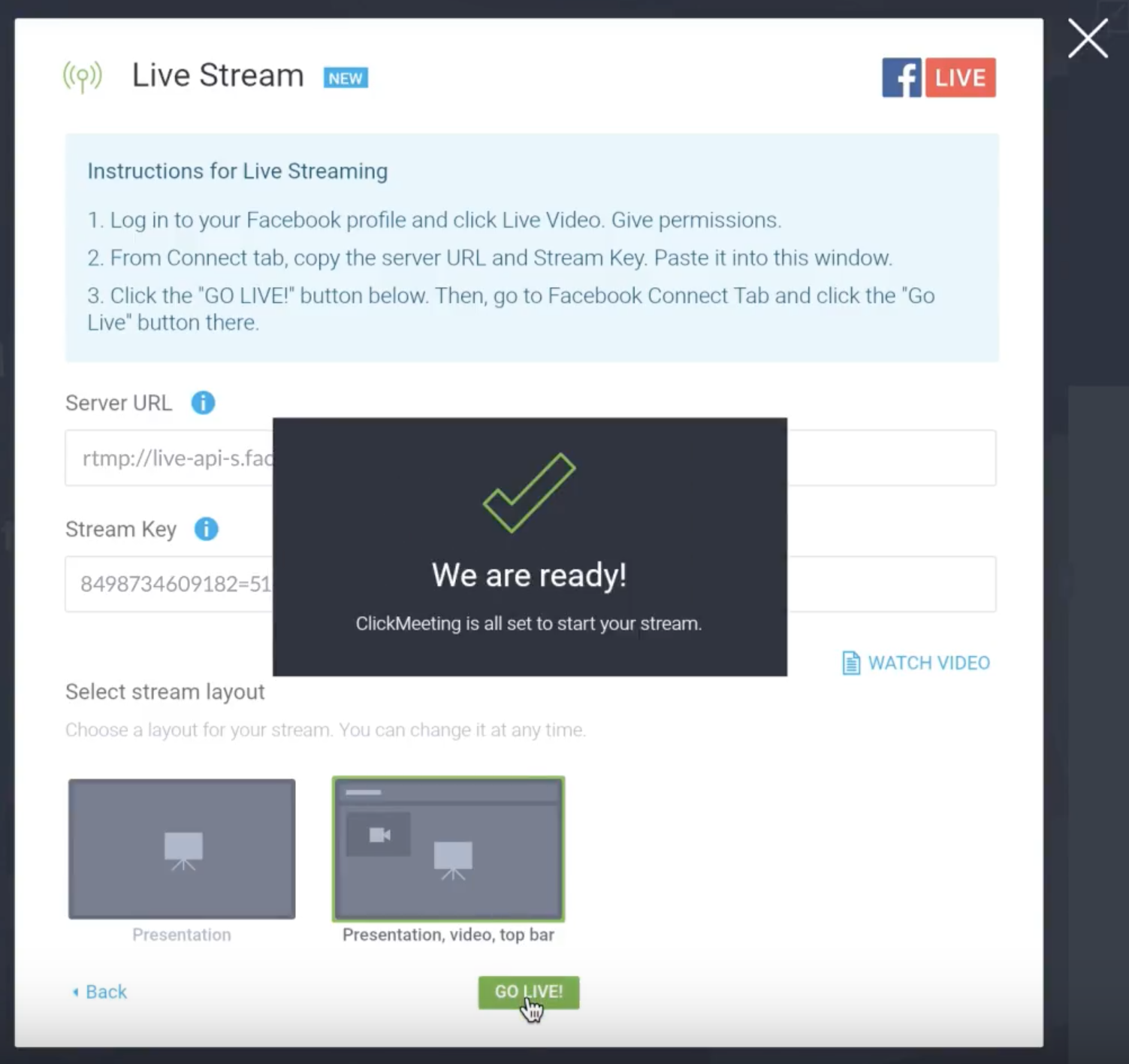 To make it easier to set up, give ClickMeeting a try which is a user-friendly webinar-hosting solution that supports webinar live streaming to both Facebook and Youtube.
3. Get organized with your webinar marketing
A webinar makes a great contest asset which goes well on social media, provided you "seed it well".
Besides, unlike a regular article, a webinar can be promoted both before it is live and afterwards, albeit the promotional message is different.
To organize your social media sharing better, try ContentCal which is an affordable social media management suite allowing you to get your whole team working on your social media calendar.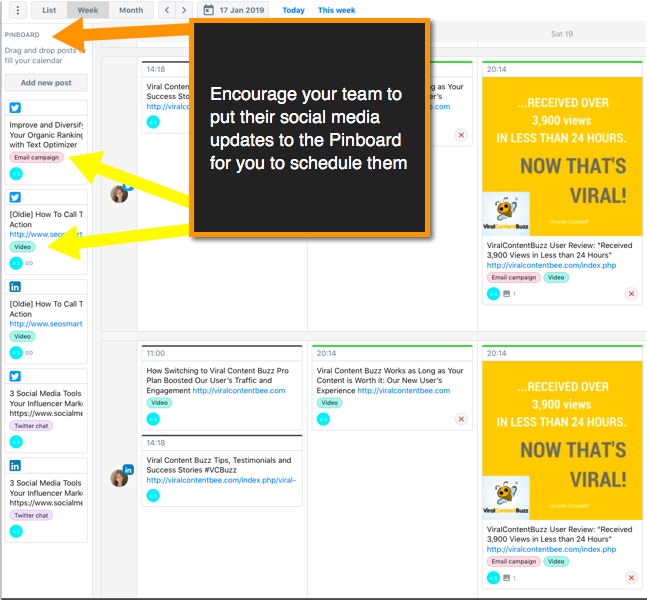 It's a great way to use your team's input into social media context you are using to market your webinar.
4. Expand on your brand-driven search terms
Trying to battle for the more popular search queries is pretty much impossible – unless you are a big enough company who can spend near endless budget on the task and already have household recognition.
There are some ways that you can get around this.
If you are new to the whole keyword research game, here's a very down-to-earth guide that explain the basics nicely. By building up your search terms with those popular, more direct keywords alongside your brand name.
For instance, let's say your bread and butter is content marketing and you are doing a webinar on that particular topic. "Content Marketing Webinar" is going to have high competition. But "[Brand Name] Content Marketing Webinar" will not. On top of that, the latter will have more chances to rank for your brand name!
Webinars allow you to create a Google keyword optimization strategy allowing you to dominate search engines for all kinds of search queries that include your brand name.
How to research brand-focused keywords?
Make a list of all possible search keywords that could help your ranking. Then brand them all and make sure you are catering to that list.
Try and utilize features snippets as much as possible during the process.
Serpstat can be used here as well: Just run your brand name through it like you'd run any other keyword and see if there are any brand-focused keywords worth covering in your upcoming webinar: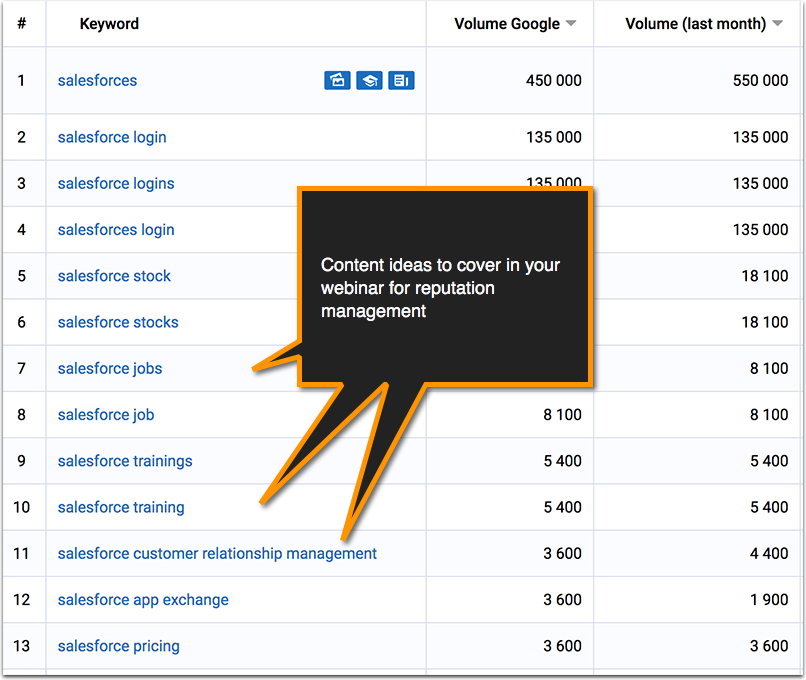 On top of this, you can add all of those keywords to their rank tracking tool to keep an eye on your asset positions for each of them.
For brand-focused keyword research, it's a good idea to consult your customer support and sales teams as they may be receiving lots of questions from your current and future customers on a regular basis. Ask them to keep a record of those questions using a shared spreadsheet to refer to when you are planning your next content asset.
5. Don't neglect your hashtag cultivation
The use of hashtags has changed a lot in recent years, but they are more important than ever before.
They are not just an organizational tool or a way to promote a specific marketing campaign. In fact, they are their own form of communication.
By establishing and branding a hashtag associated with your webinars, you are giving them an identity on social media creating a long-term social media strategy.
How to use hashtags for webinar-marketing?
Are the influencers promoting their own webinar hosted by your brand? Make sure they use the hashtag. Do you post transcripts, blog posts or social media posts with highlights from a webinar? Use the hashtag. Are you promoting an upcoming webinar or opening to sign ups for the live version? Hashtag it.
To organize your hashtag marketing, create a separate hashtag monitoring dashboard using tools like Mention: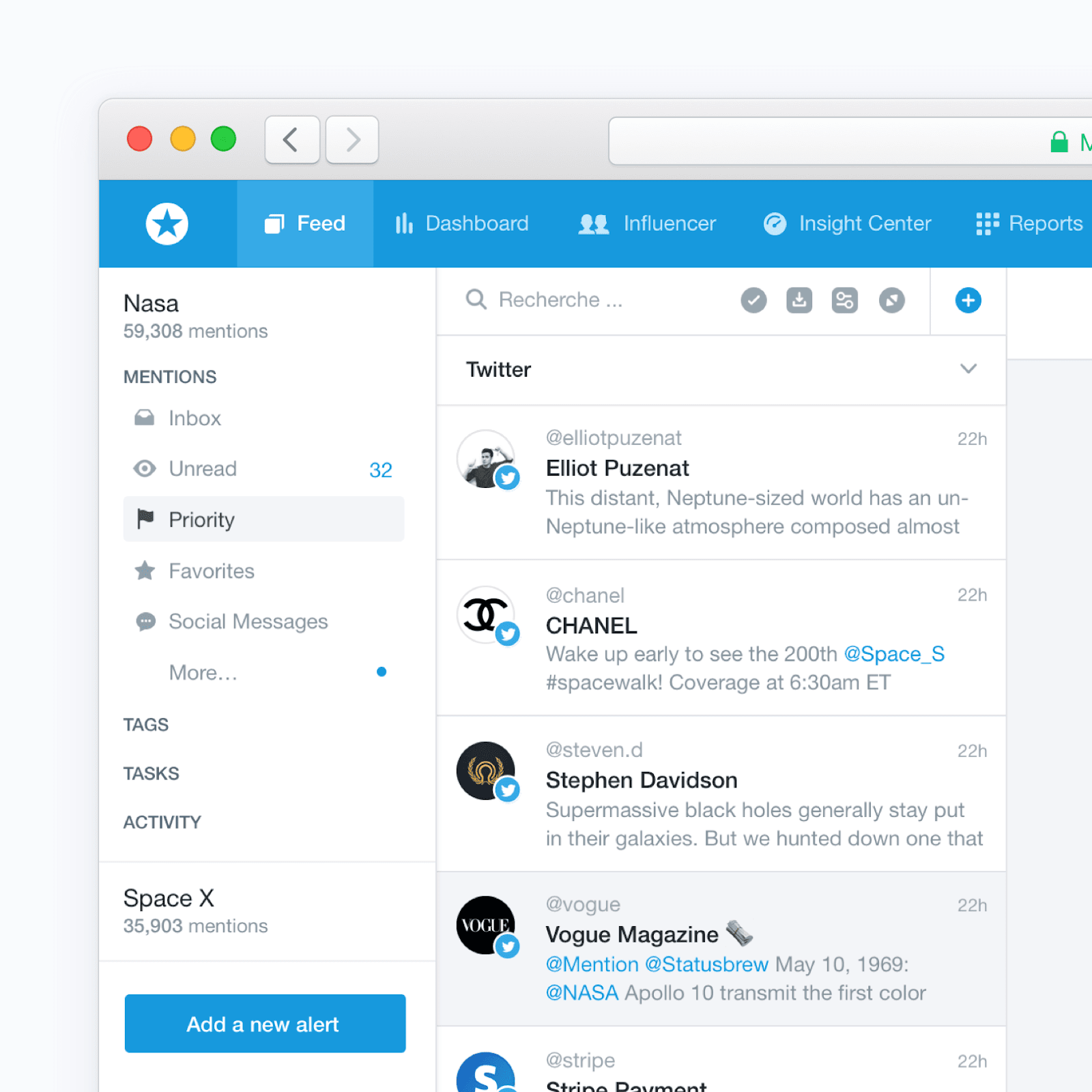 6. Use video on demand (VOD) for webinar consolidation
In another one of my articles for Mention I described how consolidating your brand assets could bring in even more reputation management benefits.
Consolidating multiple videos into a video-on-demand (VOD) format is one of the most effective ways to build a stronger brand.
VOD is an avalanche of potential and there is no denying the growth of media online. Webinars are their own form of media but they are video based and ripe for consolidation onto a single channel.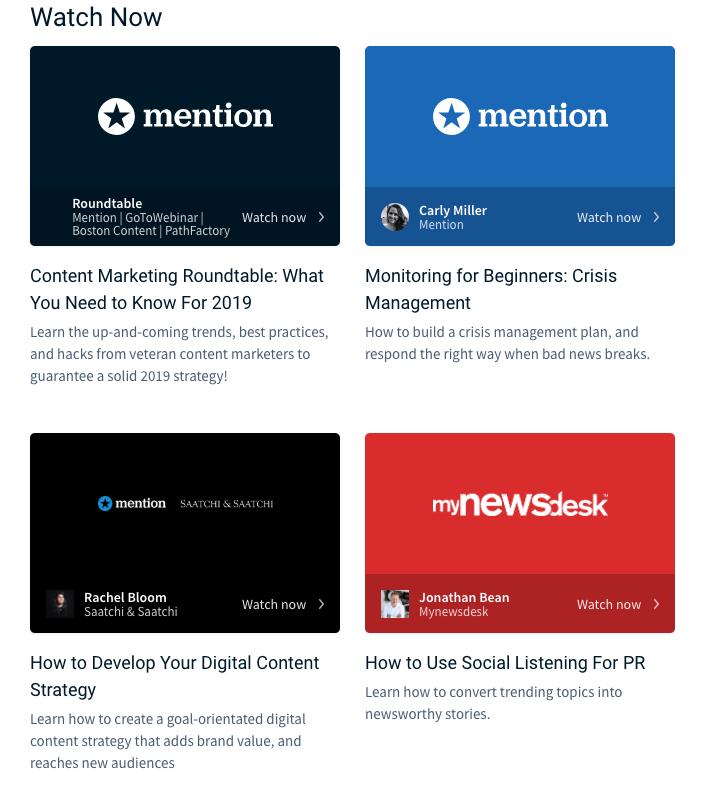 You see this all the time on YouTube, which is arguably the simplest place to go for monetization of content.
Passive income on videos is a certainly one part of the overall process to consider. But YouTube is also oversaturated with content and isn't always so friendly towards the creators who post there.
The most recent wave of demonetized videos and the lack of clarity in the hosting policy is proof of that.
How to turn your webinar series into a VOD channel?
It's not too hard to set up your own VOD platform using plugins and tools, but it may need some development help.
Here are a few easy options to help you establish your own VOD:
Step out of the box
Khan Academy videos are one brands setting the standard for webinars in today's world.
They have a talking voice explaining as on screen they show the content in practice… which is fine, no one is disputing that it is effective.
The problem is that it has been done to death and it isn't meant to be engaging. It is a lecture, just like you would get in a classroom, but without any interaction to go with it.
Instead, trying to step out of the box will be the best way to mix things up a bit, and keep your audience interested enough in the content to keep watching. This means trying things that your competitors aren't doing for webinars.
This is your most effective means of building a reputation for excellent webinars.
Do you have suggestions or tried, tested, and true strategies for enhancing webinars? Let us know in the comments.